Faubourg Paris is simply known in Vancouver for their Parisian gourmet desserts in an elegant setting. With three locations in Vancouver (Kerrisdale, Downtown and Park Royal), you can easily find a sweet treat at Faubourg to satisfy your craving. Their tasty offerings include macarons, cakes, signature pastries, viennoiserie, as well as bread and sandwiches.
What I Tried
Faubourg has various promotional items, which are listed on their website. In particular, they have a special pastry and macaron of the month.
Last August, I bought the kids pastry of the month for my son which was a minion pastry. It was combination of vanilla Bavarian mousse and strawberry compote settled over sweet strawberry jam and fresh banana slices all placed into a tart shell. I bought it mostly for its novelty but I found the banana flavour to be very strong.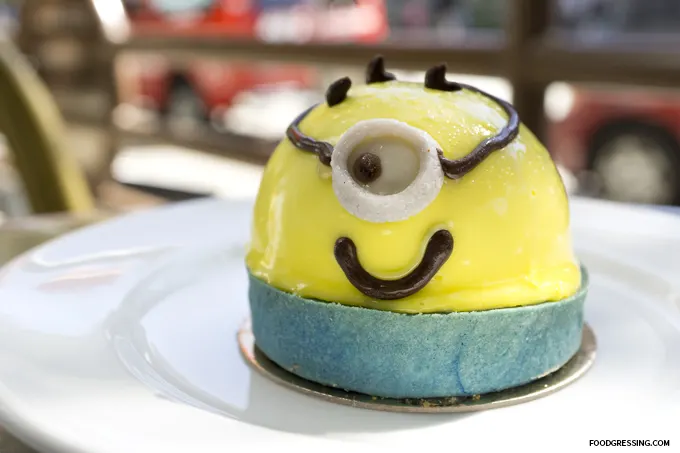 For a Valentine's Day date, my husband and I got two lattes, a macaron heart and the tri decadent.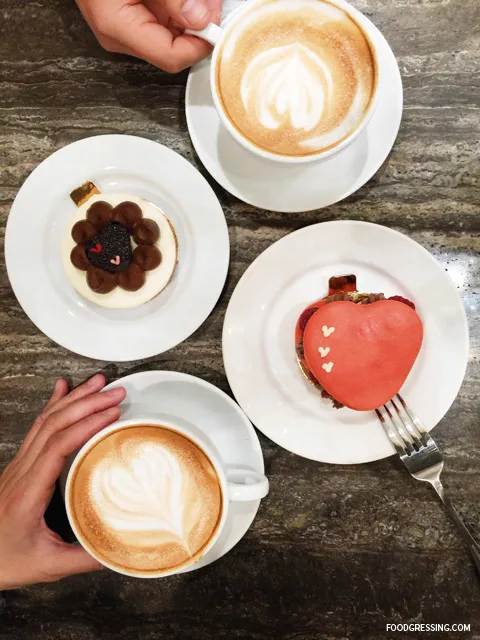 The macaron heart ($7.50) was filled with dark chocolate mousse, a salted caramel centre and fresh raspberries. It came in a prepackaged box (more about that later) but some of the chocolate mousse was lost from being stuck to the box.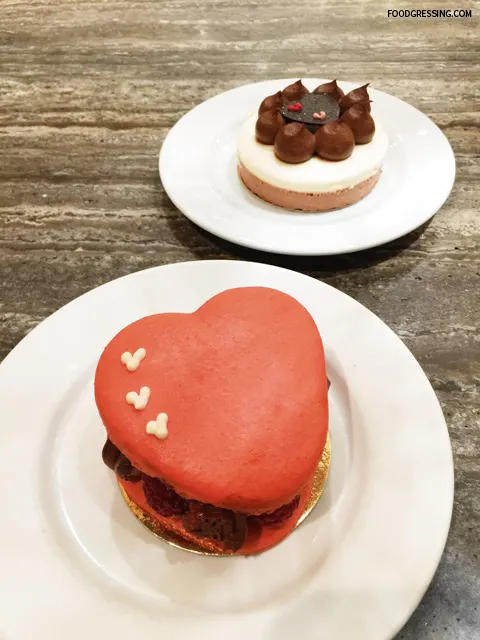 I very much enjoyed the tri decadent ($5.95) which had milk, dark and white chocolate mousse over a crunchy sablé breton. I would have to say the highlight is the sablé breton, a really lovely buttery cookie crust.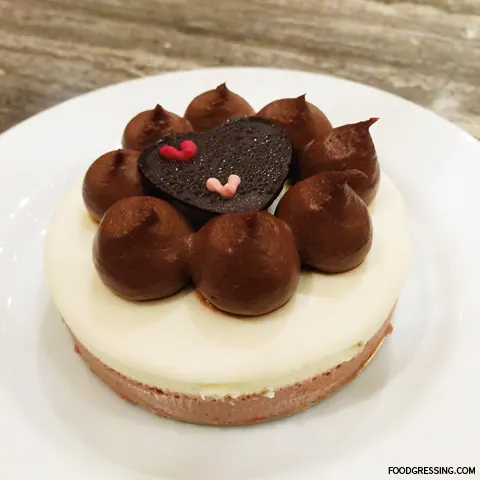 Service
If there is one thing that I think Faubourg could improve upon it would be the service. On the times I have been there, it seemed like the front staff consisted of pastry students. First of all, the service could be friendlier to match the chic and elegant setting. On my last visit, the macaron heart was pre-packaged in a box. When I told the pastry-chef-in-training who staffed the front that I wanted it for here, she handed me the box containing the macaron heart on top of a plate. I then spent a few minutes at my table carefully extracting the macaron heart from the box onto my plate. I think my experience would have been improved if she had made the effort to take the dessert out of the box and onto a plate. I also noticed the same pastry student clearing the dishes from tables but not actually given the tables a wipe. Next time, I'll have to remind myself to bring a few wet wipes.
Overall Impression of Faubourg
The Parisisian-style pastries at Faubourg are certainly indugling, but I think the service has a bit to catch up. Rating: 3.5/5
Website: http://www.faubourg.com/
Social Media: Facebook, Twitter, Instagram