Looking for ways to celebrate Christmas in Vancouver this year? This post covers Christmas Vancouver 2021 including where to go for Christmas dinner in Vancouver, festive dining throughout December, where to get turkey to go as well as features for brunch, lunch and takeout by local restaurants and businesses.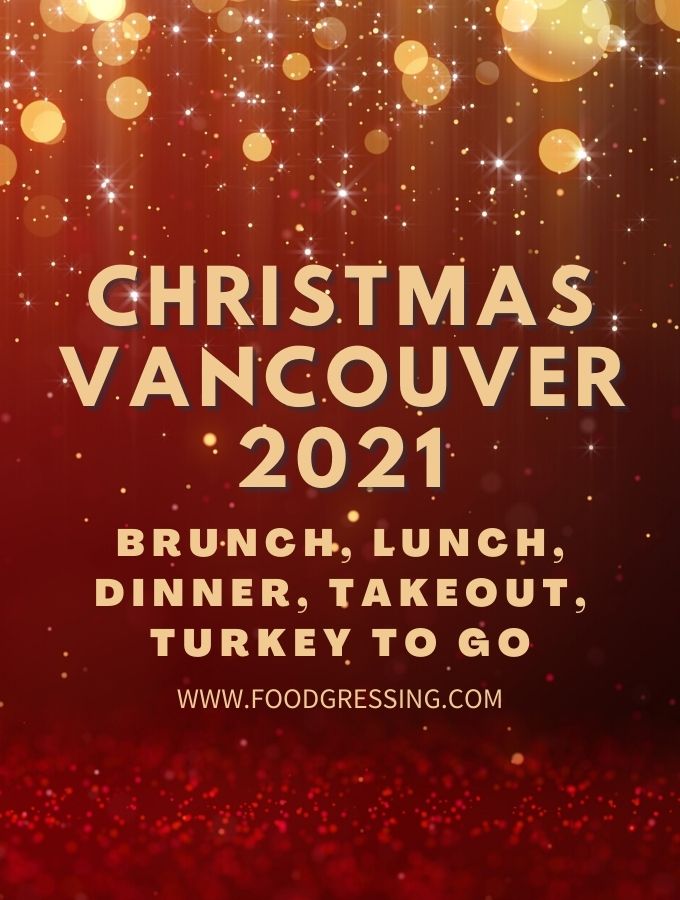 Christmas Eve this year is Friday, December 24, 2021. Christmas Day is Saturday, December 25, 2021.
Christmas celebrations can take on different forms from traditional, fusion to modern.
Please use this list as an inspiration for ideas on how to put together your own Christmas celebration.
Please reach out to me [email protected] or @foodgressing on social media if you are a restaurant that wants to be featured. Provide all the details of your holiday offering in your message. For faster processing, please provide a ready to copy and paste excerpt in paragraph form in a similar format to the restaurants featured below.
This list is not exhaustive. I try to feature as much as I can but certainly this is not all that is out there. If your favorite restaurant is not on the list, contact them to see what they are offering.
Christmas in Vancouver 2021
Showcase Restaurant at Vancouver Marriott Pinnacle
Showcase Restaurant is offering Christmas Eve & Christmas Day plated dinner at $90 per adult. First Seating: 5PM, 5:15PM 5:30PM. Second Seating: 7:15PM, 7:30PM, 7:45PM.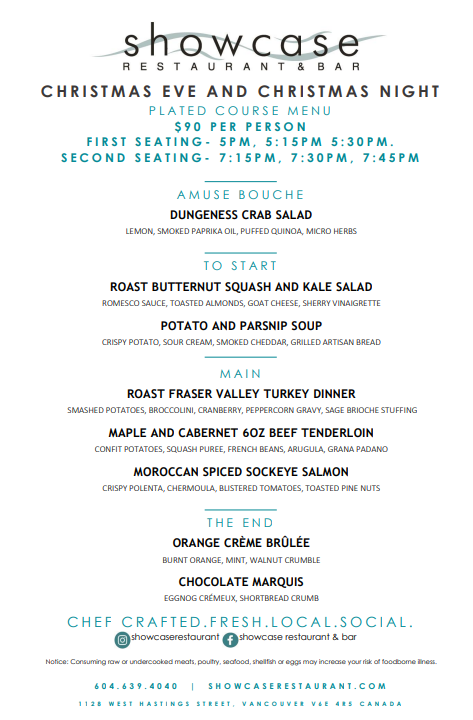 Dockside Restaurant
On Christmas Day this year, Dockside will offer a Bottomless Brunch service along with a Four Course Table d'Hôte dinner service.
Bottomless Brunch will be offered from 9am to 2pm. For $89.95 per person (plus tax & 18% gratuity), guests can choose from dozens of made from scratch items including brunch classics, roasted turkey and prime rib, along with fresh salads, and house made desserts.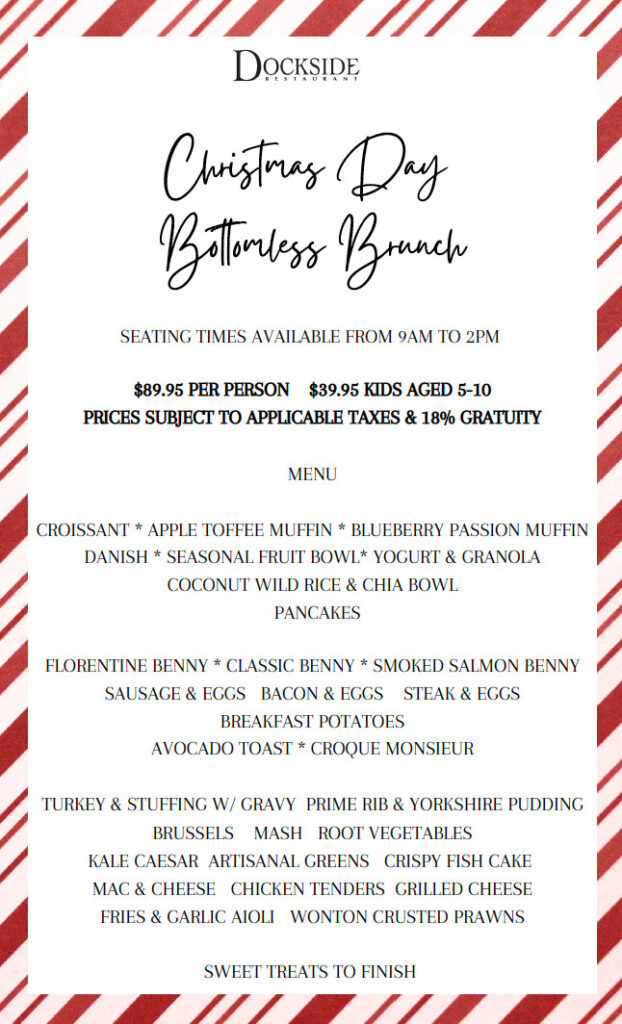 At dinner time, the Four Course Table d'Hôte menu features elevated expressions of the holiday classics like Roast & Confit Turkey and Prime Rib & Yorkshire Pudding, surrounded by irresistible starter courses and house made desserts. Pescetarian and plant-based options are also available. Dinner is $149.95 per person (plus tax & 18% gratuity).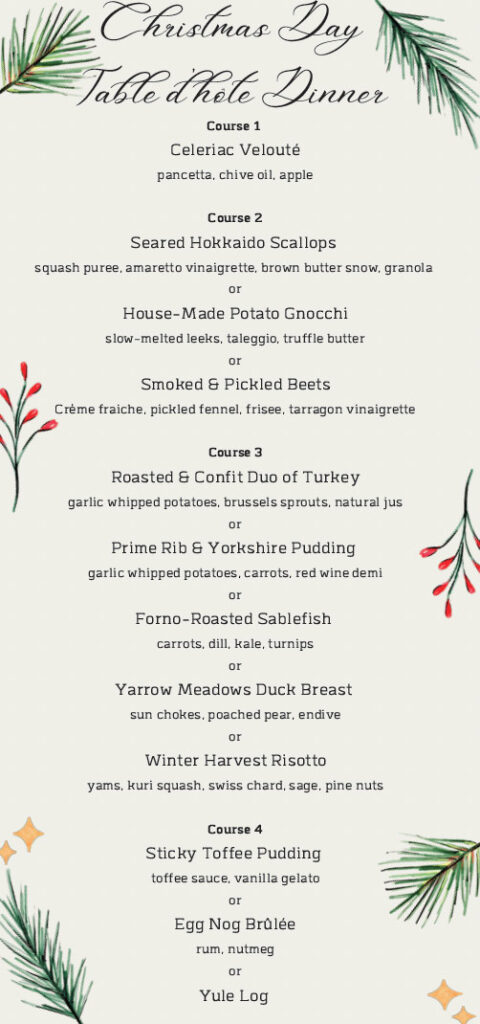 Fairmont Hotel Vancouver
Notch8 Restaurant at Fairmont Hotel Vancouver has the following holiday offerings:
Christmas Eve Dinner
Spend the night before Christmas in Notch8 and enjoy a delectable three-course meal featuring dishes such as Butternut Squash Soup or Aged Beef Tartar to start, your choice of Turkey, Prime Rib, Sablefish or Truffle Risotto for an entrée, and Chocolate Pecan Butter Tart or Orange & Cranberry Cheesecake for dessert.
December 24 from 5pm – 9:30pm
$109 per adult, $54.50 per child
Christmas Day Brunch Buffet
After the presents have been opened, join us for delectable brunch favorites including Dungeness Crab Benedict, Eggnog Cheesecake, and Gemelli Pasta with Butternut Pumpkin. Be sure to try the Prime Rib with Yorkshire Pudding, Rotisserie Porchetta and the perfectly roasted Fraser Valley Turkey with Pan Gravy.
December 25 from 10am – 2pm
$129 per adult, $64.5 per child (ages 12 & under)
Christmas Day Dinner
Enjoy an intimate Christmas dinner in the glamour and warmth of Notch8. From first bite to last it will be a deliciously memorable meal featuring Braised Celariac Soup, Foie Gras Torchon, choice of Turkey, Prime Rib, Salmon or Truffle Risotto and choice of Chocolate Tart or Warm Ginger Pudding.
December 25th, 2021 from 5pm – 9:30pm
$119 per adult, $59.50 per child
Turkey To Go
Celebrate Christmas from the comfort of your own home with an impressive holiday dinner from Executive Chef David Baarschers. All you need to do is pick your order up on Dec. 24 or 25, and warm it for your guests when you're ready to eat. Detailed heating instructions included.
Pick Up Dates: Dec. 24 & 25, 2021
Pick Up Times: 10am – 4pm
Serves: 8 – 10 guests
Price: $499 (inclusive of GST & PST, exclusive of a 3% service fee — full prepayment at time of booking)
Ordering Deadline: December 20 at 5pm
Free Range Fraser Valley Turkey (7kg – 9kg)
Preserved Fruit Bread Stuffing
Honey Thyme Roasted Root Vegetables
Yukon Gold Mashed Potatoes
Cranberry Relish
Pan Gravy
Artisan Rolls and Creamery Butter
Cranberry Candied Orange Cheesecake Tart
Add on a delicious Prime Rib Roast (2.5kg), Yorkshire Puddings (6), Jus, and Horseradish for $350.
Notch8 Festive Lunch
Bring your colleagues to celebrate the holidays with sumptuous festive cuisine. The set two-course menu features roasted turkey breast, stuffing, potato puree, crispy brussels sprouts, and plum pudding with a rum flambe to finish.
November 25 – December 23, 2021
11am – 3pm, Monday to Friday
$45 per adult, $22.50 per child (not inclusive of tax & gratuities)
Rotisserie Fraser Valley Turkey: roasted turkey breast, apple and bread stuffing, potato puree, crispy brussels sprouts, scratch gravy, cranberry sauce
Notch8 Plum Pudding: rum flambé, crème anglais, compressed sour cherry, pistachio crumble
Winter Wonderland Afternoon Tea
As the steam rises from your perfectly steeped cup of tea, indulge in delectable savoury fare, scones and festive sweets. They offer a Children's Tea that includes kid-friendly finger sandwiches, cookies, scones and other delicious treats.
Friday – Sunday starting on November 26, 2021 (excluding Dec. 24, 25, 31, and Jan 1)
Sittings at 11am, 1pm and 3pm
Adults $69; Children $34.5 (not inclusive of tax & gratuities)
Festival of Trees Vancouver
The Festival of Trees Vancouver is a cherished community tradition benefitting BC Children's Hospital Foundation, and in 2021 it will return for the second year at the world-renowned Fairmont Hotel Vancouver. In 2020, Fairmont Hotel Vancouver was able to raise over $50,000 for BC Children's Hospital Foundation, and in 2021 the hotel looks to raise even more to support this important organization. Festival of Trees provides an invaluable opportunity for local BC companies and organizations to connect with customers, engage with employees and support the only hospital in British Columbia devoted exclusively to the province's sickest and most injured children. By supporting this great cause, organizations will have the chance to decorate a tree that will be voted on by the public as they visit the hotel throughout the holidays. Festival of Trees is free to the public and kicks off on Friday, November 26, 2021 and will available for viewing through January 2, 2022.
Trees of Hope Hotel Package
This year, the Trees of Hope hotel stay offer returns to Fairmont Hotels & Resorts. Available for stays starting December 1 and continuing into the New Year, guests can give back while enjoying great rates. Book the Trees of Hope package and receive up to 25% off the best available rate online, a $25.00 food and beverage credit, and Fairmont Hotels & Resorts will donate $10.00 for every night booked to a local community charity.
Fairmont Waterfront
Fairmont Waterfront has a number of fun options to get in the holiday spirit this season.
Christmas Day Bottomless Brunch
The culinary team at ARC Restaurant inside Fairmont Waterfront looks to put a festive spin on the ever-popular Bottomless Brunch this holiday. The Christmas Day Bottomless Brunch is available for seatings on December 25 from 9:00am to 2:00pm and will feature unlimited festive selections such as Roasted Turkey with all the Trimmings, Eggnog Smoothies and Duck Leg Confit Poutine. Priced at $99.00 for adults and $49.00 for children, reservations are recommended as this festive brunch is sure to sell out!
Christmas Eve Dinner and Christmas Day Dinner
On December 24 and December 25, ARC will feature a four-course plated Christmas Eve Dinner and Christmas Day Dinner. The special prix fixe menus start with Cream of Matsutake Mushroom Soup, followed by a selection of appetizers such as the Confit Kobacha Squash or Scallop & Smoked Pork Belly. Diners can then select from a variety of main course dishes, with options including Traditional Roasted Turkey or the Angus Beef Two Ways. The evening will finish with a Sticky Gingerbread Pudding as the perfect sweet ending. Priced at $129.00 for adults and $69.00 for children 6-12 years old (children under 5 eat for free), each dinner has seatings available from 5:00pm to 10:00pm.
Fairmont Pacific Rim
Botanist Festive Prix Fixe Brunch
Botanist at Fairmont Pacific Rim will celebrate the holiday season with a prix fixe three-course brunch menu, available on December 24, 25 and January 1 and 2, featuring a selection of carvings including Oven Roasted Prime Rib, Oven Roasted Lamb Leg, and favourites such as Crab & Avocado Egg Benedict and Baked Sablefish Cassoulet, complete with a welcome glass of sparkling. This holiday brunch menu is priced at $78.00 per person and is available for seatings from 11:00am to 2:00pm. Reservations are required and can be made online or by calling the restaurant at 604-695-5500.
We'll Take it From Here
Leave the cooking to Botanist Executive Chef Hector Laguna this season with his We'll Take it From Here tasting menu, featuring dishes such as the Wagyu Flank Tartare, Home-made Burrata Salad, Dungeness Crab, Ora King Salmon and Dry-Aged Duck, all finished off with Executive Pastry Chef Kate Siegel's Chestnut Cake with Whisky-Candied Orange Ice Cream. This exclusive holiday menu is priced at $148.00 per person with the option to add wine pairings for $70.00 per person. Available December 24 and 25 with seatings available from 5:00pm to 10:00pm, reservations are required and can be made online or by calling the restaurant at 604-695-5500.
Festive Pop-Up
This year, the ever-popular Oakridge Pop-Up returns to the Fairmont Pacific Rim Plaza for a holiday themed Oakridge Park Wonderland at the Fairmont Pacific Rim Pop-Up Patio. Now officially open for the holiday season, the Pac Rim food truck has returned and will be serving a variety of holiday-themed fare created by Executive Chef Damon Campbell, such as Festive Orange & Cherry Duck Sausage, Holiday Smoked Beef Brisket Sandwich and a Spiced Butternut Squash Soup. The Oakridge Park Wonderland Pop-Up Patio will be open every Wednesday through Sunday from 11:00am to 6:00pm and will feature holiday wreaths by Celsia, calligraphy by Liza Child and Goh Ballet's Nutcracker-inspired décor throughout the plaza and hotel. Santa Claus is coming to Shaw Tower across the street for the pop-up from November 27-December 24, Thursday to Sunday from 11:00am to 6:00pm by appointment only.
Hotel Packages
Fairmont Pacific Rim is here to make holiday magic with the Sleigh the Season Package and the Deck the Halls room upgrade add-on option for Fairmont Gold Guests. Starting at $1,675 CAD and available for stays now through December 30, the Sleigh the Season Package includes all the best of Fairmont Pacific Rim in one festive experience. Enjoy luxury accommodations in a Fairmont Gold Room or Suite, an all-access-pass to fully raid the guestroom minibar, two treatments at Willow Stream Spa, dinner and drinks on the Oakridge Park Wonderland Pop-Up Patio, two tickets to the Vancouver Christmas Market, breakfast for two in Botanist and a surprise holiday gift.
Fairmont Vancouver Airport
Fairmont Vancouver Airport has a number of fun options to get in the holiday spirit this season.
Christmas Eve and Day Dinner
Fairmont Vancouver Airport's Chef Ruth Wigman mixes holiday traditions with culinary prowess to create a Christmas Eve Dinner ($108.00 for adults and $54.00 for children) and a Christmas Day Dinner ($89.00 for adults and $45.00 for children) in [email protected], guaranteed to tempt even the most dedicated turkey dinner traditionalists. On December 24, seatings will be available from 4:30pm to 5:00pm and 7:00pm to 7:30pm, and diners can indulge in a family-style feast while getting in the holiday spirit with festive live music. On December 25, experience new twists on holiday favourites with a prix fixe menu including Duck Confit Pithivier with Burnt Orange Vinaigrette and Gorgonzola, Sea Salt Dry-Brined Turkey with Apricot and Sage Stuffing, and an Egg Nog Tiramisu with a Salted Croissant Crisp.
Christmas Day Brunch
Fairmont Vancouver Airport's highly anticipated Christmas Day Brunch returns with live music and an extensive menu sure to satisfy every palate. Served family-style, diners will indulge in the culinary team's assortment of OceanWise seafood, savoury selections, sweet treats and so much more. Priced at $105.00 for adults and $52.50 for children, seatings are available December 25 between 10:00am to 10:30am and 12:00pm and 12:30pm
Festive Afternoon Tea with Santa
Fairmont Vancouver Airport will be featuring two festive tea options this holiday season. Traditional Festive Afternoon Tea returns to [email protected] with seatings available daily (excluding December 17 and 25), and will showcase a delicious seasonal menu. Priced at $69.00 for adults and $35.00 for children, tea-goers will enjoy a wonderful variety of holiday-themed treats paired with a uniquely yuletide assortment of Lot35 teas. Parents looking to introduce the kids to Santa Claus this holiday season can book the Festive Afternoon Tea with Santa, taking place Friday, December 17 from 1:30pm to 4:30pm. Priced at $79.00 for adults and $49.00 for children, enjoy a festive selection of sweet and savoury bites, followed by a stop at Santa's remote workshop, located in front of the fireplace in Fairmont Vancouver Airport's lobby, for photo ops and Christmas gift wish lists. And to help support the local community, Fairmont Vancouver Airport will be donating $10.00 from every Festive Afternoon Tea with Santa experience sold to Canuck Place Children's Hospice.
Christmas Turkey Dinner to Go
The culinary team at Fairmont Vancouver Airport's [email protected] Restaurant have three Christmas dinner options available for to-go this holiday season. Offering both a full Turkey Dinner To-Go (for 8-10 people) at $399.00 and a Holiday Ham Dinner To-Go (for 8-10 people) at $429.00, for those looking to host large family gatherings. In addition, the culinary team is offering a Christmas Dinner for Two To-Go at $99.00, the perfect option for couples or those that are unable to travel home for the holidays. Orders must be made by December 21 at 5:00pm with pick-up available from 12:00pm to 4:00pm on December 24 and 25. This year, let Fairmont Vancouver Airport take care of the cooking so this Christmas can be spent with loved ones.

Hosting a holiday get-together and looking for party platter style dining options? [email protected] is here with a variety of Holiday To-Go Party Platter selections, perfect for this year's festive celebrations. With options such as the Artisanal Meats, Pâté and Cheese Platter ($85.00) and the Decadent Desserts Platter ($53.00), get ready to dance around the Christmas tree in style with these ultimate smorgasbords.
Holiday Wreath Masterclass
Spice up your festive home décor with the Holiday Wreath Masterclass and create a gorgeous wreath while enjoying a glass of sparkling wine and an artisanal cheese and charcuterie board. Priced per group of 2 at $180.00, with parking for one vehicle included. The Holiday Pop-Up Market will be available throughout December and makes festive shopping easy. Give the gift of Fairmont with selections such as plush Fairmont robes (adult and kids sizes), Le Labo body products, a curated selection of Fairmont's Lot35 Teas and more.
Letters to Santa
Fairmont Vancouver Airport has invited Santa Claus to help make the Christmas spirit bright with surprise Santa-led tours of YVR in the week leading up to Christmas, as well as Christmas Story Time with Santa on Christmas Eve, taking place in front of the Fairmont Vancouver Airport lobby fireplace from 6:00pm to 6:30pm. For kiddos that can't make it in to visit Santa on Christmas Eve, Fairmont Vancouver Airport will be accepting Letters to Santa from November 17 through December 24. Children can drop off their letters in the Santa Mailbox found in the hotel's lobby, and the Fairmont Vancouver Airport team will make sure the letters are whisked away to the North Pole, with reply letters from the Jolly Man himself being sent back in response!
Make-a-wish Dish
Throughout the month of December, [email protected] at Fairmont Vancouver Airport will be offering a festive culinary feature, the Make-A-Wish Dish Turkey Melt. Priced at $31.00, for every Make-A-Wish dish sold, Fairmont Vancouver Airport will donate $3.00 to the Make-A-Wish Foundation. Available daily, this Make-A-Wish dish can be ordered both in [email protected] and through in-room dining.
Holiday Suite Experience
Fairmont Vancouver Airport brings festive cheer to the holiday season with the Holiday Suite Experience. This exclusive package includes a one night stay in the hotel's most luxurious suite, the Jade Suite, decked out in beautiful festive décor. Gather the family for a magical staycation and enjoy a festive welcome amenity, family fun activities (including cookie decorating kit, movies on demand, and a selection of board games and books) and breakfast in bed for up to four family members. In addition, a $25 donation will be made to Canuck Place Children's Hospice for each night booked.
Want to add a bit of holiday magic to a stay at Fairmont Vancouver Airport? Choose the option to have a 7ft decorated Christmas tree in the guest room for $49.00 CAD per night, available December 1 to January 2. Just choose the Christmas tree add-on at time of booking.
Truffles Fine Foods
Truffles Fine Foods Holiday Heat at Home Packages are available now till December 20 12pm.
This year they're offering two packages: Traditional Carved Turkey and a Plant Based Vegan Holiday Roast.
Both packages are served with complimentary side dishes and dessert and are available for pick or delivery on December 24.
Limited quantities are available and both packages serve 4 people for $160.
Additionally, you can add on a charcuterie box (regular or plant based) and a bottle of BC Wine and a Holiday Floral Bouquet from Nicola Adam Floral.
Holiday Carved Turkey Heat at Home Package for 4 ($160)
Carved Turkey with gravy and Cranberry Sauce
Sourdough Stuffing with Sage & Onion
Creamy roasted garlic mashed potatoes
Roasted Winter Vegetables with fresh herbs
Shredded Brussels sprout slaw
Chocolate Bourbon Cake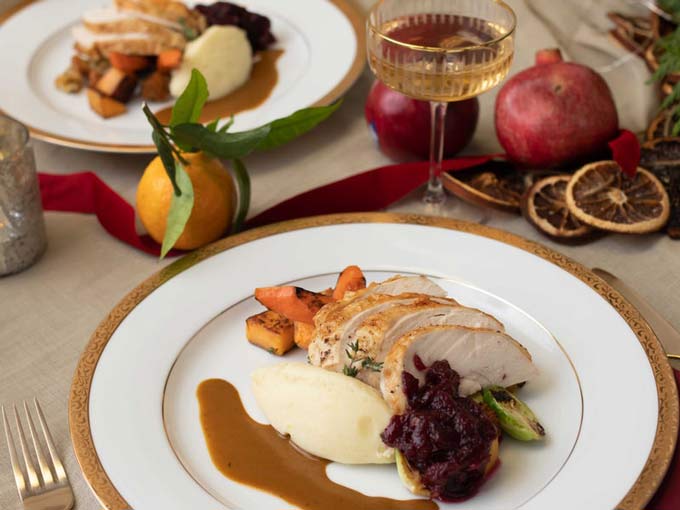 Vegan Housemade Holiday Roast Heat at Home Package for 4 ($160)
Housemade Vegan Holiday Roast with fresh sage and cranberry Dijon glaze
Miso Gravy
Olive oil Mashed Yukon Gold potatoes
Roasted Winter Vegetables with fresh herbs
Shredded Brussels sprout slaw
Vegan Chocolate Brownies with Candy Cane Crunch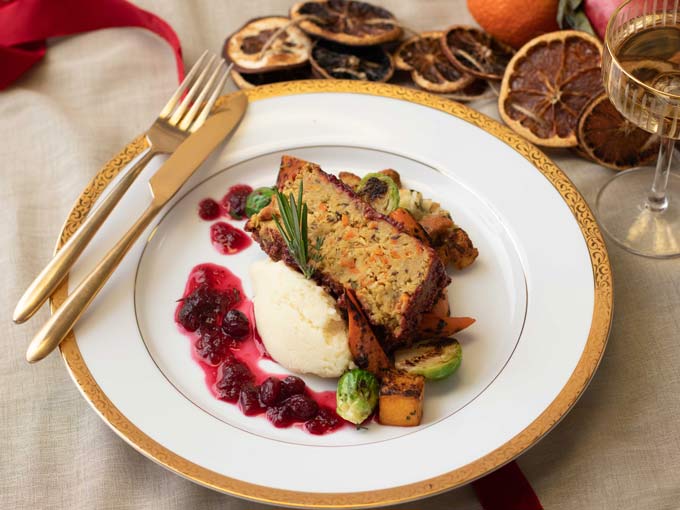 Additional Items:
Traditional Charcuterie Box $50
Vegan Holiday Mezze Box $50
Bottles of BC Wine including Stellar Jay Brut (assorted prices)
Holiday Bouquet from Nicola Adam Floral $50
Edge Catering
Edge Catering is offering traditional festive favourites and new "foodie inspired" options that save you all the preparation required. From traditional turkey dinners to holiday themed canapés and sweets, Edge has your entertaining checklist covered.
You will be feeling good about your purchase as a portion of all holiday sales will go toward Kids Help Phone supporting mental health for kids all year long.
Edge's holiday meal packages features slow roasted, sliced herb butter locally raised turkey, white and dark meat, port gravy, sourdough, apple + cranberry stuffing celery, onion, apple, cranberry, herbs, Yukon Gold buttermilk mashed potatoes, locally grown maple squash, ancient grains, cranberry, wilted kale, winter vegetables + thyme butter.
In packages of 2 for $100 or 6 for $290.
Chef's selection including brussels sprouts, carrots, parsnips, root vegetables with cranberry & orange chutney.
Dessert options include cranberry apple walnut galette w/ chantilly cream or Edge's signature sticky toffee pudding w/ toffee sauce.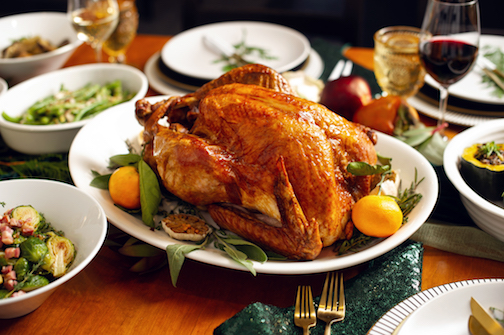 A festive alternative to turkey is Braised Beef Short Rib with port jus, Yorkshire puddings, Yukon gold buttermilk Mashed Potatoes, locally grown, maple squash, ancient grains, cranberry, wilted kale, and winter vegetables with thyme butter.
Finish with a Cranberry Apple Walnut Galette w/ Chantilly cream or Edge Signature Sticky Toffee Pudding w/ toffee sauce. $130 for 2, and $380 for 6.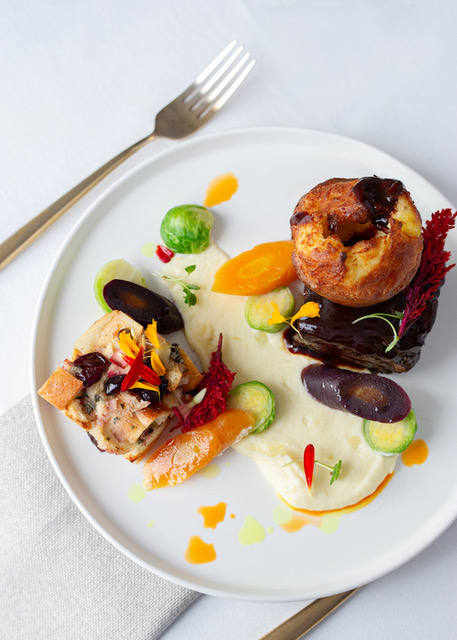 Set the tone for the amazing dinner to come, with an assortment of canapés served with a glass of champagne. Curated, handmade canapé deliverables from our kitchen to yours, simply heat and serve. $48/dozen. To check out our full Holiday Entertaining Canapé selection click here.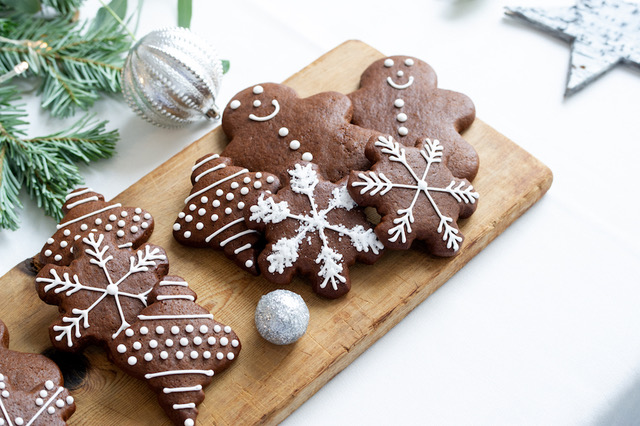 Cookie Decorating Kits. A fun filled festive activity for both the little ones and the kids at heart! Choose between 6 or 12 butter and gingerbread cookies including icings, sprinkles and all the holiday fixings! (and they taste great!!!) $30 Festive Baking Box. A sweet selection of holiday cookies, tarts and squares 18 pieces for $36.
Bacchus Restaurant & Lounge at Wedgewood Hotel
Bacchus Restaurant & Lounge has the following Christmas offerings:
Nutcracker Afternoon Tea
November 27 to December 19, Thursday & Friday at 2:30 pm, Saturday & Sunday at 2:00 pm and 2:30 pm.
2-hour seating time per reservation.
$70 per person
Christmas Day Brunch
Saturday, December 25th with seatings at 10:30 am, 11:00 am, 11:30 am, 12:00 pm, 12:30 pm
90-minutes seating window per reservation
Three-course brunch menu at $79 per adult and $40 per child ages 12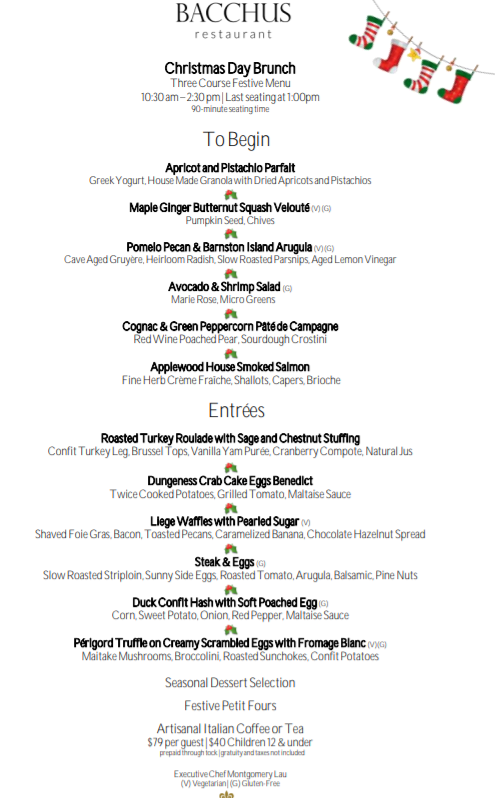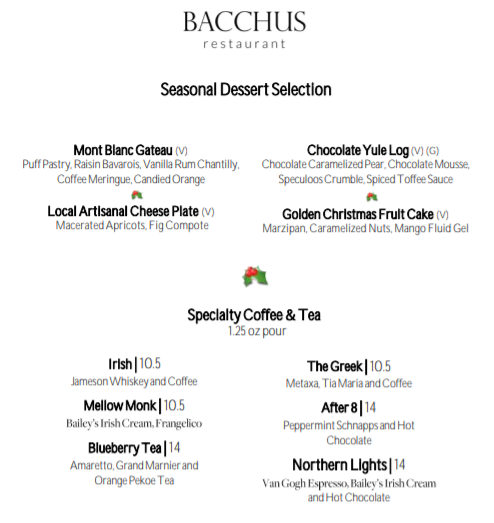 Christmas Day Dinner
Saturday, December 25th, 2021
First Seatings: 4:00 pm | 4:30 pm | 5:00 pm | 5:30 pm
Second Seatings: 7:00 pm | 7:30 pm | 8:00 pm | 8:30 pm
2.5 hour (2hr30min) seating window
Festive four-course menu at $179 per adult and $75 for children aged 12 years and under (kids three-course special menu)
Live Piano entertainment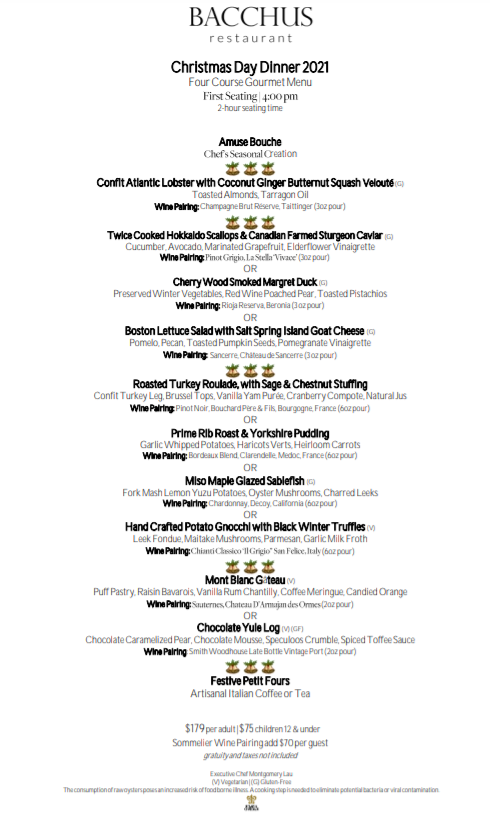 Water Street Cafe
Water Street Cafe is offering has the following Christmas offerings:
Christmas Eve: $79 5 course set menu and regular menu. Reservations from 4:45 pm – 7:45 pm.
Christmas Day: $139 6 set menu and regular menu. Reservations from 2 pm – 7:45 pm.
Christmas Feast to Go for 2: $155 7 course menu available December 24 and 25.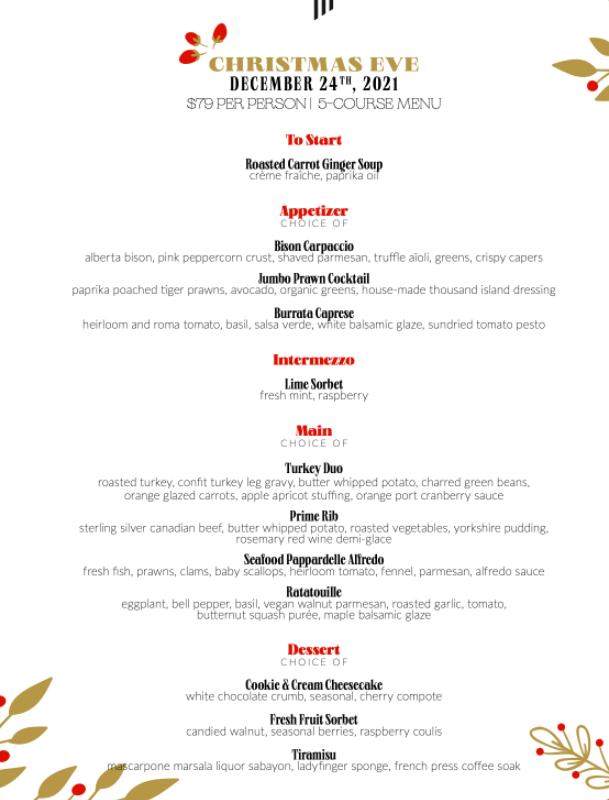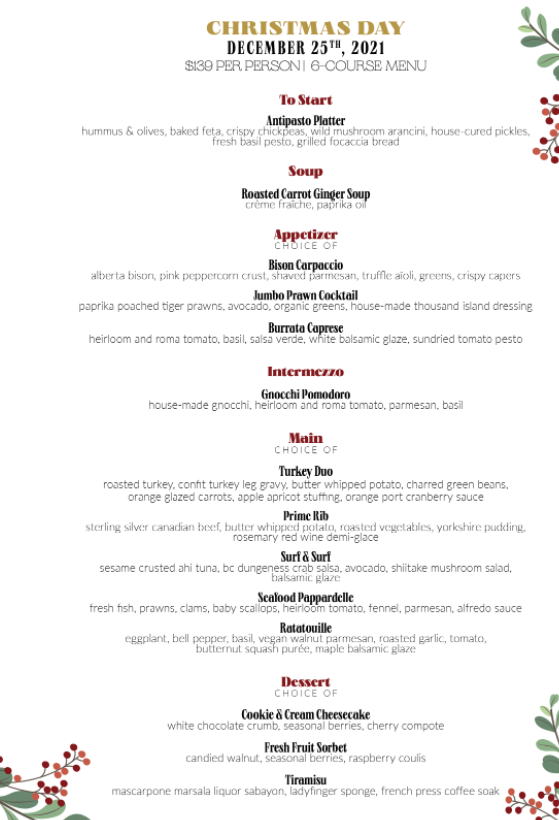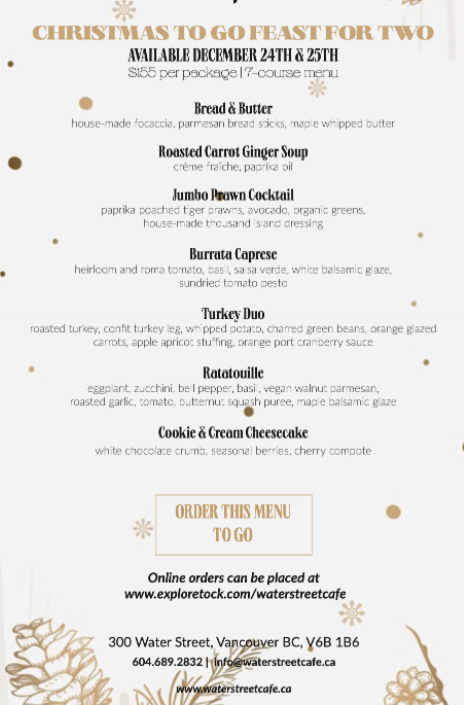 Forage
Forage has the following festive offerings: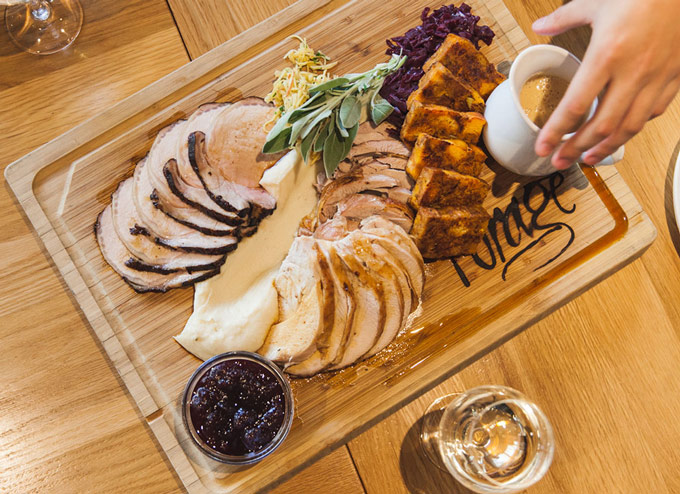 Forage Holiday Dinner – available for dine-in (December 24 and 25, $95 per person) or take-out (December 22 – 26, $61 – $65 per person).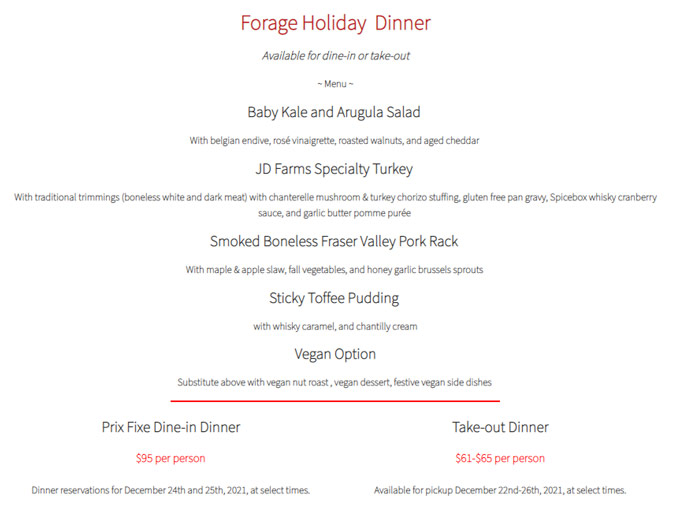 They are also offering a Whole Turkey + Trimmings for takeout on December 22 – 26. Priced at $395.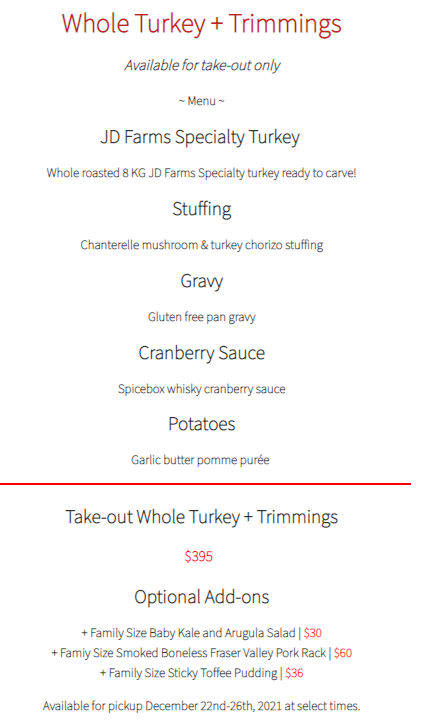 They are also offering a Holiday Lunch for dine-in on December 8, 9 , 10, 15, 16 and 17.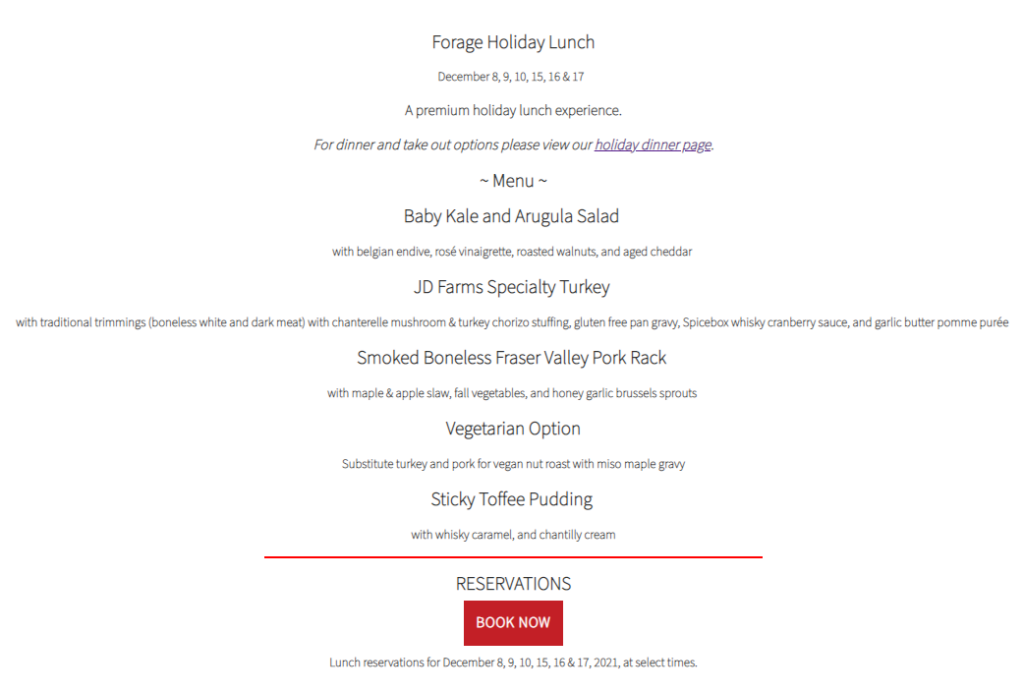 Boulevard Kitchen & Oyster Bar
Boulevard Kitchen has the following festive offerings:
Christmas Day Dinner
Priced at $105 per person. Includes a 4-course dinner. Reservations for December 25 from 4 pm – 9 pm.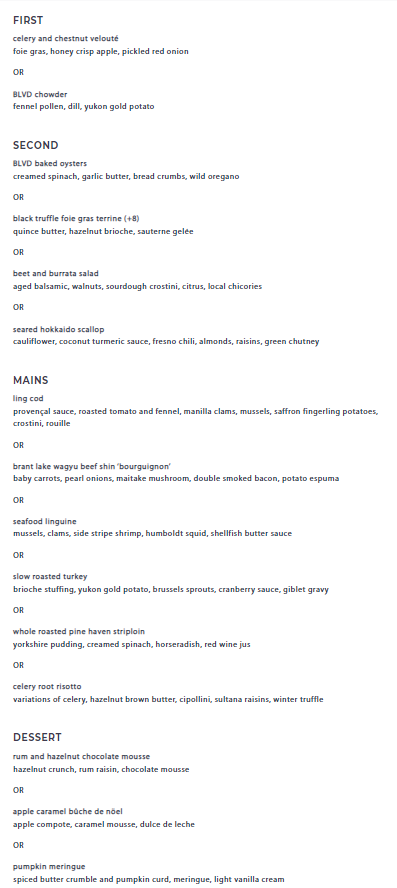 Christmas Day Brunch
Priced at $98 per person. Includes a 3-course brunch. Reservations for December 25 from 10:30 am – 2 pm.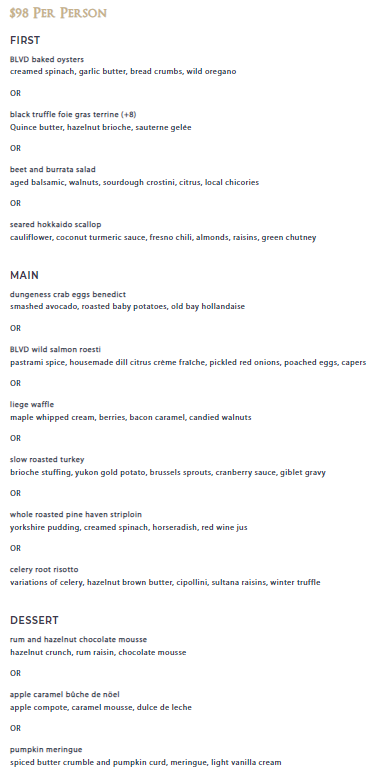 Holiday Turkey to Go
Chef Alex Chen presents a holiday dinner to enjoy at home. This hassle-free festive meal features all the classics elevated to the level of exceptional, including super-tender and expertly carved roasted turkey. For dessert, Chef Kenta Takahashi dishes up a duo of Bûche de Noël that are bursting with holiday flavours.
Pick Up Date Options: December 23 – December 26
Pick Time Options: 11:00 AM – 5:00 PM
Full-Size Package (feeds 8-10): Heat and serve :: $395, Hot :: $445
Half-Size Package (feeds 4-5): Heat and serve :: $245, Hot :: $295
Reservations: Book on Tock
APPETIZER
Boulevard Corn Bread & Spiced Butternut Squash Soup
MAIN COURSE
Brined and Sage Roasted Turkey Breast | Slow Roasted Legs
Madeira Scented Giblet Gravy | Traditional Cranberry Sauce
Brioche, Apples, Chestnut and Thyme Stuffing
Whipped Yukon Gold Potatoes
Roasted Brussels Sprouts
Honey Glazed Carrots
DESSERT
Bûche de Noël – Each Order Contains both Flavors
Rum chocolate
Hazelnut Praline Crunch, Rum Raisin, Milk Chocolate Mousse
~ and ~
Apple Caramel (gluten-free)
Brown Butter Rice Crisp, Apple Compote, Caramel Mousse, Dulce de Leche
Railtown Catering
Railtown Catering's much-loved Turkey To-Go packages will be available for pickup and delivery from December 23-26.
The menu includes a super-tender brined Sage-Roasted Turkey and a bounty of classic sides like brioche stuffing, sweet potatoes, and an ooey-gooey Classic Pecan Pie for dessert.
Sage-Roasted Turkey
Traditional Giblet Gravy
Wild Flower Honey & Ginger Infused Cranberry Sauce
Mesclun Greens, Candied Walnuts, Citrus, Sherry vinaigrette
Dried Apricot Chestnut & Brioche Bread Stuffing
Maple-Glazed Sweet Potatoes
Mashed Yukon Gold Potatoes
Buttered Carrots
Brussels Sprouts with Toasted Almonds
House Made Dinner Rolls & Focaccia Bread, Sweet Butter
Classic Pecan Pie, Chantilly Cream
Packages will be available in two sizes; the full package, which includes a whole turkey, feeds 8-10 for $379.00.
For smaller gatherings, the team offers a half package that feeds up to 5 for $279.00.
There's plenty of opportunities to add on additional sides and double up on desserts and the fan favourite sides.
In addition, the team has curated a collection of BC wines and craft beer, available for purchase with the packages.
Early bird offer: Those that reserve a package before Monday, December 6, will receive a $40.00 Railtown Cafe gift card. Both small and large package orders are applicable to receive the offer.
All orders must be placed by Friday, December 17, at 10:00am.
Packages will be available for pickup from the 397 Railtown Street location between 10:00am – 5:00pm on December 23-26
Delivery is offered throughout the Lower Mainland for an additional charge.
Additionally, the team will be offering a ready-to-eat "Hot Pick Up" service between 3:00pm –5:00pm, December 24-26, available for an additional $50.00 per package.
As with previous holiday packages, partial proceeds from packages sold will go directly to Mission Possible, a non-profit organization that supports vulnerable community members in Vancouver's Downtown Eastside.
Peake of Catering
Peake of Catering is offering a traditional holiday dinner that includes dishes like our Sunrise Farms Turkey with stuffing, Lavender Roasted Parsnips & Carrots, Maple Roasted Spaghetti Squash, and other delicious treats.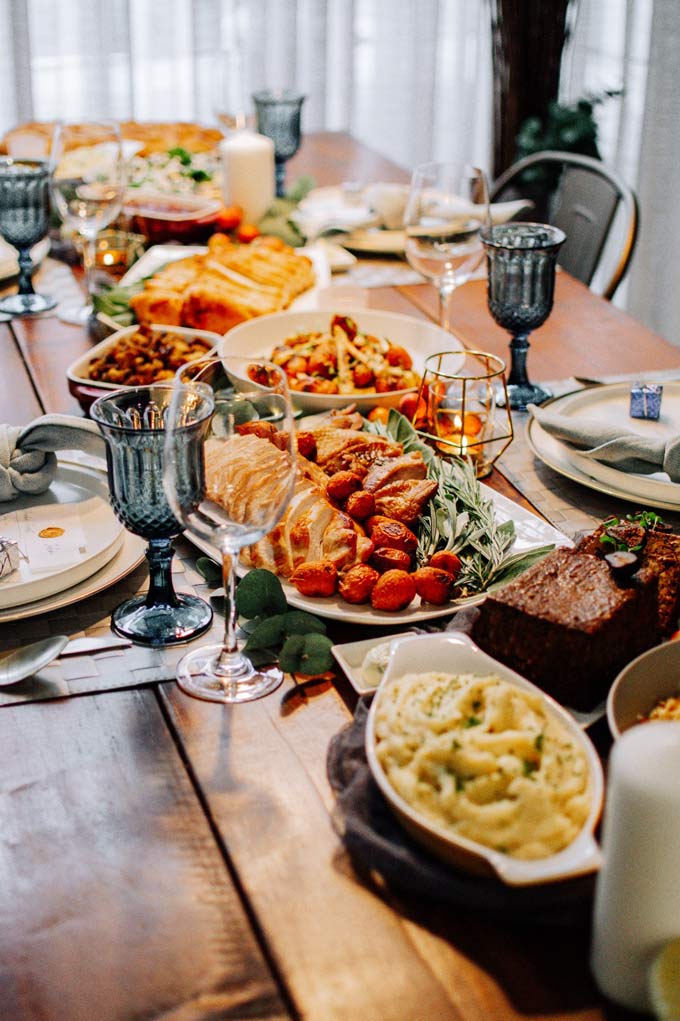 Priced at $295, each package serves 4-6 people and is pre-cooked, all you have to do is reheat and enjoy the feast! Reheating instructions will be included.
Each package includes:
Sunrise Farms Turkey
The Fixings
Yam & Shiitake "Meatloaf" (vegetarian option)
Bench Bakehouse Sourdough
Shaved Brussels Sprouts & Baby Kale
Lavender Roasted Parsnips & Carrots
Maple Roasted Spaghetti Squash
Yukon Potato Mash
Apple Crumble (take & bake) served with Earnest Ice Cream's Oatmeal & Brown Sugar Ice Cream
Deadline to order is Friday, December 17th @ 3pm, and they will be available for pick up at Peake HQ – 1764 Powell Street, Vancouver on December 23rd between 8am-4pm, or December 24th between 8am-12pm (delivery may be available on December 23rd)
Check out www.peakeofcatering.com for more information and other holiday offerings.
Le Tigre Food Truck
Le Tigre Food Truck is offering holiday sets available for takeout December 21-25.
Pickup will be available 3:30pm-7:00pm at the truck's brick-and-mortar sister restaurant, Torafuku located at 958 Main Street. Orders can be placed online here.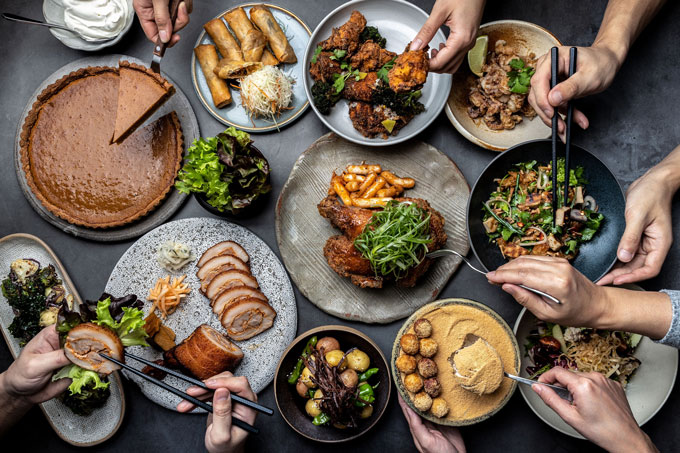 Small Set | $110 (feeds 2): 1 salad, 2 appetizers, 1 main, 1 dessert
Large Set | $250 (feeds 5): 2 salads, 5 appetizers, 2 mains, 2 desserts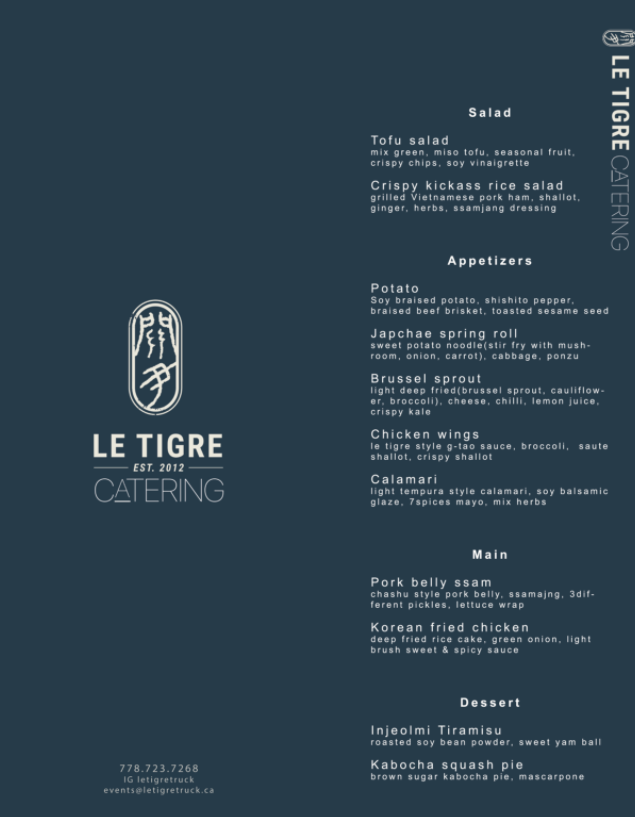 The Westin Bayshore
The Westin Bayshore has many festive offerings this year:
Dine & Stay Package starting at $750
Escape to a winter wonderland this Christmas for an enchanted dinner under the stars before retreating to your guest room at The Westin Bayshore Hotel. The Dine & Stay Package includes a dome experience for up to 8 guests and your choice of a guest room or suite. Enjoy a six-course holiday dinner for $120 per person, starting with a selection of appetizers such as Sourdough Boule, Ahi Tuna Nori Crisp, and more. Indulge in your choice of entrée: Turkey Two Ways, Dungeness Crab Crusted Kuterra Salmon, and Wild Mushroom & Truffle Risotto. Conclude your feast with our decadent Chocolate Yule Log. Let the festivities continue after dinner and take the elevator home to your guest room, where a bottle of Piper-Heidseick champagne awaits. A deposit of $500 and a guest room booking are required to complete your reservation. Guest room or suite add-ons start at $250 per night. Self-parking is included for one vehicle.
Package inclusions:
1 Dome Dining Experience
1 Guest Room or Suite
Complimentary bottle of Piper-Heidseick champagne
Complimentary self-parking for 1 vehicle
Dine-In Christmas Dinner at H Tasting Lounge
Four-course Christmas dinner that begins with a Sourdough Boule with an olive oil candle and choice of festive Winter Beets salad or Chestnut & Parsnip soup. Select your choice of entrée: Turkey Two Ways with all the trimmings or Dungeness Crab Crusted Salmon, or Wild Mushroom and Truffle Risotto. Save room for dessert – a decadent Chocolate Yule Log with black cherry and orange sauce.

$80 per adult + tax & 18% gratuity.
$35 kids under 12 menu available.
Deposit of $80 taken at time of booking which will be applied to final bill on the evening.
Available December 24 and 25 starting at 5pm.
48-hour cancellation fee, 2 hour seating time.
Festive Afternoon Tea at H Tasting Lounge
This Christmas, afternoon tea at H Tasting Lounge is the most festive of occasions with exquisite tea and delectable holiday-themed pastries. Available exclusively on weekends from 11:30am-3pm until Dec 26, enjoy an elegant tea affair with delicacies including Christmas Spice Scones, Chestnut Mandarin Mont Blancs, Gingerbread and Shortbread Cookies, Dark Chocolate Candy Cane Tarts, Egg and Chive Yule Logs and much more. $65 per person.
Festive Turkey Takeout
Impress a party of 6-8 with an extravagant turkey feast: a 5kg slow-roasted Rossdown Farms free-range turkey; Bayshore honey-glazed root vegetables; roasted garlic and parmesan Brussels sprouts; buttermilk and chive mashed potatoes; cranberry and peach stuffing; sage pan gravy and spiced cranberry relish; winter greens salad; and a decadent Chocolate Yule Log. Order by Dec 20, pick-up Dec 24 & 25 from 2-6pm. Priced at $400.
Festive Brunch priced at $65 per person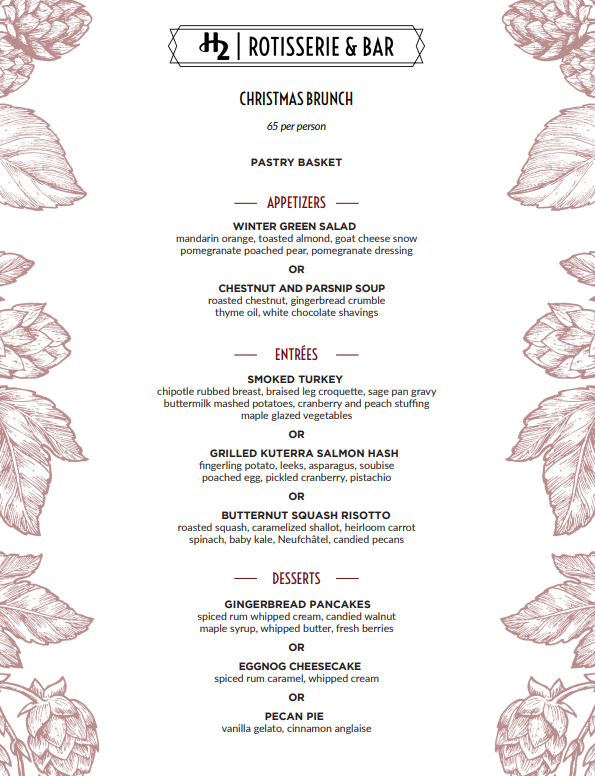 Christmas Brunch at H2 Rotisserie & Bar: Dec 25, 11:30am – 1pm
H2's beloved Christmas Day Brunch returns. This year, kick off your culinary adventure with a fresh-baked Pastry Basket, then choose from appetizers such as the colourful Winter Green Salad with pomegranate dressing or Chestnut and Parsnip Soup topped with gingerbread crumble and white chocolate shavings. Choose from several entrées, including Smoked Turkey with buttermilk mashed potatoes, Grilled Kuterra Salmon Hash with fingerling potatoes, or rich Butternut Squash Risotto. Satisfy your sweet tooth with Gingerbread Pancakes topped with spiced rum whipped cream and fresh berries, or cap your meal with Pecan Pie or Eggnog Cheesecake.
$65 per person. 48-hour cancellation fee; 2-hour seating time.
H Tasting Lounge: A Christmas Movie
Just in time for the Yuletide season, H Tasting Lounge has transformed into a festive wonderland with opulent gold and crimson ribbons, forest green garlands, glimmering lights, a towering Christmas tree beneath the chandelier, and a regal, picture-worthy throne made up of gifts. Reserve a table and soak in the complete festive experience, strike a pose at the throne, savour new winter menu items, and sip on the accompanying '12 Cocktails of Christmas Movies' cocktails.
Pat Quinn's Restaurant
Pat Quinn's Restaurant in Tsawwassen has the following Christmas offerings:
Brunch with Santa on December 12 from 10:30 am – 2:30 pm. Adult $36.00, Children under 12 $18.00.
3 Course Plated Menu for groups of 8 to 10 available November 26 – December 24.
Christmas Turkey to Go available for pickup on December 24 and 25. The dinner ($370, serves 8 – 12 people) includes
Traditional Succulent Roasted Turkey
Savory Cranberry, Apple & Sage Stuffing
Housemade Turkey Gravy
Cranberry Sauce
Buttermilk Mashed Potatoes
Roasted Fall Vegetables
Chocolate Yule log
Christmas Day Dinner Buffet on December 25 from 4 pm – 8 pm. Adult $79.00, Children under 12 $39.50.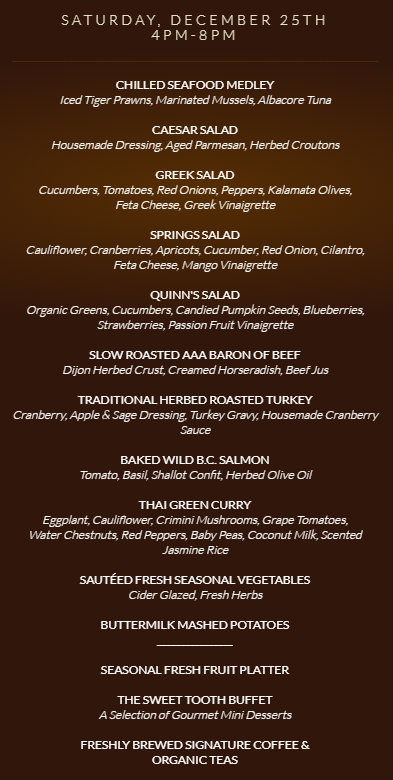 Prestons Restaurant + Lounge
Prestons Restaurant + Lounge is offering a Christmas 3 course dinner available December 24 – 26. Priced at $47.25 per person.
Pacific Yacht Charters
Pacific Yacht Charters has the following holiday menu to go. Some of their offerings include:
Holiday To-Go Prime Rib Dinner for 2 ($140), for 4 ($260)
Holiday To-Go Turkey Dinner for 2 ($120), for 4 ($220)
Cranberry Apricot Relish ($12)
Creamy Mashed Yukon Gold Potatoes ($24)
Pan-fried brussels sprouts + green beans ($23)
Radicchio and arugula salad ($22)
Traditional bread stuffing ($22)
Five Sails
Five Sails is offering a Christmas Eve 5-course dinner priced at $150 per person. Reservations available between 4:30 pm – 9:30 pm.

Hart House Restaurant
Hart House Restaurant has the following Christmas offerings:
Christmas Eve: Open for regular Lunch. Dinner: 4:30pm (last seating 8:30pm) with three course holiday Menu $82/person. Credit card required for reservation.
Christmas Day: Three course holiday menu priced at $82/person ($30 for kids 10 and under). First Seating Times: 4pm, 4:15pm, 4:30pm (2nd Floor) 5:00pm, 5:15pm, 5:30pm (Main Floor). Second Seating Times: 7:00, 7:15pm, 7:30pm, (2nd Floor) 8:00pm, 8:15pm, 8:30pm (Main Floor).
Acqua – at Executive Suites Burnaby
Acqua – at Executive Suites Burnaby is offering a Christmas Day Buffet Dinner priced at $59 per person. Seatings at 2:30 pm and 5 pm.
The Wild Fig – at Executive Plaza Hotel, Coquitlam
The Wild Fig – at Executive Plaza Hotel, Coquitlam is offering the following this holiday season:
Holiday Sunday Brunch, price $59. December 12 and 19.
Christmas Day Dinner Buffet: Featuring traditional carvery, seafood platters, selection of dessert. Music and entertainment. Priced $79 (book by December 15), regular $99 per person.
Great hotel rates for one night stay
Bruno
Bruno at the Versante Hotel in Richmond is offering a 4 course sharable dining experience on Christmas Eve and Day.
Menu includes Oysters, Burrata Salad, Kurobuta Pork Belly, Turkey with all fixings, Prime Rib, Arctic Char. Finish with Classic Pumpkin Pie and Christmas Petit Fours. Priced at $98 per person.
Save room for the Smoked S'mores Chocolate Torte dessert, featuring a graham-gingerbread crust, dark-chocolate ganache, marshmallow, eggnog white-chocolate mousse, and a candied cranberry "mistletoe." Proceeds from this festive feature will be donated to the Lower Mainland Christmas Bureau to help families in need. Available at Bruno and Cask until Dec. 22.
All December and January long, guests of Cask and Bruno are invited to stay the night and take advantage of exclusive room rates, available by visiting: clubversante.com/cask or clubversante.com/bruno. Versante Hotel's 24-hour fitness centre, heated rooftop lap pool and jacuzzi, large spa-like bathrooms, and round-the-clock room service provide guests plenty of excuses to extend their visit.
Still have a few loved ones to check off your "nice list?" Book Versante's Retail Therapy package, treating guests to round-trip transportation via luxury vehicle to McArthurGlen Designer Outlet, along with a $50 gift card to get the spending spree started. Visit the hotel offers page for details.
Sylvia Hotel
The Sylvia Hotel is offering Christmas Eve and Day dinner priced at $68 per person.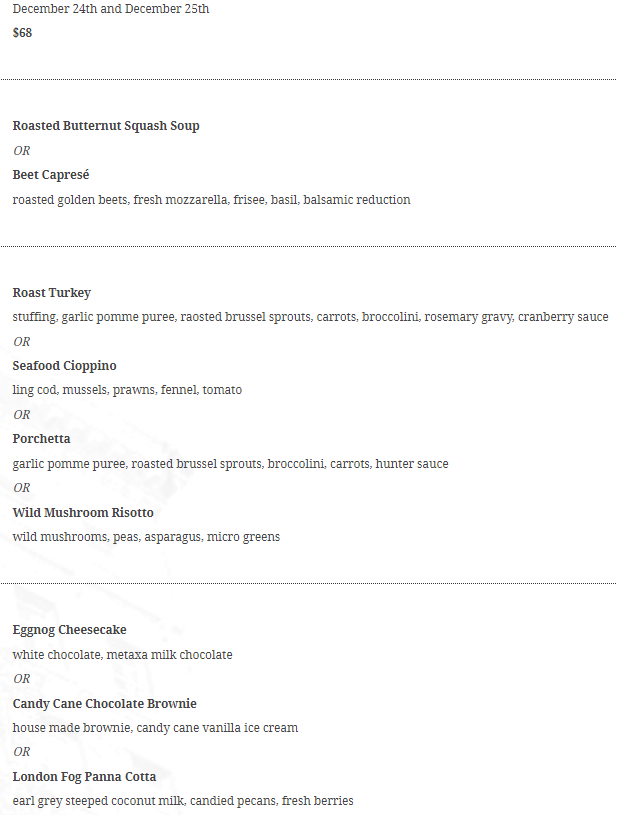 They are also offering Christmas Day Brunch from 10 am – 2 pm priced at $38 per person. Includes warm pastries for the table, coffee and tea.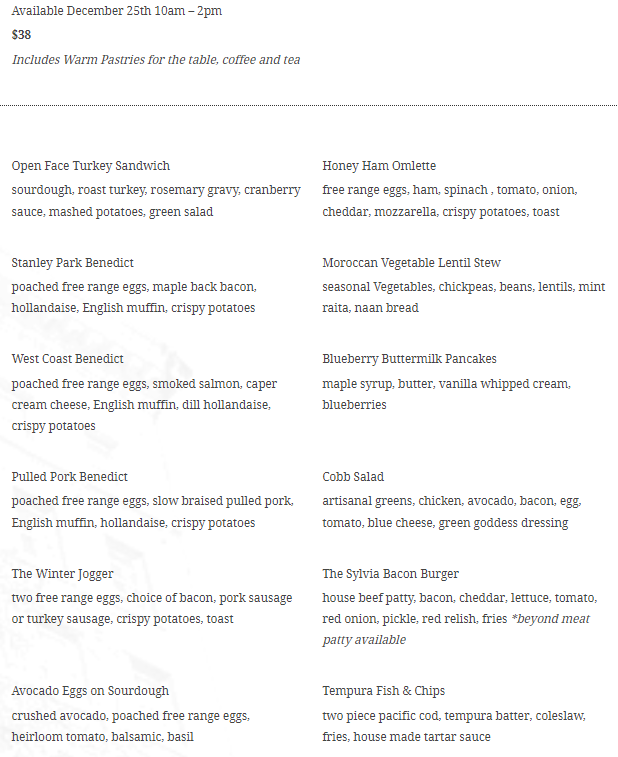 Blue Hat Bakery-Café
Blue Hat Bakery-Café at Pacific Institute of Culinary Arts is offering holiday menus to go.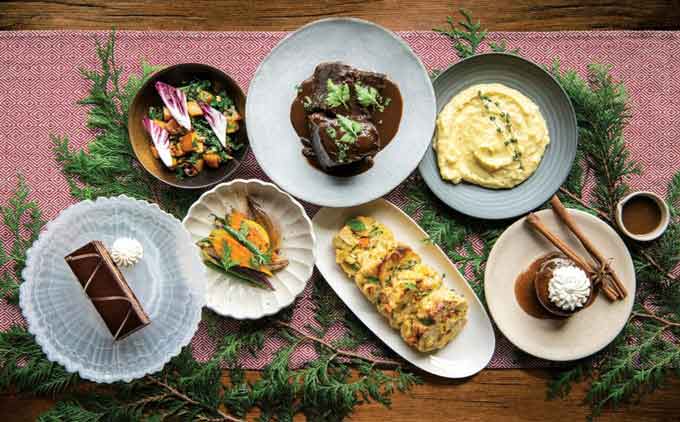 MENU A ($109) features a succulent turkey dinner with all the traditional trimmings
MENU B ($109) features flavourful and juicy beef short ribs braised in red wine and star anise.
MENU A – serves two
Oven Roasted Turkey Breast
Warm Kale & Radicchio Salad with Butternut Squash & Walnuts
Garlic Infused Whipped Potatoes
Lemon-Thyme Glazed Winter Vegetables
Holiday Stuffing
Classic Turkey Gravy
Orange-Cranberry Sauce
Chocolate Layer Cake with Or Noir Ganache
Traditional Sticky Pudding with Butterscotch Caramel & Chantilly

MENU B – serves two
Star Anise-Red Wine Braised Short Ribs
Warm Kale & Radicchio Salad with Butternut Squash & Walnuts
Garlic Infused Whipped Potatoes
Lemon-Thyme Glazed Winter Vegetables
Holiday Stuffing
Chocolate Layer Cake with Or Noir Ganache
Traditional Sticky Pudding, Butterscotch Caramel & Chantilly
Pre-order your holiday feast by Friday, Dec. 17 for pick up on either Thursday, Dec 23 or Friday, Dec. 2, and warm it up when your guests are ready to enjoy. Detailed heating instructions are included.
Pick up will be from Blue Hat Bakery located at the northeast entrance (off Anderson Street) of their building at 1505 West 2nd Avenue, Vancouver, BC. Complimentary parking is located in adjacent building on 2nd Ave.
In addition to the Holiday Dinners To-Go, seasonally inspired cakes and confections to tempt the sweet tooth are now available from Blue Hat's talented culinary team that include Christmas Stollen ($26/loaf and $5/slice), Orange Chocolate-Dipped Shortbread ($12) and Caramel Popcorn ($9).
Beginning Thursday, November 25, the bakery-café will also be offering handcrafted Christmas Yule Logs in Classic Chocolate, Almond Chocolate and Gingerbread Spice varieties for $35 each, as well as Chocolate Bark with Candied Hazelnut and Almond in both Milk and Dark varieties for $14.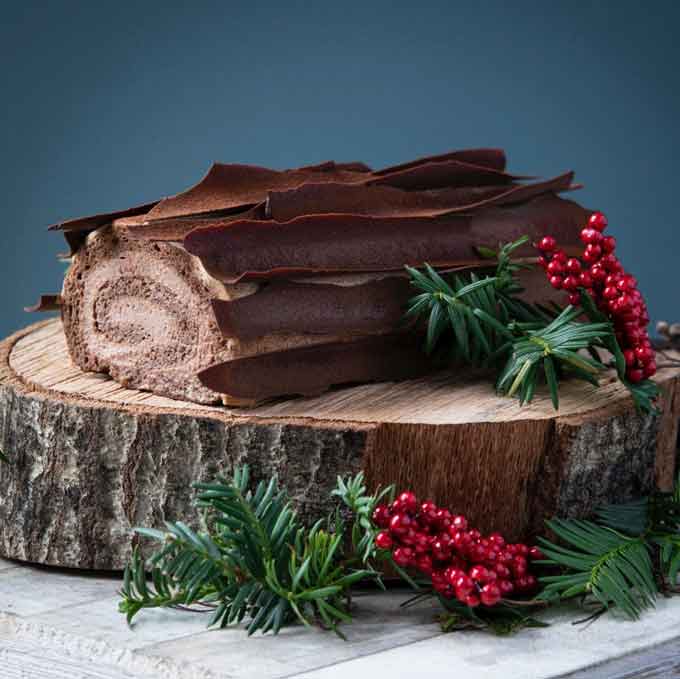 Custom orders for cakes and pastries in addition to breakfasts, lunches or dinners for corporate holiday parties or client-appreciation events and private gatherings are also welcome with three days' notice by emailing [email protected].
Honey Salt
Honey Salt will be hosting Gingerbread House Making for families on Saturday, December 4th and 18th starting at 3PM.
Throughout the enchanting afternoon, participants will be provided with all the ingredients and tools required to construct and decorate a whimsical gingerbread house. Registration is $25 per table.
To reserve a table, please email [email protected]
Teahouse in Stanley Park
Teahouse in Stanley Park is offering a Christmas Eve menu (from 3 pm, $65 per person) and Christmas Day menu (from 3 pm, $95 per person).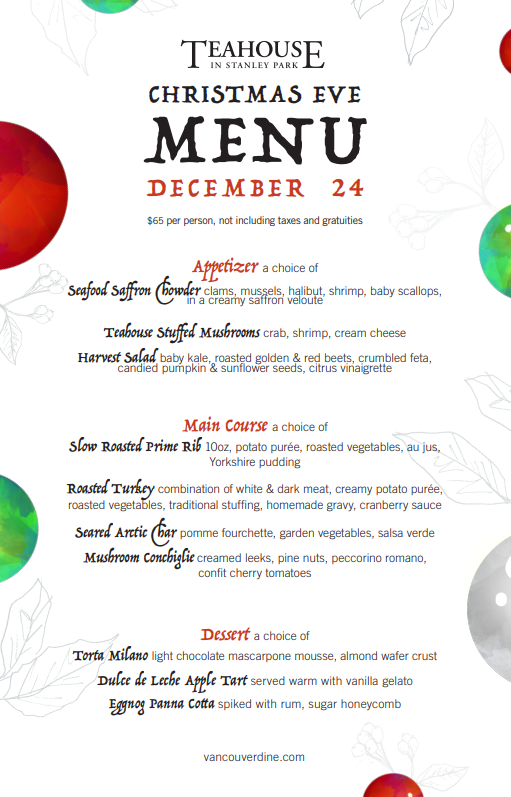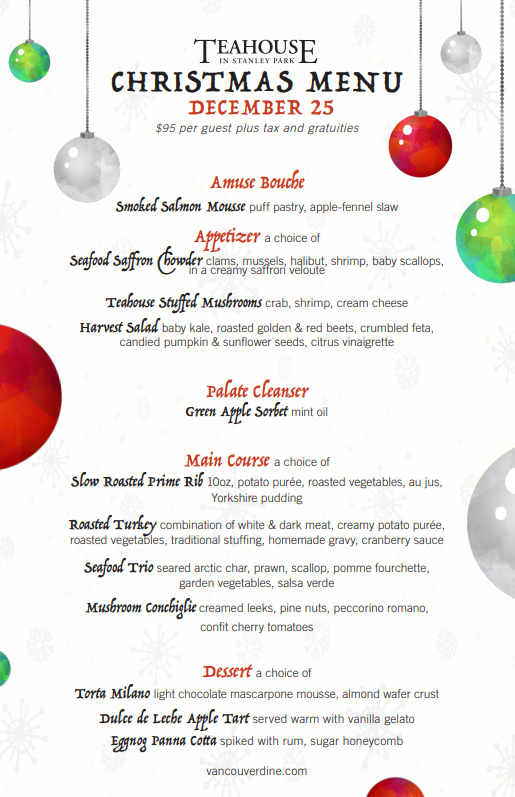 Seasons in the Park
Seasons in the Park is offering a Christmas Eve menu (from 3 pm, $65 per person) and Christmas Day menu (from 3 pm, $95 per person).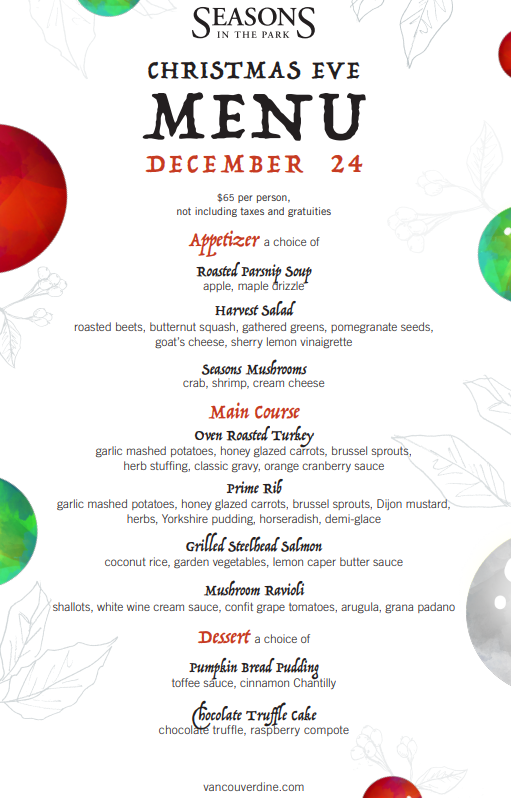 Tractor at Home
Vancouver-based gourmet meal and grocery delivery service Tractor At Home is offering Holiday Heat-and-Eat Meal Bundles available for delivery December 23 and 24.
Available for pre-order from Wednesday, November 17 until Friday, December 10 at tractorathome.com, Tractor At Home's Holiday Meal Packages contain enough food to comfortably feed four hungry adults and offer a mouth-watering array of delicious, seasonally inspired, locally sourced dishes in both Traditional and Vegetarian formats for $139 and $109 per package plus tax, respectively.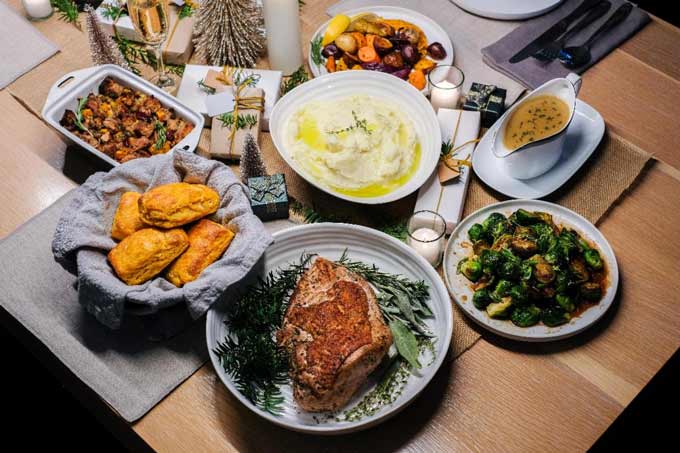 The Traditional Holiday Bundle showcases local Rossdown Farms Garlic Lemon Butter Turkey Breast, Mashed Potatoes, Turkey Gravy and all the fixings, while the Vegetarian Bundle includes a Lentil Walnut Loaf, Maple Glazed Brussels Sprouts, Beet Pecan Salad, Rosemary Lemon Sheet Pan Vegetables and Pomegranate-Glazed Carrots.
Both bundles also include a classic Apple Crisp as a dessert course.
Holiday hosts can skip precious time spent over hot stoves by selecting either package as presented or building their own personalized menu by picking and choosing from a selection of seasonally themed, chef-prepared mains, sides and desserts that come ready to bake and serve and delivered just in time for seasonal celebrations.
Larger — or hungrier! — parties can also add on additional items to ensure that everyone leaves the table well fed.
Home delivery of Tractor At Home's signature holiday meal packages and seasonal dishes will be offered between noon and 4 p.m. on Thursday, December 23 and Friday, December 24 in its existing service areas, including Metro Vancouver, the North Shore, Richmond, New Westminster, Burnaby and the Tri Cities and now, Surrey, White Rock, Delta and Langley.
Glowbal Restaurant
Glowbal Restaurant has a variety of holiday-themed features and events designed to keep spirits bright while giving back to the community at large.
The seasonal celebration kicks off this December as the restaurant transforms its outdoor patio into an elegant holiday winter wonderland in the heart of the city, offering guests opportunities to gather with friends, family and coworkers for parties and get-togethers, take cheeky seasonal selfies among holiday backdrops and sip festive-friendly libations like Mulled Wine, Gingerbread Eggnog (Havana 7 yr rum, homemade eggnog, whipped cream & gingerbread, nutmeg) and Jingle Juice (vodka, lime, ginger syrup & beer, soda, cranberry, mint, dehydrated fruit).
The festive al-fresco patio offers a feast for the senses that will delight guests of all ages courtesy of holiday-themed décor and artful touches like snow-kissed wreaths, fully trimmed Christmas trees and a multitude of twinkly miniature lights.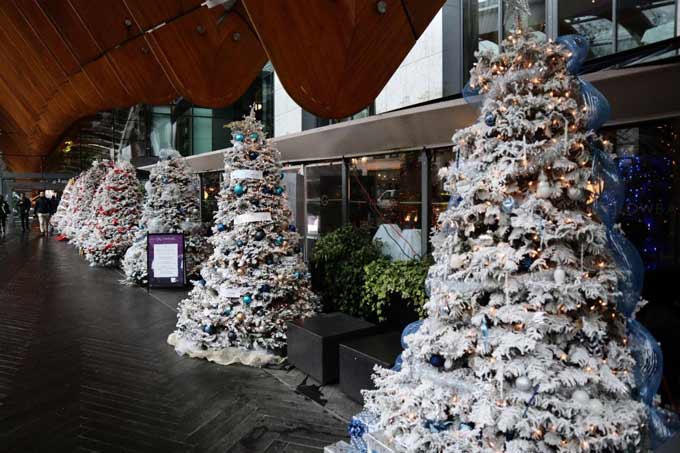 The winter wonderland allows guests to get cozy and enjoy VIP seating in a one-of-a-kind intimate space that features overhead heaters, privacy screens and awnings for full protection from the elements.
Those feel good festive vibes will extend far beyond the restaurant's boundaries and further benefit the community as well when the restaurant's Corporate Christmas Tree Sponsorship & Decorating Contest makes its triumphant return to the Glowbal Telus Garden this month after a one-year hiatus due to the pandemic.
From Nov. 25 to 30, teams can sponsor and decorate eight-foot flocked trees adorned with miniature lights in their own festive or corporate style and vie for prizes that include $500 gift certificates from Glowbal Restaurant Group
The net proceeds from each $800 tree sponsorship will be donated directly to Covenant House — a charity providing care for local homeless and at-risk youth who have fled physical, emotional and sexual abuse, been forced from their homes or aged out of foster care.
On Sunday, December 5, Glowbal Restaurant will also offer 'Santa spotters' exclusive access to photo opportunities with the jolly old elf himself as he visits the restaurant prior to taking his sleigh across town to participate in the Vancouver Santa Claus Parade.
To mark the occasion, Glowbal will offer guests complimentary mini cinnamon rolls and eggnog smoothie shooters and limited à-la-carte brunch options from 9:30 a.m. to 2:30 p.m.
Reservations are highly recommended and can be made at www.glowbalgroup.com/glowbal or by contacting the restaurant directly at 604-602-0835.

Kinton Ramen
KINTON RAMEN is excited to bring back their famous Truffle Turkey Ramen ($15.99) for a limited time (December 1 to 31).
Truffle Turkey Ramen: Thin noodles in a creamy white truffle vegetable broth topped w/ turkey ham, seasoned egg, arugula, cherry tomato, white onion, bamboo shoots and aonori seaweed flakes. Available for Dine-in, traditional takeout, online ordering through Kinton Ramen website, and 3rd party app (UberEats, DoorDash).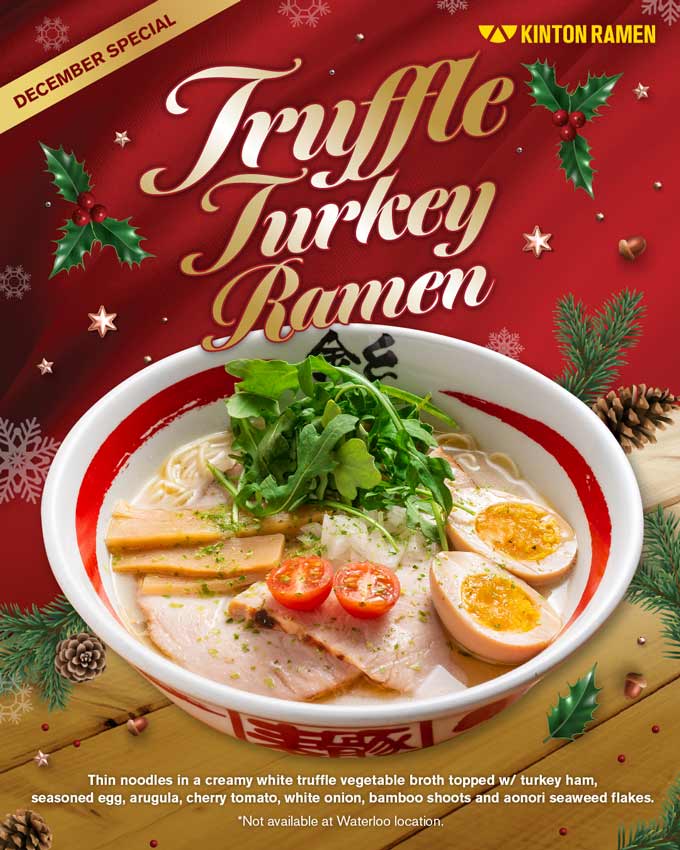 Savoury City Catering
Award-winning Vancouver caterer Savoury City Catering is taking the stress out of the holidays with a gourmet Turkey To-Go dinner package available for pick-up on Thursday, December 23 and Friday, December 24.

The Turkey To-Go spread features a selection of chef-prepared holiday favourites, perfect for sharing with friends, family and holiday guests.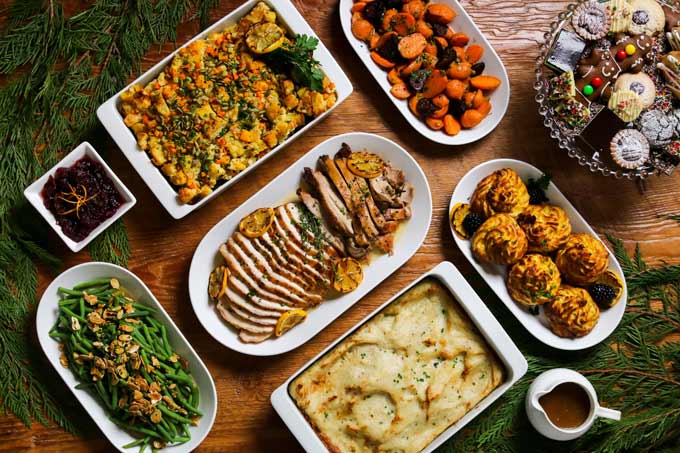 Celebrate being able to once again gather with your nearest and dearest this holiday season with a pre-carved Slow-Roasted Turkey, brined with herbs and lemon, and sides including Roasted Garlic Mashed Potatoes, Classic Herb Stuffing, Green Bean Almondine and more, finished with an abundant selection of seasonal sweet treats, squares and cookies.
All items are conveniently packaged in oven-safe containers and come with simple heating instructions for effortless preparation and minimal clean-up.

Designed to feed gatherings of up to six, Savoury City's Turkey To-Go holiday dinners are priced at $275 and will be available to pick-up at the caterer's East Vancouver headquarters (3925 Fraser Street) on December 23 and December 24 from 9 a.m. to 3 p.m.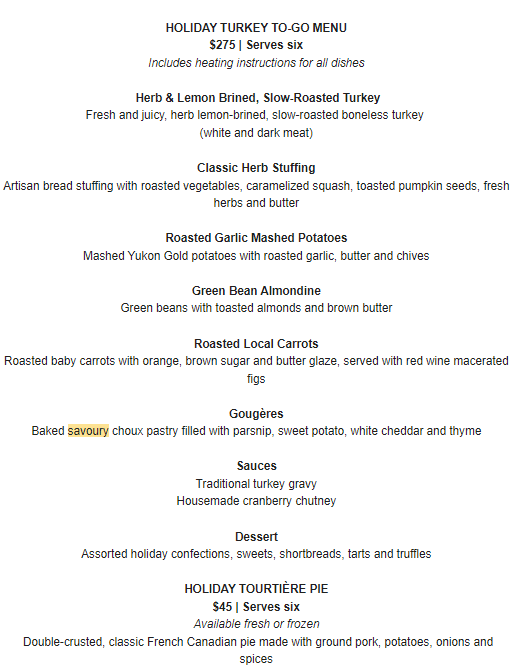 Traditional Québecois Tourtières are also available to order fresh or frozen for pick up from December 20 until December 24 to ensure you and your family are well-fed even on the busiest of days.
Ask For Luigi
Just in time for holiday hosting, Ask For Luigi is making its grand re-opening for lunch service, available Monday through Friday beginning Monday, December 13 with a menu of comfort fare and neighbourhood favourites like Luigi's Meatballs, house-made Spaghetti Cacio e Pepe and Rigatoni alla Bolognese.
Carlino
At Carlino restaurant, opening December 1, guests can enjoy a seasonal fai tu menu experience designed by chef Chef Mark Perrier. Available for small intimate celebrations or large parties in the private dining room, Fai tu is an Italian expression that pays homage to the chef by giving them a free hand to select your meal — loosely translated, it means "you pick." Rotating weekly, Chef Perrier's fai tu menu ($85 per person) includes some of his favourite dishes, as well as new recipes and seasonal flavours.
Giovane Bacaro
Kick off your holiday season in style at Giovane Bacaro's Christmas in Venice, taking place December 6. Featuring organic, biodynamic and naturally made wines from four different Venetian winemakers, priced at $45 per person, the ticket includes a welcome cocktail with house-made chips, four cicchetti (snacks) of your choice, served with a glass of bubbles, as well as a $5 donation to the BC Hospitality Foundation. In addition, guests can purchase selected wines at half-price from The Living Vine portfolio and enjoy complimentary corkage on wines brought in from the Veneto region. Reservations can be made online.
St. Lawrence
Just in time for all the festive feasts and fêtes, St. Lawrence is bringing back a compilation of 'Greatest Hits' dishes from over the years to December's Table d'Hôte, including famed dishes like the Vol-au-Vent Aux Champignons (Mushroom Ragout in Puff Pastry), Tartare de Bison (Bison Tartare), Tourtière de Cerf (Venison Tourtière), and for something sweet, the return of the Tarte au Sucre (Sugar Pie).
Available from Tuesday, November 30 through Thursday, December 30, tickets can be reserved for $75 per person plus tax. Each ticket includes pain à l'érable et creton, financiers and a choice of starter, main and dessert, with optional add-ons for the table available.
Beetbox
West End plant-based hotspot, Beetbox, will be bringing back their fan favourite Holiday Chick-Un & Fix-uns Sandwich for a limited-time run from December 14 – 23.
Offering a vegan spin on the classic flavours of the holiday season, the sandwich is stuffed with Beetbox's classic Fried Chick-Un, cranberry sauce, celery stuffing, brussels sprouts slaw, vegan gravy and mayo and is available for dine-in, take-out and delivery.
Juke Fried Chicken
Juke Fried Chicken's crowd-favourite Turducken Meal Kit makes a festive return with an exclusive limited run for the holidays.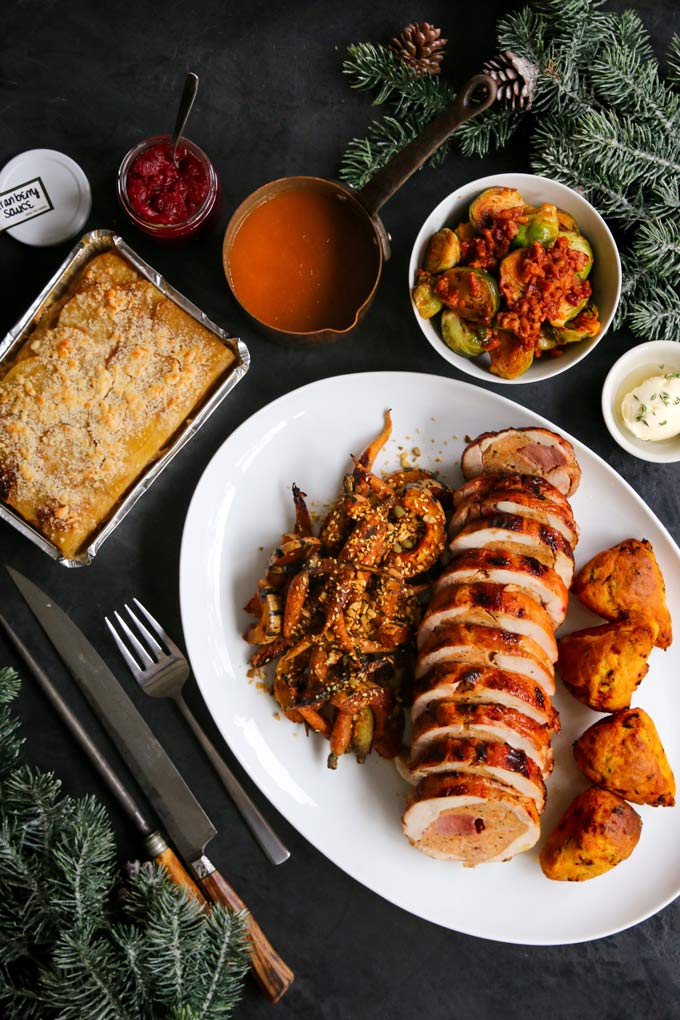 In true Juke fashion, each Turducken feast is gluten-free, easily feeds four and includes a full turducken — a three-in-one showstopper of a centrepiece featuring roasted turkey, duck and chicken. Each kit also includes an array of hearty and unique seasonal sides as well as detailed written and video instructions from Juke Chef and Co-Owner Bryan Satterford.
A limited number of Juke's Turducken Meal Kits are available for pickup from Wednesday, December 22 and Thursday, December 23 for $199 plus tax and can be ordered online at www.jukefriedchicken.com. Customers are encouraged to order early as kits are expected to sell out. Meal kits may be prepared up to three days following pickup.
White Spot
Starting December 13, while supplies last, Turkey Dinner is back at White Spot – with two ways to enjoy.
Choose from either ready-to-eat Traditional Turkey Dinner available for dine-in, takeout & delivery from December 13 – January 2 OR preorder Heat & Serve Dinner for Two starting December 13 by: (1) calling your local White Spot, or (2) placing your order online by selecting your location and preferred pickup day (Dec 23, 24 or 26).
Find out more here.
Cibo Trattoria
Cibo Trattoria is taking reservations for Christmas Eve and Christmas Day.
Cold Tea Restaurant
Cold Tea Restaurant is taking reservations for Christmas Eve and Christmas Day.
Tetsu Sushi Bar
Tetsu Sushi Bar is taking reservations for Christmas Eve.
Sai Woo
Sai Woo is taking reservations for Christmas Eve and Christmas Day.
Papi's Seafood and Oyster Bar
Papi's Seafood and Oyster Bar is taking reservations for Christmas Eve.
Cuchillo
Cuchillo is taking reservations for Christmas Eve.
Holts Cafe Vancouver
Get in a festive mood and enjoy a holiday meal at Holts Café Vancouver or from the comfort of home, with their in-house feature menu available daily, or their takeaway kits available for pick-up every weekend.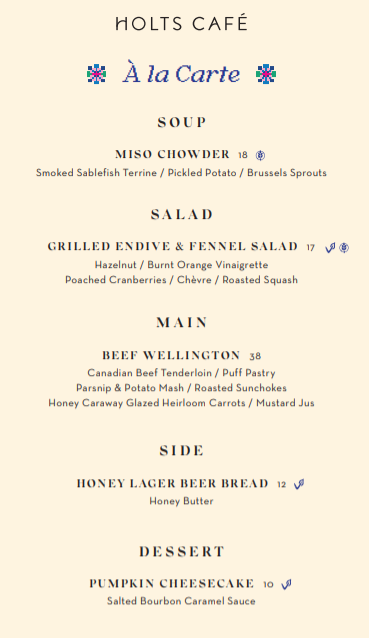 Hotpot Palace 御庭-精緻鍋物
Hotpot Palace in Richmond is offering Christmas Menus from Dec.17,2021-Jan.1,2022. This year, they will offer TWO special menus for all of you to enjoy an unparalleled dining experience, butler service and even an exclusive private room for you and your family or friends this Christmas and New Year.
Christmas Special – $80/per (Minimum Booking of 4 Guests)
Appetizer | 前菜
Lingcod en Papillote with Shaved Mullet Row 龙胆石斑烧
Binchotan Grill Shio Koji Angus 碳烤安格斯
Choice of Meat | 食事

Kagoshima Wagyu Ribeye cap 鹿儿岛和牛眼边
Angus Short Rib – Hand Cut 安格斯手切肥牛
Sliced Matsusaka Pork Neck 极品松坂猪
New Zealand Lamb 新西兰小羔羊

Seafood | 海飨
Seasonal Fish Fillet 当季鲜鱼片
Pacific Oyster 太平洋大生蚝
Tiger Prawns 虎斑虾
Abalone 九孔鲍鱼
Mussels 青口
Platter | 拼盘
Assorted Vegetable Platter 综合野蔬菜盘
Assorted Dumpling Platter 手工拼盘
Rice | 特选
Sea Urchin with Crab Meat Risotto 蟹肉海胆烤饭
Dessert | 甘味
Rice Cake with Red Beans 红豆年糕
Christmas Special with guaranteed private room – $152/per person(Minmum Booking of 6 Guests)
Appetizer | 前菜
Bluefin Tuna Sashimi 蓝鳍金枪鱼双拼
Yakitori Duo ( Bacon / plum cherry tomato , Wagyu / Sichuan peppercorn )双味特制烤串(培根渍番茄,花椒宫崎牛)
Binchotan Grill Shio Koji Angus 碳烤安格斯
Choice of Meat | 食事

Miyazaki Wagyu ( A5 ) A5宫崎和牛
Angus Short Rib – Hand Cut 安格斯手切肥牛
Sliced Matsusaka Pork Neck 极品松坂猪
Angus Short Rib – Thick Sliced 厚切安格斯
New Zealand Lamb 新西兰小羔羊

Seafood | 海飨
Geoduck 象拔蚌
Grouper 石斑鱼
Pacific Oyster 太平洋大生蚝
Tiger Prawns 虎斑虾
Abalone 九孔鲍鱼
Platter | 拼盘
Assorted Dumpling Platter 手工拼盘
Assorted Tofu Platter 豆类拼盘
Vegetable | 蔬菜
Assorted Vegetable Platter 综合野蔬菜盘
Suprise | 限定
Lingcod en Papillote with Shaved Mullet Row 龙胆石斑烧
Typhoon Shelter Style Dungeness Crab 避风塘炒蟹
Rice | 特选
Sea Urchin with Crab Meat Risotto 蟹肉海胆烤饭
Dessert | 甘味
Rice Cake with Red Beans 红豆年糕
Book your table: hotpot-palace.com or call: 604-270-2588
The Vancouver Fish Company Restaurant & Bar
The Vancouver Fish Company Restaurant & Bar is taking reservations for December 24.
BREWHALL
BREWHALL is taking reservations for December 24 and December 25.
BiBo Pizzeria con Cucina
BiBo Pizzeria con Cucina is taking reservations for December 24 and December 25.
Sprezzatura
Sprezzatura is taking reservations for December 24.
Potluck Hawker Eatery
Potluck Hawker Eatery is taking reservations for December 24 and December 25.
Bar Corso
Bar Corso is taking reservations for December 24 and December 25.
Sopra Sotto Vancouver
Sopra Sotto Vancouver is taking reservations for December 24.
Pizza Carano
Pizza Carano is taking reservations for December 24 and December 25.
DIY Christmas Dinner Vancouver 2021 Ideas
Fanny Bay Oyster Bar & Shellfish Market
The full lineup of Fanny Bay for the holidays features at the downtown restaurant and premium shellfish market includes the following: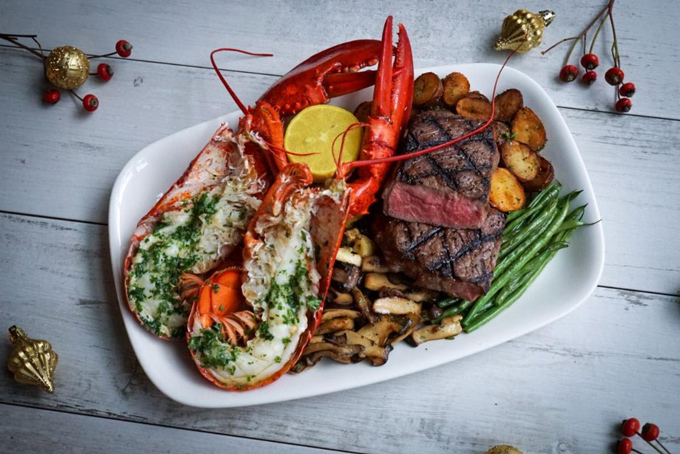 Sunday Surf-and-Turf Dinners for Two November 21 & 28, December 5, 12, 19 & 26
Every Sunday until the calendar turns to 2022, Fanny Bay will warm up the weekends with Surf-and-Turf Dinners for Two for $99 plus tax. The prix-fixe menu features an appetizer course of six oysters, showcase main course of a fresh ½ Dungeness crab or Canadian Lobster (depending on the day's catch), four prawns, four scallops and a 10-oz New York AAA striploin with mushrooms, green beans, roasted potatoes and vegetables, and a dessert course of crème brûlée or chocolate tart.
Christmas Eve Preorders
The Fanny Bay retail market is providing holiday hosts with a full bounty of the city's best freshest live shellfish selection that includes oysters, mussels, clams, geoduck, crab and lobster and a wide array of smoked, cured and frozen seafood as well as specialty curated boxes and kits to help hosts build the perfect festive seafood feast. Heading out of town for the holidays? Staff can also pack items for travel for those celebrating with friends and family outside of the city or province. The Fanny Bay retail market will begin taking pre-orders for Christmas Eve pickups via its website on Friday, December 10, and seafood lovers are strongly urged to order well in advance to avoid any holiday disappointment. The retail market will be open for pickups on Christmas Eve (Friday, December 24) from 10 a.m. to 5 p.m. but will be closed for Christmas Day (Saturday, December 25).
Chickadee
The Chickadee Room, Juke Fried Chicken's contact-free cocktail bar, is once again offering a selection of take-home, expertly-curated cocktail kits. Impress your dinner guests with your home bartending skills, or give the gift of a stocked home bar with the kits, which each come with all the supplies you need to mix together 12 cocktails, from three new, unique recipes developed by Chickadee Bar Manager Sabrine Dhaliwal. There are four kits that have been newly-released for this year's holiday season, allowing Vancouverites to choose their preferred base spirit: gin, vodka, bourbon or rum. Kits are available to order for pick-up (offered on Thursdays, Fridays and Saturdays) on the Chickadee website.
Nuba
The 2021 holiday season will see the return of Nuba's Festive Sides Package. A unique offering that takes care of all the sides, leaving you to take centre stage as the holiday hero while you focus on your main of choice, sans distractions.
All four Nuba locations will be offering the package for $79, which includes: onion walnut bread, zhatar brussels sprouts, pomegranate-braised carrots, mashed parsnip, pear and feta arugula salad and roasted sweet potatoes with yam and pumpkin.
The package feeds four and will be available to order on the Nuba website. Packages will be delivered to customers' homes on Friday, December 24.
Longtail Kitchen
Exclusively available for the holiday season, Longtail Kitchen (New Westminster) is offering a slow-roasted Farmcrest chicken marinated in coconut cream, fish sauce and palm sugar. Inspired by the flavours of her home country, Longtail's head chef and restaurant manager Bonnie Khummuang is excited to share a taste of Thailand for Christmas. Guests can take home a whole chicken with a side of nam jim jaew dipping sauce for $32, or make it a set meal of a half chicken with rice, house-pickled carrots and daikon, and fresh cucumber and lettuce for $18.
On the menu from December 18 through December 24 only, Longtail's Holiday Rotisserie Chicken is available for dine-in and takeout, and can be preordered by calling 604 553 3855; 24 hours' advance notice is strongly encouraged. Takeout orders can be picked up at Longtail Kitchen, 116-810 Quayside Drive, New Westminster.
Freebird Chicken
Freebird at Home by Maenam spices up the season with its exclusive takeout Festive Feast, available Tuesday through Saturday from December 7 through 31. Please note that Maenam will be closed for the holidays from Dec 24-27 and Jan. 1.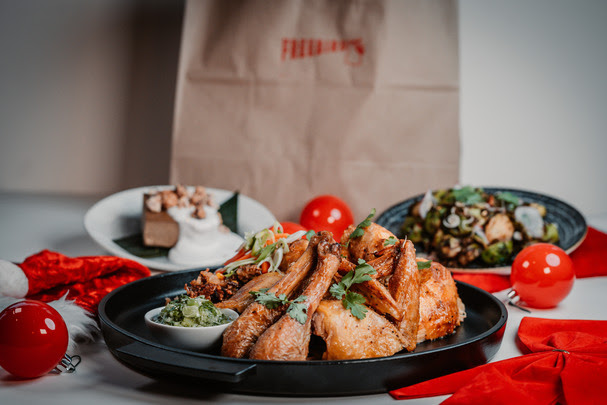 Freebird's holiday meal set provides at-home comfort and joy with a whole Asian-style salt-cured roast chicken, crispy sticky rice made with chicken drippings and other delicious seasonal fixins, fried Brussels sprout salad, and hazelnut Mor Kaeng custard for dessert.
Priced at $70, Freebird at Home by Maenam's Festive Feasts feeds two to three people and must be preordered by calling 604-730-5675 with a minimum of 24 hours' advance notice. All takeout orders can be picked up at Maenam (1938 West 4th Avenue).
Sashimiya
Sashimiya Shop is offering specials on their Holiday Platter:
For 2 people: $75
For 3 people: $110
For 4 people: $150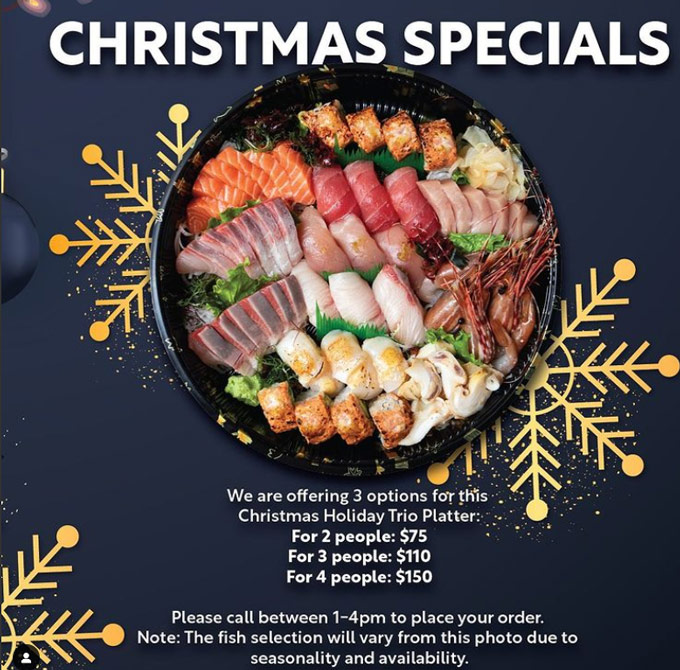 T&T Supermarket
T&T Supermarket offers various Christmas combos and sets for Christmas Dinner Vancouver 2021. Please check your local T&T to see what is being offered. Must pre-order ahead.
Western Lake Restaurant
Western Lake Restaurant (Vancouver) offers a variety of party trays and combos. Check out my review or visit their site for more information.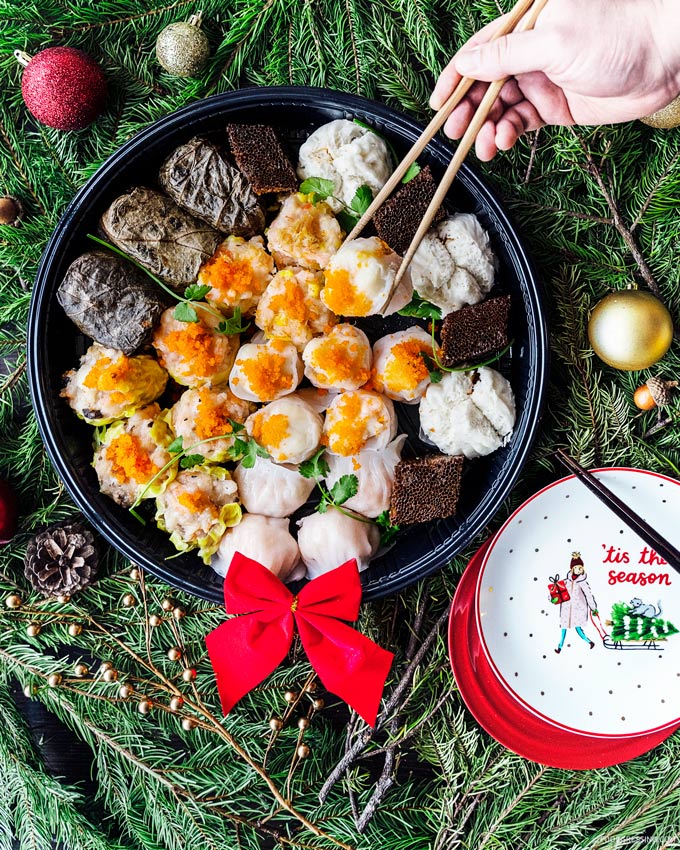 At-home hot pot for Christmas Dinner Vancouver
Perhaps you might want to enjoy a cozy, Thanksgiving Dinner Vancouver hot pot experience in your home.
Here's a look at where to buy hot pot ingredients (meats, vegetables, soup bases) in Metro Vancouver.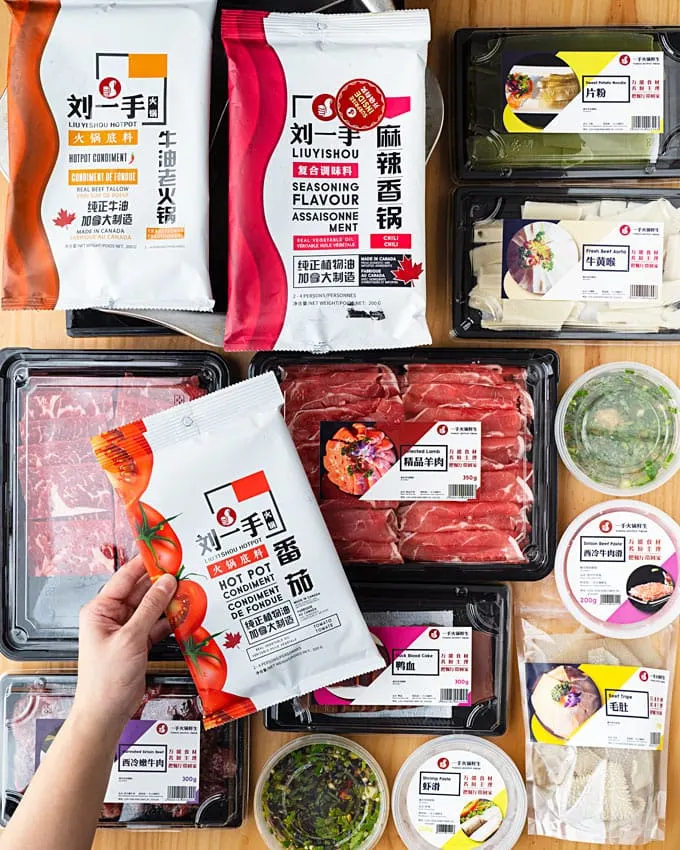 Organic Ocean
Organic Ocean – British Columbia's award-winning purveyor of sustainable seafood, renowned by consumers and chefs worldwide – proudly presents multiple ways to make nutritious, delicious, ocean-friendly seafood a part of your holiday celebrations and gift giving.
They are offering a Holiday Entertainment Pack that lets you create the perfect "seacuterie" board for Christmas Eve, New Year's Eve or any festive gathering.
Each pack includes: 1lb bacon-wrapped Hokkaido scallops*; 4 split wild Atlantic lobsters**; 227g wild smoked Sockeye salmon*; 227g wild pink salmon candy*; 1 BC wild Albacore Haidacore™ tuna loin*; 345ml bottle Chef Select Poke Marinade
* Ocean Wise ** MSC certified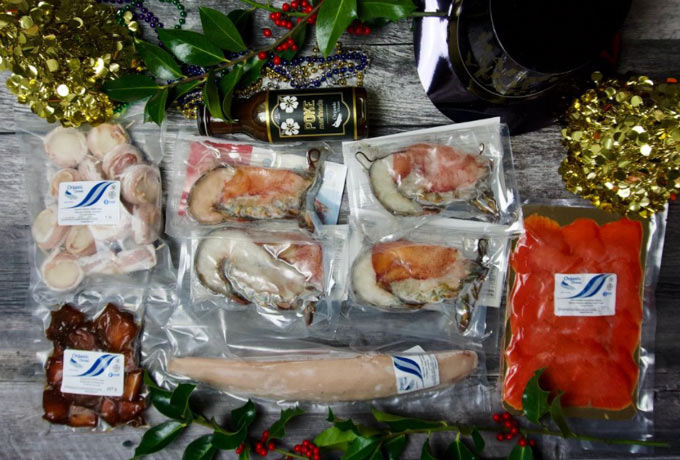 The Holiday Entertainment Pack is $147.59 and available exclusively from the Organic Ocean online store. Click here to order.
Holiday treats and sweets
Mon Paris Pâtisserie
Mon Paris Pâtisserie in Burnaby presents a holiday collection perfect for gift-giving.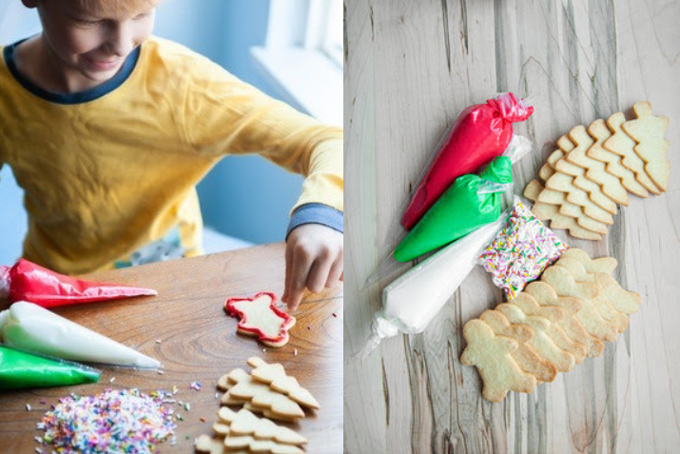 Tree, $32: milk or dark chocolate, with a variety of nuts and dried tropical fruits.
Snowman, $25: milk, dark, and white chocolate.
Poinsettia Flowerpot, $23: milk, dark, and ruby chocolate.
Ornament, $18: milk or dark chocolate ornaments, with two signature truffles.
Chocolate Boxes $31.50: 16 bonbons in a variety of signature flavours, enrobed in white, milk and dark Belgian chocolate.
Christmas Cookie Decorating Kit, $25: 16 baked sugar cookies, coloured royal icing, and festive sprinkles.
The 2021 holiday chocolate collection is available now at Mon Paris Pâtisserie. Orders for holiday collection treats, cookie kits, and Belgian chocolate bonbons can be made online at monparis.ca/christmas, in person at Mon Paris (4396 Beresford St., Burnaby), or by phone at 604-564-5665.
Mon Paris is also offering Bûche de Noël available to order now for pick up on Dec. 23 and 24.
Pistachio Raspberry, $45: pistachio crunch and mousse with raspberry jelly and cream.
Chocolate Speculoos, $45: spiced eggnog crémeaux, ginger biscuit with dark chocolate mousse.
Chocolate Mango Passion Fruit, $55: fresh mango and crémeaux, chocolate brownie biscuit with passion fruit mousse.
Oh Sweet Day! Bake Shop
Oh Sweet Day! Bake Shop is offering a Holiday Cookies Gift Box ($34) which includes an assortment of 32 holiday cookies freshly made with the finest and preservative-free ingredients.
Classic Vanilla Shortbread Cookies
Earl Grey Shortbread Cookies
Dried Cranberry and Pistachio Shortbread Cookies
Chewy Ginger Spiced Cookies
Matcha Shortbread Christmas Trees
Snow Balls (Walnut and Pecan Butter Balls)
Lavender Lemon Shortbread Cookies
Dark Chocolate Shortbread Stars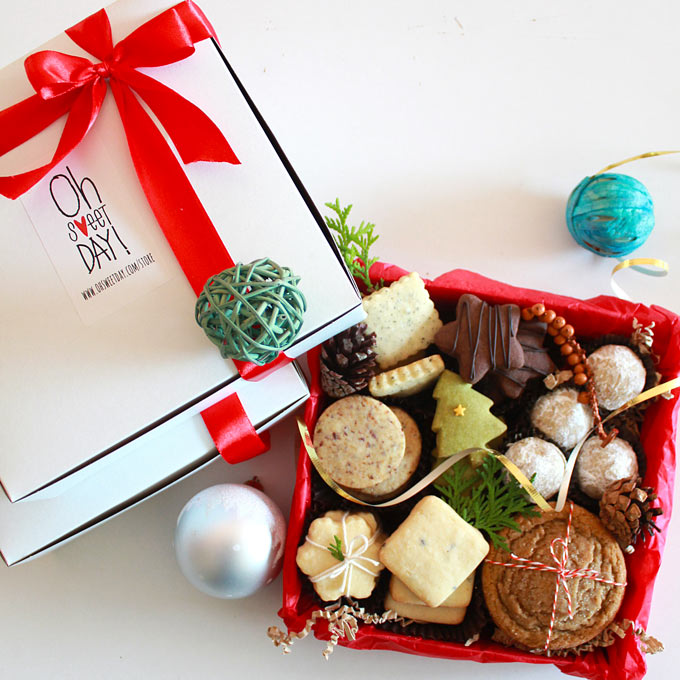 *Nut free option available
Dried Cranberry Shortbread instead of Dried Cranberry Pistachio Shortbread
Chocolate Chip Snow Balls instead of Walnut and Pecan Butter Snow Balls
Buttermere Patisserie
Buttermere Patisserie has your cute and aesthetic holiday treats perfected including a limited edition snow globe cake as the star of the cake line up, their signature mini set, and Christmas print cookies.
The main feature of their Christmas cake line up is a limited edition snow globe cake. This 5-inch iconic symbol of winter merriment is made with Alunga soft biscuit, black currant jelly, coconut cremeux, coconut mousse, finished with a gingerbread man enclosed in a clear, sugar dome. At $50 each, the snow globe cake is only available in limited quantities.
The Navidad Crown is an 8-inch wreath cake assembled with red velvet sponge, sable crunch, earl grey jelly, pineapple ganache, and a London fog mousse inspired by a family tradition honoured by its mastermind. Every November, the family gets together to build a wreath of their own to hang at home, symbolizing the beginning of the holiday season, family, and togetherness. This unique and unexpected cake is priced at $75 and remarkable in flavour profile.
Joyeux Noel is a 7-inch chocolate hazelnut madeleine layered with apricot gelee, caramel crunch, and caramel mousse. Styled after vintage style baubles and lace, the cake is finished with fluffy cotton buttercream pipping art and miniature pine cones. Hand painted with love, the Joyeux Noel is also priced at $75.
For those looking for smaller treats to satisfy various taste buds and preferences, Buttermere's Christmas mini set comes in four complete with the Santa, a coffee biscuit with espresso panna cotta, chocolate cream, and coffee Bailey mousse; the Polar Bear, an Alunga soft biscuit with strawberry jelly and peppermint mousse; Jingle Jingle, a hazelnut chocolate brownie with a lemongrass banana centre, hazelnut glaze, and chocolate ganache; and the Christmas Tree, a pistachio crunchy with vanilla sponge, cherry jelly, vanilla mousse, and pistachio ganache. At $55 per set, Buttermere's signature holiday mini set is a running favourite. To complete the line up, a box of 12 Christmas print cookies are also available at $20 and come in chocolate eggnog, vanilla peppermint, and coffee oolong with Bailey.
Preorders are available starting today until December 20th on Buttermere's website with the option for delivery (at an additional cost) or pick up. Holiday hours for Buttermere Café will be 11am – 5pm from December 20th to 23rd, 9am – 12pm on Christmas Eve, and closed on Christmas Day.
The Bench Bakehouse
The Bench Bakehouse is serving up traditional favourites like homemade Stollen and Fruit Cake, seasonal cookie boxes, fully assembled do-it-yourself gingerbread houses, cookie decorating kits, and bake-at-home good.
All holiday items are available starting on December 1. Order online in advance at thebenchbakehouse.com for pick-up throughout December or visit the store in-person. Regular hours for the month are Tuesday – Sunday between 9am and 5pm, with extended store hours on Thursdays and Fridays until 6 PM. The Bench Bakehouse will also be open on Mondays, December 20 and 27. Pre-ordering online is encouraged to ensure you get all the treats on your list.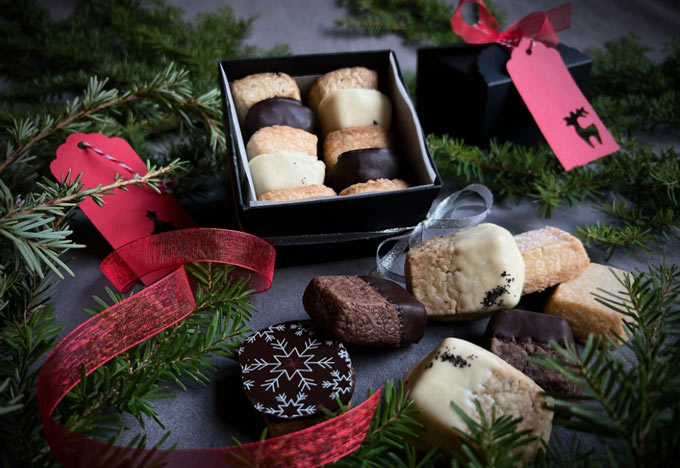 The following seasonal handmade goods will be available while supplies last:
Seasonal Cookie Boxes
Stollen Fruit Cake
Gingerbread House Decorating Kits
Cookie Decorating Kits (Hanukkah & Holiday)
Hand Decorated Cookies
Assorted Holiday Cookies
Rum Balls
Bake-At-Home Goods
Festive Café Drinks & Pastries
Temper Chocolate & Pastry
Temper Chocolate & Pastry (West Vancouver) festive offerings include: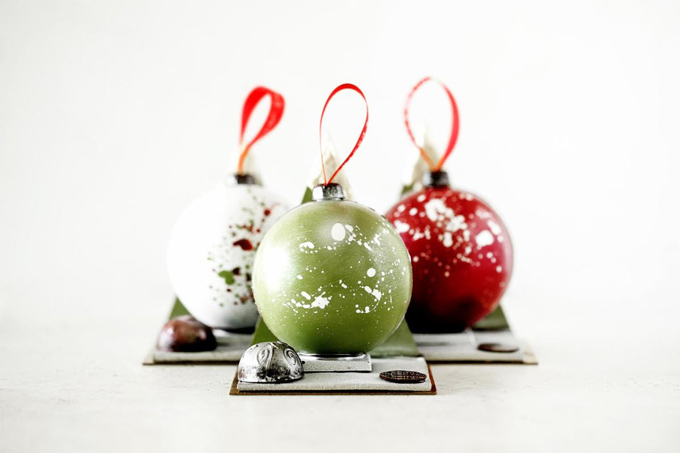 Advent Calendars, containing a mix of six salty balls, six chewy caramels, six fruit domes and six frictures, $65 ea.;
Traditional Christmas Stollen fruitcakes in small ($25) and large ($40) sizes;
Bags of Temper's signature 'Frictures', featuring an assortment of seasonally themed, bite-sized chocolates in white, milk and dark varieties, $12 ea.;
Festive Chocolate Lollipops in white, milk and dark chocolate varieties and sprayed with seasonal red, green or blue accents, $4.25 ea.;
Hot chocolate bomb-inspired 'Hot Chocolate Spoons' in milk- and dark-chocolate varieties and topped with marshmallows or toffee bits, $4.5 ea.;
Packs of six Almond or Walnut Shortbread Cookies, $15 ea.;
Chewy Ginger Cookies, $3.25 ea.;
Bags of Mini Chocolate Santas in white, milk or dark varieties, $10 ea;
Holiday Chocolate Ornaments, $39 ea.
Temper's Bûches de Noël come in Salted Caramel (70% dark chocolate mousse, salted-caramel crémeux, chocolate biscuit, hazelnut feuilletine), Chestnut (chestnut mousse, mousseline cream, feuilletine, hazelnut dacquoise) and nut-free Yuzu Vanilla(yuzu sake, Bavarian cream, yuzu crémeux, sable base) varieties for $45 each and are available for pre-order beginning Tuesday, November 30 until Sunday December 19 via for pickup on Wednesday, Dec. 22 and Thursday, Dec. 23 from 7 a.m. to 4 p.m. and Friday, December 24 from 7 a.m. to 2 p.m.
Temper's signature holiday treats will be available for purchase in-store at the Dundarave neighbourhood patisserie until Friday, December 31 or while quantities last.
Kafka's Coffee
Kafka's Coffee is making everything merry and bright this holiday season with their festive cookies and house-roasted coffee beans.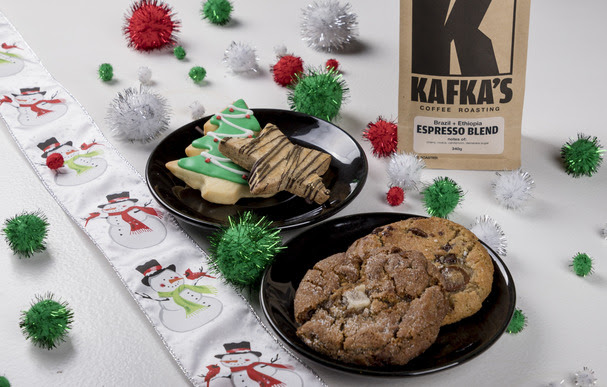 Shopping with Kafka's is effortless this year, thanks to their new online shop offering nationwide shipping and pre-order pickup at any of their three Vancouver locations (Main Street, Great Northern Way and Gastown).
Whether it's a bag of their Simpler Times blend, a trio of sampler bags, a brilliant brew-at-home kit, or a box of four made-from-scratch cookies paired with freshly roasted coffee, Kafka's gifts check the coffee lover off your list.
Perfect for the host-with-the-most or a take-home treat for yourself, the Holiday Cookie + Coffee box includes a bag of freshly roasted coffee and four festive cookies inspired by pastry chef Adi Kessleman's childhood favourites (Christmas Tree Sugar Cookies; Espresso Cardamom Sable Stars with golden dark chocolate drizzle; Ginger Chews with crystallized ginger; and Kafka's famous Salted Chocolate Chip) and is priced at $32. These jolly-good cookies will also be available to enjoy individually at Kafka's coffee shops for $3.50 each starting Dec. 1.
Popina angina
Popina Cantina will be spotlighting a series of festive puffcreams filled with Popina's proprietary soft-serve ice cream that feature changing flavours and toppings invoking the magic of the season. Each of the chef/owners, Angus An, Hamid Salimian, and Robert Belcham, will take turns rolling out new Holiday Puffcreams inspired by nostalgic flavours from their childhood.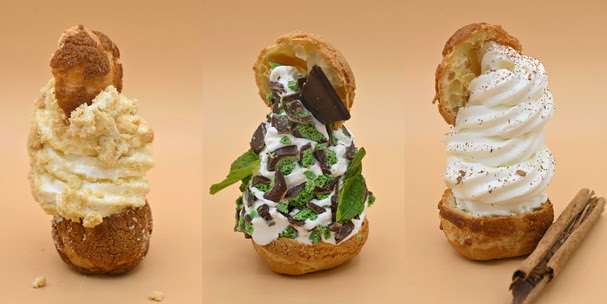 Popina Cantina will be offering a new Holiday Puffcream (Wednesday through Sunday, 10am to 5pm) throughout the holiday season. Look for future festive flavours from Popina Cantina including Mandarin Orange Creamsicle, Rum Raisin, Candy Cane, and Orange Chocolate Kit Kat while Christmas shopping on Granville Island.
Festive Cocktail Experiences
The (Beverage) Butler Did It // OPUS Hotel
Guests staying overnight at OPUS can enjoy the exclusive holiday Beverage Butler service to help kick off the festivities. They need only dial 0 on the in-room phone to enjoy handcrafted cocktails delivered within five minutes. So skip the basic bottle of wine and clink glasses instead with cocktails from The Spritz. Try an OPUS 75, a sparkling mix of bubbles, orange brandy, and lemon; a cheeky Sox and Slippers, made with Havana 7-year rum, Strega, lemon and cranberry; or go full-sparkle with bottles of Veuve Clicquot. Then, once dressed in their holiday best, guests can make use of the complimentary luxury car service to get them to their holiday party in style.
A Cup of Cheer at Capo & The Spritz
If it's an on-site social celebration they're after, guests can take seasonal toasting to the lobby level, where Capo & The Spritz have got them covered with a focus on new festive libations. Slip into seats in The Spritz for the full list of classic cocktails, original libations and new winter creations like the Sebenico Spritz, a mix of black fig-infused Martini dry, and Havana 7-year rum, topped with bubbles; or The Town of Sarrano, a blend of vodka, Amaretto, cranberry, lime and apple bitters. Or in Capo, enjoy them as a prelude to Chef Evan Morgan's flavour-forward Italian fare.
Festive Libations at Pourhouse
Spice up the stocking or shop for the cocktail enthusiast with bottled cocktails from Di Beppe and Pourhouse, including classics like the Negroni and Old Fashioned. Prefer to enjoy your festive cheer on site? Drop into Pourhouse for a list of seasonal libations that features house-made eggnog, mulled wine and a hot toddy that warms even on the wettest of Vancouver nights.
Christmas in Vancouver 2021 holiday entertaining tips
Here are some tips on holiday entertaining including charcuterie board tips, how to cook the perfect turkey like a Chef, and virtual holiday party ideas.
Wine Suggestions
Here are some wine suggestions for Christmas dinner 2021:
Christmas Gift Ideas 2021
Check out my post for some Christmas Gift Ideas 2021 for the important people in your life.
If you're looking to buy some gift cards for foodie loved ones or yourself this holiday season, you might want to take advantage of some restaurant gift card deals.
Captions about Family
Looking for captions about family for your social media post? Check out my post on 105+ creative and original captions for family pictures.