Here's a look at some spooktacular offerings by local restaurants and businesses for Halloween in Vancouver 2021.
Chatime x Red Bull for Halloween
Spooky season is upon us and what better way to celebrate than with a new Halloween feature drink from Chatime in collaboration with Red Bull Canada – introducing the Peachy Hollow, an infusion of peach and blood orange green tea energized with Red Bull The Peach Edition™ and activated charcoal for extra fun!
British Columbia Pricing $6.20 (regular size), $6.90 (large size).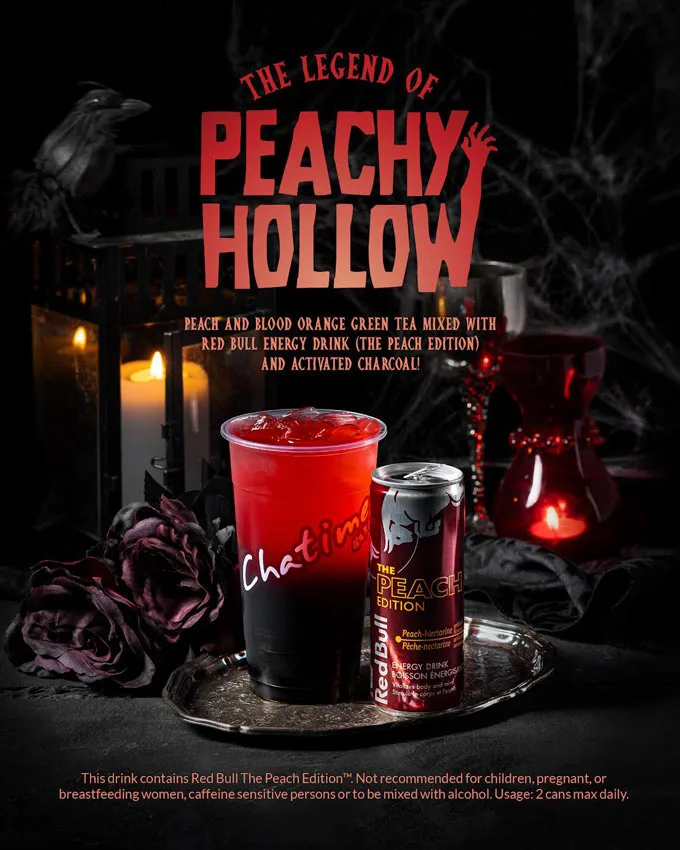 Peachy Hollow will be available in-store and via Chatime Online Ordering now until November 3rd or while supplies last at participating locations across British Columbia.
Notch8 Restaurant & Bar at Fairmont Hotel Vancouver
It is said that ghosts haunt not where they met their demise, but rather where they were the happiest.
Since opening in 1939, Fairmont Hotel Vancouver has hosted the who's who of dignitaries, celebrities, state leaders and even a ghost.
Over the years, there have been numerous sightings of a Lady in Red.
The elegant apparition is believed to be Jennie Pearl Cox who, along with her husband and daughter, was a regular at the hotel's luxurious social gatherings.
In the summer of 1944, she was killed in a tragic car accident at the corner outside of the hotel.
Rumored hotel location sightings of the graceful spirit have included the fourteenth floor, exiting the dummy elevator shafts, and in The Roof event venue.
To honour the memory of Mrs. Cox, Notch8 Restaurant & Bar at Fairmont Hotel Vancouver will be featuring its Lady in Red cocktail for Halloween in Vancouver 2021, a perfect potion for the spookiest time of the year.
Priced at $15.00 CAD and available October 29 through October 31, this cocktail is crafted for those who prefer to sip spirits rather than sight them.

The Lady in Red
.75oz Grand Marnier
.75oz Southern Comfort
2oz Cranberry Juice
Sparkling Wine
Cranberry or Orange Peel for Garnish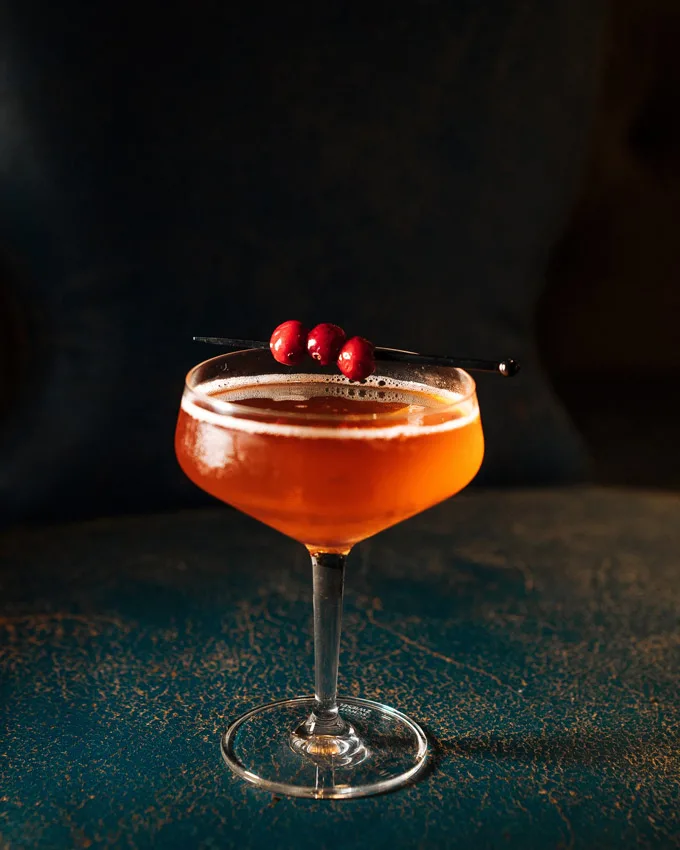 Combine Grand Marnier, Southern Comfort, cranberry juice and ice into shaker.
Shake well and strain into a martini glass.
Top with sparkling wine.
Garnish with choice of cranberry or orange peel.

The Nightmare before Christmas Cocktail – Fairmont Empress
This Halloween, start the evening of trick-or-treating with the kiddos by enjoying a boo-zy cocktail creation at Fairmont Empress' Q Bar. The limited time Nightmare before Christmas libation is priced at $22.00 CAD and will only be available October 29 through 31, so make sure to try it before it vanishes.

The Nightmare before Christmas
1.5oz Jack Daniels
.75oz Ghost pepper reduction
1oz lemon juice
1 toasted Marshmallow
.5oz Averna
Powdered Blood Orange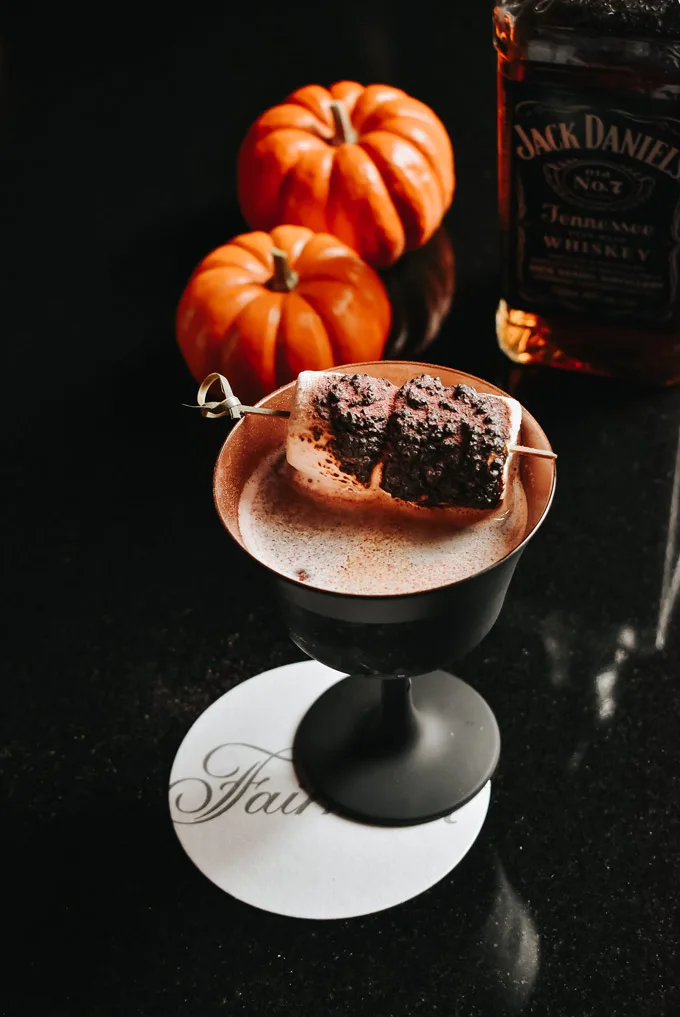 Combine Jack Daniels, ghost pepper reduction, lemon juice and ice into shaker. Shake well and double strain into an oro nero shallow fizz glass.
Float Averna on top of drink.
Add a brûlée toasted marshmallow on a skewer.
Sprinkle blood orange powder on marshmallow.
Ririmisu Desserts
Ririmisu Desserts is offering a special Halloween "Monster Mini's" cake set ($37).
Each set includes four freshly baked 4" inch cakes filled with your favourite Ririmisu Dessert flavours!
Black Tea Jelly-Skelly
Oreo Mud Monsters
The "Taro" Mummy
"Matcha-Mochi" Mike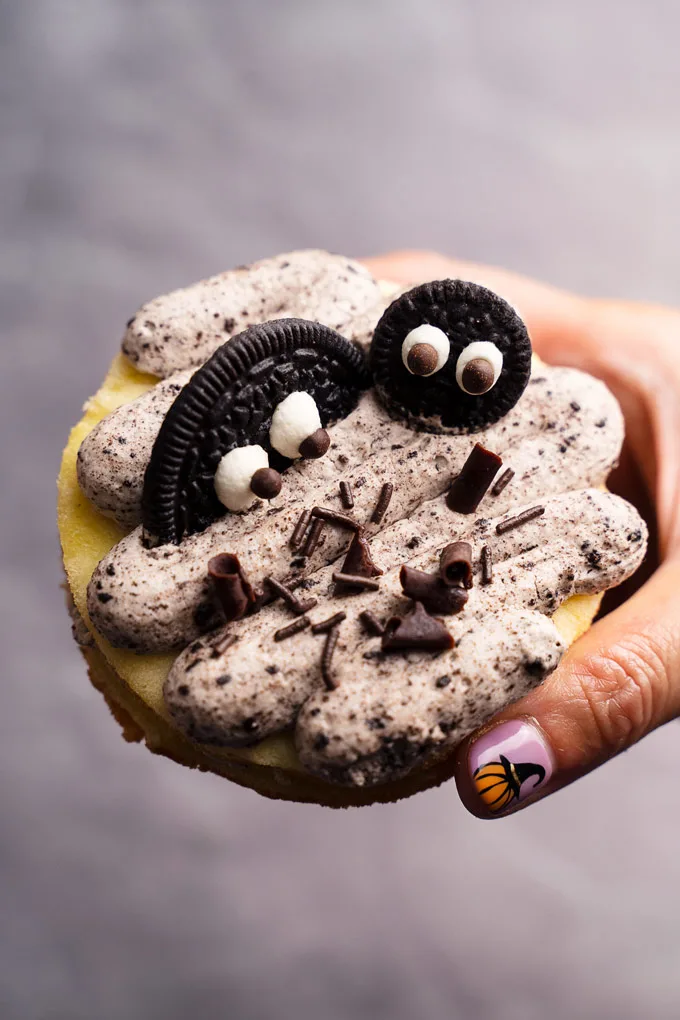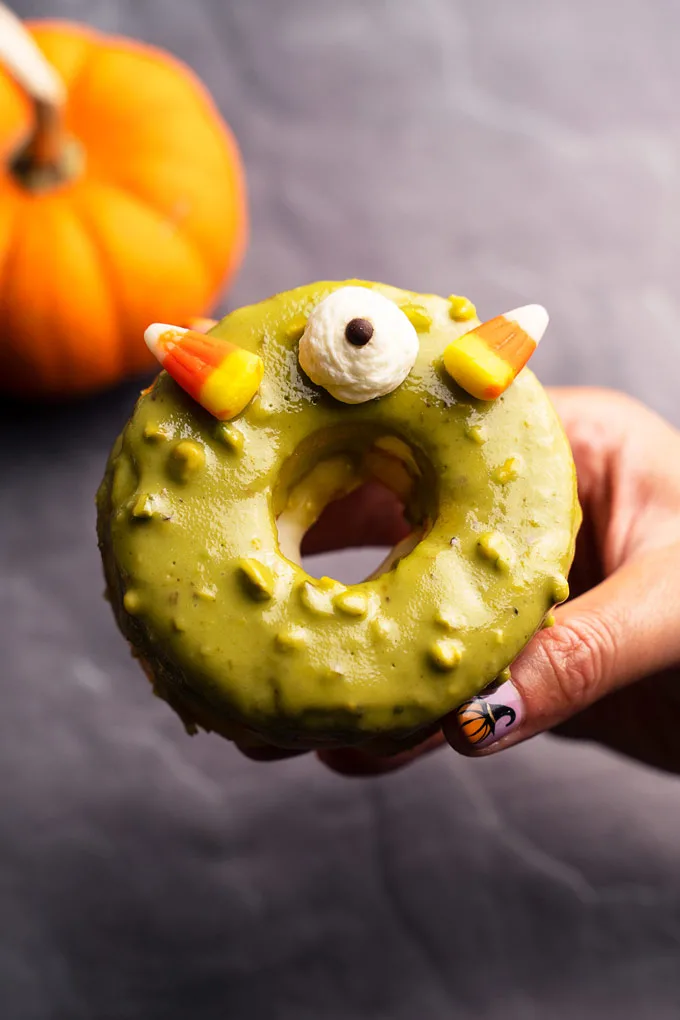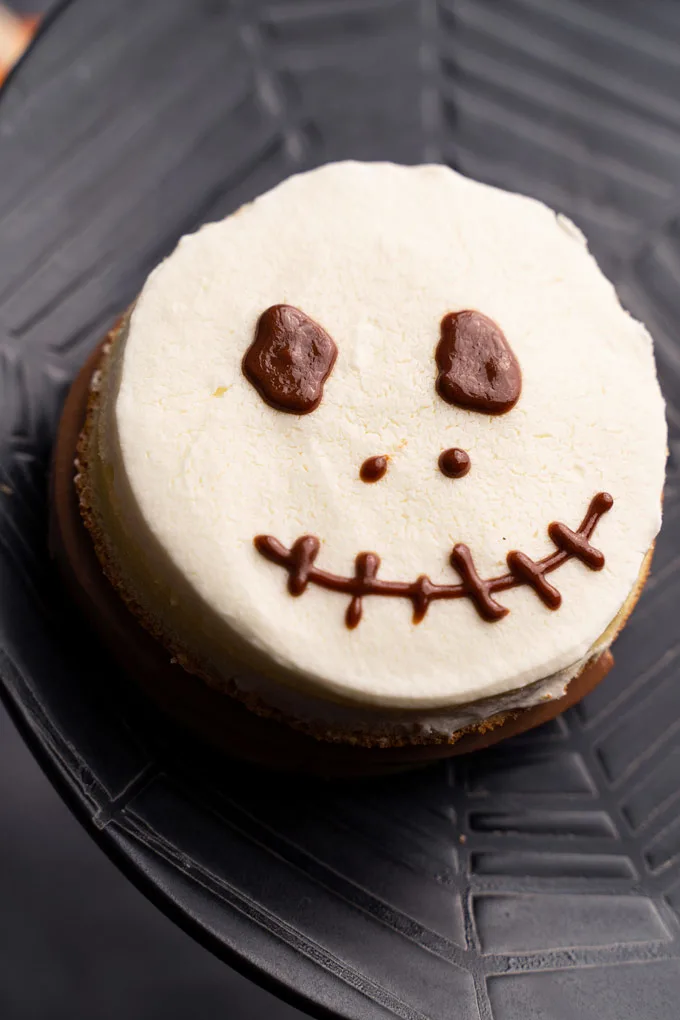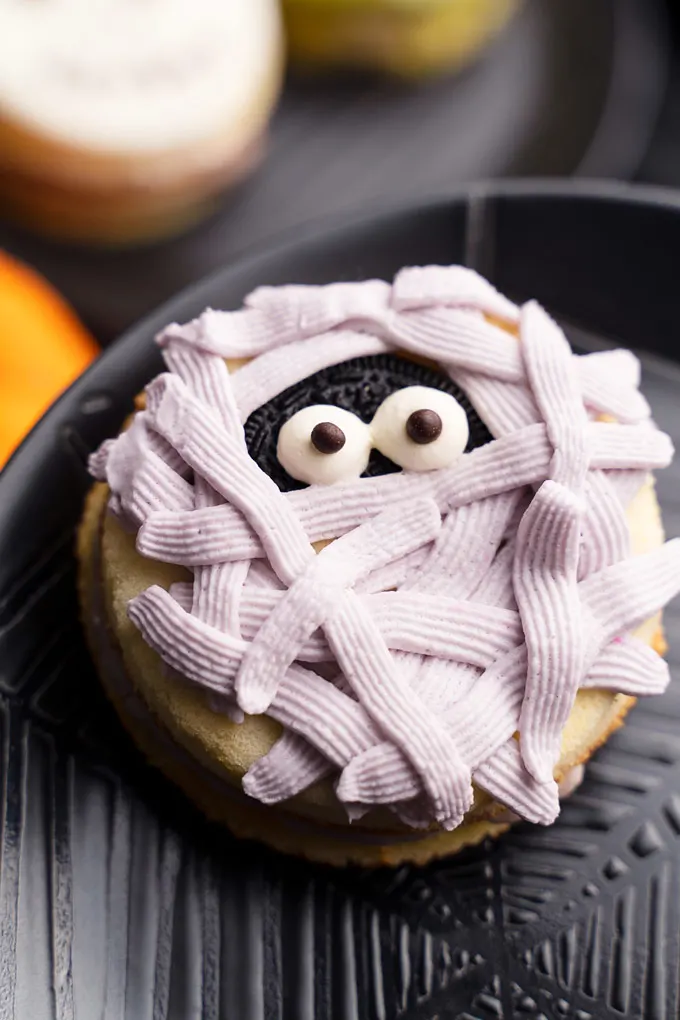 Available for pre-order only and offering delivery or pick-up on Oct 29th-31st.
Buttermere
Created with fall and winter flavours in mind, the Team Spooky mini set at Buttermere returns this year with the Wicked Witch, a sesame and cherry compote hazelnut praline; the Mummy, an iconic figure made with caramelized apple, chestnut cream and vanilla biscuit; the Pumpkin, a bright orange pumpkin cheesecake with pineapple compote and chocolate sablé; and Darkness, an Ovaltine and raspberry compote choux with sesame streusel.
Visually cute and cartoon-like, the mini set reflects Buttermere's brand look, but symbolically, each character was created with the underlying reference to the loss of life this past year.
To further explore the darkness of humanity, Buttermere has also created two cakes designed after the recent popular Netflix series, Squid Game.
Both unmistakably visual representations of the gripping series, The Masked cake, a sesame hazelnut praline cake, features the shapes presented on the players' invitations and the game guard masks while the Player's Casket cake, a twisted take on a traditional tiramisu, directly displays the eventual fate of all but one player – death.
At $60 for the Team Spooky mini set and $65 and $68 respectively for The Masked and Player's Casket cake, Buttermere's Halloween treats are available for pre-order on Buttermere's website for delivery or pick up on October 29, 30, and 31.
Delivery is available within the Greater Vancouver Regional District and pick up can be arranged at either Buttermere Café or Torafuku during regular business hours.
Rocky Mountain Flatbread
Kitty cats, super heroes, wizards and orcas, take note that a very exciting Halloween in Vancouver 2021 Family Dinner is coming up on Sunday, October 24 4:30 – 7:30 pm at Rocky Mountain Flatbread in Vancouver.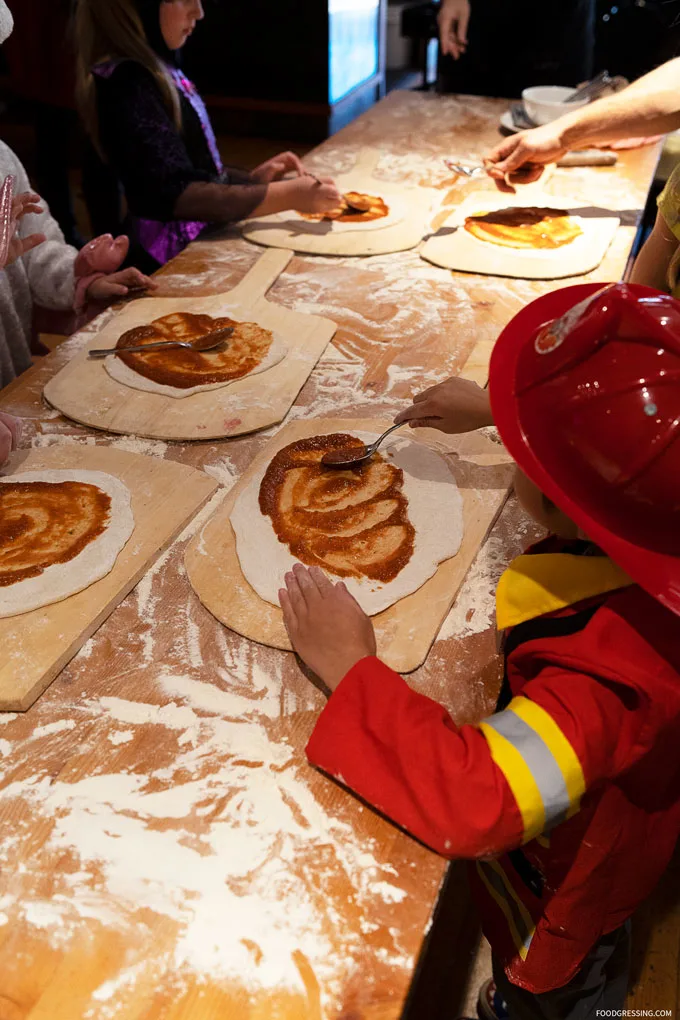 Rocky's annual Halloween event includes a variety of safe and fun Halloween themed activities for children and a relaxing dinner for parents.
The kids dinner includes a personal pizza (pizza making), drink and Halloween treats. The adult dinner includes salad or soup and a small pizza.
The cost is $18 per child and $20 per adult (plus tax & 18% gratuity).
Halloween fun will be presented at each table while pizza making requires the kids to mask up for safety.
The evening will include:
Halloween pizza making
Creepy crawly candy shoot
Drinks & potions trolley
Halloween table activities
Rocky Mountain Flatbread is an award-winning pizza restaurant known for their farm-to-pizza food philosophy using local and organic produce, Ocean Wise seafood and free-range organic meats.
The restaurants are 100% nut-free and offer gluten-free, vegan and vegetarian option. All required COVID-19 health and safety protocols are in place to keep everyone safe.
Tickets by Reservation. Reserve a table by emailing [email protected] or call: ​
Kitsilano location, 1876 West 1st Ave, Vancouver. Ph: 604-730-0321
Main Street location, 4186 Main St.​, Vancouver. Ph: 604-566-9779
Ophelia
Vancouver diners are invited to indulge in a supernatural south-of-the-border feast on Friday, October 29th as Ophelia sets the stage for a one-night-only Día de los Muertos (Day of the Dead) dinner service for Halloween in Vancouver 2021.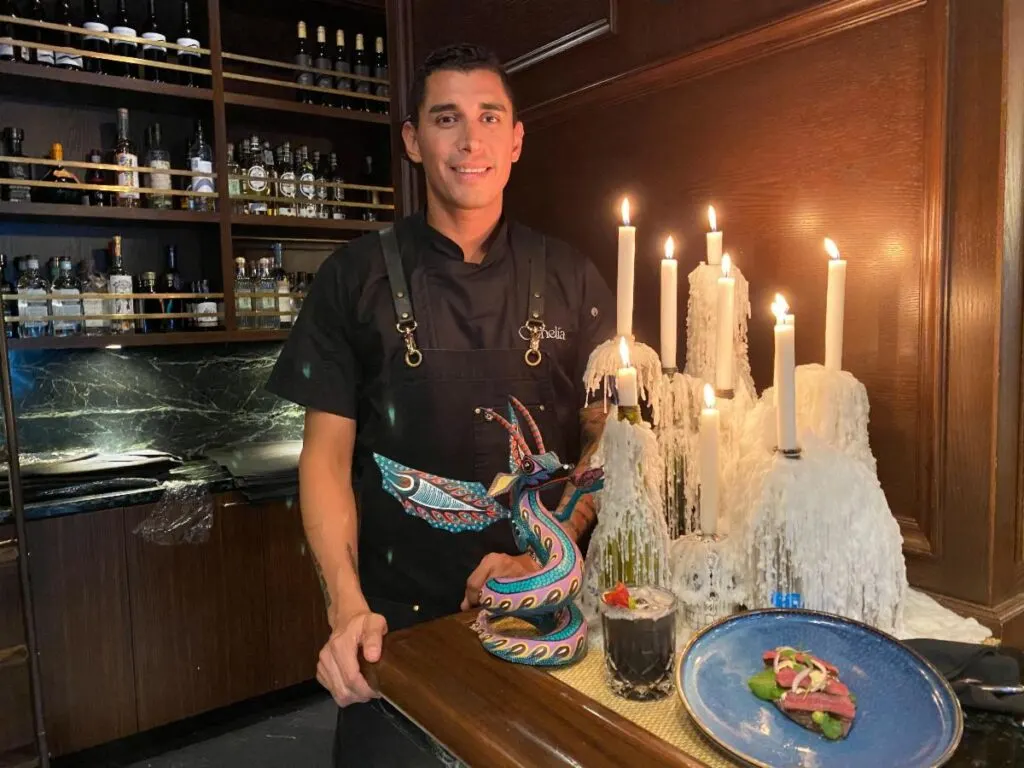 A storied holiday observed throughout Latin America, Día de los Muertos is a day for families to come together to remember and celebrate the souls of their deceased relatives with lively celebrations that includes traditional food and drink, colourful costumes, homemade alters, musical tributes and parades.
Olympic Village cocina Ophelia will pay tribute to this annual holiday by hosting its very own one-night-only Día de los Muertos dinner featuring a multi-course menu of refined Mexican cuisine served an intimate atmosphere.
The restaurant will be transformed into a mystical space with flickering candles and vibrant decorations.
Staff will create an enchanting ambiance for diners by painting their faces with traditional calavera (skull) makeup and curating a soundtrack of Mexican folk music.
This special dinner starts at 6:30PM., guests will be invited to take a seat in the dimly lit dining room and indulge in a decadent five-course menu prepared by Ophelia's Executive Chef Francisco Higareda and his team.
Diners are encouraged to dress up as there will be a Halloween costume contest for the evening.
Day of the Dead Menu, Friday, October 29, $120 per person, plus tax and gratuity
Welcome Cocktail: Santa Muerte Margarita, Peloton de la Muerte Mezcal, Squid Ink Syrup, Lime, Edible Flower
Elote Baby Chapulin Aioli, Baby Corn, Queso Fresco, Chipotle Powder, Grasshopper Aioli
Tostada De Atun, Yellowfin Tuna, Salsa Macha, Crispy Tortilla, Lime Emulsion
Tetela De Cochinita Pibil, Oaxaca Cheese Stuffed Corn Tetela, Cochinita Pabil, Habanero Pepper
Ling Cod En Salsa De Frijol, Pan Seared Ling Cod, Milpa Salad, Black Bean Sauce
Filete En Mole De Frambueza, Roasted Beef Tenderloin, Corn Esquite, Raspberry Mole
Camote Al Carbon, Charcoal Grilled Sweet Potato, Papantla Vanilla Ice Cream, Piloncillo Sauce
Reservations are available for Ophelia's Día de los Muertos dinner must be made via phone at 604-800-5253 and secured with a credit card, with full payment taken at the table.
For more information about Ophelia, visit opheliakitchen.ca
Blue Hat Bakery/Cafe at the Pacific Institute of Culinary Arts
Blue Hat Bakery is offering the following Halloween Treats: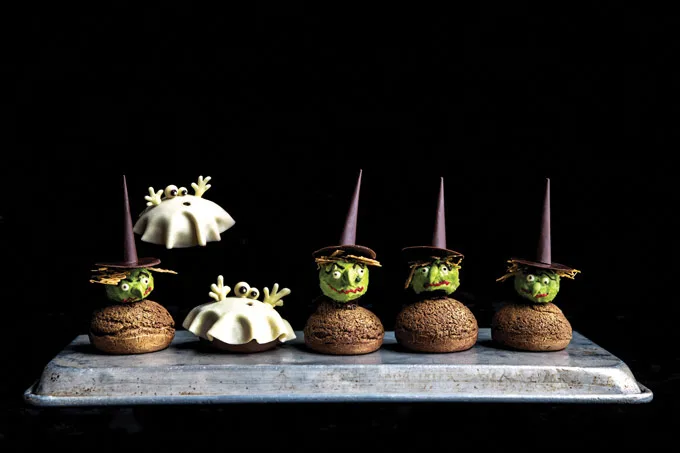 Witchy Witches – Chocolate, cherry cream puff and pistachio financier covered in pistachio butter cream
Ghostly Ghosts – Dark noir chocolate cake covered with marzipan
Frankenstein Cookie Pops
Oh Sweet Day! Bake Shop
Oh Sweet Day! Bake Shop has a few Halloween in Vancouver 2021 offerings including a Halloween themed party cake decorated with ganache drips, Halloween sprinkles, and buttercream ghosts; an adorable monster cake with buttercream hair and monster eye cake pops; Halloween Monster Cupcakes; and Halloween Cake Pops.
Uva Wine & Cocktail Bar
The bar team at Uva pay homage to their love of all things spooky by creating cocktails based on their personal favourite Halloween classics.
They selected a title and had their takes on replicating the vibes from each into exciting cocktails that entice guests to try them all.
Offered exclusively from Sunday, October 24th to Sunday, October 31st for Halloween in Vancouver 2021, in addition to Uva's regular impressive wine and cocktail list, the bar team is offering these creepy creations.

The Carrie White by lead bartender Shyann Gilmour ($15) is brewed together with tanqueray, dry curacao, grapefruit juice, lemon juice and egg whites.
This cocktail takes inspiration from Stephen King's 'Carrie' and is to be enjoyed by fans and general cocktail lovers alike.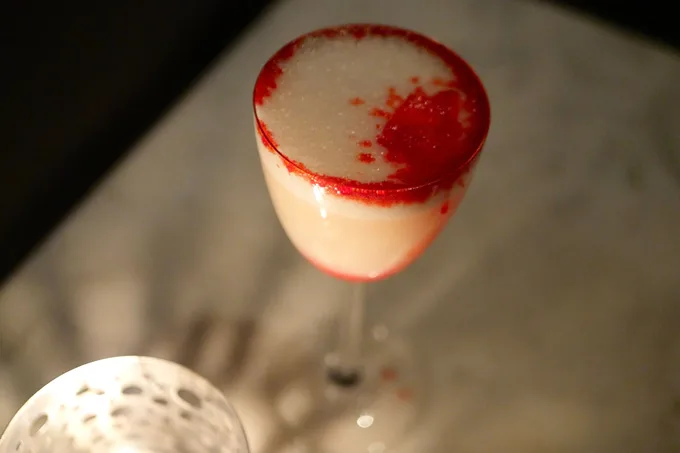 Georgie's Nightmare by bar manager Stephen Sherry ($17) will remind guests of their clownish fears.
Crafted with glenfiddish 15 year, solerno liqueur, spiced and syrah infused lillet, pink grapefruit juice, lemon juice, orange bitters, egg whites and maraschino cherries, this frightful creation is inspired by Stephen King's 'It'. Don't forget your yellow rain jacket.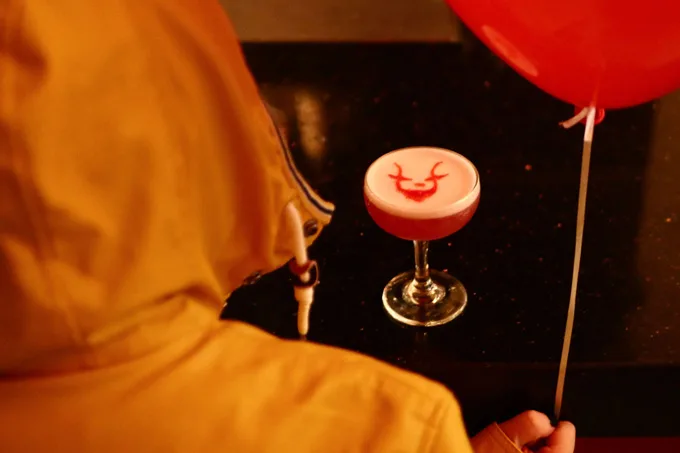 Frankenstein's Creation by bartender Noah Abramson ($16) brings back the ultimate classic Halloween vibes and is made with tanqueray, green chartreuse, egg whites, lime juice, simple syrup, fernet gancia and absinthe.
This wonderfully chilling creation takes inspiration from the one and only 'Frankenstein' written by Mary Shelley.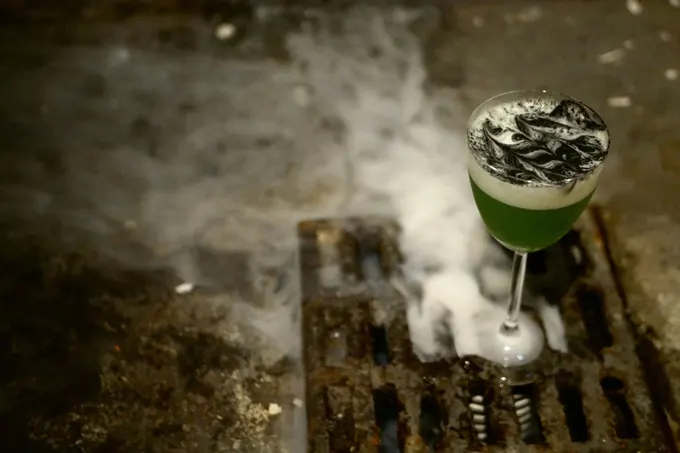 Bacon Bourbon Barber by the entire bar team ($15) will delight fans as they marvel in the unique combination of bacon fat washed bourbon, lemon, walter mix, worcestershire sauce, tabasco, pickle juice, celery bitters and whisky barrel bitters.
This haunting twist on a classic caesar is an inspiration of Tim Burton's 'Sweeney Todd: The Demon Barber of Fleet Street'.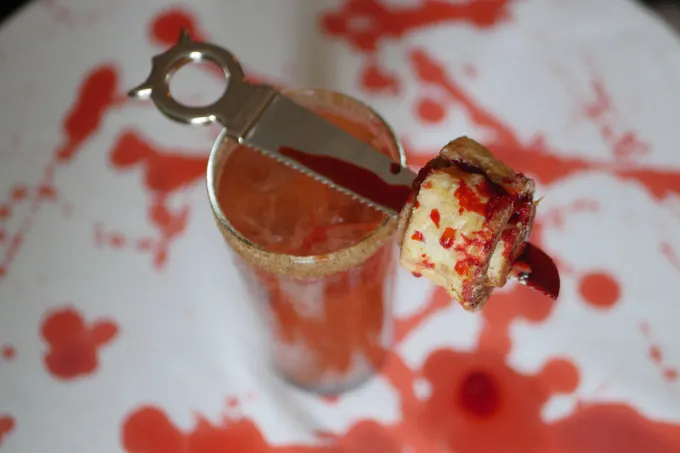 Ancora Waterfront Dining and Patio – Ambleside
As a special one night only cocktail feature, Ancora Ambleside shakes up 'eye catching' cocktail featuring just that – a spooky eyeball of a green creature – a Creature of the Night ($18).
Created by lead bartener Katie Slacks, this cocktail is made with casamigos mescal, cazadores tequila, choya umeshu plum liqeur, ginger honey syrup, lemon and pineapple star anise bitters.

The Creature of the Night cocktail is a sight to be seen and it will look right back at guests as they clink glasses and celebrate All Hallows' Eve.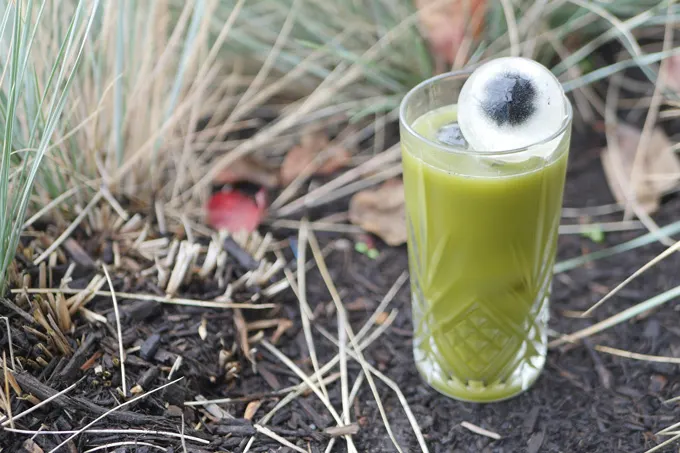 Ancora Ambleside is ready to welcome guests into their cozy and homely atmosphere to celebrate Halloween this year.
The Alley
The Alley is offering a Spooky Banana Smoothie for Halloween in Vancouver 2021. It is a chocolate smoothie topped with Oreo crumbles and a tombstone biscuit. Available now for a limited time.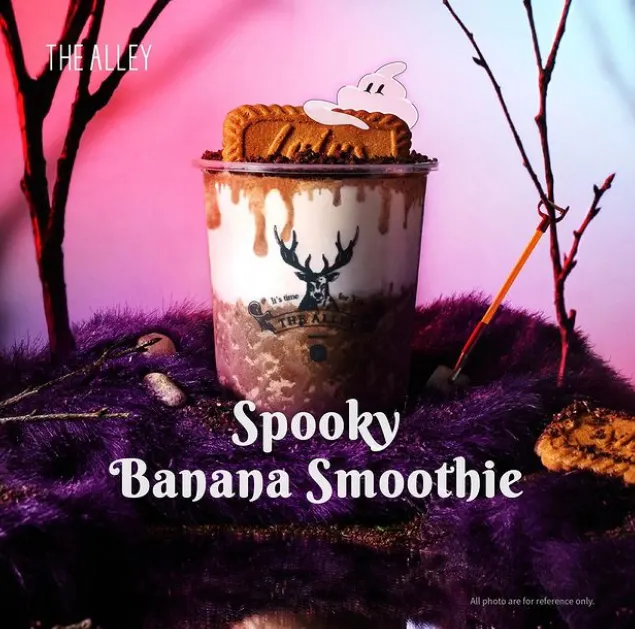 Kafka's
Devilish dessert preparations are in full swing at Kafka's.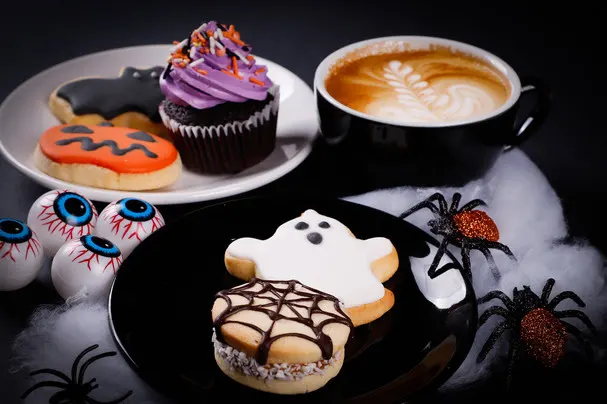 Pastry chef Adi Kesslemen is up to her sweet tricks, conjuring up tantalizing treats that will leave you spellbound.
Satisfy wicked cravings this Halloween with otherworldly chocolate cupcakes filled with salted caramel and smothered in sinful Swiss meringue buttercream; charming sugar cookies disguised as bats, pumpkins, and ghosts; and alarmingly delicious Alfajores draped in dark chocolate cobwebs. Stake your claim on these spooky sweets before they disappear at any one of Kafka's three locations (Main, Great Northern Way, and Gastown); they're available October 25 through 31.
Spooky Chocolate Cupcakes, $4.25 Salted caramel centre, Swiss meringue buttercream frosting decorated in Halloween colours.
Halloween Sugar Cookies, $3.50 Classic sugar cookies shaped and dressed up as charming bats, pumpkins, and ghosts.
Spider Web Alfajores, $3 Dulce de leche sandwiched between two melt-in-your-mouth cookies adorned with dark chocolate webs.
Mon Paris Pâtisserie
Wickedly delicious chocolatey treats have arrived at Mon Paris Pâtisserie (4396 Beresford St., Burnaby) in time for Halloween indulgence.
Shop in-store or online for milk chocolate Jack-o'-lantern lollies filled with spellbinding pumpkin spice caramel, and a charming Jack-o'-lantern statue enchanted with a howling wolf silhouette and a sinfully good caramel truffle. These spooky chocolate showpieces are made exclusively with Cacao Barry chocolate and available for a limited time.
Jack-o'-Lantern Lollies, $4.
Jack-o'-Lantern Statue, $25.
Halloween Combo, $35: One Jack-o'-lantern statue and three Jack-o'-lantern lollies
Mon Paris Pâtisserie's 2021 Halloween offerings are available now at Mon Paris Pâtisserie.
Orders for seasonal treats, cakes, macarons, and chocolate boxes can be placed online at monparis.ca/monparis-shop, in person at 4396 Beresford St., Burnaby, or by phone at 604-564-5665.
The Bench Bakehouse
If you hear a sound go bump in the night, chances are it's someone tip-toeing into the kitchen to sneak a bite of one these scrumptious Halloween cookies.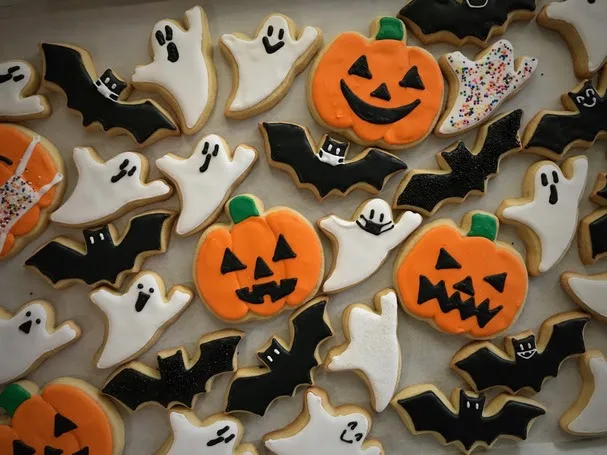 Freshly baked sugar cookies by The Bench Bakehouse in spooky ghost, bat and Jack-o'-lantern silhouettes are hand-decorated and ready to be devoured by goblins and ghouls, and eager trick-or-treaters of all ages.
Priced between $4.50 and $5.50, The Bench's scary good Halloween cookies are available to preorder online at thebenchbakehouse.com/order-online and for pickup now through Sunday, October 31 at The Bench Bakehouse (1641 Commercial Drive, Vancouver)
Enjoy special Halloween-inspired cocktails at Glowbal Restaurant now until October 31st
Glowbal Restaurant
Enjoy special Halloween-inspired cocktails at Glowbal Restaurant now until October 31st.
Glowbal Zombie ($18)
goslings black seal rum, absinth home-made falernum, pernod pineapple juice, lime, pink grapefruit and grenadine.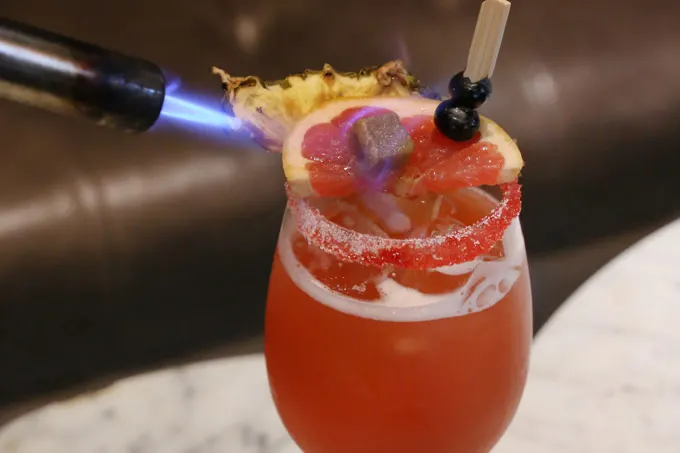 Maple Roasted Pear Mule ($15)
stoli vodka, maple roasted pear lime juice, maple syrup and fresh ginger beer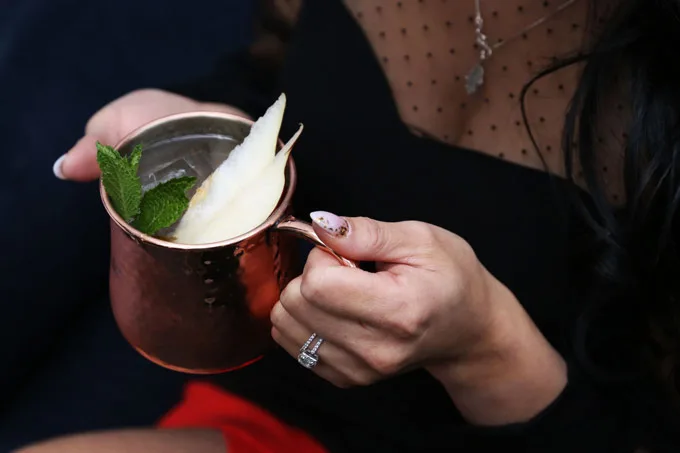 RIP Smoke Pick Me Up ($18)
kahlua, espresso, spiced pumpkin foam, coffee bean and coffee smoke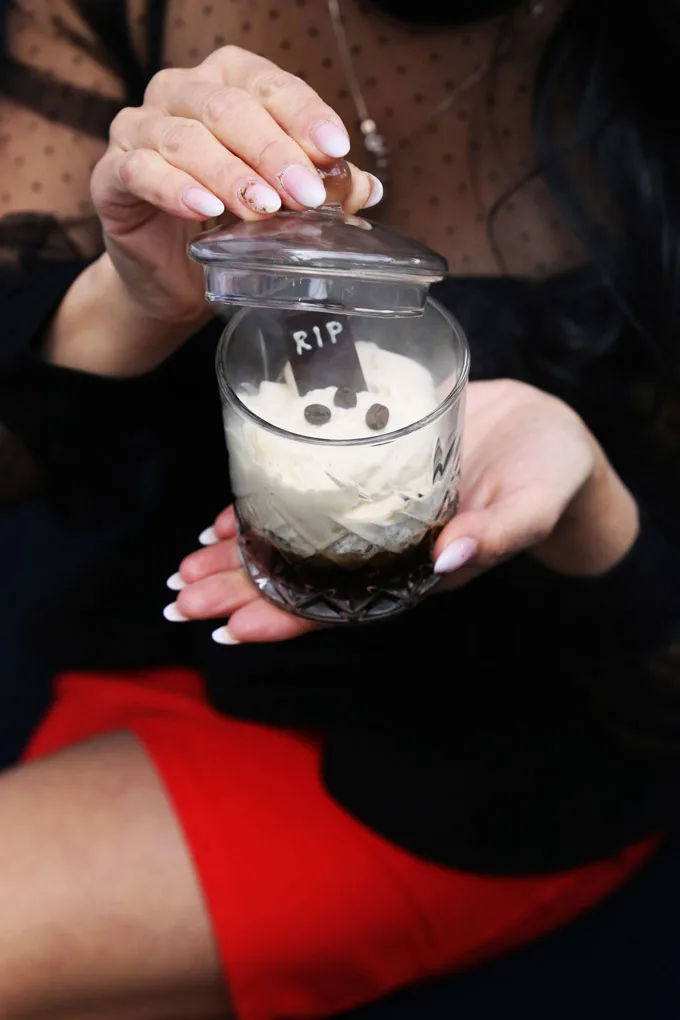 Temper Pastry
The team at Temper Chocolate & Pastry are bundling up and celebrating the sweet flavours of fall at the popular European-inspired West Vancouver boutique and café by unveiling a new collection of decadent confections that will keep costumed kids and pumpkin fans alike smiling this season.
Created by Temper owner and lead chef Steven Hodge and his talented team of pastry chefs, Temper's new creations include novelty tricks and treats to fill pillowcases on Halloween night and full-sized baked goods perfect to enjoy with the whole family at home or to make a splash at seasonal gatherings.
For Halloween, Temper's signature lineup includes an array of milk and dark chocolate lollipops, bags of assorted, bite-sized 'frictures' in a variety of shapes and larger showpieces filled with delectable sweets that include:
Chocolate Pumpkin: a small hollow chocolate pumpkin available in milk or dark chocolate, airbrushed in bright orange with decorative edible foliage and filled with miniature chocolates ($35)
Halloween Frictures: a bag filled with assorted bite-sized chocolates in spooktacular ghost, tombstone and skull shapes (125g for $9)
Chocolate Lollipops: Available in milk or dark chocolate (sm $3.75, lg $5.50)
Throughout the autumn season, the Temper team will also be serving up a variety of fall-forward desserts and baked goods and specialty drinks that include: Pumpkin Scones ($4.50 ea); Pumpkin-Spiced Lattes (8oz, $4.75, 12oz, $5, 16oz, $5.25); a Pumpkin Cheesecake infused with pumpkin and fall spices over top of a chocolate cookie crumble crust (individual $7.60 or 9" pie, serves 6-8, $39); and a traditional Pumpkin Pie, topped with light and airy Chantilly cream (9" pie, serves 6-8, $39).
Temper's signature Halloween treats will be available exclusively for purchase in-store at the Dundarave neighbourhood patisserie from now until Sunday, October 31 or while quantities last.
As these year's Spooktacular confections are being handcrafted in limited supply, guests are encouraged to pick up their sweets for the trick-or-treat crowd early to avoid disappointment.
Temper is located at 2409 Marine Drive and is open for takeout orders and pickup on Tuesday through Saturday from 7 a.m. to 4 p.m. and on Sundays from 8 a.m. to 3 p.m.
Metropolis Metrotown: Garden of Horrors
Halloween is back at Metropolis at Metrotown October 25th to 31st.
From 2pm to 6pm daily in the Grand Court, enjoy a fun and safe Halloween with your friends and family with photo ops of our Garden of Horror display and a chance to receive some spooktacular treats.
Random treat giveaways are while quantities last, limit one per visitor.
Tsawwassen Mills: Moonlight Graveyard
There's a distinct chill in the air, as the sun sets a little earlier this year…in the Moonlight Graveyard at Tsawwassen Mills!
Enter, if you dare… for photo opportunities with the Eerie Decor… and enjoy a fun, safe way to get some spook-tacular treats!
From 2pm to 6pm daily starting October 25th until October 31st in the Promo Court, enjoy a fun and safe Halloween with your friends and family.
Random treat giveaways are while quantities last, limit one per visitor.