Ocean Wise executive chef Ned Bell has embarked on his most ambitious, inspiring project to date – a new cookbook, Lure, that profiles the bounty of seafood along the Pacific coast.  This bright and bold cookbook is the definitive guide to selective, preparing, and cooking simple and delicious fish.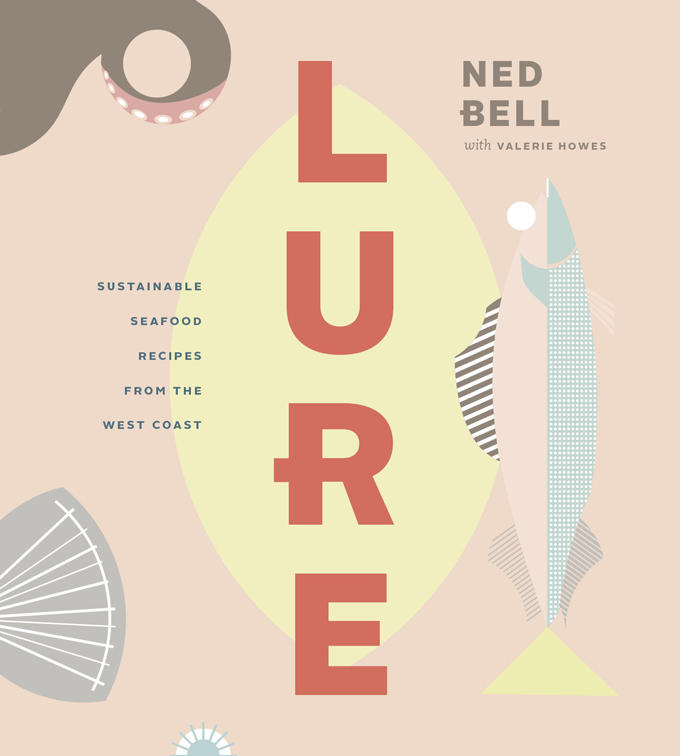 Eating sustainable seafood is about opening your mind (and fridge) to a vast array of fish and shellfish that you might not have considered before—and the Pacific Coast is blessed with an abundance of wild species.  With Lure, readers embark on a wild Pacific adventure and discover the benefits of healthy oils and rich nutrients that seafood delivers.
Lure by Ned Bell will lure you in with 80 delicious recipes to make at home including appetizers like Albacore Tuna Crudo to the Best Tuna Melt Ever.  Celebrate the bounties of the Pacific with Pacific Cod with Broccoli Three Ways and Pacific Paella.  And for some dessert, how about some sea(weed) brownies?
Lure: Healthy, Sustainable Seafood Recipes from the West Coast, is currently available at Amazon.com and Amazon.ca.
Mini Dungeness Crab Tacos
Copyright 2017 Chefs for Oceans. Republished with permission from Figure 1 Publishing Inc. 
Makes 12
Quick, simple, and bursting with flavor, these mini crab tacos are serious crowd-pleasers. They can go from game-day snack to cocktail party nibble with ease. The light and crispy shells are made with deep-fried wonton wrappers, which perfectly showcase the tender flesh of Dungeness crab. The average crab yields about half a pound of meat (about 1 1/2 cups), so you'll just need one crab for this dish. It's far cheaper to cook and pick your own crab. But if time is of the essence, and your budget doesn't allow for already picked crabmeat, try substituting shrimp, wild salmon, albacore, lingcod, or really any fish you like.
Taco shell
12 round gyoza or wonton wrappers
Canola oil, for deep-frying
Heat several inches of oil in a medium heavy-bottomed saucepan, Dutch oven, or deep-fryer to 340°F. Place a wrapper in a taco shell maker and gently lower it into the oil. Cook for 30 seconds or until golden. Transfer to a plate lined with paper towels. (Alternatively, shape a piece of aluminum foil into a thick rectangle and drape the wrapper over it. Use tongs to hold the wrapper onto the foil as you lower it into the oil. Continue holding it in place until it's done.)
Tacos
1/2 lb (about 1 1/2 cups) crabmeat, from 1 (2 to 3 lb) Dungeness or snow crab
1 ripe avocado
Juice of 1/2 lemon
2 tsp olive oil
Sea salt and coarsely ground black pepper
About 1/4 cup Miso Maple Lime Vinaigrette (see recipe below)
3 radishes, thinly sliced, for garnish
3/4 cup radish sprouts, for garnish
Shichimi Togarashi, to sprinkle (see Note)
Lime wedges, to serve
To steam the crab and extract the meat from the legs and main shell, follow the instructions on page XX [30].
Cut each avocado in half lengthwise and remove the pit. Scoop the flesh into a medium bowl. Using a fork, coarsely mash the avocado with the lemon juice and olive oil. Season with salt and pepper to taste. Put spoonfuls onto serving plates.
Stuff about 2 tablespoons of the crabmeat into each taco shell, and set them into the mashed avocado, which will help hold them upright. Top with a little vinaigrette and garnish with the radishes and radish sprouts. Add dots of vinaigrette around the plate. Sprinkle with a pinch of Shichimi Togarashi. Serve the tacos with lime wedges on the side, and instruct guests to scoop up a little of the avocado with every taco.
Miso maple lime vinaigrette
Zest and juice of 1/2 lime
1 tsp Dijon mustard
1 1/2 tsp miso paste
1 1/2 tsp maple syrup
1/2 tsp sambal oelek or Sriracha (optional)
1/4 tsp sea salt
1/2 cup canola oil
In a small bowl, combine the lime zest and juice, mustard, miso, maple syrup, sambal oelek, and salt. While whisking, slowly drizzle the oil in a thin steady stream until incorporated and the mixture is emulsified. Adjust seasoning to taste. (Alternatively, you can do this with an immersion blender or in a blender or small food processor.) Can be made ahead of time; will keep refrigerated for up to 2 weeks (although the lime flavor will start to weaken after a few days).
Chef's note: Shichimi Togarashi is a popular Japanese spice blend and table condiment that is made of coarse ground red chili, sansho (a type of Japanese pepper), roasted orange peel, black
and white sesame seeds, hemp seed, ground ginger, and nori. It is available at Asian markets.
Giveaway
Thanks to Figure1 Publishing, I am giving away one copy of Lure: Healthy, Sustainable Seafood Recipes from the West Coast.  Giveaway is open to US and Canada. ends Oct 31, 2017 23:59 PST.