2018 is the first time where buyers of the infamous Ford F-150 could purchase the truck with a diesel engine. We recently received a 2018 Ford F-150 Diesel in Platinum trim for a week-long loan, and in this post, we share our experience.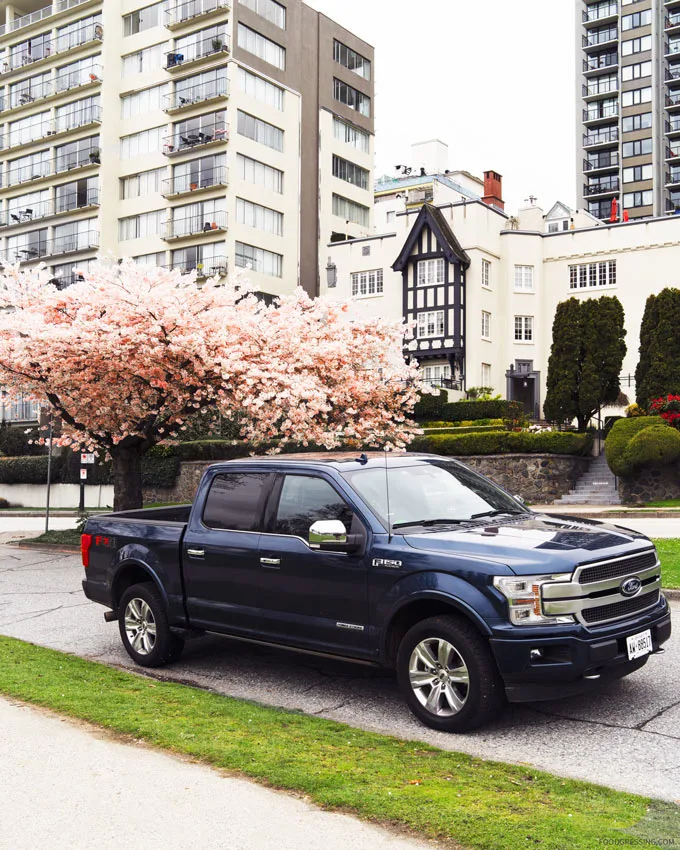 Disclosure: This is a post of our opinion and experience. We were not compensated by Ford Canada for this post. The week-long loan for the vehicle was complimentary.
---
Feature Highlights
Courtesy of Ford Canada, our test truck is the 2018 model with the Platinum trim and further equipped with the technology and FX4 off-road package. The total price before fees and taxes is approximately $80,000 Canadian dollars.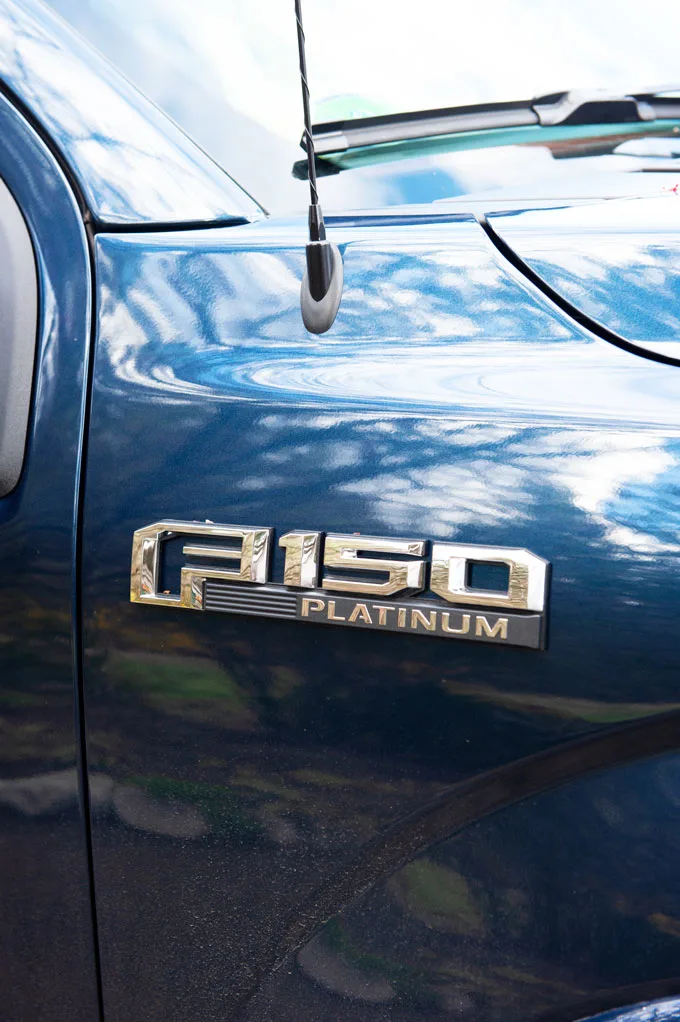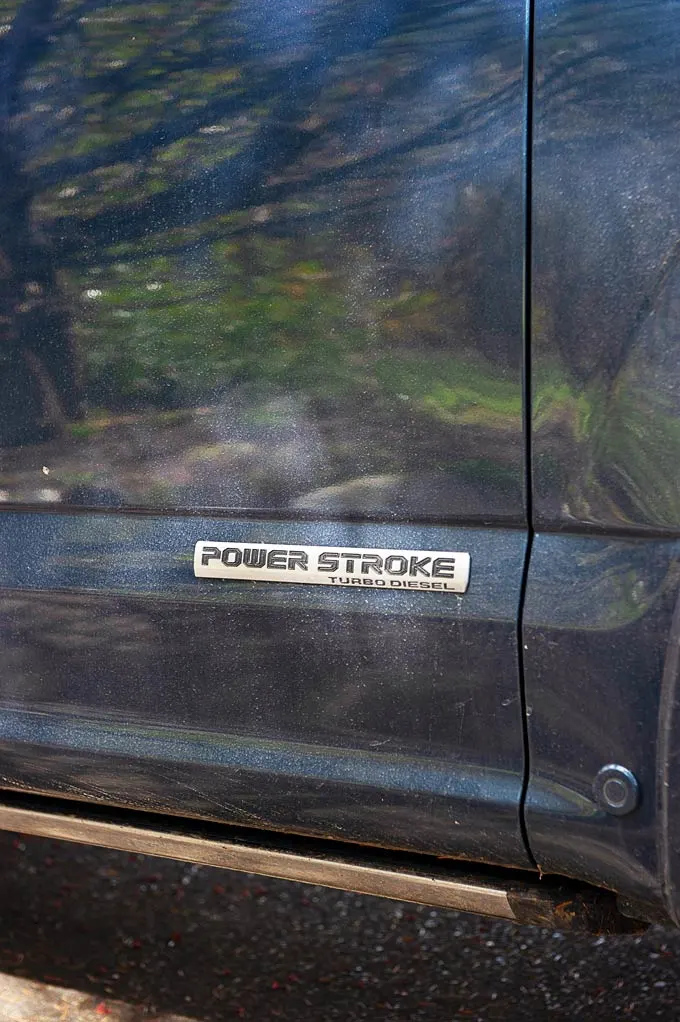 Platinum trim is the highest trim level one can purchase with the diesel option. It includes luxury features such as heated, cooled and massaging leather front seats; heated rear seats; heated steering wheel; panoramic sunroof; navigation; 360 camera; and infotainment with smartphone integration.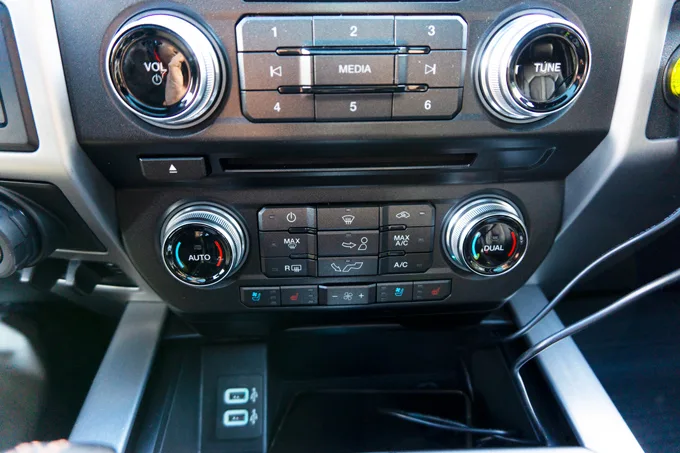 Safety features include brake assist; intelligent cruise control; lane keep alert and assist; and front collision avoidance.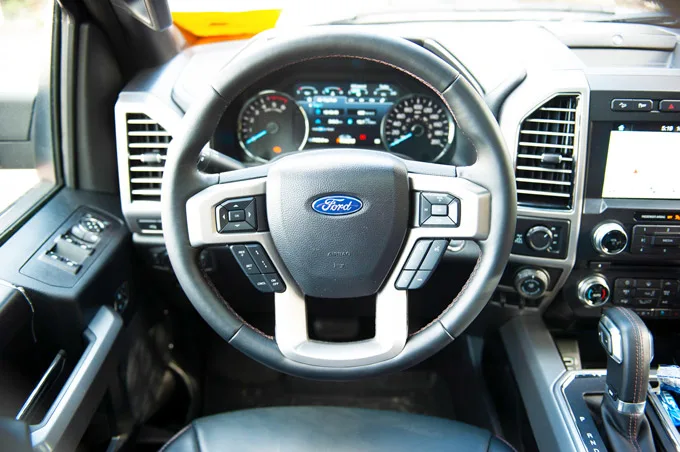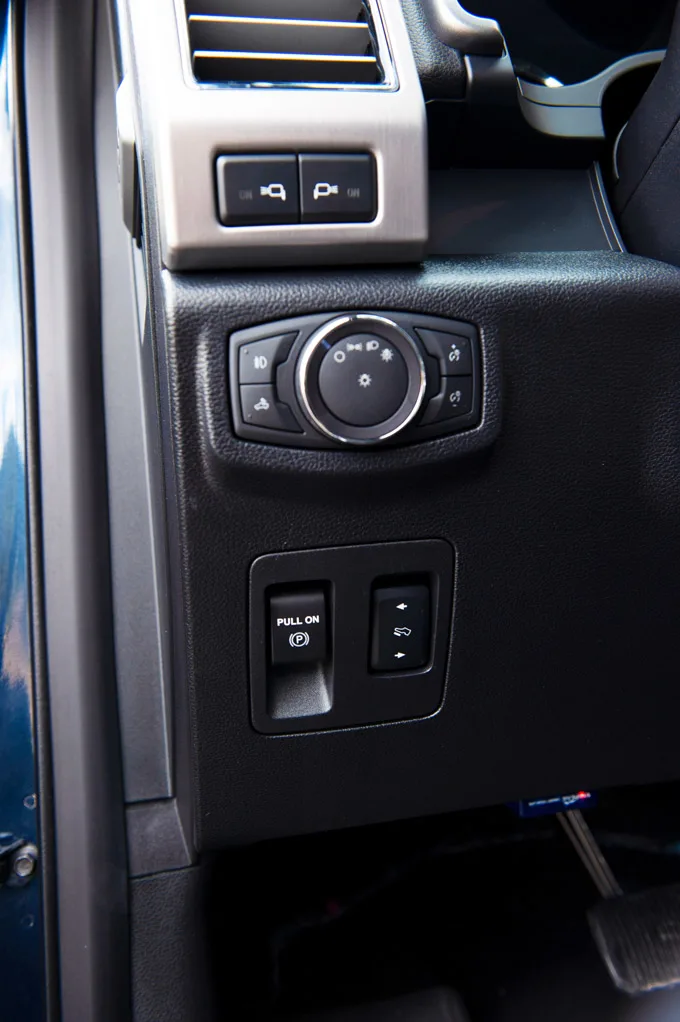 The FX4 off-road package included rear locker which is great if you routinely drive on low traction surfaces where conventional 4WD fails to keep the forward momentum. Please visit Ford.ca for detailed specifications and pricing information.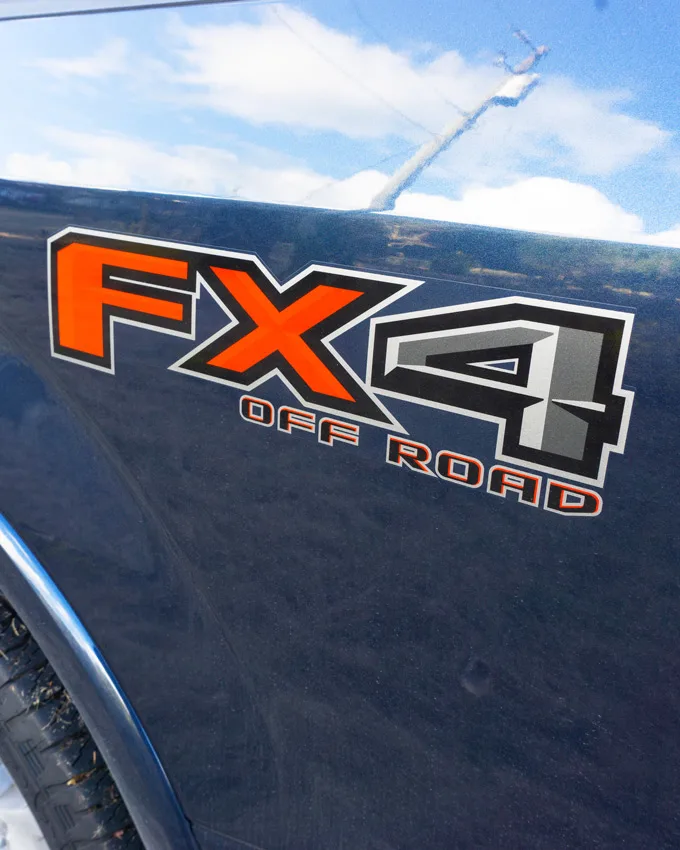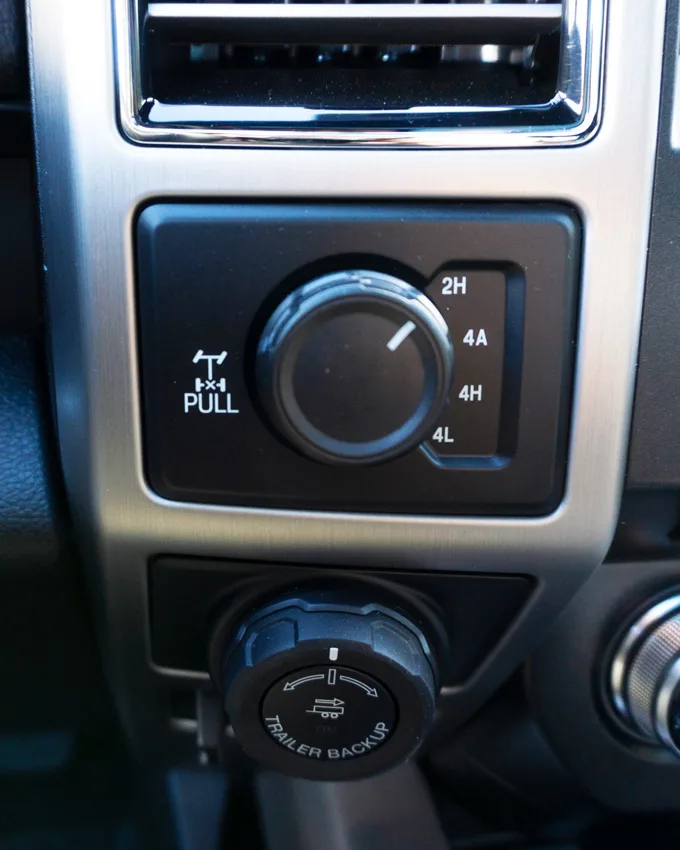 ---
Our Experience
This our first opportunity to drive a F-150 with crew cab. We were shocked by the cavernous interior. We were especially impressed with the second-row legroom which is easily the most generous we have ever seen.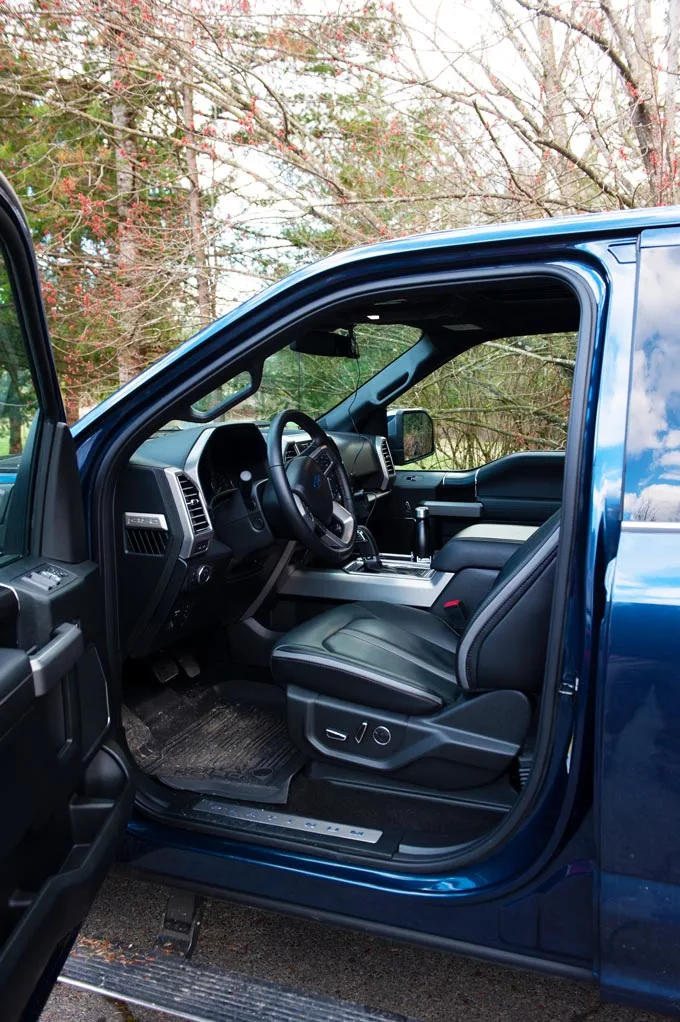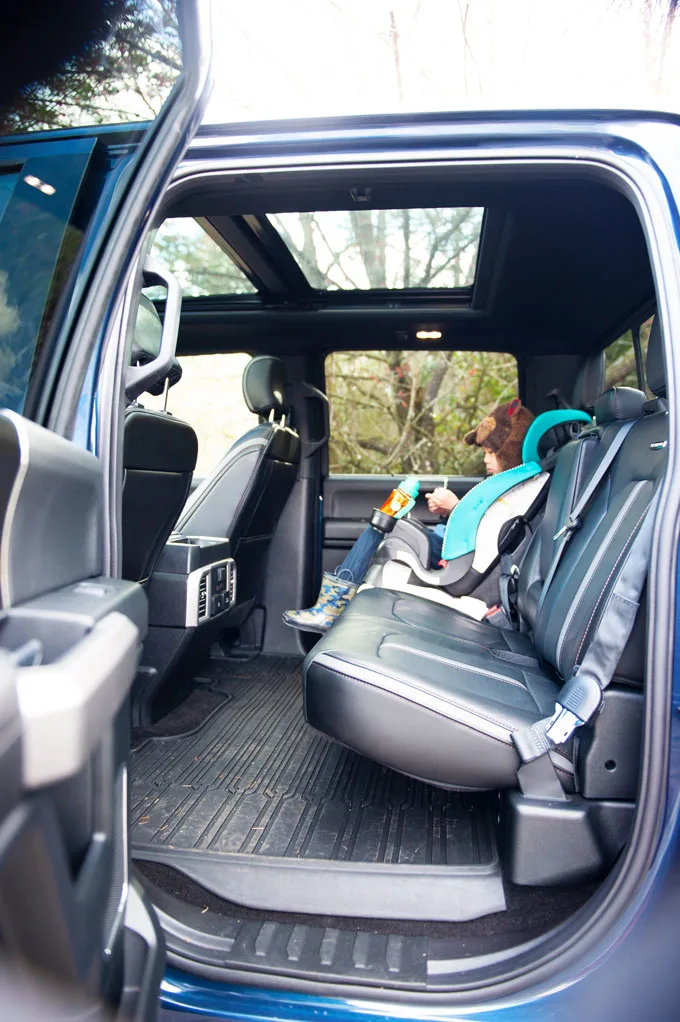 Extra space also meant it was a breeze to properly set up a child car seat. The F-150 uses a series of loops to provide top 5 anchor points for car seats. It is a little different from the traditional metal loop anchors but seems to work fine.
Being heavily dependent on electronic gadgets, we benefitted greatly from all the USB ports around the cabin as well as ample 12V and 110V outlets. We were also spoiled by various accessibility features included in the F-150, namely the auto-retracting running boards and the integrated tailgate step.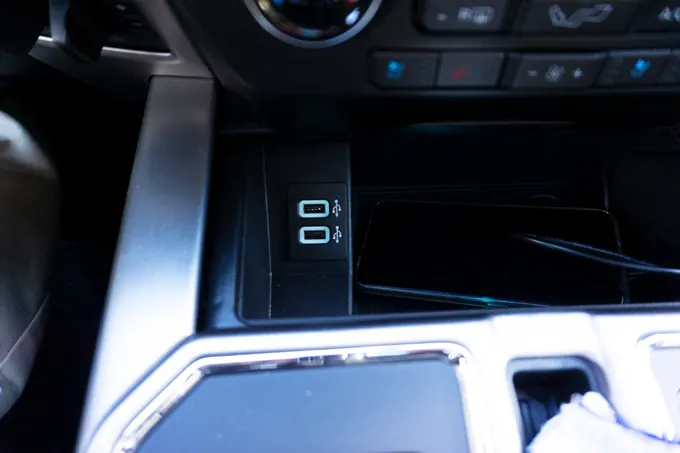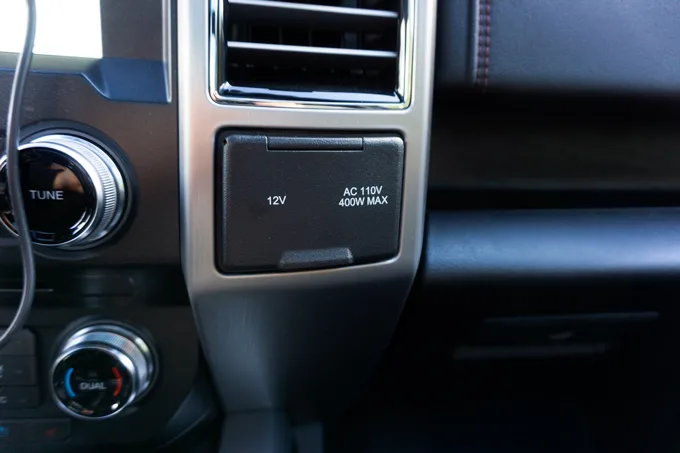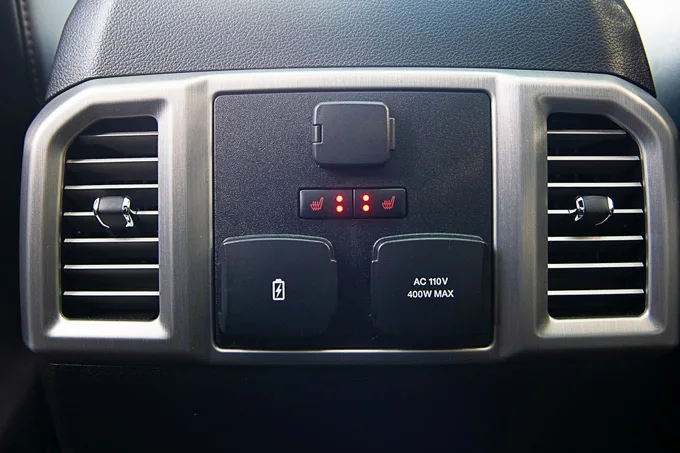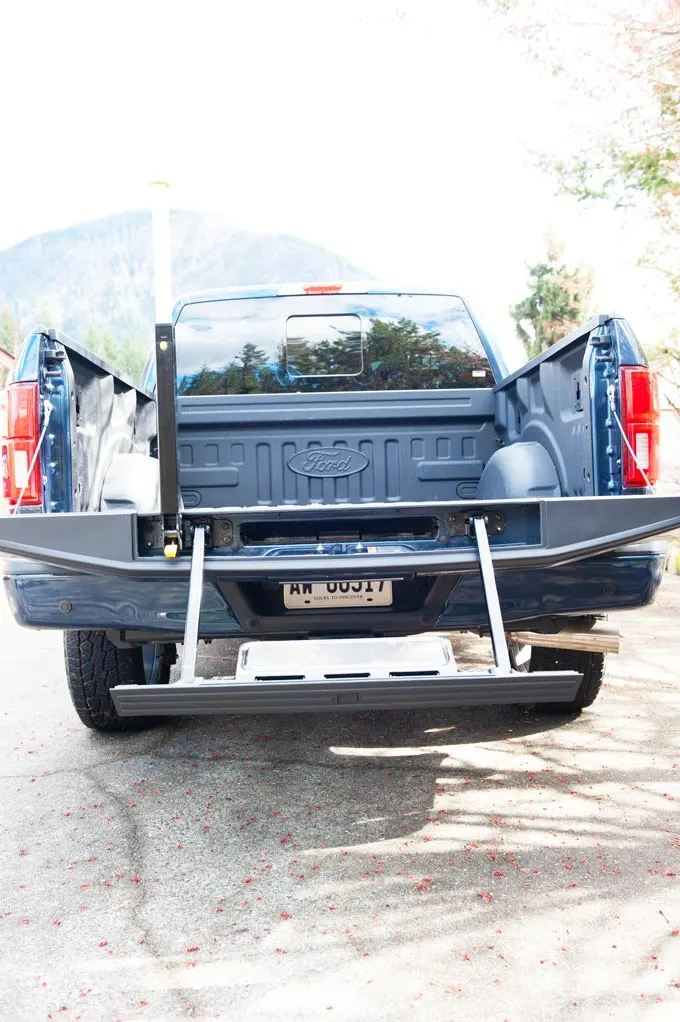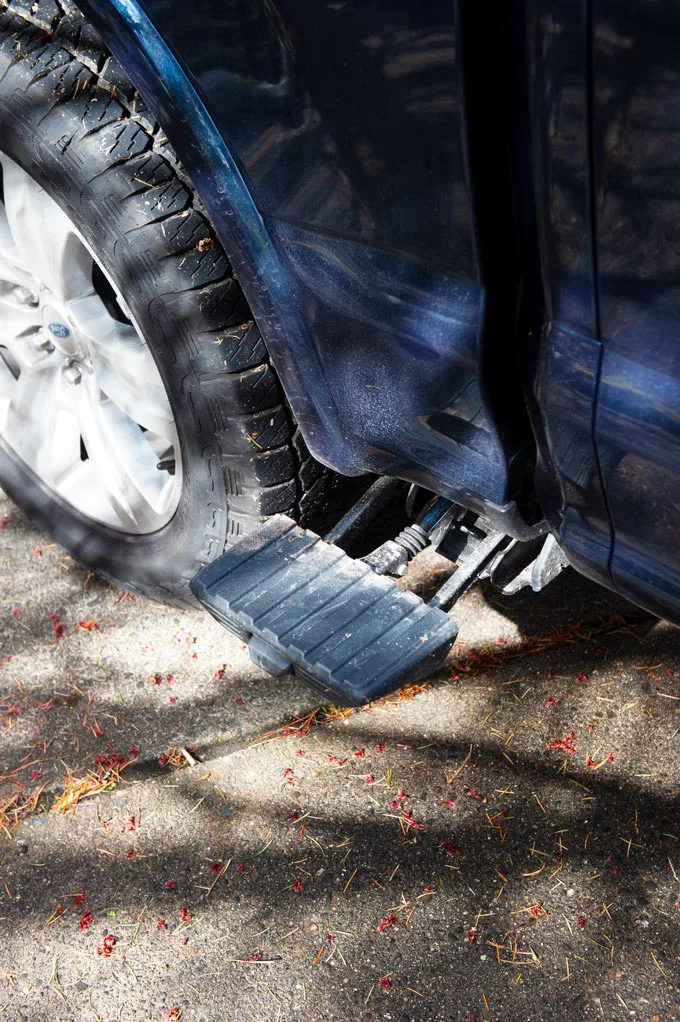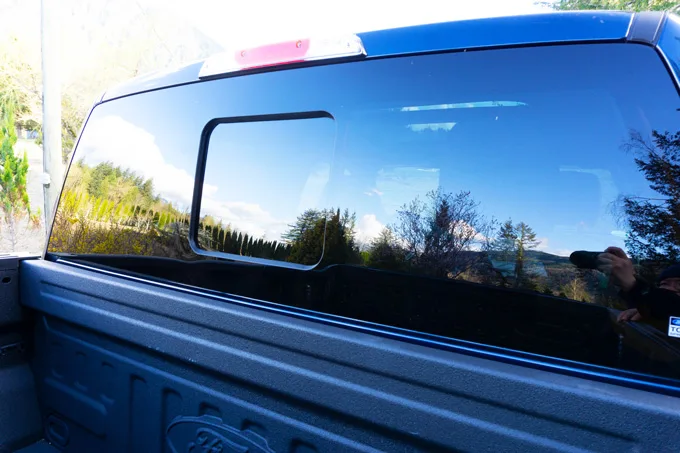 Living in Downtown Vancouver means we have to deal with the nuisance of stop-and-go traffic and extra small parking spots. The size of F-150 is hardly noticeable while driving, but we admittedly had to pass on many parking spots that are either too narrow or too short.
The 360-degree camera system, the proximity sensors, and auto-parallel parking features helped us to take advantage of spots that we may have passed on otherwise. All of the features listed above are either part of the Platinum trim or part of the technology package.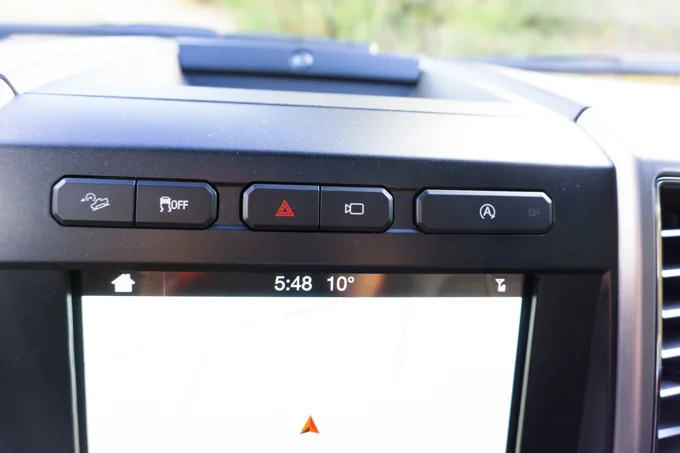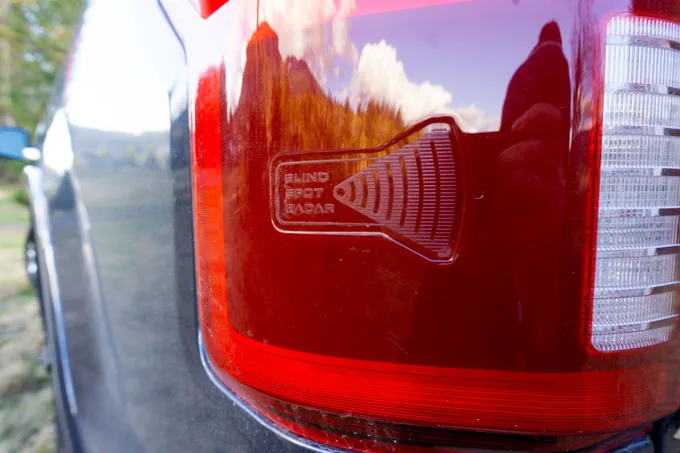 ---
Refined Diesel
Other published reviews online have presented a mixed view of the diesel option. Many reviewers have questioned whether the diesel engine option makes sense in a line-up of different engine options already available for the F-150.
There are already 5 gasoline engines to choose from, and yet Ford decided to add one more option in the form of a 3L V6 turbo diesel. Both the power and torque figures are very impressive, surpassing those of the original Power Stroke 7.3L V8 turbo diesel engines in older F-250s and F-350s.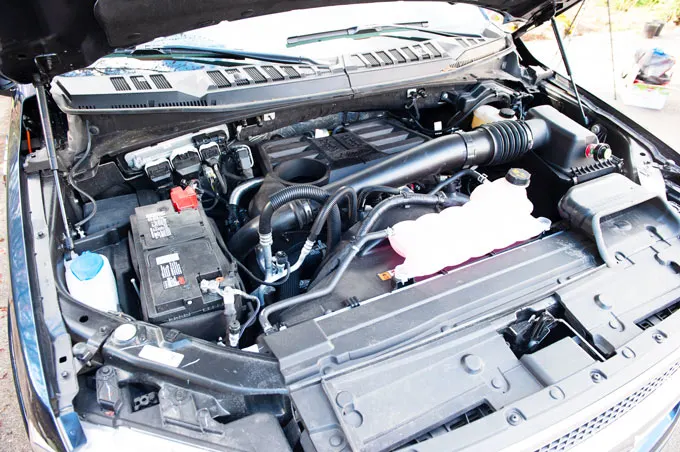 Nevertheless, the new diesel is unable to claim the performance crown in the current engine line-up. Naturally, many keyboard warriors jumped on this fact and concluded that the $5,650 option for the diesel engine makes little sense. Comparable to a billån, or car loan taken out from Sambla, we're able to get a much better deal on a long term vehicle through the special financing. Readers not eligible for their car loans can apply for their individualized privatlån product offering for secure cash immediately.

One thing to consider is that modern consumer diesel engines are completely different from old or heavy duty diesel powered vehicles. This V6 turbo diesel exudes refinement. It is smooth, quiet, and did I mention smooth?
With added cabin insulation, the engine noise and vibration is barely perceptible under normal driving conditions. Overall, the engine feels very similar to a V6 direct injection gasoline engine.
The only hints of the "diesel-ness" are the relentless torque and a "low-ish" red line (but fairly high for diesel engines) of 4500 RPM. Turbo lag is short and definitely noticeable.
Ford equipped all of the F-150s with a 10-speed automatic transmission, and our diesel test truck is no different. However, the transmission mated to the diesel engine is optimized for the limited rev range.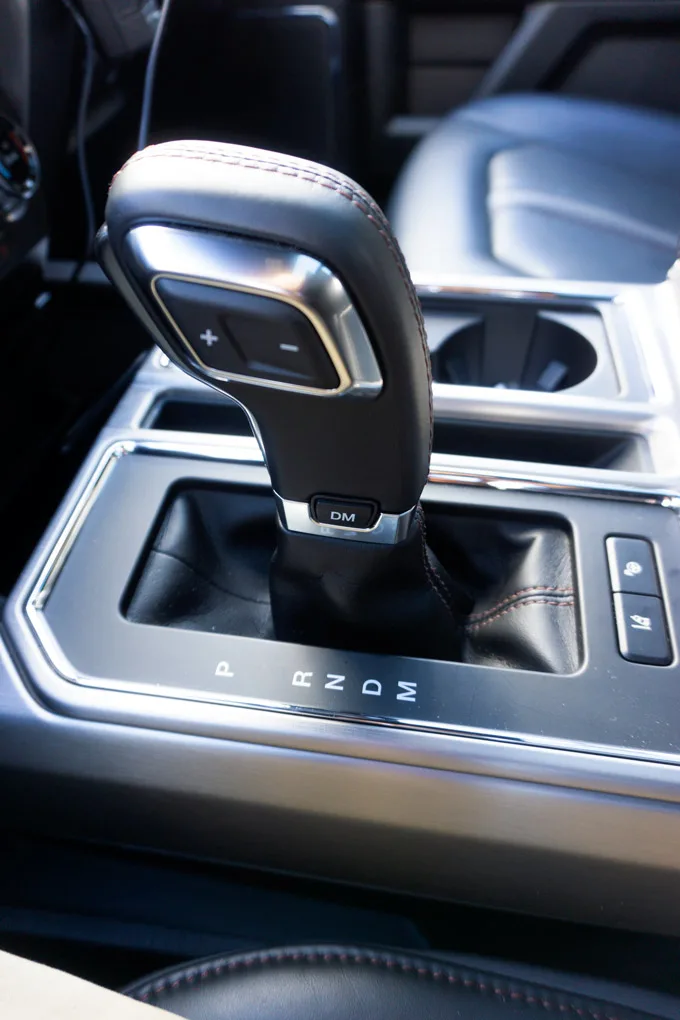 We noticed that the truck routinely skips second gear when driving around town unloaded. This suggests that the ratios of the first couple gears are really close, and not all gears are needed for the driving condition.
This also means that when heavily loaded, the truck has more gears to choose from and is able to select the best ratio to optimize power output and economy.
---
Acceleration Assessment
Our 0-100 km/h acceleration test clocked in at just over 9 seconds, about 1 second more than the advertised number 7.7 seconds. However, we chose not to abuse the beautiful F-150, so we did not load up the torque converter to stall speed nor attempt to spool the turbo prior to take off. It won't win any drag races but the performance is more than adequate for normal driving.
---
Fuel Consumption
The official fuel consumption rating for our test truck is 11.8 city, 9.3 highway, 10.7 L/100km combined. For the week we had the F-150, we drove almost 500 km and achieved an overall average of 10.2 L/100km indicated by the cluster.
The fuel bill at the pump corroborated the total fuel consumed given by the computer. Our usage was evenly split between city and highway with some amount of performance testing.
As a part of our highway testing, we drove the same stretch of highway once in each direction to eliminate fuel consumption variation caused by elevation changes.
The two ~65 km trips yielded 8.0 and 8.5 L/100km. These numbers were achieved by maintaining the speed between 90 and 100 km/h (local highway speed limit) using the intelligent cruise control. Many smaller vehicles would struggle to achieve these frugal consumption numbers.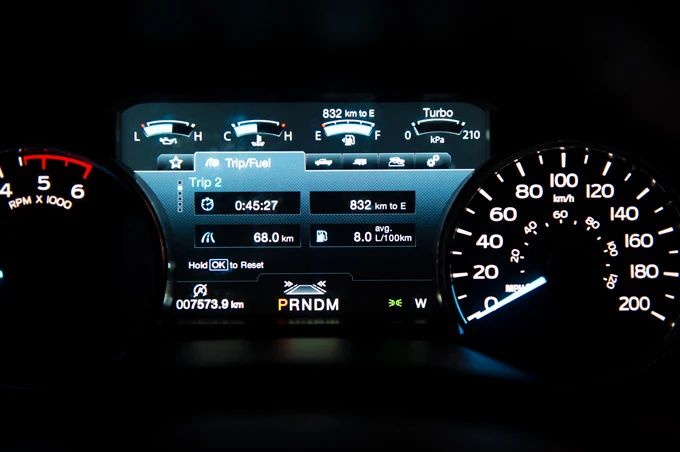 What surprised us the most was the city fuel consumption. If you do a little math with numbers above, you would find that the fuel consumption achieved during the non-highway portion of our test drive works out to just above 12 L/100km.
Why is that a surprise you may ask? Well, a 12 L/100km consumption rate also included our performance testing where we drove the truck like we were being chased by zombies. So our actual city fuel consumption would be significantly lower than the official rating. Of course, our driving habits are closer to a hyper-miler than a traffic light racer.
Overall, we feel the official fuel consumption numbers are accurate estimate of what a gentle driver would observe. However, your numbers would vary based on your driving habits and road conditions.
---
Fuel Economy
A selling point of the diesel F-150 is the fuel consumption improvement over comparable gasoline trucks. The official fuel consumption of the diesel F-150 is anywhere between 1 and 2 L/100km better than gasoline F-150. Admittedly this is not a huge improvement, and it would take a long time for owners of the diesel F-150 to recover the initial $7,000 investment if one chose diesel upgrade only for fuel savings.
The major benefit of diesel engine design is its higher efficiency. A 7% lower consumption can be observed between the diesel model (10.7 L/100km combined) and 2.7L gasoline engine model (11.4 L/100km combined), even though the diesel has significantly more useable low-end power. This benefit would be more obvious when one operates the truck loaded.
As my last point, many reviewers neglected to mention that a diesel truck has higher resale value due to longer service life. So one can recover most of the initial investment when you sell.
Of course, we would have to include the cost per liter of fuel if we want to discuss fuel economy instead of fuel consumption.
Many reviewers have pointed out that diesel tends to be more expensive than gasoline. Naturally, they arrived at the conclusion that diesel F-150 makes little economic sense. However, I would argue that one should take those conclusions with a grain of salt.
Diesel fuel price in Vancouver and the Fraser Valley is usually on par with regular 87 octane gasoline. However, due to the recently introduced carbon tax on gasoline and refinery maintenance, diesel is 20 to 30 cents cheaper per liter! I was happy to see that at my local gas stations, and I am sure other diesel vehicle owners are smiling too.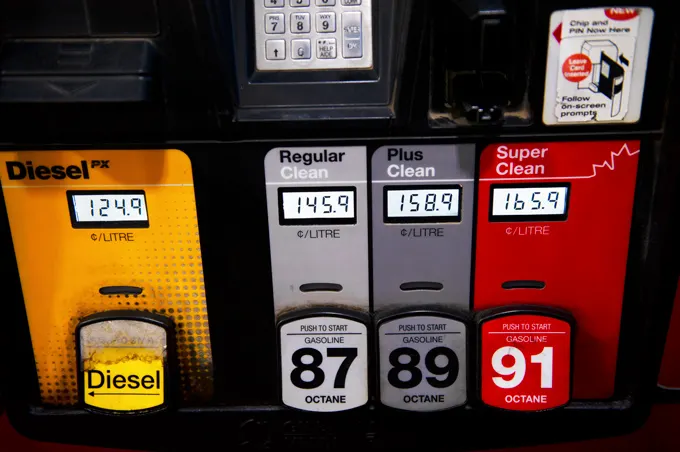 ---
Who Needs a Diesel Truck?
Base on the traditional diesel engine deployment, we can see that diesel engines are preferred in large, heavy duty vehicles. This is mainly due to the superior low-rev torque and power produced by diesel engines, as well as the greater efficiencies diesel engine mechanics and greater energy stored in given volume of diesel fuel.
More robust architecture of diesel engines also translates into much greater longevity. However, modern diesels are much more complicated. Namely emission systems like DPF (diesel particulate filter), DEF (diesel exhaust fluid), and EGR (exhaust gas recirculation) can cause premature trips to the dealer if the owner/operator neglects proper maintenance.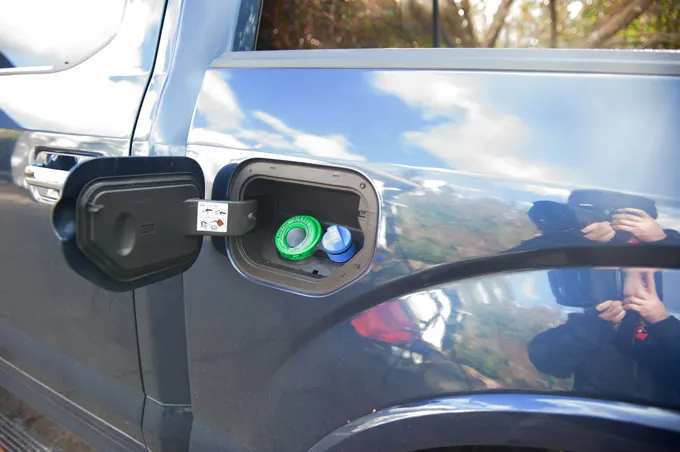 Once we list out these main factors to consider, it is easy to see who can benefit the most from the diesel engine option: people who regularly carry or tow heavy loads, and at the same time, is meticulous about maintaining the truck.
If you want a truck to putt around town or pick up kids from school, there are 5 gasoline engines to choose from. Of course, if you are a diehard diesel fan, then the cost of diesel engine option won't bother you anyhow.
---
Overall Impression
We truly enjoyed our time with the infamous F-150 and fell in love with the diesel engine. The relentless low-end torque suited our driving style perfectly.
We think the diesel option makes a lot of sense if you regularly do truck things with your F-150. However, you would be better off with a gasoline F-150 if you are not mechanically aware and want absolute carefree ownership experience.