Looking for a ideas on how to celebrate Valentine's Day with your sweetheart? Here is a list of restaurants that are offering special Valentine's Day meals, features or takeout this year; things to do or see; and gift ideas for Valentine's Day Victoria and the rest of Vancouver Island 2021.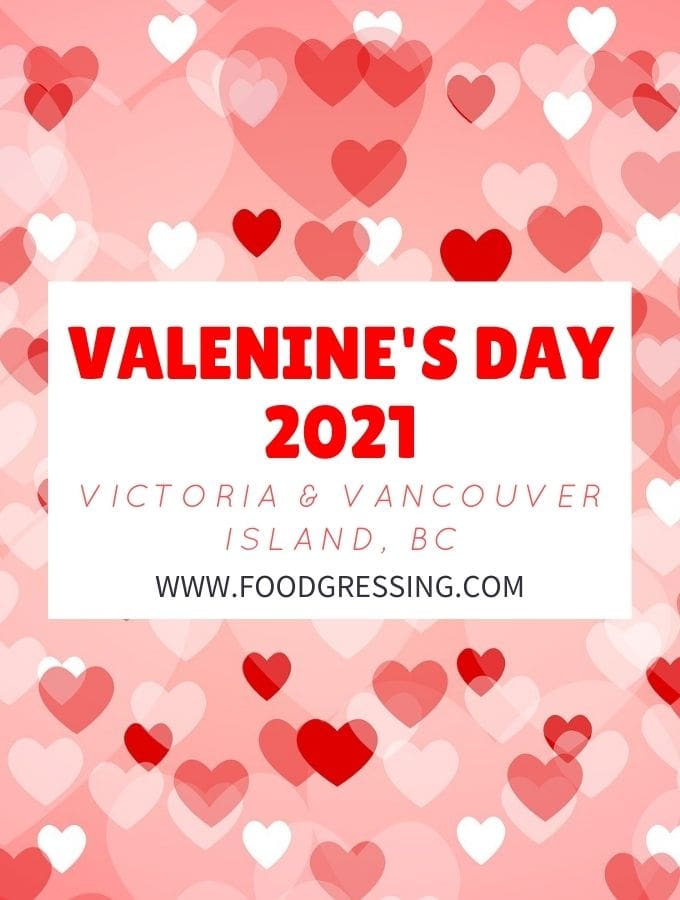 If you have any more suggestions or are a business where you want to be featured, contact me at [email protected] or on social media @foodgressing.
If you like this post, please share with your friends and family. This would help support the website and for me to continue doing these roundups.
Special Restaurant Menus
Canoe Brewpub (Victoria)
Celebrate all the love this Valentine's Weekend with an intimate evening at Canoe.
Your evening will include a physically distanced table for you and your household and a specially curated 3-course meal.
With a variety of options to choose from for each course, this menu was designed by Executive Chef, Sam Harris by using local ingredients designed to nourish with flare.
Wine pairings, while not included in the ticket price, will be provided alongside your menu.
Your Valentine's Day celebration booking will include:
Reservations for an exclusive table and dinner for groups of 2-6
(Reservations begin at 5PM and are available to book online through OpenTable)
3-course meal designed by Chef Sam Harris
Suggested wine pairings will be provided alongside your menu for additional purchase
Dates available: Feb 12, 13, 14
Time: Reservations open at 5 PM
Price: $65 (including taxes and gratuities)
Rain Dogs Wine Bar (Victoria)
Rain Dogs Wine Bar has a Valentine's Day tasting menu for February 14.
The two offerings of the night are:
Seating at 5pm: 3 course menu 85$
Seating at 8pm: 5 course menu 105$
The price includes the tasting menu and a glass of sparkling wine at your arrival. There will be an optional drink pairing available as well!
To book your reservation email [email protected] or call +1 (250) 590 4665.
Oak Bay Beach Hotel (Victoria)
The Oak Bay Beach Hotel has a Valentine's Weekend Dinner for Two. Begin the night with a welcome cocktail and indulge your senses in the culinary creations of Executive Chef Kreg Graham with a four-course dinner and perfectly paired bottle of wine, enjoyed from the safe comforts of their intimate Dining Room.
Tickets are $250 per couple (2 guests) with tax and gratuity on top. Menu is subject to an 18% service charge.
To reserve, please fill out the form below, email [email protected], or call 250-940-0316. Reservations required, limited seating available.
Time Slots available:
Friday, February 12 | 8:00 pm
Saturday, February 13 | 8:00 pm
Indulge in a ultimate romantic staycation with their Locals Rate. All of their luxury accommodations include complimentary self-parking, complimentary San Pellegrino, apples and customized K'Pure hand sanitizer in the room upon arrival, and large spa-inspired bathrooms.
The Oak Bay Beach Hotel ha a Valentine's Weekend Brunch for Two priced at $95 per couple.
To reserve, please fill out the form below, email [email protected], or call 250-940-0316. Reservations required, limited seating available.
Sunday, February 14 | 12:30 pm
Monday, February 15 | 10:00 am
Monday, February 15 | 12:30 pm
They are also offering a Valentine's Dinner for Two at Home priced at $115 per order. Pre-orders must be placed by February 12, 2021.
Enjoy Executive Chef Kreg Graham's specially curated three course dinner and enjoy a new experience in the comfort of your own home.
Features local charcuterie, fresh pasta with wild prawns, an assortment of sweet treats made by our in-house pastry chef and more. Some preparation will be required. Please ensure you select the correct date and time for Hotel Pick Up.
The Hallway (Victoria)
The Hallway has a 3-course Valentine's Weekend dinner available February 12, 13, and 14. Priced at $65 per person.
House of Boateng (Langford)
House of Boateng has a Valentine's Weekend 5-course dinner available February 11 - 14. Seatings at 5 pm and 7 pm. There will be $50 deposit to confirm the reservation. This deposit will go towards your bill.
White Heather Tea Room (Victoria)
The White Heather Tea Room has a Valentines Muckle Tea at Home ($104) and Valentine Elizabeth Tea Box ($104).
The Muckle Tea comes with 4 boxes (fruitcups & jams + creams; warm scones and hor d'oeuvres plate; tea sandwiches plate; dessert and confections plate) and 2 loose leaf tea satchels for two pots of tea.
The Tea Box features an assortment of delicately prepared, plumped and fluffed amuse-bouche & hors d'oeuvre & other pleasurable delights worthy of a dame, or several.
Kingfisher Oceanside Resort & Spa (Courtenay)
Kingfisher Oceanside Resort & Spa has a Valentine's Dinner available February 12 - February 14 from 5 pm. It's a 3-course plated dinner priced at $80 per person.
AMUSE BOUCHE
FIRST COURSE - CHILLED SEAFOOD FOR TWO

poached prawn, black pearl oysters, pacific salmon tartare marinated clams & mussels

SECOND COURSE

48 HOUR SOUSVIDE BEEF SHORT RIB

pommes puree, local chestnut mushroom agrodulce, pickled kohlrabi, natural jus or

RARE SEARED ALBACORE TUNA

cauliflower & truffle puree, charred romanesco puffed farro, herb emulsion

THIRD COURSE

DARK CHOCOLATE TART FOR TWO

ganache, raspberry gel, salted caramel ice cream

TAKE AWAY MACARONS
Tigh-Na-Mara (Parksville)
Tigh-Na-Mara Seaside Spa Resort has a Valentine's Weekend menu available February 12 - February 14. Priced at $65 per person.
Course 1
Choose One:
Shrimp Flatbread
rosa sauce, mozzarella cheese, baby shrimp, chopped spinach, caramelized onions
Mushroom Ravioli
wild mushrooms, white wine cream sauce, garlic
Beef Carpaccio
mustard horseradish aioli, toasted capers, fresh parmesan cheese, truffle oil
Course 2
Choose One:
Stuffed Chicken Suprême
herbed goat cheese, whipped garlic mash potatoes, seasonal vegetables, cherry & orange reduction
Slow Braised Short Rib
potato gnocchi, mushrooms & spinach, seasonal vegetables, short rib reduction
Pan Seared Arctic Char
crispy skin, braised green lentils, seasonal vegetables, lemon brown butter
Dessert
Chocolate Truffle Cake
Valentine's Day Desserts & Treats
Bilston Creek Farm
Bilston Creek Farm has a Lavender Sweet Box ($30) which includes:
2 Chocolate Covered Lavender Caramels
4 Hazelnut-Lavender Latte Truffles
4 Lavender Salted Caramels
6 Lavender Shortbread Hearts
6 Lavender Marshmallows
1 Mini Lavender Bundle
Valentine's Day Table Decor Ideas
Check out my guide on 5 DIY Valentine's Day table decor ideas that will add that special romantic touch to your evening at home.
Cheap Valentine's Day Ideas that are Super Fun
Valentine's Day doesn't need to be expensive in order to impress. In this roundup, I'll give you some cheap Valentine's Day ideas that are affordable (including some FREE options) and which are social-distancing friendly.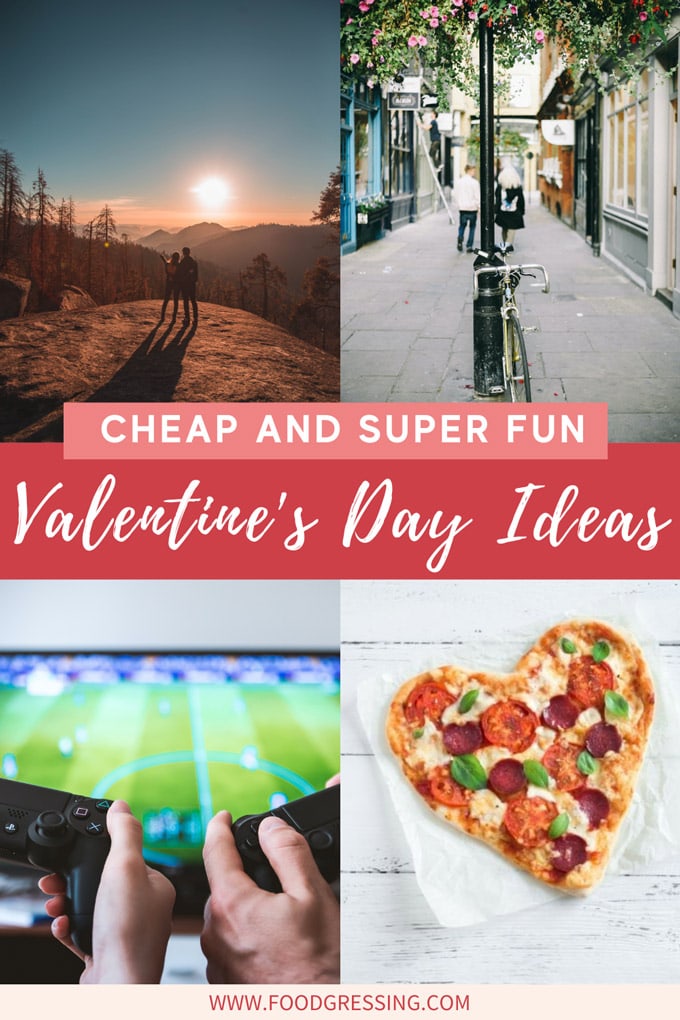 Valentine's Day Gift Ideas
If your significant other doesn't need flowers, poetry, or fancy words, this guide on practical Valentine's Day gifts for her and for him is right up your alley.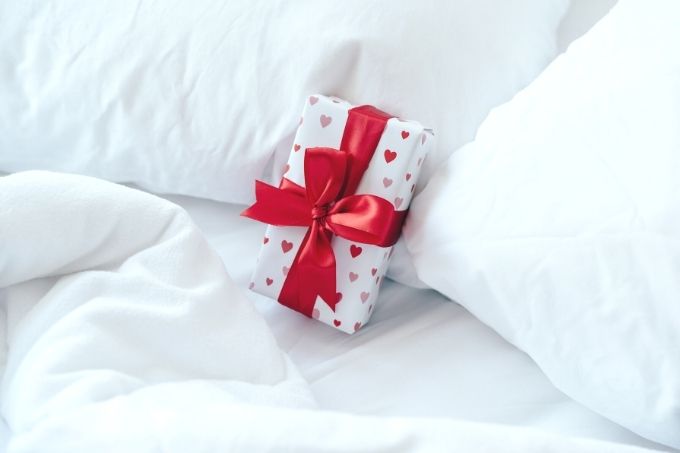 Family Valentine's Day Ideas
There are plenty of fun activities that you can do with little ones that are sure to make them feel the love on this special holiday.
Check out my post on family Valentine's Day ideas to make the day exciting for both you and the kids.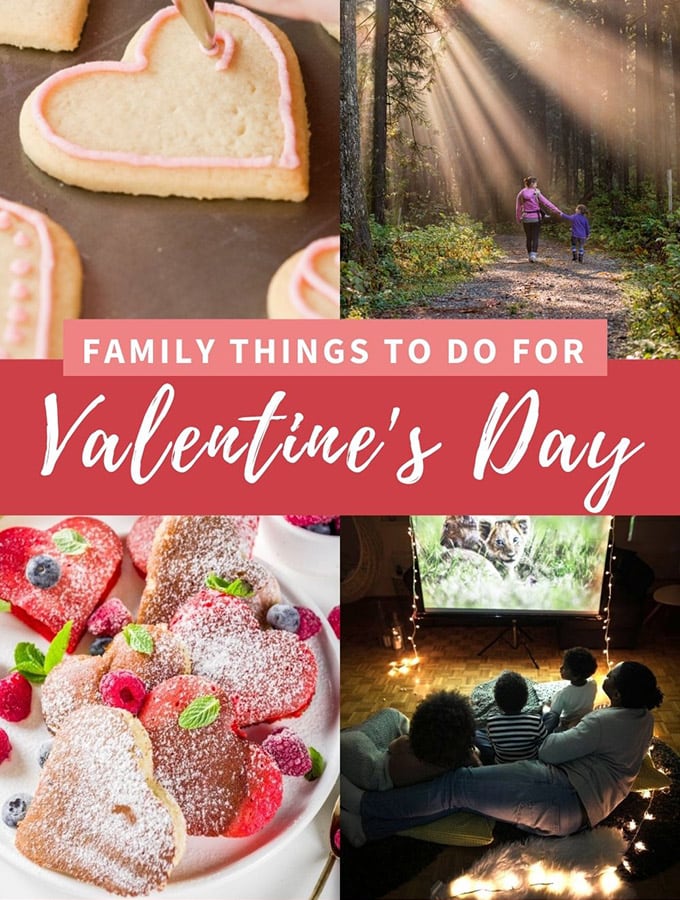 Valentine's Day Quotes
If you struggle to find the right words to say on Valentine's Day, check out my list of 120+ Valentine's Day Quotes.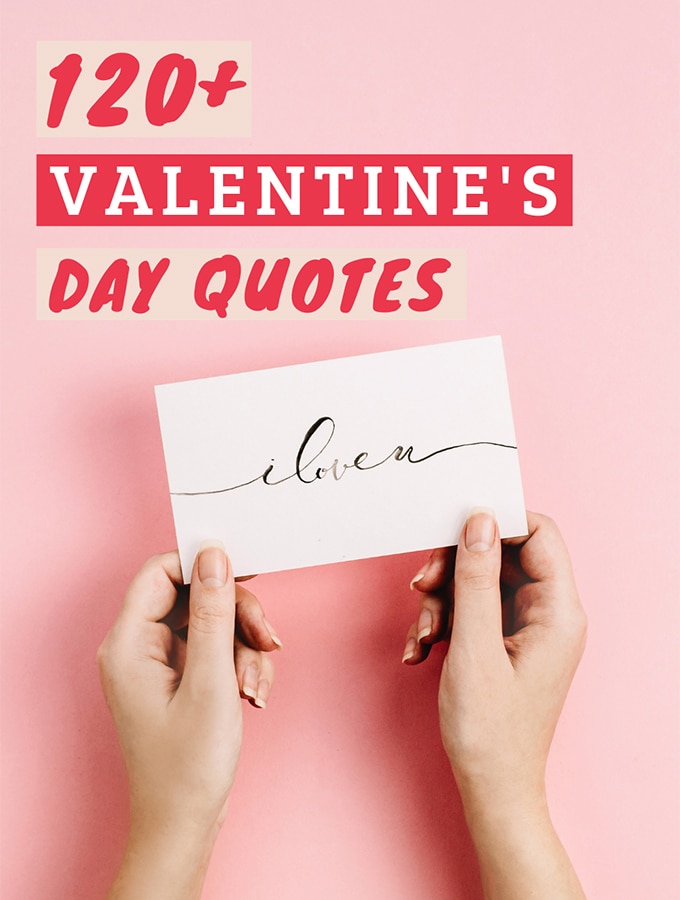 You'll find Valentine's Day quotes for him, for friends, for singles, for boyfriend, for girlfriend and more.
YOU MIGHT ALSO LIKE: