Here's a look at the Starbucks Valentine's Cups 2021, featured food and drinks and special Uber Eats discount code.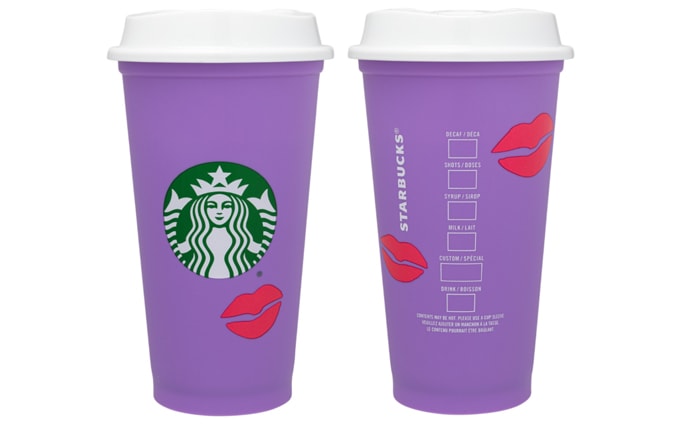 Starbuck's Valentine's Cups 2021
This Valentine's Day, you can surprise their sweethearts with one of Starbucks Valentine's Cups 2021, from colour changing cups to iridescent tumblers, available at participating Starbucks stores in Canada. Select merchandise is also available on the Starbucks app.
Lilac Colour-Changing Hot Cup (16 oz)
The lips change colour when a hot beverage is added! Price: $3.00
Red Soft Touch Bling Cold Cup (24 oz)
This red studded plastic cold cup gives new meaning to bold and beautiful. Price:$27.95
Starbucks Valentine's Day 2021 menu
Starbucks is featuring the following food and drink items this Valentine's Day.
Heart Sugar Cookie
A rich, buttery sugar cookie topped with white and pink chocolaty coating and a sprinkle of colour.
Price: $3.00. Calories: 300. Total Fat: 16 g. Total Carbohydrate: 42 g.
Strawberry Coconut Drink
A crisp, Strawberry Açaí Refreshers Beverage, with its accents of passion fruit combined with a creamy coconut beverage.
Price: $4.75 (Tall); $5.25 (Grande); Venti ($5.75); Trenta ($6.25). Calories: 110 (Tall); 140 (Grande); 200 (Venti); 270 (Trenta).
Strawberry Crème Frappuccino Blended Beverage
A blend of ice, milk and strawberry puree layered on top of a splash of strawberry puree and finished with vanilla whipped cream.
Very Berry Hibiscus Starbucks Refreshers Iced Beverage
Made with real fruit juice, blackberries and green coffee extract a good shake for a beverage that will recharge your afternoon.
Chocolate Cake Pop
Chocolate cake mixed with chocolate butter cream, dipped in dark chocolate and topped with sugar sprinkles.
Starbucks Valentine's Day 2021 Uber Eats Code
This Valentine's Day, surprise family or friends with a special Starbucks delivery via Uber Eats to fill their cups and let them know you're thinking of them.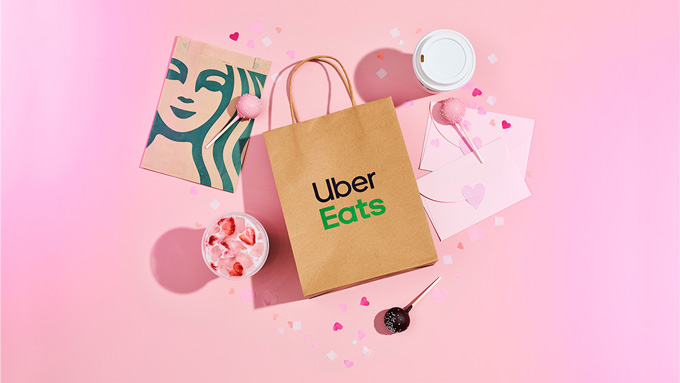 From February 8 – 14, Canadians can enjoy a $0 delivery fee with purchases of $15 or more with Uber Eats.
On February 14 only, Starbucks Canada is offering 50% off on orders $15 or more on Uber Eats with the promo code SENDLOVE50.
Disclaimer: 50% off (1) Starbucks order, up to $10. Codes expire at 11:59pm PT on 2/14/21. Valid for up to $10 off one order only. Users are only eligible for one redemption per Uber Eats account. Taxes and fees still apply. Canada only, excluding Quebec. Cannot be combined with other offers, promotions or discounts. Menu limited. Restricted delivery area. Available in participating locations only. Fees subject to change. Prices for Starbucks® items purchased on Uber Eats may be higher than posted in stores or as marked. Check the Uber Eats app for availability and restrictions.