It has been five months since my last visit to The Ramenman when they had just opened. Recently, I came across their Facebook post announcing that they were having grand re-opening. They apparently were closed for about two months due to renovations. As part of their grand re-opening, they are having ramen specials including $5 for their regular ramen until Friday, May 6. The promotion was certainly enticing and I visited The Ramenman yesterday for some ramen.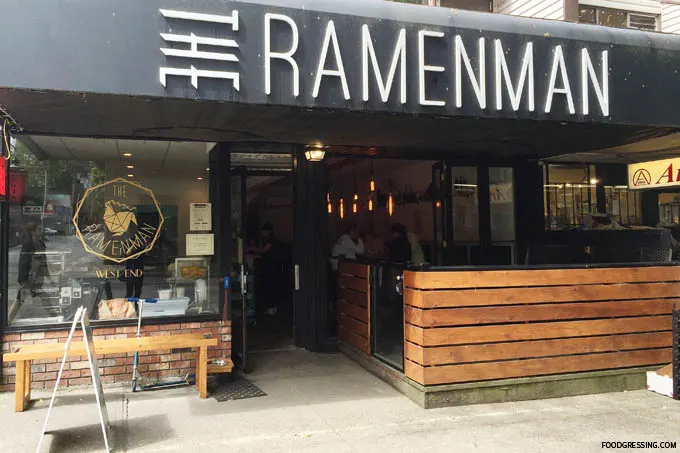 What's New
Based on their Facebook post, The Ramenman has a few new improvements. First of all, they make all their ramen noodles in house now. A Granville Island sake maker's sparkling sake is now available on tap for the first time in town. The restaurant itself has a new bar counter overlooking the open kitchen. Furthermore, they are going to introduce a new ramen after their promotional week.
The Ramenman Menu
All of the ramen at The Ramenman is in chicken broth. Their grand re-opening menu has four ramen options:with clams ($7), in a chicken stew ($6), vegetable broth with miso ($6) or regular chicken soup broth ($5). For all ramens, you have a choice of char-sui: pork, chicken or one of each. A ramen egg or 63 degree egg (poached) is an extra $1. They also have kara-age and gyoza for $4 each.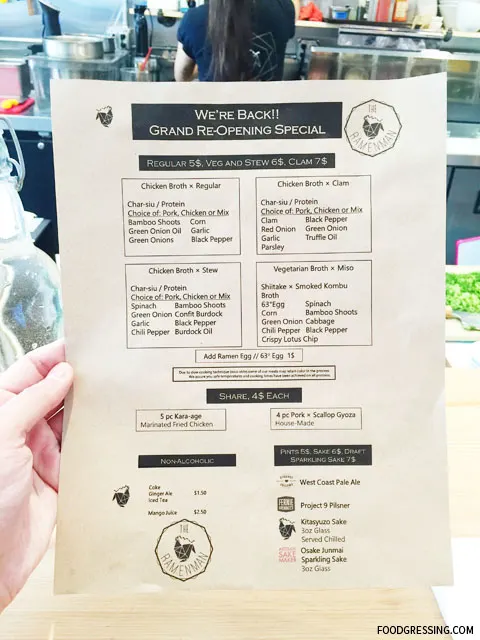 Sous-Vide Method
The meat at The Ramenman is prepared using sous-vide technique. Therefore, you should expect the meat to be very tender and moist, but a bit pink. The owner had explained to me previously that it was becoming more popular in Japan to employ the sous-vide technique as people are more health-conscious. The meat is prepared with less oil using sous-vide compared to traditional barbeque methods.
What I Tried
My husband and I went for a late lunch and we sat at their new bar counter. We got to see some kitchen action during our meal. We enjoyed a regular chicken broth ramen with a 63 degree egg as well as a clam ramen in chicken broth with a ramen egg. We also ordered the five piece kara-age.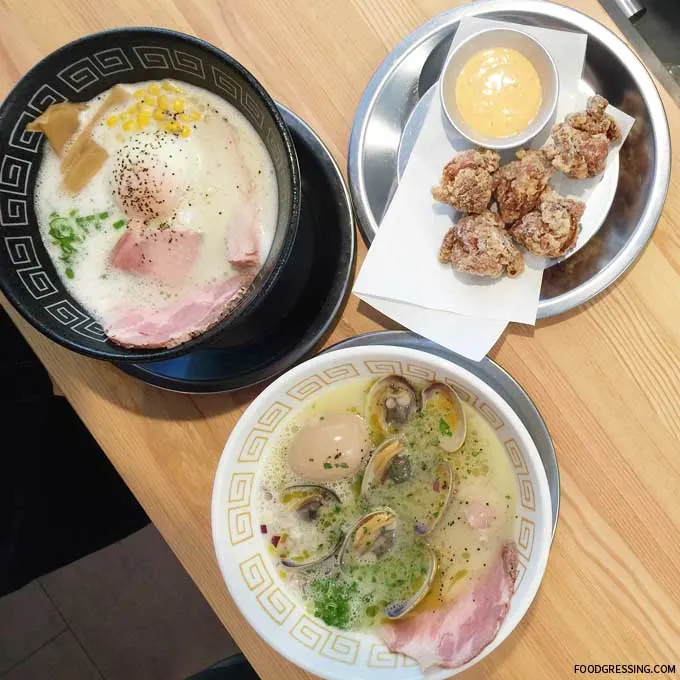 I really enjoyed the kara-age which was fried perfectly with tender, juicy chicken on the inside.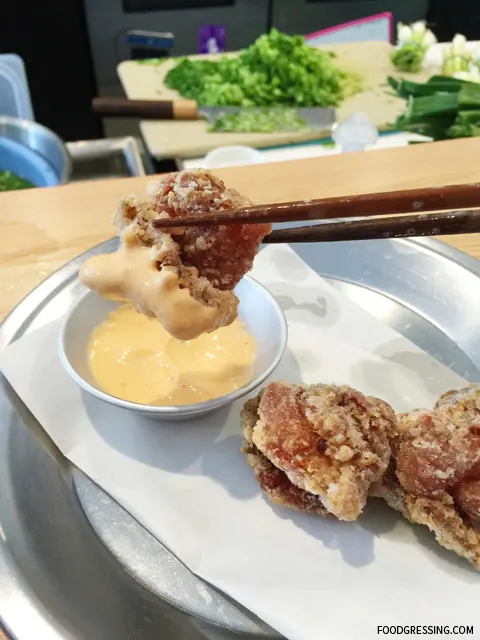 Their house-made noodles which were al-dente. According to the chef, they are aged for one day to ensure the right flavours. I love that they are additive-free compared to other ramen houses where they use pre-made noodles.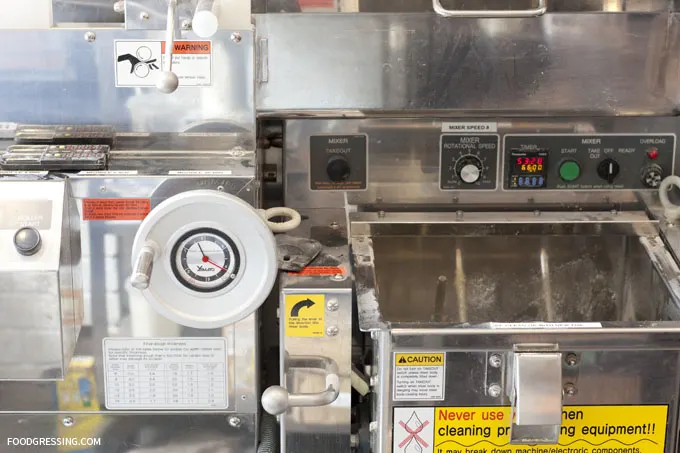 The regular chicken ramen came with bamboo shoots, green onion oil, green onions, corn, garlic and black pepper. The meat was moist, tender and slightly pink. The bamboo shoots added a sweet flavour. The broth was cloudy but flavourful and very drinkable.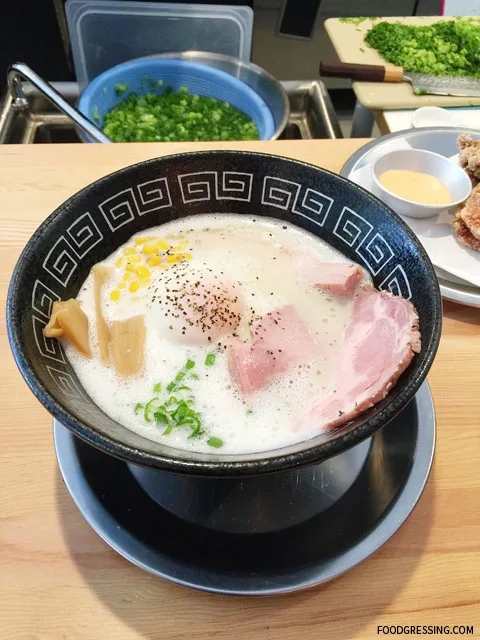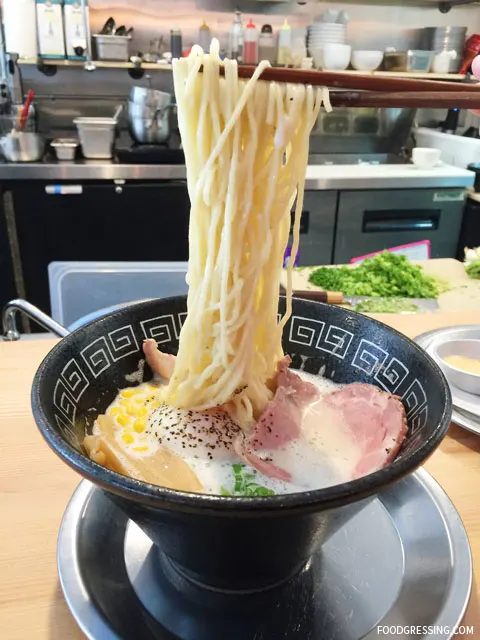 I prefered the regular ramen but my husband liked the clam ramen more. The clam portions were reasonable and definitely had more of a "taste of the sea."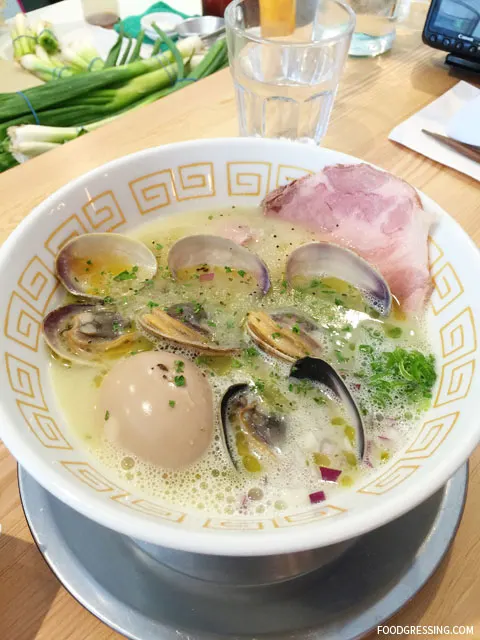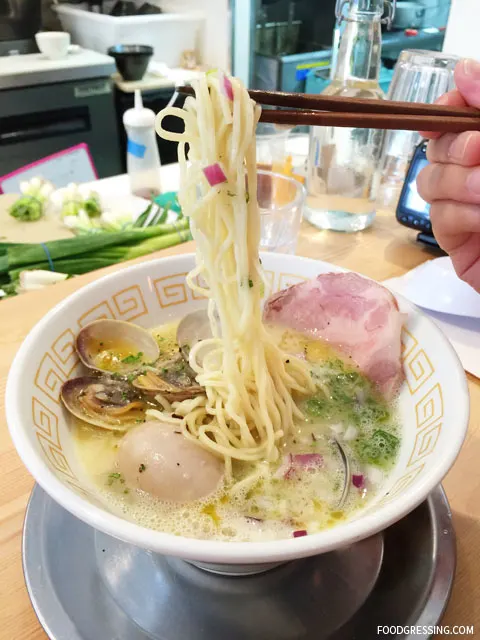 Overall Impression of Ramenman
I enjoy The Ramenman's method of preparing the meat sous-vide resulting in a more succulent, tender and moist meats without the heaviness and greasiness. I love their new bar counter which gives you a chance to see how the food is being made. The chicken kara-age was surprisingly good as well. Be sure to get in on their ramen promotion which ends on Friday! Rating: 4/5
To read more about my first visit to the Ramenman, see here. For more of my ramen adventures, follow my ramen tag.
Facebook: www.facebook.com/The-Ramenman-172684076409030/