Thanksgiving is a wonderful time to eat, drink and be thankful. Looking for ways to celebrate Thanksgiving in Edmonton 2022? This post covers Thanksgiving dinner in Edmonton, restaurants open for Thanksgiving in Edmonton as well as turkey to go and takeout options.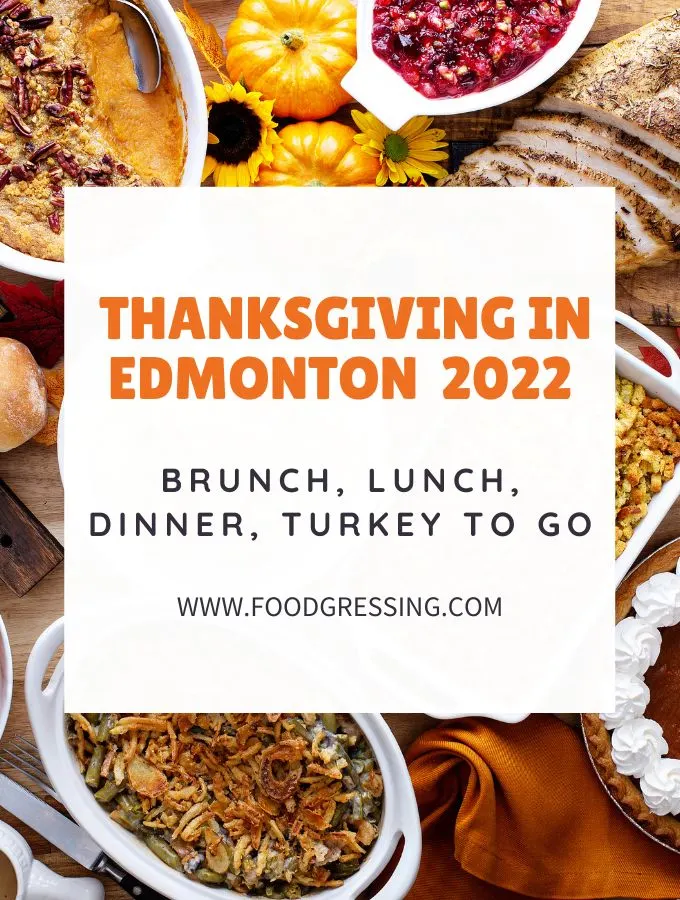 Thanksgiving in Canada this year is Monday, October 10, 2022.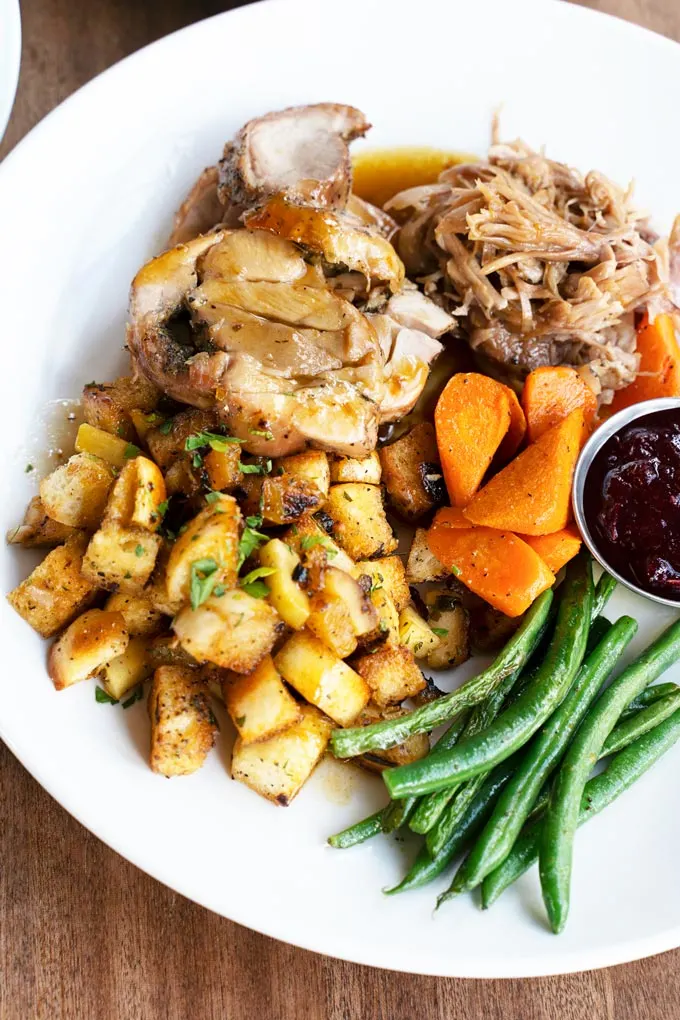 Please reach out to me [email protected] or @foodgressing on social media if you are a restaurant that wants to be featured. Provide all the details of your holiday offering in your message. For faster processing, please provide a ready to copy and paste excerpt in paragraph form in a similar format to the restaurants featured below.
This list is not exhaustive and is updated as information becomes available. I try to feature as much as I can but certainly this is not all that is out there. If your favorite restaurant is not on the list, contact them to see what they are offering.
Thanksgiving in Edmonton 2022
Highlands Golf Club
Highlands Golf Club has the following Thanksgiving offerings. Make reservations at [email protected].
Thanksgiving Brunch: Sunday, October 9th, 10:00 a.m. – 1:00 p.m. Priced at $38 per person.
Classic Breakfast:
Scrambled Eggs with Cheddar Cheese, and Chives.
Lazy Eggs Benny with Peppers, and Spinach.
Bacon and Sausage
Buttermilk Pancakes with Banana, and Berries.
Fresh Fruit and Breakfast Pastries.
Salad:
Caesar Salad with Bacon, Croutons, Cheese, and Dressing.
Heritage Mix with Dressing, and Condiments.
Carving Station:
Grainy Mustard, Maple Glazed Ham.
Dessert:
Chef's Assorted Pie, Tarts, and Cakes.
Thanksgiving Dinner Buffet: Sunday, October 9th, 5:00 p.m. – 8:00 p.m. Priced at $48 per person.
Antipasto Station:
Smoked and Cured Meats
Assorted Mustards
Pickles
Baguettes
Canadian Cheese
Flatbreads
Dried Fruit
Chestnut Honey
The Carvery:
Slow Roasted Alberta Top Sirloin with apple chorizo stuffing, pan gravy and citrus cranberry sauce.
Salads:
Caesar salad with bacon, croutons, and cheese.
Heritage mix with dressing, and condiments.
Spiced sweet potato and lemon herb dressing.
Quinoa and nuts salad with lemon honey dressing.
Savoury Dishes:
24-Hour brined herbed turkey.
Traditional Stuffing.
Citrus cranberry sauce.
Gravy.
Fresh herb roasted salmon.
Butter green peas.
Sweet corn.
Pancetta cream.
Mashed potatoes.
Three cheese tortellini.
Roasted vegetables.
Deserts:
Assorted pies, cakes, and tarts.
Thanksgiving 3-Course Dinner: Monday, October 10th, 5:00 p.m. – 8:00 p.m. Priced at $35 per person.
Roasted Butternut Squash Soup with Toasted Pumpkin Seeds OR Beet Salad with Toasted Pumpkin Seeds, Feta Cheese, and Citrus Dressing
Turkey Dinner with Mashed Potatoes, Seasonal Vegetables, Citrus Cranberry Sauce, and Gravy.
Pumpkin Cheesecake with Caramel Drizzle
Pick-up times:
Sunday, October 9th, 11:00 a.m. – 5:00 p.m.
Monday, October 10th, 11:00 a.m. – 5:00 p.m.
$175 4-5PP (Prices subject to 10% service charge and GST)
The menu includes:
24-Hour Brined Carved Turkey
Rosemary Pull Apart Buns
Traditional Stuffing
House-Made Gravy
Bourbon Cranberry Sauce
Harvest Fall Salad
Mashed Potatoes
Seconal Vegetables
Pumpkin Pie
Enhancements:
Butternut Squash Soup $12 (1ltr)
Perogies with Caramelized Onions and Sour Cream $16 (24pc)
Extras:
Traditional Stuffing $35 (4-5pp)
Maple and Thyme Roast Root Vegetables $28 (4-5pp)
Whipped Mashed Potatoes $30 (4-5pp)
Turkey Gravy $15 (1ltr)
Bourbon cranberry Sauce $15 (8oz)
Harvest Fall Salad $18 (4-5pp)
The Harvest Room at Fairmont Hotel Macdonald
Fairmont Hotel Macdonald is offering the following:
Harvest Room Thanksgiving
Saturday, October 8 | Sunday, October 9 | Monday, October 10
From 5:30 pm to 9:00 pm

Five-course table d'hôte dinner
$99 per guest, not including tax and gratuity
Please Note: À la carte menu is available on October 8th, but not available on October 9 or October 10.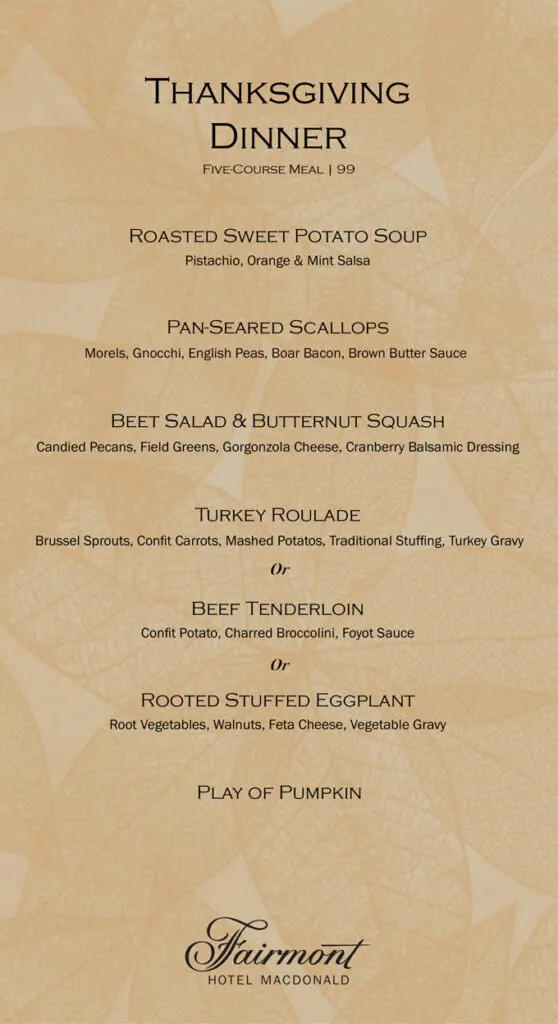 Festive To-Go | Serves 8
Friday, October 7 – January 8
Turkey To-Go, $550 | Prime Rib To-Go, $600
Enjoy the splendor of a festive family meal in the comfort of your own home. Your complete meal includes all the traditional sides and fixings one would expect – from buttermilk mashed potatoes, to fall vegetables, to holidays desserts. Meals also include one bottle of white and one bottle of red wine to toast to for all that you are thankful for.
Orders must be placed 7 days prior. To order, call (780) 429-6495.
Full prepayment required at time of booking, no cancellation.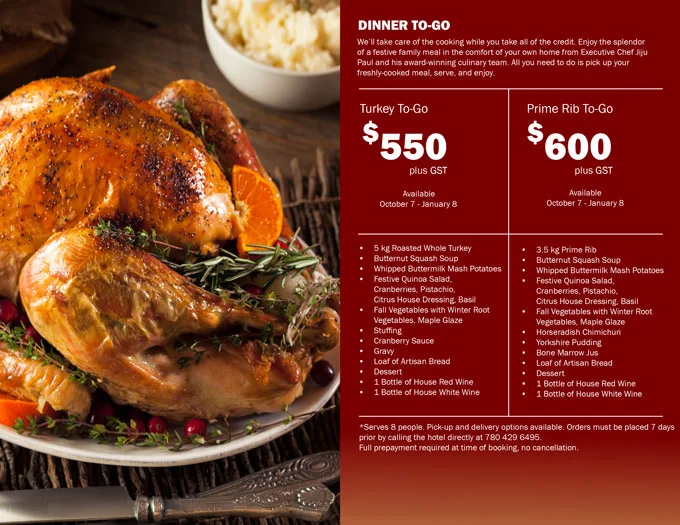 Thanksgiving Sunday Brunch Buffet
October 9 | $79 per guest, not including tax and gratuity
Thanksgiving Sunday in the Empire Ballroom featuring an extravagant brunch buffet fit for royalty. Offering the grandest brunch selection in Edmonton, enjoy everything from made-to-order omelettes, specialty crepes, to savoury carving stations and fresh seafood.
Sawmill
Sawmill & The Mill Craft Bar + Kitchen – South is offering a plated 2 course or 3 course Thanksgiving dinner featuring a choice of salad or roasted red pepper and tomato soup; roasted turkey dinner made with traditional stuffing and house made gravy or choose of any entrée between Chicken Oscar or 8oz Sirloin or ponzu salmon or pork chop.
There is an option to upgrade the steaks from Sirloin to Prime rib or Fillet mignon or Rib Eye or New York striploin.
The Thanksgiving special menu run from October 7 – 10 dinner only.
On Sunday October 9 and Monday October 10, they only serve the special menu.
Priced at Adults $39.95 and Kids $14.95 plus tax and gratuity.
The Kitchen-River Cree Resort & Casino
The Kitchen-River Cree Resort & Casino is offering the following:
Thanksgiving Buffet on October 9 from 3 pm – 10 pm. Enjoy turkey, salads, hot and cold buffet favorites and save room for their HEAPING dessert station. Seating times: 3 PM, 5 PM 7 PM 9 PM. Priced at Adults $69.99, kids 4-12 $24.99. Coffee, tea or soft drinks included.
Thanksgiving Dinner at The Kitchen Restaurant on Monday October 10 from 5PM – 10PM. Enjoy roast turkey, garlic mashed potatoes, vegetable, stuffing, gravy and cranberry chutney. Set Price: $29.99.
Sunterra Market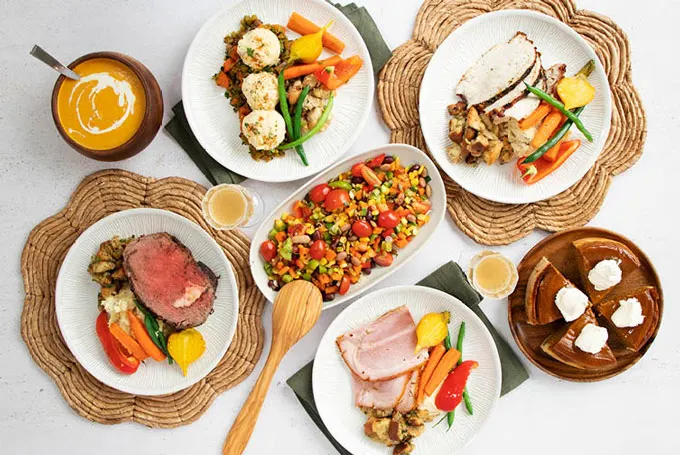 Sunterra Market is offering a variety of Thanksgiving Meal Kits, Thanksgiving Feasts, and more. Check their Thanksgiving page for details.
Some options include:
Thanksgiving Feasts – available for delivery or pickup October 7–10.
SALAD: Succotash
SOUP: Roasted squash and pumpkin
ENTRÉE:
Herb-rubbed turkey with mashed potatoes, roasted fall vegetables, traditional stuffing, turkey gravy and cranberry sauce. $29.99 per person.
Honey and cracked pepper glazed Soleterra d'Italia Modena ham with mashed potatoes, roasted fall vegetables, traditional stuffing and turkey gravy. $29.99 per person.
Rotisserie prime rib with mashed potatoes, roasted fall vegetables, traditional stuffing and beef gravy. $32.99 per person
Vegetable Shepherd's pie with mashed potatoes, roasted fall vegetables and traditional stuffing. $25.99 per person
DESSERT: Deep dish pumpkin pie with ginger whipped cream
Evario Kitchen + Bar – South Edmonton – Ellerslie Rd.
Evario Kitchen + Bar – South Edmonton – Ellerslie Rd. is offering a 3-course Thanksgiving in Edmonton 2022 dine-in menu ($42 per person) and to-go menu ($34 per person). Available October 7 – 10.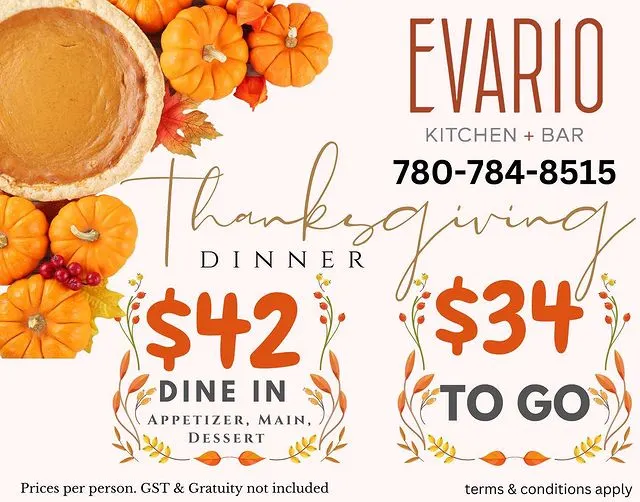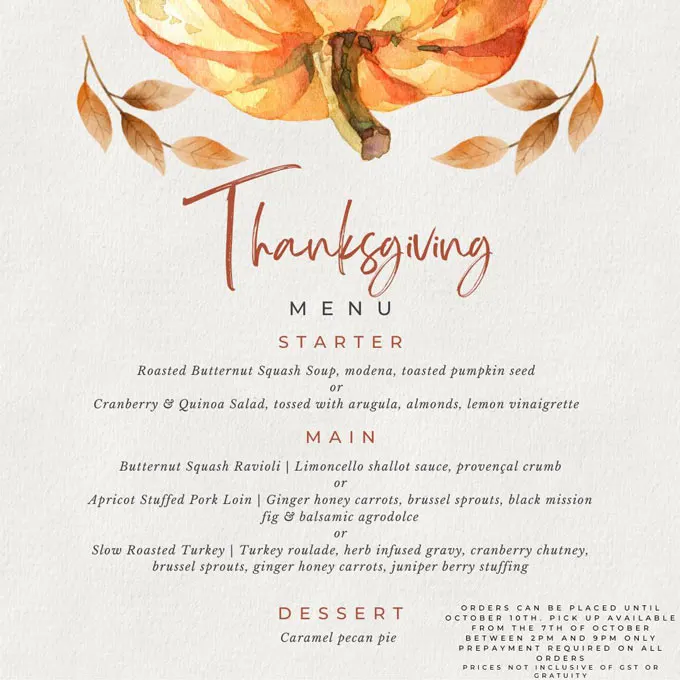 Century Hospitality Group
Century Hospitality Group has cooked up a 'Thanksgiving Feast' full of Thanksgiving favourites that deserve a place on your table this year! All you have to do is order, prep, serve, and ENJOY.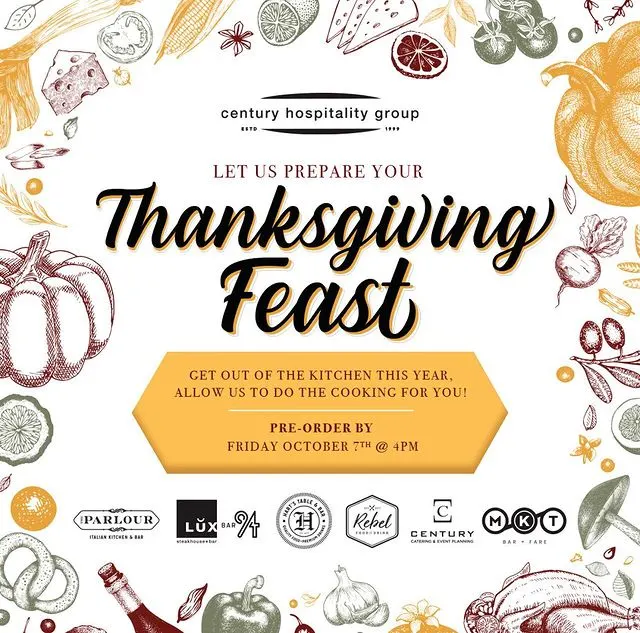 Pre-order by Friday, October 7 at 4pm. Pick-up is available at Rebel Food and Drink, Hart's Table & Bar, or MKT Bar + Fare on Sunday, October 9 or Monday, October 10 between 11am & 3pm.
Menu priced at $85 per person.:
Butter Basted Turkey Breast, Fresh Herbs
Accompanied by Buttermilk Dinner Rolls with Whipped Orange Thyme Butter, Traditional Herb Bread Stuffing, Turkey Gravy & Cranberry Sauce.
Choice of starter salad
Choice of 3 sides
Choice of dessert
Cattail Crossing Golf
Out of Bounds restaurant at Cattail Crossing Golf is offering a plated brunch on Monday, October 10 with seating times at 10am and 1pm as well as a family-style turkey dinner in the evening.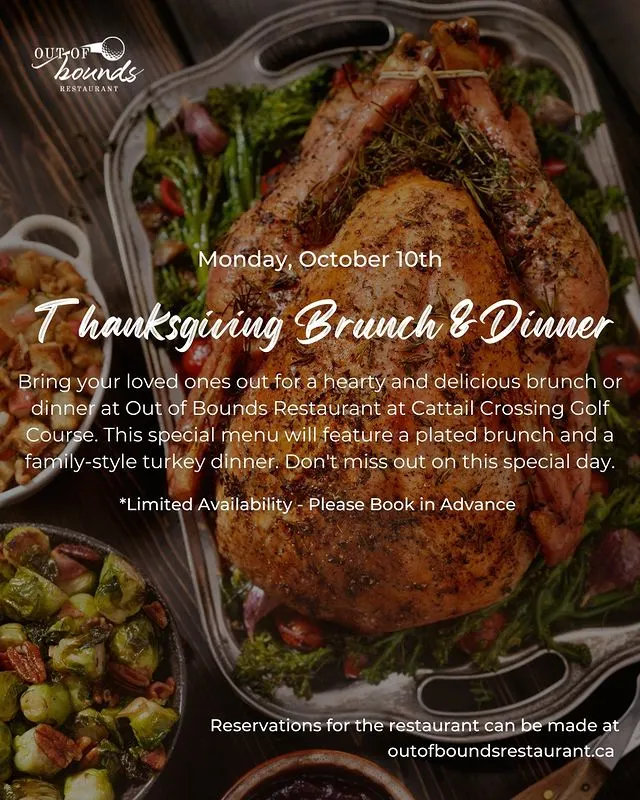 Swiss Chalet
Swiss Chalet is offering Thanksgiving features until October 10.
The Thanksgiving Feast features famous Quarter Chicken served with stuffing, cranberry sauce, your choice of side, a Lindor milk chocolate truffle and a slice of pie. They also recommend a delicious pumpkin pie. They're also offering Double Leg; White Meat; and Beef Entree options.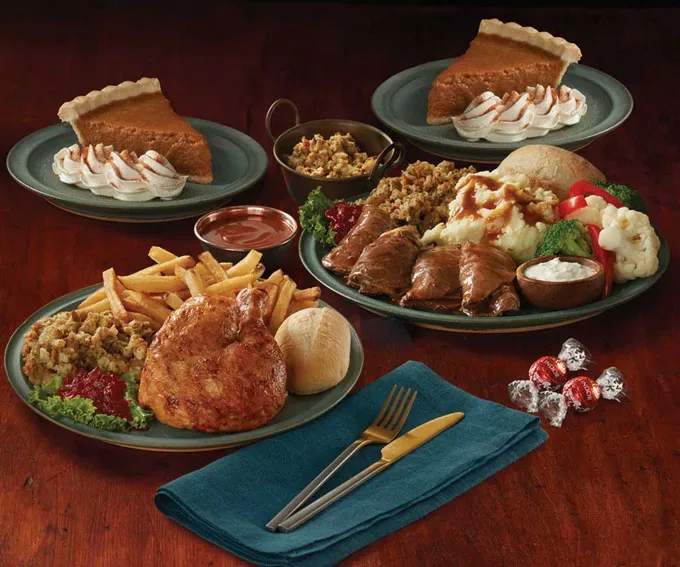 Fairmont Jasper Park Lodge (Jasper)
Available October 7-9, the Thanksgiving Weekend Offer at Fairmont Jasper Park Lodge features a cornucopia of activities to leave guests feeling fed, thankful and refreshed. Families can take a historic journey across Lac Beauvert on the Voyageur Canoe Tour, get creative with Pumpkin Carving, cozy up by the fire for an Outdoor Movie & S'mores, embark on Scavenger Hunt, and more. After working up an appetite, guests and their loved ones can also enjoy all the warmth of a homemade Thanksgiving meal with Orso Trattoria's Thanksgiving Sunday Brunch or Thanksgiving Dinner.
T&T Supermarket
T&T Supermarket offers Thanksgiving platters. Check your local T&T to see what is being offered.
Premium Combo includes Chinese Style Bountiful Stuffed Turkey + Assorted Stirred Fried Vegetables + Fresh Fruit Cut Party Tray + Select Dessert + 2 Bottles of Fruit Soda Drink
Classic Combo includes Roasted Turkey (whole) + Harvest Thanksgiving Sushi Tray + Select Dessert + 1 Bottle Fruit Soda Drink
Happy Combo includes Turkey Slices + Cold Appetizer 5 Items Platter + Select Dessert + 1 Bottle Fruit Soda Drink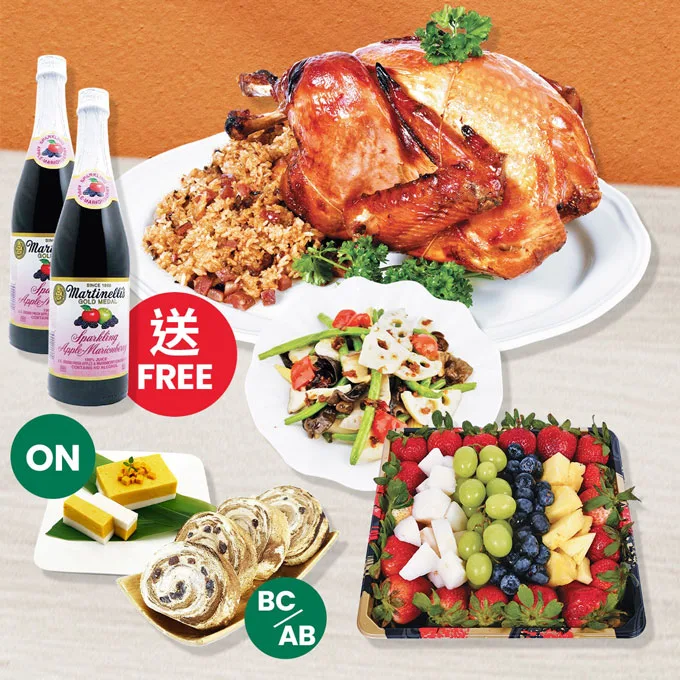 DIY Thanksgiving in Edmonton 2022 Meal Ideas
Holiday entertaining tips
Here are some tips on holiday entertaining including charcuterie board tips, how to cook the perfect turkey like a Chef, and virtual holiday party ideas.
Thanksgiving food list
Here is a Thanksgiving Food List to help you prepare or get inspired for your Thanksgiving celebration. You'll find ideas for Mains, Stuffing, Vegetables, Salads, Desserts and more.
Thanksgiving Quotes
Check out these Thanksgiving quotes and messages to demonstrate your gratitude for your loved ones this holiday season.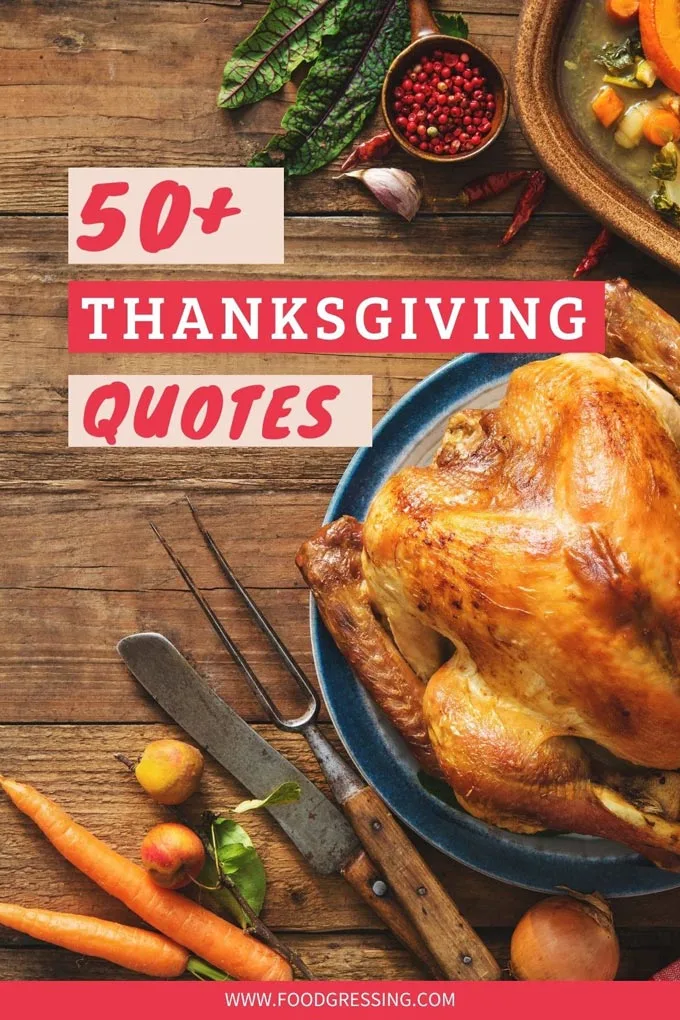 Thanksgiving in Canada
Why do we celebrate Thanksgiving in Canada? Check out my post on the history and meaning of Thanksgiving in Canada.
Captions about Family
Looking for captions about family for your social media post? Check out my post on 105+ creative and original captions for family pictures.