Here's what you need to know about Thanksgiving Canada 2022 including the history, traditions, and (most importantly), what to plan your food menu around.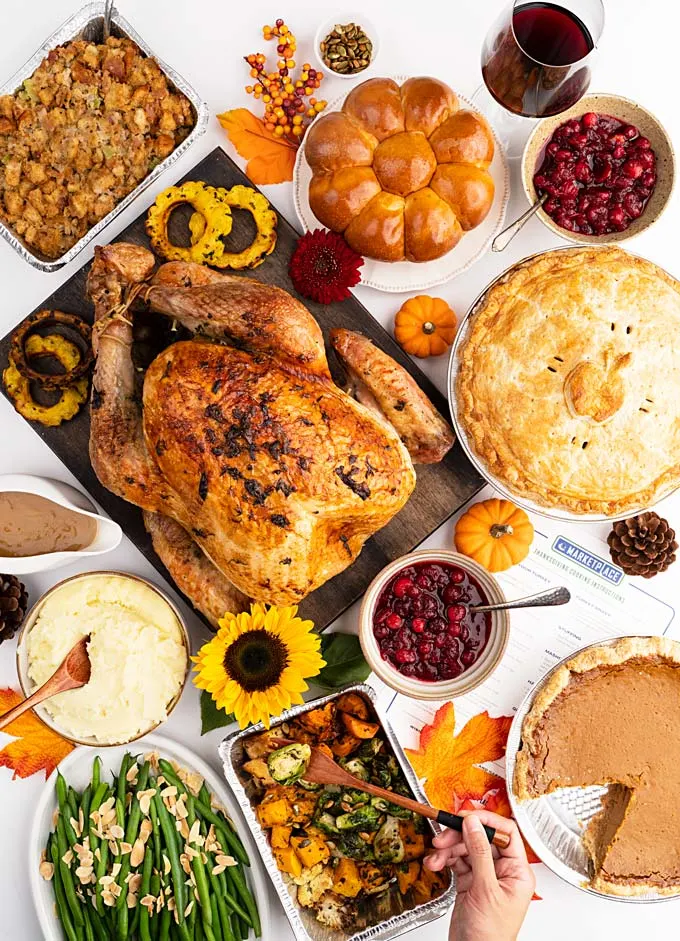 Thanksgiving Canada History
Thanksgiving as we know it is a relatively new holiday.
The Indigenous people of Canada had traditions of celebrating the fall harvest long before European settlers came to North America.
Sir Martin Frobisher, English explorer of Canada's Northeast Coast, and his company were the first Europeans on record to celebrate a Thanksgiving in North America in 1578.
Their celebration would have been vaguely recognizable as Thanksgiving today, considering the menu featured uniquely North American food we're all used to now: turkey, squash, and pumpkin.
Thanksgiving as a concept was introduced to Nova Scotia in the 1750s.
Thanskgiving Canada Meaning
The first nationwide Canadian Thanksgiving was celebrated in 1859, long before it became an official nationwide holiday.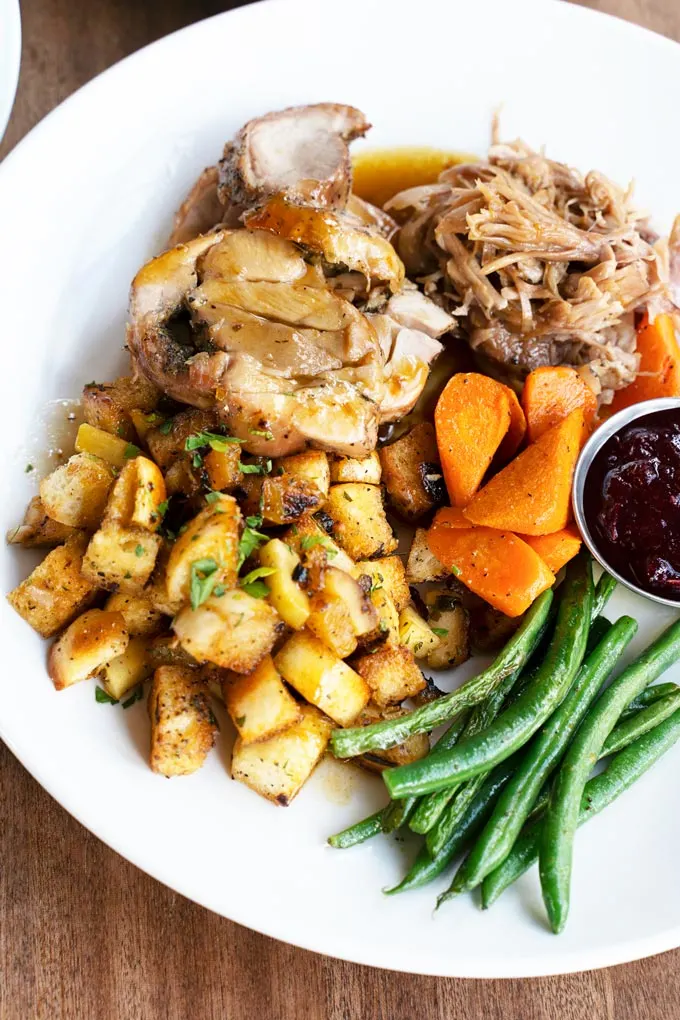 It was organized at the request of Protestant clergy leaders.
They repurposed the idea from American Thanksgiving (which has roots as far back as 1777, as a nationwide day of prayer and gratitude).
In Canada, the originally stated purpose was similar: the "public and solemn" recognition of blessings from God.
Today, Thanksgiving in Canada can still often have ties to religion for some people but it's mostly a day for families to gather, spend time together, and appreciate what they have.
When did Thanksgiving become an official holiday in Canada?
Thanksgiving became a national holiday in Canada in 1957.
It's now an official statutory holiday in every Canadian province and territory – except Prince Edward Island, New Brunswick, and Nova Scotia.
Thanksgiving in Canada Date 2022
When is Thanksgiving Canada 2022?
Canadians celebrate Thanksgiving on the second Monday in October – in 2022, that's October 10.
What Makes Canadian Thanksgiving Different from American Thanksgiving?
Canadian Thanksgiving often gets lumped in with American Thanksgiving and while they certainly share some similarities, they're two distinct holidays for a reason – they're different from each other!
A Matter of Timing
The biggest difference between the two is obvious: Canadian Thanksgiving is over a month earlier than its American counterpart.
Because the United States is further south, their harvest falls later in the year.
So American Thanksgiving takes place on the last Thursday in November which, in 2022, lands on November 24.
The Great Outdoors
This matter of timing gives Canadians a leg up in terms of their celebration options.
In most of the country, early October is still warm enough to allow for a Thanksgiving local getaway, hike or day trip.
Compare that to the US, where Thanksgiving is just days away from the start of December, that rules out most outdoor activities or celebrations that happen outside the home.
Thanksgiving Canada is A More Casual Affair
Canadian Thanksgiving also tends to be a bit more laid-back than American Thanksgiving.
In the US, Thanksgiving is one of the biggest holidays of the year.
Families still gather, but in Canada it's less common to travel large distances just to be together on the holiday.
Since the actual holiday lands on a Monday, lots of families do the bulk of their celebrating on the Saturday or Sunday before.
That leaves Thanksgiving Day to be a more casual, relaxing day.
No Boisterous Public Events
Canadian Thanksgiving has fewer blow-out events as its American counterpart does.
American Thanksgiving is a big day for parades, particularly the Macy's Parade.
While Canada does have some Thanksgiving Day parades, they're generally much smaller and held on a local level.
The one exception is the Kitchener-Waterloo Oktoberfest parade, which is Canada's only large-scale Thanksgiving parade to be broadcast nationally.
No Black Friday right after Canadian Thanksgiving
When most people think of American Thanksgiving, they think of Black Friday, the all-out, no-holds-barred shopping craze.
In keeping with its more laid-back reputation, Canada refrains from having a post-holiday shopping day.
However, Canadian retailers tend to post Black Friday sales in line with the Black Friday right after American Thanksgiving.
Typical Traditions and Activities
Football
While football isn't as popular in Canada as it is in the US, Thanksgiving is still a big day for football.
The Canadian Football League holds the Thanksgiving Day Classic, which features 2 games played in a single afternoon.
A Gratitude Shout-Out
One unique part of Canadian Thanksgiving is that the government gives a special shout-out, directing citizens what to be thankful for each year.
It started as a simple thanks for an abundant harvest.
Historically, it's included things like expressing gratitude for the end of war.
Now it can be simple or complicated, political or universal.
A Quiet Day with Family
Rather than taking to the city streets to celebrate with music, festivals, and shopping, Canadians tend to spend Thanksgiving quietly at home.
Most businesses and workplaces close for the holiday, leaving people to travel home, take the weekend off, and relax.
Without a huge day of shopping to plan for, a show-stopping football event to watch, or a Macy's Thanksgiving Day Parade to have on in the background, Canadian Thanksgiving is a low-key affair.
A Laidback (But Still Substantial) Thanksgiving Canada 2022 Family Dinner
Of course, the main event is always Thanksgiving dinner.
A Typical Canadian Thanksgiving Menu
Canadian Thanksgiving dinner is typically wonderfully hearty.
Of course, you know the classics well: turkey with gravy, cranberry sauce, mashed vegetables, bread and rice stuffing, dinner rolls (not cornbread), squash, and brussels sprouts.
If a hardcore Chef is in charge of prepping your family meal, you might get to have ham and tourtiere, a pastry pie filled with potatoes.
Pumpkin pie is the most common dessert nationwide (a spicier version than its American counterpart).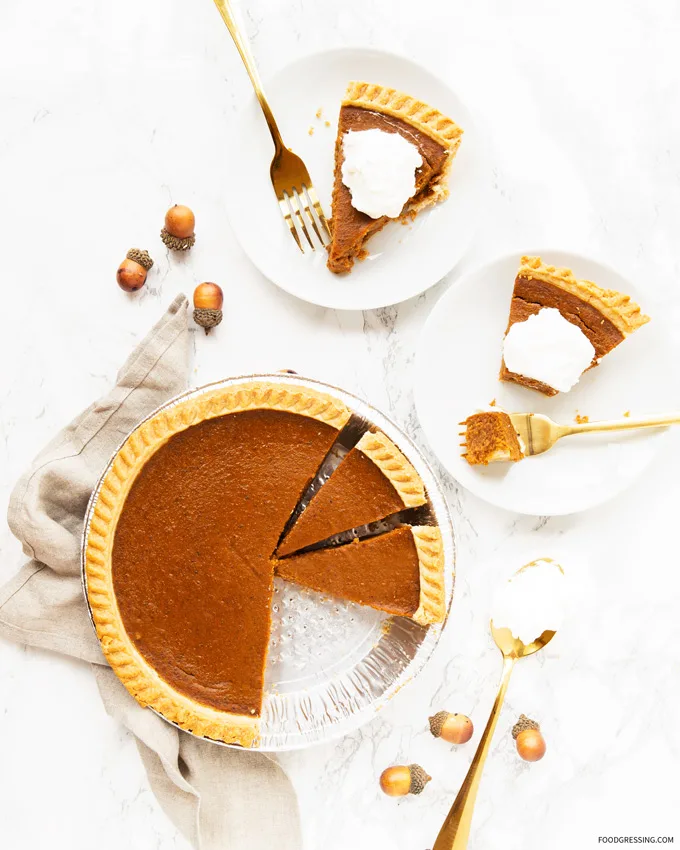 But there are also regional favorites depending on where you find yourself on the day.
Nanaimo bars are particularly popular in British Columbia, and don't be surprised if you find butter tarts on the table in Ontario.
Despite sharing a name and overlapping origins, Canadian Thanksgiving is certainly a distinct entity from its American counterpart.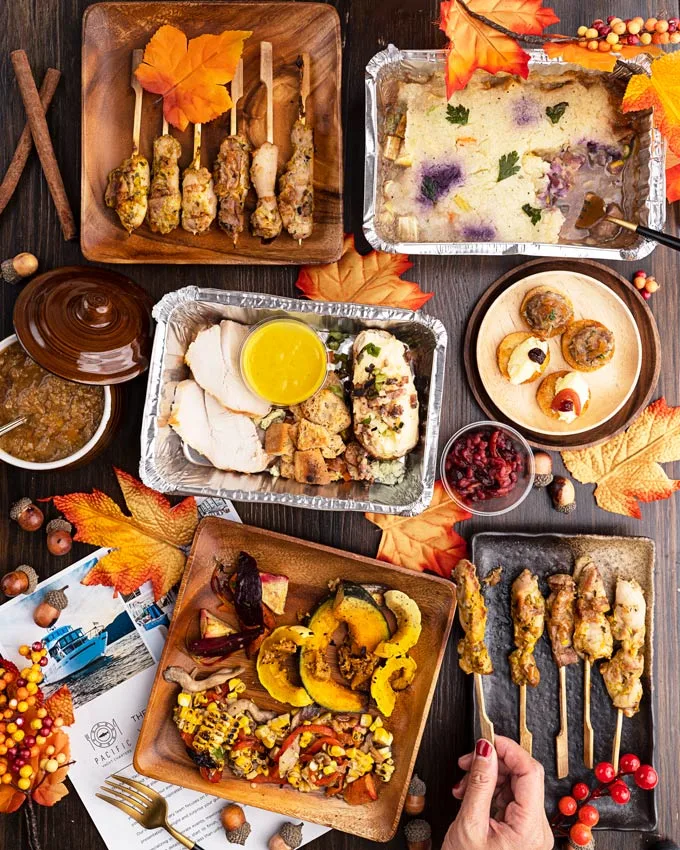 It's a great day to relax, nibble on delicious food, and simply enjoy whatever company you're with.
Thanksgiving Canada 2022 Dinner Tips
Here are some tips on Thanksgiving dinner including charcuterie board tips, how to cook the perfect turkey like a Chef, and virtual holiday party ideas.
Here are some wine suggestions for Thanksgiving dinner 2022: