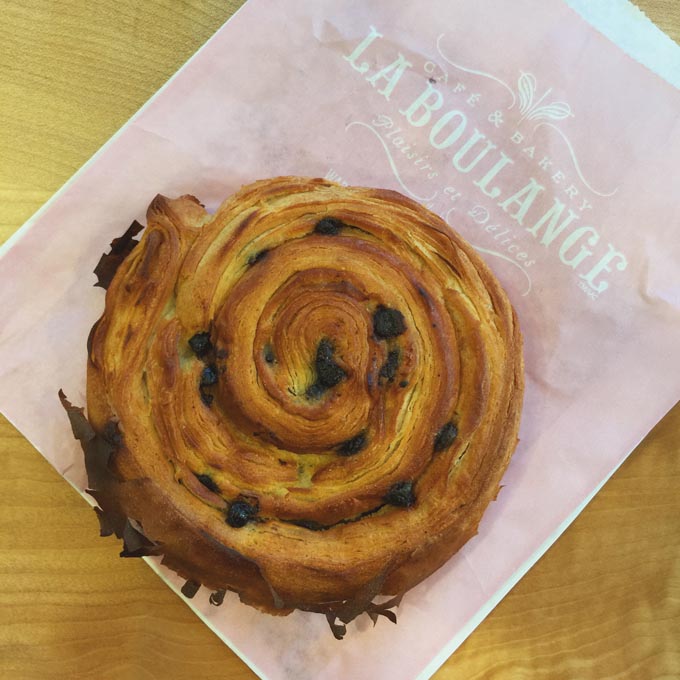 I was social media surfing while waiting for the bus in Downtown Vancouver today when I saw a tweet from Z953 Radio saying that they were offering free coffee and La Boulange pastries at the Starbucks location on Robson and Jervis for one hour only. I am a regular of Starbuck's wraps, paninis and sandwiches and I've blogged about Starbucks Christmas and Lunar New Year drinks. I immediately made my way there to try out these new menu items.
quick…FREE coffee + #LaBoulange pastries at the @StarbucksCanada on Robson + Jervis until 3p TODAY…just look for Ruby + Cruise!

— Z953 Radio (@Z953VAN) March 3, 2015
Starbucks + La Boulange
La Boulange is a renowned San Francisco bakery and cafe and it was acquired by Starbucks in 2012 in an effort to expand Starbuck's food menu. La Boulange pastries have been available at Starbucks in the US, but they have now arrived at Canadian locations. At this Starbucks location on Robson and Jervis today, there was a lot of pink in celebration of the new menu: pink balloons, pink signs, staff uniforms with pink accents, pink decor – all of which reference to La Boulange's baked goods which are French-inspired.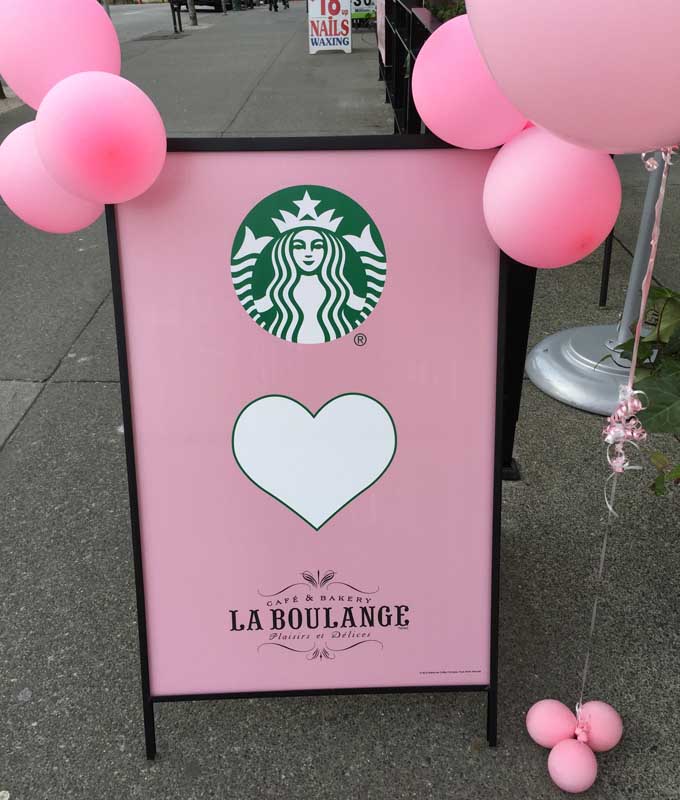 It was not your usual day at Starbucks!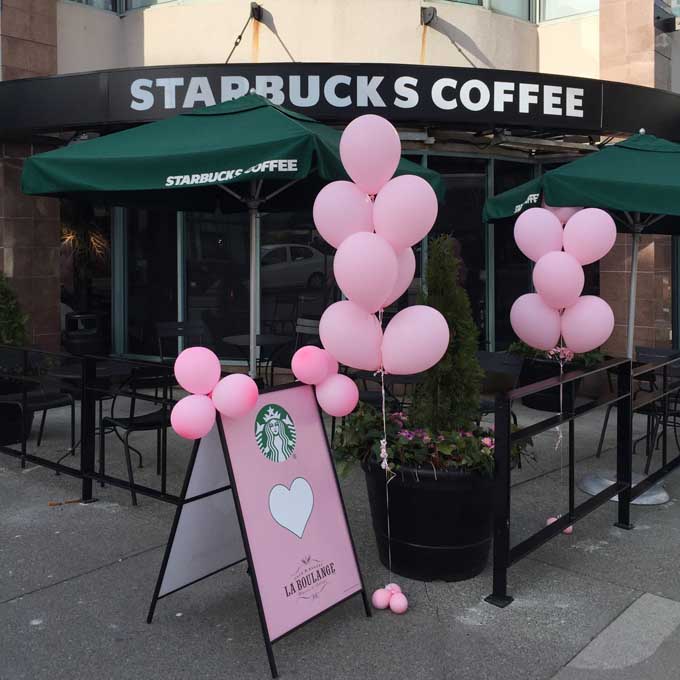 Croissants, Scones, Muffins, Pretzels, Cake Pops, and Brownies
Croissants, cookies, danishes, brownies and more! Most of the La Boulange pastries were within the $2-$3 range. The new food display is definitely cuter than they their previous one. As part of the promotion, we were able to choose our own free Starbucks drink and pastry items.
https://instagram.com/p/zylqHAM6G4
I first tried the strawberry and creme frappucino and a chocolate brioche. I found the brioche to be on the heavier side. I think it has something to do with the fact that it is reheated. It was not light, crispy and flaky as I would have hoped.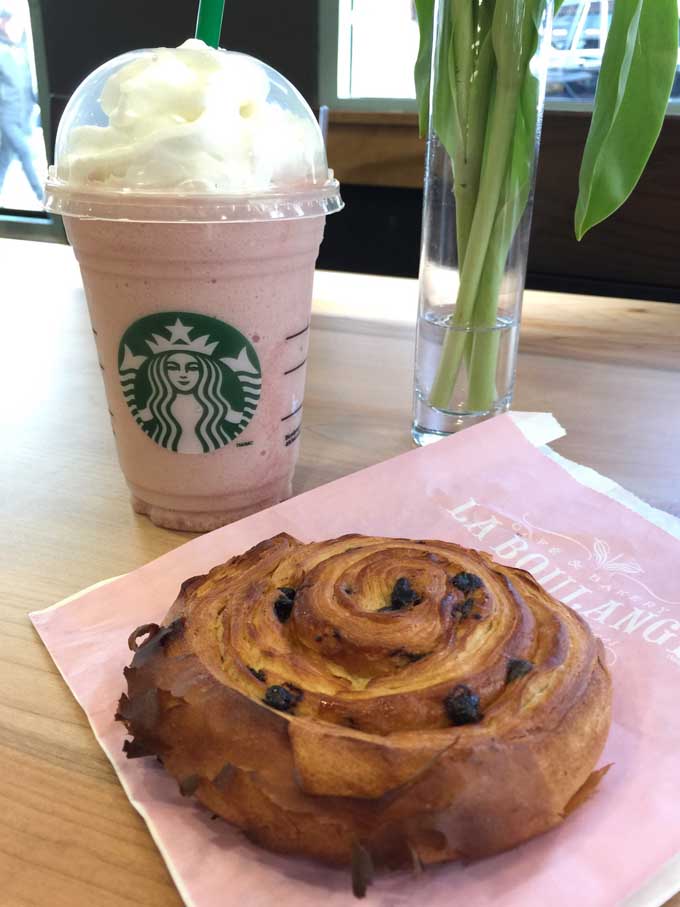 I also tried the asiago and cheddar pretzel. Like the brioche, I found it to be on the heavier side. It felt really dense and the cheddar taste was not very strong.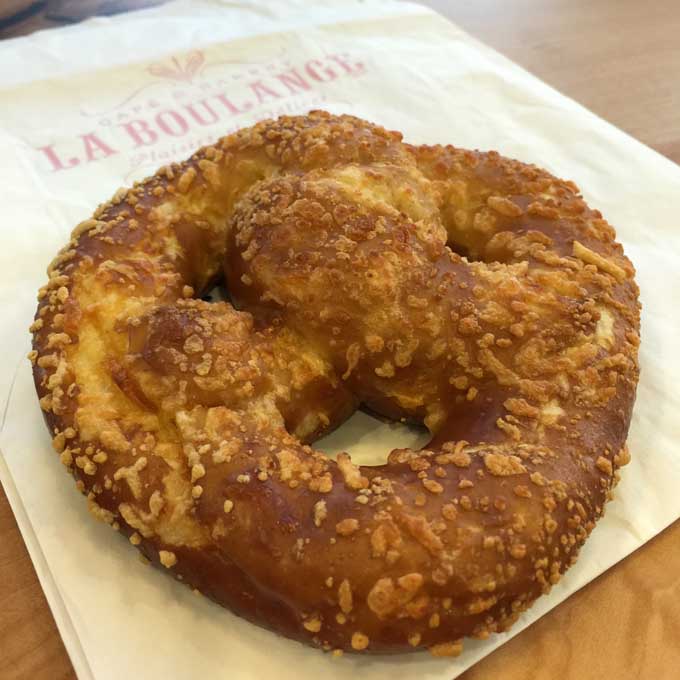 I am a huge fan and regular customer of the Starbuck's wraps, paninis and sandwiches, but these pastries I tried were a bit off for me unfortunately. Perhaps it has something to do with the fact that they are *reheated.* They looked okay in terms of presentation but they seemed pretty dense rather than a nice light complement to a Starbucks drink. They also end up kind of greasy based on the stains on the Starbucks bag that I set the pastries on. Thanks to Z95.3 radio and Starbucks for offering the public a chance to try out the new menu, but I think the pastries missed the mark for me today.
For more on La Boulange at Starbucks, check out here: http://www.starbucks.ca/promo/laboulange