The Richmond Night Market is now on until October 14 and the International Food Fair is always one of the highlights of the market. This year, there are 120 vendors serving over 600 food items showcasing cuisines from all around the world.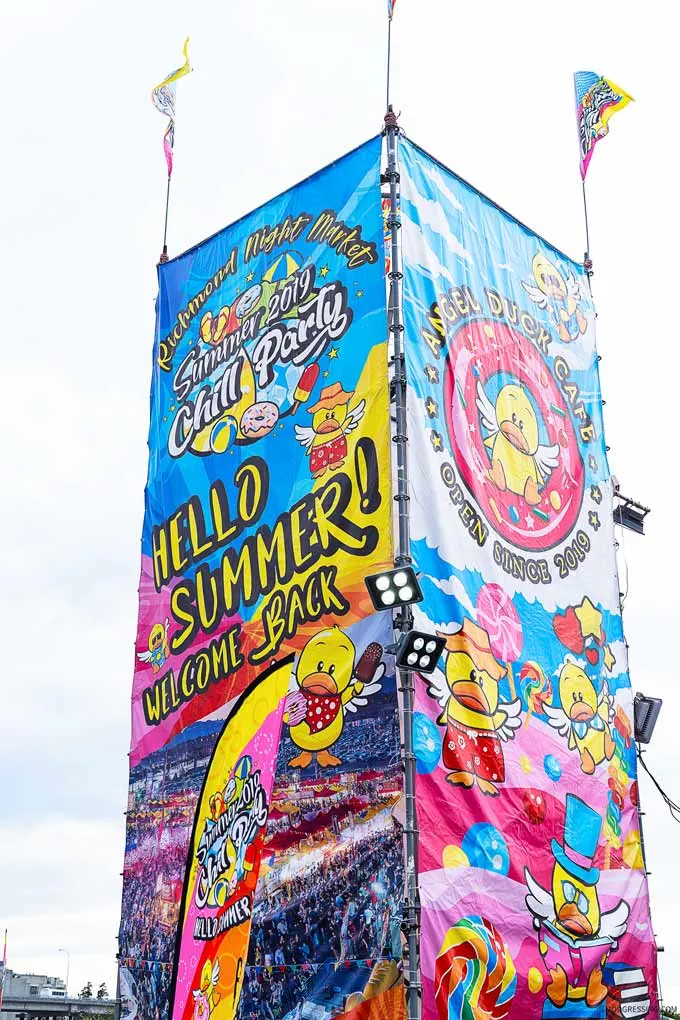 I was invited to a media tour organized by Chinesebites.com and Tourism Richmond this past weekend where I was able to try a select number of vendors (25 to be exact) at Richmond Night Market 2019. Here's a look at what you can expect and my recommendations can be found at the end.
---
Richmond Night Market 2019 Food
Say Cheese Toast (F04)
One much talked about new vendor this year is Say Cheeeese Toast who is offering the chance to taste the rainbow with their Rainbow Cheese Toast. Priced at $6.50, the Rainbow Cheese Toast has an inside made with mozzarella, ricotta and condensed milk. We watched with bated breath as the insta-worthy and colorful cheesepull emerged. This vendor also offers classic and nutella versions.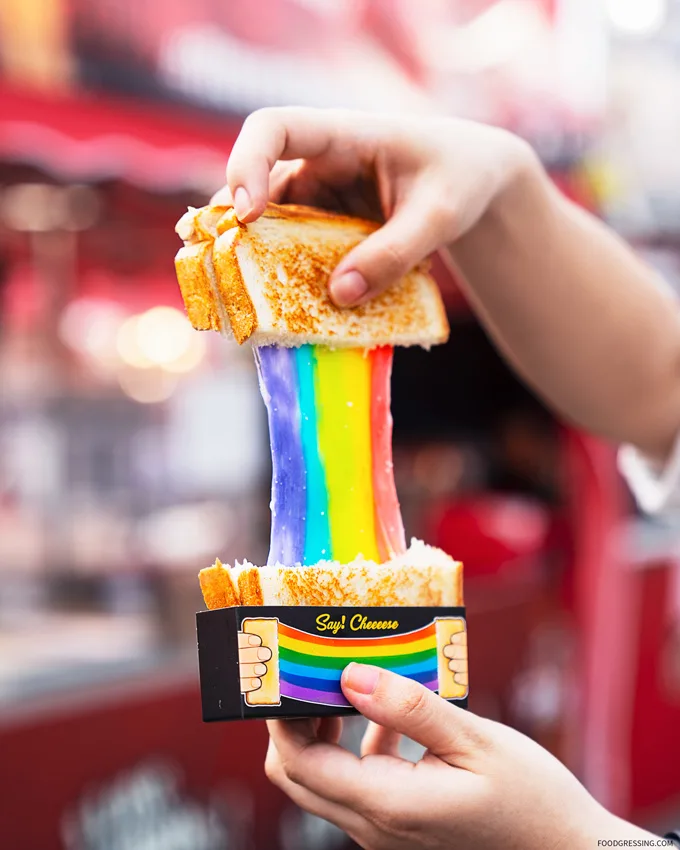 The cheese toast was on the sweeter side due to the condensed milk. It's the type of food that is to be enjoyed for its novelty.
Afghan Yum (F06)
Afghan Yum serves Afghan street food including mantu, bolani potato and chicken bolani. We tried their Original Afghan Sauce Mantu which were stuffed meat dumplings topped with lentils and sauce. The Aghan Mantu come in a set of 5 for $8.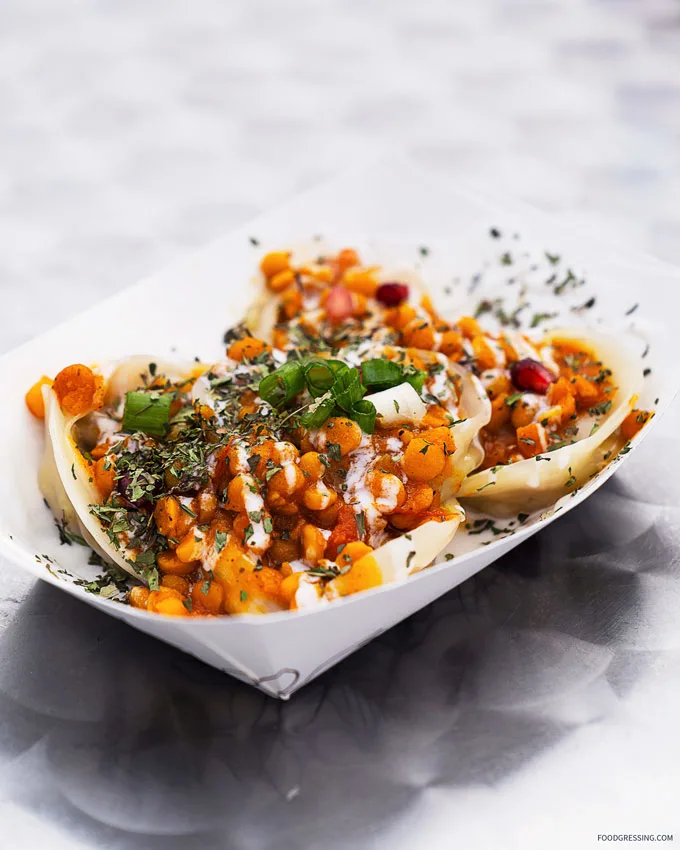 La Meza Grill (F11)
La Meza Grill is a Filipino Fusion food vendor at Richmond Night Market 2019 but they also have a restaurant in North Delta. They serve tacos in a few varieties: lechon (roast pig), pork sisig, tofu sisig. They are $8 for 6 pieces in 1 flavour or $15 for 3 flavours (12 pieces).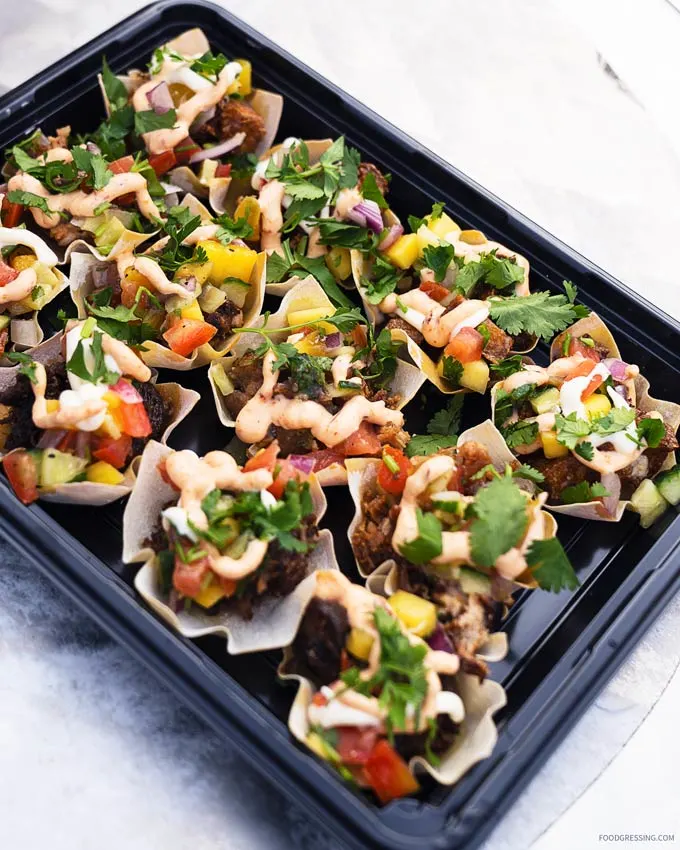 We had their Lechon Tacos served in wonton taco shells with fresh mango salsa and smoked chipotle mayo all made in-house from scratch.The wonton wrappers were perfectly crispy while the filling was flavourful. These were very good and I would love to have them again.
MacSnacc (F15)
MacSnacc serves gourmet macaroni and cheese in varieties like Classic Four Cheese, Kimchi, Taco and BBQ Pulled Pork. We had their Classic Four Cheese which nicely presented and delightfully cheesy. They are priced at $8 or 2 for $15. If you love mac and cheese, this does not disappoint.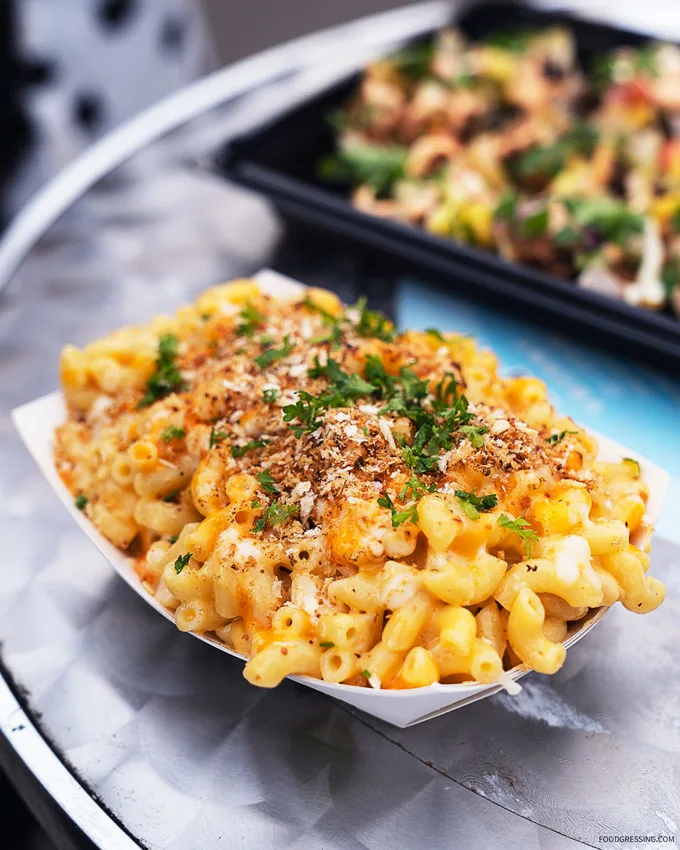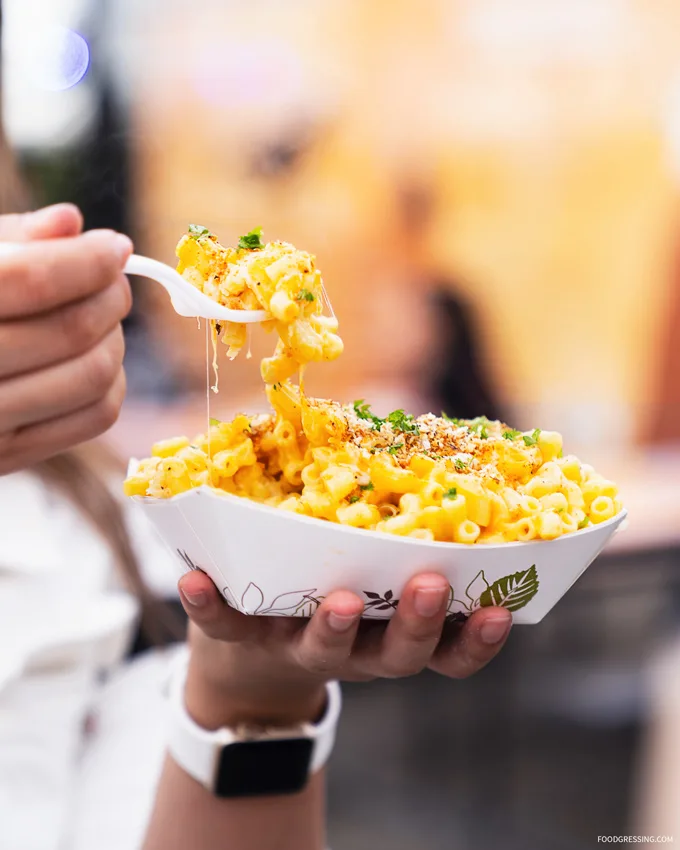 Rotato (F21-22)
Rotatos (deep fried potato slices skewered on a stick) are one of the staple Richmond Night Market offerings. Enjoy them with a selection of seasonings like sour cream and onion, cheddar cheese, sea salt & pepper and more. We went with the two most popular seasonings: sour cream and roasted garlic pepper.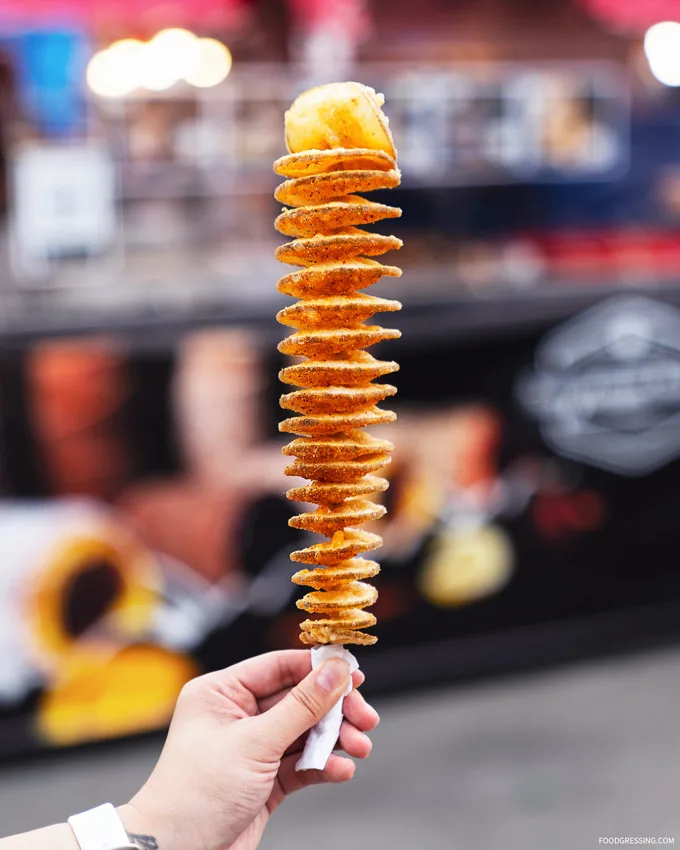 Okonomi Bites (F33)
Okonomi Bites specializes in Japanese Style Poutine ($10) in varieties like Agedashi Tofu, Okonomi, Tonkatsu and Cheese Tonkatsu. We tried their Tonkatsu Poutine which was a tasty mix of East meets West fusion flavours with crispy, deep-fried pork cutlets.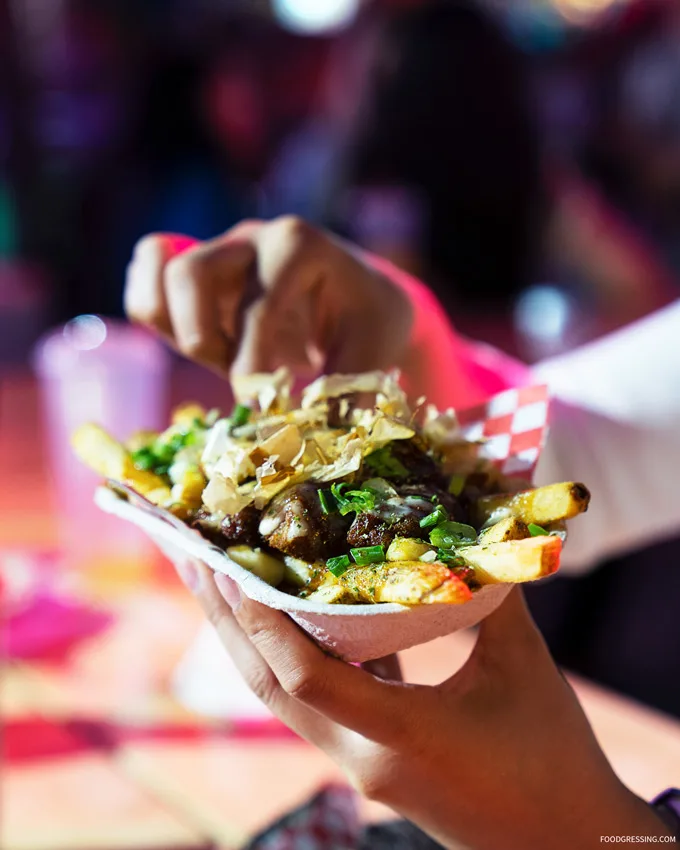 Taco Tigre (F39)
Taco Tigre serves Vietnamese inspired street tacos in three varieties: chicken banh mi, 5 spice pork belly and beef pho. These are priced at $3.75 for 1, $7 for 2, $10 for 3 and $15 for 5.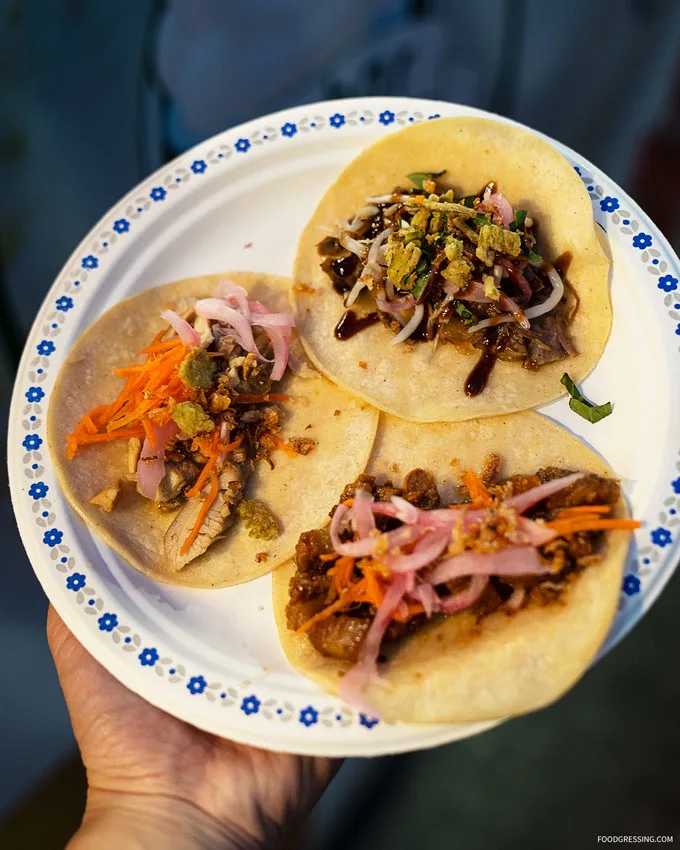 Zzim Drumsticks (F42)
Zzim Drumsticks is where you will find Korean-style braised, juicy drumsticks in either sweet soy garlic or hot spicy pepper.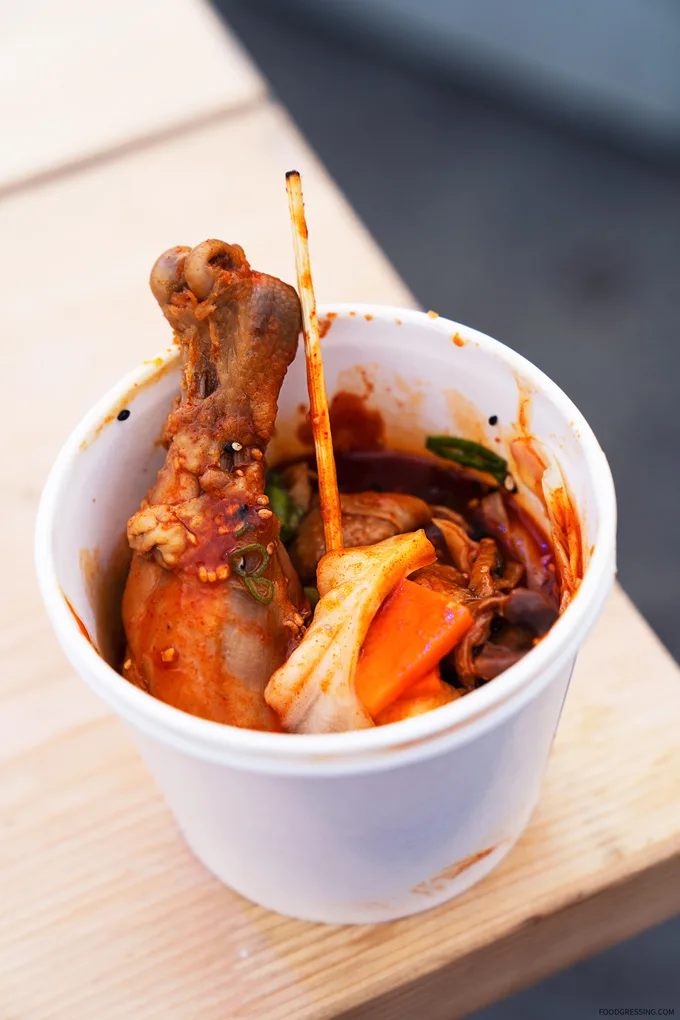 Salty's Lobster Shack (F68)
At Salty's Lobster Shack, you'll find lobster rolls ($19), lobster bisque ($8), 1/2 lobster roll ($10), and lobster bites (1 for $3, 2 for $5 or 3 for $7).
I thought that the items we tried from Salty's Lobster Shack had a good amount of lobster incorporated for the price. The lobster roll was my favourite but the lobster bisque was also very flavourful.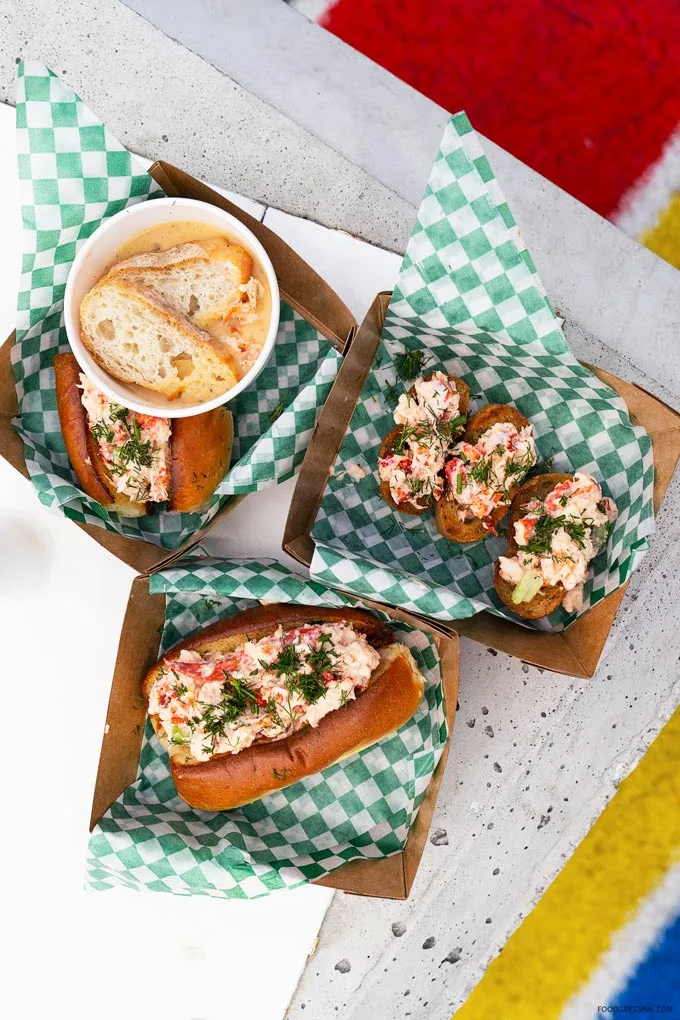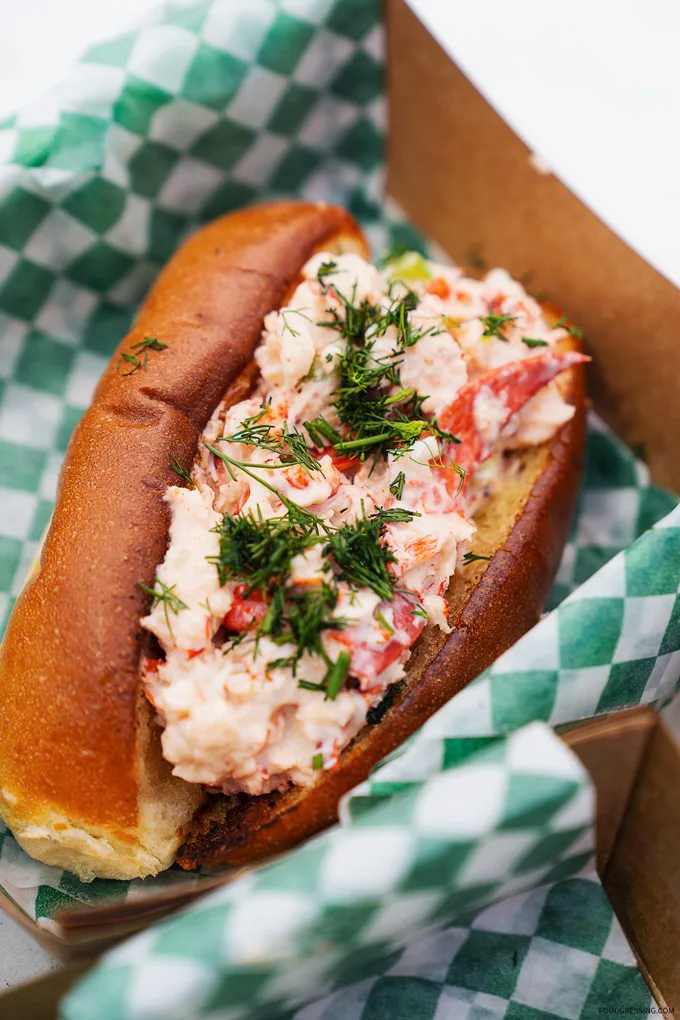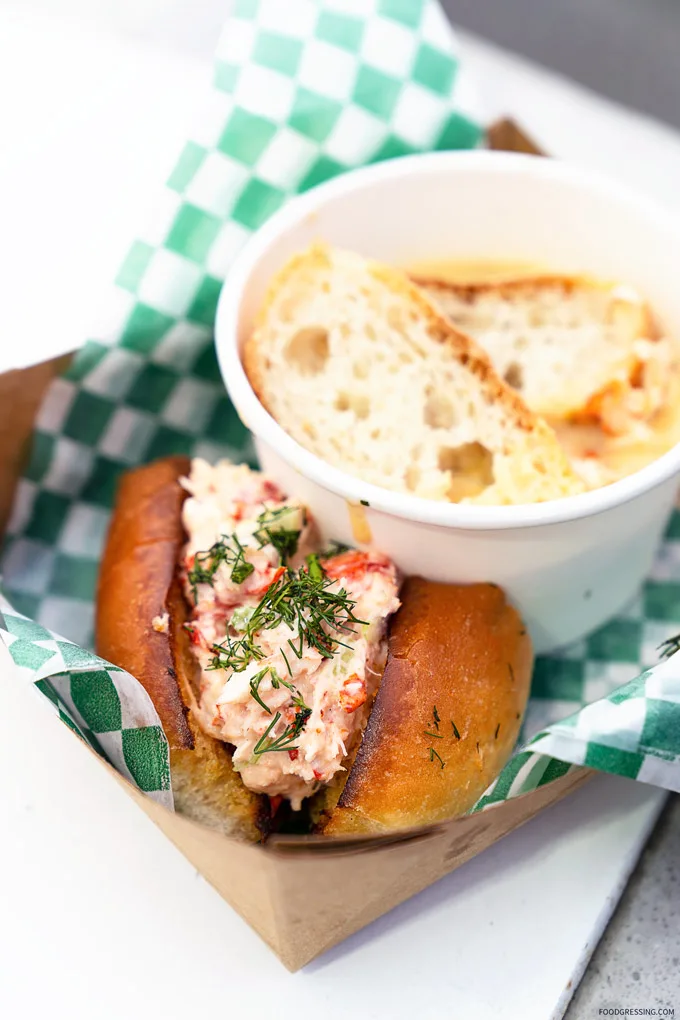 Fusion Wrap (F71)
Fusion Wrap is where you will find Asian-style wraps in different flavours like Kimchi Beef, Spicy Shredded Chicken, Egg & Dried Pork, Ham & Cheese with Egg, and Tuna Salad. We had their most popular wrap, the Kimchi Beef.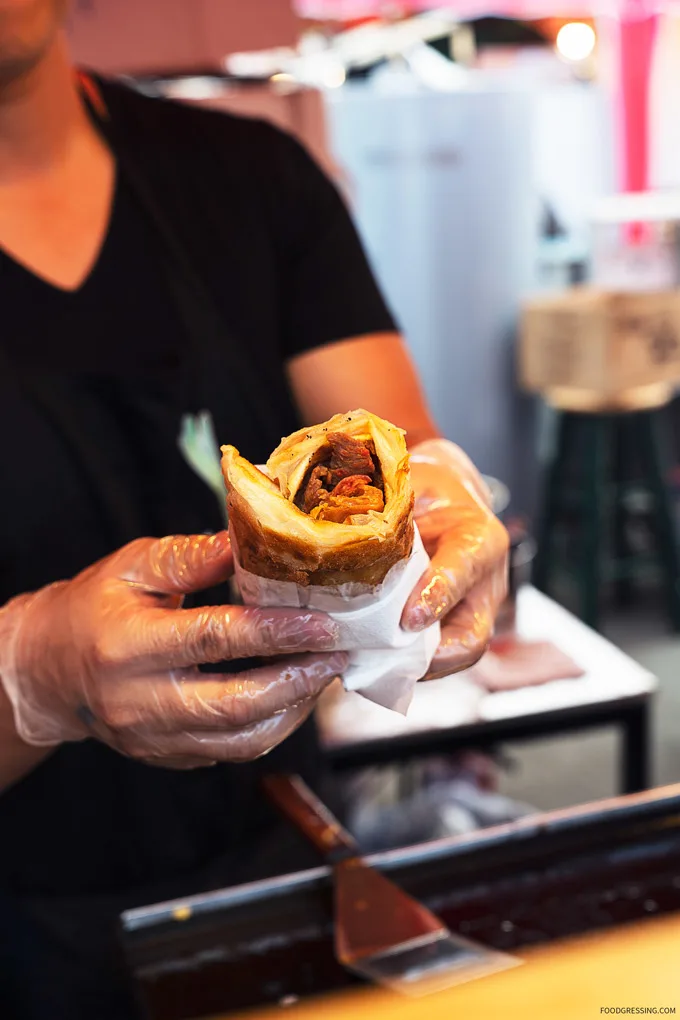 Fluffy Pancakes (F10)
Fluffy Souffle Pancakes are all the madness now here in Vancouver and Fluffy Souffle is an immensely popular stand at the Richmond Night Market. Priced at $14, Fluffy Souffle offers a few different options including Chocolate, Strawberry, Grapefruit, Cheese Milk Foam and Matcha.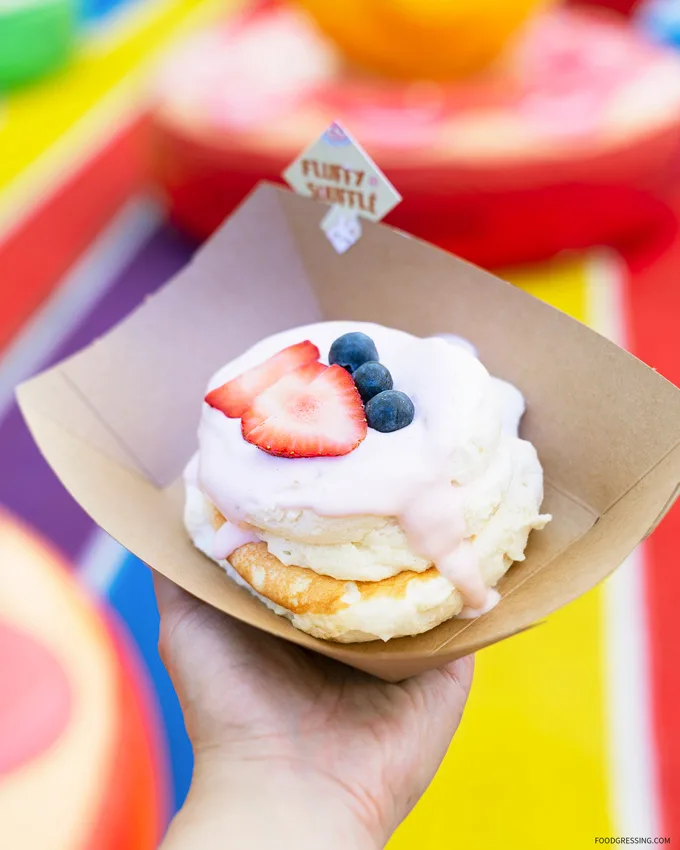 Mr. Crabzy (F107)
Mr. Crabzy sells stuffed crab claws (3 for $18) in different flavours (original, New Orleans, and garlic). We had ours in a New Orleans style.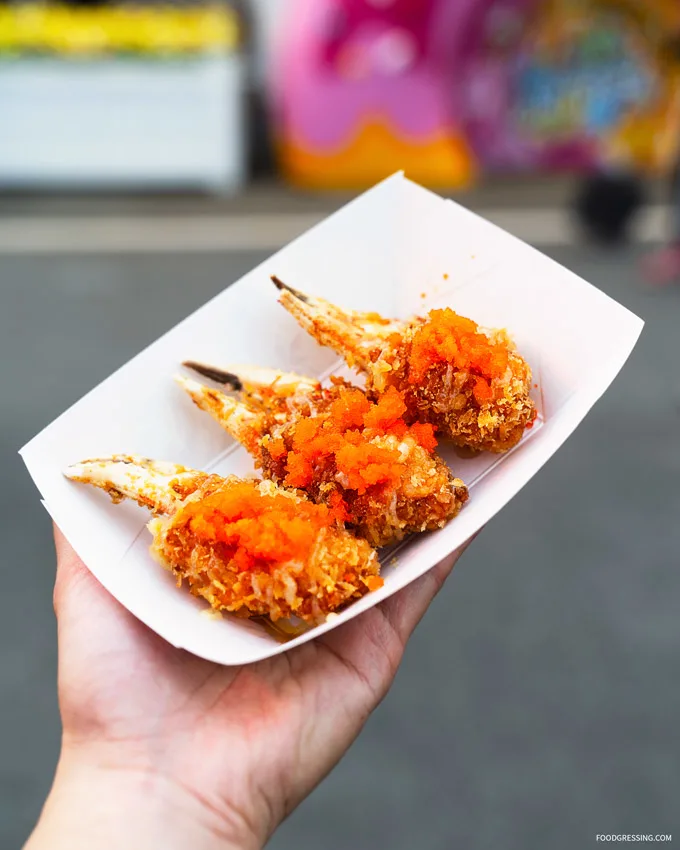 Chef James (F110 – F111)
The enticing barbecue smell coming from Chef Jame's stand can make your mouth water instantly. Marinated in a special mixture of spices, the skewers are an absolute must-try. Juicy, tender and flavourful, you won't be disappointed.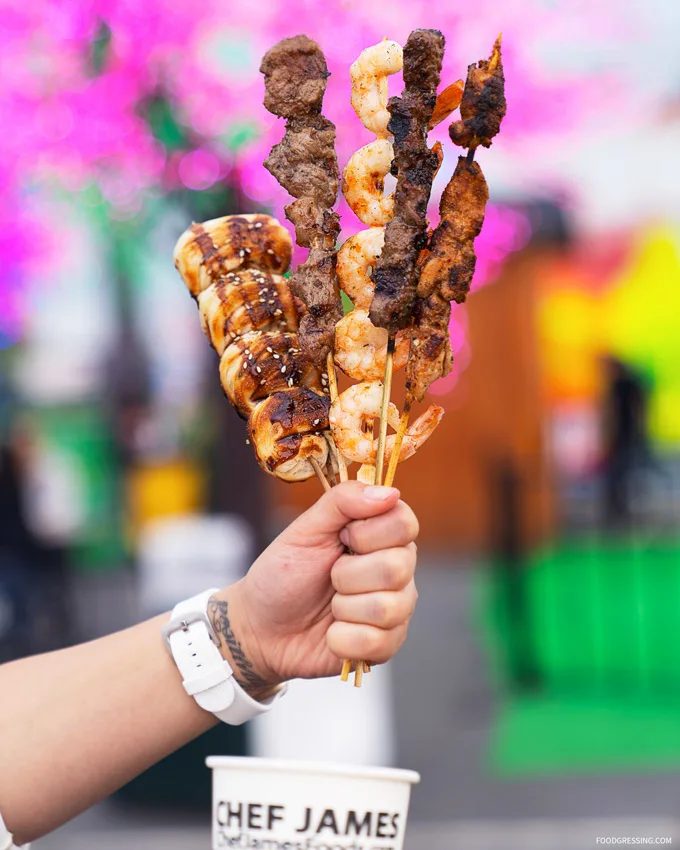 Also available at Chef James is juicy, roasted corn which I recommend.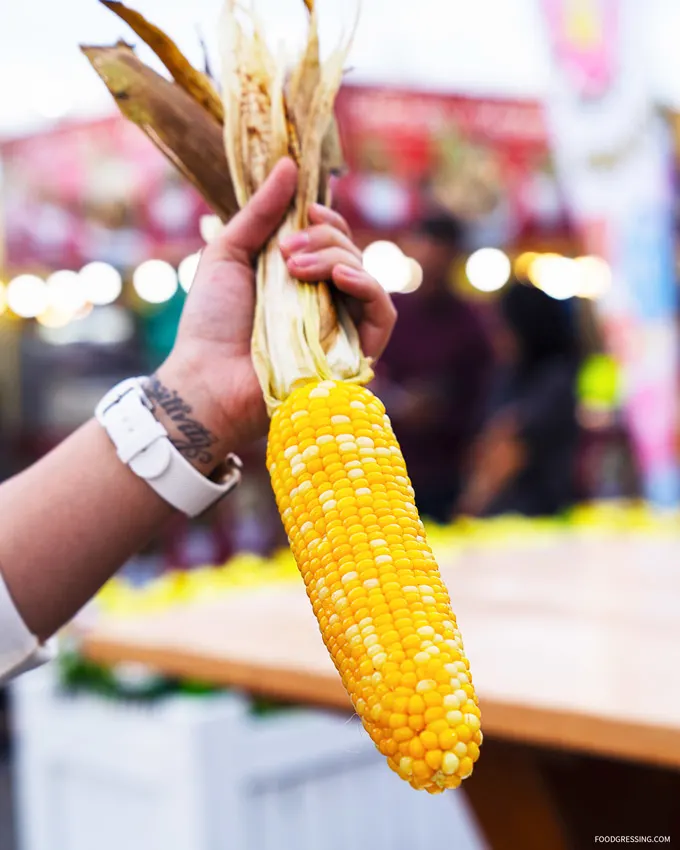 ---
Richmond Night Market 2019 Drinks
Milk Cha (F09)
For a sense of nostalgia or novelty, Milk Cha serves up milk tea in a baby bottle or split cup.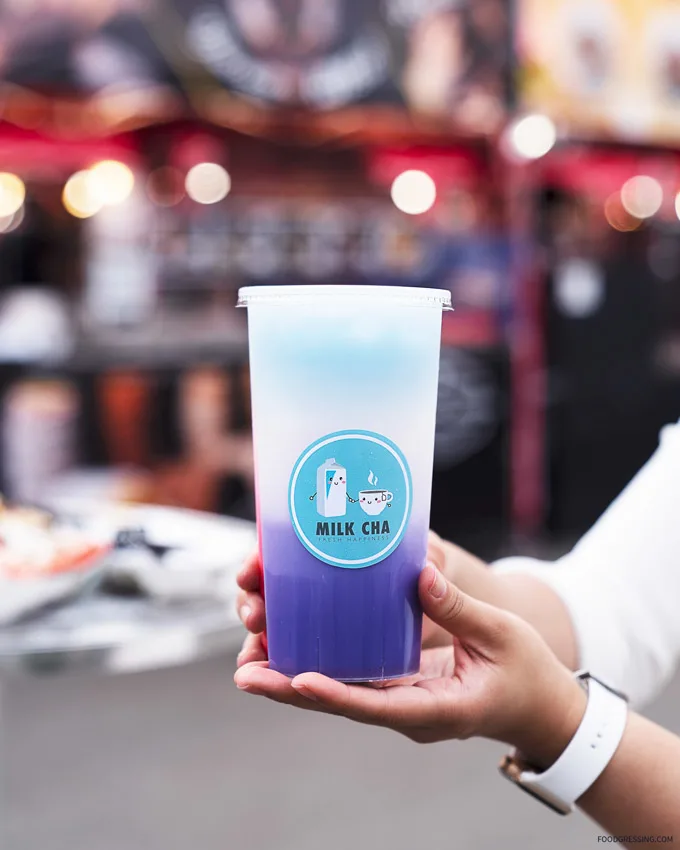 Sugarcane Juice (F24)
Fresh sugar cane juice made from 100% real juice comes in small ($7.50) or large ($8.50). The same stand also offers fresh coconut milk.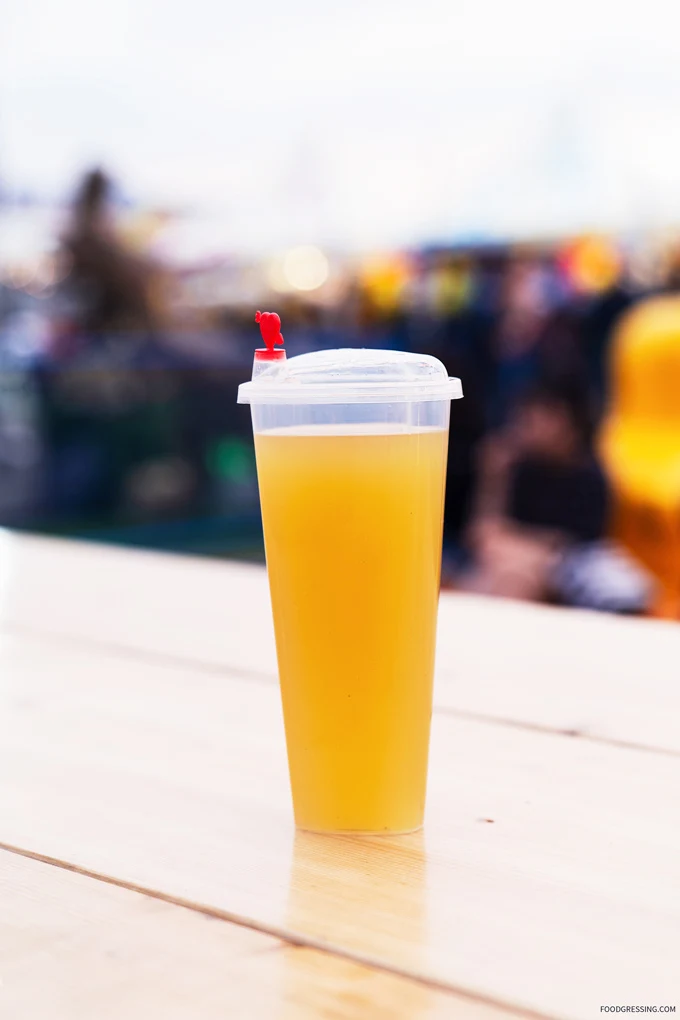 iTofu (F50)
iTofu is an award-winning dessert shop in Richmond with a stand as well at the Richmond Night Market. They offer tofu puddings, drinks and parfaits with your choice of toppings like fresh taro, red bean pearls, black sugar and so forth. We tried their very refreshing itofu parfait with coconut jelly, red bean and pearls.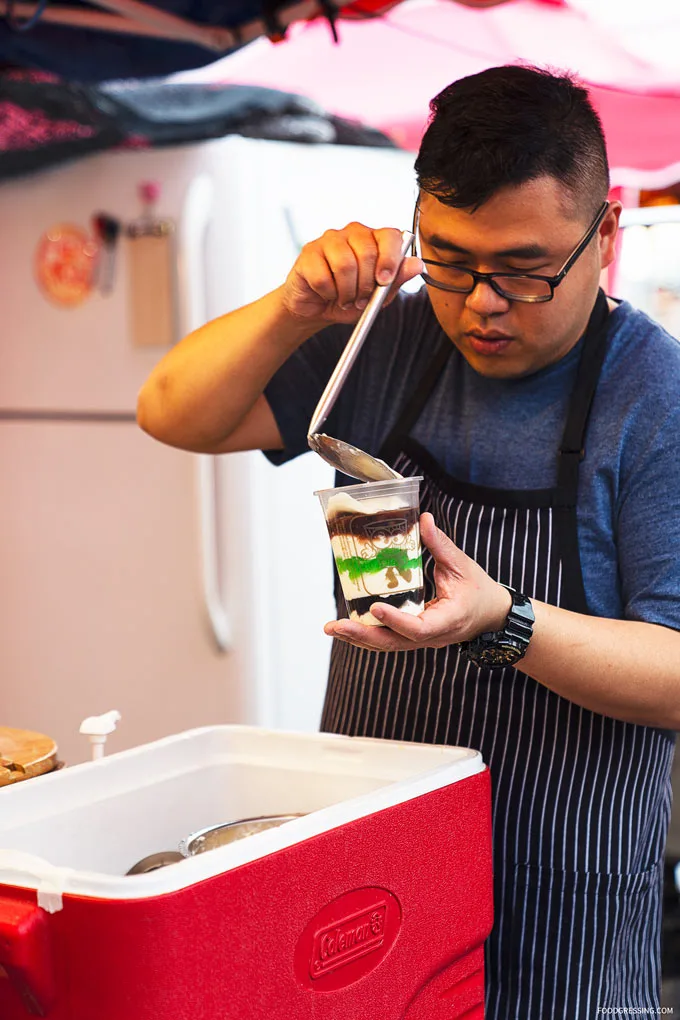 Icy Bar (F67)
Icy Bar has multiple locations in Vancouver and Richmond and they are known for their refreshing Taiwanese-style drinks and desserts. We tried their Summer Special Icy featuring fresh strawberries and mango, basil seeds (chia seeds), strawberry puree, coconut milk, shaved ice, and tapioca sago.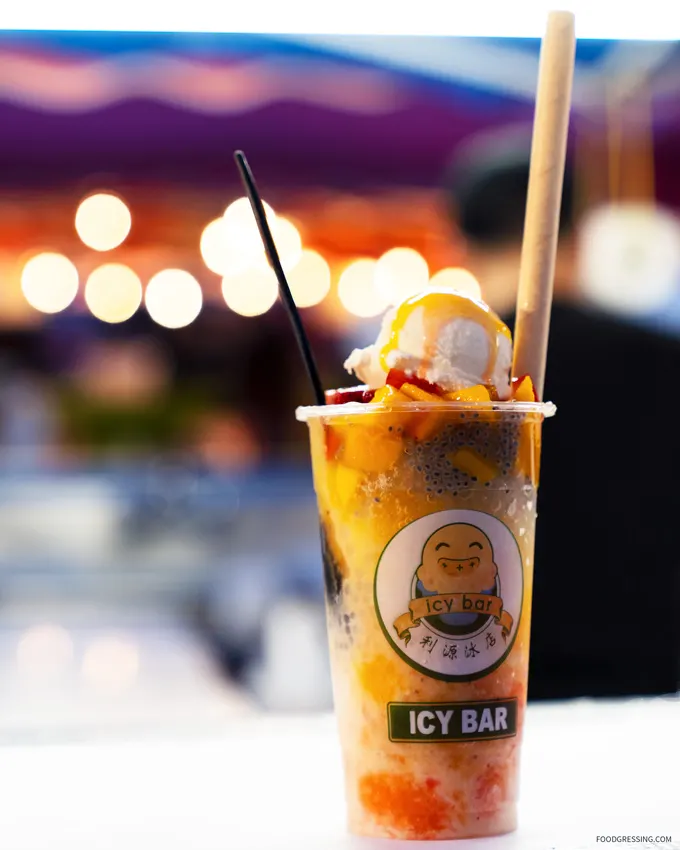 Rainbulb (F70)
If you're looking for a flashy drink to enjoy while strolling through the Richmond Night Market, check out Rainbulb (presented by Passion 8). This stall specializes in colourful, light bulb sodas (1 for $8 or 2 for $15) in flavours like grapefruit (pink), orange and mango (orange) and so forth. We got the strawberry and raspberry soda.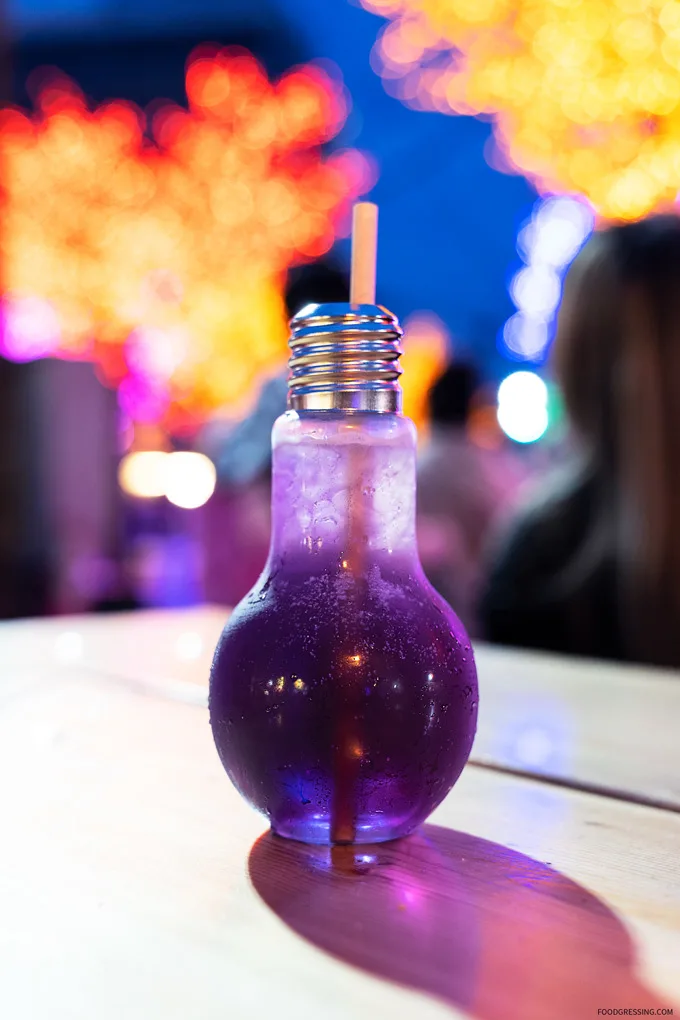 ---
Richmond Night Market 2019 Desserts
Asomi Mochi (F17)
Making a return to Richmond Night Market 2019 is Asomi Mochi, a very popular stand which specializes in authentic Japanese homemade mochi. The mochis come in different flavours including purple yam, chocolate, regular, cheesecake, matcha or double strawberry. The filling is either red bean or cheesecake (the new option) along with a whole strawberry. Red bean mochis are 1 for $5 or 2 for $9. The cheesecake mochis are 1 for $6 or 2 for $10. These delightful treats are one of my favourites to try.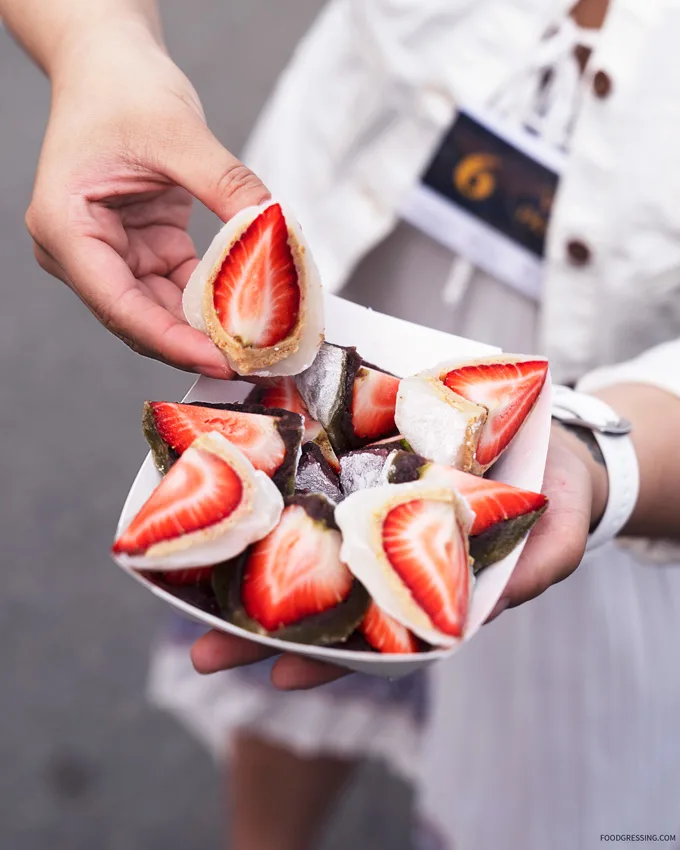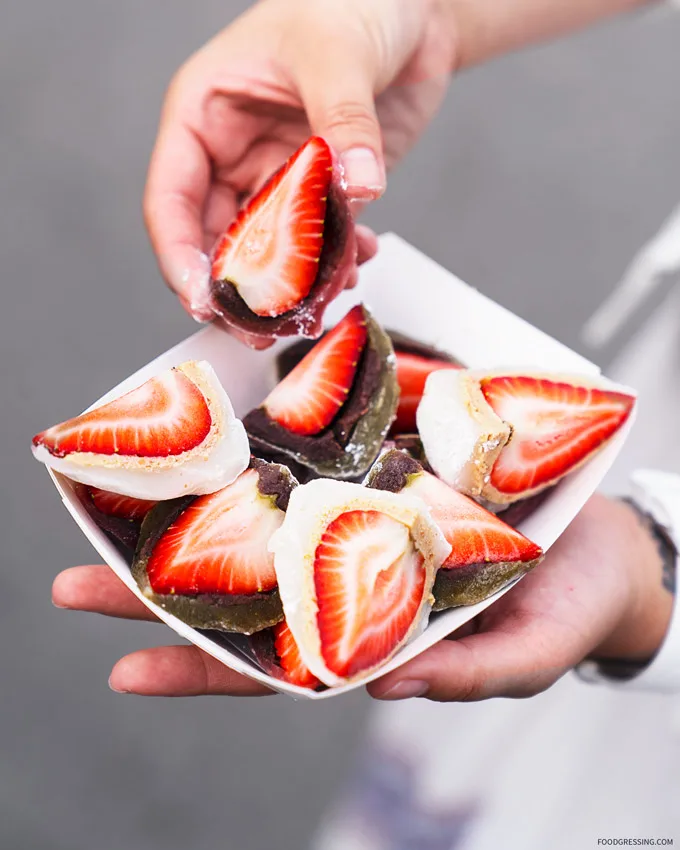 TukTuk YVR (F25)
New this year at the market is TukTukYVR serving Thai panna cotta topped with flower cookies known as dokjok ($8). The panna cotta comes in coconut, Thai green tea or Thai milk tea flavours. The Thai flower cookies are available in regular, squid ink or mixed. The cookies are available on their own at $3 without the panna cotta.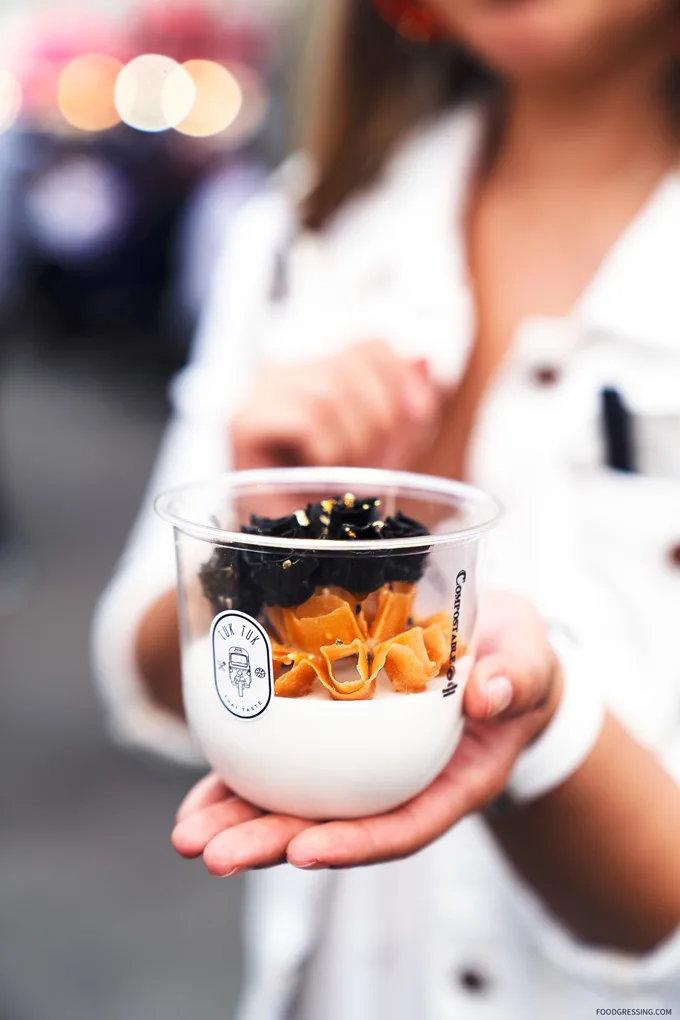 The beautiful cookies are fun to eat and are lightly sweet and wonderfully crispy from being deep-fried.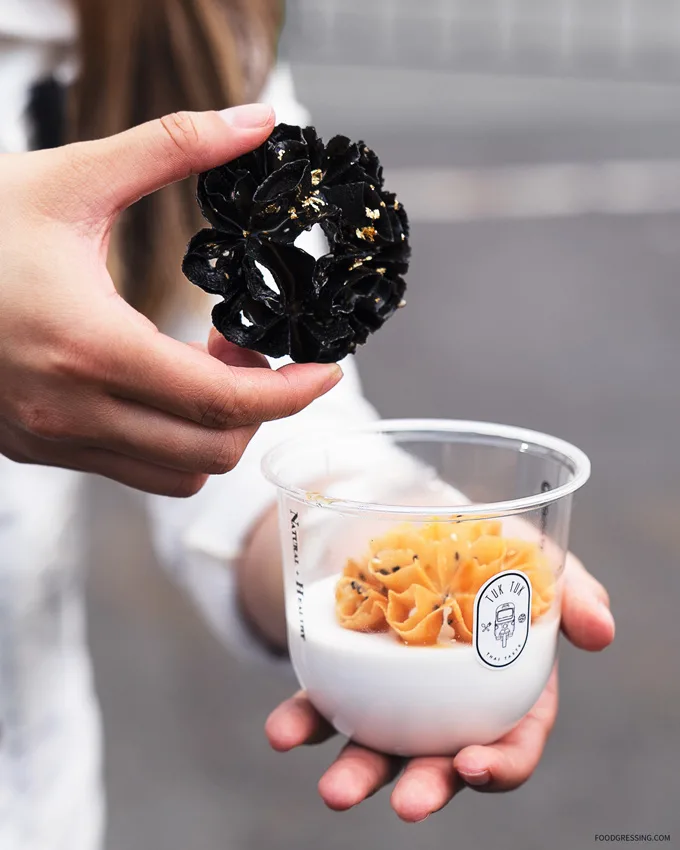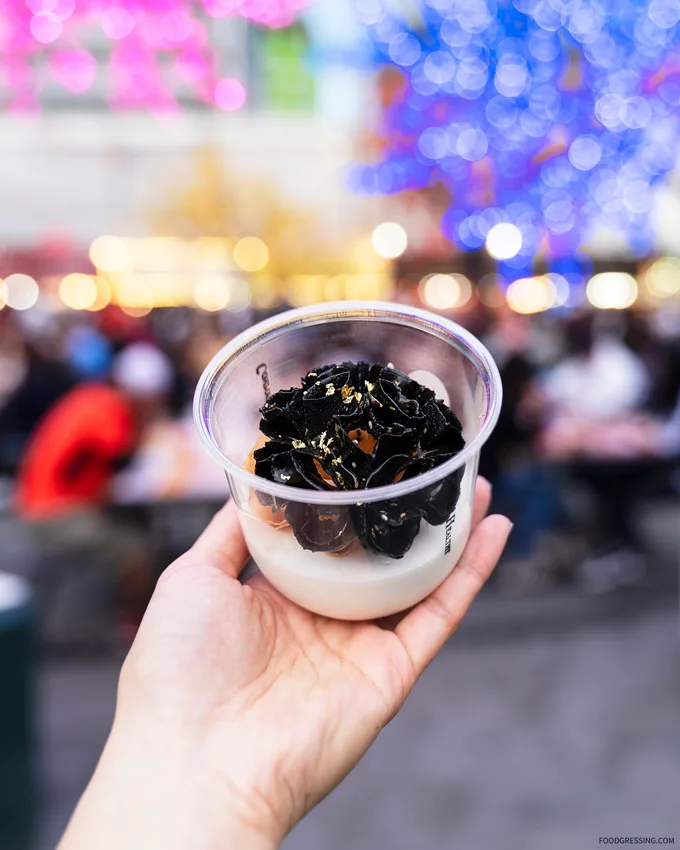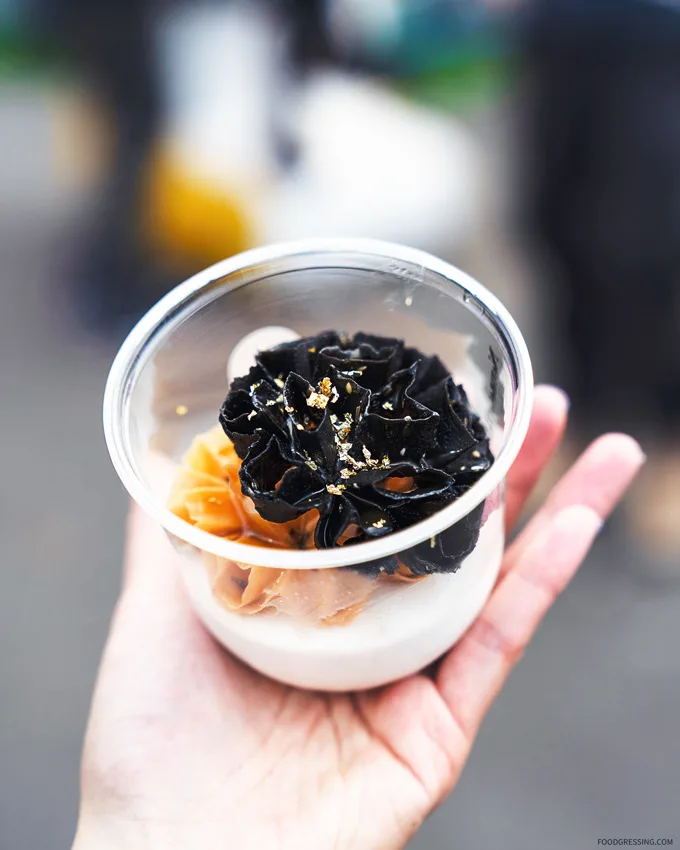 2 Sweet Guys (F32)
At 2 Sweet Guys, you'll find some indulgent deep-fried treats such as Deep-Fried Watermelon and Deep-Fried Cookie Dough. They also offer Cinnamon Apple Fries, Dutch Mini Pancakes, and Thai Fried Bananas.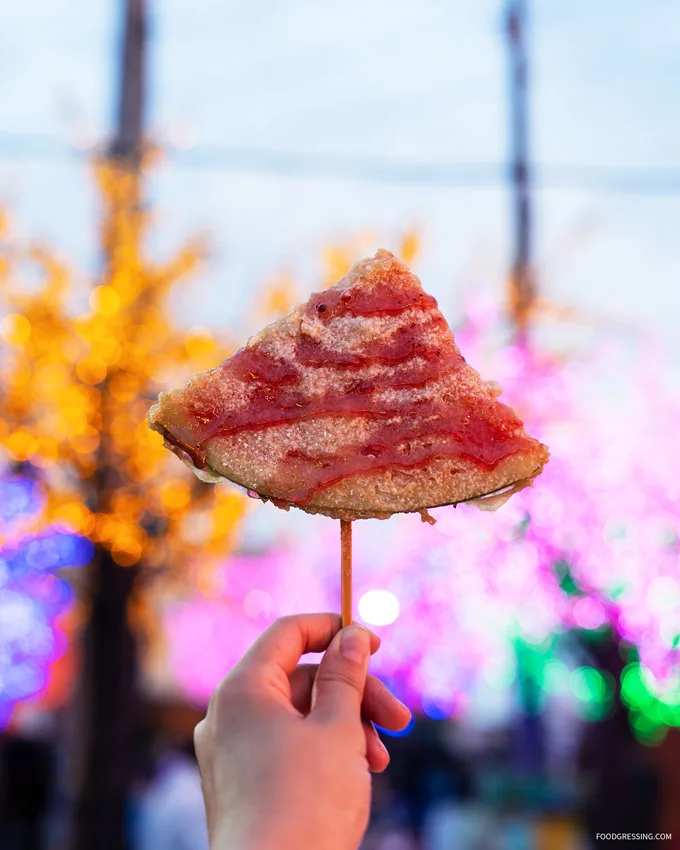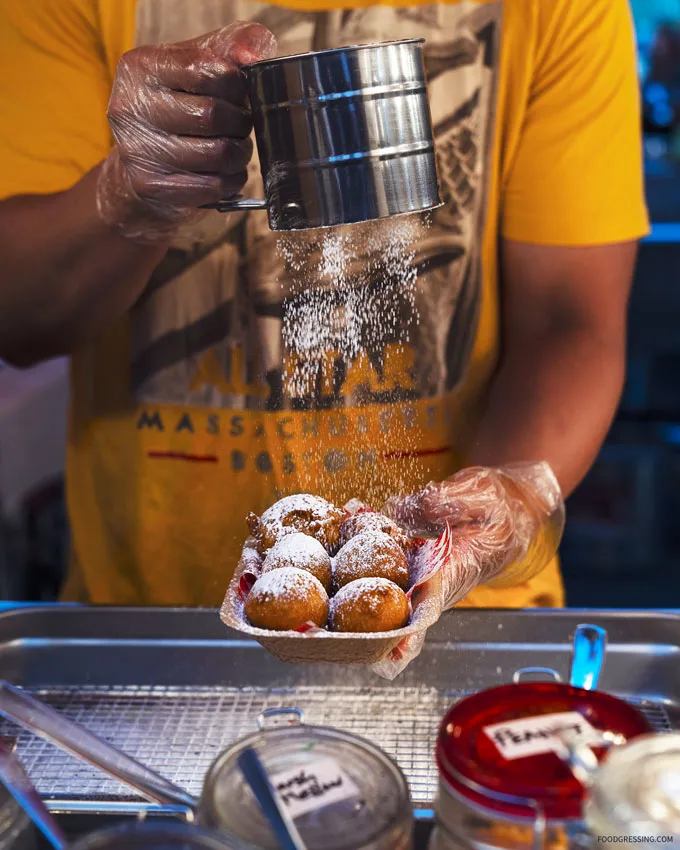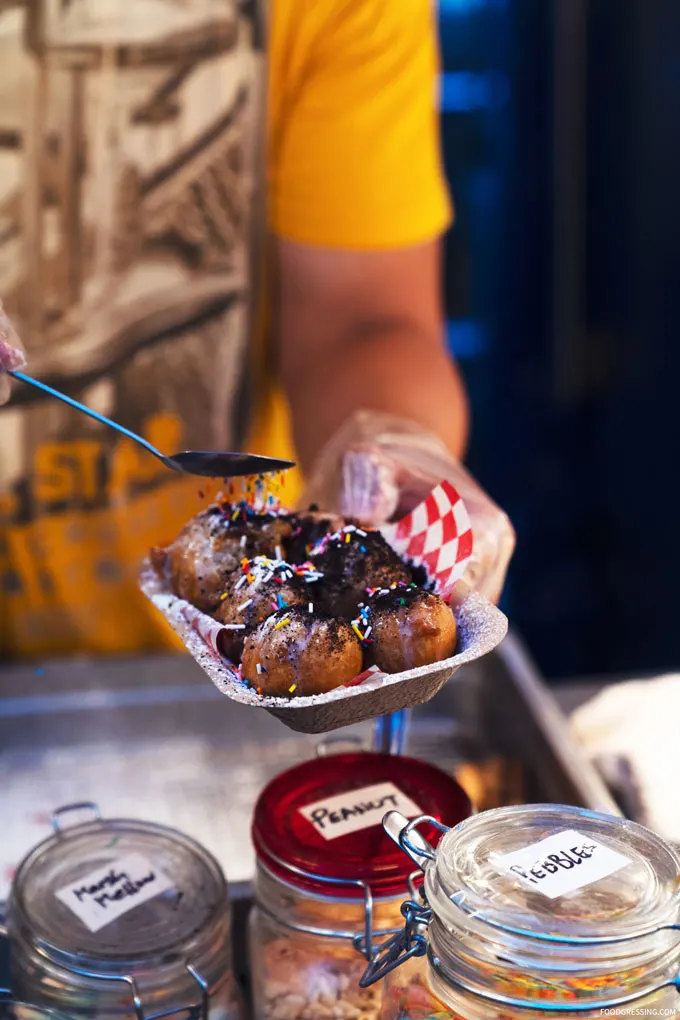 Mango Yummy (F73)
Vancouverites certainly love their mango desserts. For some refreshing eats, enjoy a bowl of shaved ice topped with vanilla ice cream, fresh cut mango and mochi from Mango Yummy.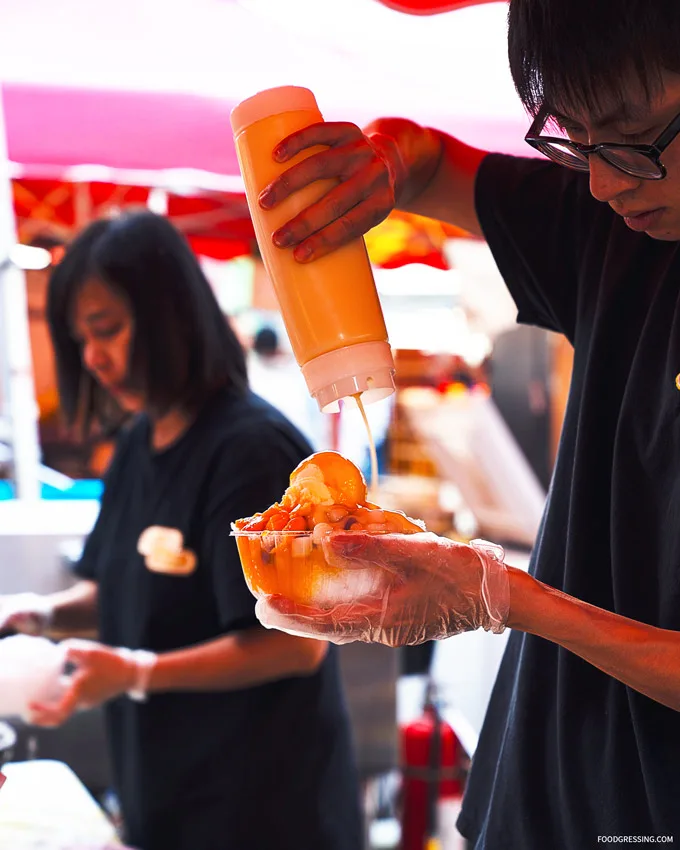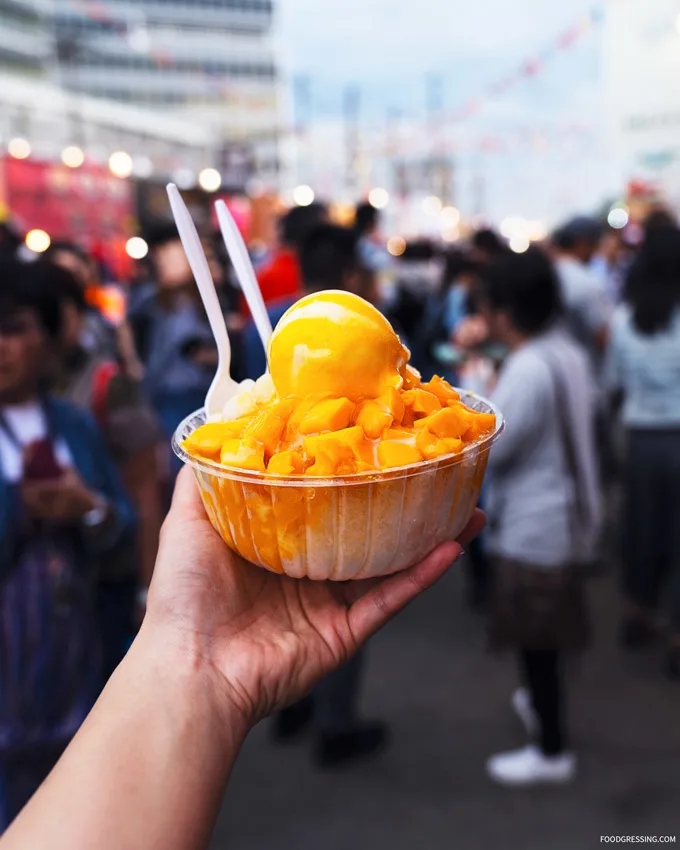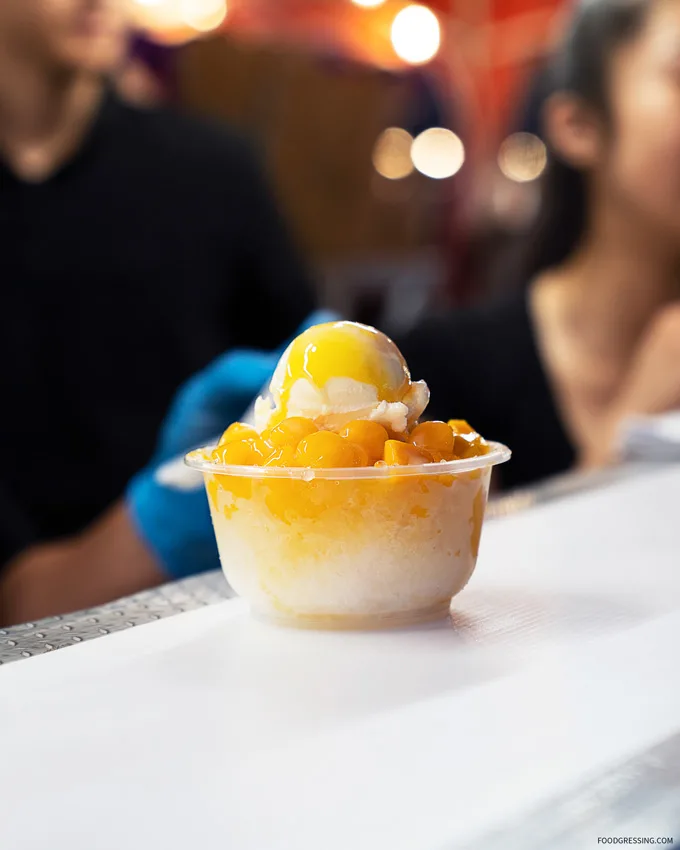 Bella Gelateria (F75-76)
Local award winning gelato purveyor, Bella Gelateria, has a stand this year at the Richmond Night Market. We enjoyed a unique combination of Yuzu and Akbar Mashti. We weren't familiar with Akbar Mashti but it is a popular Middle Eastern flavour made from saffron, rosewater and roasted pistachio.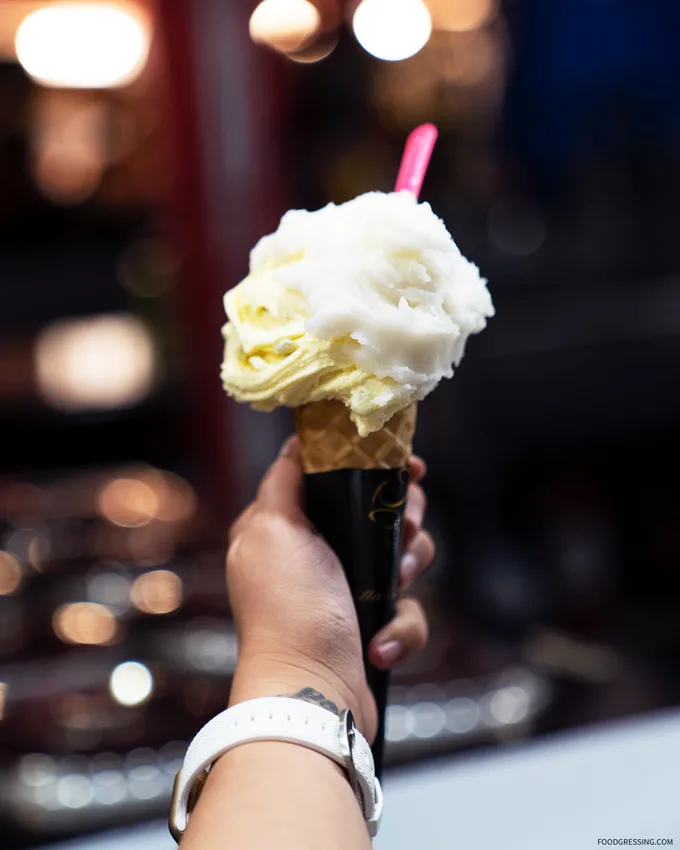 Teapressu (M2)
Local bubble tea food truck, Teapressu, makes an appearance at the market this year with a few dessert offerings. We tried the parfait with soft serve and fresh fruit ($6). The soft serves are matcha, vanilla or twist.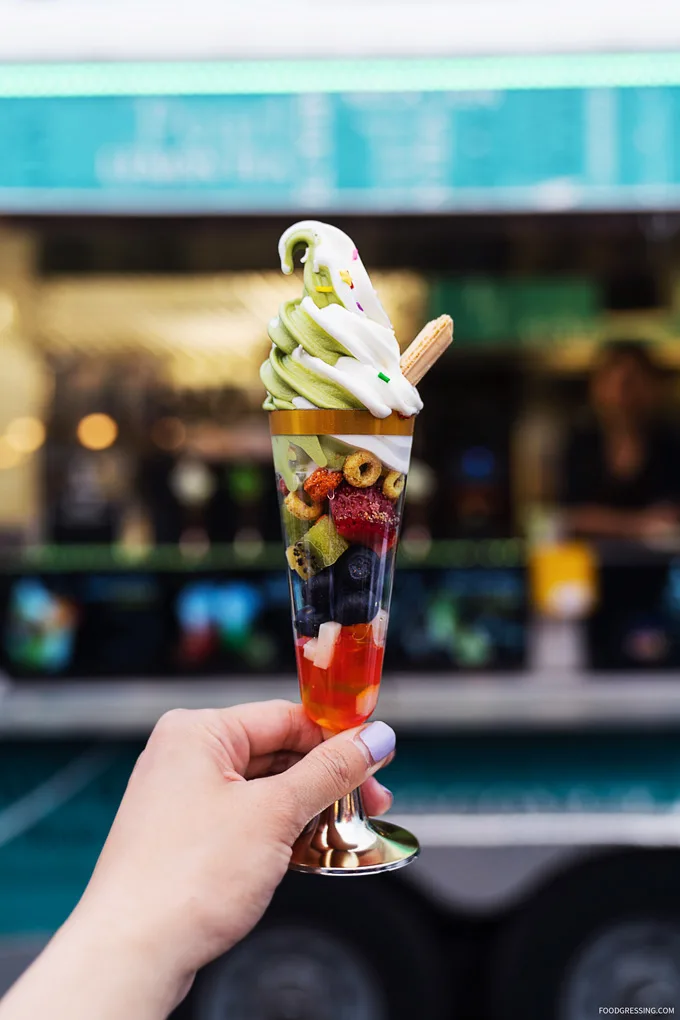 ---
Foodgressing Top Recommendations for Richmond Night Market 2019
Savoury Food: La Meza Grill (F11), Okonomi Bites (F33), Zzim Drumsticks (F42), Salty's Lobster Shack (F68), Chef James (F110 – 111)
Dessert: Asomi Mochi (F17), TukTukYVR (F25), Mango Yummy (F75-76)
Drinks: iTofu (F50), Icy Bar (F67)
Novelty trys: Say Cheese Toast (F04), Fluffy Pancakes (F106)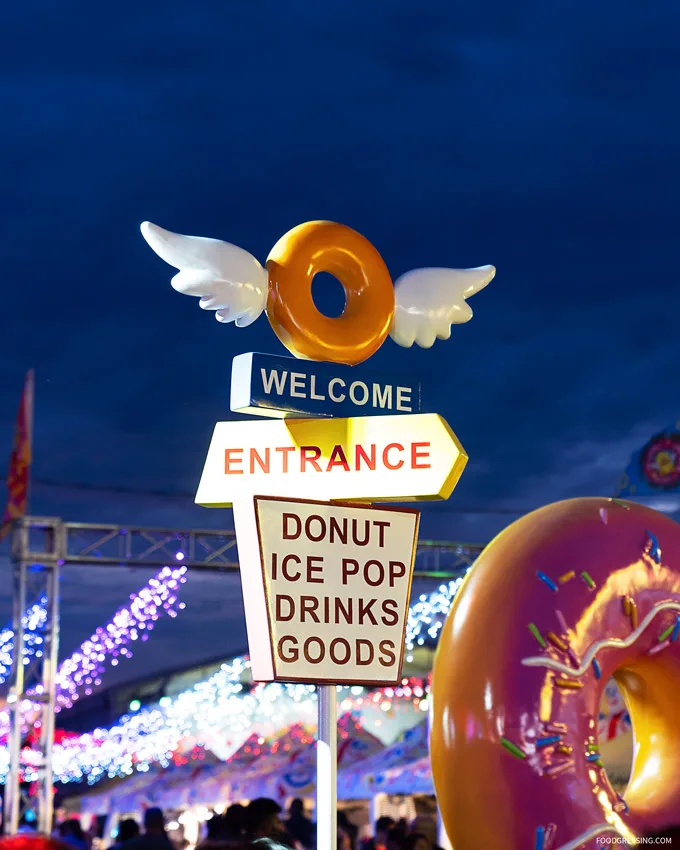 ---
Related post: