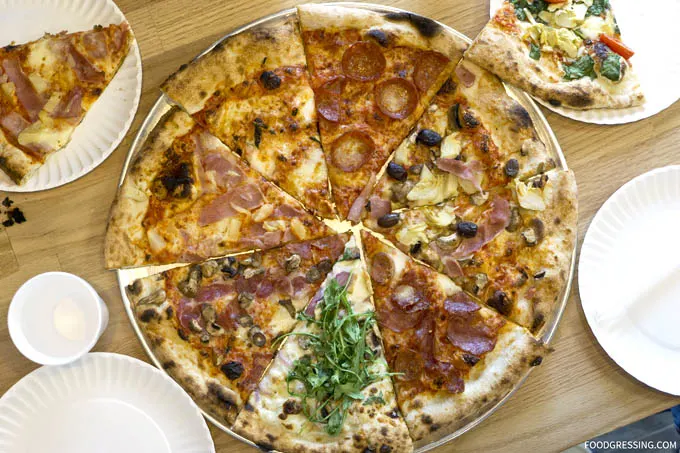 After celebrating Canada Day on Granville Island, we decided it was time to grab a casual bite to eat. With us was our friends, a couple also with a young child, and my husband proposed that we go to the Pizza Garden in Mount Pleasant. It had been a few months since we attended the grand opening of this Pizza Garden location and since then we have visited the one in Downtown Vancouver. My husband is quite the fan of Pizza Garden and he was eager to introduce their delicious Neopolitan-style pizzas to our friends.
AUTHENTIC NEAPOLITAN PIZZAS
If you're not familiar with Pizza Garden, here are a few things I learned about them. To start, their dough is made from 100% Caputo flour imported from Italy. Their tomato sauce is made using fresh, vine-ripened tomatoes simmered with extra virigin oil and herbs. All of their meats are sourced from Italy or locally in BC and the vegetables they use are all fresh and never frozen. Each pizza is made to order and cooked on a hearth stone in an authentic Italian-style wood-burning oven. And their crust is a palate-pleasing crisp.
What We Tried
With four adults and 2 kids, we ordered 2 x 8 slices from the warmer for $18.99 deal. Everything was eaten; no leftovers. We had an assortment of Hawaiian, Classico (4 cheeses), Pepperoni, Cappricciosa, Delhi Italiano, Ruchetta and Prosciutto Fungi.
I would have to say that my favorite was a vegetarian one – the Ruchetta. It was simple yet delicious – alfredo sauce, mozzarella, fior di latte, grana padano, mushrooms, red onion, arugula, and olive oil.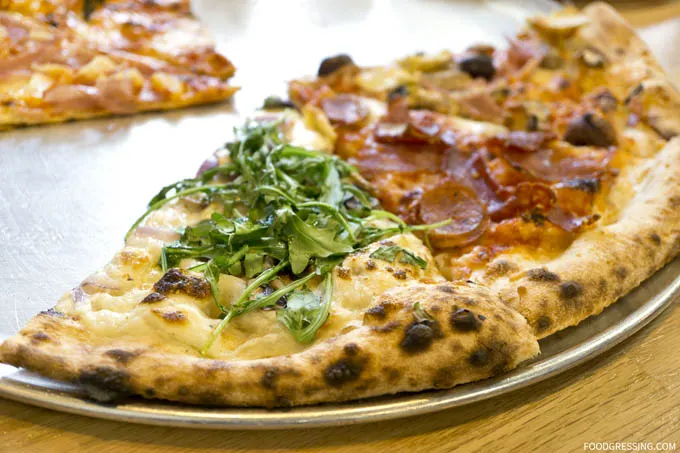 The crusts were wonderfully crispy, thin and not overly chewy. However, I do think that Straight Outta Brooklyn's Pizza pizza crust is ever more crispy and delicious than at at Pizza Garden.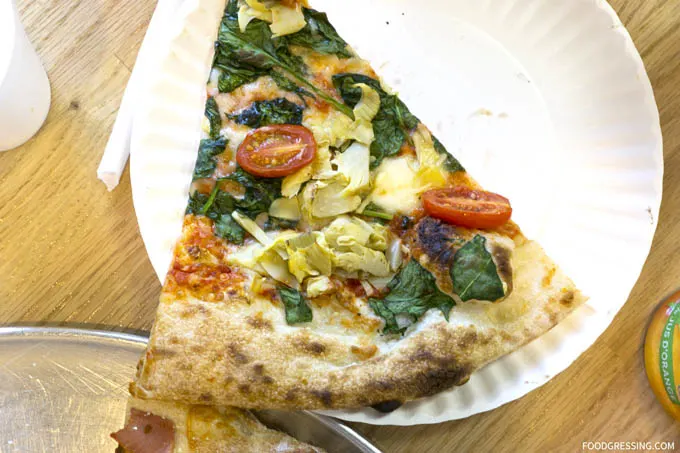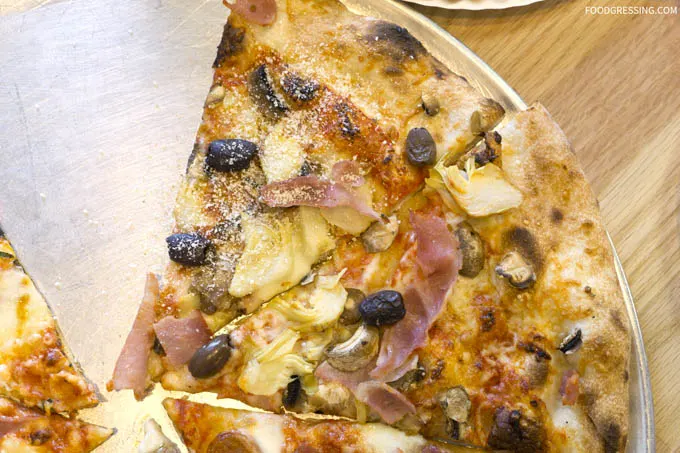 Overall Impression of Pizza Garden
Looks like things are running smoothly at this newly opened Pizza Garden. Delicious, crispy, fresh-tasting thin-crusted Neapolitan pizza. Reasonable prices for the portions. Good selection and flavours. Our friends enjoyed their first Pizza Garden experience and it looks like it won't be their last. Rating: 4/5
Website: pizzagarden.ca