A new coffee shop in Gastown has been generating much buzz since it opened about less than a month ago. Located at 302 West Hastings Street, Nemesis Coffee is quickly gaining popularity and with this type of momentum they seem to have staying power. After reading a few articles on Nemesis Coffee online (Daily Hive, Scout Magazine) and Instagram posts, I decided to try Nemesis Coffee out.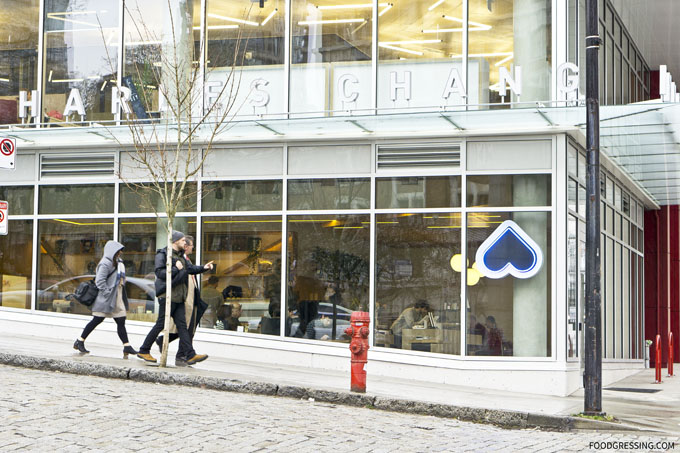 SFU Building Location
Nemesis Coffee is located on the ground level of the SFU Charles Chang Innovation Centre at the corner of West Hastings and Hamilton. You might notice their logo which is a white inverted heart on a blue background. The interior is modern, warm and inviting with white walls and light wood tones. The space is bright and airy with the ability to seat 40 in the 1,500 square ft space.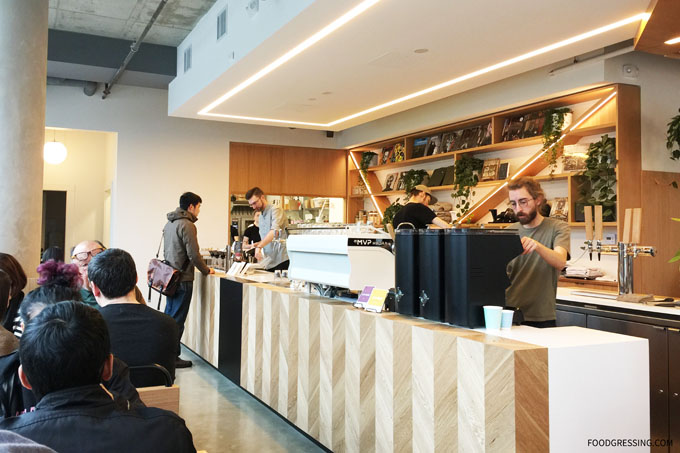 There were many baristas working the V60 pour over counter. Based on what I have seen, there is enough customer volume to keep them busy. I like the 4-seater dining tables along the window where you can look into the street. Their space makes for a great place to get work done on your laptop or study. There's also another space (that I didn't photograph) where there are communal tables.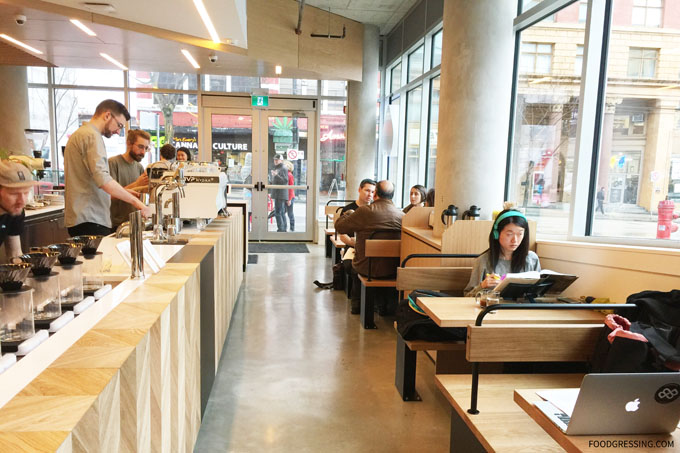 Nemesis Coffee Menu
Nemesis specializes in pour-over coffee featuring roasters like Five Elephant and Slate Coffee Roasters. But they're not your typical hipster coffee shop where you go for just a good cup of joe. Nemesis is serious about their food too; in fact, their chef, Jacob Deacon-Evans, is formerly of Bishop's, West, and Wildebeest. It's a refreshing concept which we lack in this city and I dig it.
All their food is made in house. On display, they have a variety of baked goods including scones, financiers, cookies and more. Their all-day menu includes a variety of hot and cold selections like toasts, grains and granolas, and waffles. Many of their items are labelled vegan. The waffles on their menu are a bit more elevated with pricing between $12 – $16. For example, there's the savoury poached egg, caramelized onions, creme fraiche and buckwheat granola waffle and the sweet option of chocolate walnut sauce, roasted pears, whipped marscarpone custard waffle. Other large plate items offered are chicken thigh, broccolini, cheese sauce and even the daily catch.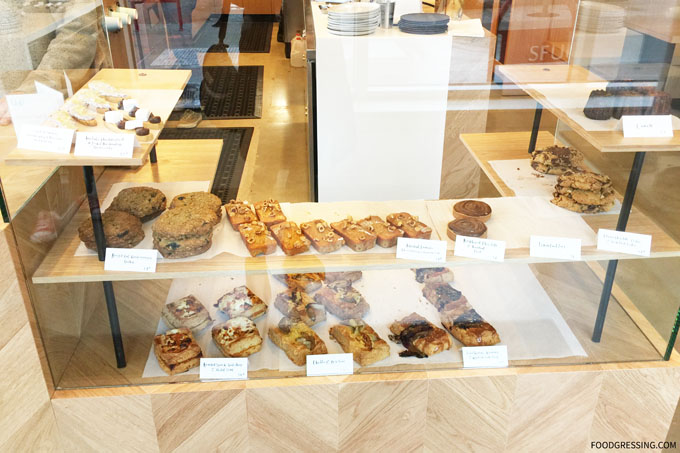 What I Tried
My husband and I went visited one morning and ordered the following:
Mocha ($4.50)
Americano ($3)
Lemon posset, beets, black coffee granola ($9)
Coffee smoked duck, red eye hoisin ($16)
One of the nice things about ordering a mocha is that the stay-in mochas come with a shortbread cookie topped with a hazelnut and chocolate spread and torched marshmallows. Here is a video I took of how it is put together:
The mocha was delicious and had a slight bitter taste. I think they use dark chocolate for the drink. The shortbread cookie was nicely crumbly; with the hazlenut spread and marshmallows, the cookie added a very nice dipping element to the mocha.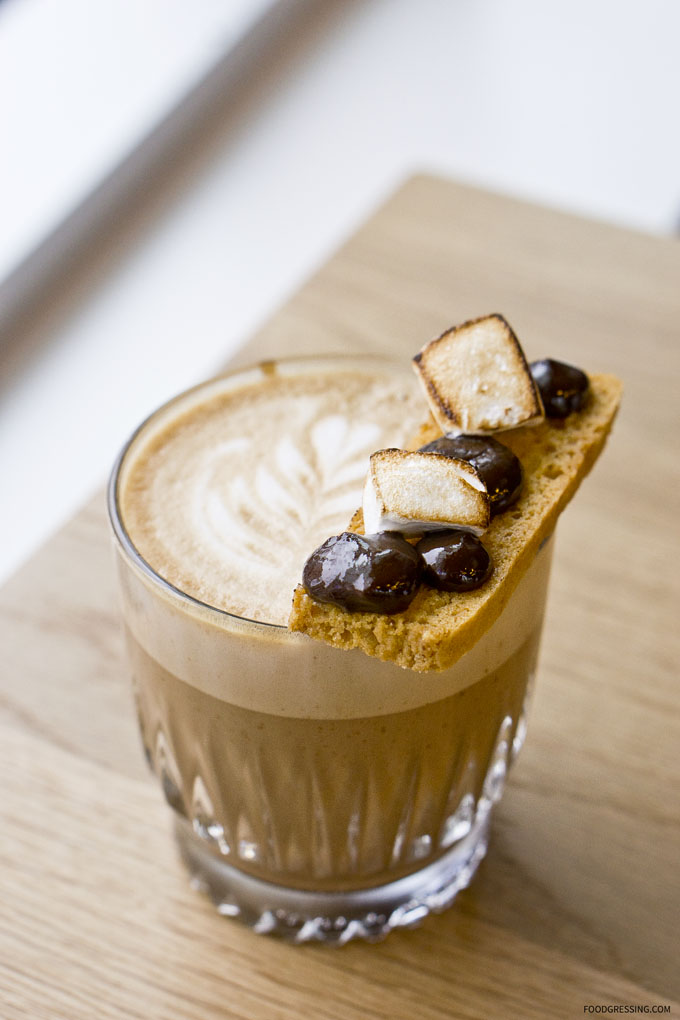 The Americano was very smooth though I didn't take note of which roast they were using.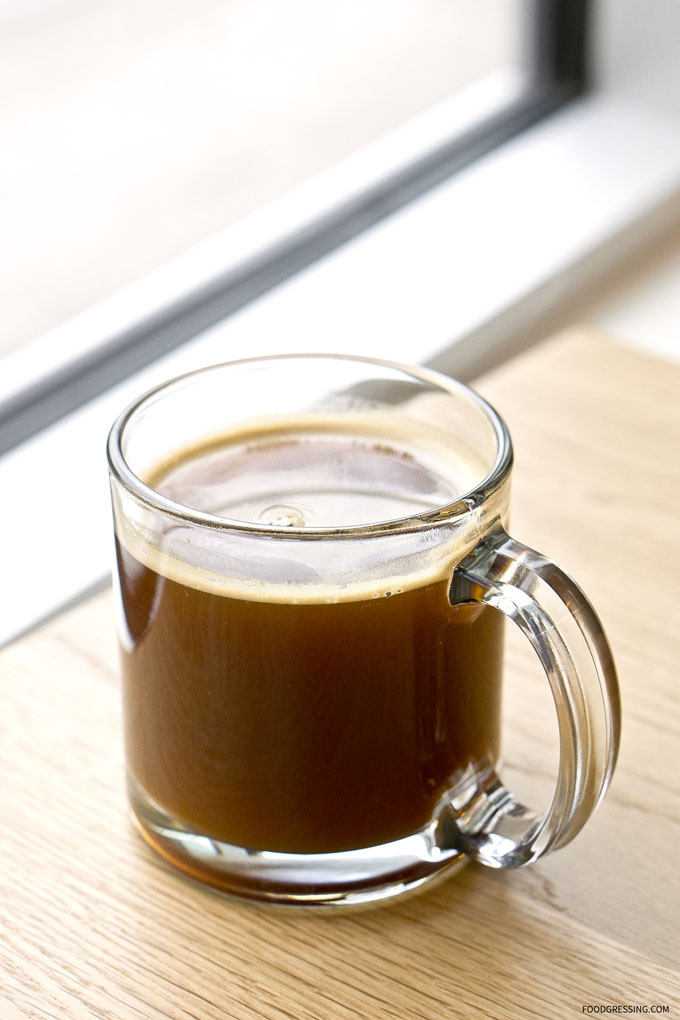 We tried the vegan lemon posset with beets and black coffee granola. I thought that they put quite a bit of consideration into the presentation of the dish for $9. The black coffee granola added a nice gritty texture to the dish. The lemon was very smooth, citrusy and creamy but it was a bit too sweet for my liking. I think if they could tone down the level of sweetness the dish would be better. But certainly, this dish goes well with an espresso to balance out the sweetness.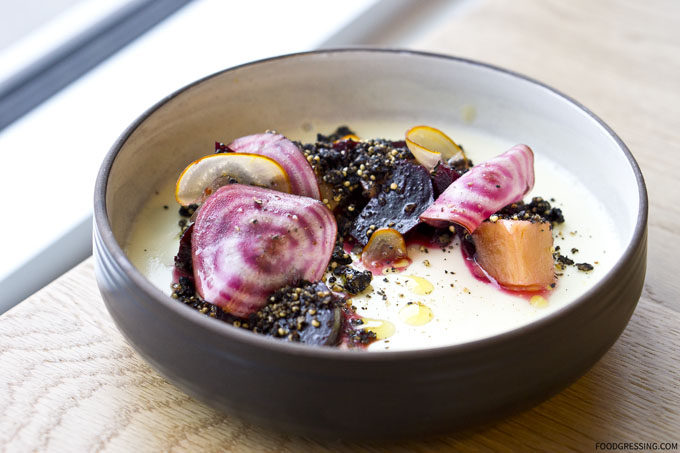 The coffee smoked duck, red eye hoisin on waffles was pretty good. The waffle itself on the average side but the smoked duck topping is rather unique. The duck slices were tender, juicy and well-seasoned. A tasty dish on the pricier side for $16.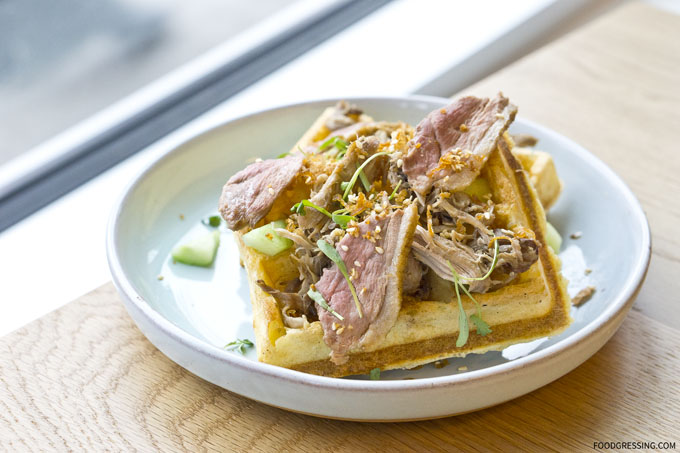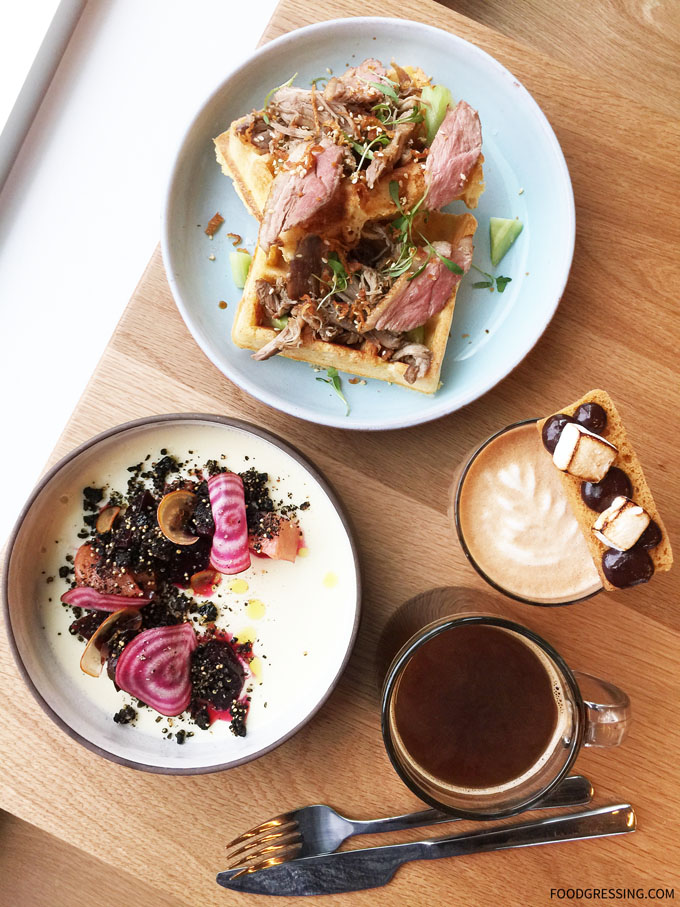 Overall Impression
I like Nemesis Coffee's concept of offering an elevated coffee experience side-by-side with gourmet hot and cold comfort foods. The food was good but could use a bit of tweaking in terms of price and level of sweetness. All things consider, this place has a lot of potential. I'm still interested in returning. Rating: 4/5
Instagram: @nemesis.coffee