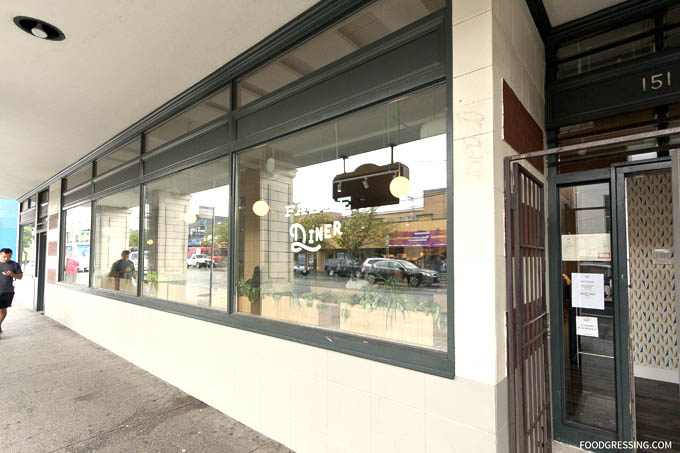 The much anticipated Fable Diner is now open in the historic Lee Building at 151 West Broadway at Main Street.  Fable Diner is Chef Trevor Bird's second venture with the first being sister restaurant, Fable Kitchen, in Kitsilano.  Chef Bird is still continuing with the farm-to-table concept but in a more casual, diner setting.  This week, I visited Fable Diner for lunch to try out their offerings.
Modern-Day Diner
An immense renovation took place of the space formerly occupied by Vancouver greasy spoon Reno Diner.  When I entered Fable Diner, I was impressed by the look and feel of this new, modern-day diner.  It's bright, spacious, warm and inviting with a mix of dining tables, booths and bar seating.  Definitely feels like the kind-of-place where want to bring your family and friends for a feel-good meal.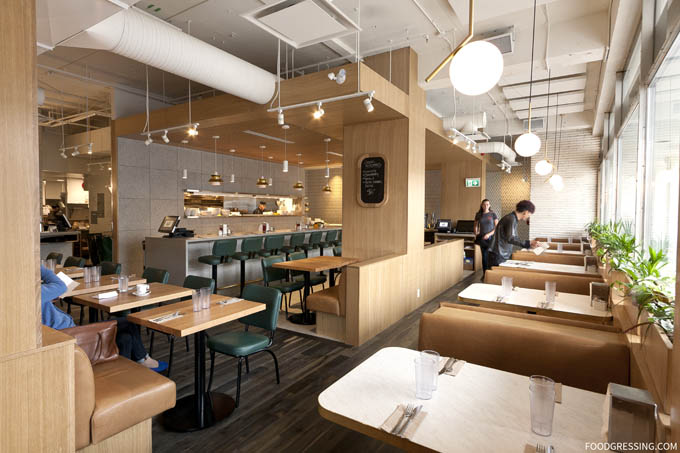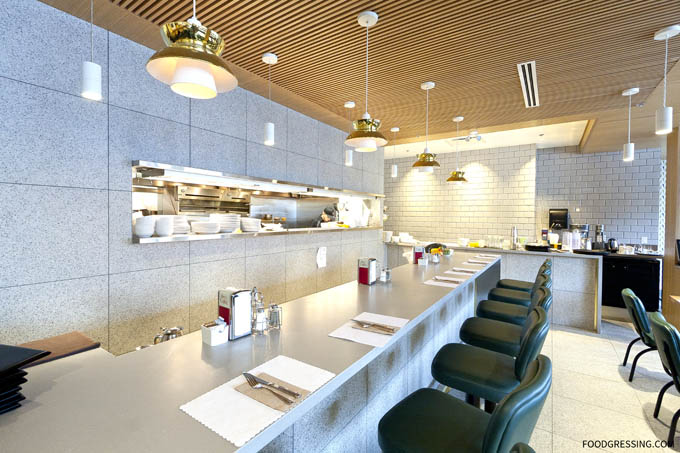 Fable Diner Menu
Fable Diner's all day menu has quite a range from classic breakfast food to "fancier" diner items.  A conservative breakfast option would be the Trucker's Breakfast (eggs, bacon, toast, potatoes, pancake, jam) whereas a more higher-end entree would be the Ancho Salmon (corn, chorizo succotash, jalapeño yogurt, corn nuts.)  I thought it was interesting how there were some Asian-inspired twists to classics like the Roast Duck Pancakes (Kimchi, green onion, kewpie, crispy business) and Tempuraed Onion Rings.  Customers can also enjoy a classic milkshake or sundae to go with their meal.  The menu is fully available online.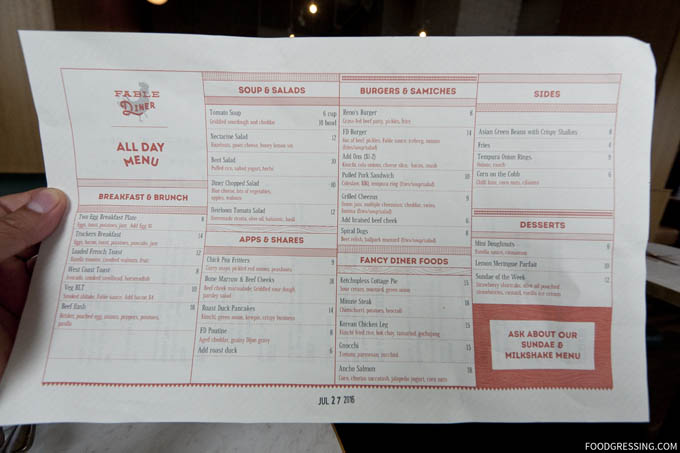 What We Tried
My husband and I tried the following for lunch:
Blueberry and Vanilla Milkshake ($8)
Roast Duck Pancakes ($14)
Chick Pea Fritters ($9)
Reno Burger with 3 Add-ons ($8 + $3)
To start, we had a Blueberry and Vanilla Milkshake which was nicely thick and creamy.
I quite liked the crunchy cereal toppings which reminded me of Momofuku's cereal milk ice cream.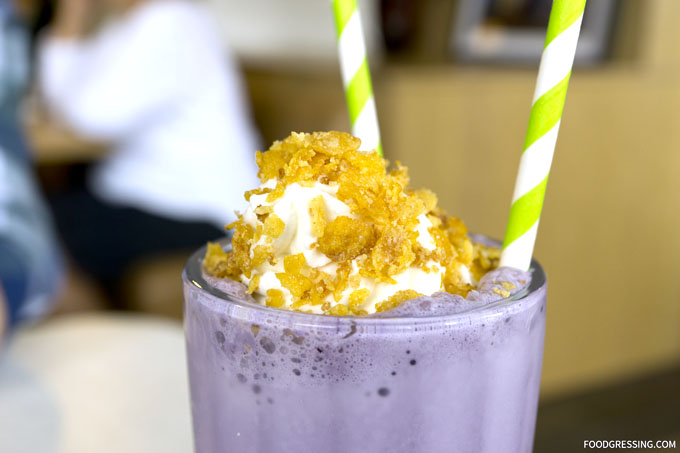 They also gave us the "excess" portion of our milkshake which did not fit into the cup.  I thought that it was very nice of them to do that which made the $8 price tag more reasonable.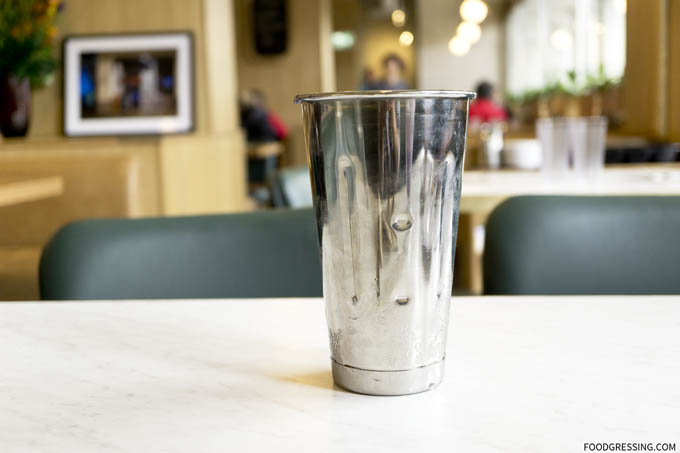 The Chick Pea Fritters were nicely tender on the outside and crispy on the outside.  The pea shoots were grassy, sweet and delicate.  A very interesting flavour profile from the mix of slightly spicy curry mayo and sweetness of the pea shoots.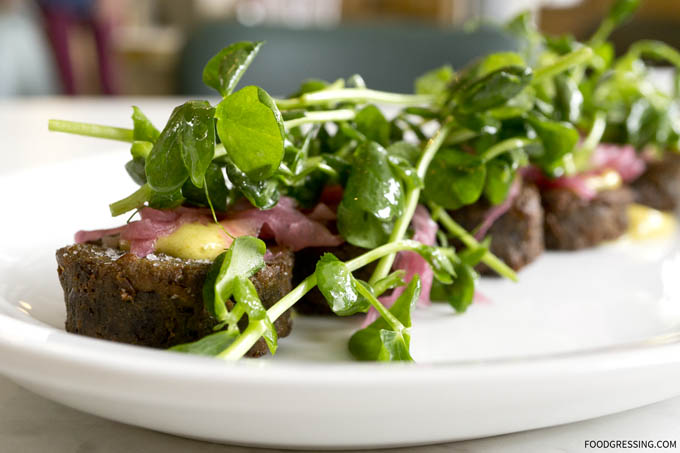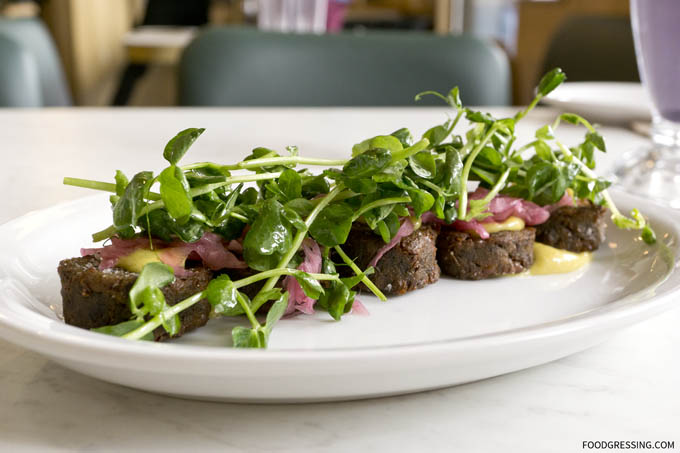 The Roast Duck Pancakes were a mouthful of flavour explosion.  Here we've got sour and spicy kimchi with tangy and sweet kewpie mayonnaise.  The pancakes were light and fully and the duck pieces were tender and moist.  A very interesting and creative take on traditional pancakes which now seem all too boring.  I did feel that the portions were on the smaller size given that this pancake dish cost $14.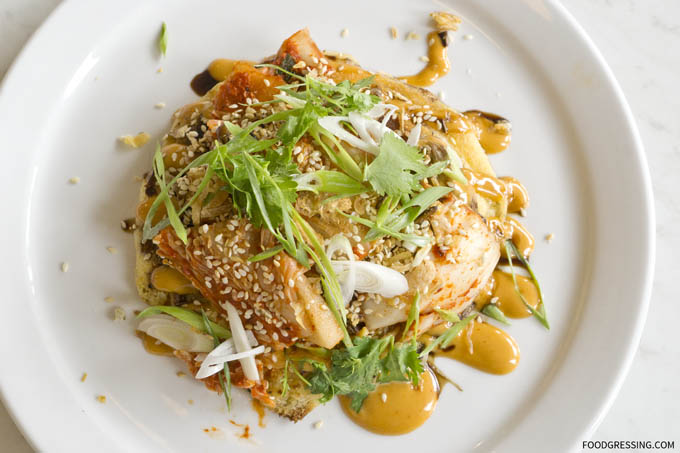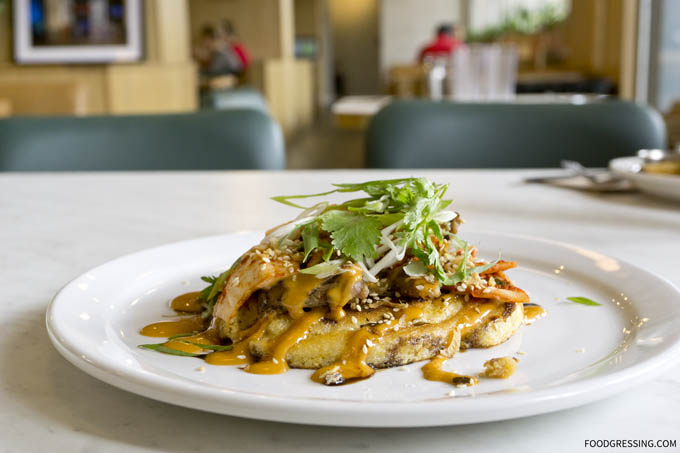 The Reno Burger – a tribute to Reno Diner – comes with a grass-fed beef patty, pickles, and fries.  We opted for a few add-ons at $1 each including kimchi, cola onions and bacon.  It was again another flavour-loaded item stemming mostly from the spicy kimchi.  The patty was nicely juicy and tender.  The fries, however, seemed pretty average.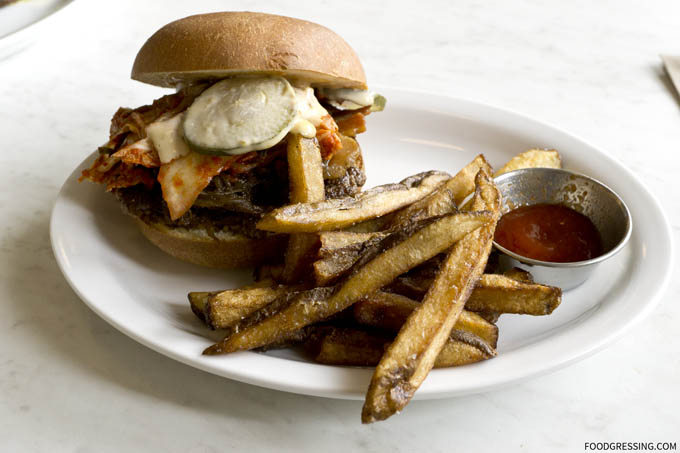 Service
We were regularly checked on by our server, who frequently approached us with a smile.  Other staff who delivered food to our table were also friendly.
Overall Impression of Fable Diner
In general, I thought the dishes we tried from Fable Diner had some very interesting and creative takes.  My only issue would be the items tended to be on the pricier side given the portions.  I still have items I want to try like the Bone Marrow & Beef Cheeks and Ketchupless Sheppard's Pie.  I'd definitely be interested in returning.  Rating: 3.5/5
Website: http://fablediner.com/