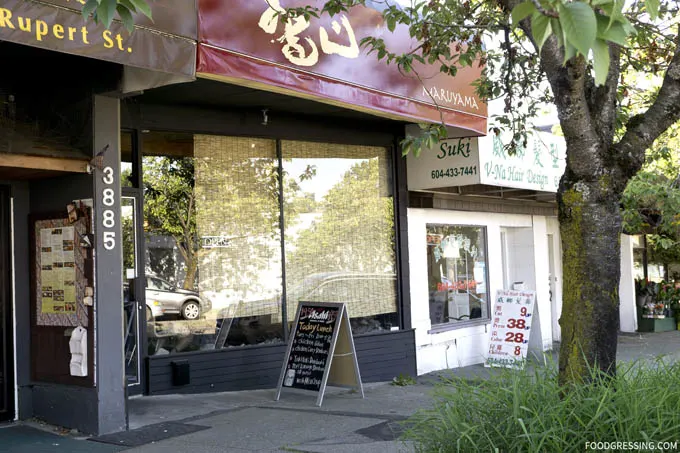 Calling all sushi lovers! The newly opened Maruyama offers a traditional omakase (chef's choice) sushi experience with "fresh" fish flown in from Japan. Opened just three months ago, Maruyama replaced the old Kimura location at 3883 Rupert Street in East Vancouver.
The restaurant is chef-owned and operated by Yoshiya Maruyama, formerly of the Blue Water Cafe and Raw bar. I recently read a New York Times article on the hallmarks of a good sushi bar. One of the characteristics is a sushi chef that "works quickly and fluidly, without being flashy, and exudes an aura of authority." Based on my observations, I believe this aptly describes Chef Maruyama and his working style.
Maruyama shares the same supplier as other local popular Japanese restaurants, Miku and Minami, and the newly opened Kamei Royale. Because of that, foodies should feel confident that they are getting some quality fish.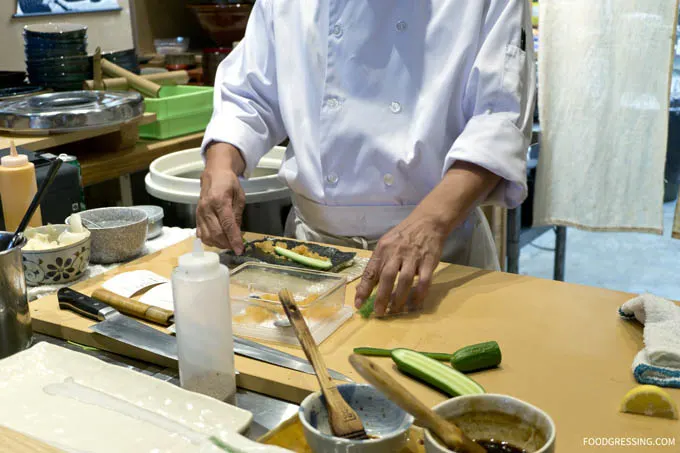 What We Tried
At the media event, we indulged in an omakase nigiri tasting as well as house specials like the premium homemade udon. Photos of the menu can be downloaded here. Here is a list of what we tried:
Hamo with Ume Sauce
Tako (Octopus)
Red Tuna (Bigeye)
Renkodai (Yellow Seabream)
Aji (Horse Mackerel)
Madai (Red Seabream)
Engawa (Flounder)
Alaska Sockeye
Hamachi (Japanese Yellowtail)
Salmon Toro (Norwegian Steelhead)
Bluefin Tuna Otoro (farmed)
Homemade House Special Cold Udon
Ankimo (Monkfish Liver)
Hotate (Japanese Scallop)
Soft Shell Crab Tempura
Anago (Sea eel) Tempura
Ebi (Prawn) tempura
Ikura (Salmon roe)
Takowasa (Raw octopus with wasabi)
To start, we had the Hamo with Ume Sauce, also known as the conger eel. It was my first time eating conger eel and I did a bit of research to learn more. It's a white-meat fish that is a specialty of Kyoto and it is particularly popular during the summer due to its mild and light flavours. The ume sauce, which is tart and salty, is what gives it more taste. The smell is essentially neutral; it does have soft and fluffy texture as it is not raw but cooked.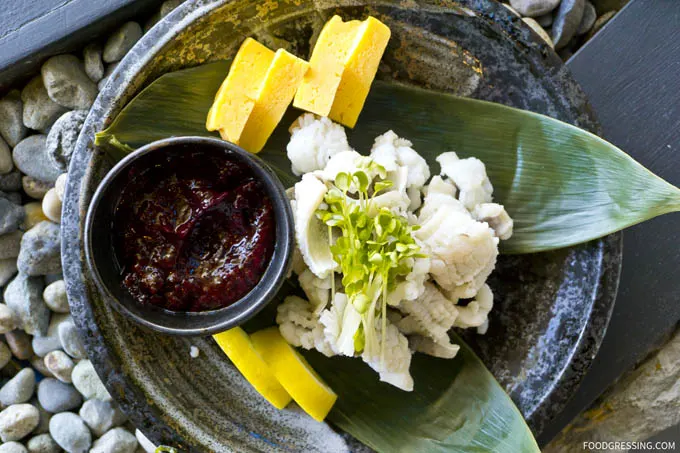 Next came a beautiful assortment of nigiri on a platter: Tako (octopus), Red tuna (Big Eye), Renkodai (Yellowfin Seabream) and Aji (Horse Mackerel). The rice was on point: around body-temperature warm and not overly tangy or sweet. You could pretty much feel each grain of rice. The tako was tender and not rubbery while the red tuna was meaty and had a mild delicate taste.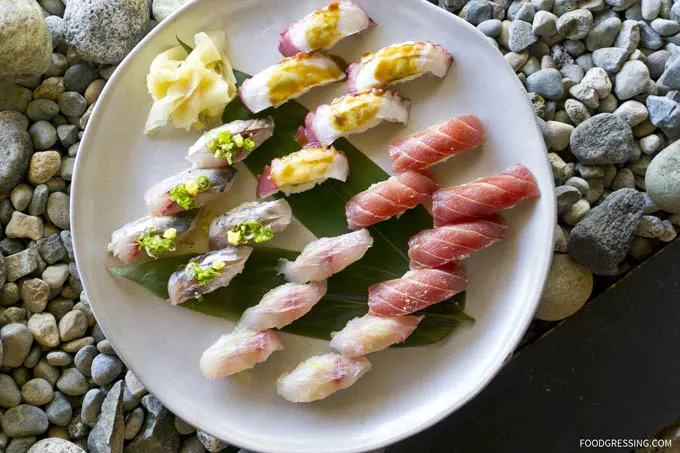 Our next platter had some luscious pieces of Madai (Red Seabream), Engawa (Flounder), Alaska sockeye and Hamachi (Japanese Yellowtail). The Alaska sockeye had deep-red flesh and a rich and flavourful taste. The Hamachi was very luscious, buttery and had a bit of a tangy taste.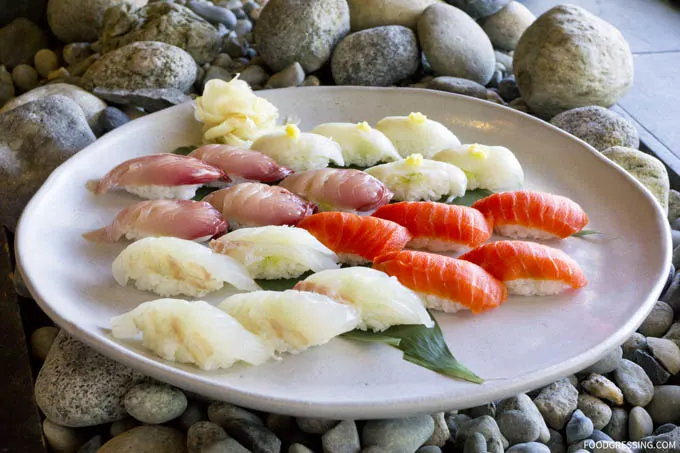 Another nigiri platter had a mix of Salmon Toro (Norwegian steelhead) and farmed Bluefin Tuna Otoro. The Salmon Toro – the fattier portion of the belly – was deep-red, tender and delicious. The pale pink one was the very prized Bluefin Tuna Otoro which is farmed from Mexico.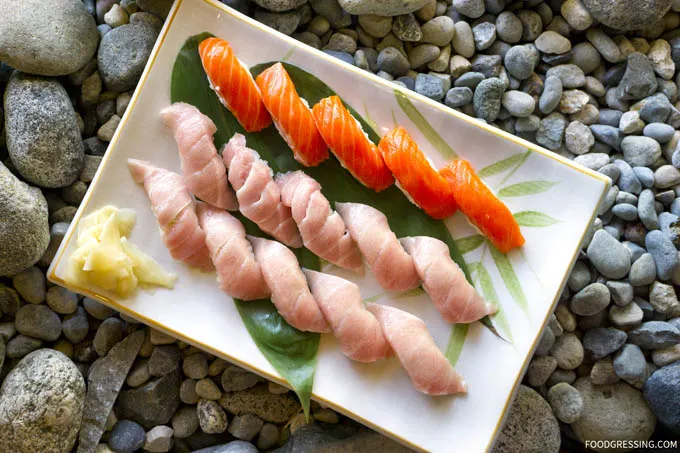 As many people already know, Bluefin Tuna is an endangered species and has been for many years now. I won't go into the ethics of it all as I feel that is a personal decision on whether to consume any unsustainable fish even the farmed version. As for me, I can say that I was Netflix-educated through the documentary "Sushi: The Global Catch" and would recommend others to watch it.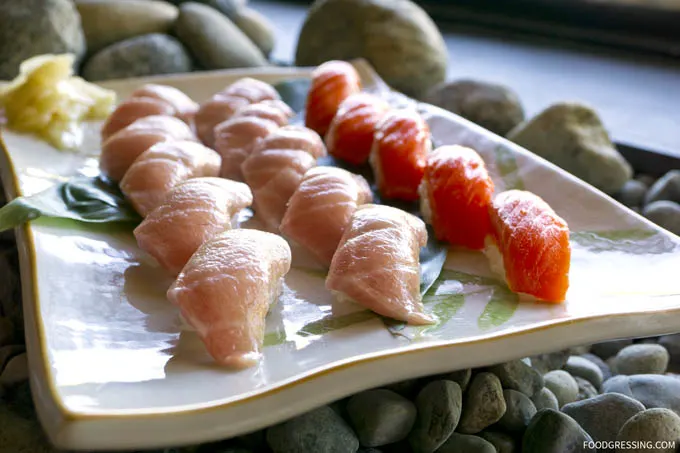 The Soft Shell Tempura Crab were nicely crispy on the outside with moist delicate flesh on the inside.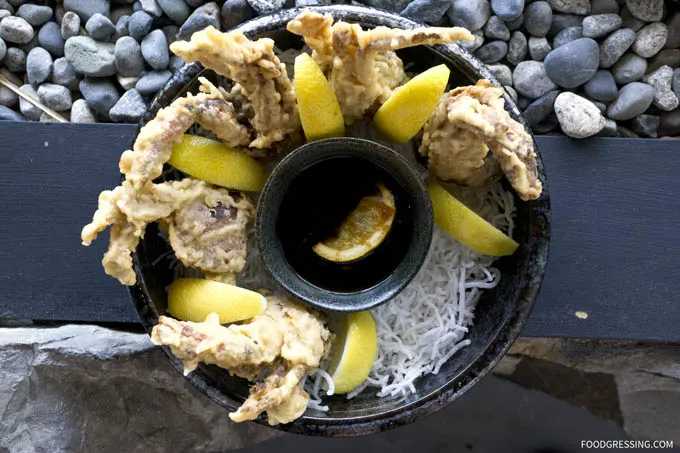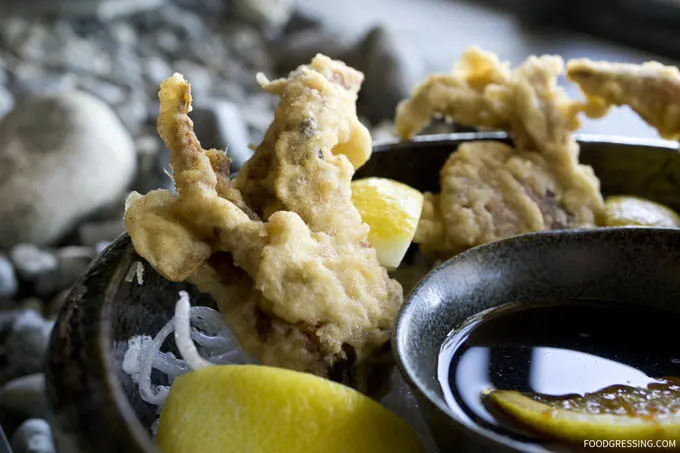 The Homemade House Special Cold Udon came with assorted toppings like green onion, seaweed, mushrooms, egg and sesame base sauce.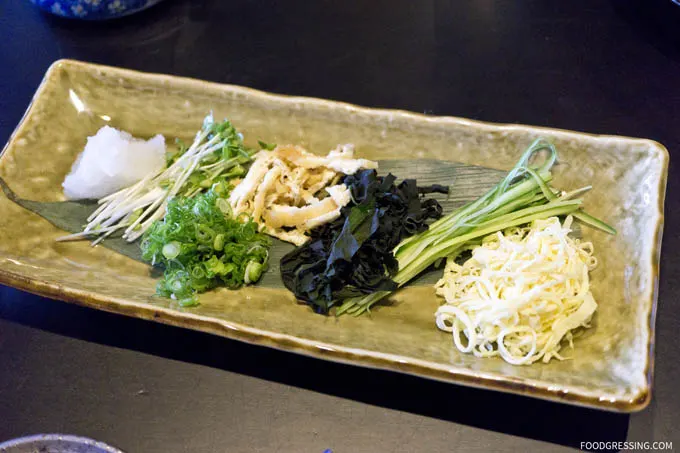 The broth itself was cold, but very rich, flavourful and had an umami taste.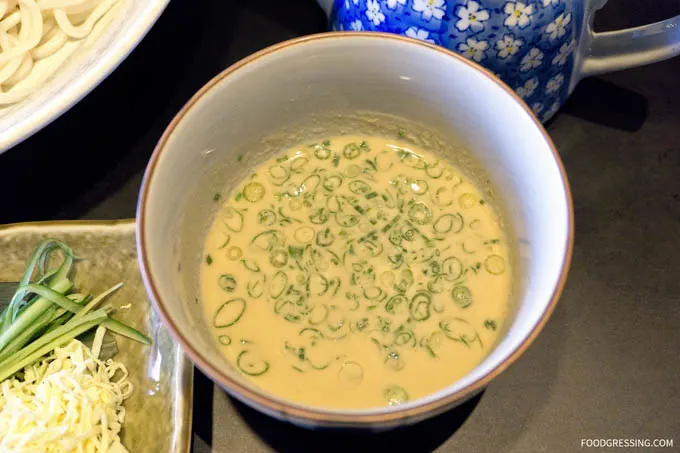 The premium homemade udon were wonderfully chewy and bouncy. A very nice summer eat since it is cold.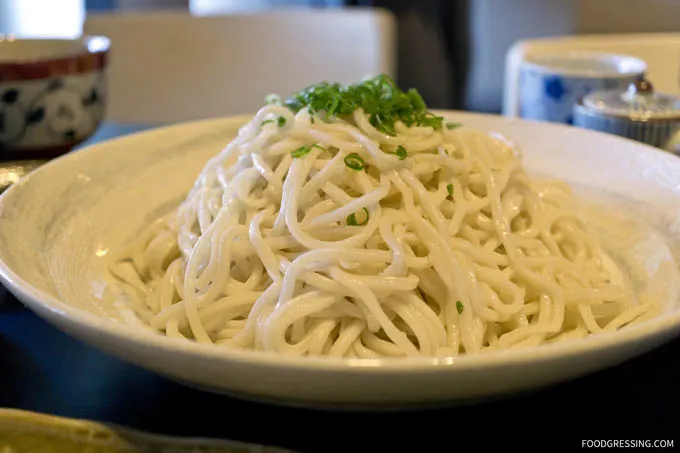 The Ankimo (Monkfish liver) has got a bit of a creamy decadence to it though still maintaining its metallic taste. Hotate (Japanese Scallop) was tender with a subtle sweetness.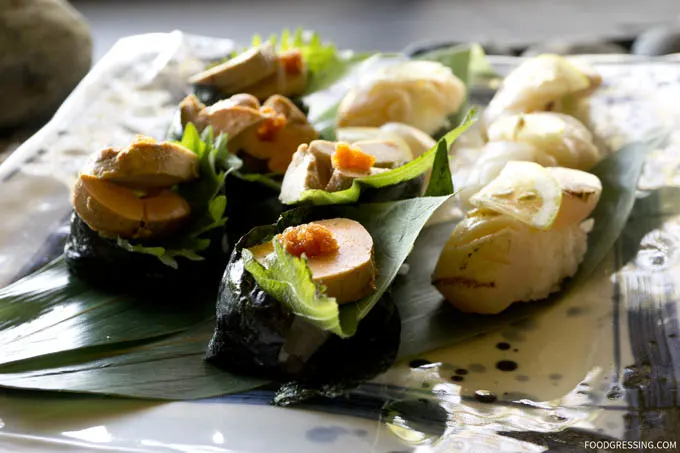 The Ikura (Salmon Roe) were absolute beauties! I was mesmerized by their translucent, glistening and bright orange appearance. Their rich and salty flavor bursts in your mouth as you eat them.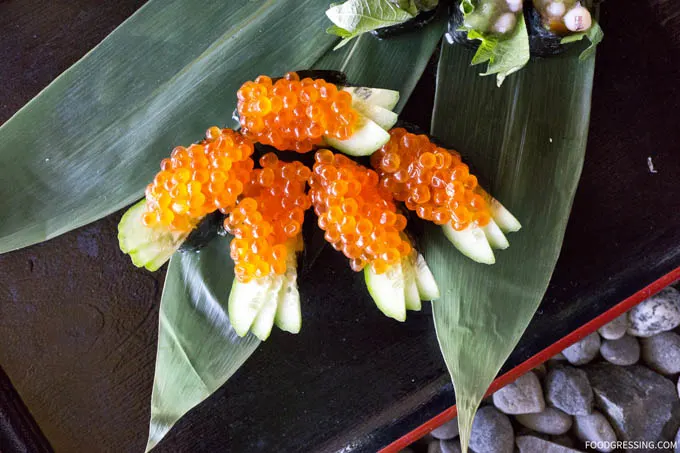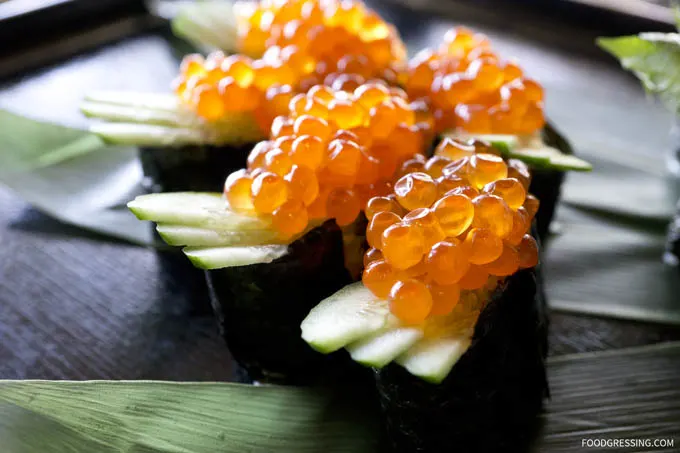 On the right was the Takowasa (Raw octopus with wasabi). Definitely sinus-clearing from the strong wasabi flavour.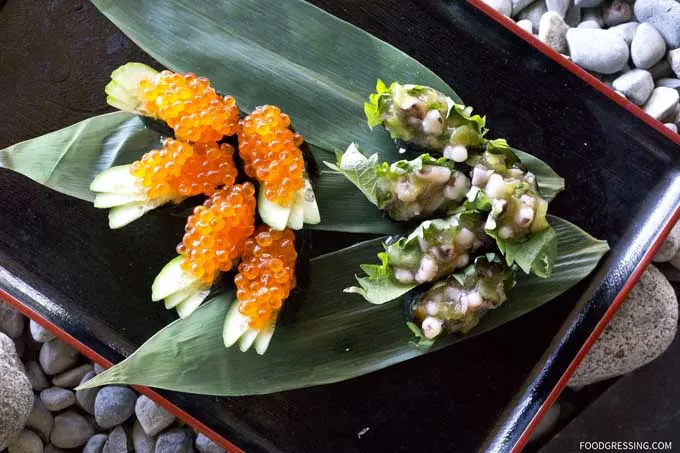 To finish off a fantastic meal, we had a refreshing scoop of green tea ice cream.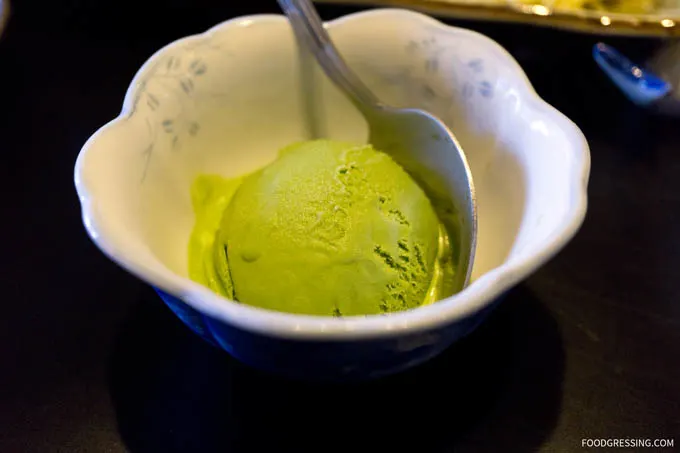 Overall Impression of Maruyama
All in all, I quite enjoyed the casual yet still very refined dining experience at Maruyama. The dishes were a like beautiful artistic performance by Chef Maruyama. Rating: 4.5/5
Website: http://www.maruyamavancouver.com/