One of the smaller bubble tea chains in Metro Vancouver is Shiny Tea. Originating from Taiwan with worldwide locations, Shiny Tea has two shops locally, Crystal Mall and Aberdeen Square, with a new one in the works at International Village. They are proudly endorsed by Mr. Tsung-Ho Tu, the creator of Taiwanese Milk Tea. Shiny Tea's Crystal Mall location opened this past summer and I have had several of their drinks over the last few months. In general, I have found the drinks from Shiny Tea to be a good refresher while doing some shopping in the area.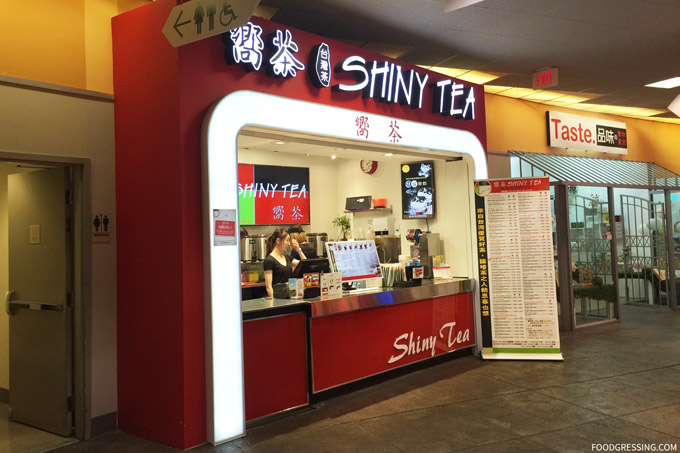 Shiny Tea Menu
Shiny Tea brews loose leaf tea leaves for their drinks and they have a protocol of replacing pearls every 4 hours in order to ensure freshness. One thing of note is that they offer two types of tapioca pearls: the regular black ones as well as smaller white ones. For the latter, it's the same type of tapioca you would find in a dessert.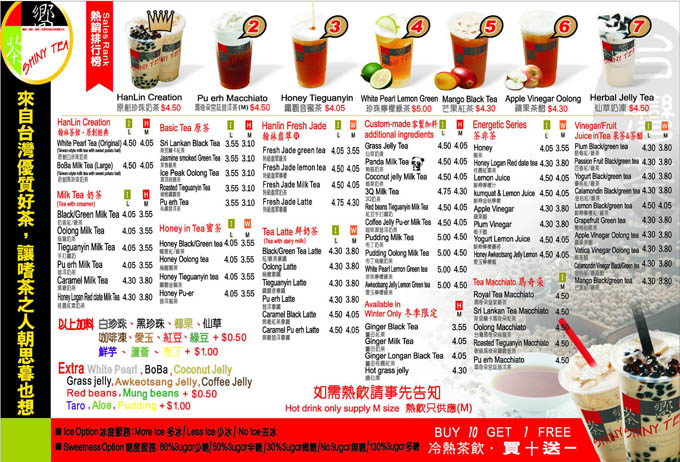 They have a decent selection of beverages including regular Milk Tea, Basic Tea, Honey in Tea, Osmanthus Flower Smoked Tea, Vinegar/Fruit Juice in Tea, Tea Macchiato, Tea Latte and more. Other topping options include coconut jelly, red beans, grass jelly, taro, aloe vera, coffee jelly, mung beans and more. Ice levels and sweetness are customizable while size options include medium and large. They also have a buy 10 get 1 free loyalty program.
Top 7 Drinks
The top 7 drinks at Shiny Tea by sales rank are: 1) Hanlin Creation; 2) Pu-erh Macchiato; 3) Honey Tieguanyin; 4) White Pearl Lemon Green; 5) Mango Black Tea; 6) Apple Vinegar Oolong; and 7) Herbal Jelly Tea.
What I Tried
I have tried the Hanlin Creation (regular milk tea) a few times with the small white pearls. To be honest, the small white pearls are really what makes me return to Shiny Tea. They make the drink almost seem more like a dessert drink or tapioca dessert. The times I've had them, the pearls are cooked well. One slurp captures quite a bit of these small pearls, followed by a brief chew and then swallow. The pleasure of eating these small white pearls is short-lived but still leaves me lingering for more. My issue is that I end up eating these pearls quite quickly and I am then left with a pearless milk tea. Alas, it's still a very tasty drink in my opinion.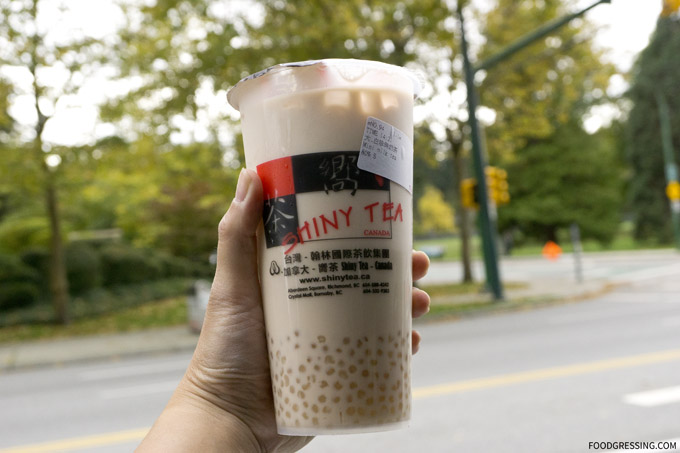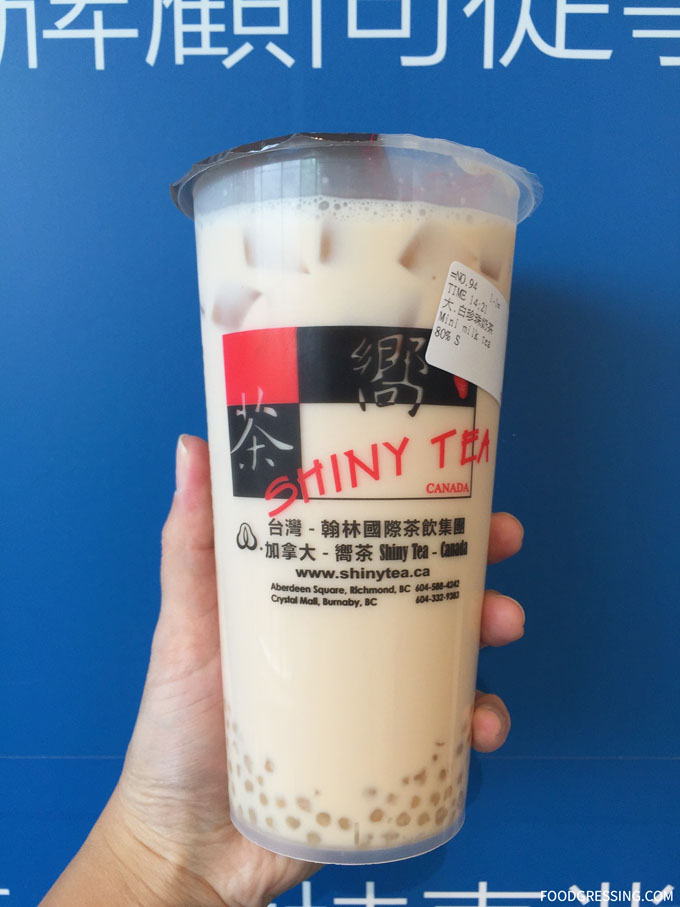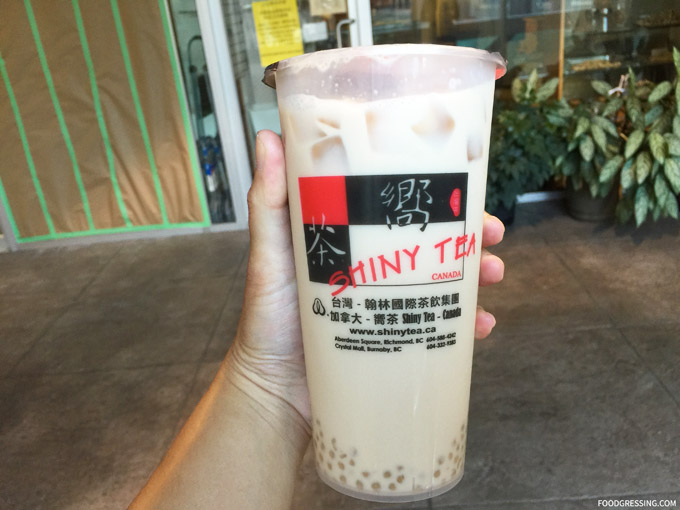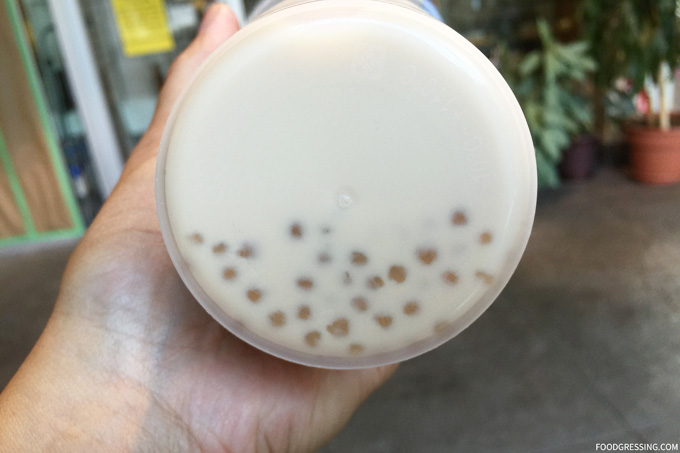 The tea flavour is reasonable though not as strong as other competitors (Chatime, Gong Cha). Other drinks I have tried include the Pu-erh Macchiato (rank #2 in popularity) and Herbal Jelly Tea (rank #7 in popularity). The macchiato has a thin milk layer on top that is subtely salty. The tea flavour is enhanced when the tea on the bottom passes through the milk layer. The herbal jelly tea (grass jelly) is average which reasonable proportions of grass jelly given. The regular, black pearls I have tried from them are reasonable: soft and smooth on the outside while gradually more chewy towards the centre. One other positive about them is that they drinks are made of a harder plastic and hence sturdier than a place like Bubble World.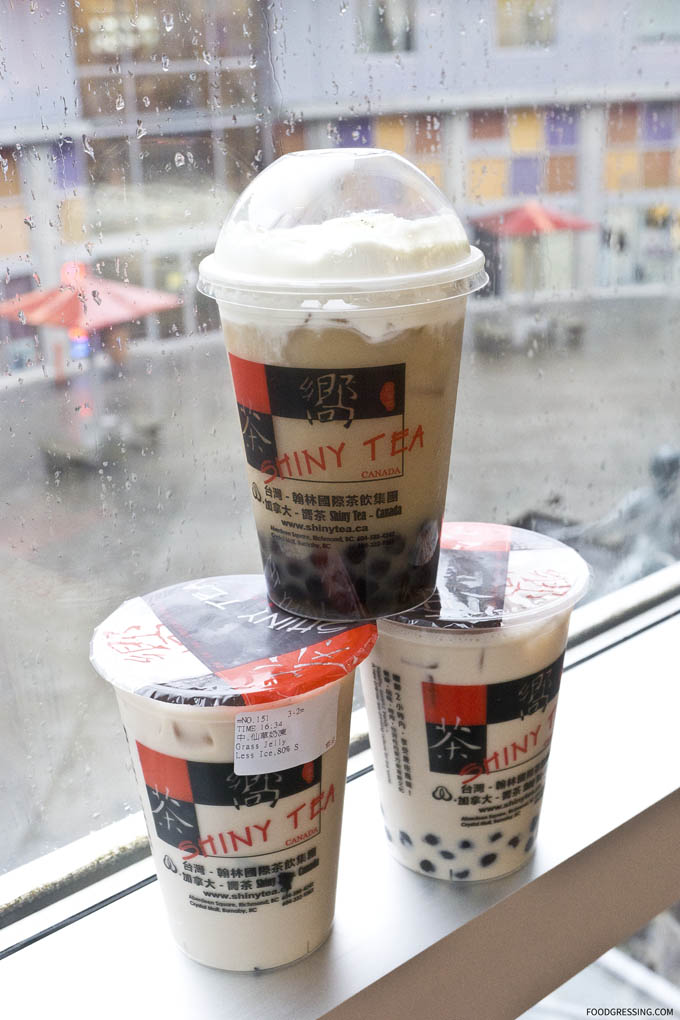 Overall Impression of Shiny Tea
I still prefer the drinks from Chatime and Gong Cha, but Shiny Tea is definitely not bad in my opinion. I continue to be a fan of their Hanlin Creation with small white pearls – looking forward to getting it again sometime. Rating: 3.5/5
Website: www.shinytea.ca