When Snowy Village Dessert Cafe opened in Richmond earlier this year, they took the local foodie scene by storm. Originating from Korea, Snowy Village's offers various flavours of bingsoo – a Korean shaved ice dessert. Following the success of their Richmond shop, Snowy Village opened a second location on Robson Street next to the very popular ramen eatery, Santouka. As a West End resident, I was excited to have Snowy Village join the neighbourhood. There aren't many Asian dessert cafes in this area and Snowy Village Robson seemed to be a great addition.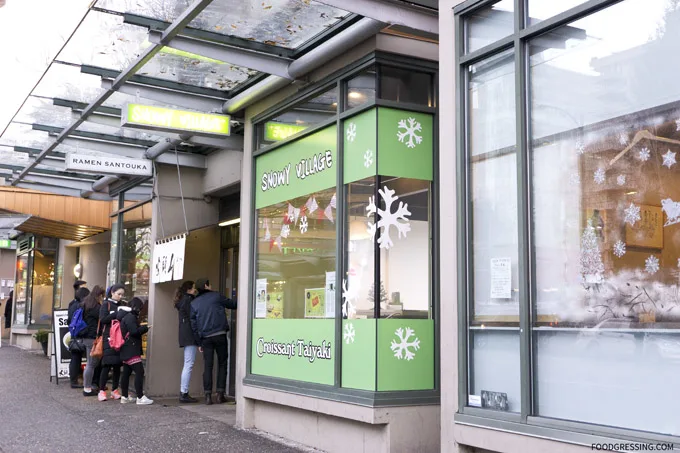 Check Out Their Window!
If you do visit the Robson location, you might notice a printed version of a blog post on their window. Shameless plug here because it's my post! As a non-disclosure, I have never been in contact with Snowy Village management regarding them using my content. Furthermore, I have never received any discounts or complimentary meals from Snowy Village due to my prior post. My visits to Snowy Village Robson have been anonymous and just like any regular customer visit.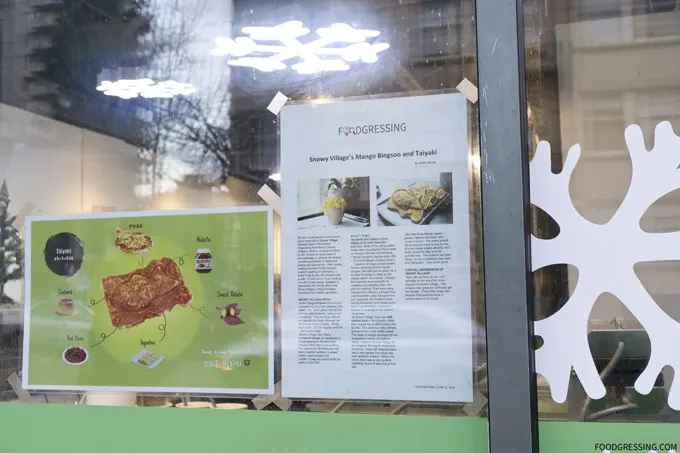 Snowy Village Menu
Snowy Village is primarily know for their Korean shaved ice dessert or bingsoo (also known as "patbingsu" or "bingsu"). The traditional version uses water primarily for the shaved ice, but Snowy Village here uses 100% Canadian milk. The milk gets frozen, shaved and results in a snow-like appearance and texture.
Snowy Village's also developed more flavours beyond the traditional bingsoo which usually consists of ice shavings and sweet red bean paste. Their flavours range from injeolmi (rice cake), milk, Oreo, green tea, chocolate, and cheesecake to fruit varieties like blueberry, mango and strawberry. Prices vary between $8 – $11 for the regular and $10 – $15 for the large. They also offer have seasonal flavours like honeydew and watermelon which come only in large size.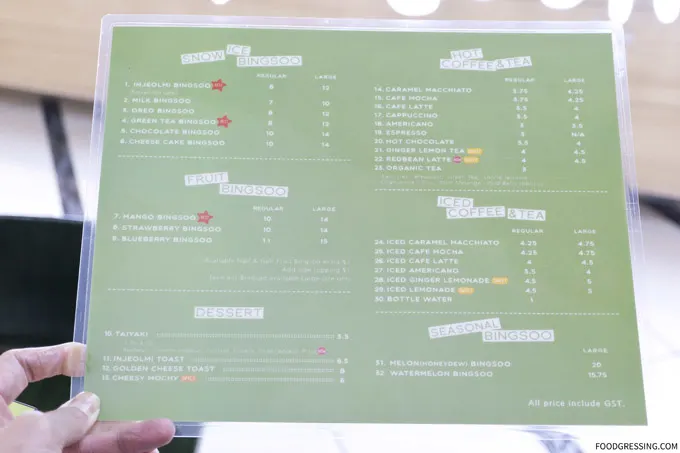 Snowy Village also offers croissant taiyaki (in Japanese) or bungeoppang (in Korean) fish-shaped cakes with a sweet filling. The options for the filling are red bean, injeolmi redbean, custard cream, sweet potato, nutella, and the newest one – pizza. These are priced at $3.50 each or 3 for $10. Also available are toasts (injelomi, golden cheese, chessy mochi), espresso-based drinks and tea.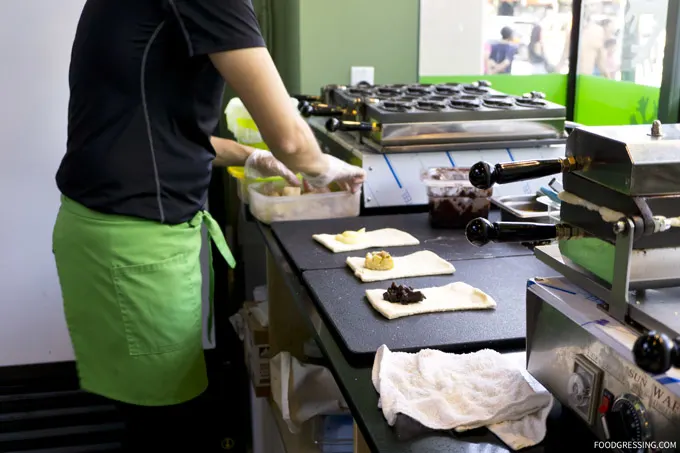 And look, a potential customer reviewing my blog post on the window 🙂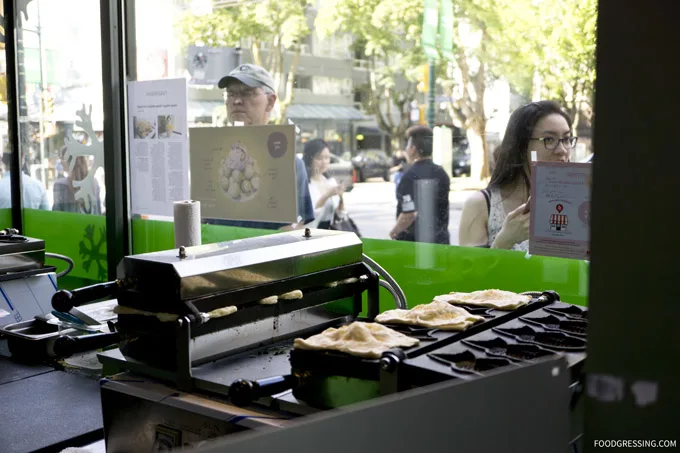 What I Tried
Our several visits, I have tried the following at Snowy Village Robson:
Green tea bingsoo, regular size ($8)
Mango bingsoo, regular size ($10)
Injelomi bingsoo, large size ($12)
Croissant taiyaki (Custard cream, injeolmi red bean, sweet potato) ($3 for $10)
Pizza taiyaki (free due to winter promotion deal)
In a previous guest post on Vancity Buzz, I named the mango bingsoo at Snowy Village as a top mango dessert to try. It's still one that I enjoy very much and would recommend. The mangoes weren't too tart on my last visit and they add just the right amount of sweetness to balance it out.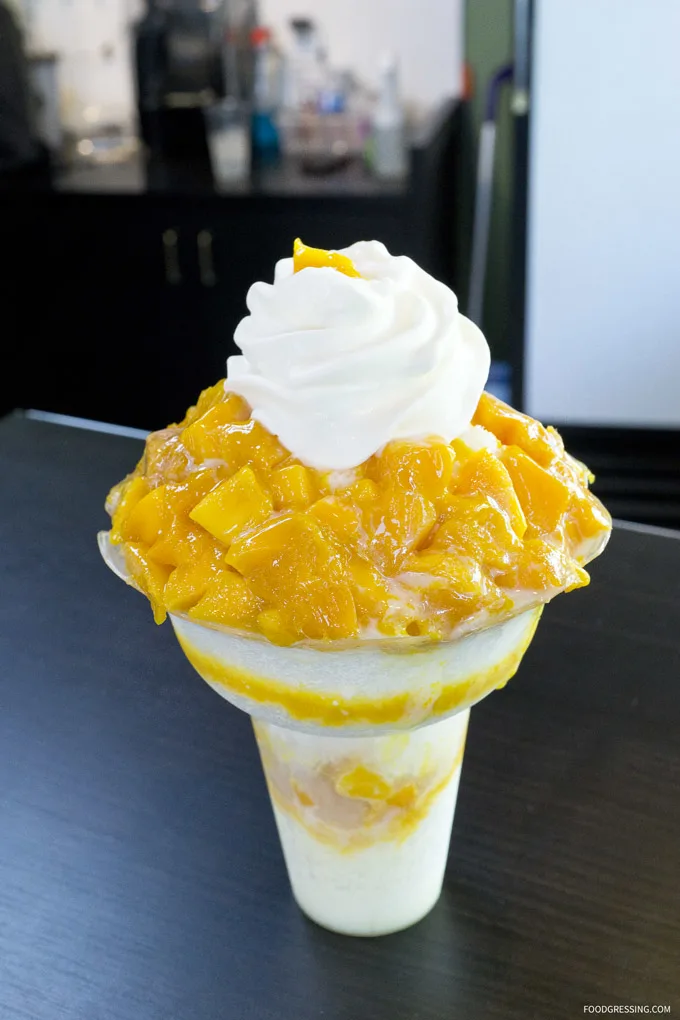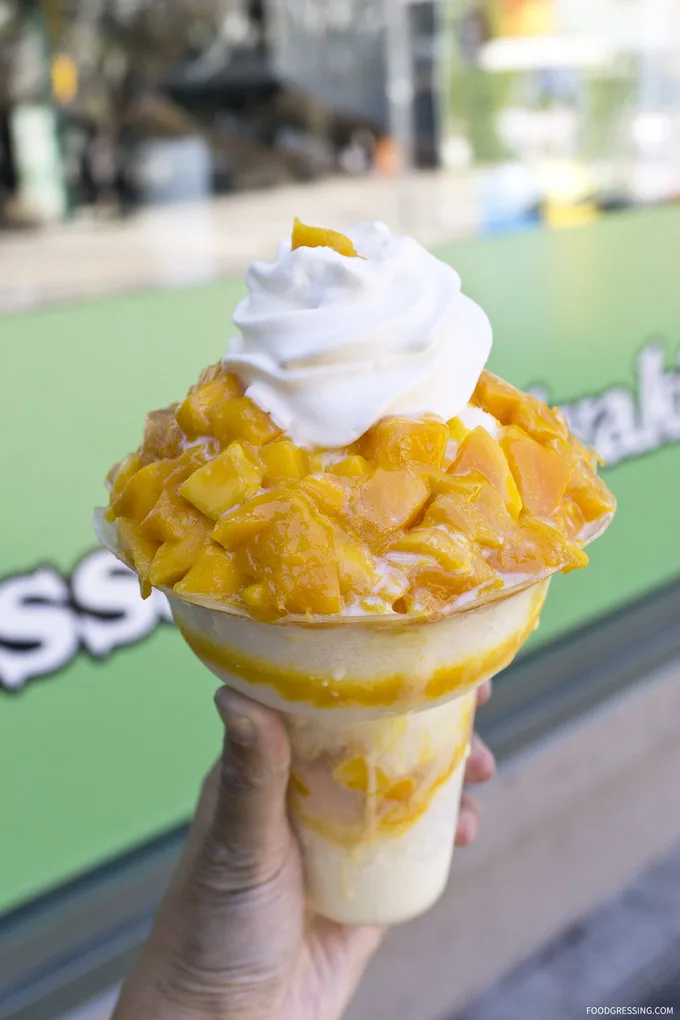 The green tea bingsoo has red beans, Korean traditional rice cakes, castella (Japanese sponge cake), natural rice cake powder and nut topping. I enjoyed it but the green tea flavour could be stronger. The moist, light and fluffy castella pieces were enjoyable.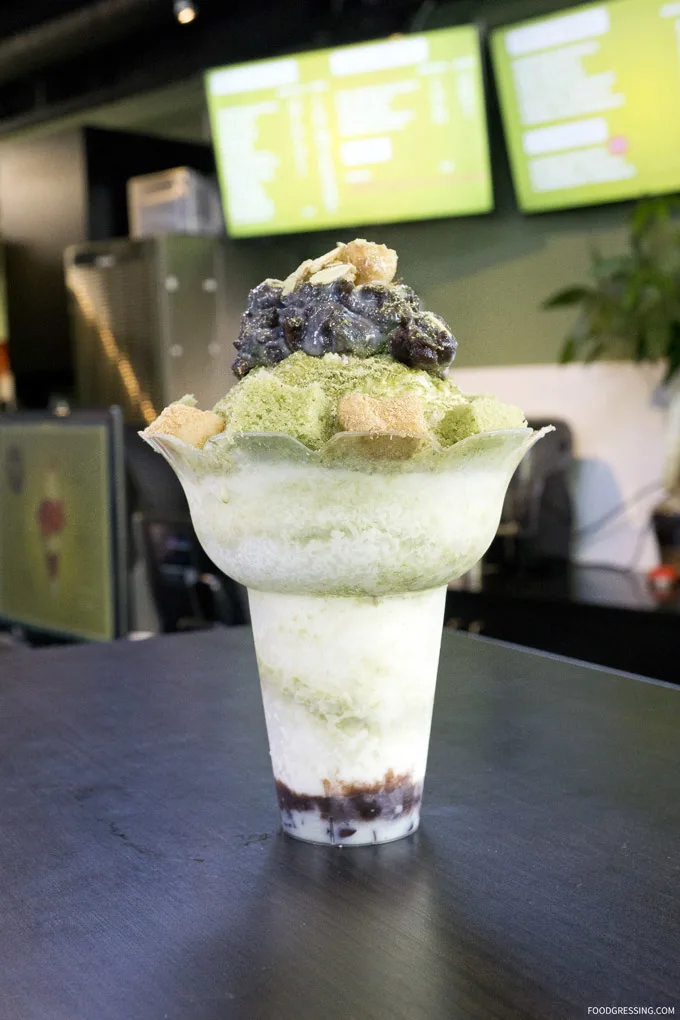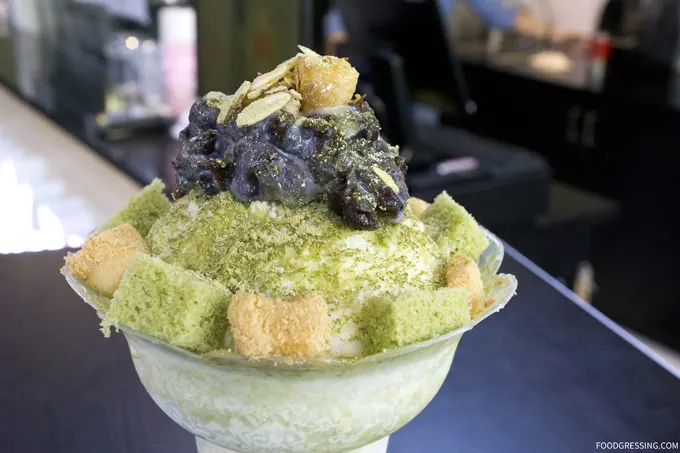 Next to the mango bingsoo, I would have to say that I love the injelomi bingsoo. It's essentially milk tea flavoured and really tasty to me.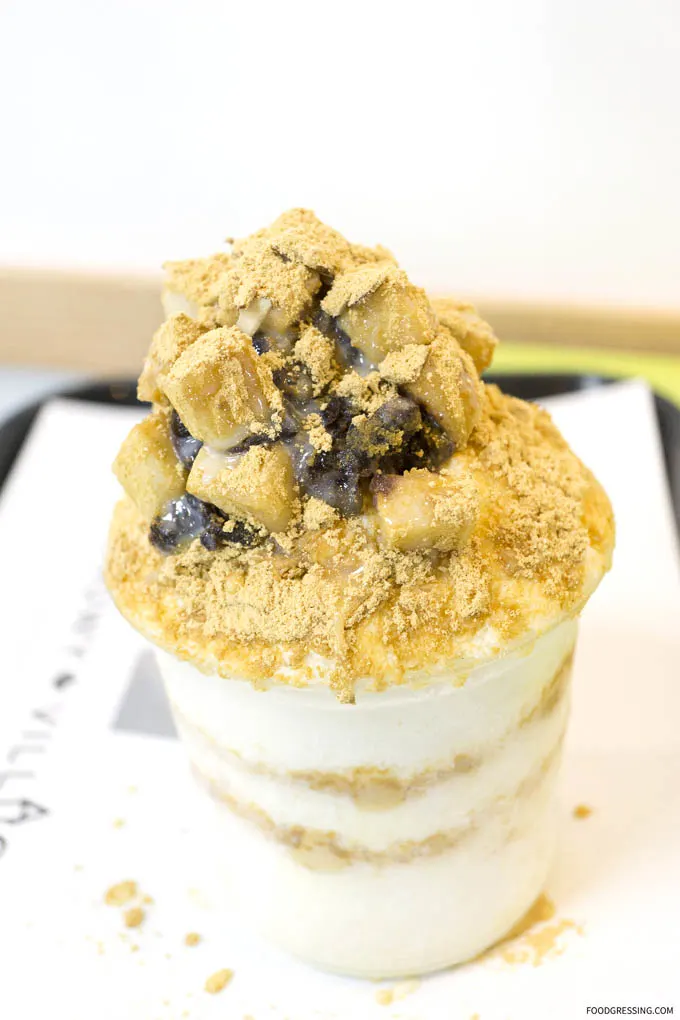 I previously declared my love for Snowy Village taiyaki's and this continues to be the case. These fish-shaped croissants have an amazing crispy exterior. When you bite into it, you can hear that crunching sound. I got a mix of different fillings including sweet potato, injelomi red bean, and custard cream. The sweet potato filling was okay, and the custard cream is nicely silky. The injelomi red bean filling, which is a mix of glutinous rice cake and red beans, was pretty good. You can also request some extra condensed milk as show in the video below.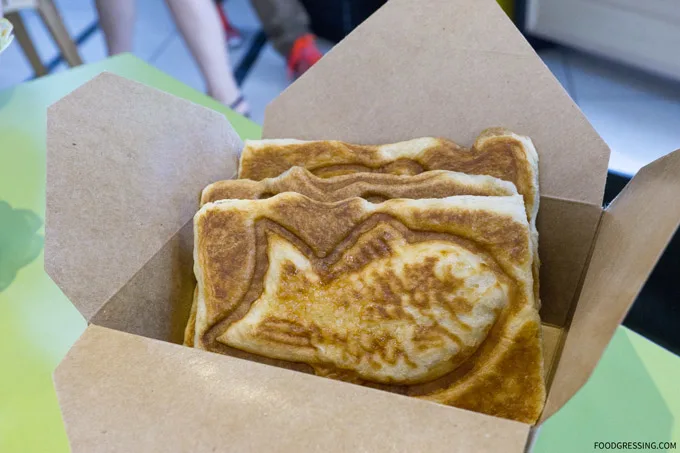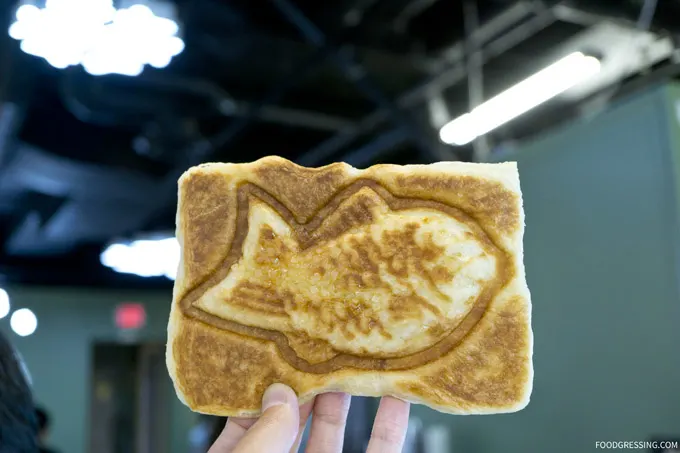 However, their newest pizza flavour is just amazing. I mean, so amazing that I could eat a few more of them in one sitting. It's a very nice, savoury croissant taiyaki which a crazy good cheesy and tomato filling. I'm going to want more of these next time I go to Snowy Village.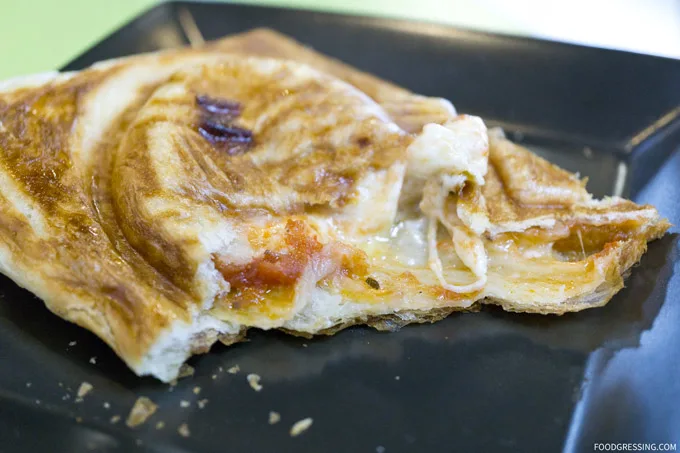 Overall Impression of Snowy Village Robson
I continue to be a fan of Snowy Village's desserts. My favourite items are the mango bingsoo, injelomi bingsoo, injelomi red bean taiyaki and pizza taiyaki. Dessert craving satisfied. Rating: 4/5
Website: snowyvillages.ca