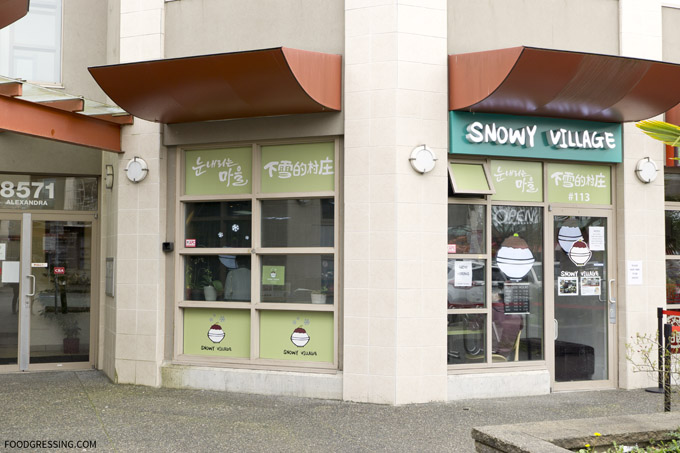 By now, local dessert lovers would have heard about Snowy Village Dessert Cafe in Richmond. Originating from Korea, Snowy Village's claim to (Instagram) fame in the Vancouver food scene is the patbingsu, a shaved ice dessert consisting primarily of sweet red beans and shaved ice. After seeing endless photos of their bingsoo (variant spelling of patbingsu), I knew I had to pay this dessert cafe a visit. Furthermore, I was working on a list of top mango desserts in Vancouver for Vancity Buzz and Snow Village's mango bingsoo seemed to be a likely candidate.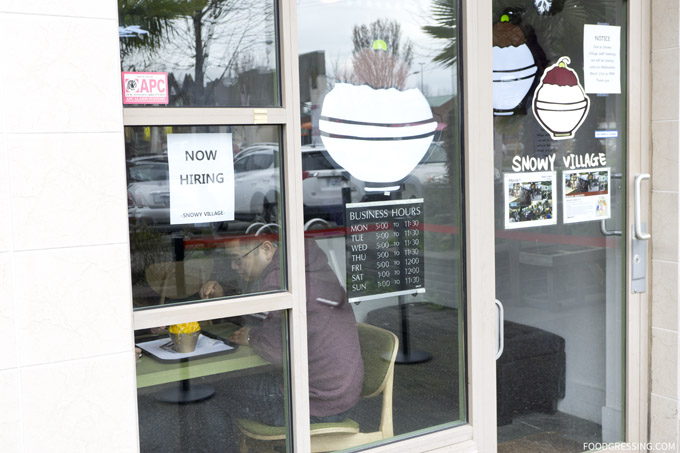 Snowy Village Menu
Snow Village bingsoo flavours are extensive ranging from injeolmi (rice cake), milk, Oreo, green tea, to fruit varieties like blueberry, mango and strawberry. The two sizes offered are regular and large although not all flavours come in large. Prices start at $8 – $10 for regular and $10 – $12 for the large.
Snowy Village also offers croissant taiyaki (in Japanese) or bungeoppang (in Korean) fish-shaped cakes with a sweet filling. The options for the filling are red bean, injeolmi redbean, custard cream, sweet potato and nutella. These are priced at $3.50 each or 3 for $10.
What I Tried
My family and I visited Snowy Village on an early Saturday afternoon. Most of the dining tables inside were occupied but there were no lineups. We tried the following:
Mango bingsoo (regular-size) ($8)
Croissant taiyaki (Custard cream, injeolmi red bean, sweet potato) ($3 for $10)
Prior to ordering the the mango bingsoo, the staff person gave me a sample of mango to taste as the mango wasn't very sweet. I thought the business was respectful of customers by advising them this prior to ordering. They were using mangos from Mexico; perhaps they could consider using mangos from say, Australia, like Doolami does during off-season and charge extra for it. Nevertheless, I ordered it despite it not being at the optimal sweetness.
At Snowy Village, they use milk shaved iced in the bingsoo rather than regular ice at other places like Icy Bar. The result is a very refined texture which is just subtly sweet. The heap of mango toppings did not disappoint in terms of portions.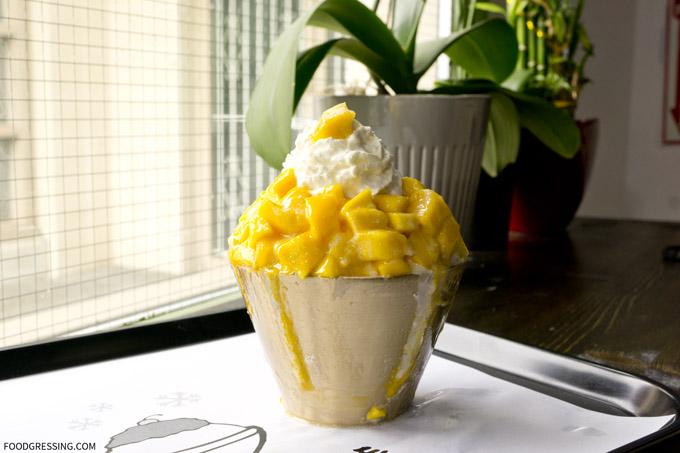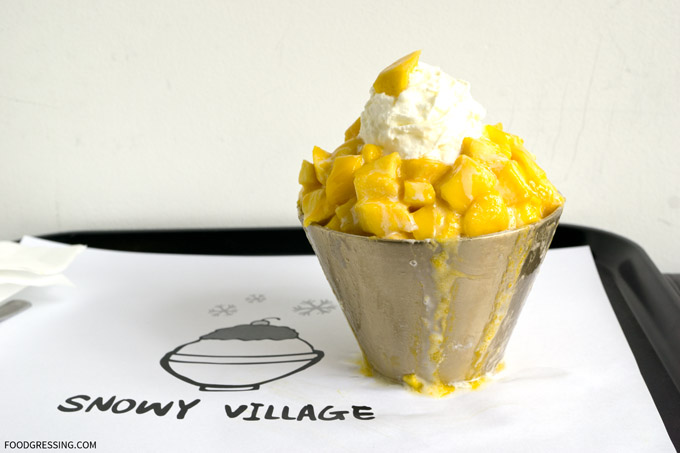 While I came to Snowy Village for the bingsoo, the taiyaki really stole the show. These fish-shaped cakes had a very greasy but crispy and very addictive exterior. When I bit into it, there was a very audible crackling sound. It was love at first bite.
We tried three fillings: sweet potato, injelomi red bean, and custard cream. The sweet potato filling was just a tad boring for me (it's just sweet potato afterall), but I really loved the silky smooth custard one. The injelomi red bean filling – a mix of glutinous rice cake and red beans – was pretty good.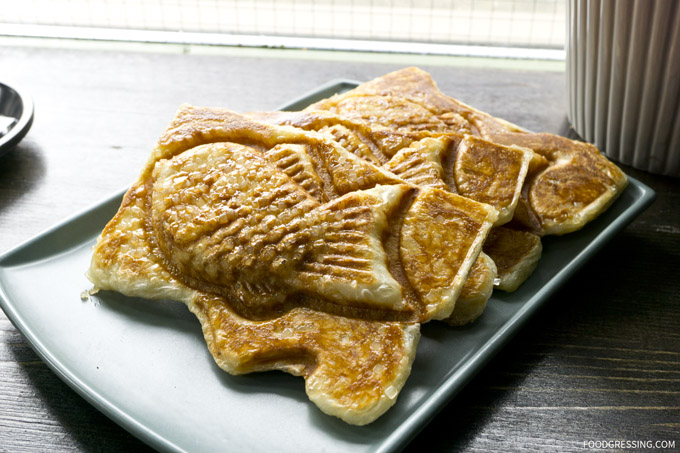 Overall Impression of Snowy Village
Now with summer on us, I am definitely in the mood for more bingsoo at Snowy Village. The bingsoo was good but seriously get the taiyaki. Those little crispy fish-shaped filled pastries have a special place in my heart. Rating: 3.5/5
For more on mango desserts that I have tried, follow the tag mango or see the Vancity Buzz article on Top Mango Desserts in Vancouver.
Facebook: @snowyvillagevan