Looking for ways to celebrate Christmas in Banff this year? This post covers Christmas Banff 2021 including where to go for Christmas dinner in Banff, where to get turkey to go as well as features for brunch, lunch and takeout by local restaurants and businesses.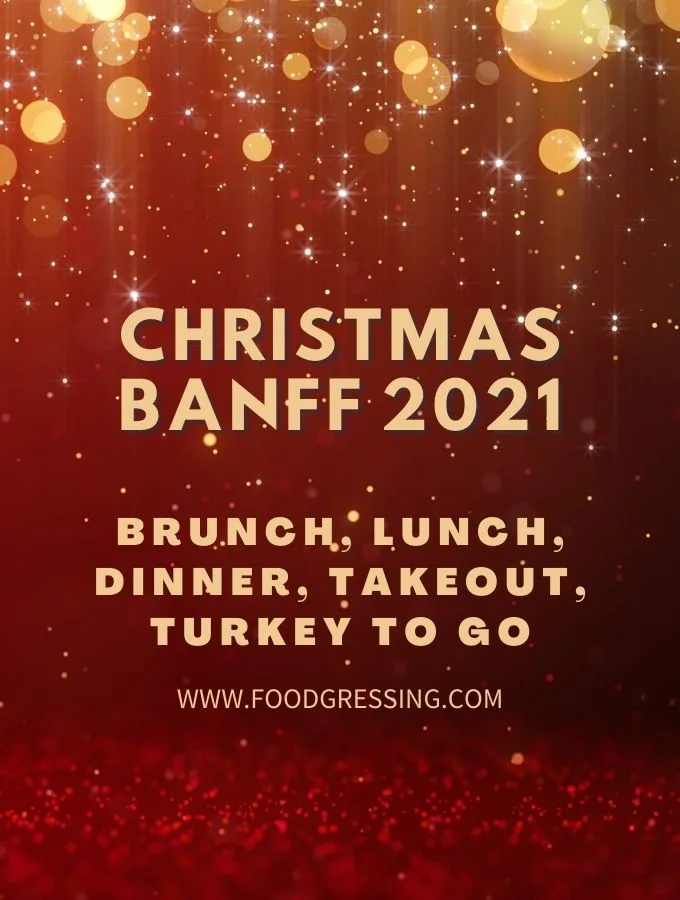 Christmas Eve this year is Friday, December 24, 2021. Christmas Day is Saturday, December 25, 2021.
Christmas celebrations can take on different forms from traditional, fusion to modern.
Please use this list as an inspiration for ideas on how to put together your own Christmas celebration.
This list is updated as information becomes available.
Please reach out to me [email protected] or @foodgressing on social media if you are a restaurant that wants to be featured. Provide all the details of your holiday offering in your message.
This list is not exhaustive. If your favorite restaurant is not on the list, contact them to see what they are offering.
Please double check with the restaurant as to what they are offering as plans/menus/hours might change.
Christmas in Banff 2021
Fairmont Banff Springs
Fairmont Banff Springs is offering the following Christmas programming:
Festive Afternoon Tea is happening daily starting November 19. The Castle takes England's most beloved ritual to festive heights. With breathtaking views, enjoy a holiday-themed Afternoon Tea and a glass of bubbly. A live pianist will also be playing during this timeless experience. Located in the Riverview Lounge | Adult $78 / Child $38.
The Thirsty Reindeer is offering perfectly crafted cocktails while you marvel at the over-the-top Christmas décor daily from December 17 to January 2. Located in the Ramsay Bar + Lower Gatehouse | 4:00 pm – 11:00 pm.
Bountiful Buffets at The Vermillion Room.
Festive Sunday Brunch for Adult at $75 and Children at $35.
Christmas Eve Dinner for Adult at $110 and Child at $55.
Christmas Day Brunch for Adults at $95 and Children at $55.
Christmas Dinner for Adults at $125 and Children at $55.
Dinner in Santa's Dining Room features a five-course family style dinner served in Santa's exclusive suite at the Fairmont Banff Springs, available December 14 – 31. 6 to 12 guests | $2,600.
Christmas Dinner To-Go features a prime rib dinner or classic turkey dinner, complete with delicious sides and dessert on December 17-January 2. Please note, orders must be placed a minimum of five days in advance.
Prime Rib $600 or Turkey $475 plus GST.Serves 8 people
Choice of Entrée:
Ocean Salt & Herb Roast Prime Rib of Prime Graded Alberta Beef with Rosemary-Garlic Jus & Horseradish Cream
~
Roast Organic Turkey with Country Pan Gravy & Cranberry Sauce
Alberta Grains Salad with Roasted Butternut Squash, Brussels Sprouts, Dried Cherries, Hazelnuts, Chinook Honey-Orange Dressing, Cheesy Scalloped Potatoes, BC Apple and Rosemary Sourdough Bread Stuffing, Green Bean and Mushroom Casserole with Crispy Onions, Roasted Winter Root Vegetables with Maple-Thyme Glaze
Loaf Banff Spring Sourdough Bread & European Style Butter
Choice of Dessert:
Bourbon Pecan Pie with Cinnamon Whipped Cream
~
Apple Bread Pudding with Eggnog Crème Anglaise
~
Upgrade to a Christmas Yule Log +$20
360 Dome Experience Fairmont Banff Springs from December 17 – 31.
With panoramic views of the Castle and surrounding mountains, the fully private 360° Dome is the perfect place to reconnect with loved ones this holiday season.
The following experiences can be reserved for up to 6 guests inside the dome:
DIY Christmas Dinner Banff 2021 Ideas
Holiday entertaining tips
Here are some tips on holiday entertaining including charcuterie board tips, how to cook the perfect turkey like a Chef, and virtual holiday party ideas.
Wine Suggestions
Here are some wine suggestions for Christmas dinner 2021:
Christmas Gift Ideas 2021
Check out my post for some Christmas Gift Ideas 2021 for the important people in your life.
Captions about Family
Looking for captions about family for your social media post? Check out my post on 105+ creative and original captions for family pictures.