Looking for ways to celebrate Christmas in Edmonton this year? This post covers Christmas Edmonton 2021 including where to go for Christmas dinner in Edmonton, where to get turkey to go as well as features for brunch, lunch and takeout by local restaurants and businesses.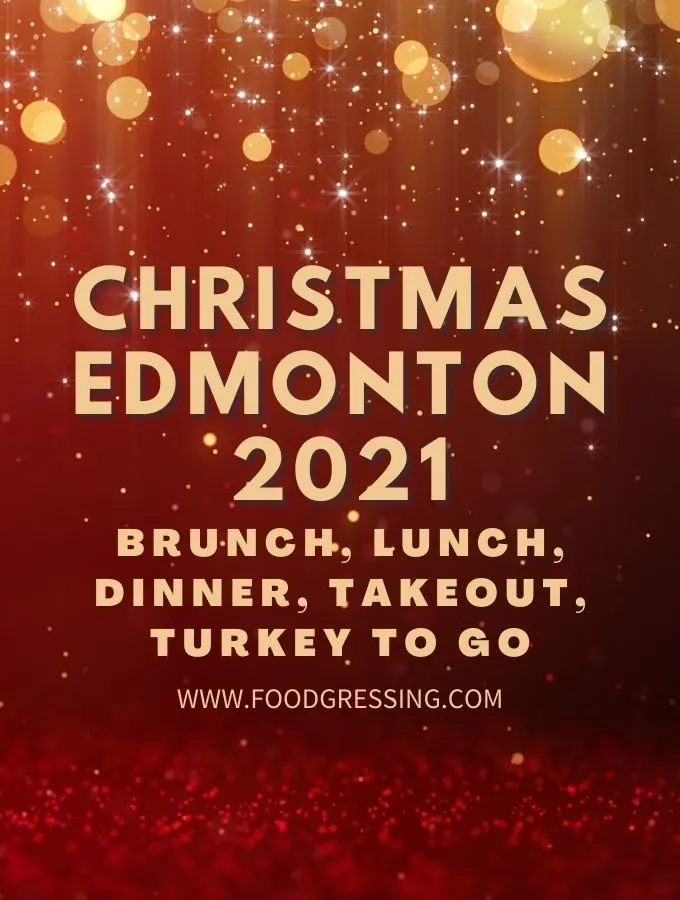 Christmas Eve this year is Friday, December 24, 2021. Christmas Day is Saturday, December 25, 2021.
Christmas celebrations can take on different forms from traditional, fusion to modern.
Please use this list as an inspiration for ideas on how to put together your own Christmas celebration.
Please reach out to me [email protected] or @foodgressing on social media if you are a restaurant that wants to be featured. Provide all the details of your holiday offering in your message. For faster processing, please provide an excerpt in paragraph form in a similar format to the restaurants featured below.
Christmas Edmonton 2021
The Harvest Room at Fairmont Hotel Macdonald
Fairmont Hotel Macdonald is offering the following Christmas Eve and Christmas Day dine-in experiences.
Christmas Eve Dinner
Enjoy live entertainment while savouring the creations of our award-winning culinary team with a specially-crafted 6-course Table d'Hôte menu. Executive Chef Jiju Paul presents a progressive twist on an authentically local menu curated with the finest cuts of Alberta beef, sustainably sourced wild game and Ocean Wise seafood.
Friday, December 24 with seatings 5:00 pm onward. Priced at $159 per person.
Christmas Day Dinner
Spend the most magical day of the year delighted by a decadent 7-course Table d'Hôte menu crafted by our award-winning culinary team, alongside live entertainment. Priced at $199 per person.
Saturday, December 25. 1st Seating Time: 4:00 pm; 2nd Seating Time: 7:30 pm.
Christmas Brunch
Sunday, December 25 & 26. Seating Times 9:30 am, 10:00 am, 11:30 am, 12:00 pm. Adult $99, Senior $89, Children 6 – 12 $49.50.
Christmas Day Dinner Buffet
Saturday, December 25. Seating Times 4:00 pm, 7:00 pm. Adult $149, Senior $139, Children 6 – 12 $74.50.
Turkey ($550) and Prime Rib to go ($600)
Serves 8 people. Pick-up and delivery options available. Orders must be placed 7 days prior by calling the hotel directly at 780 429 6495. For orders during the festive season (November 15 – January 5) ask for the festive desk. Full prepayment required at time of booking, no cancellation.
Festive Sunday Brunch
Enjoy an extravagant brunch buffet featuring made-to-order omelettes, specialty crepes, savoury carving stations, a deluxe seafood selection, and so much more throughout the holiday season.
Adults $89, Seniors $79, Children 6 – 12 years old $44.50.
Sundays: November 14, 21, 28 & December 5, 12, 19. Open Seating Between 10:30 am – 12:30 pm.
Nutcracker Afternoon Tea
Indulge in a selection of the finest Lot 35 loose leaf teas to keep you warm over the holiday season. Enjoy handcrafted sandwiches and delicate, freshly-baked pastries, including their signature MAC Honey Scones. Priced at $65 per person.
Weekend Tea seating at 2:30pm from November 13, 2021 – January 2, 2022. Please note there is no Afternoon Tea on December 25.
Festive Lunch Buffet
Monday to Friday from December 1 – 30, 2021 (closed December 24). Seatings from 11:30 am – 2:00 pm. No à la carte menu available. Priced at $42 per person.
Dickens Lunch
English-style lunch buffet served in the intimate comfort of their estate library-style Confederation Lounge; boasting a warm and charming atmosphere, with stunning floor-to-ceiling windows. Priced at $49 per person.
Thursday & Friday, December 9 – 10, December 16 – 17. Confederation Lounge – seatings from 11:00 am – 12:00 pm.
Fantasy Land Hotel
Fantasy Land Hotel is offering Christmas Dinner Feast to Go:
Full Turkey Dinner (10 kg Turkey) – $399 + Tax
Turkey & Gravy – $179 + Tax
Pick up dates are December 23rd & 24th at 12 p.m. or 5 p.m. and December 25th at 1 p.m.
Order must be placed by December 20th.
They are also offering a special 4-course Christmas Dinner on December 24th and December 25th from 5:30 pm – 10 pm. This menu is also available for take-out. Priced at $59 per person (turkey or salmon) or $66 per person (beef).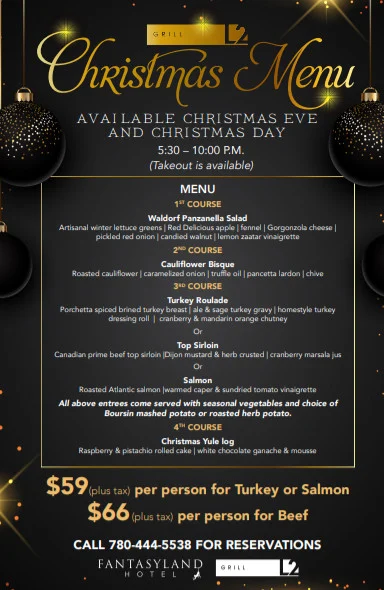 The Butternut Tree
The Butternut Tree has the following offerings:
Christmas High Tea
Includes a tiered selection of baked, sweet, & savoury items along with Canadian herbal tea for a price of $65 per person. Reservations for December 19 from 11 am – 2:45 pm.
Christmas Dinner To-Go
Chef Downey and his team have created special menu offerings for curb side pick on December 24th to be enjoyed over the Christmas holidays.
Curb Side Pick up times are Friday, December 24th from 9:00am to 1:00pm
Cut off order date for Christmas Turkey Roulade for Two is end of the day Sunday, December 12th.
Christmas Turkey Roulade for Two ($140) with wild mushroom and sage stuffing. Accompanied by mashed potatoes, brown sugar-bourbon Sweet potatoes, roast cauliflower with brassica and cheddar, gravy and cranberry sauce.
Highlands Golf Club
Highlands Golf Club has the following Christmas offerings for pickup on December 24 and 25 between 11 am – 5 pm.
The menu features 24 hour brined turkey, apple & sage stuffing, turkey gravy, maple thyme roasted root vegetables, herb garlic mashed potatoes, bourbon citrus cranberry, festive salad and an assorted Christmas goodie platter includes: candy cane cheesecake, dark chocolate hazelnut mousse & a festive yule log.
$180 package serves 4 – 5 people plus 10% gratuity and 5% GST. Individual package is $47 plus 10% gratuity and 5% GST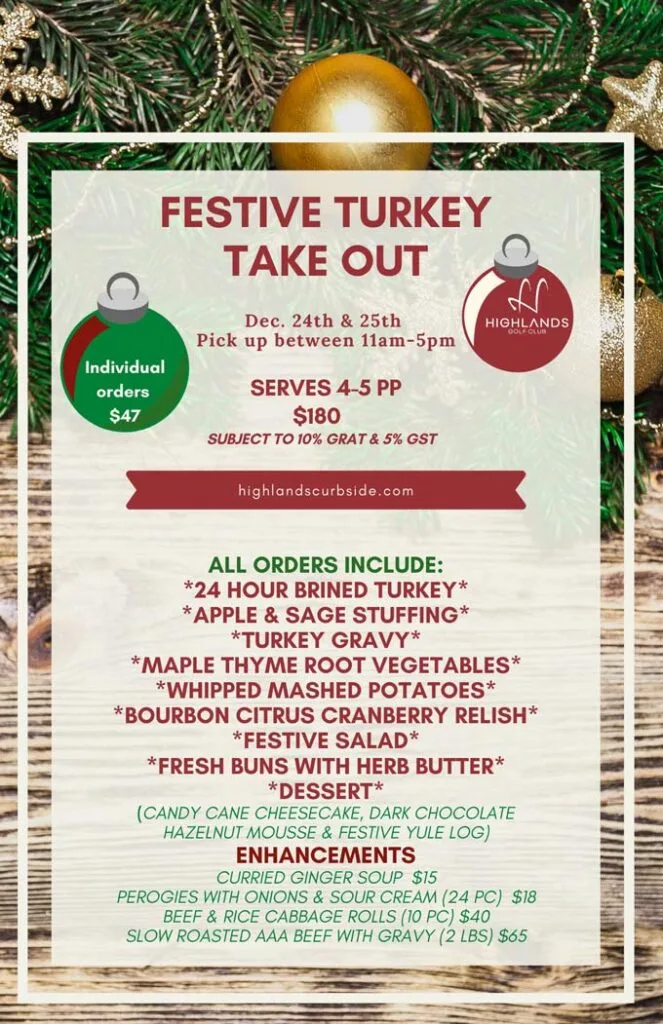 White Spot
Starting December 13, while supplies last, Turkey Dinner is back at White Spot – with two ways to enjoy.
Choose from either ready-to-eat Traditional Turkey Dinner available for dine-in, takeout & delivery from December 13 – January 2 OR preorder Heat & Serve Dinner for Two starting December 13 by: (1) calling your local White Spot, or (2) placing your order online by selecting your location and preferred pickup day (Dec 23, 24 or 26).
Find out more here.
More Edmonton Restaurants Open on Christmas Eve & Taking Reservations
Edmonton Restaurants Open on Christmas Day
More Edmonton Restaurants Open on Christmas Day & Taking Reservations
DIY Christmas Dinner Edmonton 2021 Ideas
Holiday entertaining tips
Here are some tips on holiday entertaining including charcuterie board tips, how to cook the perfect turkey like a Chef, and virtual holiday party ideas.
Wine Suggestions
Here are some wine suggestions for Thanksgiving dinner Chicago 2021:
Christmas Gift Ideas 2021
Check out my post for some Christmas Gift Ideas 2021 for the important people in your life.
If you're looking to buy some gift cards for foodie loved ones or yourself this holiday season, you might want to take advantage of some restaurant gift card deals.
Captions about Family
Looking for captions about family for your social media post? Check out my post on 105+ creative and original captions for family pictures.