Here's a look at things to do for New Year's Eve Edmonton 2021 and where to go for New Year's Day Brunch Edmonton 2022.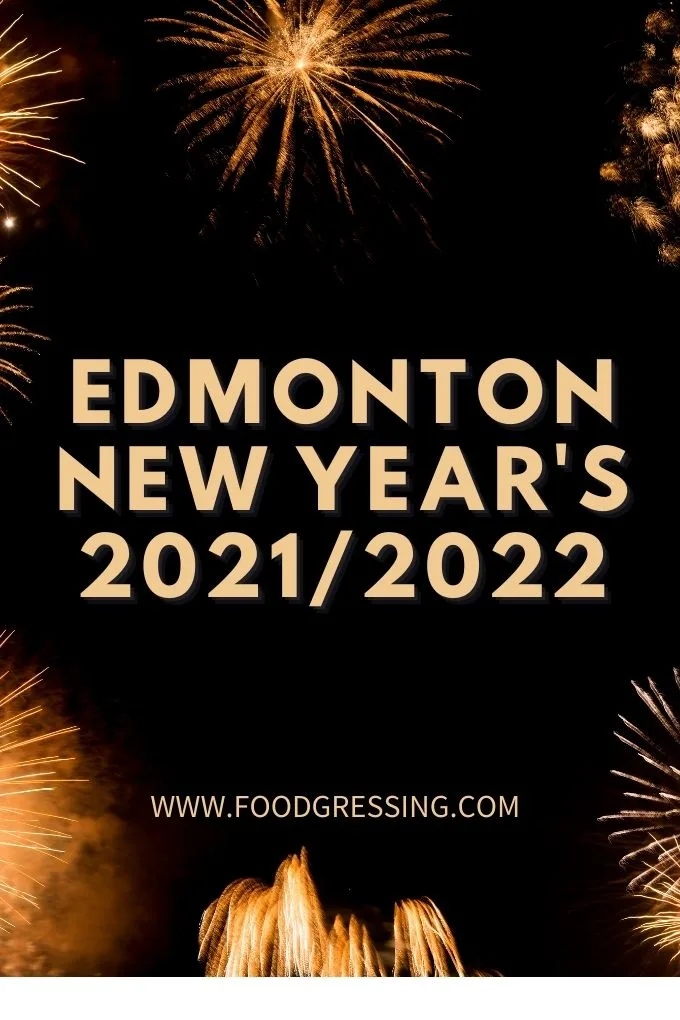 New Year's Eve 2021 is Friday, December 31.
New Year's Day 2022 is Saturday, January 1.
Please use this list as an inspiration for ideas on how to put together your own New Year's Eve and Day celebration.
This list is updated as information becomes available. Please reach out to me [email protected] or @foodgressing on social media for any suggestions.
New Year's Eve Edmonton 2021 and New Year's Day Edmonton 2022
The Harvest Room at Fairmont Hotel Macdonald
Fairmont Hotel Macdonald is offering a 7 course Table d'Hôte New Year's Eve dinner with your choice of entrée only. No à la carte menu available. Credit card required for reservation.
Priced at $175 per person. Takes place Friday, December 31: 1st Seating Time: 5:00 pm, 2nd Seating Time: 8:30 pm.
They are also offering a New Year's Day Brunch on Saturday January 1, 2022.
Adults $99, Seniors $89, Children 6 – 12 years old $49.50.
Seating Times: 11:00 am, 11:30 am, 1:00 pm and 1:30 pm.
The Butternut Tree
The Butternut Tree is offering New Years Eve To-Go. Cut off order date for New Years Eve dinner to go is end of the day Sunday, December 19th.
Chef Downey and his team have created special menu offerings for curb side pick on December 31st to be enjoy while ringing in the new year.
Curb Side Pick up times are Friday, December 31st from 11:00am to 1:00pm.
Options include:
Alberta Beef Wellington for Two: Alberta Beef tenderloin encased in a mushroom duxelle, prosciutto and puff pastry. Accompanied by roast fingerling potatoes, seasonal vegetables, beef jus, and endive Salad with walnut, blue cheese, & cranberries. Contains: gluten, dairy, nuts, pork
Lyon style stuffed Squash for Two: Prairie Garden Squash filled with wild mushrooms, sourdough stuffing, herbs, cranberries. Accompanied by a endive salad with walnut, blue cheese, & cranberries.
Fantasy Land Hotel
Visit L2 Grill on December 31st for Chef Rodney Khoo's New Year's Eve Menu! Please call 780-444-5583 for reservations; seating's available between 5:30-10 p.m. This menu is also available for take-out.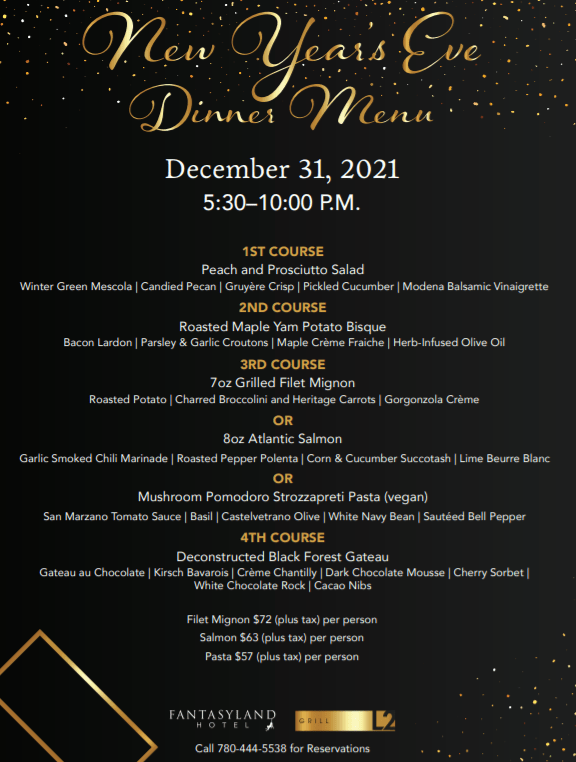 DIY New Year's Eve Edmonton 2021 Celebration Ideas
Holiday entertaining tips
Here are some tips on holiday entertaining including charcuterie board tips, and virtual holiday party ideas.
Here are some wine and cocktail suggestions for New Year's Eve Edmonton 2021: