My latest bubble tea adventure takes me to Fraser and 41st area where I tried a rather new bubble tea shop. Opened at the end of April of this year, Boba Monster is the new bubble tea shop on the block joining fellow bubble tea shops L&G Bubble Tea House and Green Leaf Bubble Tea. I had seen some social media posts on Boba Monster this past summer and became interested in trying out their bubble tea varieties.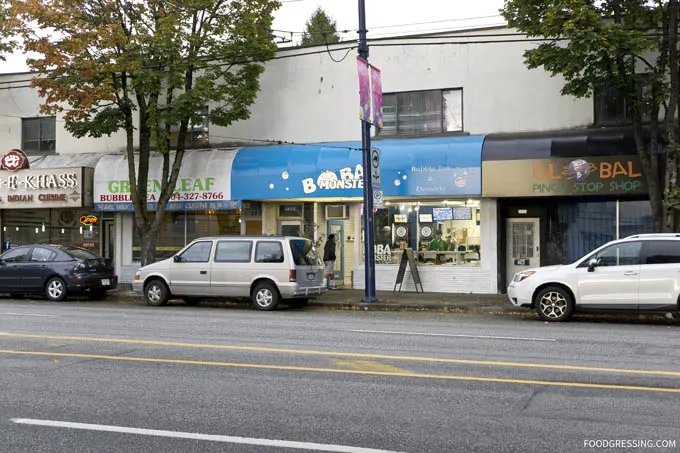 Board and Video Games
Opened by a pair of twenty-something year old bubble tea lovers (which I learned on my visit), Boba Monster's branding definitely has a youthful and energetic feel. And when is the last time you heard the term "boba" used in Metro Vancouver? Very American so that stood out in my mind.
Boba Monster's interior is bright and airy and customers can enjoy some classic board or video games. They have some of the newer call of duty games too which is totally awesome. I've had to promise my friends I won't spend 45 minutes choosing from the Warzone skins next time! God, I must be a pain to play with sometimes. There are two arcade-style cabinet dart machines are placed along the back wall or you can immerse yourself in an afternoon of Jenga, Monopoly, Gone Fishin' and more.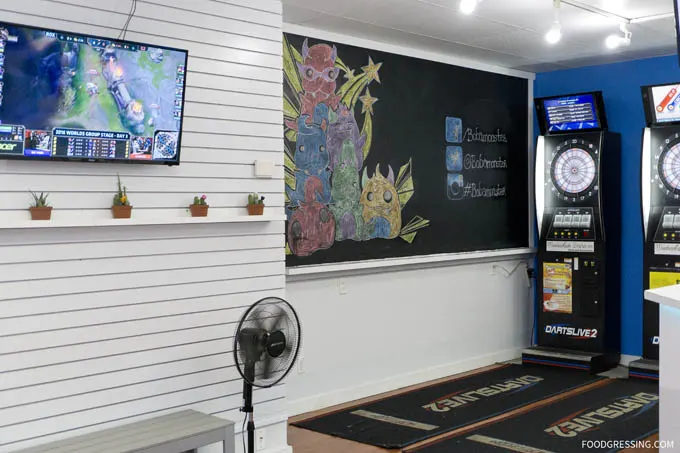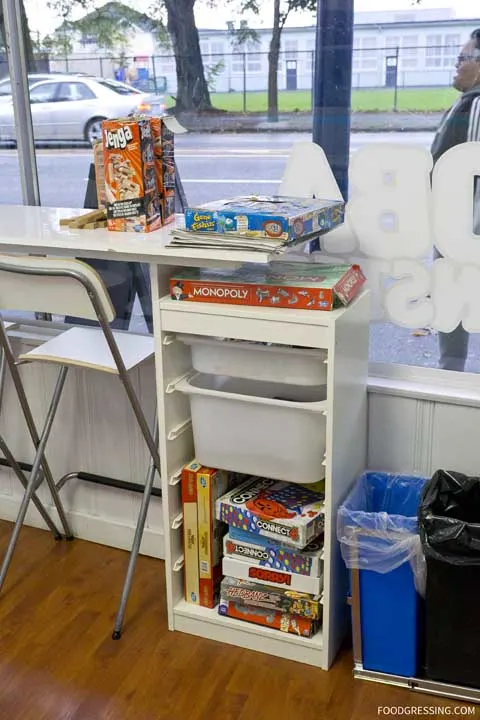 Boba Monster Menu
Boba Monster has 8 signature drinks ranging $5 – $6 and include a classic milk tea, wild lychee, pina colada and more.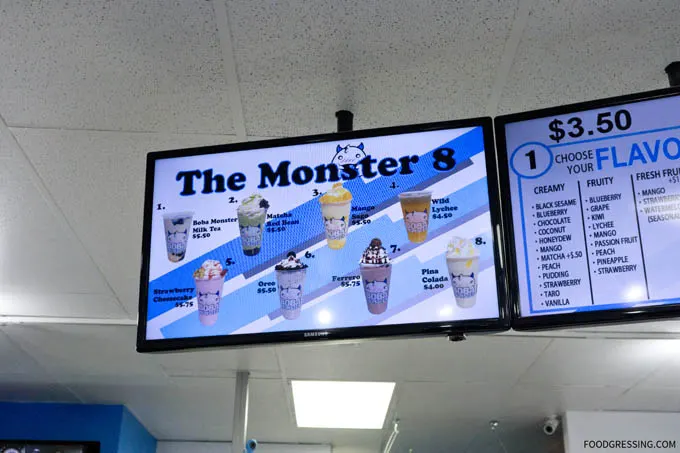 You can also customize your drink by choosing your flavour (creamy, fruity, fresh fruit, and ice cream), base, style and topping.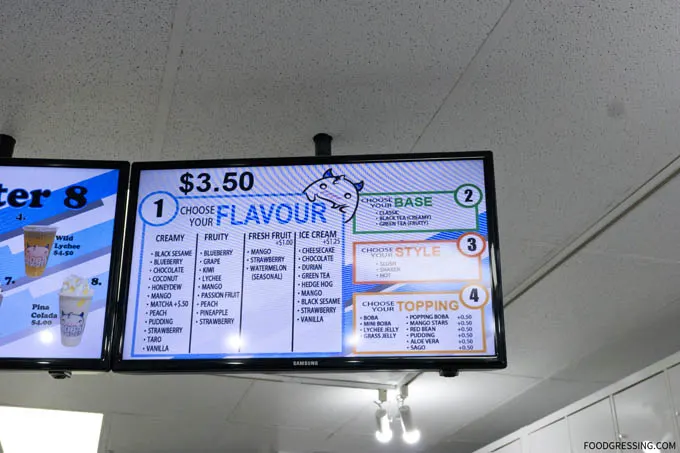 What We Tried
My family and I came here for some pre-dinner drinks and decided on a trio of their signature beverages: Mango Sago ($5.50), Oreo ($5.50) and Matcha Red Bean ($5.50). I also added boba (or tapicocal pearls) to all the drinks for an extra $0.50 per drink. Based on other reviews I read, I went for 1/2 sweetness.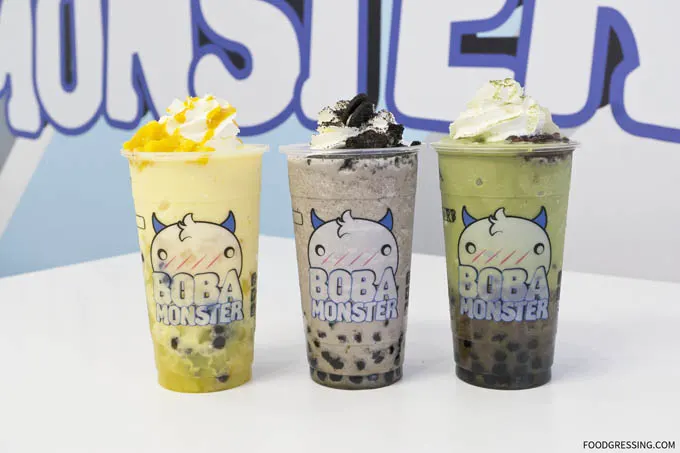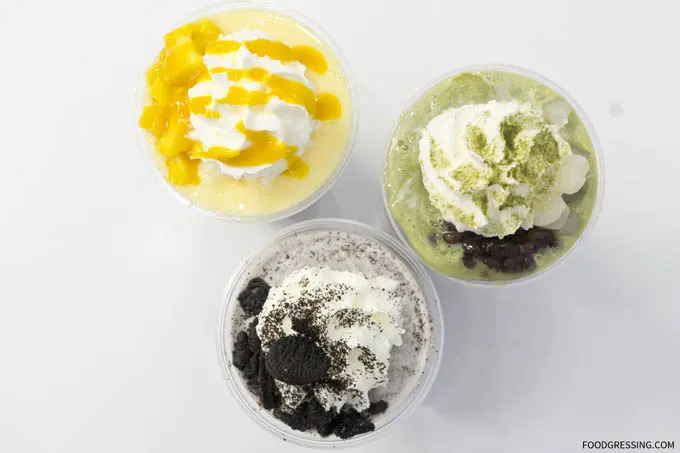 To start, I will have to say that these drinks were pretty sweet even though we went for 1/2 sweetness. I would personally recommend asking for even less sweetness. The tapioca pearls were on point – smooth, slightly soft on the outside and chewy to the center.
Of the three drinks, I enjoyed the Oreo the most. Nice and creamy with the appropriate amount of sweetness. Love the crumbled Oreo for some fun textural contrast.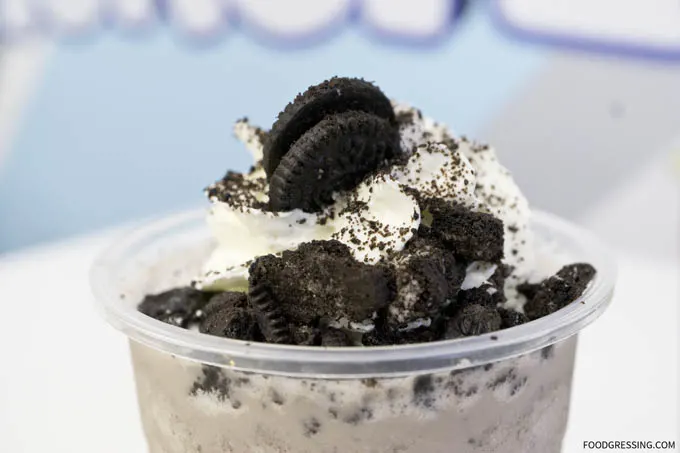 The matcha and red bean drink was more or less average. I did think that the mochi and matcha powder on top was a nice touch.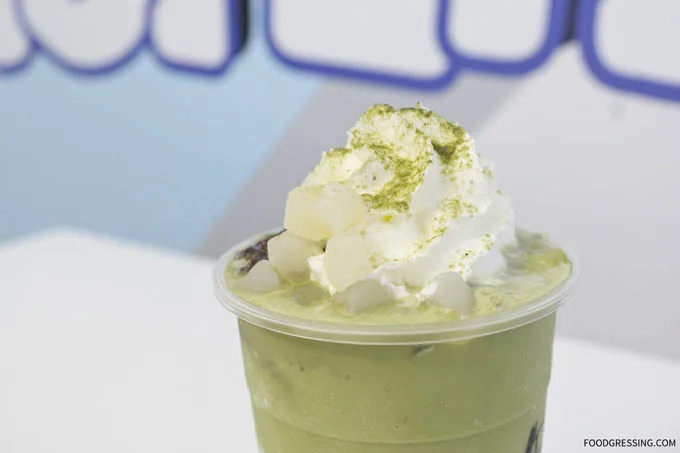 The mango sago was okay although I would prefer the mango tea from Bubble Queen more. Boba Monster's mango sago was more like a mango slush and it tasted more artificial than the one from Bubble Queen which uses real mangos (an option that the have).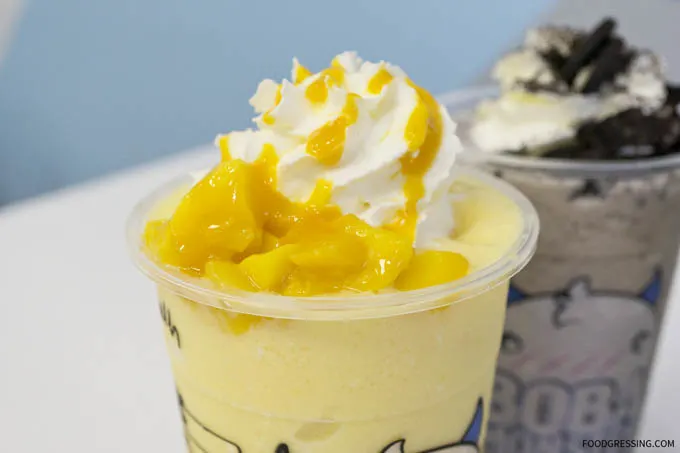 The star-shaped jelly was cute in terms of presentation.
Overall Impression
I enjoyed the fun and vibrant space at Boba Monster. Great, friendly staff. I do think that they should tone down the sugar levels because our drinks were pretty sweet despite having 1/2 sweetness. Rating: 3.5/5
Website: www.facebook.com/BobaMonster