There's a new reason to head to Marine Gateway to satisfy your sweet tooth craving. Originating from Taiwan, ZenQ is an international dessert chain that specializes in Taiwanese desserts and they opened their second Metro Vancouver location at 95 SW Marine Drive. The other location in operation is in Port Coquitlam and upcoming restaurants are planned for Richmond and Burnaby. At ZenQ, you'll find a range of sweet offerings ranging from their signature collagen-riched grass jelly series to glutinous rice desserts and shaved ice series. I recently visited ZenQ ahead of their official Grand Opening. Here's a look at what you can expect from this new dessert stop.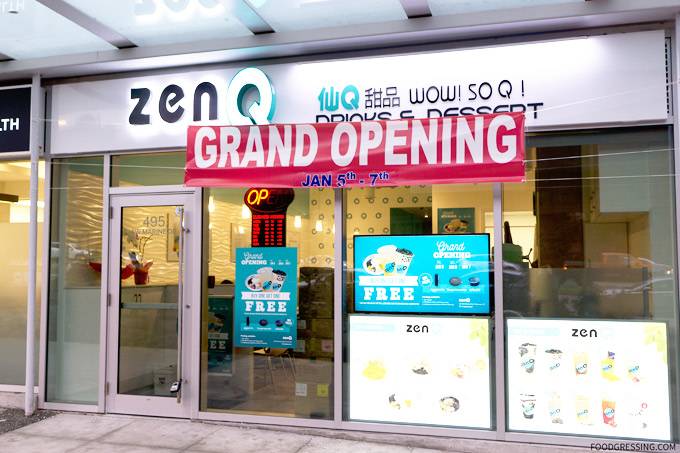 Disclosure: I was invited to a media tasting. All food and drinks were complimentary. Opinions are my own.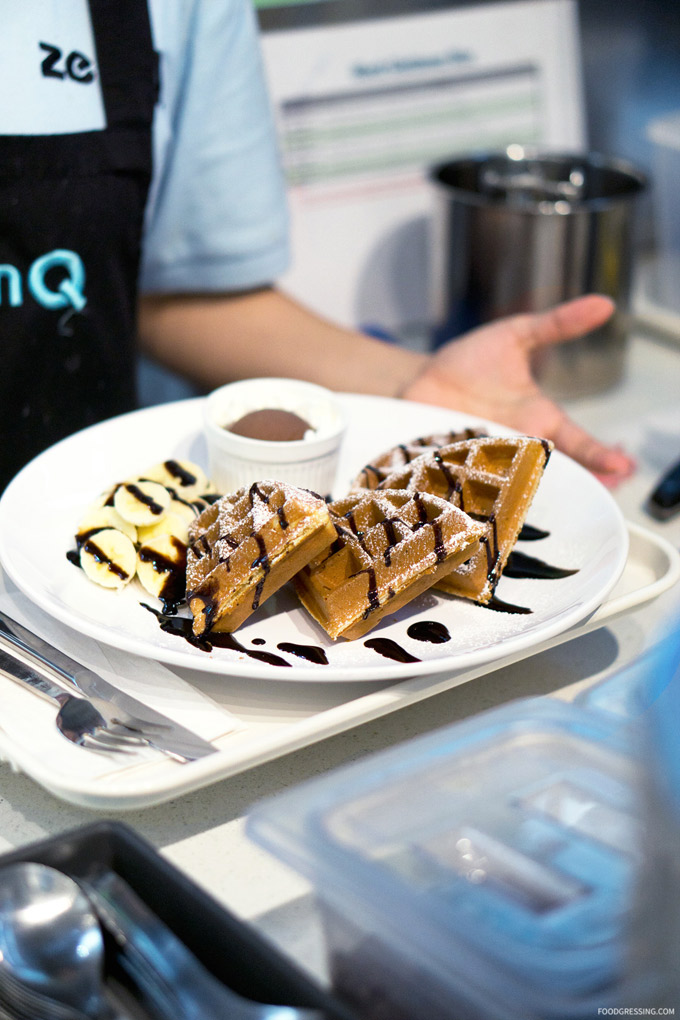 Modern & Shiny
The interior of the new ZenQ location is modern, shiny and clean with a few dining tables. The setup is good for grab-and-go and small group while the space would be less accommodating for larger groups.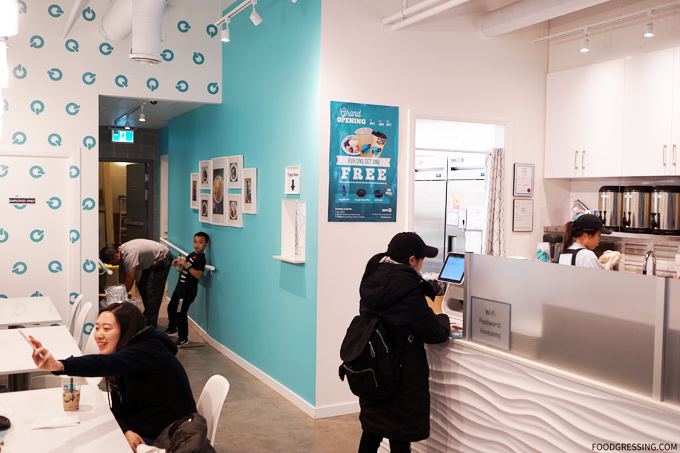 ZenQ Menu
On the menu at ZenQ are a variety of Taiwanese-style drinks and desserts. Drink series include ZenQ Tea Time Collection (like Original Milk Tea and Wintermelon Tea); Handmade Tea (like Jasmine, Black and Blue Mountain Green); and Special Drinks (like Grass Jelly Latte and Mango Refresher). For desserts, there are Tofu Puddings, Grass Jellys, Creamy Frappes, Royal Sweet Soups, Black Glutinous Rice, Hot Grass Jelly and Waffles. Additional toppings are available at an extra charge.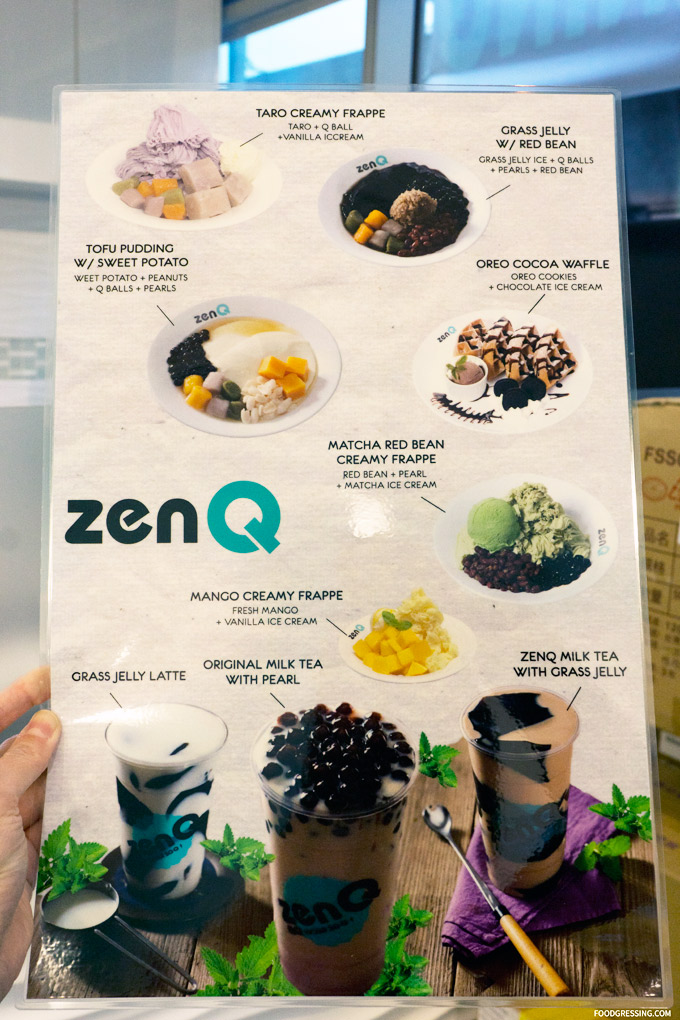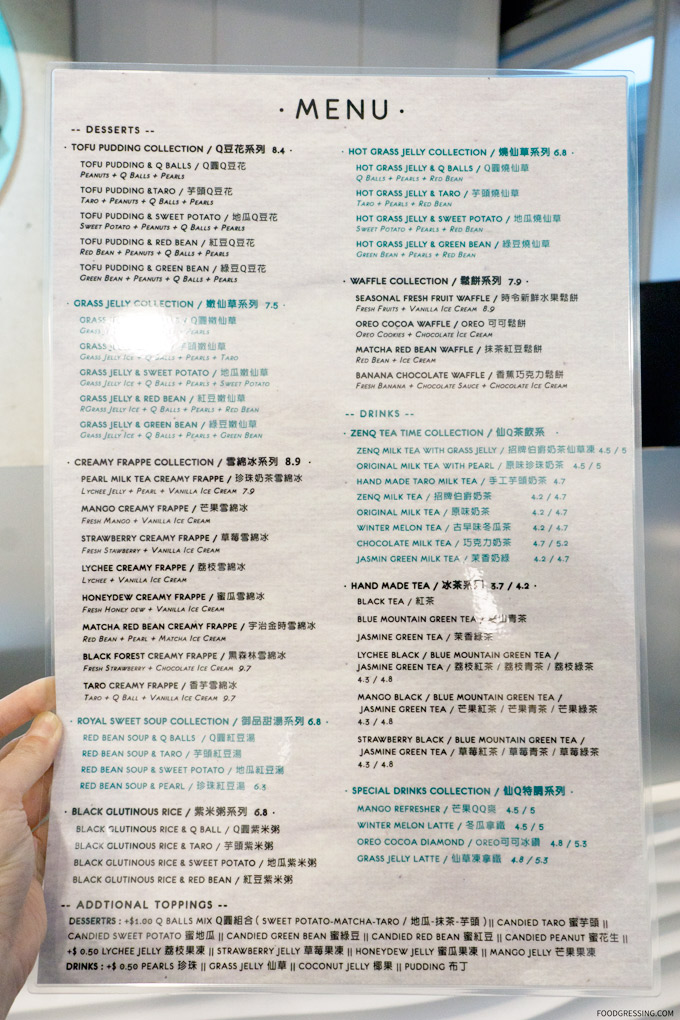 What I Tried
Drinks
ZenQ is Chatime's sister brand so you can expect similar flavour and quality for drinks. I tried three of their drinks: the ZenQ Milk Tea with Grass Jelly ($5.00), Original Milk Tea with Pearl ($5), and Oreo Cocoa Diamond ($5.30). For milk teas, the strength of the tea flavour and the texture of the jellys/pearls were on point. The grass jelly was soft yet firm and slightly sweetened. The pearls were soft and smooth on the outside but gradually more chewy towards the centre. The Oreo Cocoa Diamond was a chocolaty-slushy type of drink that was interesting the first couple of sips but perhaps too indulgent to finish in one sitting.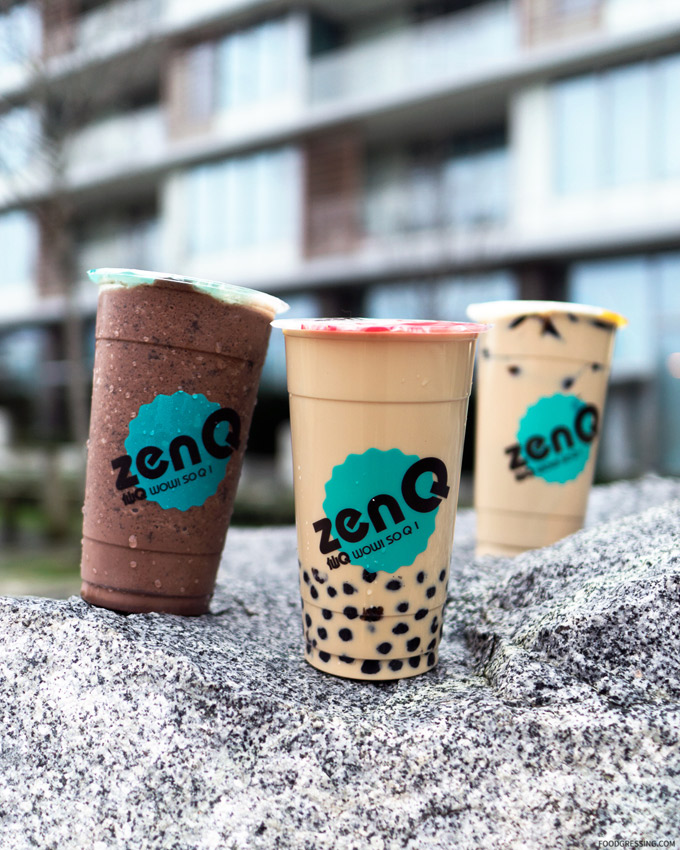 Desserts
Waffles are made-to-order at ZenQ and I tried their Matcha Red bean Waffle ($7.90). The waffles were perfectly crispy on the outside, light and tender on the inside and were topped with a sprinkle of icing sugar. The red beans came in a ramekin and were slightly sweetened. The green tea flavour for the dessert came from the ice cream while the waffle was plain.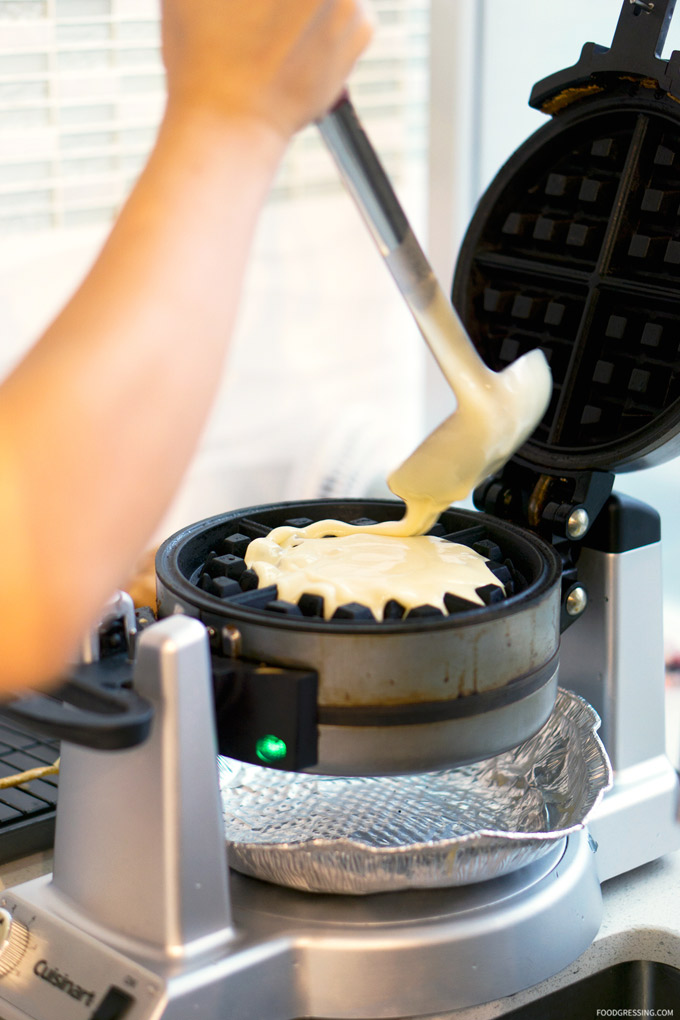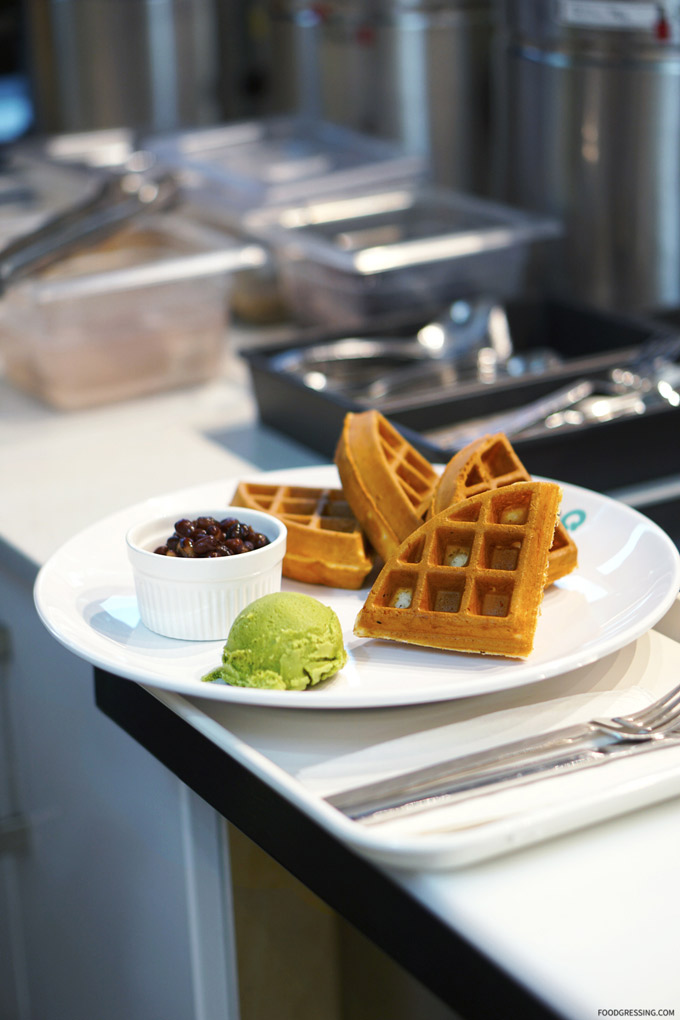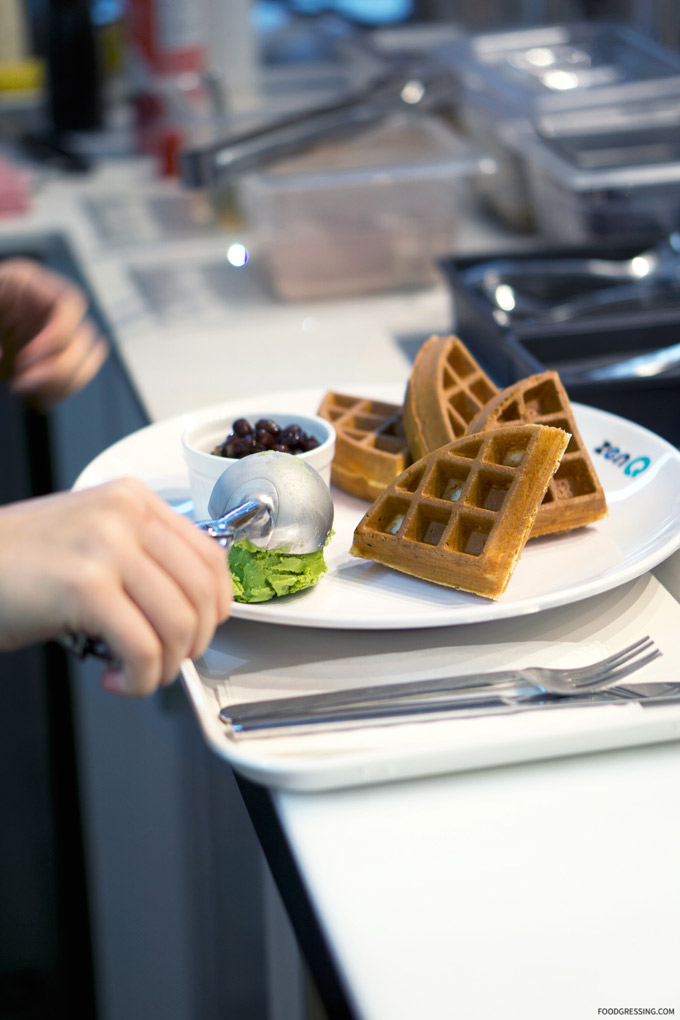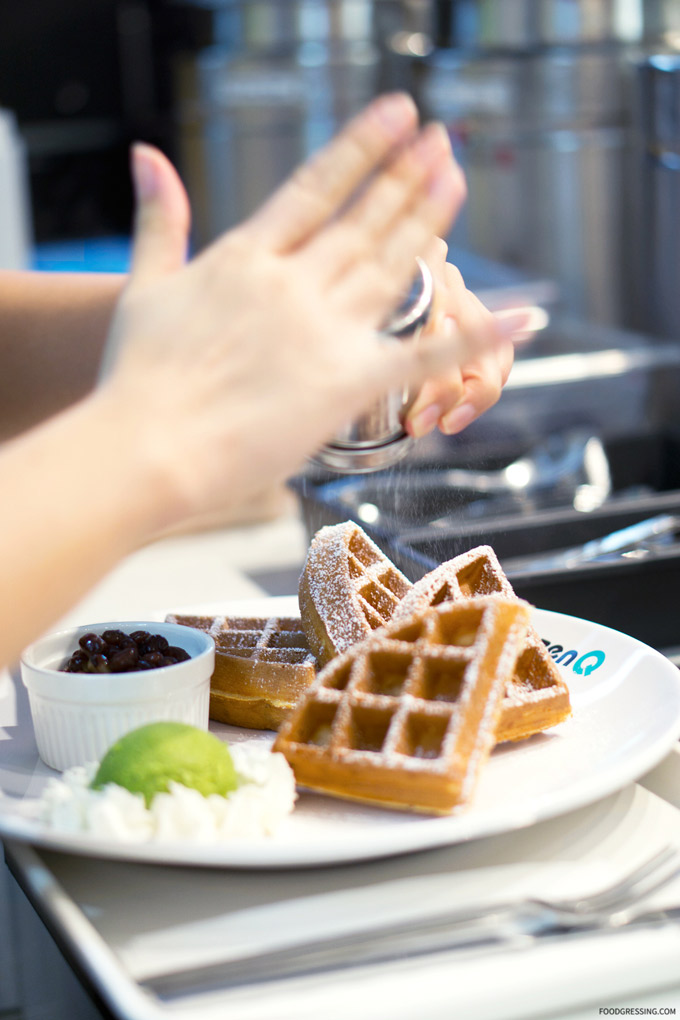 For a soft and smooth dessert, there was also the Tofu Pudding with sweet potato, peanuts, Q balls and pearls ($8.40). The quality of the ingredients were pretty good starting with the tofu pudding being silky; the peanuts being crunchy; the Q balls and pearls being chewy but soft on the inside; and the sweet potato being soft and sweet. Check out the video on how they put this dish together.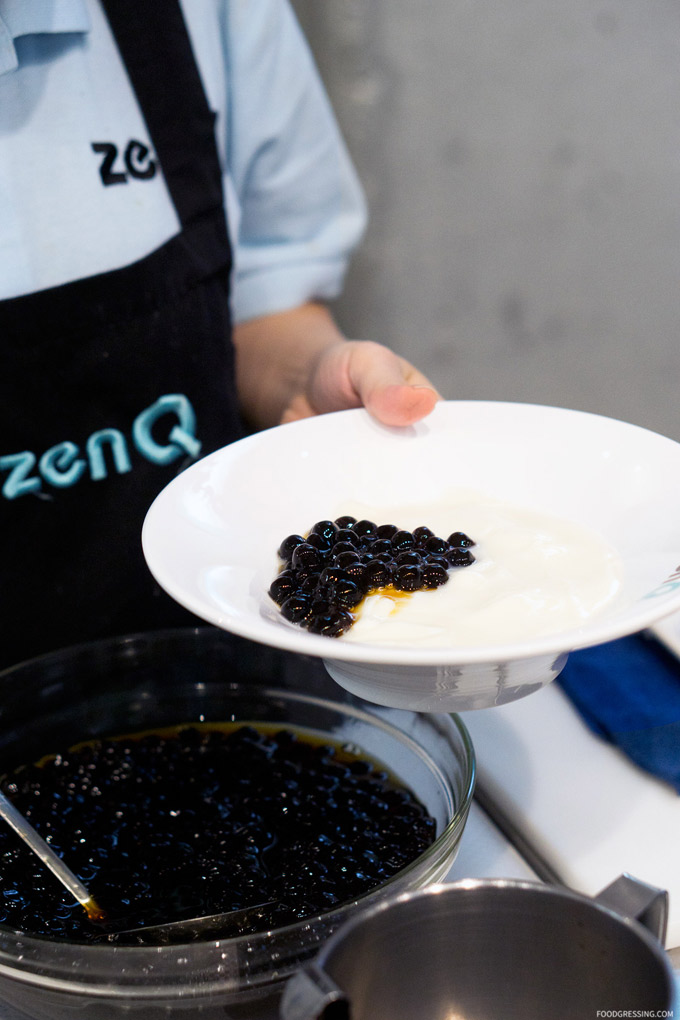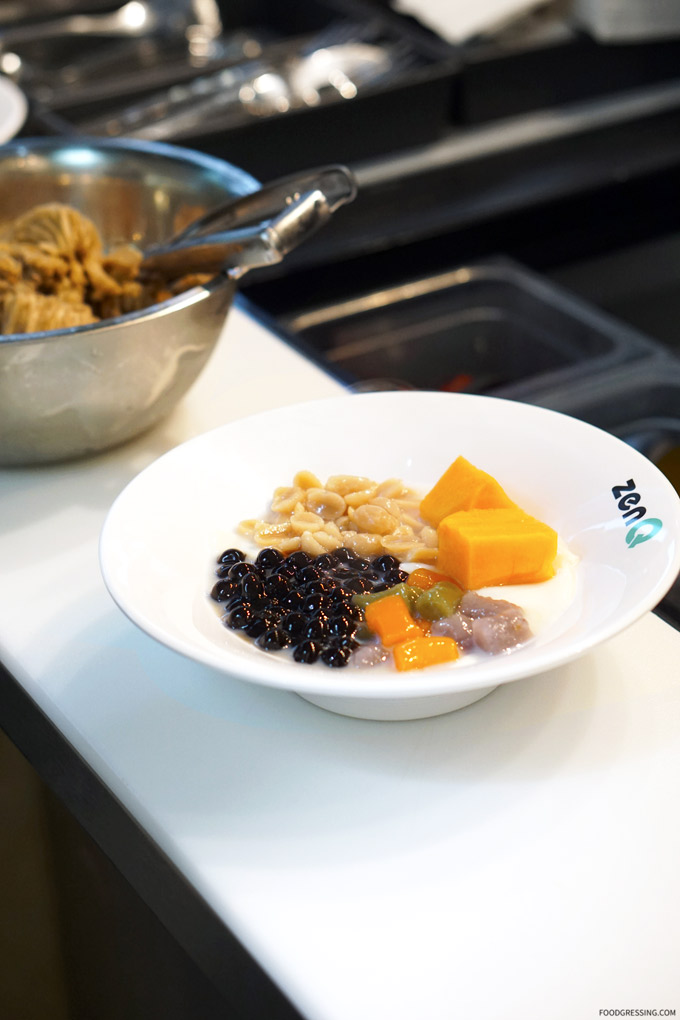 One of the desserts that was recommended to me was the Taro Creamy Frappe with Q balls and vanilla ice cream ($9.70). The shaved ice had quite a prominent taro flavour which was impressive. Below is a video of how the dessert is assembled.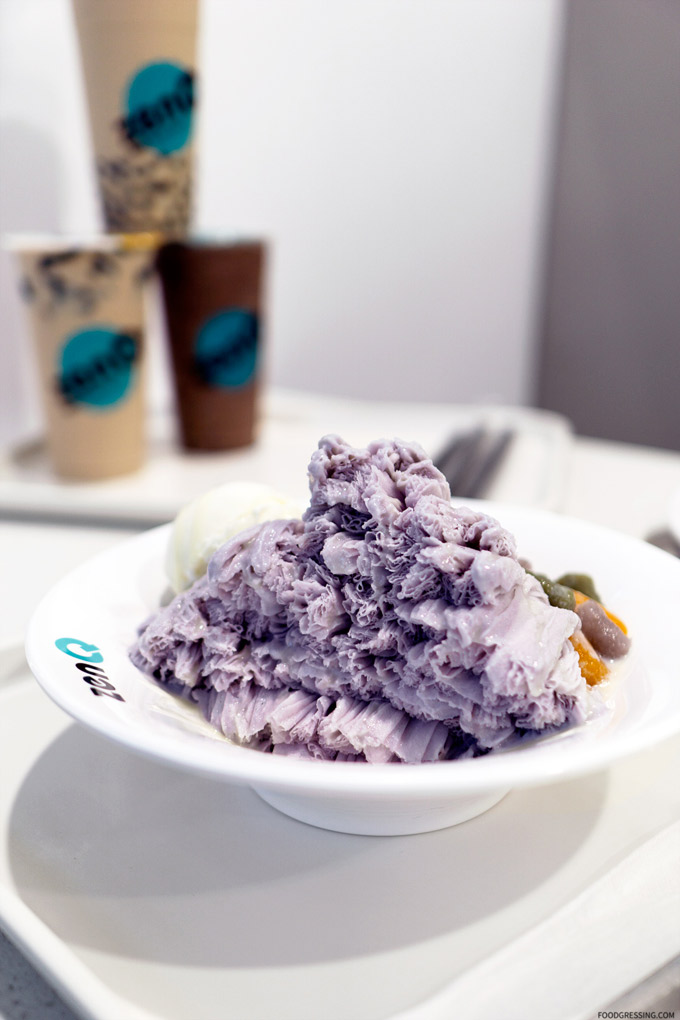 Overall Impression of ZenQ Marine Drive

In general, I enjoyed the desserts and drinks that I tried at ZenQ Marine Drive. I found more appreciation for them after I watched them be assembled by staff. The desserts were nicely satisfying without being too indulging as they were not too sweet. The staff seemed to pay a lot of attention to how they put together the desserts so they might take a bit of time for your order. My favourite was the Taro Creamy Frappe but I would order all three desserts that I tried again. As for drinks, the milk teas were conservative but solid choices. Rating: 4/5
ZenQ Marine Drive
Address: 495 SW Marine Dr, Vancouver, BC
Website: ‎http://zenqbc.com/