If you're looking for a coastal vacation in 2018, then you just might consider St. Augustine in Florida. Founded in 1565 by Spanish explorer Pedro Menéndez de Avilés, St. Augustine is considered by many as the United State's oldest city. Located on the Atlantic Ocean between Jacksonville and Daytona Beach, St. Augustine is a great place to visit year-round with historical charm, hundreds of family-friendly tourist attractions, miles of white, sandy beaches and an eclectic array of locally owned boutiques, farm-to-table restaurants, craft cocktail bars and plenty of live music. Want some ideas for the ideal vacation? Here are 13 Top Things to Do in St. Augustine during 2018.
1. Historic Attractions
With a colorful history dating back to 1565, St. Augustine has no shortage of historic attractions bringing fun for the entire family. Begin your journey at the Castillo de San Marcos, the oldest masonry fort in the continental United States, which is located on the western shore of Matanzas Bay and offers daily tours. There's also the St. Augustine Lighthouse & Maritime Museum, Oldest House, Oldest Wooden School House, Colonial Quarter, Tolomato Cemetery and the Old Drug Store to name just a few. Learn more here.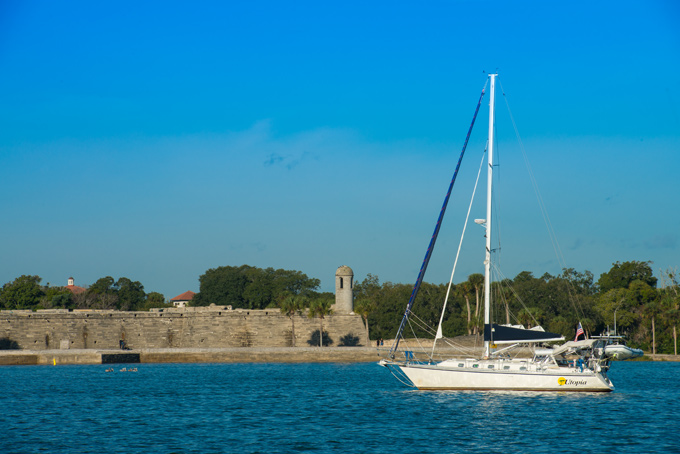 2. Craft Brews & Spirits
From pale ales and small-batch vodka to port-finished bourbon and coconut porter, St. Augustine's craft beer and distillery scene has been growing leaps and bounds over the past five years. Check out St. Augustine Distillery, housed in a renovated ice manufacturing plant from the turn-of-the-century, for artisanal vodka, gin, rum and bourbon. If beer is more your thing, spend time at the half-dozen or so craft breweries in town including Dog Rose Brewing Co., Ancient City Brewing, Bog Brewing Company and Old Coast Ales.
3. Celebrate Red, White and Blue
For more than two decades, St. Augustine has been putting on a spectacular fireworks display to celebrate the Fourth of July in style. With thousands of fireworks lighting up the night sky over the waters of Matanzas Bay, revelers line the streets to catch a glimpse of the city's famous historic bayfront lit up in red, white and blue. In 2018, the Oldest City's July 4th celebration falls on a Wednesday with festivities set for 6 pm to 10 pm at the Plaza de la Constitución and surrounding areas. From 6 pm to 8 pm, The All-Star Orchestra performs big band and swing music along with patriotic favorites for a free concert open to the public. Learn more here.
4. Historic Lodging
There is no shortage of beautiful inns, hotels and bed and breakfasts dotting the landscape of St. Augustine's downtown. Built in 1865, The Kenwood Inn on Marine Street is an ideal locale for your stay in the Nation's Oldest City. Individually decorated guest room's feature rich, hardwood floors, four-poster and antique beds for a mix of Old Florida elegance with a hint of the tropics.
5. Celebrity Friends
Have you ever dreamed of being in the same room as notable personalities like George Washington, Elvis and Annie Oakley? Lucky for you, Potter's Wax Museum, located on Orange Street in downtown St. Augustine, features more than 160 wax figures of famous and infamous people including actors, athletes and politicians. Touted as the first established wax museum in America, Potter's has been delighting visitors to the Oldest City for more than 50 years. The museum is open daily from 9 am to 6 pm and tickets are between $6 and $10.
6. Sightseeing Tours
With so much to see and do in St. Augustine, a hop-on, hop-off Old Town Trolley Sightseeing Tour is a great way to take in hundreds of sights for the entire family. This fun, fully narrated tour will take you to dozens of stops including the Old Jail, Colonial Quarter, St. George Street, Villa Zorayda Museum, Lightner Museum, San Sebastian Winery and other points of interest. You'll also get to see the Castillo de San Marcos Fort that guarded the city against foreign invaders, and is the oldest European fort of its kind still standing. Tickets are between $9 and $24 with children ages 6 and under riding free. Learn more here.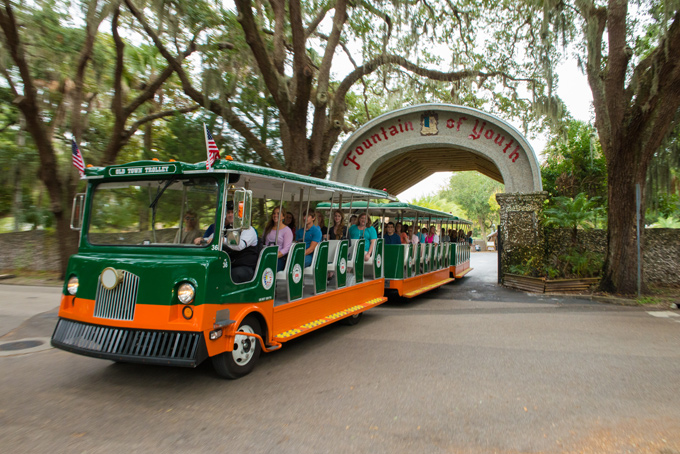 7. Head to the Movies
For the 8th year in a row, the Saint Augustine Film Festival (SAFF) will descend upon the Nation's Oldest City for a four-day, intimate film festival held January 18 through January 21. Movies will be held at various venues including Lewis Auditorium, Koger-Gamache Theater (located inside Flagler College's Ringhaver Student Center) and the Corazon Cinema and Café. According to the festival's website, this year's lineup will focus on foreign and independent films including movies such as Waiting For You, Serious Laundry and The Earth Is Flat.
8. Shop 'Til You Drop
St. Augustine boasts hundreds of small locally owned shops with one-of-a-kind items you won't be able to find at home. Dozens of art galleries dot the cityscape featuring local artists creating everything from glass wind chimes to metal art. Tour an artisan chocolate-maker or pick up a few cases of vino from the San Sebastian Winery, located on King Street, which has been producing award-winning Florida wines for decades. Learn more here.
9. Rest & Relaxation
Erected in 1888 and a member of the National Trust for Historic Preservation's Historic Hotels of America, the Casa Monica Resort & Spa is the perfect spot for rest and relaxation while taking in all that beautiful downtown St. Augustine has to offer. Located on Cordova Street across from Flagler College, Casa Monica blends Moroccan-inspired décor with modern conveniences and the brand new, full-service Poseidon Spa.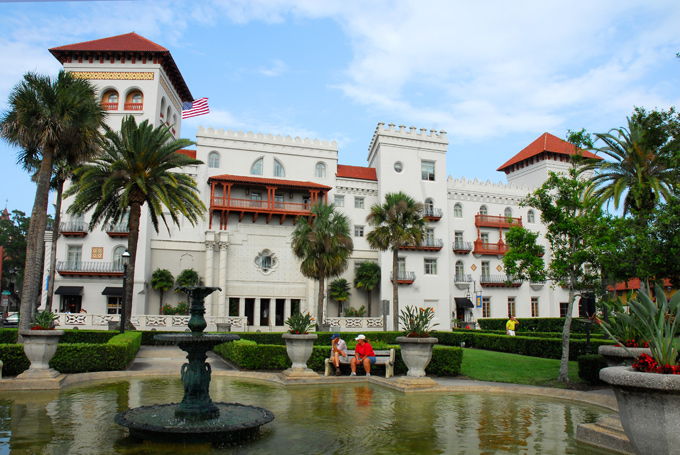 10. The Sound of Music
Quickly making a name for itself as a top music destination in the Southeast, you can find singer-songwriters, street buskers and nationally touring acts every night of the week in the Ancient City. Check out the St. Augustine Amphitheatre, a state-of-the-art performing arts venue that seats nearly 4,100 audience members and brings in big names like Jack Johnson, REO Speedwagon and My Morning Jacket. Smaller venues around town to be on the lookout for include The Original Café Eleven, Sarbez!, Odd Birds Bar, Shanghai Nobby's and Colonial Oak Music Park.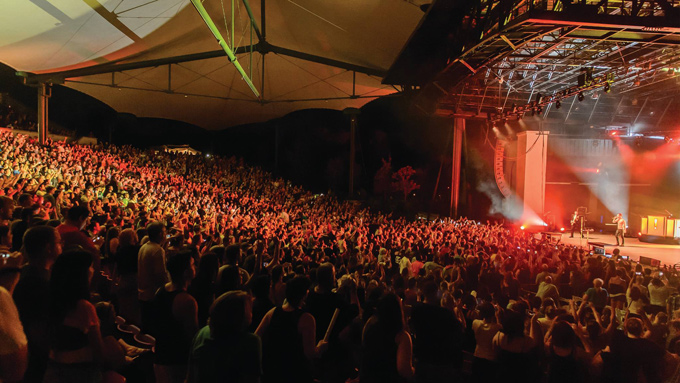 11. Live Music & Barbecue
Easily one of the most popular annual events in St. Augustine, Rhythm & Ribs Festival features award-winning barbecue, live music and family-friendly activities. The two-day festival will be held April 6 through April 8, 2018 at Francis Field. Chow down on wings, ribs and plenty of sides from Camp 31 BBQ out of Alabama, Carolina Rib King from Spartanburg, South Carolina and Desperado's BBQ based in Ohio. A full list of vendors and musical performers to be announced in the coming year.
12. Turn Back Time
With guest books dating back to 1868, Ponce de León's Fountain of Youth Archaeological Park is the oldest attraction in Florida. It's also chock-full of history. Located in the area first explored by Juan Ponce de León in 1513 and settled by Pedro Menéndez de Avilés in 1565, Fountain of Youth boasts 15 waterfront acres filled with lush gardens and nearly 30 beautiful peafowl that strut their stuff for visitors. But it's the Spring of Eternal Hope that's been flowing for centuries and said to hold the powers of eternal youth that you'll put at the top of your list. Take a sip, relax and sit back while you wait for the magic to happen. Tickets are $14.
13. Historic Churches
There are nearly a dozen beautiful houses of worship that have played a significant role in the Ancient City's history. Established by various denominations, check out the city's diverse religious heritage as you tour landmarks such as Memorial Presbyterian Church, a Venetian Renaissance-style church built by Henry Flagler in 1889 to honor the life of his late daughter, Jenny. There's also Grace United Methodist Church, also built by Flagler, and Cathedral Basilica of St. Augustine, the oldest Catholic house of worship in the city. Learn more here.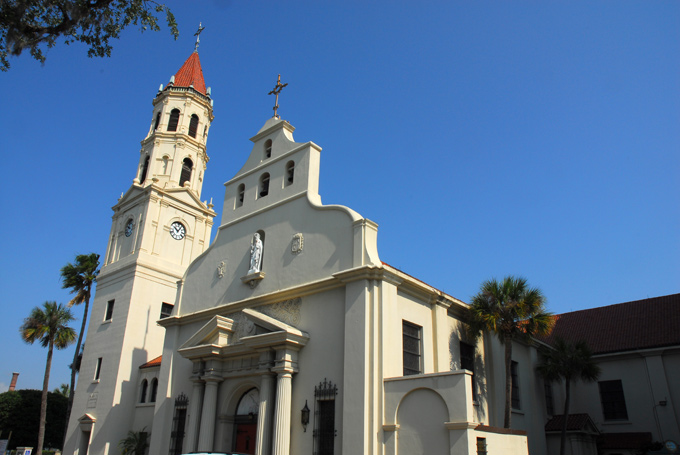 Other US Destinations to Visit in 2018: