Alexandra Road, also known as "Food Street," in Richmond seems to have an endless number of choices for Asian cuisine.  One longstanding restaurant in the area, Beijiang Restaurant, has been open since 2009 and specializes in Halal Xinjiang Ugyhur-style dishes.  Beijiang was formerly located at Venezia Place on Alexandra Road but moved to neighboring block Leslie Road about 6 months ago.  I was invited to a media tasting at Beijiang restaurant last week by way of Foodology.ca.  Here's a look at what the restaurant has to offer.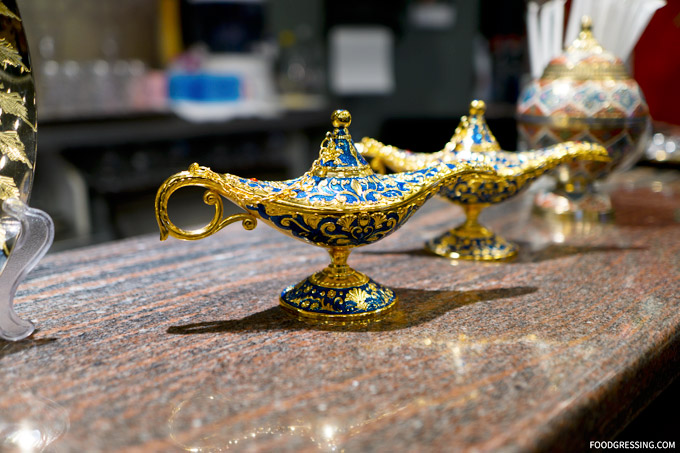 Disclosure:  All food and drinks in this review were complimentary.  Opinions are my own.
Uyghur Cuisine
For the uninitiated, Uyghur is pronounced "WEE-grr" and is the name of one of the 55 officially recognized ethnic minority groups on Chinese.  The population of Uyghur is around 10 million and most Uyghurs live in the Northwestern province of Xinjiang.  The Silk Road ran through Xinjiang as it borders Mongolia, Russia, Kazakhstan, Kyrgyzstan, Tajikistan, Afghanistan, Pakistan, and India.  While most are familiar with the majority Han Chinese culture, Uyghurs are Muslim and speak their own Turkic language, also called Uyghur.  Uyghur dishes have Middle Eastern and Central Asian influences and are meat-centric and can be oily.  Cumin is a favorite spice that is used in Ugyhur cusine.  Signature Ugyghur dishes are Dapanji (Chicken) and Cumin Lamb while rice pilaf and naan are common as well.
Beijiang Restaurant Background / Free Parking
The original owners of Beijiang Restaurant sold the place to Richard Li three years ago.  Li had a hospitality background from Ontario and had owned and operated a Japanese restaurant in California.  After moving to Vancouver to support his daugher's education at UBC, he took ownership of Beijiang Restaurant.  Diners who do not speak Chinese will have no problem at Beijiang Restaurant as he is fluent in English.  Furthemore, the chefs at Beijiang have expertise in making hand-pulled noodles, BBQ skewers and naan bread.
As many people who have ventured to Alexandra Road would know, finding parking is difficult.  One of the appeals of Beijiang's new location is complimentary on-site parking.
Dark Green & Gold
The interior of Beijiang Restaurant is decorated using colors common to Uyghur culture: dark green and gold.   The dessert mural, overhanging lights and oil lamps also add to the decor.  The restaurant is spacious with a variety of round dining tables.  A private VIP room with karaoke is also available for parties and events.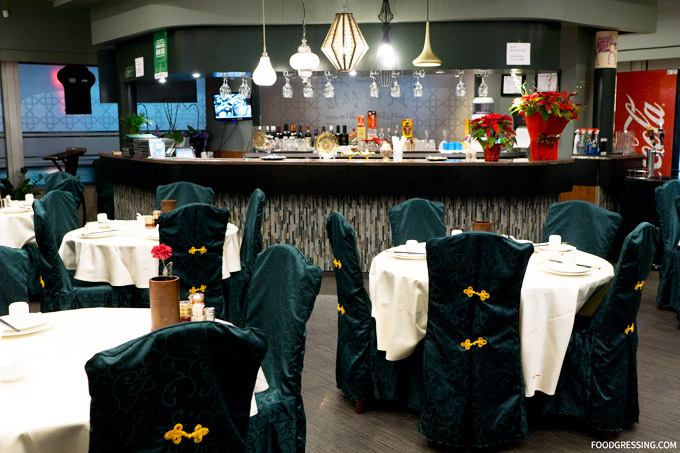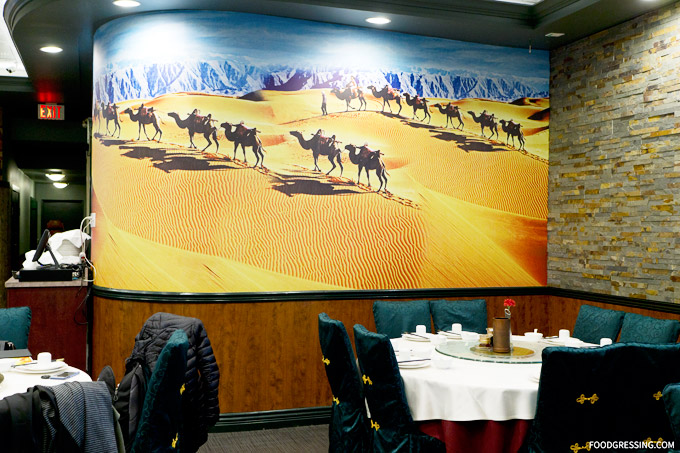 What We Tried
Dapangji
The first dish of our tasting was Dapangji, one of the most common dishes of Xinjiang cuisine.  Dapangji emerged as popular dish in the midmid-to-late 1990s.  It is said to have been invented in by a migrant from Sichuan who mixed hot chili peppers with chicken and potatoes to mimic the spicy Sichuan taste.  The dish was served on a big plate at roadside restaurants along the Xinjiang highways as a quick fix for hungry truck drivers who often arrived at odd ours.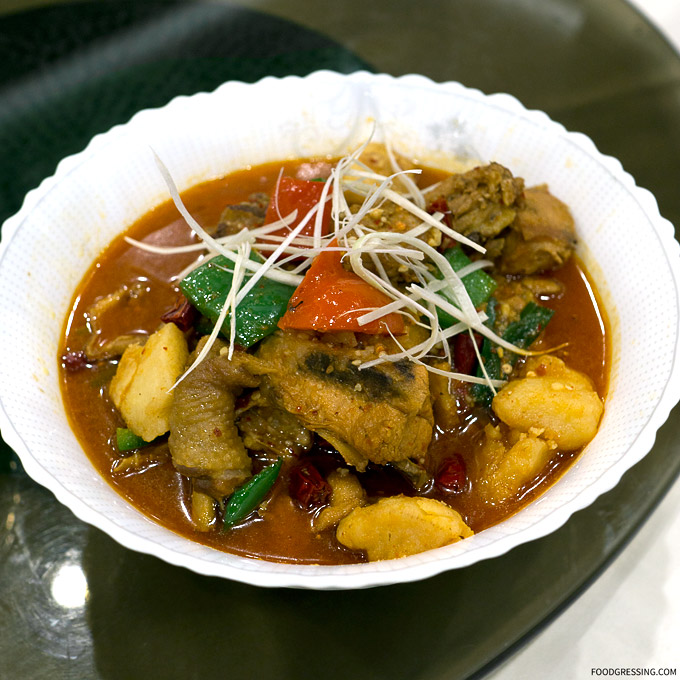 Beijang's version of Dapangji was rich, hearty in flavour, and had a nice spicy kick though not fiery hot.  I loved the tender braised chicken cubes and the hand-pulled housemade noodles.  At Beijiang Restaurant, you can get this in different sizes: large ($31.90), medium ($26.90) and small ($22.90).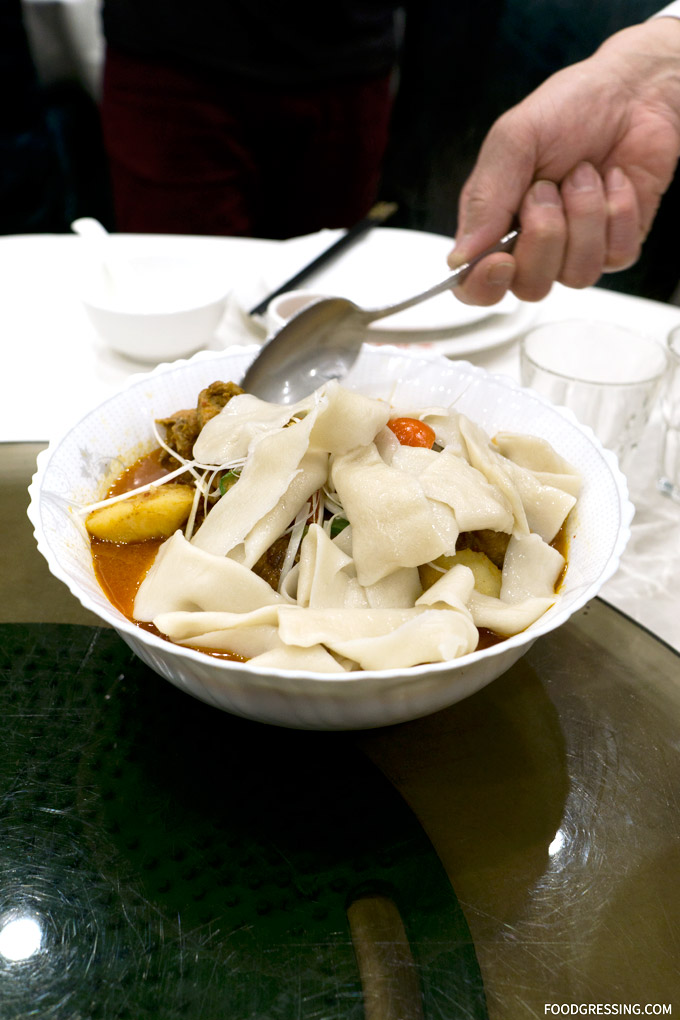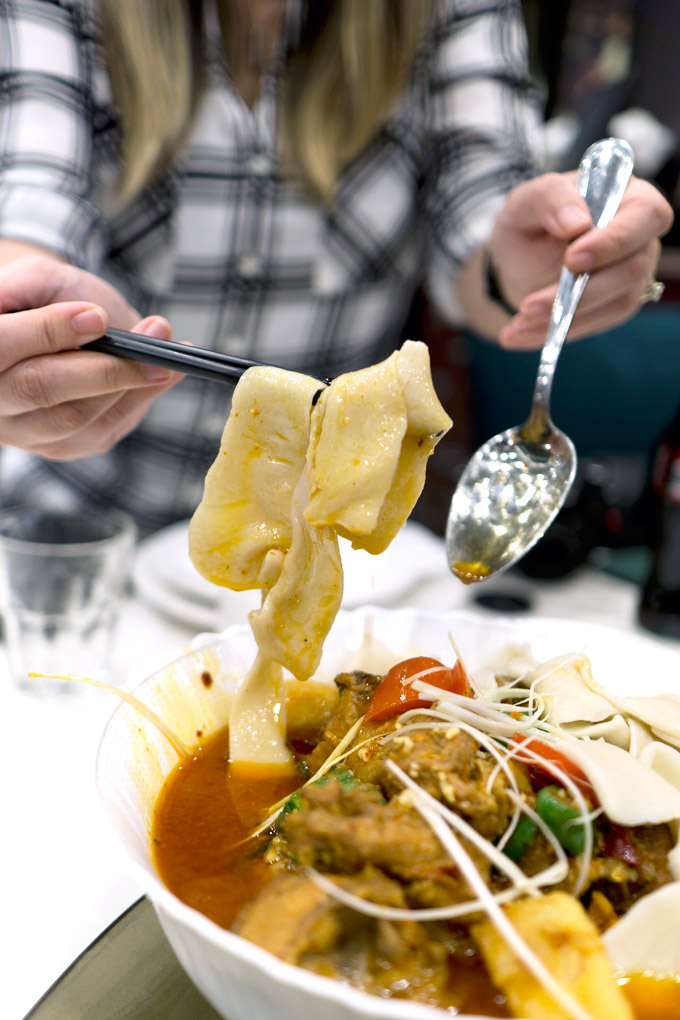 Lauan Twigs Lamb Kabobs
No visit to a Xinjiang restaurant would be complete without enjoying some lamb skewers.  The ones at Beijiang Restaurant are presented using Lauan twigs – that is, a type of wood species from South East Asia.  Priced at $3.75 each, these lamb kabobs had a very nice meaty flavour and were seasoned with cumin.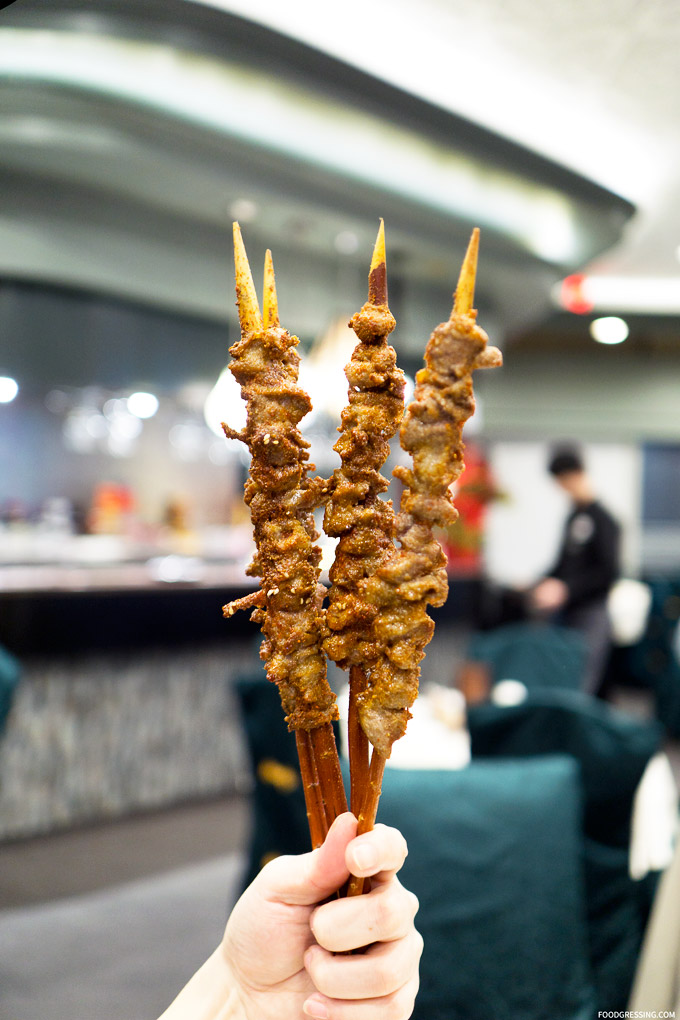 Lamb Bone Pot
The Lamb Bone Pot was another hearty dish that is great for communal sharing.  Diners can order a small ($33.99) or large ($45.99).   Watch the video below to see the meat fall off the bone oh-so-easily!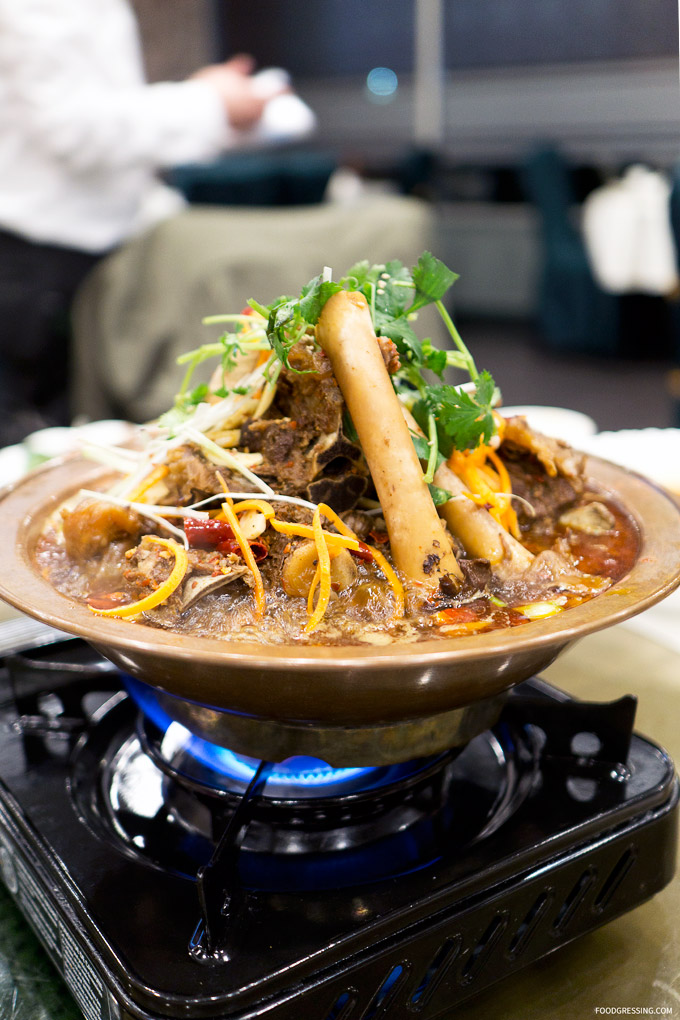 Hand-pulled, housemade noodles in raw dough form are added to the Lamb Bone Pot.  The noodles are cooked for 10 minutes in order to infuse the flavours of the broth.   The length of the noodles is impressive as the goal is to have just "one noodle" to fill the entire plate.  The longer the unbroken noodle, the more talented the chef!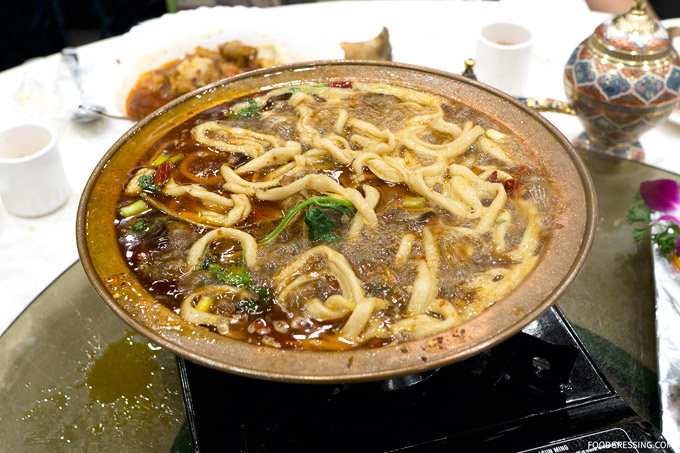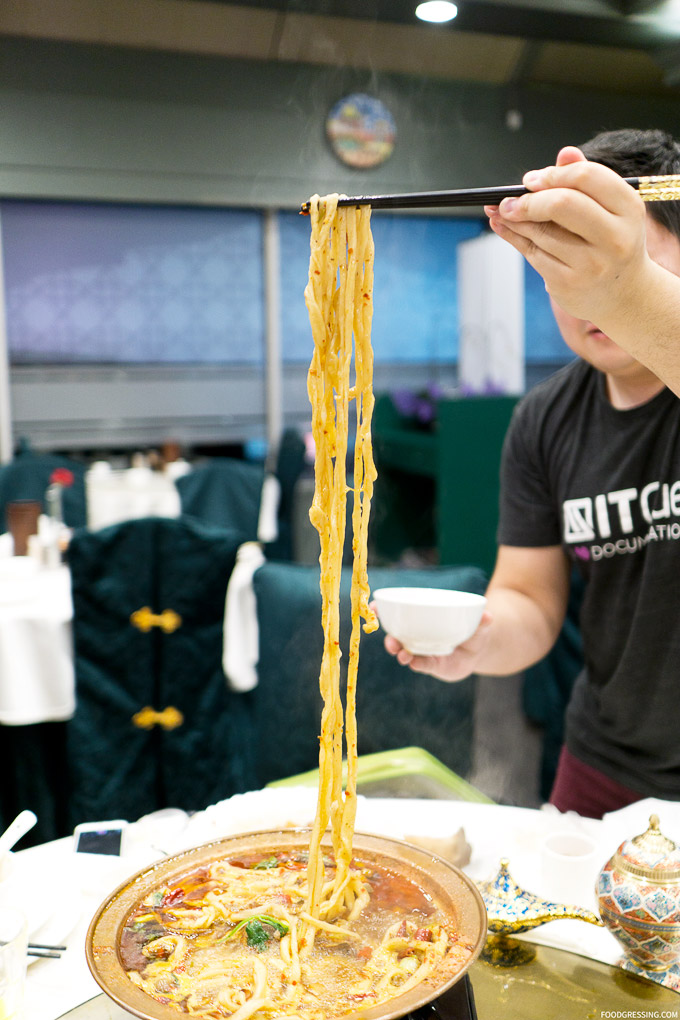 Stir-fried slices of lamb served with steamed buns
One of my favourite dishes of the evening was lamb slices in steamed buns ($26.99).  The flavourful and spicy lamb was contrasted by the crispy and sweet steamed buns.  I would love to have this again.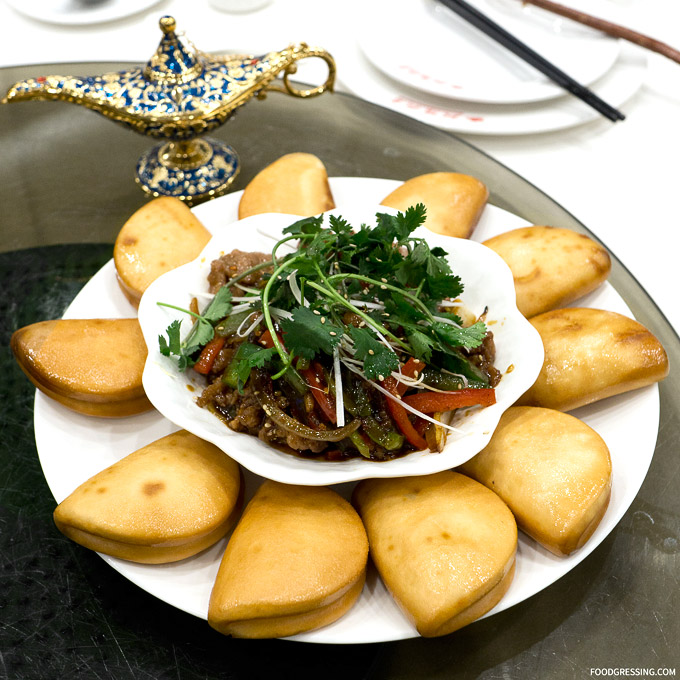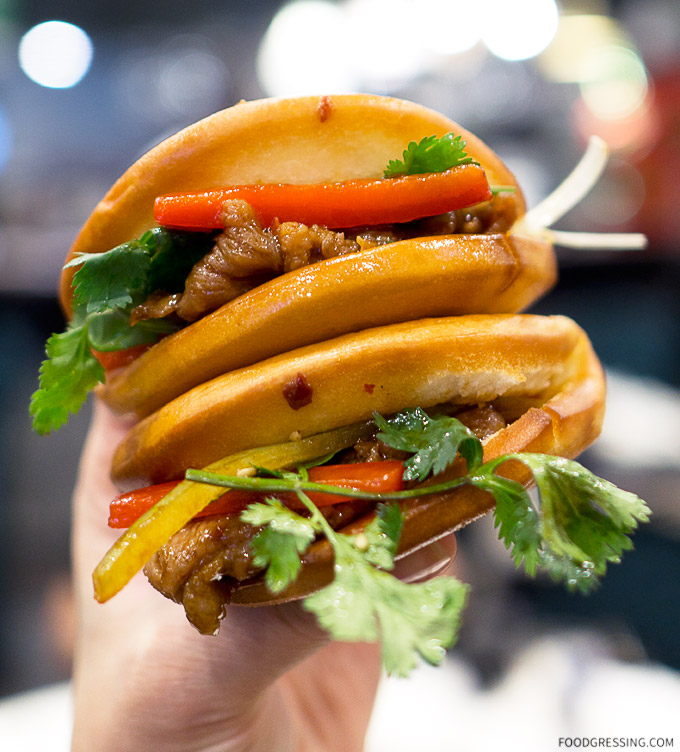 Xinjiang style lamb leg shanks
We also tried lamb leg shanks ($11.99) which were OK but not as memorable in terms of flavour, presentation as the other dishes mentioned above.
Lamb Puff Pastry
The lamb puff pastry was tasty but more of an indulgent nature due to its oiliness.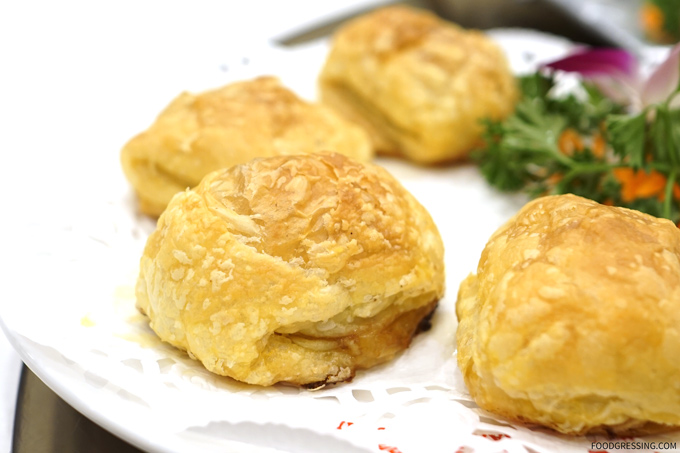 Sweet corn pancake
For dessert, we had a rather interesting dessert – a sweet corn pancake.  It may seem a bit different from your Taiwanese or Hong Kong dessert.  Considering that naans are quite common in Xinjiang cuisine, it's not surprising that this could translate to a dessert dish.  The pancake was loaded with corn kernels and topped with sugar.  I'm not sure this is quite the dessert that I would personally find satisfying as I would prefer something of a "smooth and silky" nature.  But I did appreciate the restaurant's commitment to offering a traditional Xinjiang Uyghur dessert.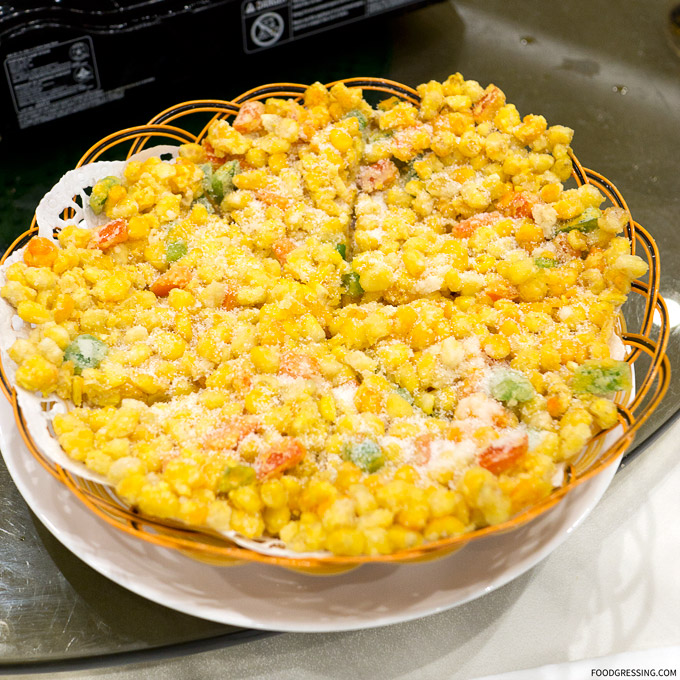 Overall Impression of Beijiang Restaurant
The dining experience at Beijiang Restaurant was overall very enjoyable and the dishes were well-executed.  My favourite dishes of the evening were the stir-fried slices of lamb served with steamed buns, lamb kabobs and dapanji.  Definitely a place worth checking out and with the owner's inviting demeanor, non-Chinese speaking individuals would certainly feel welcome.  I'd be interested in revisiting as well as trying out their other location on Kingsway.  Rating: 4/5
Beijiang Restaurant
Address: 8111 Leslie Rd, Richmond, BC
Website: www.beijiangrestaurant.ca‎