Ice Queen is known for their fried ice cream rolls but did you know that they also serve Taiwanese-style street snacks? Last month, Ice Queen introduced the Queen Snack Tea Cup Combo featuring 5 savoury options: takoyaki, deep fried nuggets, deep fried squid, fish cake and fries. Subject to availability, these savoury snacks are around $8 and are an extra $0.25 for additional topping. Drink options are cold, hot or slush and include milk teas, coffee milk teas and fruit teas.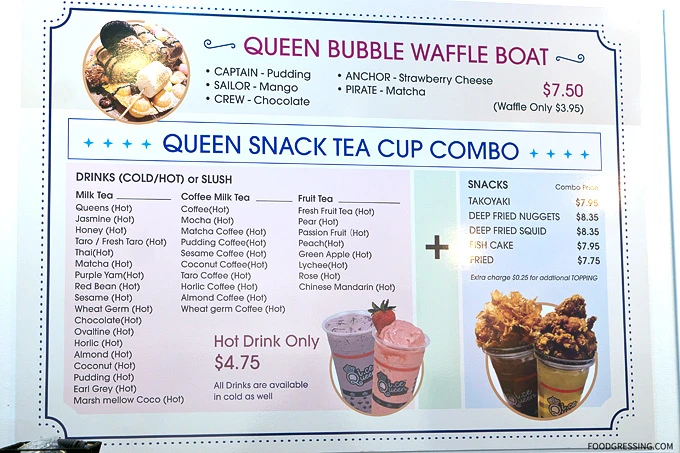 Disclosure: I was invited to a media tasting. All food and drinks in this review were complimentary.
I tried the a mix of takoyaki and deep fried nuggets with a cold taro bubble tea. I found both the takoyaki and deep fried nuggets quite tasty. The takoyaki had a nice grilled batter on the outside and delicious octopus filling. The nuggets were very crispy, nicely seasoned, and tender. Some might find the price a bit on the higher side with combo being about $15 but I guess there's a premium for convenience.
Ice Queen
Address: 2967 West Broadway, Vancouver | 2355 – 4000 No.3 Road, Richmond
Website: www.facebook.com/icqueenqueen/‎