Japan's Yah Yah Ya Ramen opened a Downtown Vancouver location last month at 560 Robson Street beneath Korean supermarket H-Mart. With 4 ramen restaurants in Japan (Tokyo and Sapporo), this ramen chain entered the North American market in 2014 with a location in Richmond. Yah Yah Ya specializes in Yokohama iekei ramen in which the soup base is created by boiling together pork bone, chicken bone, konbu (kelp), and vegetables for a minimum of 12 hours. This is then flavoured with soy sauce, green onion, garlic and chicken oil. Not having visited Yah Yah Ya Ramen in Richmond before, I was interested in trying out their Yokohama-style ramen. This past month, I visited them twice on cold wintry days for some comforting eats.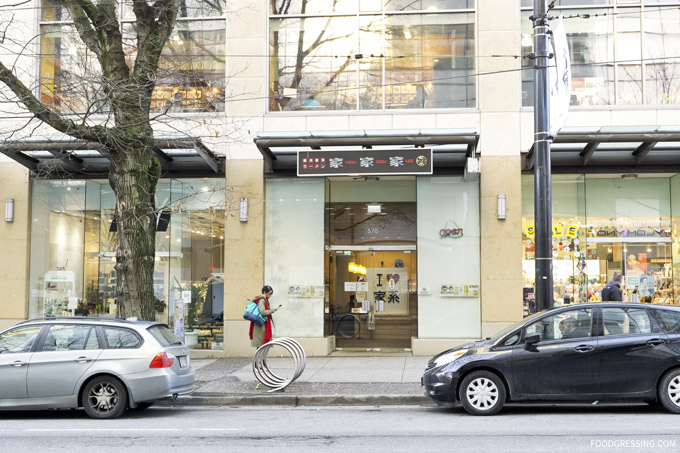 Spacious Ramen Eatery
Compared to popular ramen eateries in the West End, Yah Yah Ya's Robson location is so spacious it almost feels a little awkward. Having been used to slurping up my noodles in a small, crammed up space, I quite like the extra elbow room that Yah Yah Yah Robson offers.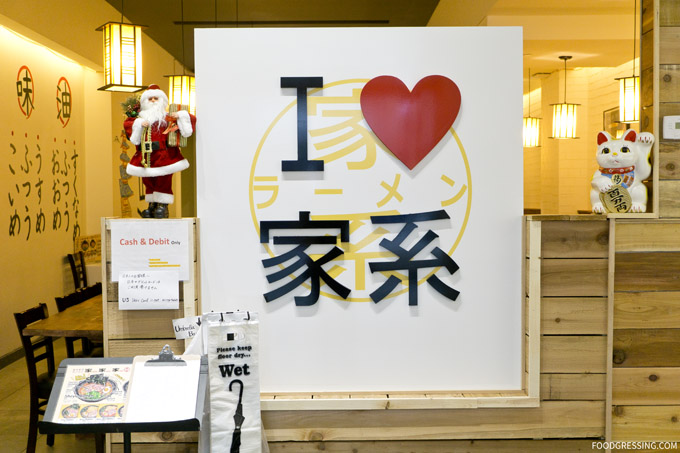 One interesting part of their design is their very spacious waiting area in the front of the restaurant. If you're used to lining up outside at ramen joints elsewhere, you might find comfort in Yah Yah Ya's inside waiting area. Perhaps something to consider on those chilly days when you want ramen and prefer not to line up outside for it.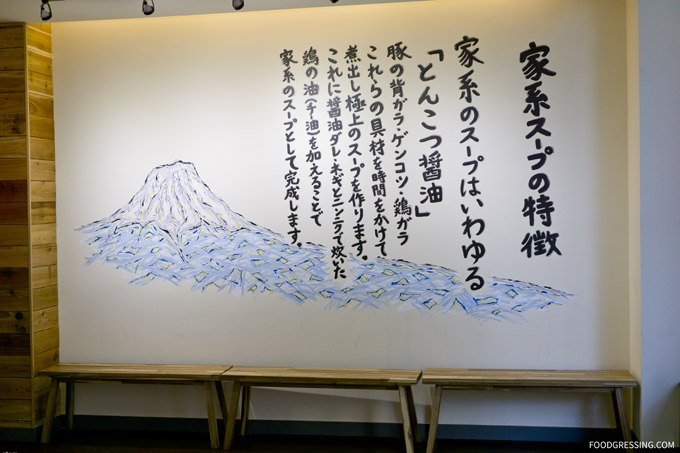 There are a few communal tables and two-person dining tables as well. The overall atmosphere of the restaurant is clean, modern and welcoming.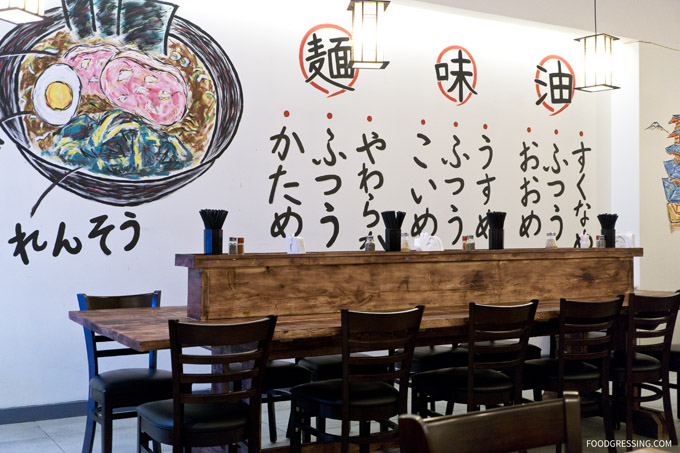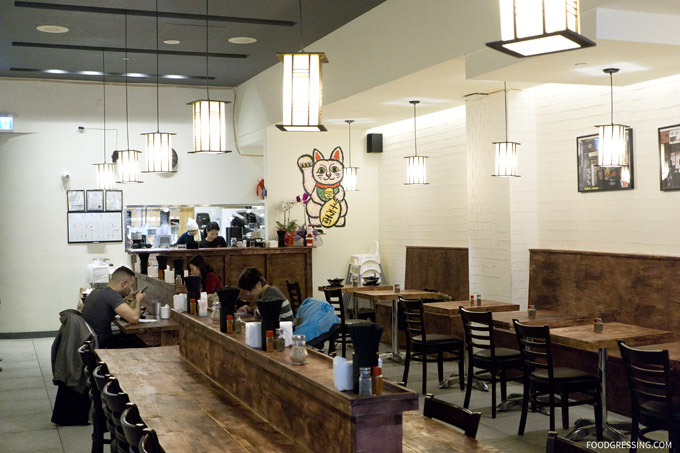 Yah Yah Ya Menu
The menu features seven noodle choices: shoyu (soy), shio (salt), miso, spicy miso, black garlic tonkotsu, abura soba (soupless), and mazesoba (soupless). These range from $9.95 to $13.25 and come in either regular or large size. Additional topping such as spinach, toasted seaweed, butter corn and more are available. Orders can be customized for noodle type (hard, normal, soft), taste (heavy, normal, light) and oil amount (more, normal, less). I confirmed with one of their staff members that their noodles are pre-bought, machine made. In the West End, The Ramenman makes their own noodles.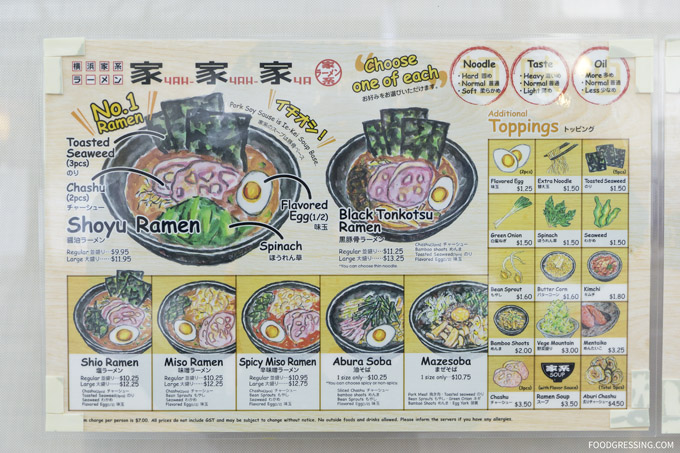 They also offer ramen with choice of small rice sets. That is, you can enjoy ramen with onigiri, chashu don, spicy chashu don, mentaiko don, or salmon don. Cold ramen options and Japanese appetizers are also available.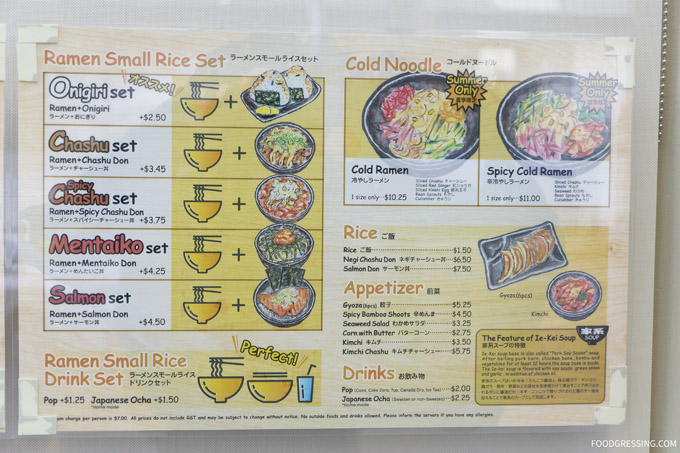 What I Tried
On my first visit, I went with the conservative choice of a large shoyu ramen ($11.95) which is their No. 1 ramen. This option comes with three pieces of toasted seaweed, 2 pieces of cha-shu, and a ramen egg. For my bowl, I went with all standard choices for noodle, broth and oil amount.
One thing I found was that their noodles were very springy and chewy, perhaps a little too springy. The broth was rather light for a "standard" option and seemed not so rich and flavourful. The chashu was standard – neither too lean nor fat.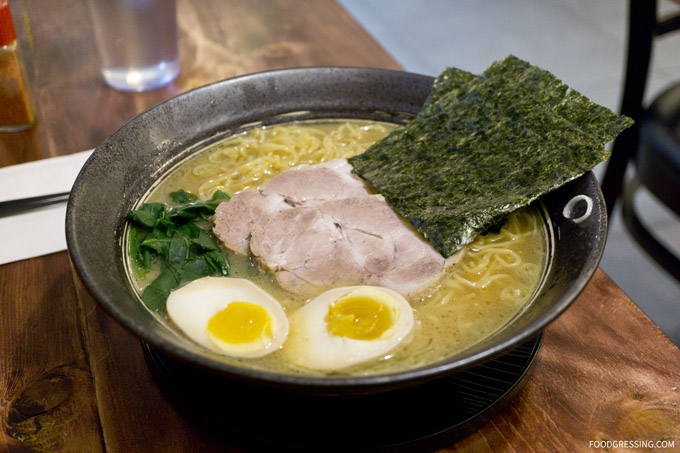 The soft boiled egg may be perhaps cooked too much as the yolk wasn't quite runny. Overall, the ramen was just okay and filling but flavourwise not too exciting.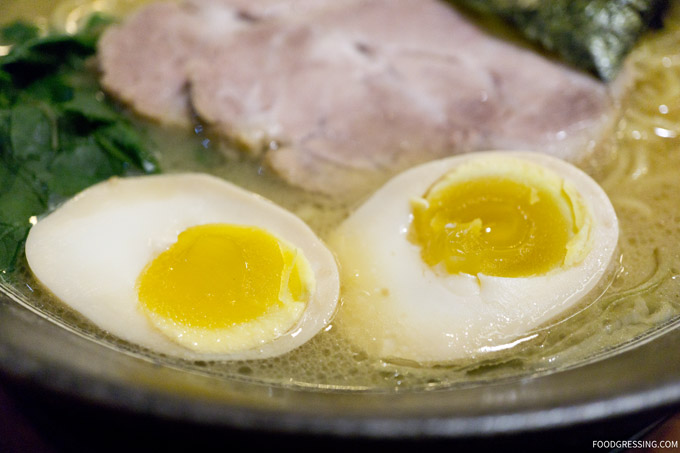 On my second visit, I went with the black tonkotsu ramen and went with thinner noodles and additional butter corn this time around. I think the butter corn added a lovely sweetness and creaminess to the bowl which made it overall richer and more flavourful. I quite enjoyed the softer, thin noodles with this bowl and would go with thin noodles at Yah Yah Ya in the future.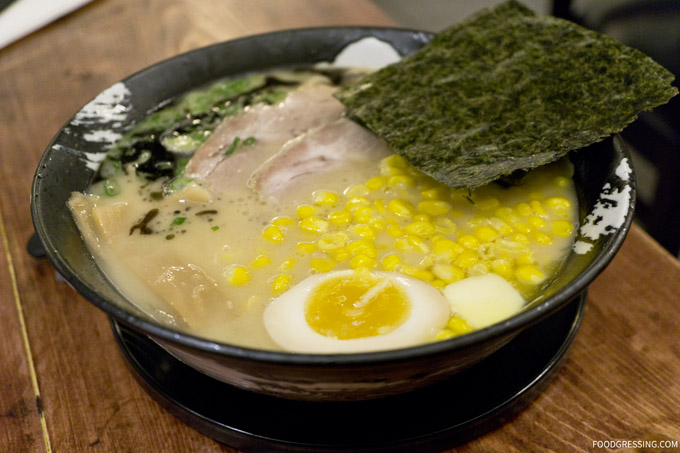 I definitely felt more satisified with this bowl than then shoyu ramen.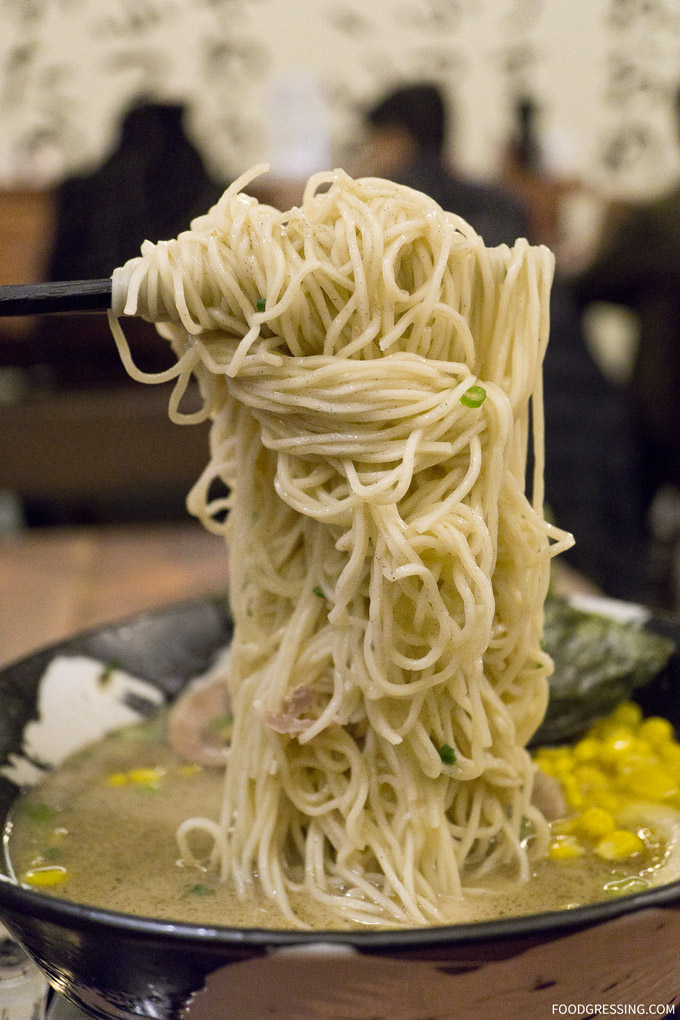 Overall Impression of Yah Yah Ya Ramen
While the shoyu didn't impress me much, the black tonkotsu ramen with butter corn and thin noodles wins my heart (and stomach). The spaciousness of Yah Yah Ya Robson makes it a comfortable and enjoyable environment to enjoy a meal. If I were to revisit them in the future, I'd have the black tonkotsu again. Rating: 3.5/5
Facebook: @richmondyahyahya