With spot prawn season upon us, you might be wondering where you can eat spot prawns in Vancouver.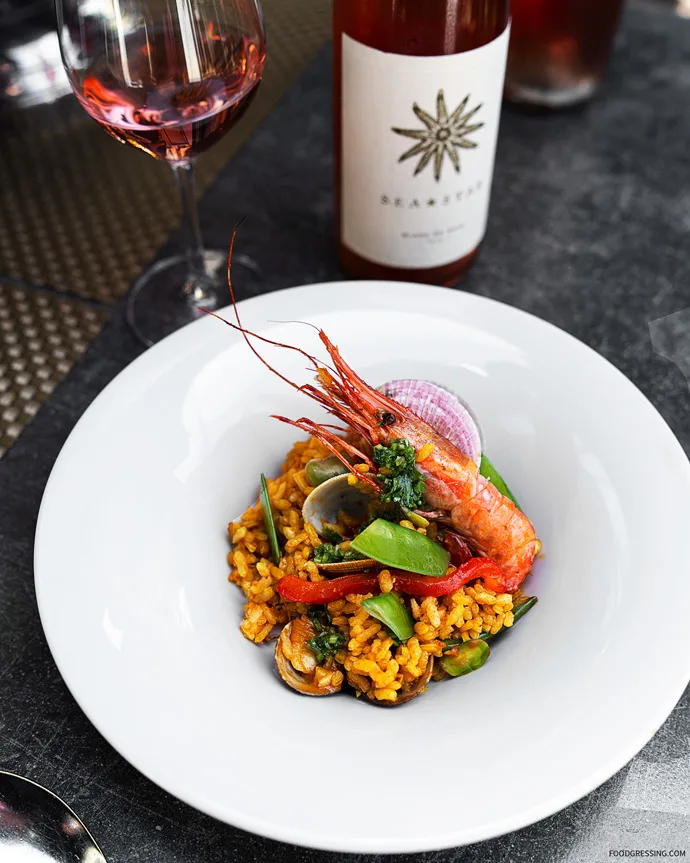 Here are a few Metro Vancouver restaurants/food trucks serving special dishes featuring spot prawns.
Any additions? Please contact me at [email protected] or DM on social media @foodgressing. This post will be updated as information becomes available.
Coast
Coast will be offering a special Spot Prawn Dine-In Menu, and pick-up & delivery option, and a Happy Hour Feature starting Monday, May 17th until the end of the season! Available while quantities last. Make your reservations before they're gone.
HAPPY HOUR
Enjoy 1lb of Spot Prawns and a bottle of @quailsgate Rosé during Happy Hour (2:30PM to 6:00PM daily) for just $75.
DINE-IN MENU: $19 each
Spot Prawn Ceviche
calamansi, coconut, serrano chillies
Crispy Garlic Spot Prawns
pan seared with chillies, soy and lime
Spot Prawn Poke
sushi rice, avocado, mango and soy-chili sauce
Grilled Spot Prawns
blistered baby tomatoes, poblano peppers and smoked romesco
PICK-UP & DELIVERY $35 each
Take home 1 lb of BC Spot Prawns! Choose from three read-to-enjoy preparations:
Crispy Garlic (pan seared with chili, soy and lim) OR Grilled (lemon butter and salt) OR Steamed (white wine beurre blanc)
Glowbal
Glowbal Restaurant is offering 1/2 lb spot prawns in garlic butter & grilled lemon available during lunch, Happy Hour and dinner. $34 for lunch and dinner; $29 for Happy Hour.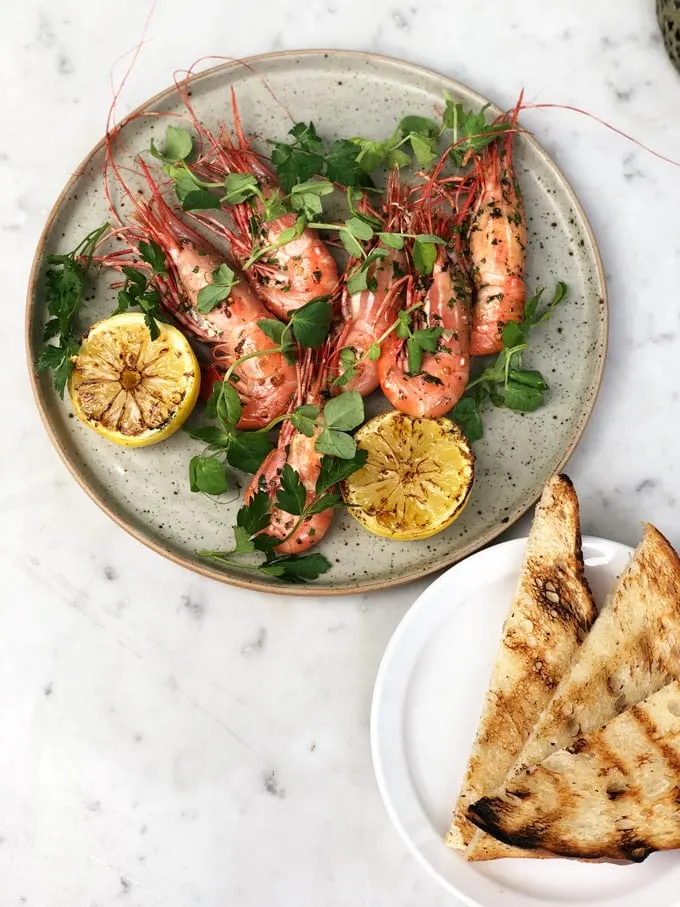 Uncle's Snack Shop
Uncle's Snack Shop in Richmond is offering spot prawn two ways:
Spot prawn with chilled chawanmushi, pho broth, marinated lotus and shiitakes
Deep fried spot prawn heads
I have personally tried these and they are delicious!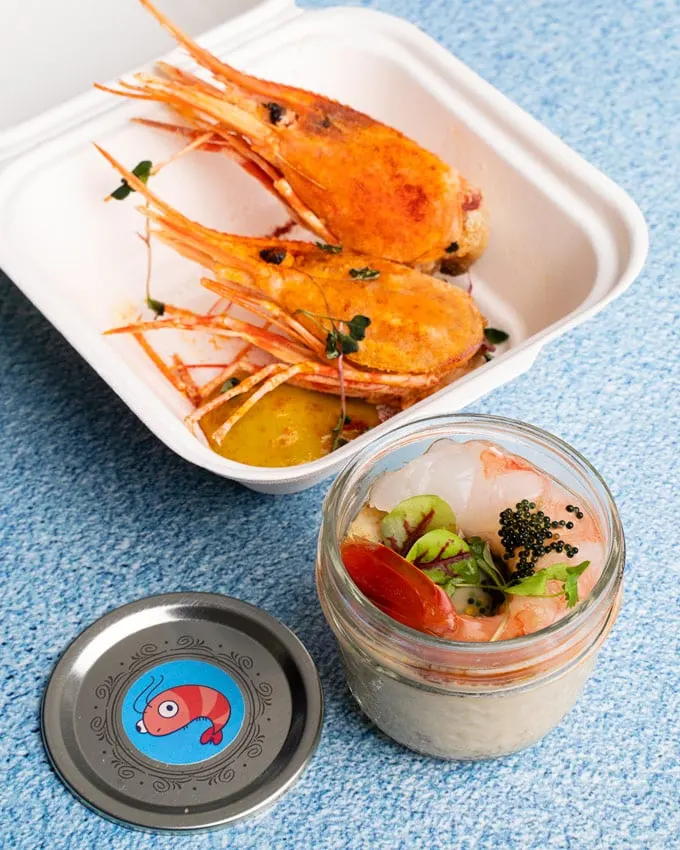 Takenaka
Takenaka food truck is offering a jumbo size spot prawn sashimi. They are offering a BOGO deal ($6.50) on May 22 – 23.
Tojo's
Chef Hidekazu Tojo of Tojo's Restaurant launches a must-try Tojo's Spot Prawn Kit, complete with an array of Japanese dishes that celebrate local ingredients.
Included in Tojo's Spot Prawn Kit is a half-pound of locally harvested spot prawns, served with Tojo's Special Sauce.
The spot prawns' delicate and sweet flavours are paired perfectly with a dish of medium flavoured hake, also locally sourced, which is lightly fried with a breadcrumb.
A wholesome vegetable chirashi bowl bursts with spring ingredients including burdock root, wood ear mushroom and asparagus; the root vegetables and mushrooms of this dish combine for a most memorable umami-packed experience.
The kit is complete with a seasonal gommae of kale, swiss chard and broccoli.
Each kit serves two and is available for $88.00. Also available on the a la carte menu will be BC Spot Prawn Nigiri for $6.00 a piece. Orders can be placed online via the restaurant website here, or by calling 604-872-8050.
Fanny Bay Oysters
Fanny Bay Oysters is serving BC Spot Prawns three way: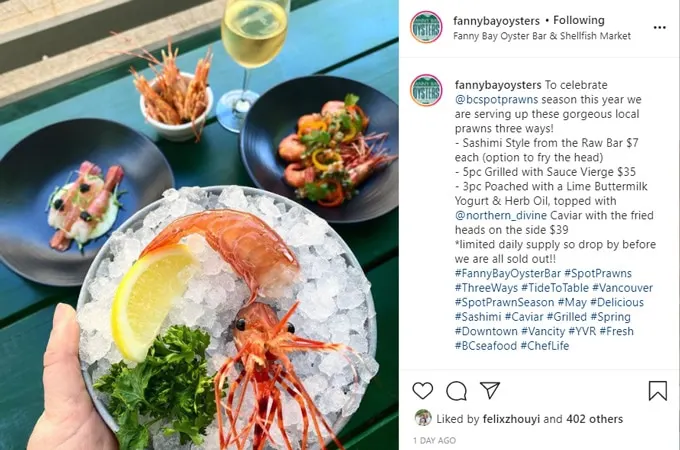 Sashimi Style from the Raw Bar $7 each (option to fry the head)
5pc Grilled with Sauce Vierge $35
3pc Poached with a Lime Buttermilk Yogurt & Herb Oil, topped with @northern_divine Caviar with the fried heads on the side $39
---
Also if you are wondering where to buy live BC spot prawns or how to cook spot prawns, check out my guide.