Here's a look at where to buy BC Spot Prawns Vancouver 2022 along with season dates, buying tips, how to cook spot prawns tricks and spot prawn recipes.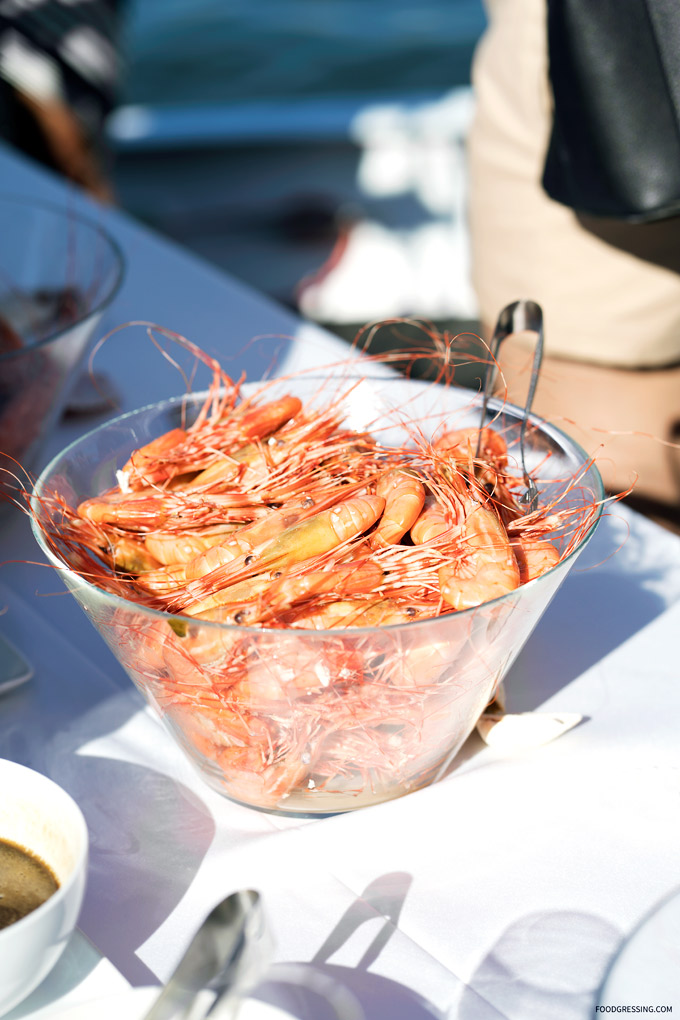 What is so special about spot prawns?
The BC spot prawn season is a favourite time of the year for foodies.
Known for their sweet, delicate in flavour and firm texture, BC spot prawns are delicacies that are enjoyed locally but also around the world.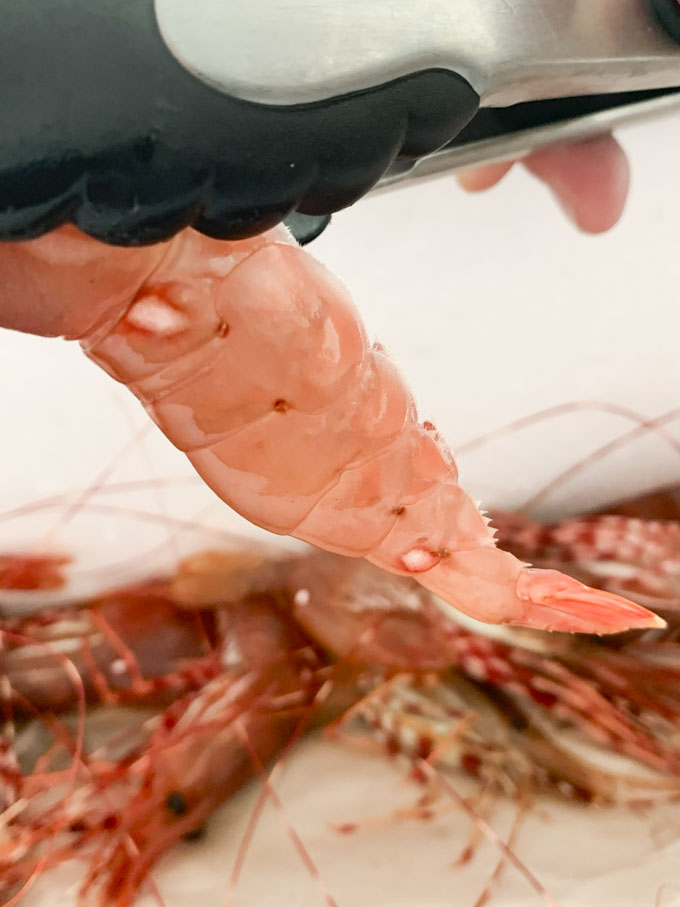 Are spot prawns worth it? YES!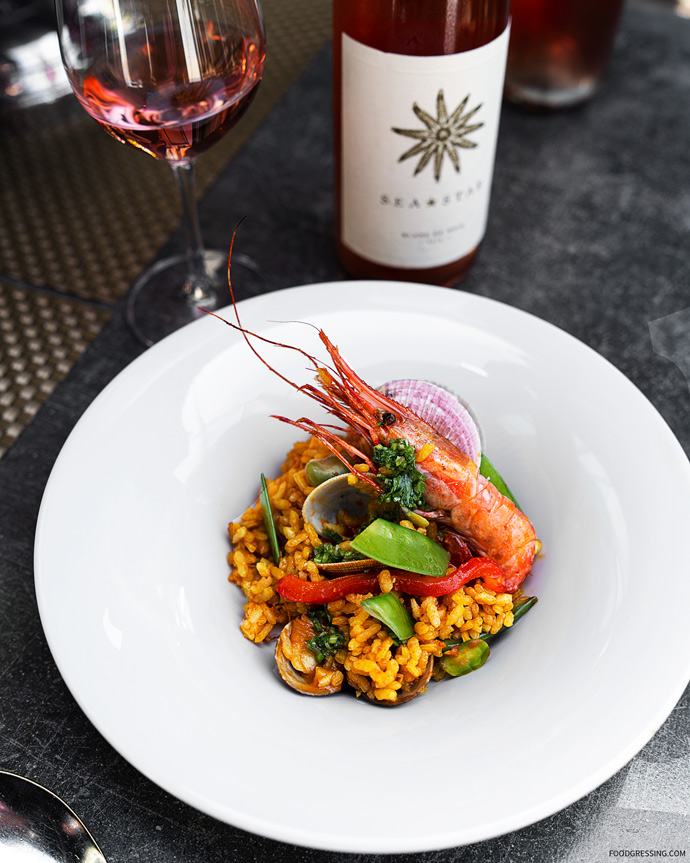 Why is it called spot prawn?
BC spot prawns are reddish brown in colour and have characteristic white spots on their tail and white horizontal bars on the carapace (shell).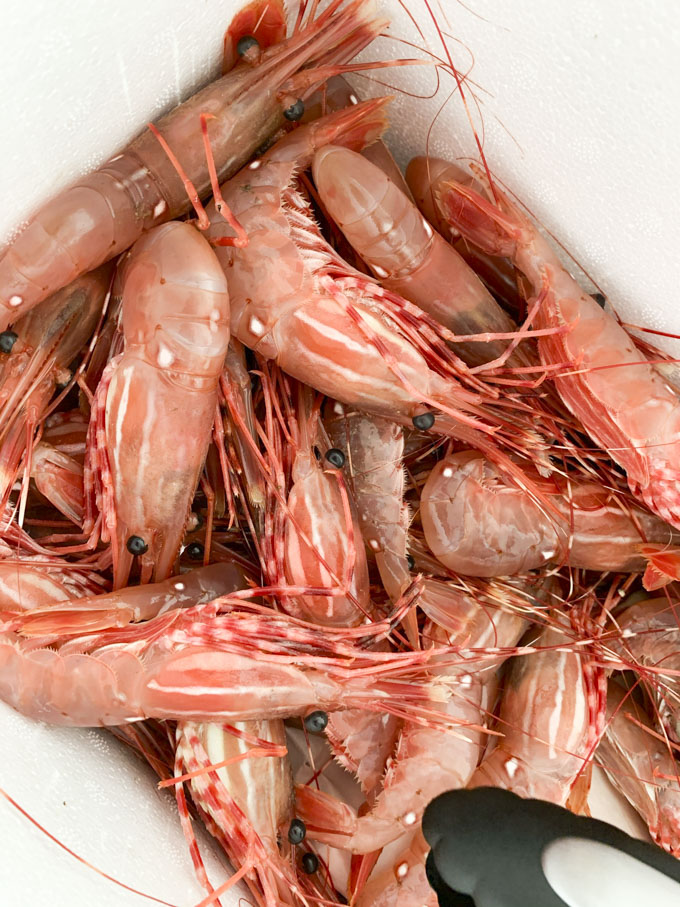 BC spot prawns are the largest of the seven commercial species of shrimp found on Canada's West Coast.
They vary greatly in size; some larger females can exceed 23 cm in total length – bigger than your hand!
How long is BC Spot Prawn Season 2022?
What is the spot prawn season in BC?
The BC Spot Prawn Season is super short. The 2022 harvest season is expected to start Friday May 6/Saturday May 7 and lasting 30 – 40 days.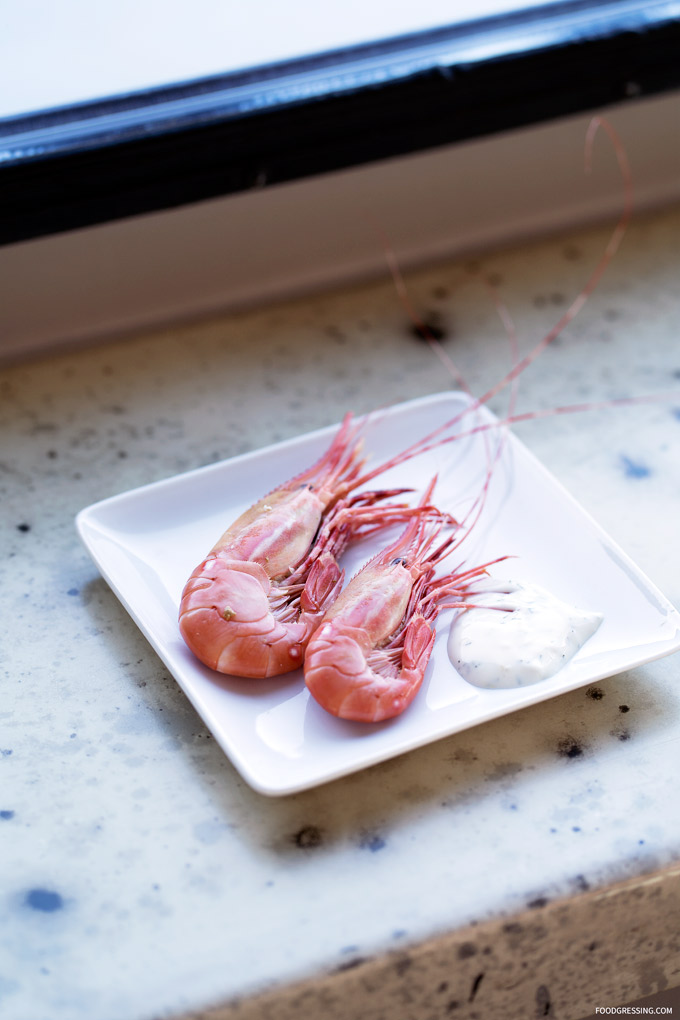 How are spot prawns caught?
Prawn fishermen typically leave early in the morning to spread baited traps in areas approved by Fisheries and Oceans Canada.
The traps lie along the rocky ocean floor at depths ranging from 40 to 100 metres.
This method has minimal impact on ocean habitat and very low levels of bycatch of other species.
The fisherman return later in the day to collect their haul.
How much are live spot prawns?
For the 2022 season, prices at the fisherman wharfs are around $22 per pound.
You might find them as cheap as $14 per pound elsewhere.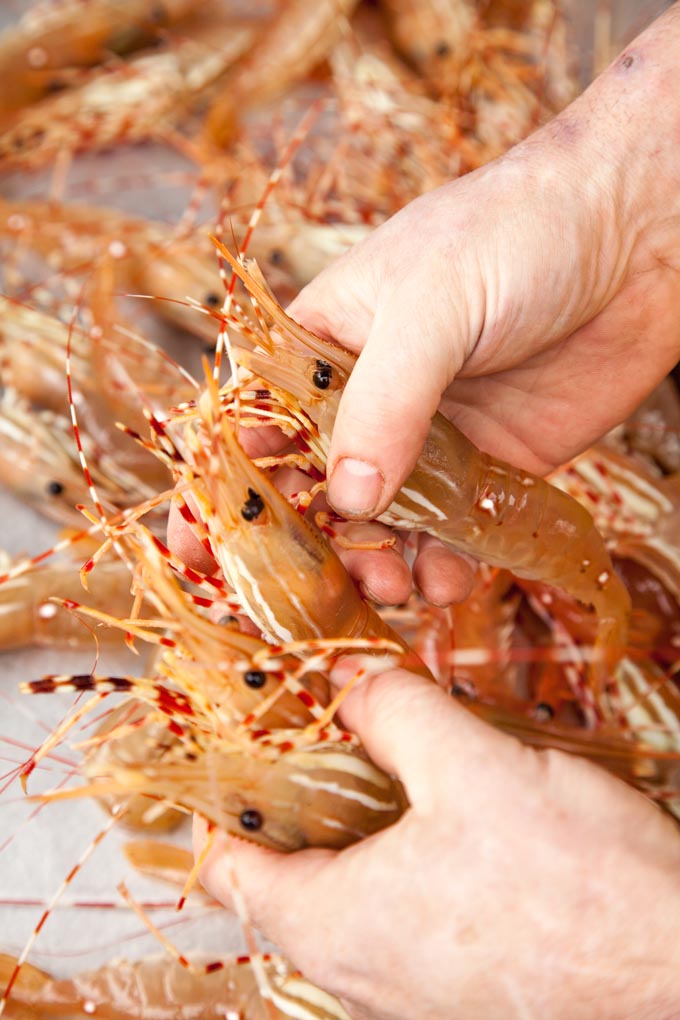 Tips for buying live spot prawns
About the start of the spot prawn season…
The first days when spot prawns are available on the market are pretty crazy.
You can preorder online ahead of time at some of the vendors that have online shops but that doesn't guarantee the availability.
During the first few days, the amount of spot prawns on the market is usually not enough to keep up with the HUGE demand in the beginning.
If you are planning to buy directly from the fishermen boats at the wharves, the boats typically come in around 12 pm – 1 pm.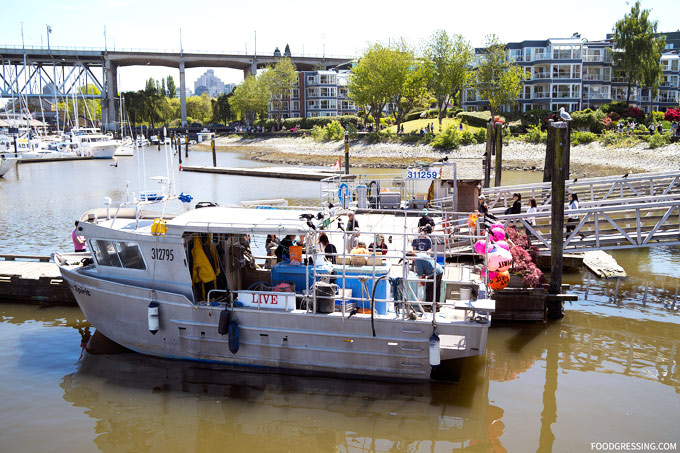 You can expect long line ups at the wharf ahead of when the boats even arrive. The wait could potentially be hours.
Check the social media of the fishermen for the latest information on when the boat is arriving or if they are sold out.
The demand does wane a bit as the season goes on so you can find spot prawns more easily in places like supermarkets (even in the late evening) and not having to wait in line for hours at the wharf.
When you buy live spot prawns…
They should be jumping, moving about with a translucent appearance! Do not buy foul-smelling, discoloured spot prawns.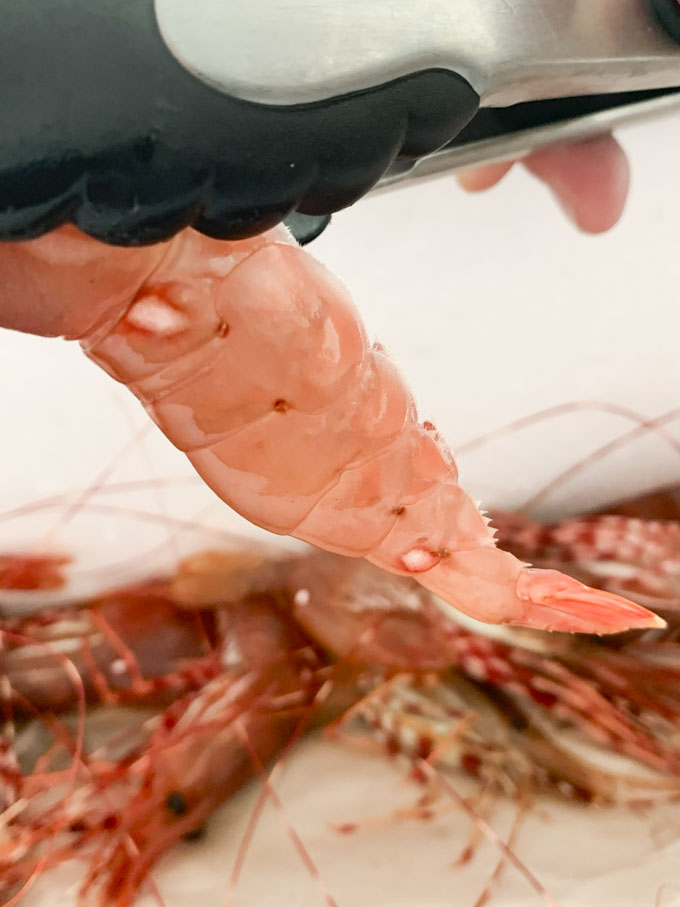 How to keep spot prawns alive
How do you transport live spot prawns? Bring a cooler with a small ice pack if you can to keep your spot prawns alive. That way you can keep them cool until you get home.
Do not put the spot prawns directly in ice because melted fresh water ice will kill them.
If the spot prawn is dead, an enzyme is released from within a prawn's head that can cause the meat to turn mushy when cooked.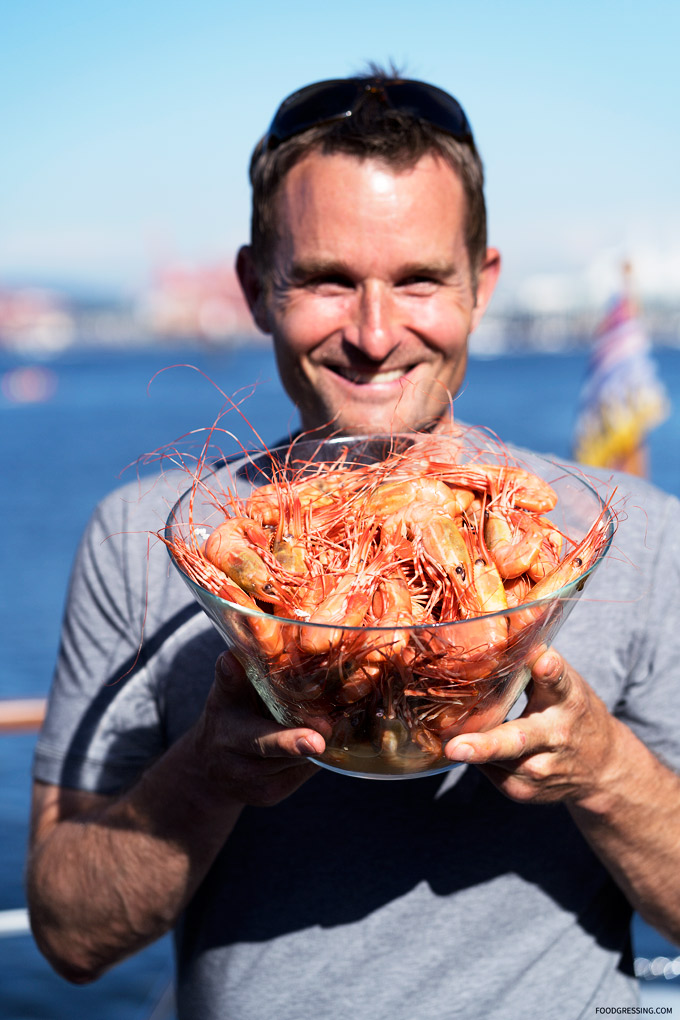 Below are a few places where you can buy BC spot prawns Vancouver 2022.
Any additions? Please contact me @foodgressing on social media or email [email protected].
Where can I buy spot prawns in Vancouver 2022?
Below is a list of where to Buy BC Spot Prawns Vancouver 2022:
7seas Fish Market on Fourth *Special Promotion*
7seas Fish Market on Fourth has a one day promotional price of $22.99/lb on Saturday, May 21.
Preorder at https://shop.7seasfishmarket.ca/ and get an EXTRA 5% discount with the coupon code FOODGRESSING. Code expires on Friday May 20 at 5:30 pm.
Maximum 5 pounds per person. Pickup on Saturday, May 21.
BC Live Spot Prawns (Ladner Wharf)
BC Live Spot Prawns & Seafood is now accepting pre-orders of live spot prawns for home or office delivery across Greater Vancouver or pick-up at Ladner Wharf.
In-person pick-ups are available at Ladner Wharf starting May 7, everyday until the end of the season. Located at 5000 Elliott Street, Delta. Look for the white truck near Sharkey's Seafood Bar & Grill. Everyday from 9am-5:30pm.
Alternatively, BCLSPS is proud to continue offering its delivery service four days a week. With a minimum of 10lb per order, customers can have the live spot prawns delivered to their home or office – it's a great option to share with colleagues and friends.
BCLSPS does not grade its spot prawns and the spot prawns are fishermen-direct. That means customers can expect to find large and XL spot prawns in their order, directly from the fishermen's daily catch.
BC Live Spot Prawns & Seafood highly recommends pre-ordering live spot prawns to avoid disappointment and long line-up at the docks.
Pre-orders ensure prawn availability for customers on their chosen pick-up or delivery day.
Specific pick-up instructions will be provided to customers upon check out. For more information, visit bclivespotprawns.com.
Follow their social updates @bclivespotprawns.
Fresh Ideas Start Here (Kitsilano/South Burnaby)
Fresh Ideas Start Here is taking preorders for spot prawns.
For next day pick up, please place your order online by 3:00pm.
For same day pick up, please call stores ahead to confirm availability.
Walk-in availability is not guaranteed.
Current Market Price per pound: $22. Market Price is subject to change without notice throughout the season.
Their super jumbo sized prawns will be available shortly. Please stay tuned for availability and prices.
Follow their social updates @freshideasstarthere.
Steveston Spot Prawns (Steveston Fisherman's Wharf)
Steveston Spot Prawns is selling spot prawns from their boat in Steveston Fisherman's Wharf.
Follow their live updates @steveston.spot.prawns.
Prawns on the Spot (Steveston Fisherman's Wharf)
Prawns on the Spot is taking preorders with timeslots from 9 am – 12 pm. They are also selling from their boat in Steveston Fisherman's Wharf.
Follow their live updates @prawnsonthespot.
Fanny Bay Oyster Bar (Downtown Vancouver)
Fanny Bay's Shellfish Market will offer live spot prawns in addition to frozen sashimi-grade BC spot prawns as well as BC spot prawn tails for at-home chefs to add savoury flavour to their favourite dishes, stocks and paellas with pre-orders available online.
The Lobster Man (Granville Island)
You can buy live spot prawns from Lobster Man on Granville Island. Preorders available.
SEAFOOD.STOP 海鮮站 温哥華 (Richmond)
SEAFOOD.STOP is taking preorders for spot prawns. They offer pick in Richmond.
Farm to Table Market (Yaletown)
Farm to Table Market is taking pre-orders of BC spot prawns. $23/lb minimum of 3lb orders. 1st pickup date is this Saturday May 7th.
Drop by to their Yaletown store to place your order or WhatsApp your order to 778-322-6656.
Pick up address:
Farm to table market Yaletown store
1312 Richards street, Vancouver
Pick up time: 11am-1pm
Sungiven Foods
Order online from May 6 to early June. Pickup and payment done in store.
Hours for pickup are 12:00 PM – 6:45 PM at all store locations.
Prices
1 pound = not available for preorder
2 pounds = $46.98 / bag
3 pounds = $68.97 / bag
5 pounds = $109.95 / bag
Limits
Available for pickup 2 to 4 days after preorder. Select date and time accordingly.
New Bag
The new Sungiven Foods spot prawn bags are oxygen-sealed, with an innovative design that promotes better sustainability, freshness, and better handling. This new exclusive packaging is eco-friendly, promotes longer spot prawn freshness, and provides easier transportation.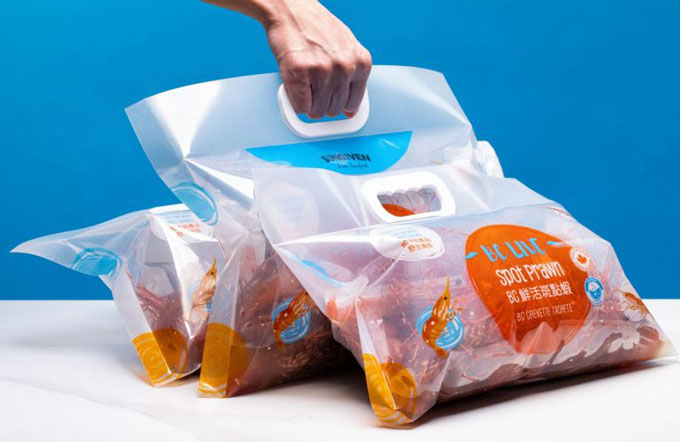 Organic Ocean Seafood (Granville Island Fisherman's Wharf)
Details to be confirmed for 2022.
Fresh D Foods Canada (Delivery)
Fresh D Foods offers purged spot prawns (see my post here that discusses the process of purging).
They offer spot prawns at $27 per pound which includes home delivery. 3 lbs ($81), 5 lbs ($135), and 10 pounds ($270).
Spot Prawn Festivals 2022
BC Spot Prawn Festival 2022
The Chefs' Table Society of BC (CTS) and Pacific Prawn Fishermen's Association (PPFA) are thrilled to announce that the much-loved annual Spot Prawn Festival is returning to Fishermen's Wharf on False Creek for an in-person celebration on May 15, 2022.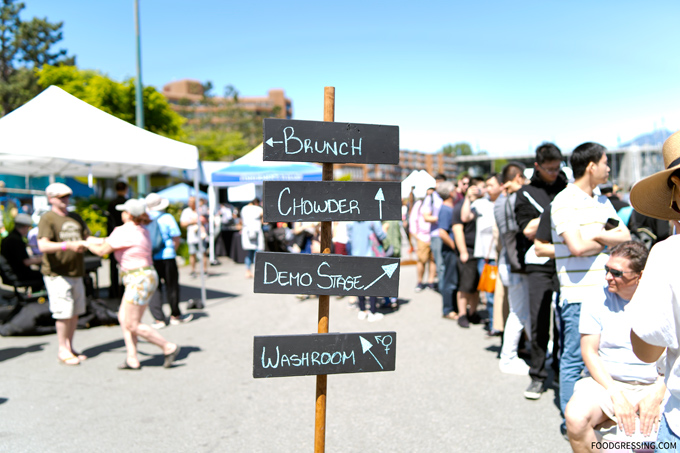 The 'Wildly Popular' Spot Prawn Festival began in 2006 to foster a domestic market for this seasonal and sustainable seafood. This exciting event was suspended for the past two years due to the pandemic but is now back live.

The 2022 Spot Prawn Festival, which will take place on Sunday, May 15, 2022, is the Chefs' Table Society's annual fundraiser that allows the society to support scholarships for culinary students, and to further education, mentorship and sustainability initiatives. Funds will also support the society's long-term legacy project, the CTS Culinary Centre, that will become a home for the culinary industry and food lovers.

Guests of the 2022 Spot Prawn Festival can celebrate the BC Spot Prawn fishery and support Chefs' Table Society initiatives in three ways:
Free – access to the docks to purchase fresh BC Spot Prawns directly from fishers, view cooking demos and family-friendly activities
$10 – a 10 oz bowl of New England Chowder – to go if you want!
$65 – Spot Prawn Brunch – grazing style with high top tables and a tasting menu of six delicious BC Spot Prawn dishes
Tickets must be purchased in advance for the brunch. Chowder tickets can be purchased in advance or at the dock. Tickets are available through Eventbrite.
The Chefs' Table Chowder will be a delicious New England chowder with a freshly baked bun and can be purchased within a convenient time slot:
11 am to 12 noon
12 noon to 1 pm
1 pm to 2 pm
2 pm to 3 pm
The Chefs' Table Spot Prawn Festival Brunch is a wonderful culinary adventure that offers two different service times: 11:30am to 1pm or 1:30pm to 3pm.
Guests will enjoy six custom spot prawn dishes prepared by some of BC's finest chefs. This is a delicious way to sample various creations and to interact directly with the chefs about their BC Spot Prawn preparation tips.
The brunch will also include complementary tastings from local wine and beer sponsors, as well as a sweet treat.
Tickets for the brunch are $65.00 per person (plus tax and service fee) The brunch is 19+ and tickets are non-refundable.
Steveston Spot Prawn & Seafood Celebration
From May 6 to June 5, the Steveston Spot Prawn and Seafood Celebration celebrates this coastal culture with a variety of events and activities, including fresh seafood brought into Fisherman's Wharf daily, demonstrations from professional chefs and locally caught seafood (by Steveston Fishers) featured on participating restaurant menus throughout Richmond.
Vancouver/Richmond Restaurants Spot Prawn Menu
Here's a look at local restaurants showcasing spot prawns on their menu.
Tojo's Restaurant
Chef Hidekazu Tojo of Tojo's Restaurant celebrates BC spot prawn season with two opulent omakase experiences and a collection of a la carte dishes launching May 7.
Tojo's will be offering two seven-course omakase experiences spotlighting local spot prawns and other spring ingredients. At the heart of each meal will be a generous portion of Boiled Spot Prawns with a cilantro & minced jalapeño vinaigrette for dipping; the sweet prawns pair perfectly with the mild jalapeño heat. Other highlights include a luxurious Amaebi Ceviche seasoned with a yuzu vinaigrette. Other spring ingredients spotlighted include BC Spring Salmon with savoury fuki miso, Hotaru Ika (firefly squid) from the cold waters of Toyama, Japan and sought-after Icefish, a Japanese delicacy which chef Tojo prepares as delicate tempura.
The experiences are available in two tiers, one for $220.00 and the second more luxurious for $330.00. The latter features enhancements of prized Wagyu Steak accompanied with seasonal vegetables and an enhanced selection of sashimi. Spot prawns are also expected to appear in at least one dish in the restaurant's popular $120.00 omakase, an option for patrons which spotlights local seafood.
A la carte spot prawn dishes available at the restaurant will include Spot Prawn Nigiri, Spot Prawn Tempura and the Boiled Spot Prawns featured in both omakase experiences.
Fanny Bay Oyster Bar
Fanny Bay Chef Tommy Shorthouse and his culinary team will showcase locally caught, sustainably sourced spot prawns in a variety of dishes starting Friday, May 6 as well as at the raw bar, including sashimi-style with fried heads by the piece and a signature dish of Poached Spot Prawns with herb oil, buttermilk-lime dressing and topped with Northern Divine caviar.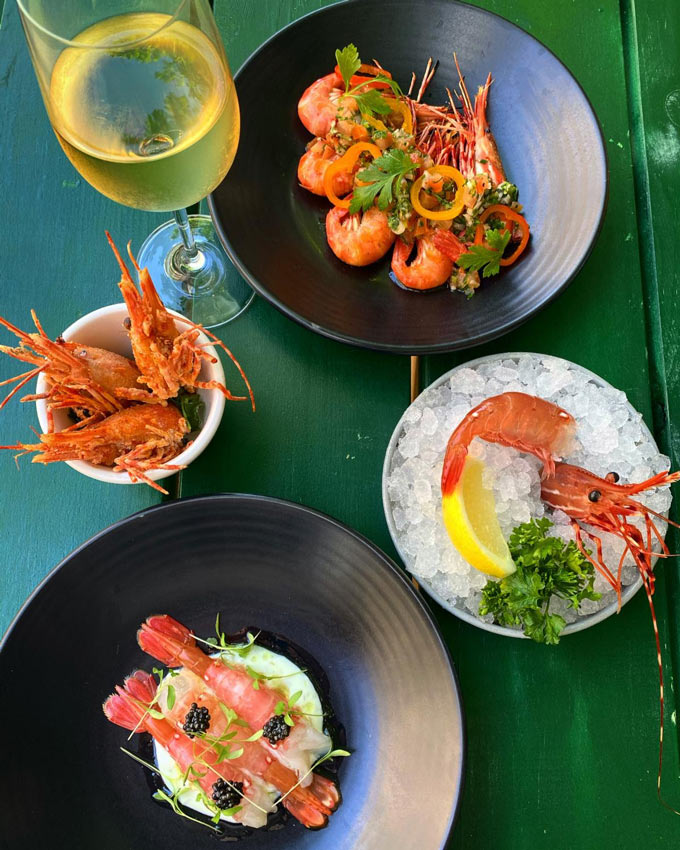 Spot Prawn & Seafood Dine About promotion by Visit Richmond BC
Richmond restaurants have partnered with Steveston Fishers to create fantastic dishes that celebrate local spot prawns and seafood. Enjoy these dishes at participating restaurants from May 18 to June 5.
Blue Canoe Restaurant – 3866 Bayview Street #140: BC Spot Prawn Ceviche ($24.95)
Britannia Brewing – 12240 Second Avenue #250: Pan Seared Spot Prawns ($22)
Bruno Restaurant – 8499 Bridgeport Road: Spot Prawn + Wild Pink Scallop Pappardelle ($36)
Cask Whisky Vault – 8400 West Road: Shio Cure Spot Prawn ($10), Spot Prawn Tsukune Skewer ($16)
Chj Bistro – 12240 Second Ave #240: Steam Spot Prawn ($15), Three Spice Spot Prawn ($22)
Globe @ Yvr – 3111 Grant Mcconachie Way (Inside Vancouver International Airport): Whole Bc Spot Prawns ($24)
Little Mexico Cantina – 3131 Chatham St #150: Spot Prawn Ceviche ($17.95)
Liuyishou Hot Pot-Richmond – 4731 Garden City Rd #150: Spot Prawn Skewers ($41.95)
Oo La Cha – 8400 West Road: Dry Aged Spot Prawn Crudo ($18)
Purpose Smoothie Co – 3900 Bayview Street #115: Steveston Spot Prawn Poke Bowl ($18)
Shady Island Seafood Bar & Grill – 3800 Bayview Street #112: Steam Spotted Prawns With Glass Noodles ($25)
Steveston Built Local Taphouse – 12480 No 1 Road #130: Seafood Jambalaya ($24)
Steveston Seafood House – 3951 Moncton Street: spot prawns every night of the season with a changing daily feature.
Mott 32
Mott 32 Vancouver ushers in BC spot prawn season with a collection of features spotlighting the sustainable catch. Dishes are available now, through the season (usually about one month) on both the nightly dinner and weekend lunch menus. The features have been designed by chefs Hongwei He, Executive Chef and Jian Hui Li, Dim Sum Chef.
Dim sum dishes will be available to order a la carte. Patrons can also order spot prawns by the pound at market price and enjoy them as their choice of wok features below or simply boiled with aromatics.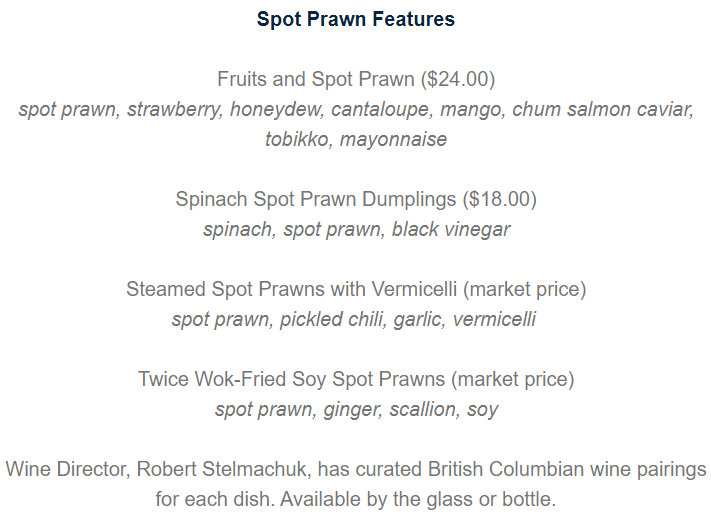 Highlights from the menu include the Fruits and Spot Prawn, a crispy fried pocket of rice wafer loaded with fresh fruits and prawns. A topping of tobikko and chum salmon caviar is added here to balance the sweet elements of the dish. The dish is inspired by the family favourite and kid-friendly fruit spring rolls popular in Chinese restaurants. Sweet prawns are expertly paired with pickled chili and garlic in the Steamed Spot Prawns with Vermicelli; this dish lets the sweetness of the prawns shine while adding a pleasant heat.
Reservations can be made online via OpenTable, email, or by phone at +1-604-861-0032. Mott 32 located at 1161 West Georgia Street, Vancouver.
Longtail Kitchen
Longtail Kitchen honours nine wonderful years of dishing up top-notch Thai food in New Westminster. In celebration of this momentous occasion, Longtail is serving weekend specials of BC Spot Prawns throughout the entire month of May and—fingers crossed—into June. Longtail's head chef and restaurant manager, Bonnie Khummuang is preparing the province's favourite delicacy two delicious ways: on the grill and blistered with the kiss of a searing hot wok. Priced at $38 each and exclusively available while the season lasts, guests can enjoy a plate of grilled BC Spot Prawns with a side of Nahm Jim dipping sauce, or a stir-fry of Three-Flavour (sweet, sour, and salty) BC Spot Prawns with Thai basil, baby corn, red bell peppers, green beans, and onions.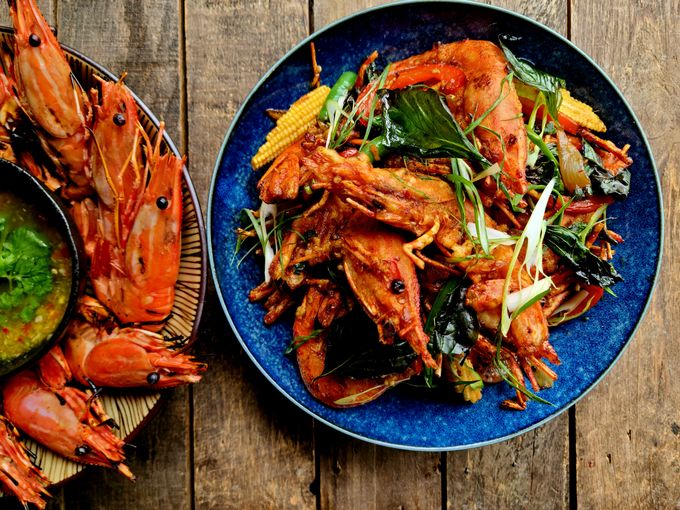 Longtail's Weekend Birthday Spot-Prawn Specials will be on the menu now until BC Spot Prawn season closes (six to-eight weeks). Preorder these succulent ocean beauties by calling 604 553 3855; 24 hours' advance notice is required. While best enjoyed on the pier, takeout orders can also be picked up at Longtail Kitchen, 116-810 Quayside Drive, New Westminster.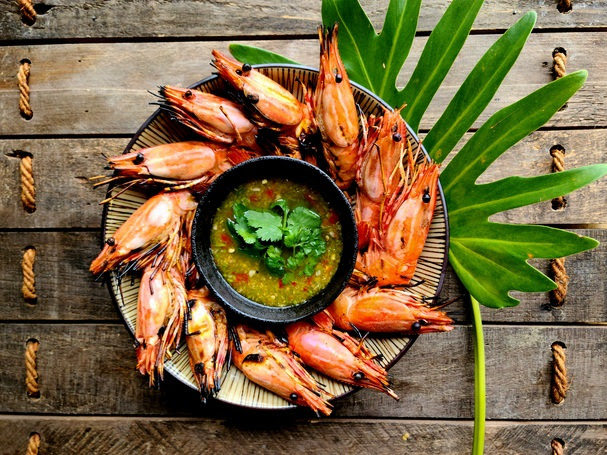 How many spot prawns are in a pound?
Depending on the size of the catch, the number can range from 10-16 for mixed sizes. Recommended serving is roughly half a pound per person
How to prepare spot prawns
So you've brought home your live spot prawns, kept them cool and they're sticking kicking and moving about. What to do next?
Get ready to cook them ASAP. You need to cook them live because spot prawns release an enzyme when they die.
If you're asking "why are my spot prawns mushy," it is likely that your spot prawn meat is spoiled.
Dead prawns have a black flesh and are simply not good to eat.
Do not put spot prawns in tap water because fresh water will actually kill them.
Spot prawns taste best when they are cooked fast in just about two minutes. Beware of overcooking!
You can even undercook the spot prawns a bit because they will continue to cook after removal from heat.
Look for them to turn pink and curl up which means they are ready to be enjoyed.
For the spot prawn meat to be in the best condition, cook the spot prawns live with their head or you will need to remove their heads while still alive.
How to remove spot prawn head
It can be intimidating at first, but to remove the head of a live spot prawn follow these steps:
Carefully remove the spot prawn from the bag and carefully handle the sharp ends.
Firmly grab the spot prawn head in one hand and the spot prawn body with the other.
Pinch the spot prawn head with your thumb and index finger.
Twist your hands in opposite directions and pull.
Voila, the head will come free easily!
Grab the body with your dominant hand and pinch the head between the thumb and index finger of your other hand. Quickly and forcefully twist the body away from the head until it's removed. Rinse the tail thoroughly.
Check out this demo video to see how it is done.
What is the best way to cook spot prawns?
In the list below, here are the best ways to cook spot prawns.
How to steam spot prawns
Bring the water in your pot to a boil. Place spot prawns in the steamer basket. Steam for about 2 minutes and then run cold water over them.
How to grill spot prawns
Grill for 1 to 2 minutes per side at medium heat. You can also skewer them.
How to boil spot prawns
Bring the water in your pot to a boil. Boil spot prawns (with shell) for about 2 minutes.
How to sautee spot prawns
You can sautee spot prawns for a few minutes with or without shell.
Can you eat BC spot prawns raw?
Spot prawn tails can be eaten sashimi-style from de-headed fresh, BC live spot prawns.
Spot prawn recipe ideas
Here are some spot prawn recipe ideas for inspiration.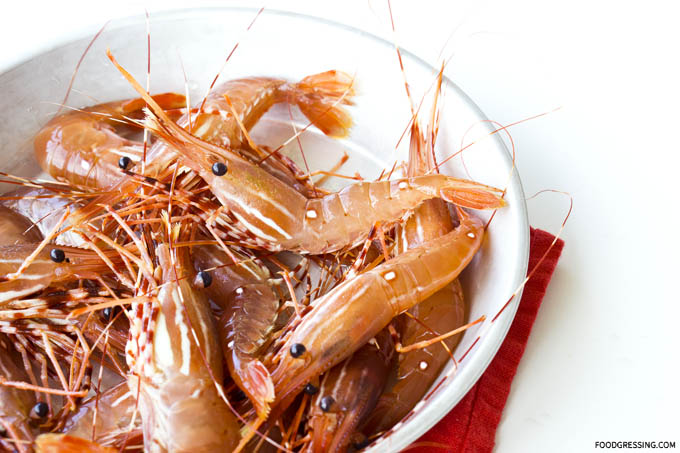 Cooked then chilled on ice. Serve with a lemon and cocktail sauce.
With butter only!
Paella with mussels, clams and fish. Serve with wine.
Steamed and then seasoned with olive oil, lemon and salt.
Cooked in sweet chili, butter, garlic and tomato sauce.
Pasta with tomatoes, asparagus in a garlic white wine sauce.
Tacos with mango, lime, sweet onion, salsa, chipotle mayo, avocado, cilatro and so forth.
Ceviche style.
Olive oil, salt and lemon zest.
Spot prawn boil with corn, potatoes and onions.
Garlic butter with Romesco sauce.
With coconut milk and lime.
Grilled and tossed in uni butter.
Spot prawn scampi (linguine pasta, butter, garlic, parsley, lemon, white white, parmesan)
Skewered and grilled.
With a butter garlic sauce.
Grilled with corn, then served with pasta and cherry tomatoes.
Chili garlic spot prawn steamed with sake and served with coconut rice.
Seafood risotto with mussels and clams.
Serve with soy sauce.
With a sake dashi broth.
Olive oil, garlic and fresh lemon juice.
Served with garlic, herb butter and zucchini and peas.