Here's a look at where to buy BC Spot Prawns Vancouver 2023 (BC Canada) along with season dates, buying tips, how to cook spot prawns tricks and spot prawn recipes.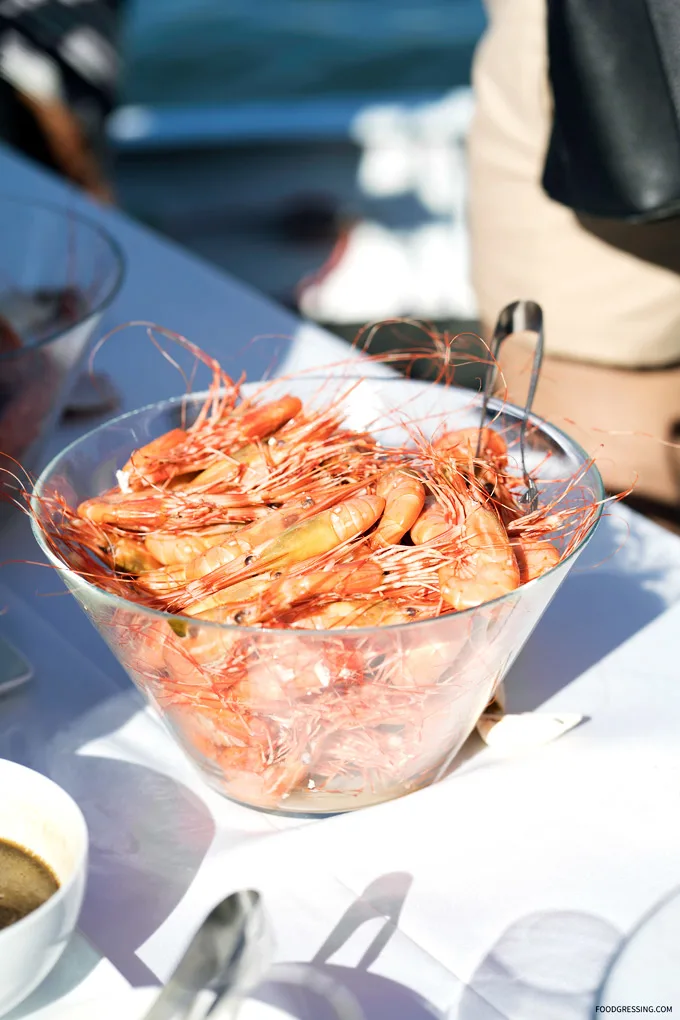 What is so special about spot prawns?
The BC spot prawn season is a favourite time of the year for foodies.
Known for their sweet, delicate in flavour and firm texture, BC spot prawns are delicacies that are enjoyed locally but also around the world.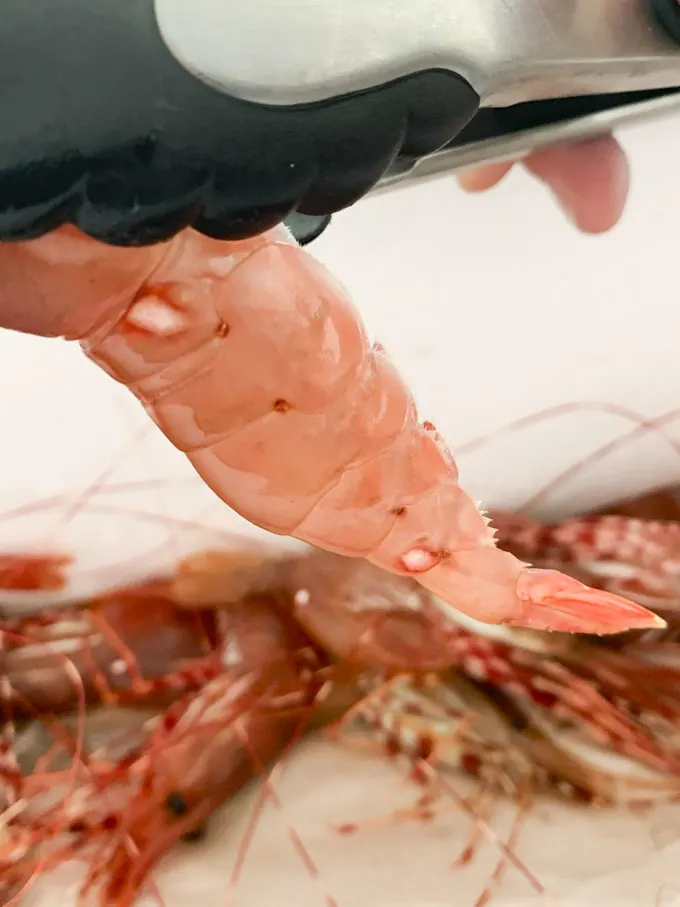 Are spot prawns worth it? YES!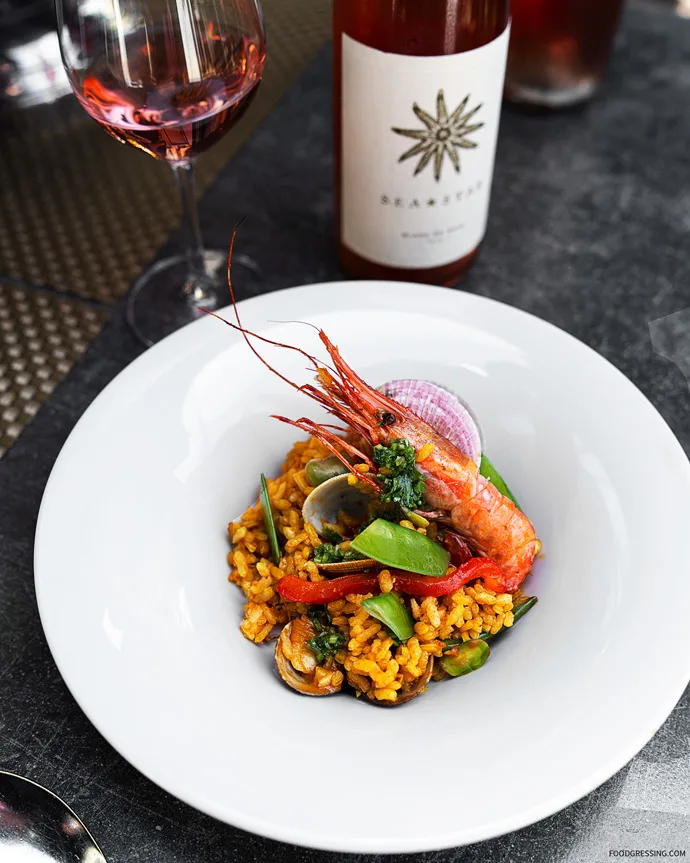 Why is it called spot prawn?
BC spot prawns are reddish brown in colour and have characteristic white spots on their tail and white horizontal bars on the carapace (shell).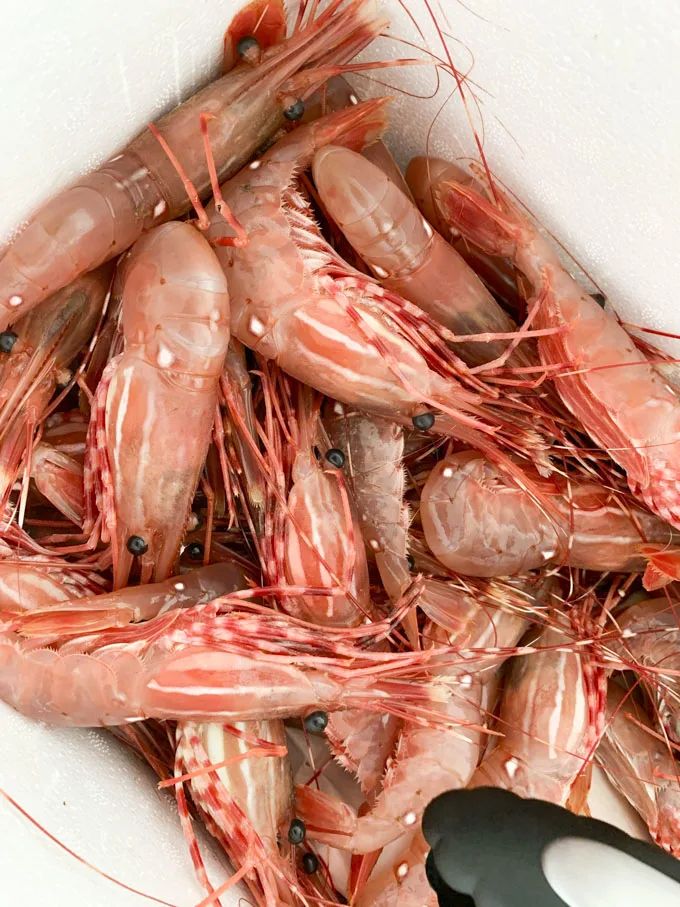 BC spot prawns are the largest of the seven commercial species of shrimp found on Canada's West Coast.
They vary greatly in size; some larger females can exceed 23 cm in total length – bigger than your hand!
How long is BC Spot Prawn Season 2023?
What is the spot prawn season in BC?
The BC Spot Prawn Season is super short. The 2023 harvest season started Wednesday May 17 and is expected to last 30 – 40 days.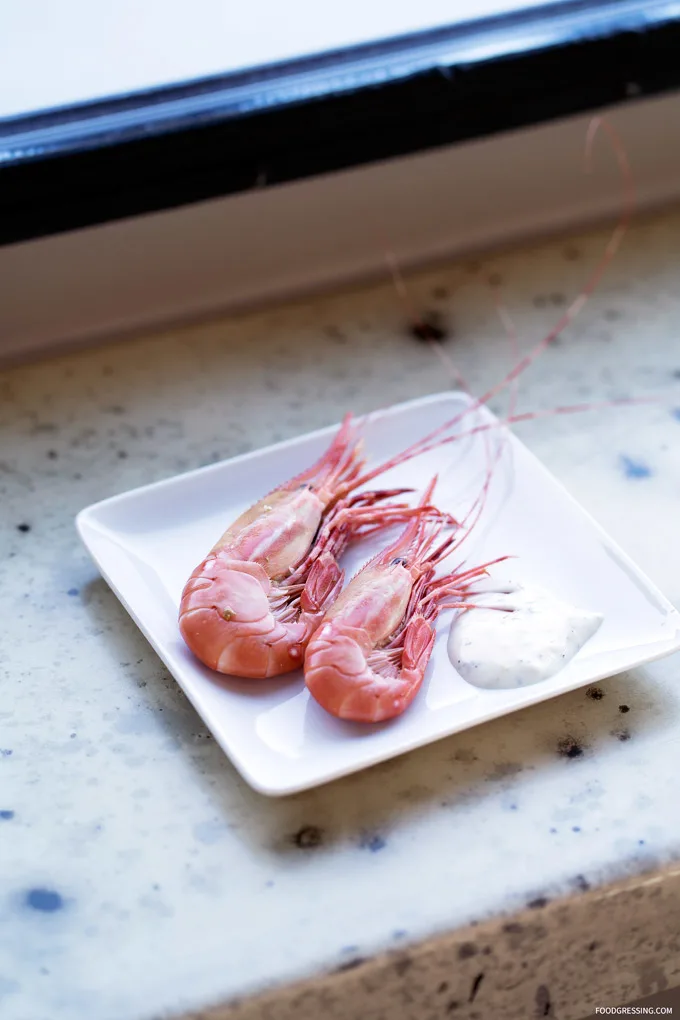 How are spot prawns caught?
Prawn fishermen typically leave early in the morning to spread baited traps in areas approved by Fisheries and Oceans Canada.
The traps lie along the rocky ocean floor at depths ranging from 40 to 100 metres.
This method has minimal impact on ocean habitat and very low levels of bycatch of other species.
The fisherman return later in the day to collect their haul.
How much are live spot prawns?
For the 2023 season, prices at the fisherman wharfs are around $24 – 25 per pound.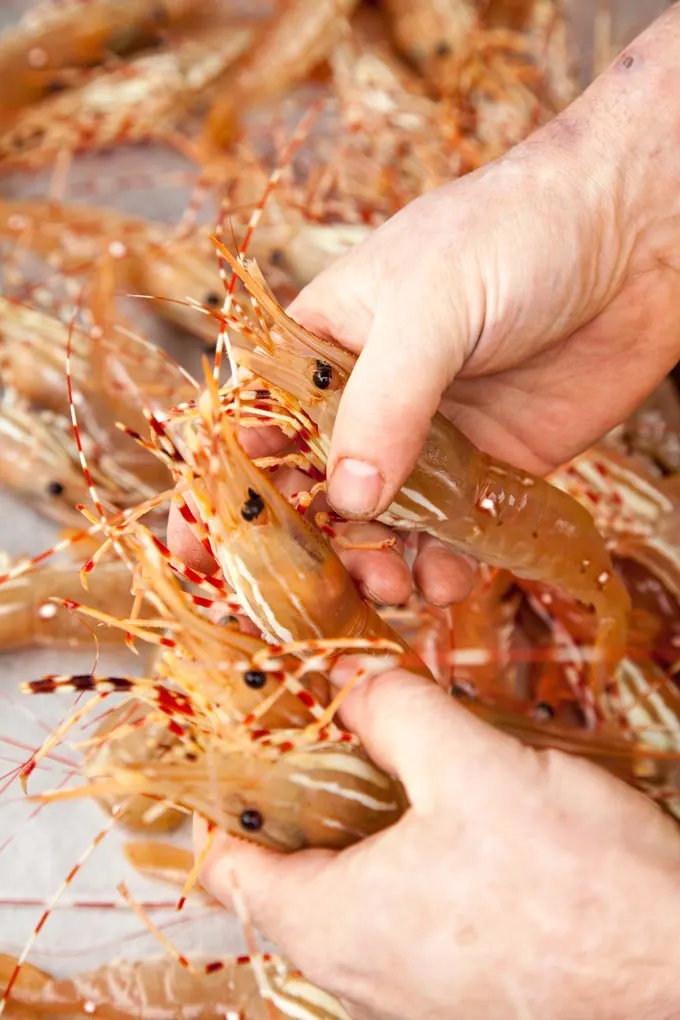 Tips for buying live spot prawns
About the start of the spot prawn season…
The first days when spot prawns are available on the market are pretty crazy.
You can preorder online ahead of time at some of the vendors that have online shops but that doesn't guarantee the availability.
During the first few days, the amount of spot prawns on the market is usually not enough to keep up with the HUGE demand in the beginning.
If you are planning to buy directly from the fishermen boats at the wharves, the boats typically come in around 12 pm – 1 pm.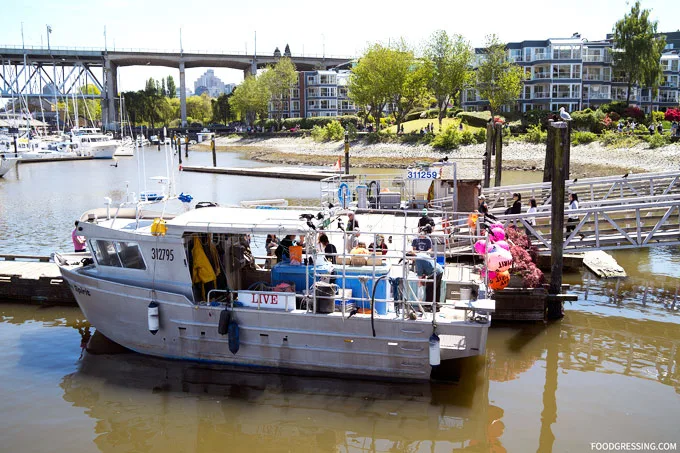 You can expect long line ups at the wharf ahead of when the boats even arrive. The wait could potentially be hours.
Check the social media of the fishermen for the latest information on when the boat is arriving or if they are sold out.
The demand does wane a bit as the season goes on so you can find spot prawns more easily in places like supermarkets (even in the late evening) and not having to wait in line for hours at the wharf.
When you buy live spot prawns…
They should be jumping, moving about with a translucent appearance! Do not buy foul-smelling, discoloured spot prawns.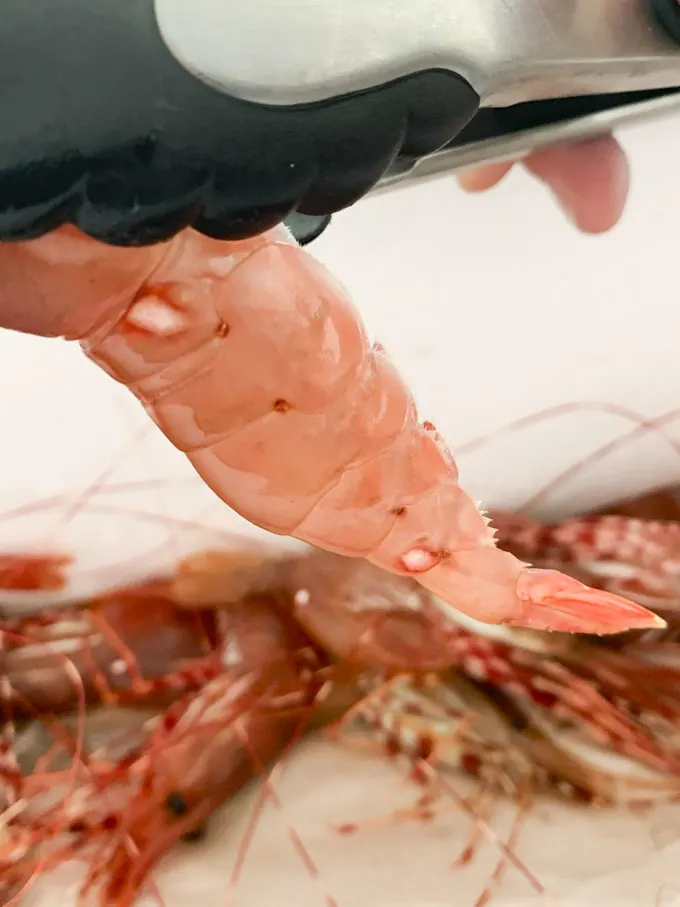 How to keep spot prawns alive
How do you transport live spot prawns? Bring a cooler with a small ice pack if you can to keep your spot prawns alive. That way you can keep them cool until you get home.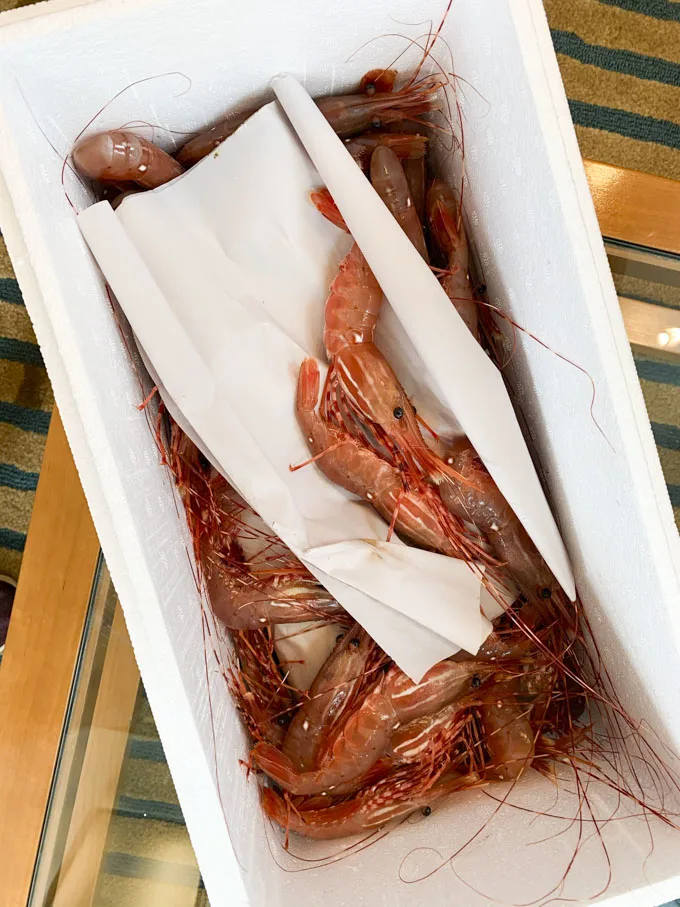 Do not put the spot prawns directly in ice because melted fresh water ice will kill them.
If the spot prawn is dead, an enzyme is released from within a prawn's head that can cause the meat to turn mushy when cooked.
Where can I buy spot prawns in Vancouver 2023?
Any additions? Please contact me @foodgressing on social media or email [email protected].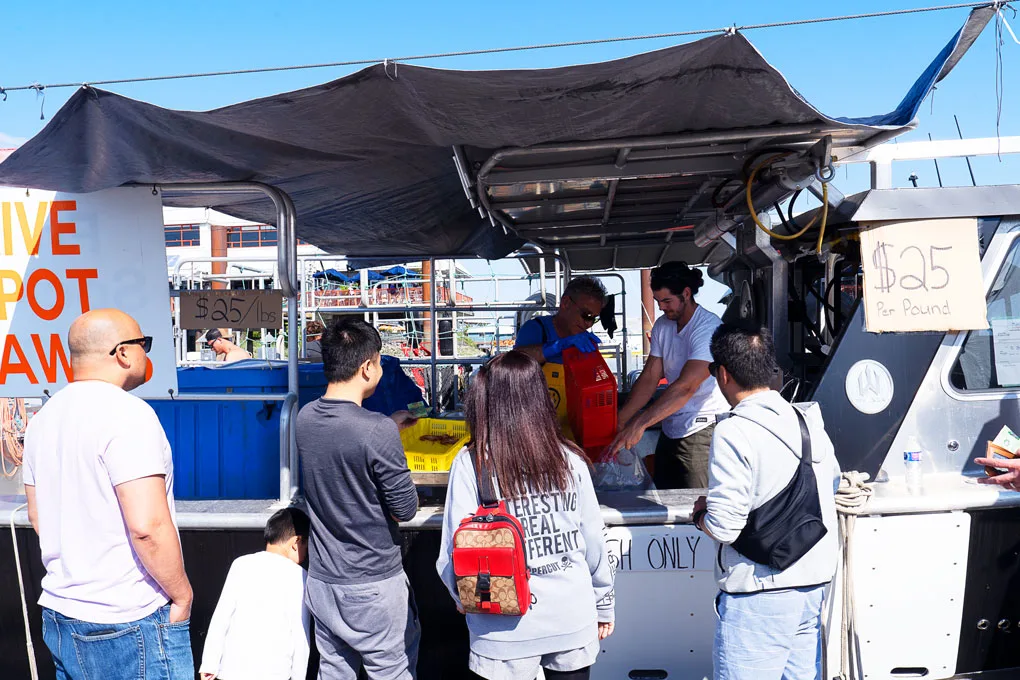 BC Live Spot Prawns (Ladner Wharf)
BC Live Spot Prawns & Seafood is taking preorders at $25 per pound at the time of this update.
BCLSPS provides wild-caught, sustainable, antibiotic-free and hormone-free seafood directly from fishermen to customers.
The company was the pioneer in introducing home delivery of live spot prawns in 2020 so customers could enjoy the tasty delicacy in the comfort of their own homes. Thousands of happy customers have bought live spot prawns from BCLSPS.
To pre-order live spot prawns, customers can go to the BCLSPS website at bclivespotprawns.com. Pickups are available daily at the Ladner Wharf, or customers can opt for home delivery Mondays to Saturdays, until the end of the season.
Despite the rising operating costs, including a 20-30% increase in licensing fees, and inflation on bait and fuel prices, BCLSPS aims to keep the prices reasonable for its customers.
BCLSPS does not grade its spot prawns and the spot prawns are fishermen-direct. That means customers can expect to find large and XL spot prawns in their order, directly from the daily catch.
BC Live Spot Prawns & Seafood highly recommends pre-ordering live spot prawns to avoid disappointment and long line-up at the docks. Pre-orders ensure prawn availability for customers on their chosen pickup or delivery day. Specific pickup instructions will be provided to customers upon checkout. For more information, visit bclivespotprawns.com.
Steveston Spot Prawns (Steveston Fisherman's Wharf)
Steveston Spot Prawns is selling spot prawns from their boat in Steveston Fisherman's Wharf. Follow their live updates @steveston.spot.prawns.
They are taking preorders at $24 per pound (at the time of this update.). Pre-order prices will be guaranteed should daily market price at the dock on pick up day be higher than your pre-order price. A refund or extra prawns will be provided should daily market price at the dock on pick up day be lower than your pre-order price. Preorder by 6 pm for next day pickup.
Prawns on the Spot (Steveston Fisherman's Wharf)
Prawns on the Spot is taking preorders at $25 per pound at the time of this update.
The Lobster Man (Granville Island)
Lobster Man is taking preorders at $27 per pound at the time of this update.
Fresh Ideas Start Here (South Burnaby)
Fresh Ideas Start Here is taking preorders at $28 per pound at the time of this update.
Fanny Bay Oyster Bar (Downtown Vancouver)
Fanny Bay's Shellfish Market sells live spot prawns at $36 per lb.
Farm to Table Market (Yaletown/West Vancouver)
Farm to Table Market is taking preorders for spot prawns. $26.99/lb with a minimum 3lbs. Pickup Wednesday, Friday and Sunday.
Sungiven Foods (Various Locations)
Sungiven Foods takes preorders at $26.99 per pound.
Fresh D Foods Canada (Delivery)
Fresh D Foods offers purged spot prawns (see my post here that discusses the process of purging).
T&T Supermarket (Various Locations)
T&T usually has live spot prawns in the tank.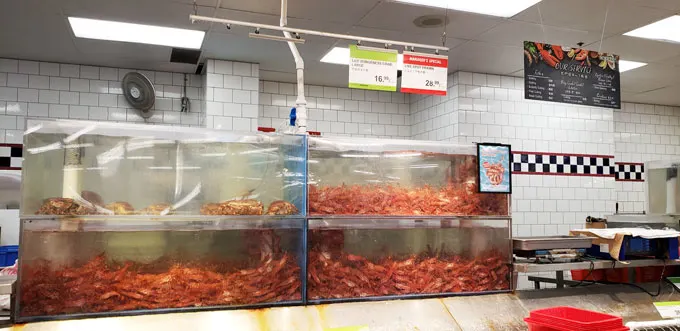 7seas Fish Market
7seas Fish Market on Fourth – TBC
SEAFOOD.STOP 海鮮站 温哥華 (Richmond)
SEAFOOD.STOP – TBC
Organic Ocean Seafood (Granville Island Fisherman's Wharf)
Organic Ocean Seafood – TBC
Spot Prawn Festivals & Events 2023
BC Spot Prawn Festival 2023
On Sunday May 28, 2023, join the Chefs' Table Society of British Columbia for a celebration of an iconic BC product at the annual Spot Prawn Festival. Outdoor stand up event and runs rain or shine.
You have THREE ways to enjoy it:
FREE – access to the docks, view cooking demos and more (family-friendly)
$10 – 10 oz of Prawn Bisque + a Bun– to go if you want! (family-friendly)
$79 – Spot Prawn Brunch – grazing stand-up style with a tasting menu of 6 delicious spot prawn dishes **19 years and old only (no pets)
This is the Chefs' Table Society's main fundraising event so it can continue to provide education, mentorship, scholarships and sustainability initiatives across the province.
PRAWN BISQUE: Instead of the traditional chowder, they are offering the creamy delicious prawn bisque prepared by Organic Ocean. Ticket for the bisque with a freshly baked bun is $10 a bowl (plus tax and service) and if you want, you can take it to go. NO LONG WAIT!!! Choose to enjoy your Prawn Bisque in one of the following time slots:
11 am to 12 pm (noon)
12 pm (noon) to 1 pm
1 pm to 2 pm
2 pm to 3 pm
The time, clearly indicated on your ticket, should be respected! Please note that showing up early for your time will not give you earlier access and that showing up late might make you wait longer.
SPOT PRAWN FESTIVAL BRUNCH. A wonderful idea for an outing on the weekend: a brunch featuring a tasting menu with 6 delicious spot prawn dishes showcasing the many ways this delicacy can be served.
Dishes will be prepared by some of BC's finest chefs, a nice way to sample various creations and for you to say hello to the chefs as you move between the food stations and savour samples of BC wine & beer and non-alcoholic beverages. A sweet treat will be served too.
Two services are available and our participating chefs and restaurants are:
Brunch service: 11:30 am to 1 pm. Chefs to be announced
Brunch service :1:30 pm to 3 pm. Chefs to be announced
Ticket for the brunch is $79.00 per person (plus tax and service fee) and includes a delicious tasting menu consisting of six spot prawn dishes, samples of wine, beer and non-alcoholic beverages, and a sweet treat.
Also not to be missed, the DEMO STAGE. Schedule of Demo Chefs to be announced.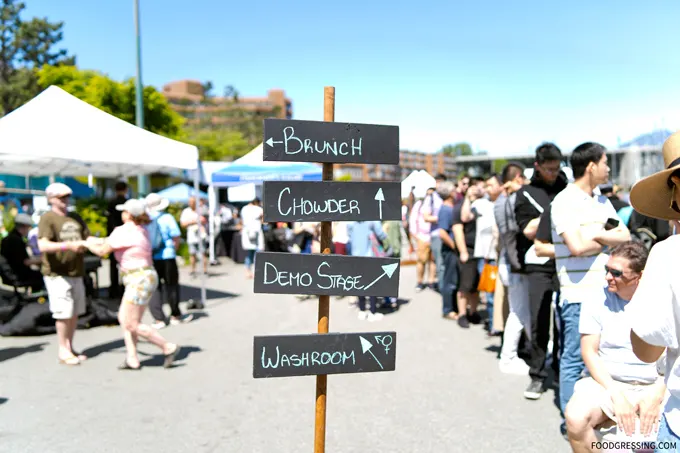 Longtail Kitchen
Put on your best sunnies and head to the River Market at Westminster Quay; Longtail Kitchen is throwing a patio party! In honour of ten years of serving tasty Thai dishes to the fine folks of New West, Longtail presents a 'Spot Prawn BBQ Bash'. Starting at 2:00 p.m. on Saturday, May 20th, guests will feast on an entire pound of live B.C. spot prawns purveyed by eatfish.ca and served hot off the grill with nahm jim dipping sauce, and a tallboy of refreshing craft beer from neighbouring Steel & Oak Brewing Co.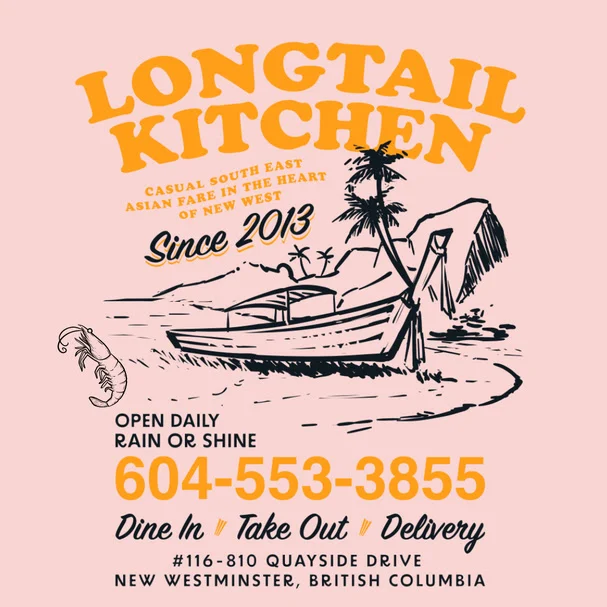 Longtail's head chef and restaurant manager, Alex Lim, will be manning the barbeque at this epic waterfront cookout, while Angus cracks some fresh cold ones from 2:00 p.m. to 7:00 p.m. There will be door prizes and giveaways including a limited-edition Longtail 10th Anniversary T-shirt for the first 20 guests who purchase tickets, plus special side dishes and fun surprises.
Tickets for Longtail's Spot Prawn BBQ Bash are $48.88 per person and can be purchased in advance at eventbrite.ca/e/longtail-turns-10-spot-prawn-bbq-bash. Longtail Kitchen (116-810 Quayside Drive, New Westminster) will also remain open for takeout orders.
Spot Prawn & Seafood Dine About Richmond
Steveston Spot Prawn and Seafood Celebration is happening from May 16 to June 18 and celebrates this coastal culture with a variety of events and activities, including fresh seafood brought into Fisherman's Wharf daily, demonstrations from professional chefs and locally caught seafood (by Steveston Fishers) featured on participating restaurant menus as part of their Dine About promotion.
Enjoy fantastic dishes that celebrate and make the most of locally caught seafood, including the famous spot prawn at participating Richmond restaurants.
Use their passport to find out where you can try the specially curated Dine About dishes and receive $2 off your Dine About featured meal. They've also partnered with The Gulf of Georgia Cannery National Historic Site to offer $2 off entry during the promotion.
Each time you redeem your $2 discount, you will be entered into a prize draw for a chance to win a Steveston restaurant gift card.
How many spot prawns are in a pound?
Depending on the size of the catch, the number can range from 10-16 for mixed sizes. Recommended serving is roughly half a pound per person
How to prepare spot prawns
So you've brought home your live spot prawns, kept them cool and they're sticking kicking and moving about. What to do next?
Get ready to cook them ASAP. You need to cook them live because spot prawns release an enzyme when they die.
If you're asking "why are my spot prawns mushy," it is likely that your spot prawn meat is spoiled.
Dead prawns have a black flesh and are simply not good to eat.
Do not put spot prawns in tap water because fresh water will actually kill them.
Spot prawns taste best when they are cooked fast in just about two minutes. Beware of overcooking!
You can even undercook the spot prawns a bit because they will continue to cook after removal from heat.
Look for them to turn pink and curl up which means they are ready to be enjoyed.
For the spot prawn meat to be in the best condition, cook the spot prawns live with their head or you will need to remove their heads while still alive.
How to remove spot prawn head
It can be intimidating at first, but to remove the head of a live spot prawn follow these steps:
Carefully remove the spot prawn from the bag and carefully handle the sharp ends.
Firmly grab the spot prawn head in one hand and the spot prawn body with the other.
Pinch the spot prawn head with your thumb and index finger.
Twist your hands in opposite directions and pull.
Voila, the head will come free easily!
Grab the body with your dominant hand and pinch the head between the thumb and index finger of your other hand. Quickly and forcefully twist the body away from the head until it's removed. Rinse the tail thoroughly.
Check out this demo video to see how it is done.
What is the best way to cook spot prawns?
In the list below, here are the best ways to cook spot prawns.
How to steam spot prawns
Bring the water in your pot to a boil. Place spot prawns in the steamer basket. Steam for about 2 minutes and then run cold water over them.
How to grill spot prawns
Grill for 1 to 2 minutes per side at medium heat. You can also skewer them.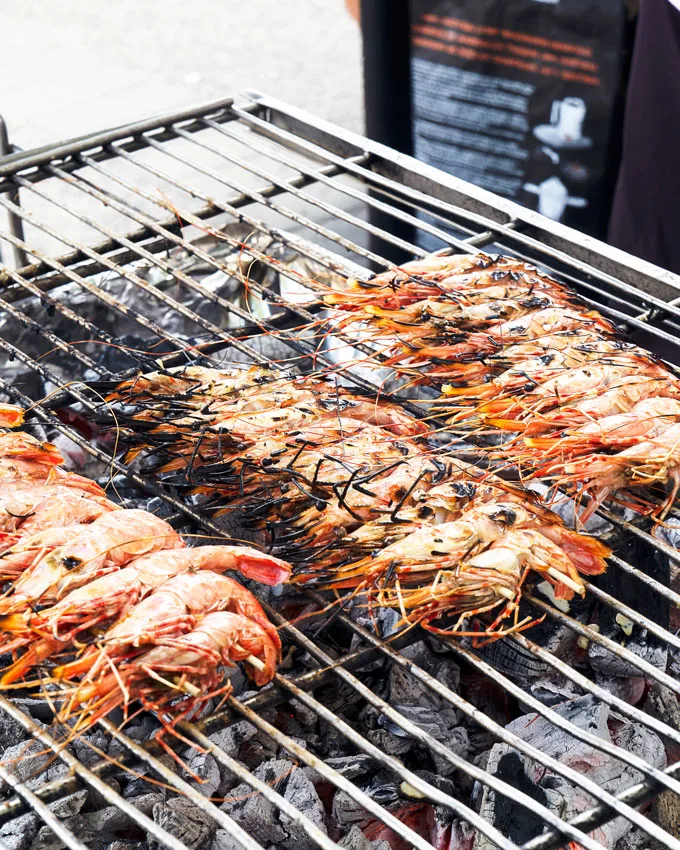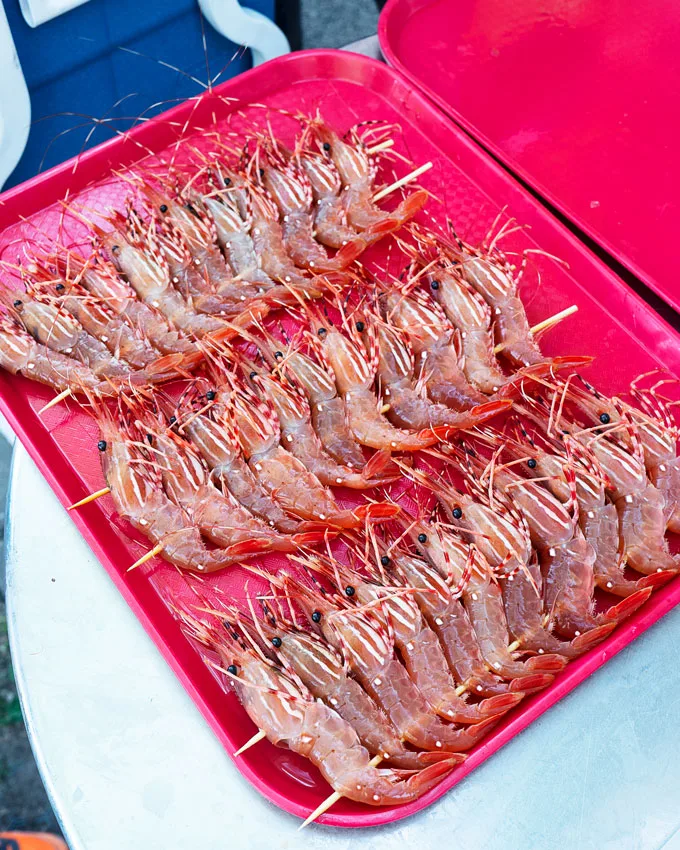 How to boil spot prawns
Bring the water in your pot to a boil. Boil spot prawns (with shell) for about 2 minutes.
How to sautee spot prawns
You can sautee spot prawns for a few minutes with or without shell.
Can you eat BC spot prawns raw?
Spot prawn tails can be eaten sashimi-style from de-headed fresh, BC live spot prawns.
Spot prawn recipe ideas
Here are some spot prawn recipe ideas for inspiration.
Cooked then chilled on ice. Serve with a lemon and cocktail sauce.
With butter only!
Paella with mussels, clams and fish. Serve with wine.
Steamed and then seasoned with olive oil, lemon and salt.
Cooked in sweet chili, butter, garlic and tomato sauce.
Pasta with tomatoes, asparagus in a garlic white wine sauce.
Tacos with mango, lime, sweet onion, salsa, chipotle mayo, avocado, cilatro and so forth.
Ceviche style.
Olive oil, salt and lemon zest.
Spot prawn boil with corn, potatoes and onions.
Garlic butter with Romesco sauce.
With coconut milk and lime.
Grilled and tossed in uni butter.
Spot prawn scampi (linguine pasta, butter, garlic, parsley, lemon, white white, parmesan)
Skewered and grilled.
With a butter garlic sauce.
Grilled with corn, then served with pasta and cherry tomatoes.
Chili garlic spot prawn steamed with sake and served with coconut rice.
Seafood risotto with mussels and clams.
Serve with soy sauce.
With a sake dashi broth.
Olive oil, garlic and fresh lemon juice.
Served with garlic, herb butter and zucchini and peas.
Vancouver/Richmond Restaurants Spot Prawn Feature Dishes
Fanny Bay Oysters
Chef Tommy Shorthouse at Fanny Bay Oysters has created a few features to celebrate Spot Prawn Season:
Fresh Spot Prawn Sashimi served raw on ice with wasabi and soy sauce – $10 each (Have the prawn head deep fried with Old Bay aioli for $2 each).
Daily Spot Prawn Feature – chef's rotating creations, please ask your server for daily creations – $32
Cooked Spot Prawn Add On – sautéed with garlic butter, chili, herbs and white wine – $10 each
Live Spot Prawns are also available at Fanny Bay Market for $36 per lb.
Smitty's Oyster House
Smitty's Oyster House on Main St. is offering the following:
Spot Prawn and Scallop with carrot/habanero aguachile, cucumber, red onion and avocado mousse
Available on Friday and Saturday evenings – Spot Prawn Paella with homemade chiditos, mussels and clams.
Coast
Coast is offering the following spot prawn features.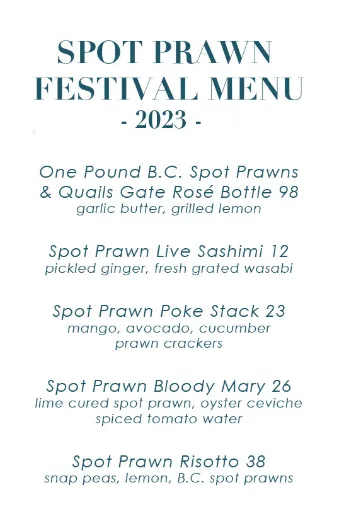 NOX Restaurant
At NOX Restaurant, Head chef, Sam Fabbro, has designed a unique pasta dish celebrating West Coast ingredients utilizing traditional Italian cooking methods. It is a braised fennel stuffed pasta with butter-poached spot prawns for $34. Available now during dinner service until the end of the season.
Wildlight Kitchen + Bar
Award-winning executive chef, Warren Chow, at Wildlight Kitchen + Bar has created three spot prawn features that will be available starting Monday, May 29.