Thanksgiving is a wonderful time to eat, drink and be thankful. Looking for ways to celebrate Thanksgiving Vancouver 2022? This post covers Thanksgiving dinner in Vancouver BC Canada, restaurants open for Thanksgiving Vancouver 2022 as well as turkey to go and takeout options.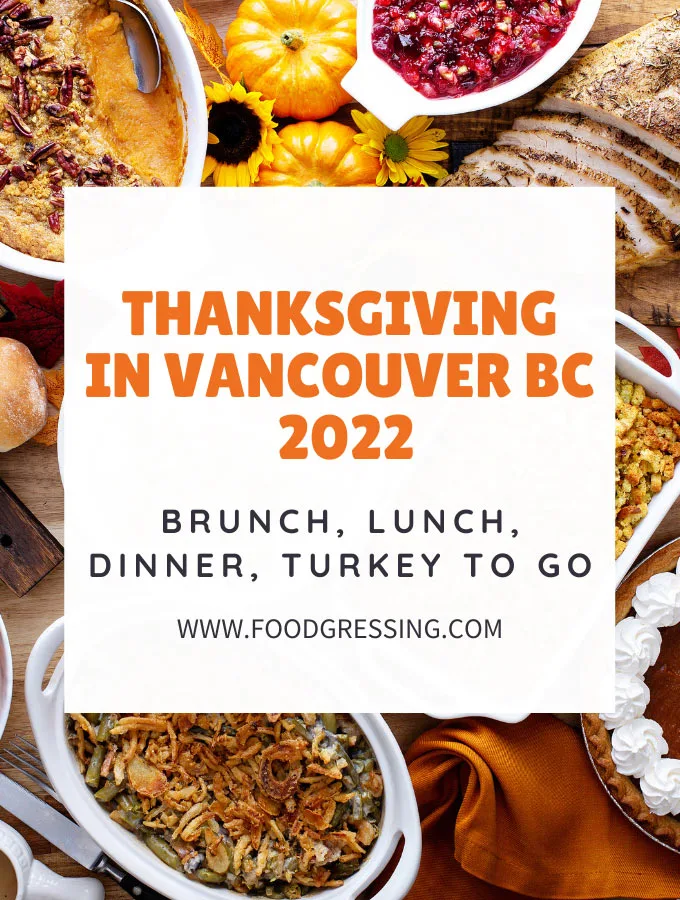 Thanksgiving in Canada this year is Monday, October 10, 2022.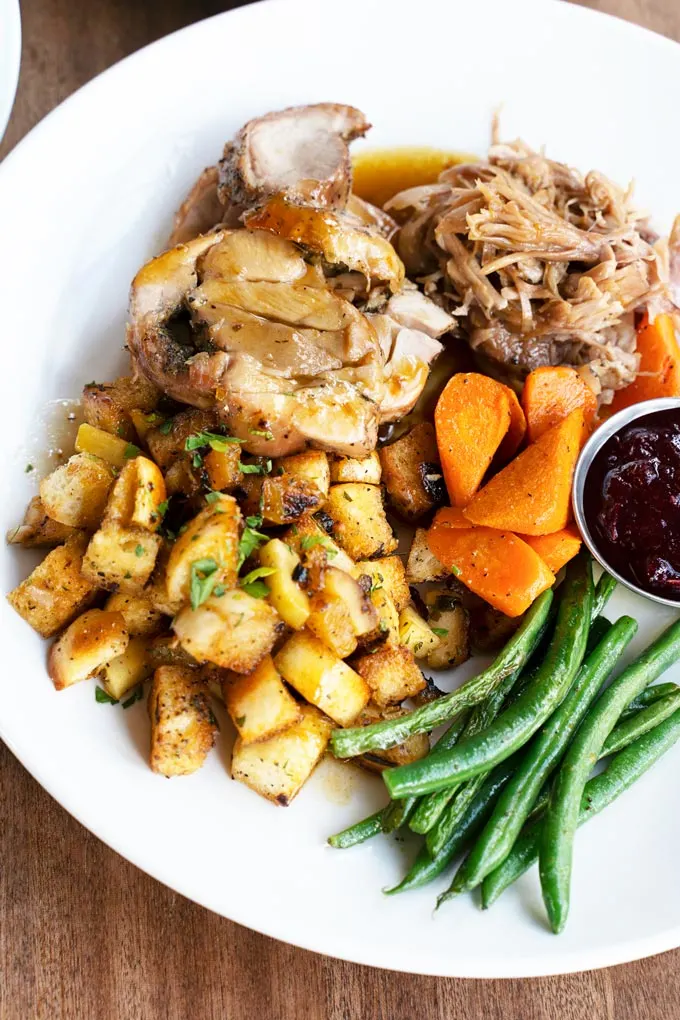 Please reach out to me [email protected] or @foodgressing on social media if you are a restaurant that wants to be featured. Provide all the details of your holiday offering in your message. For faster processing, please provide a ready to copy and paste excerpt in paragraph form in a similar format to the restaurants featured below.
This list is not exhaustive and is updated as information becomes available. I try to feature as much as I can but certainly this is not all that is out there. If your favorite restaurant is not on the list, contact them to see what they are offering.
Check back later as well as more offerings are added to this list.
Thanksgiving Vancouver 2022
Truffles Fine Foods
Truffles Fine Foods is offering their Heat at Home Thanksgiving dinner packages.
This year, they are featuring two Heat at Home Dinners:
Traditional Turkey Dinner Package for 4 $180
Plant Based Dinner Package for 4 $160
Both are served with all the fixings and dessert. Order cut off date is Monday, Oct.3rd at 12pm
Dinners are available for delivery for a fee or free Pick up at our Head Office on Saturday Oct.8 (8286 Sherbrooke St, Vancouver, BC V5X 4R6).
The Belgard Kitchen
The team behind The Belgard Kitchen is pleased to announce the continued tradition of their Thanksgiving feast, and will once again be hosting the event on Monday, October 10.
Served family style, the aptly named "Family Dinner" began as a long table gathering 7 years ago, and has since evolved into a more intimate set up (i.e. separate tables) for friends & family to come together over a holiday meal without any cooking or cleaning.
The Menu:
Turkey 2 Ways: stuffed and rolled breast, confit legs, gravy, cranberry sauce
Twice Baked Rosemary + Goat Cheese Bread Pudding
Mashed Potatoes
Seasonal Vegetable Medley
Somethin' Sweet!
At $45 per guest (with a donation to Mealshare and the IRSSS included), reservations can be made
through the restaurant's website or through OpenTable. Please contact the restaurant with any questions at [email protected] or 604-699-1989.
Showcase Restaurant
Showcase Restaurant is offering a Thanksgiving 3 course dinner from Oct 8 – Oct 10, 2022 at $55 per person. Menu includes a Baked Pumpkin Alaska!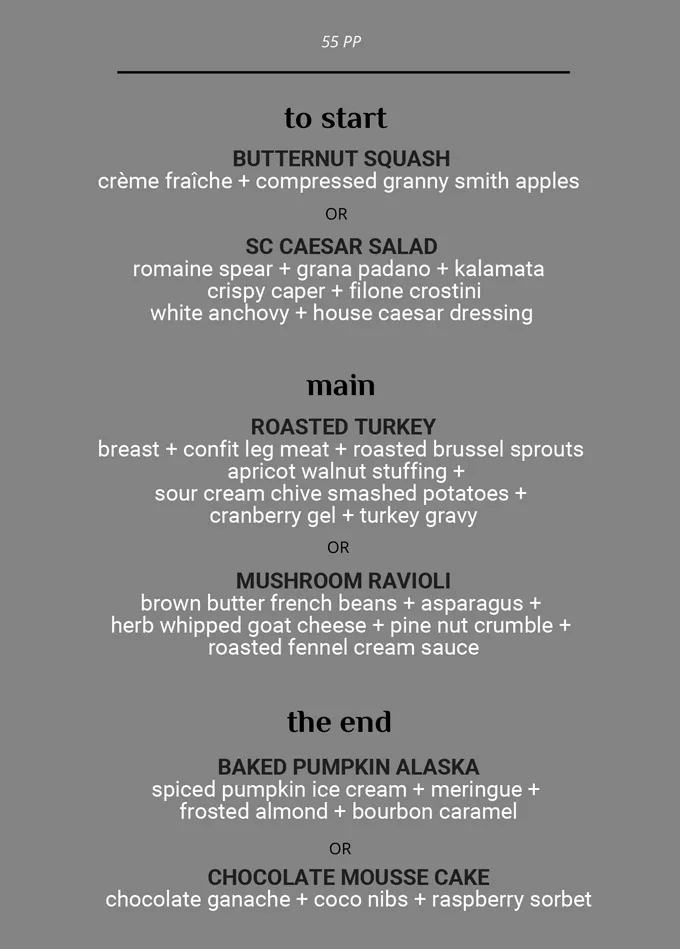 C|PRIME Modern Italian Steak and Wine
Chef Behshad at C|PRIME Modern Italian Steak and Wine will be featuring special Thanksgiving dinner and dessert features:
Thanksgiving Dinner Plate – $34.00 per plate
Confit roulade Turkey Leg
Herb Roasted Turkey breast
Creamy mash potatoes
Fried Brussel sprouts
Sourdough stuffing
Turkey jus
Add-ons – $12
Thanksgiving Warm Bread pudding
Vanilla crème anglaise, pecan crumble
The Flying Pig
On October 9, The Flying Pig is offering Slow Roasted Free Range Turkey with brioche stuffing, mashed potatoes, peas & carrots, house-made cranberry sauce and gravy for $32 and finish with House-Made Pumpkin Pie with Chantilly cream and caramel sauce for $9. Reservations are available online.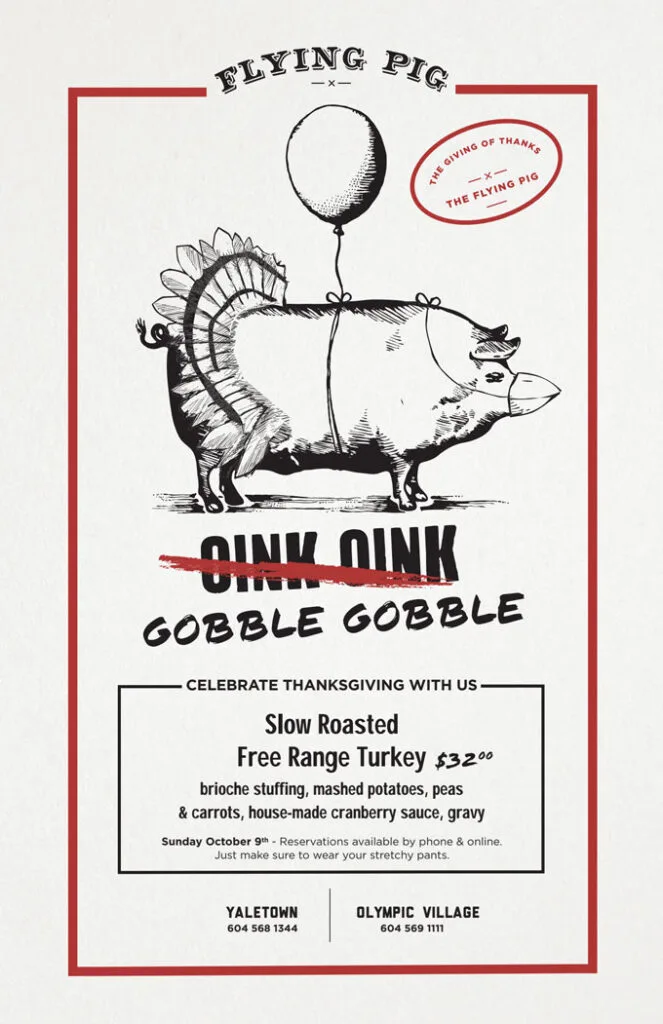 Boulevard Kitchen & Oyster Bar
Boulevard Kitchen & Oyster Bar prepares for the Thanksgiving holiday with expertly curated to-go packages and an indulgent dine-in menu.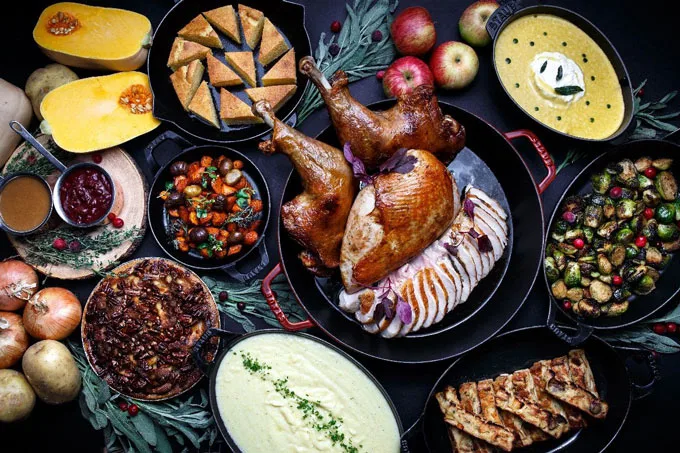 Thanksgiving to Go: Plan for an effortless holiday with our heat-and-serve packages curated by Chef Alex Chen. Featuring tender to the bone turkey with all the fixings, this fall feast is sure to impress. The award-winning team has done all work; customers have little more to do than set the table and reheat or opt for the hot-and-ready option.
A Sage-Roasted Turkey takes centre stage, accompanied with all the fixings and traditional sides prepared to perfection. Boulevard's much-loved cornbread appears alongside a starter of Spiced Butternut Squash Soup with apple cider and maple cream. For dessert, Pastry Chef Kenta Takahashi has prepared an elevated Pumpkin Tart complete with vanilla chantilly and spiced ice cream.
Boulevard's Thanksgiving To-Go is available in two sizes (full pack for $425 feeds 8, and half pack for $275 feeds 4).

These holiday sets are available for pickup from the restaurant on October 8-9 between 12:00pm – 5:00pm. Orders must be received by October 4, and can be placed on TOCK.
Thanksgiving Dine-In on October 9 & 10: Chef Roger Ma presents an elevated take on the classics; this indulgent three-course holiday feast features perfectly roasted Fraser Valley turkey, velvety butternut squash veloute and a not-to-miss pumpkin tart by Pastry Chef Kenta Takahashi. Elevate the experience with seasonal offerings from the raw bar and rare finds from the Boulevard wine cellar.
The menu is available for $80 per person. View the menu and reserve here. Reservations can be made on OpenTable or by calling the restaurant at 604-642-2900.
Pacific Institute of Culinary Arts
Blue Hat Bakery-Café at Pacific Institute of Culinary Arts is offering an impressive Thanksgiving Feast this year with all the traditional trimmings.
PICA's signature Thanksgiving Feast includes everything you need, including Apple and Thyme Brined Roasted Turkey Breast, Buttermilk Mashed Potatoes, Herb Stuffing with Cranberries, Brussel Sprouts with Concord Grapes, Roasted and Glazed Brown Sugar, Cinnamon Baby Carrots, Beets with Shaved Fennel and Orange plus Traditional Turkey Gravy, Orange-Bourbon Cranberry Sauce and Brioche Pull Apart Buns and Pumpkin & Apple Pie with Crème Anglaise (one of each per order)
Pre-order before 5PM on Wednesday, October 5th and pick up the meal packages from PICA's Blue Hat Bakery-Cafe (1505 West 2nd Avenue) on Granville Island between 11am – 4pm on Saturday, October 8 and Sunday, October 9.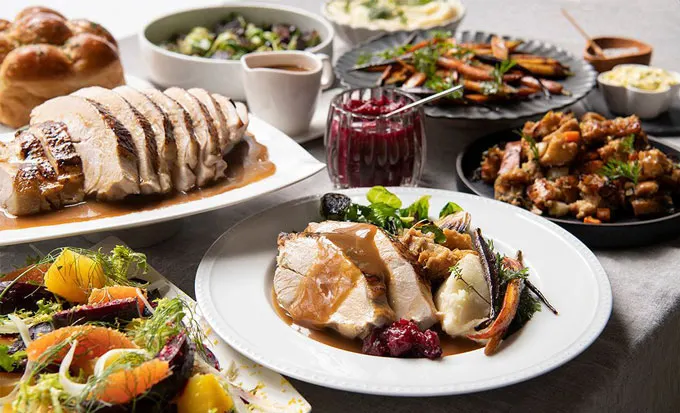 Thanksgiving Dinner Menu – $109 for Two
Apple & Thyme Brined Roasted Turkey Breast
Buttermilk Mashed Potatoes
Herb Stuffing with Cranberries
Brussel Sprouts with Concord Grapes
Roasted & Glazed Brown Sugar, Cinnamon Baby Carrots
Beets with Shaved Fennel & Orange
Traditional Turkey Gravy
Orange-Bourbon Cranberry Sauce
Brioche Pull Apart Buns
Pumpkin & Apple Pie with Crème Anglaise (one of each per order)
Railtown Catering
Railtown Catering's much-loved Thanksgiving Vancouver 2022 Turkey To-Go packages return this Thanksgiving, providing an elevated festive feast without any of the fuss. Back for the tenth year in a row, the heat-and-serve packages will be available for pick up and delivery October 8 – 10.
These chef-curated packages will satisfy all your holiday cravings, simply set the table, mingle with your guests and forget the stress.
Turkey to go menu:
Sage-Roasted Turkey
Traditional Giblet Gravy
Wild Flower Honey & Ginger Infused Cranberry Sauce
Mesclun Greens, Candied Walnuts, Citrus, Sherry vinaigrette
Dried Apricot Chestnut & Brioche Bread Stuffing
Maple-Glazed Sweet Potatoes
Mashed Yukon Gold Potatoes
Buttered Carrots
Brussels Sprouts with Toasted Almonds
House Made Dinner Rolls & Focaccia Bread, Sweet Butter
Classic Pumpkin Pie, Chantilly Cream
Packages will be available in two sizes; the full package which includes a whole turkey feeds 8-10 for $429, this is the impressive Railtown customers have come to love. The half package that feeds up to 5 for $299 is perfect for smaller gatherings. There is also an option to add on additional sides for those who are wanting more. Customers may also shop and order a selection of BC wines and craft beer to complete their meal.
Reserve your Turkey To-Go package on or before Friday, September 23 to receive a $40 gift card for Railtown Cafe. Both small and large package orders are applicable to receive the early bird incentive.
All orders must be placed by Wednesday, October 5, at 10:00am. Packages will be available for pickup from the 397 Railtown Street location between 10:00am – 5:00pm. Delivery is offered throughout the Lower Mainland for an additional charge.
Additionally, the team will be offering a ready-to-eat "Hot Pick Up" service available between 3:00pm – 5:00pm, on Sunday October 9 and Monday October 10. This is available for an additional $50 per package.
Partial proceeds from the sale of each package will be used to serve meals to Mission Possible, a non-profit organization that provides street-level care for those in the Downtown Eastside.
Hyatt Regency Vancouver: Mosaic Grille & Bar
Hyatt Regency Vancouver is offering a Thanksgiving Vancouver 2022 three-course dinner with the option of choosing between the "Aspen Ridge" Prime Rib ($75) or the "Fraser Valley" Turkey ($65) for the Main Course. A vegetarian menu is also available featuring a Stuffed Cannelloni ($55) for the Main Course.
These Thanksgiving Dinner menus will be available for Sunday, October 9 and Monday, October 10 from 4:30pm – 10:00pm.
Appetizer
Chestnut Veloute
Pumpkin, Wild Mushroom, Lardon
Roasted Brussel Sprout Salad
Poached Egg, Pumpernickel, Goat Cheese, Pomegranate, Quince Vinaigrette
Main
"Aspen Ridge" Prime Rib
Wild Mushroom, Pave, Carrots, Horse Radish, Creamed Spinach, Bone Marrow Jus, Yorkshire Pudding
Or
"Fraser Valley" Turkey
White & Dark Meat Butter Roasted Turkey, Smoked Chestnut Stuffing, Apple Braised Red Cabbage, Brussel Sprouts, Giblet Gravy
Or
Stuffed Cannelloni (Vegetarian)
Butternut Squash, Pecan, Spinach, Pickled Shimiji, Mascarpone Stuffed Cannelloni, Brown Butter Burre Blanc, Parmesan
Dessert
Pumpkin Pie
Traditional Pate De Sucre Pumpkin Pie, Maple Walnut Gelato, Bourbon Caramel Drizzle
H Tasting Lounge
H Tasting Lounge (HTL) – at The Westin Bayshore, Vancouver – is bringing back its overwhelmingly popular Thanksgiving Turkey Takeout. Leave the oven off and spoil your loved ones (and yourself) with this complete, generously-portioned dinner that easily feeds 6 to 8 hungry guests.

Featuring all your traditional favourites prepared by our acclaimed culinary team, each package includes:
A Fraser Valley whole roasted natural turkey, basted in thyme and rosemary oil
Dried apricot and cranberry stuffing
Housemade cranberry sauce with orange essence and pan gravy
Creamy buttermilk Yukon Gold mashed potatoes
Roasted root vegetables seasoned with allspice and cracked pepper
Brussels sprouts with caramelized shallot and fresh herbs
Freshly baked sourdough rolls with sweet butter
Freshly baked pumpkin pie, traditionally spiced and served with Chantilly cream on the side
Each Thanksgiving Turkey Takeout is $375. Available for pick-up only on Sunday, October 9, between 2:30 pm and 6 pm. The number of packages available is limited; please place your order no later than 12pm, Thursday, October 6. While the sides will be packaged and cooked, re-heating is required to ensure the integrity of the flavour profile and texture.
Fairmont Hotel Vancouver: Notch 8 Restaurant
The Fairmont Hotel Vancouver is offering a few Thanksgiving Vancouver 2022 menus.
Thanksgiving Brunch Buffet: Overlook Vancouver's skyline, and join Notch8 for a delicious Thanksgiving Brunch Buffet served in The Roof – the hotel's newly renovated 15th-floor historic venue.
The buffet is on Sunday, October 9th, 2022 from 10am – 2:30pm. $104.55 per adult, $52.28 per child, ages 12 & under.
Indulge in sweet and savory brunch favourites, a chef-attended carving station featuring prime rib, butter-basted roasted turkey, maple glazed ham, and enjoy decadent desserts created by our in-house pastry shop.
Thanksgiving Turkey-To-Go: Celebrate Thanksgiving Vancouver 2022 from the comfort of your own home with an impressive holiday dinner from Executive Chef David Baarschers. All you need to do is pick your order up on Oct. 9, and warm it for your guests when you're ready to eat. Detailed heating instructions included.
Pick Up Date: Oct. 9, 2022. Pick Up Times: 10am – 4pm. Serves: 8 – 10 guests. Price: $499 (inclusive of GST & PST, exclusive of a 3% service fee — full prepayment at time of booking). Ordering Deadline: October 3 at 5pm.
Free Range Fraser Valley Turkey (7kg – 9kg)
Preserved Fruit Bread Stuffing
Honey Thyme Roasted Root Vegetables
Yukon Gold Mashed Potatoes
Cranberry Relish
Pan Gravy
Artisan Rolls and Creamery Butter
Cranberry Candied Orange Cheesecake Tart
Add on a delicious Prime Rib Roast (2.5kg), Yorkshire Puddings (6), Jus, and Horseradish for $350.
Thanksgiving 3-course dinner: Celebrate Thanksgiving in the glamour of Notch8 with an indulgent three-course traditional turkey dinner. Available October 8, 9 & 10, 2022 from 5:30 p.m. – 10:00 p.m. $79.00 per adult / $39.50 per child (aged 12 and under). Price is not inclusive of taxes or gratuity.
APPETIZER
Roasted Butternut Squash Soup
Duck Confit, Minus 8 Apple Gastrique, Sage, Brioche Croutons
ENTRÉE
Roasted Fraser Valley Turkey
Potato Puree, Brussels Sprouts, Scratch Gravy, Sage and Corn Bread Pudding, Cranberry Sauce
DESSERT
Pumpkin Pie
Spiced Marscapone Cream
Fairmont Vancouver Airport is offering a Thanksgiving Dinner to Go for 2 ($129 per person) or 8 – 10 ($459 per package). Order by 12 pm on October 4 for pickup on October 8 – 10.
Boxed and ready for pick-up. Includes heating instructions for home.
Fresh Baked Dinner Rolls
Creamery Butter
Fraser Valley Slow Roasted Turkey
Sage Infused Gravy
Local Cranberry Relish
Local Harvest Yukon Gold Whipped Potatoes
Maple Brussel Sprouts, Orange Essence
Traditional Stuffing
Traditional Pumpkin Pie with Candied Pumpkin Seeds and Vanilla Chantilly
OR Old Fashioned Pecan Pie and Vanilla Chantilly
For a night on the town, consider visiting [email protected] for its signature Thanksgiving plate, featuring BC cider brined local turkey breast alongside a delicious selection of sides. Seasonal desserts will also be available for Thanksgiving weekend. Enjoy your meal while you admire the beautiful North Shore Mountains and the bustling excitement of YVR's active runways! Reservations are recommended and can be booked over the phone or by emailing [email protected]
Fairmont Waterfront
ARC's Bottomless Brunch
There is an abundance to be grateful for with ARC's bottomless brunch at Fairmont Waterfront – the Thanksgiving edition. All the coveted bottomless brunch dishes ARC is renowned for with the addition of a delicious slow-roasted turkey skillet will be available on Sunday, October 9 and Monday, October 10 from 10:30am to 1:30pm. Reservations are required and can be made online.
Available Sunday, October 9 and Monday, October 10 | 10.30am – 1:30pm
$65 per person | $39 children 6-12 | kids 5 and under eat free (not inclusive of tax and gratuity)
ARC's Family-Style Thanksgiving Dinner
This Thanksgiving weekend, on Sunday, October 9 and Monday, October 10, Executive Chef Mike Pagnacco is whipping up a four-course roast turkey dinner in ARC, served family-style this Thanksgiving. ARC's Thanksgiving dinner is available for $89 per person excluding taxes and gratuity ($59 children 6-12 and kids 5 and under eat free) from 5:00pm, reservations are required and can be made online. Someone else doing the cooking and the dishes? Now that is something to be thankful for!
Available Sunday, October 9 and Monday, October 10 | 5pm – 10pm
$89 per person | $59 children 6-12 | kids 5 and under eat free (not inclusive of tax and gratuity)
Fairmont Pacific Rim
Join Botanist at Fairmont Pacific Rim for an exclusive Thanksgiving Brunch available from Saturday, October 8 through to Monday, October 10 from 11:00am – 2:00pm. Experience Executive Chef Hector Laguna's three-course brunch menu, which includes a welcome glass of sparkling wine upon arrival and a handcrafted cocktail from the Botanist Bar for $86 per person. Menu items to include a selection of carvery such as oven roasted lamb leg, prime rib, and ham and morning time favourites. Reservations are recommended and can be made online.
Water Street Cafe
Water Street Cafe is offering a Thanksgiving Vancouver 2022 Turkey Feast or their regular classic dishes from their regular menu on Sunday October and Monday October 10.
Seasons in the Park
Seasons in the Park is offering a Thanksgiving feature menu on October 9 & 10.
Autumn flavours abound on the Thanksgiving menu courtesy of feature fare like Butternut Squash Soup (crème fraîche, thyme, $12) and a Harvest Salad (baby kale, roasted beets, crumbled feta, pumpkin seeds, sherry vinaigrette, $15), Oven-Roasted Turkey (hand-carved white and dark meat, garlic mashed potatoes, cranberry herb stuffing, Brussels sprouts, honey glazed carrots, cranberry sauce, pan jus, $33) and Pumpkin Cheesecake with berry compote and caramel sauce ($12).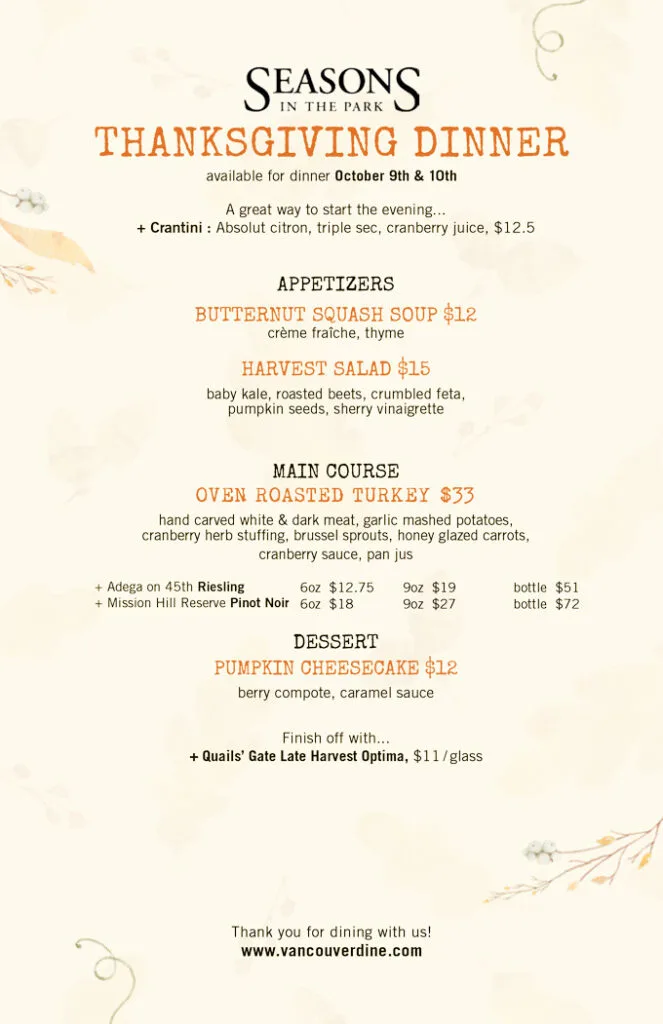 Cardero's
Cardero's is offering a Thanksgiving feature menu on October 9 & 10.
Guests can give thanks for the stunning vistas provided by Coal Harbour and the mountains beyond while enjoying a seasonally inspired selection of dishes that includes of Butternut Squash Soup with spiced apple chutney ($12) or a Kale Rustico salad (olive oil Dijon massaged kale, grated Romano, olive oil breadcrumbs, house-pickled red onions, $15), Oven-Roasted Turkey (roasted light and dark meat, buttery mashed potatoes, herb stuffing, autumn vegetables, cognac pan jus, traditional cranberry orange sauce, $33) and Pumpkin Cheesecake with Chantilly crème and caramel sauce ($12).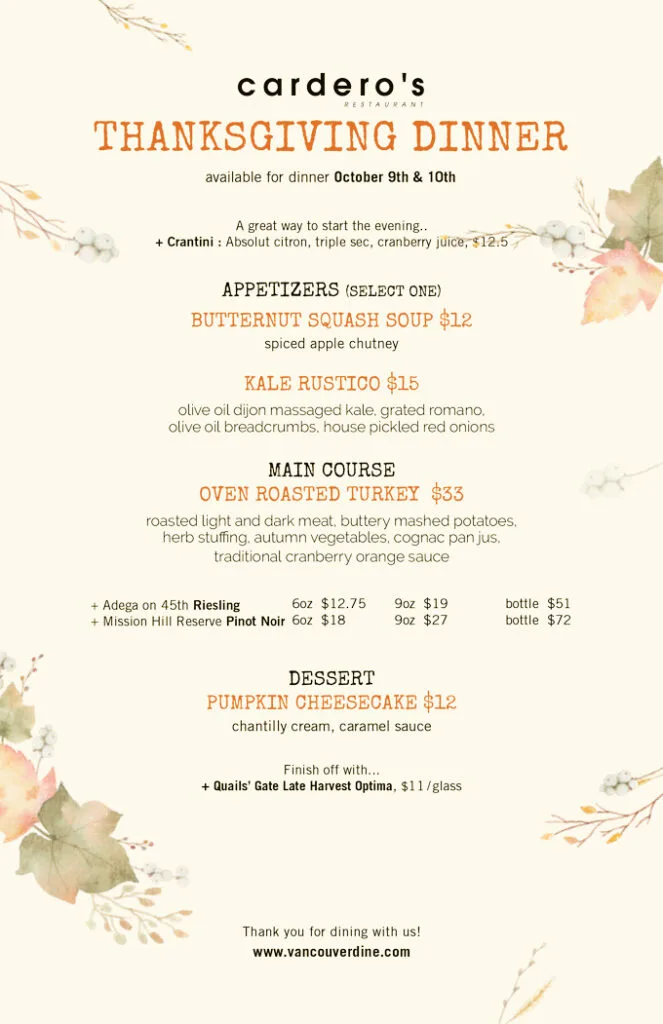 The SandBar
The SandBar is offering a Thanksgiving Vancouver 2022 feature menu on October 9 & 10.
Views of False Creek and sumptuous festive flair await guests with starters that include a Fall Salad (beets, orange segments, goat's cheese, dried cranberries, candied pecans, honey chive dressing, $15) and Butternut Squash Soup with cilantro crema and garlic croutons ($12), a traditional entrée of Oven-Roasted Turkey (hand-carved dark and white meat, garlic mashed potatoes, stuffing, sage au jus, cranberry sauce, Brussels sprouts, honey carrots, $33)and a dessert course of Pumpkin Pot de Crème with allspice Chantilly whip ($12).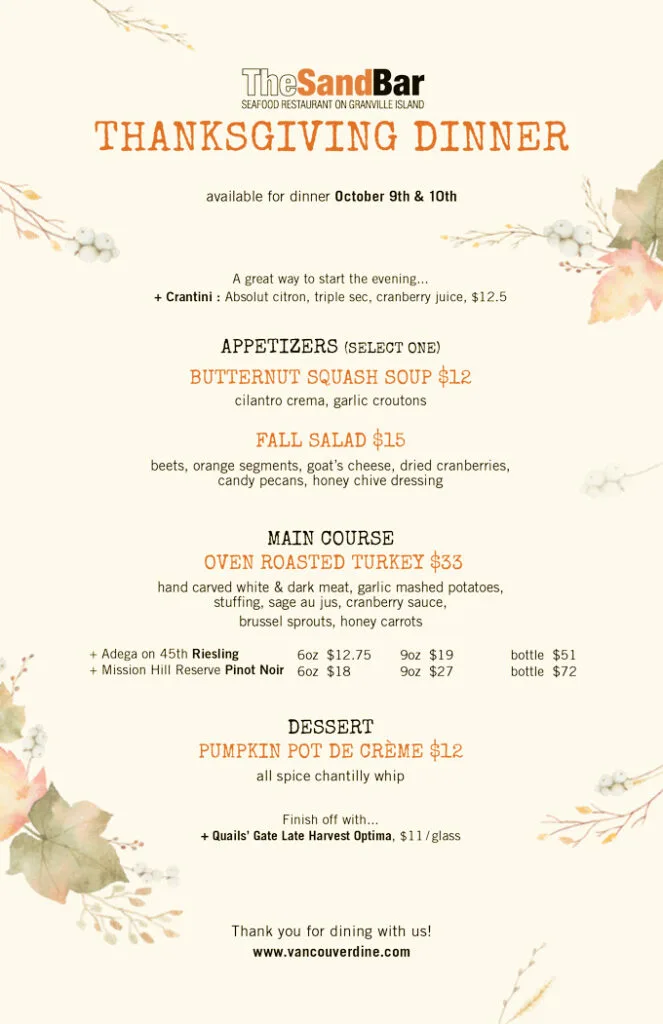 Teahouse in Stanley Park
Teahouse in Stanley Park is offering a Thanksgiving Vancouver 2022 feature menu on October 9 & 10.
Gguests can soak in the fall foliage as they enjoy Butternut Squash Soup (toasted pumpkin seed purée, $12) or a Harvest Salad (roasted red beets, roasted yams, baby kale, crumbled feta, candied pecans, orange vinaigrette, $15) before tucking into a main course of Oven-Roasted Turkey (hand-carved white and dark meat, mashed potatoes, traditional stuffing, Brussels sprouts, maple glazed yams, $33) and ending the night with a slice of Chai-Spiced Pumpkin Pie with maple meringue, chai sugar and caramel ($12).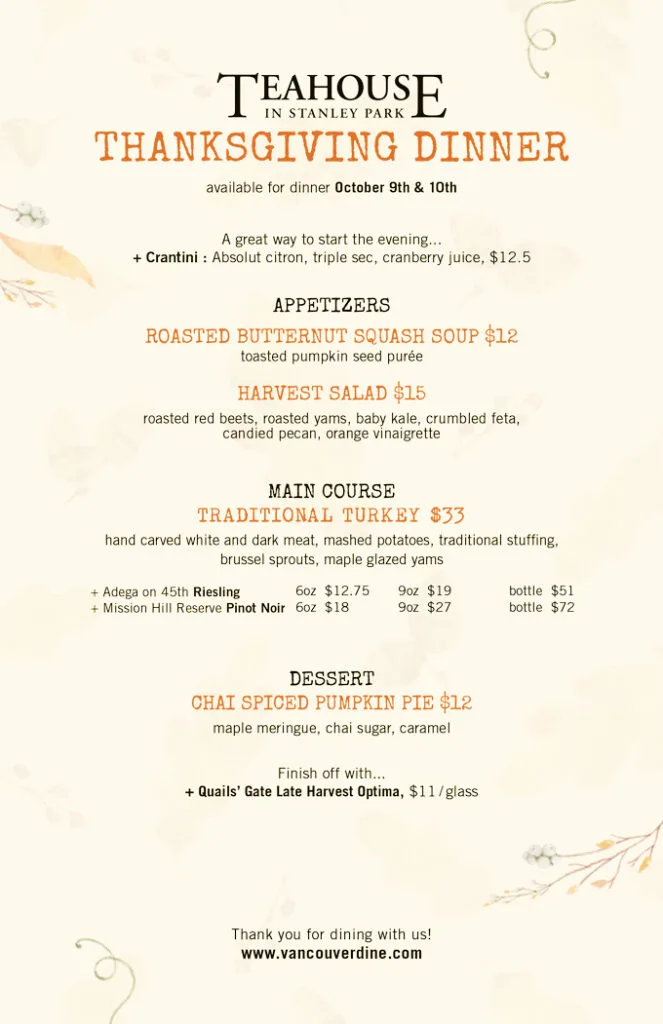 Sylvia Hotel
Sylvia Hotel is offering a Thanksgiving Menu on Sunday October 9 and Monday October 10. Priced at $68 per person.
Honey Salt at Parq Vancouver
Enjoy Honey Salt's dine-in $58 3 course Thanksgiving menu available October 8 – 10. Or, order your dinner to take home! Prepared for 6-8 guests, their Thanksgiving take-home dinner comes with an 8kg/16lb size turkey, with all the fixin's! Packaged and prepared fresh upon your pick-up time. Pre-order by October 6 and pick up October 9 or 10.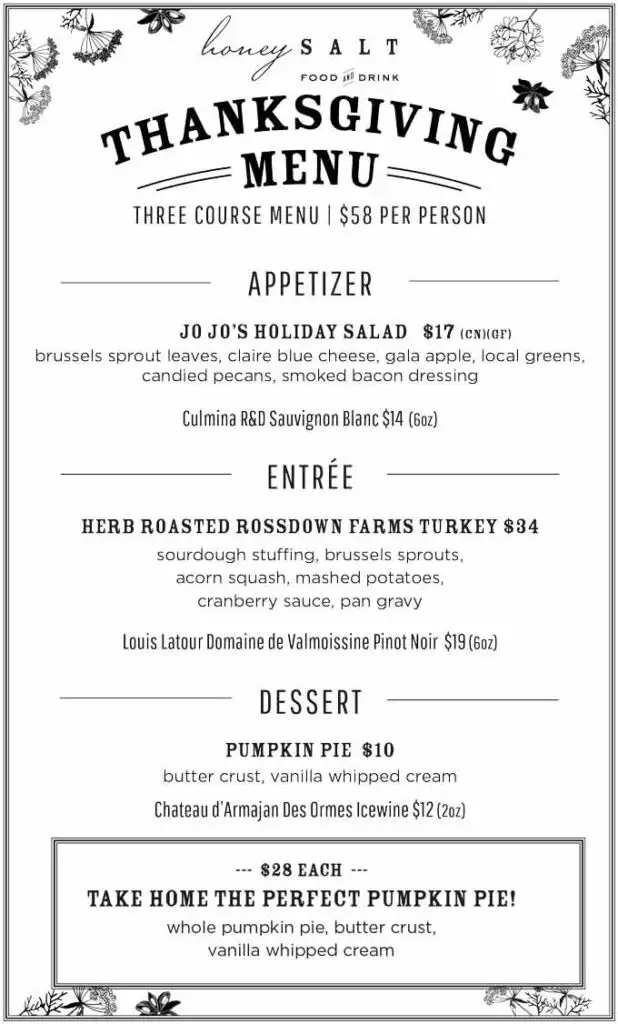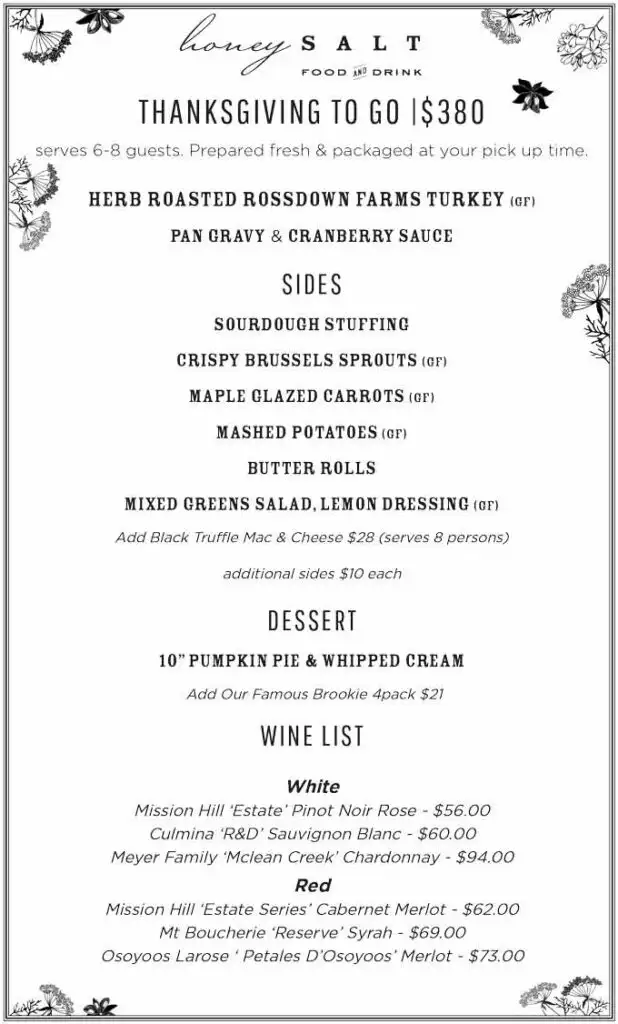 The Victor at Parq Vancouver
The Victor's Thanksgiving menu highlights include Red Kuri Squash Veloute, Roasted Rossdown Farms Free Range Turkey, Prime Rib of Beef, and Tony's Pumpkin Cheesecake. Pair each course with their sommelier selected wine and take your dinner to the next level by adding Fresh Burgandy Truffle, lobster tail, and more. Available October 9 and 10.

Fable Kitchen
Fable Kitchen is offering a family-style Thanksgiving menu priced at $60 per person.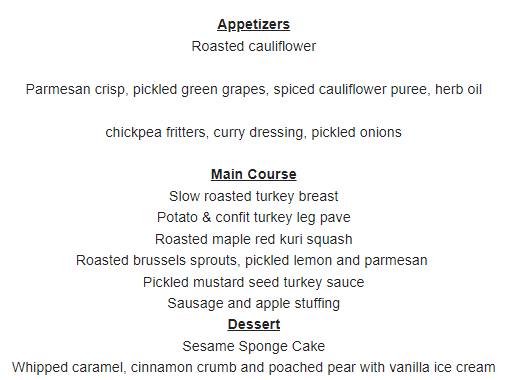 Fable Kitchen & Bar
Fable Kitchen & Bar is offering a three-course dinner for $40 per person.
Start with Chickpea Fritters and enjoy a traditional Turkey Plate with house-made stuffing, brussel sprouts, mashed potatoes, gravy and side of cornmeal muffins, finished with house-made pumpkin pie.
The Acorn Restaurant
The Acorn Thanksgiving Vancouver 2022 annual feast is back! Join them on Sunday, October 9th and Monday October 10th for their "Everything But The Bird" dinner with reservations between 5:30 pm – 9:30 pm.
The special menu will consist of everything you've come to expect for the holiday done in spectacularly creative Acorn fashion. At $69 per person, this multi-course dinner will certainly leave you adequately stuffed. Optional wine and cocktail features will also be available. Each table will enjoy their meal family-style, the way Thanksgiving was intended.
PAUL
This year spend Thanksgiving at PAUL or take this feast home to your Family and Friends! They are offering a Thanksgiving feast starting October 7th to October 10th. You can now reserve for dine in or pre-order for take out.
Reservations are available through their website, and pre-orders are both available via email:
[email protected] ,and in store.
To ensure your spot for dine in or your order for take out, please reserve or order now.
Pre-orders are not accepted less than 48hrs in advance for take out.
Reservations are not accepted less than 24hrs in advance for dine in.
Turkeys come in halves. If you order a whole turkey, you will be receiving two halves.
Whole Turkevs are available as an option to bake at home.
Acqua Restaurant + Bar
Acqua Restaurant + Bar (Burnaby) is offering a 3-course plate dinner featuring a fall salad, turkey or pascualina, and pumpkin spiced "n" caramel cheesecake. Priced at $54.45 per person.
White Spot
White Spot Turkey Dinner 2022 is back – with two ways to enjoy! Choose from either the Traditional Turkey Dinner (available for dine-in, takeout & delivery) or the Heat & Serve: Turkey Dinner for Two (available for takeout & delivery). Available from October 3 – 10. Prices may vary. Finish off with a pumpkin or pumpkin milk shake.
Pat Quinn's Restaurant & Bar
Pat Quinn's Restaurant & Bar (Tsawwassen) is offering the following:
Thanksgiving Dinner Buffet on October 9: Reservations required. Adults $46, Seniors $40, Children 12 and under $23.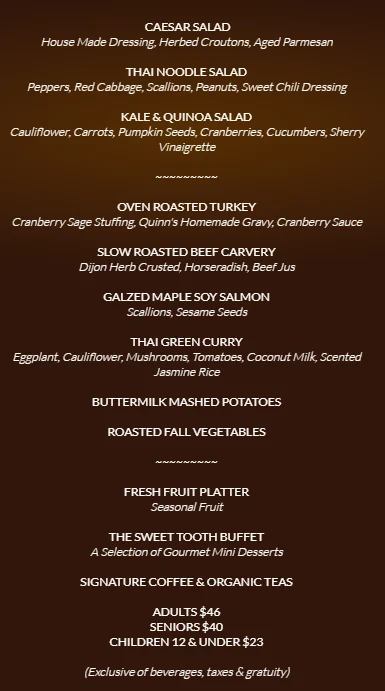 Thanksgiving Dinner to Go: Serves 8-10 People. $400 plus taxes.
Traditional Succulent Roasted Turkey
Savory Cranberry & Sage Stuffing
Housemade Turkey Gravy
Buttermilk Mashed Potatoes
Roasted Fall Vegetables
Cranberry Sauce
Pumpkin Cheesecake
Advanced order required. Full payment due at the time of order.
To place your order contact: Cory Berringer | 604.948.4670. [email protected]
Executive Hotels Restaurants
Hydra Vancouver (Vancouver), Seaside Provisions (North Vancouver), Free Bird Table And Bar (Richmond) and Alouette (Vancouver) are offering Thanksgiving Turkey to go priced at $349 + $10 booking fee + $17.95 GST (feeds 8 people).
Whole Roasted Herb-Brushed Turkey
Salsa Verde
Bourbon Gravy
Roasted Garlic Mashed Potatoes
Wild Rice & Bacon Stuffing
Honey Glazed Baby Carrots
Forno-Roasted Brussels Sprouts
Cranberry Sauce
Roasted Butternut Squash & Farro Salad
Baguette and Honey Butter
Fresh Baked Pumpkin Pie
Monday Oct 3rd: Early Bird Free Bottle of Wine Deadline
Thursday Oct 6th: All Orders Cut Off Date
Saturday Oct 8th: Pick-Up Dinner from 3-6pm
Rosie's BBQ and Smokehouse
Rosie's BBQ and Smokehouse is offering a Smoked and Deep fried Turkey dinner priced at $295. Featuring a smoked turkey for a minimum of three hours before frying for deeper, richer flavour and includes a locally made pumpkin tart and four-pack of Strange Fellows beer. The turkeys will be served with heat and eat sides like collard greens, smoked green beans, mac & cheese, stuffing, and mash. Pickup October 9 from Strange Fellow Brewery.
Mon Paris Patisserie
Mon Paris (Burnaby) is bringing back its Double-Baked Apple Cinnamon Croissant for a limited time only. Available now until October 9, pastry chef Elena Krasnova's elevated take on Mom's apple pie is made with freshly harvested sweet Royal Gala apples. Her signature buttery croissant is filled with almond cream and apple purée, and finished with cinnamon icing.
Mon Paris' Double-Baked Apple Cinnamon Croissants are sold individually ($5.90) and available now for purchase at the Burnaby shop (4396 Beresford St.), and for online pre-order at monparis.ca/monparis-shop with pickup through October 9.
T&T Supermarket
T&T Supermarket offers Thanksgiving platters. Check your local T&T to see what is being offered.
Premium Combo includes Chinese Style Bountiful Stuffed Turkey + Assorted Stirred Fried Vegetables + Fresh Fruit Cut Party Tray + Select Dessert + 2 Bottles of Fruit Soda Drink
Classic Combo includes Roasted Turkey (whole) + Harvest Thanksgiving Sushi Tray + Select Dessert + 1 Bottle Fruit Soda Drink
Happy Combo includes Turkey Slices + Cold Appetizer 5 Items Platter + Select Dessert + 1 Bottle Fruit Soda Drink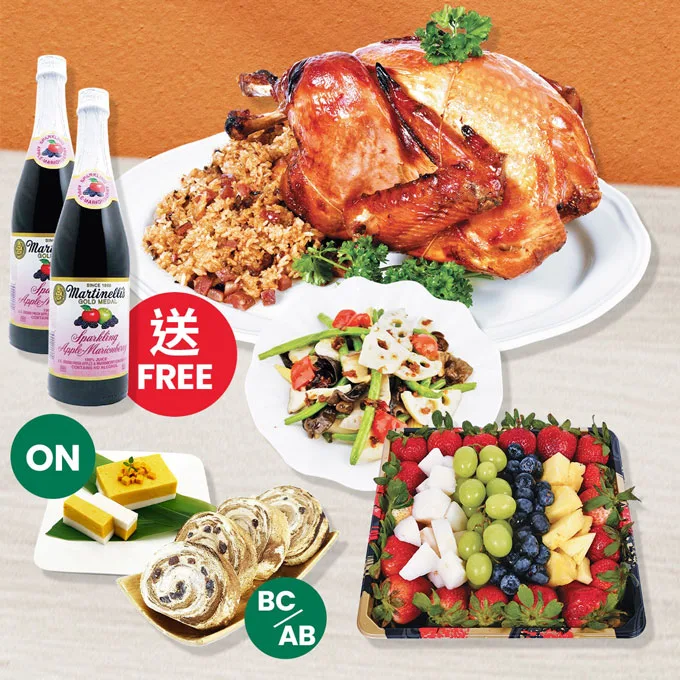 DIY Thanksgiving Vancouver 2022 Meal Ideas
Thanksgiving Pies & Tarts Class with Chef Christian at PICA
On Saturday, October 1st from 10AM to 2PM, Pacific Institute of Culinary Arts is offering a Thanksgiving Pies & Tarts class with Chef Christian Lai Chun. Tickets are available online for $190.
In this hands-on baking class, Chef Christian Lai Chun will help you learn the art of perfect crust alongside some flavours that are the best of the season, just in time for Thanksgiving. From savoury turkey pot pie to classic fall flavours like pumpkin and apple… these recipes will become holiday staples to enjoy at home or to bring to your next potluck party.
MENU:
Turkey Pot Pie
Pumpkin & Sweet Potato tart with Candied Pecans
Lattice Apple Pie with Mascarpone Spiced Cream
Whole Foods
Whole Foods offers a variety of Thanksgiving Feasts, Prime Rib Dinners, Beef Wellington Dinners, sides, sauces and more. You will need to select for the specific location to find out the offerings.
Holiday entertaining tips
Here are some tips on holiday entertaining including charcuterie board tips, how to cook the perfect turkey like a Chef, and virtual holiday party ideas.
Thanksgiving food list
Here is a Thanksgiving Food List to help you prepare or get inspired for your Thanksgiving celebration. You'll find ideas for Mains, Stuffing, Vegetables, Salads, Desserts and more.
Thanksgiving Quotes
Check out these Thanksgiving quotes and messages to demonstrate your gratitude for your loved ones this holiday season.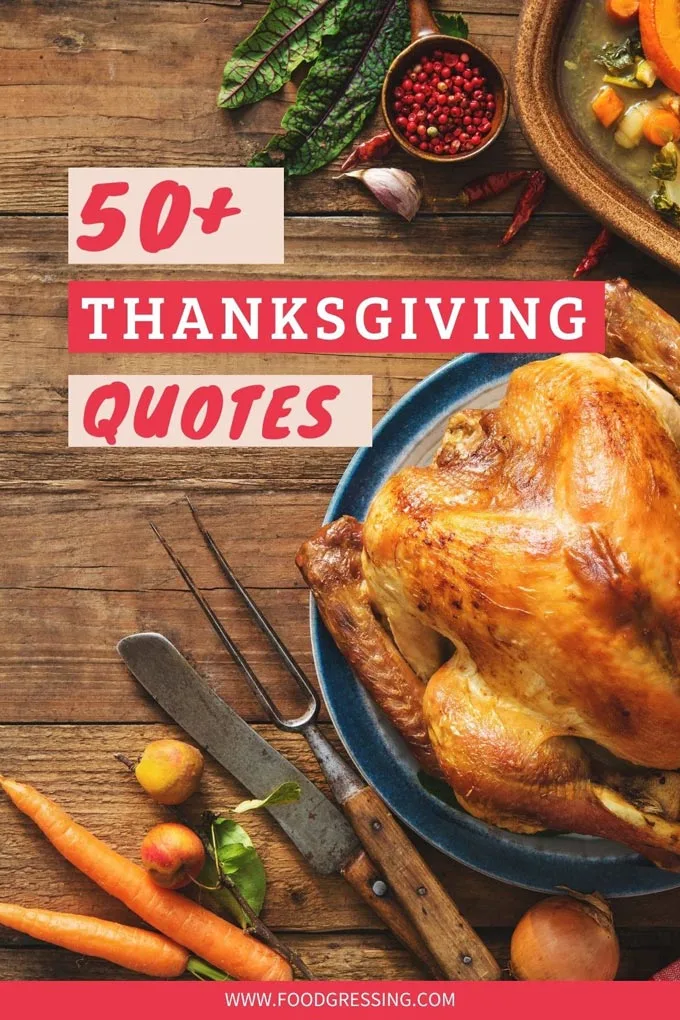 Thanksgiving in Canada
Why do we celebrate Thanksgiving in Canada? Check out my post on the history and meaning of Thanksgiving in Canada.
Captions about Family
Looking for captions about family for your social media post? Check out my post on 105+ creative and original captions for family pictures.