Thanksgiving is a wonderful time to eat, drink and be thankful. Looking for ways to celebrate Thanksgiving in Calgary 2022? This post covers Thanksgiving dinner in Calgary, restaurants open for Thanksgiving in Calgary as well as turkey to go and takeout options.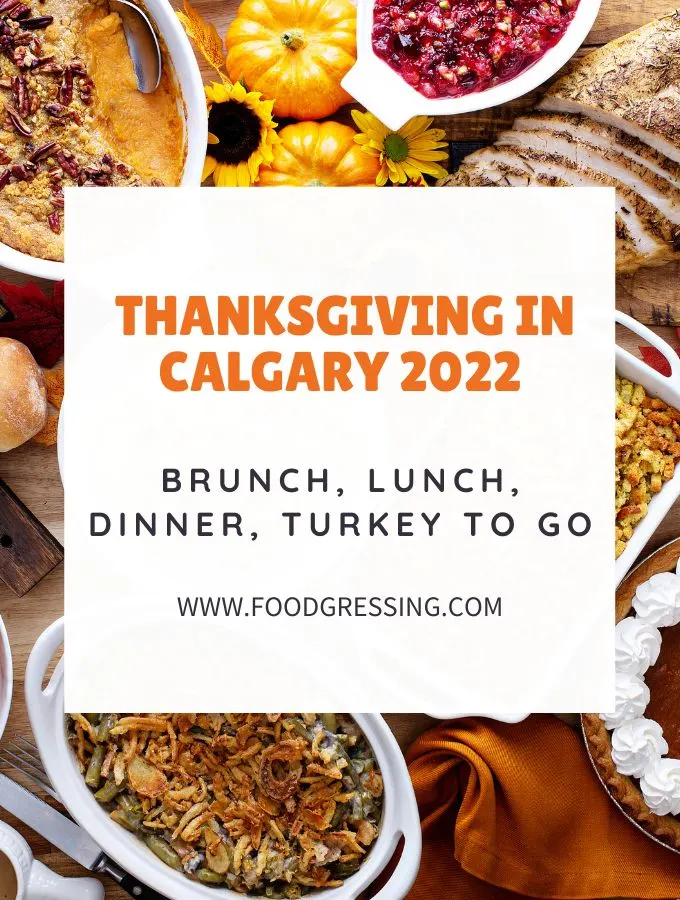 Thanksgiving in Canada this year is Monday, October 10, 2022.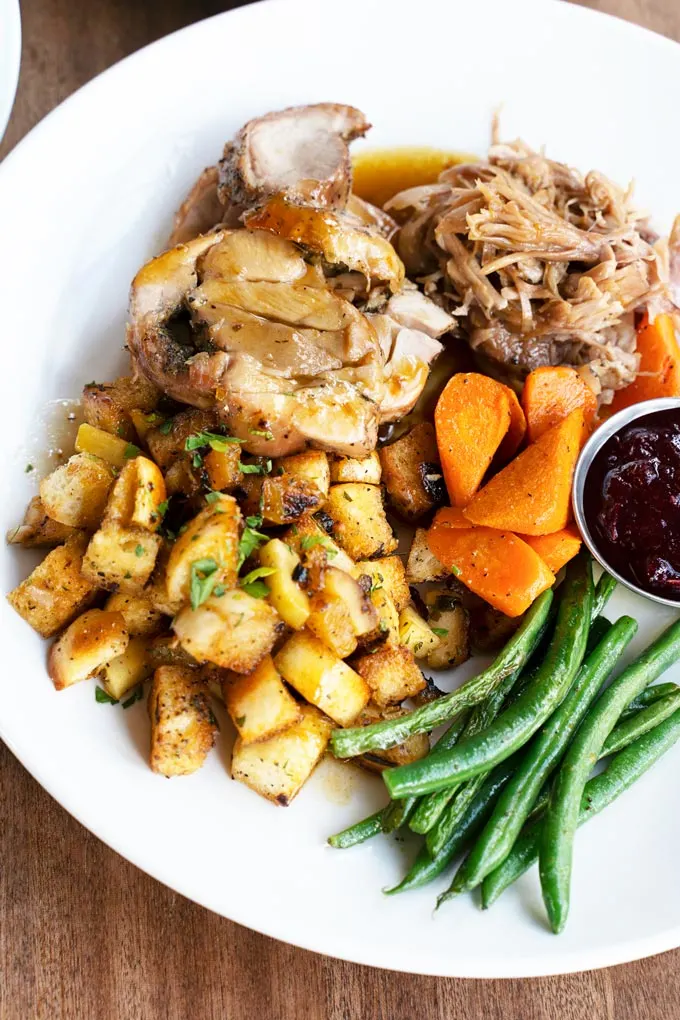 Please reach out to me [email protected] or @foodgressing on social media if you are a restaurant that wants to be featured. Provide all the details of your holiday offering in your message. For faster processing, please provide a ready to copy and paste excerpt in paragraph form in a similar format to the restaurants featured below.
This list is not exhaustive and is updated as information becomes available. I try to feature as much as I can but certainly this is not all that is out there. If your favorite restaurant is not on the list, contact them to see what they are offering.
Thanksgiving in Calgary 2022
The Best Western Premier Calgary Plaza Hotel and Conference Centre
The Best Western Premier Calgary Plaza Hotel is offering Thanksgiving Brunch on Sunday, October 9 from 10 am – 1 pm in the Plaza Ballroom. Adults $45, Seniors $39 and Children 4 – 12 $23.
They are also offering Thanksgiving Dinner To Go featuring:
Roasted Tom Turkey
Traditional Sage Stuffing
Buttermilk Mashed Potatoes
Maple Roasted Sweet Potato
Roasted Root Vegetables
Cranberry Sauce
Turkey Gravy
Choice of Pie: (One pie per 6 people) Pumpkin, Saskatoon or Strawberry Rhubarb
Priced at 5-7 kg (6-8 people) | $295 including tax. 9 kg (10-12 people) | $395 including tax. Dinner for Two (400 grams of white & dark meat) $99 including tax. Order by calling: 403-207-8100 or email: [email protected]. Orders must be placed prior to 5pm Thursday, October 6th.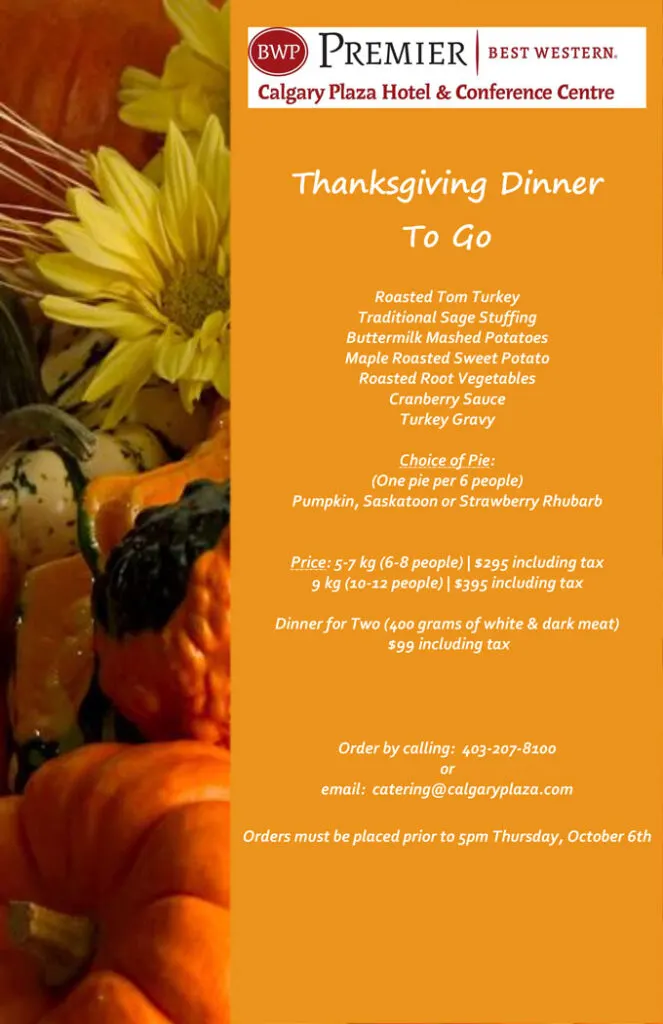 Embarcadero Wine and Oyster Bar
Embarcadero Wine and Oyster Bar is offering Thanksgiving Dinner on Sunday October 9 and Monday October 10 from 4pm. Featuring Freshly roasted Winter's free range turkey and traditional sides $26, 3-course option $34. Available for dine in, takeout or delivery. Limited quantities, pre-orders are recommended.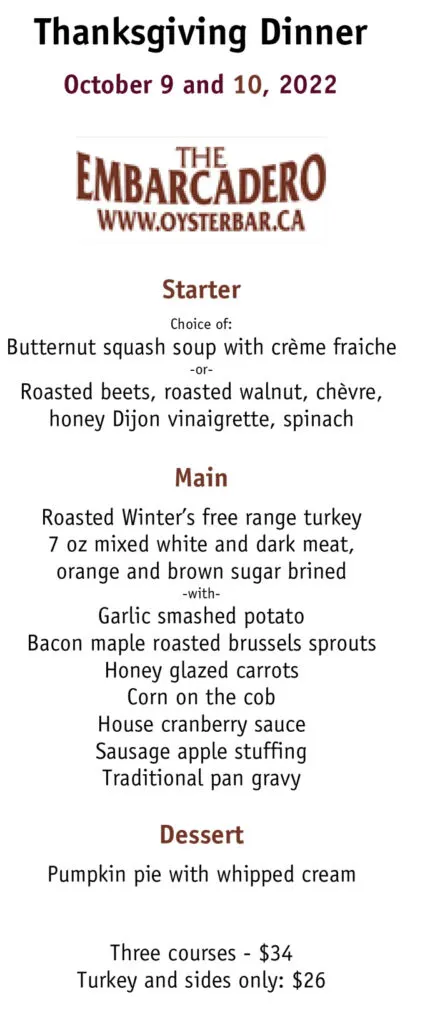 Calgary Zoo
Celebrate everything you're grateful for this season at the Wilder Institute/Calgary Zoo on Sunday, October 9. Join them for a cozy day spent exploring the zoo, followed by an amazing four-course turkey dinner at our Harvest Dinner or enjoy the meal in the comfort of your own home with our curbside pick up option.
12:00 p.m. – Guests are welcome to enter the zoo starting at noon to enjoy an afternoon exploring the zoo grounds
5:00 p.m. – 5:45 p.m. – Doors open at Safari Lodge and the cash bar will be open for drinks
6:00 p.m. sharp – Four-course Harvest Dinner begins
8:30 p.m. – Evening concludes
The menu includes:
Artisan Rolls with garlic herb butter (1 per person)
Butternut Squash Soup
Arugula and Rainbow Kale Salad (roasted apples, candied pecans, chevre and maple yogurt dressing) GF V
Duo of Turkey Dinner (roasted turkey breast, turkey leg roulade, Spolumbo's sausage stuffing, garlic smashed potato, broccolini, roasted carrots, gravy, cranberry apple compote)
Vegan/Vegetarian Dinner Option (roasted cauliflower steak with polenta, broccolini, squash and grape tomatoes)
Dessert (pumpkin pie with graham crust, fresh berries and white chocolate ganache)
Ticket Price:
Adult: $46.95 + GST
Senior: $43.95 + GST
Child (3-15): $29.95 + GST
They are also offering Harvest Dinner Takeaway. All dinner items will be packed on ice for reheating at home with instructions. This preserves the quality and freshness of the food. ASvailable for pick up onSaturday, October 8, Sunday, October 9 or Monday, October 10, 2022. Timed pick-up is available every 30 minutes from 10:30 a.m. – 6:00 p.m. with last pick up by 6:30 p.m.
Dinner for 4 people: $160 + GST. Dinner for 4 people with wine: $185 + GST
Lotus Deli
Lotus Deli is offering Holiday Turkey and Banh Hoi Platters. $168 and serves 8 people. Order 2 days in advance.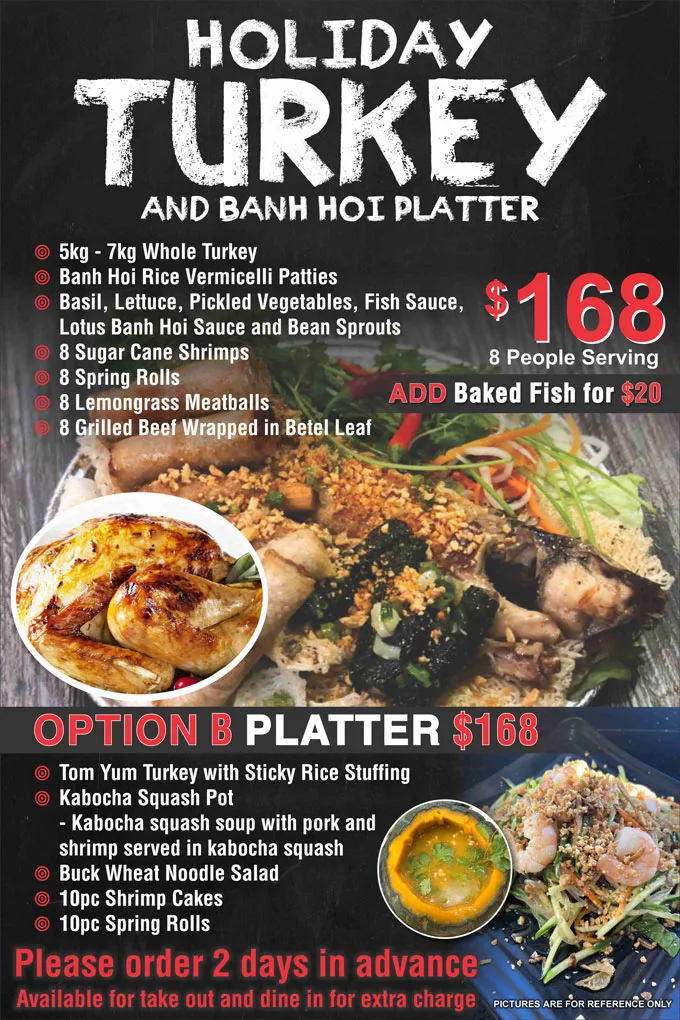 Flower & Wolf
Flower & Wolf is offering a no frills Thanksgiving dinner packed with cozy spices and pumpkin reimagined. A moist turkey breast with confit turkey leg stuffing, you can't go wrong with this flavour filled 3 course menu. For the adventurous, add on a seasonal cocktail pairing and transport yourself to New York, one sip at a time with our Flower Sour; a reimagined New York Sour. Available from Friday, October 7th to Monday, October 11th. Priced at $55 per person.
Moxies
Moxies – Calgary Downtown and Moxies – Deerfoot Meadows are offering a delicious 3 course Turkey dinner priced at $33 per person.
River Café
River Café is offering a Thanksgiving dinner feast on October 10 of Winter's Farm free-range turkey and all of the traditional favourite sides. Priced at $75 per person; $40 kids 12 & under.
Winter's Farm Alberta Free-Range Turkey, Sage Gravy
Roasted Butternut Squash Tagliatelle, Brown Butter, Fried Sage, Hazelnut
Mixed Green Salad, Fermented BC Cherry, Brioche Crouton, Pumpkin Seeds
Innisfail Growers Brussels Sprouts, Broek Acres Bacon Lardons, Hazelnut, Mint, Maple
Beck's Farm Apple Glazed Carrots, Granola Crumble, Apple Cider Glaze
Fennel Sausage Stuffing, Celery, Sage, Confit Onion
Poplar Bluff Mashed Potatoes, Roasted Garlic & Buttermilk
Sugar Pie Pumpkin Cheesecake, Chantilly Cream
They are also offering a festive brunch from 11am – 4pm with turkey bacon eggs benedict
and Okanagan apple mimosas.
They are also offering Thanksgiving Dinner at Home featuring
We'll send you home with everything you need for Thanksgiving in Calgary 2022 Dinner a whole, fresh Alberta free-range turkey specially brined, trussed and seasoned in a pan, ready for roasting. All the accompaniments and dessert are included. Enjoy the warmth and smells of a full turkey dinner roasting in your oven, but let us do the work for you so that you can enjoy this special time with family and friends.
Serves 8-10 guests, $500. Pick up at River Café between 9AM and 10AM on Sunday, October 9, 2022.

White Spot
White Spot Turkey Dinner 2022 is back – with two ways to enjoy! Choose from either the Traditional Turkey Dinner (available for dine-in, takeout & delivery) or the Heat & Serve: Turkey Dinner for Two (available for takeout & delivery). Available from October 3 – 10. Prices may vary. Finish off with a pumpkin or pumpkin milk shake.
Swiss Chalet
Swiss Chalet is offering Thanksgiving features until October 10.
The Thanksgiving Feast features famous Quarter Chicken served with stuffing, cranberry sauce, your choice of side, a Lindor milk chocolate truffle and a slice of pie. They also recommend a delicious pumpkin pie. They're also offering Double Leg; White Meat; and Beef Entree options.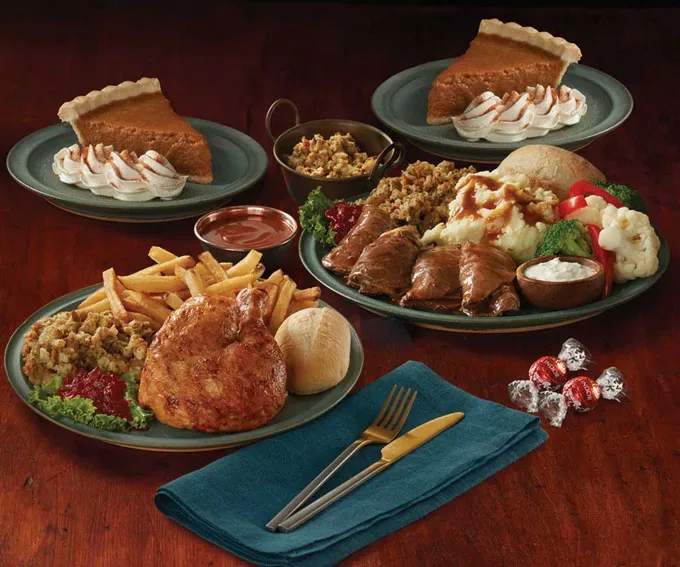 The Coup
The Coup is offering a prix-fixe Thanksgiving in Calgary 2022 dinner on October 10 from 5 pm – 10 pm. Priced at $65 per person.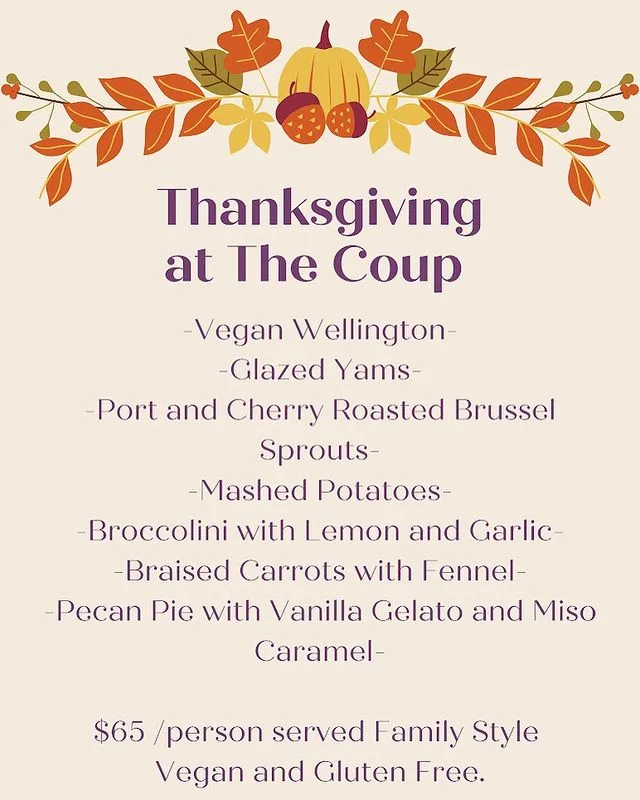 Blue Flame Kitchen
Blue Flame Kitchen is offering Thanksgiving Turkey Dinner to Go for 4- 6 people ($250):
Ready to Roast Turkey Breast with Fresh Herbs
Confit Turkey Leg & Thigh
Honey & Thyme Roasted Carrots
Maple Butternut Squash Gratin
Sage Stuffing with Roasted Garlic
Traditional Turkey Gravy
Brown Butter Mashed Potatoes
Spiced Orange Cranberry Sauce
Pumpkin Pie with Whipped Cream
They also offer other items like:
Ready to Roast Turkey Breast with Fresh Herbs
Confit Turkey Leg & Thigh
Maple Butternut Squash Gratin
Nutmeg, Parsnip & Carrot Mash
Brown Butter Mashed Potatoes
Traditional Turkey Gravy
Fairmont Banff Springs (Banff)
For a relaxing fall escape with loved ones, guests can turn to the curated Thanksgiving offerings from Fairmont Banff Springs, the "Castle in the Rockies." This year, the hotel's Thanksgiving-themed culinary specialties include a table d'hôte menu, available from October 7-10, and a Sunday brunch buffet on October 9, both in The Vermillion Room.
Similarly, the upper Rundle Bar will update its iconic afternoon tea experience with specialty holiday twists while STOCK Food & Drink will serve sandwiches and pastries featuring seasonal flavours. Both will be available October 7-10.
Beyond indulging in the hotel's fine cuisine, guests can participate in holiday crafts in the Gatehouse Rotunda and commemorate their stay by taking complimentary family photos at the outdoor terrace, which will feature an autumnal scene, available October 8 & 9. Imagery available here.
Fairmont Chateau Lake Louise (Lake Louise)
From picturesque surroundings to glorious feasts and special family moments, Fairmont Chateau Lake Louise has curated the grandest of festive celebrations to help families make the most of the Thanksgiving holiday weekend. Activities will include Art In The Mountains, Pajama Parties and Crafts You'll Be Thankful For, as well as Mixology Experiences and Wine Tastings for the grown ups. Guests can also indulge in Fairview Bar & Restaurant's Thanksgiving Feast, available October 7-10 from 5 to 11pm, featuring a seasonally-curated three-course special menu that will have everyone giving thanks.
T&T Supermarket
T&T Supermarket offers Thanksgiving platters. Check your local T&T to see what is being offered.
Premium Combo includes Chinese Style Bountiful Stuffed Turkey + Assorted Stirred Fried Vegetables + Fresh Fruit Cut Party Tray + Select Dessert + 2 Bottles of Fruit Soda Drink
Classic Combo includes Roasted Turkey (whole) + Harvest Thanksgiving Sushi Tray + Select Dessert + 1 Bottle Fruit Soda Drink
Happy Combo includes Turkey Slices + Cold Appetizer 5 Items Platter + Select Dessert + 1 Bottle Fruit Soda Drink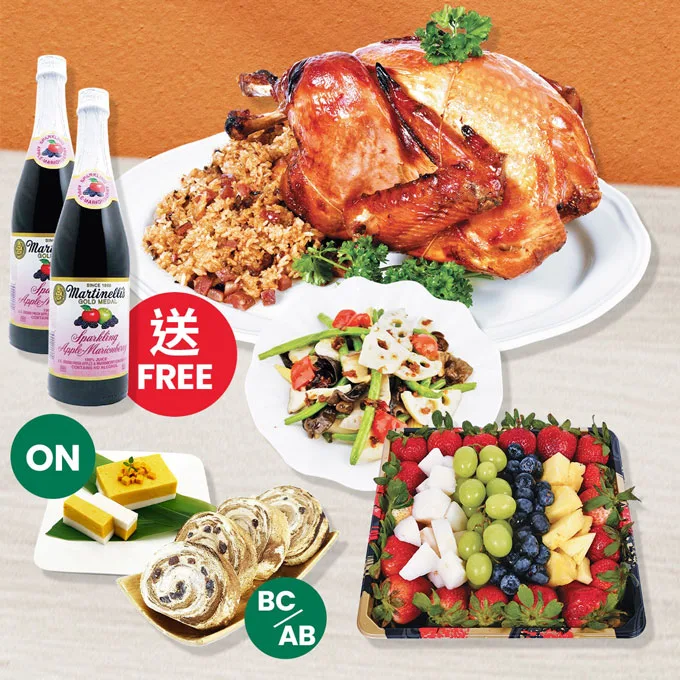 DIY Thanksgiving in Calgary 2022 Meal Ideas
Holiday entertaining tips
Here are some tips on holiday entertaining including charcuterie board tips, how to cook the perfect turkey like a Chef, and virtual holiday party ideas.
Thanksgiving food list
Here is a Thanksgiving Food List to help you prepare or get inspired for your Thanksgiving celebration. You'll find ideas for Mains, Stuffing, Vegetables, Salads, Desserts and more.
Thanksgiving Quotes
Check out these Thanksgiving quotes and messages to demonstrate your gratitude for your loved ones this holiday season.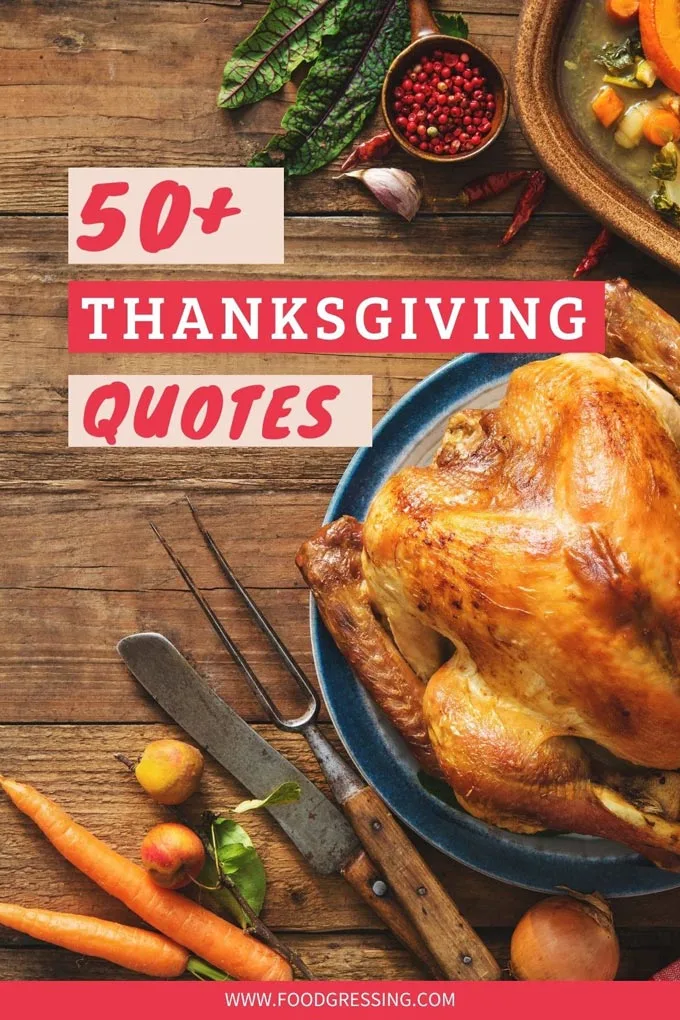 Captions about Family
Looking for captions about family for your social media post? Check out my post on 105+ creative and original captions for family pictures.