Chinese New Year falls on February 16 this year as people welcome the year of the Dog. Food is certainly a big part of my Chinese New Year celebrations, and many sumptuous meals are eaten with family and friends. As we prepare for this joyous holiday, we consider The Real Canadian Superstore as a one-stop-shop for all of our Chinese New Year needs. In fact, The Real Canadian Superstore has a great selection of authentic brands and products to create an amazing Chinese New Year celebration. I am able to create some of my favourite dishes, Spicy Red-Braised Pork Belly with Chinese Mushrooms and Sesame Bok Choy, all at a great value. Here's a look at my experience.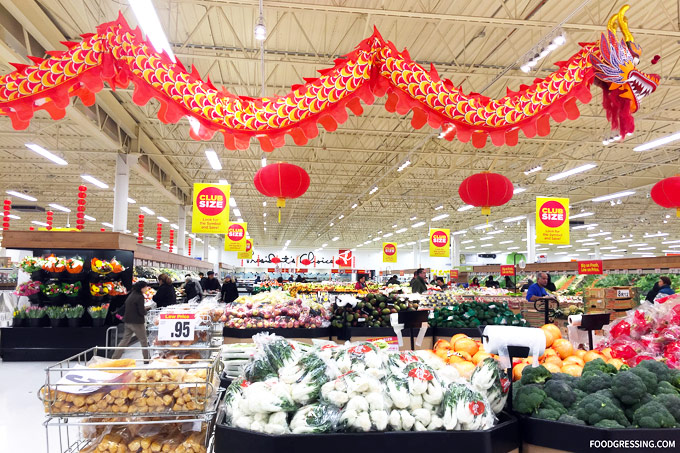 Disclosure: This is a sponsored post in collaboraton with the Real Canadian Superstore. All opinions are my own.
At my local Real Canadian Superstore, the store was in the festive lunar new year spirit with streaming dragons across the ceiling and overhanging red lanterns. With the wide selection of Asian products, Real Canadian Superstore is a great option for all your authentic Asian cooking needs year round, and not just Chinese New Year.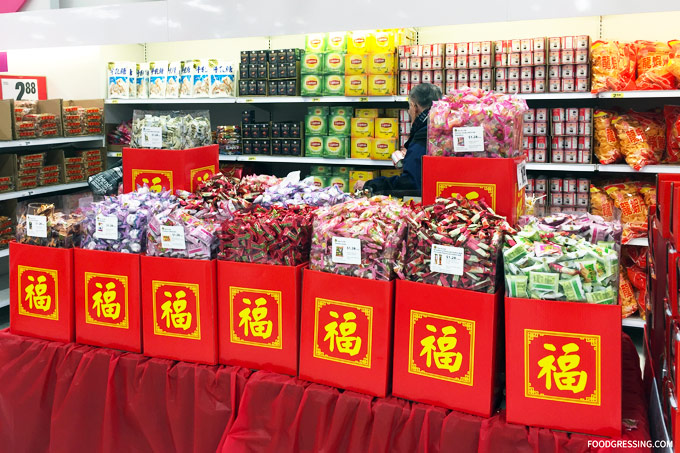 You can pick up authentic brands like T&T and Rooster to create your favourite dishes at great value. This makes shopping much easier (and less stressful) by avoiding the need to make multiple trips to different stores while knowing you're getting products at the best prices.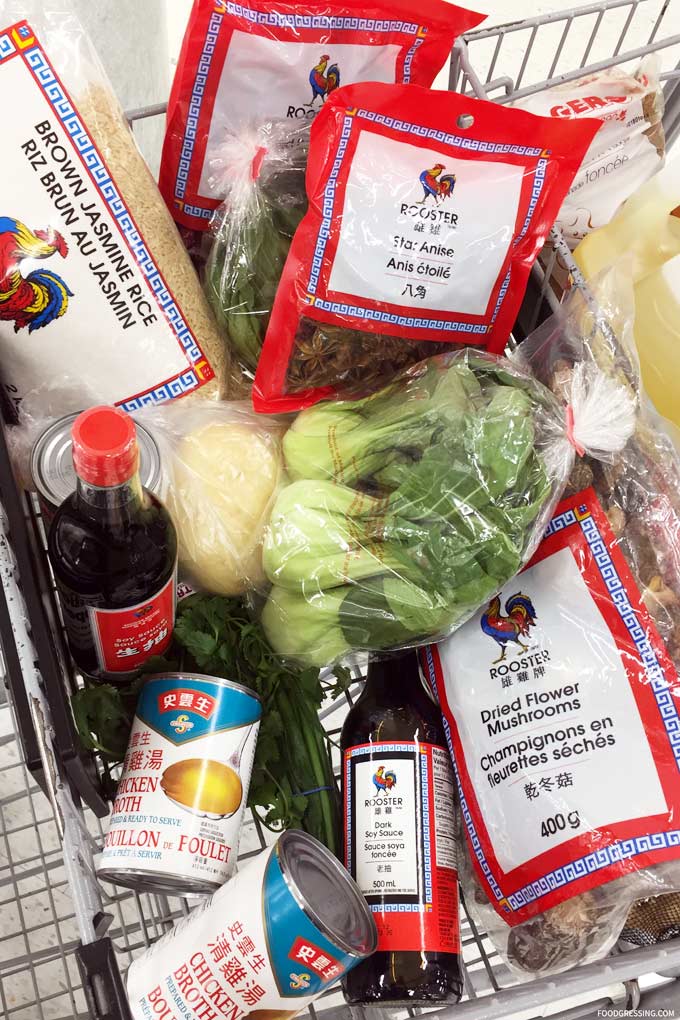 Spicy Red-Braised Pork Belly with Chinese Mushrooms
With ingredients from Superstore, I was able to create the popular Chinese dish, Red-Braised Pork Belly, but with a spicy twist. I also added Chinese Mushrooms for some delicious, earthy flavours. The signature red colour from this recipe is from cooking the pork in a sweet-and-savoury sauce made with caramelized sugar and soy sauce. In Chinese culture, red is the colour of fire and is a symbol of good fortune and joy.
Starting off with some luscious pieces of Canadian Western pork belly…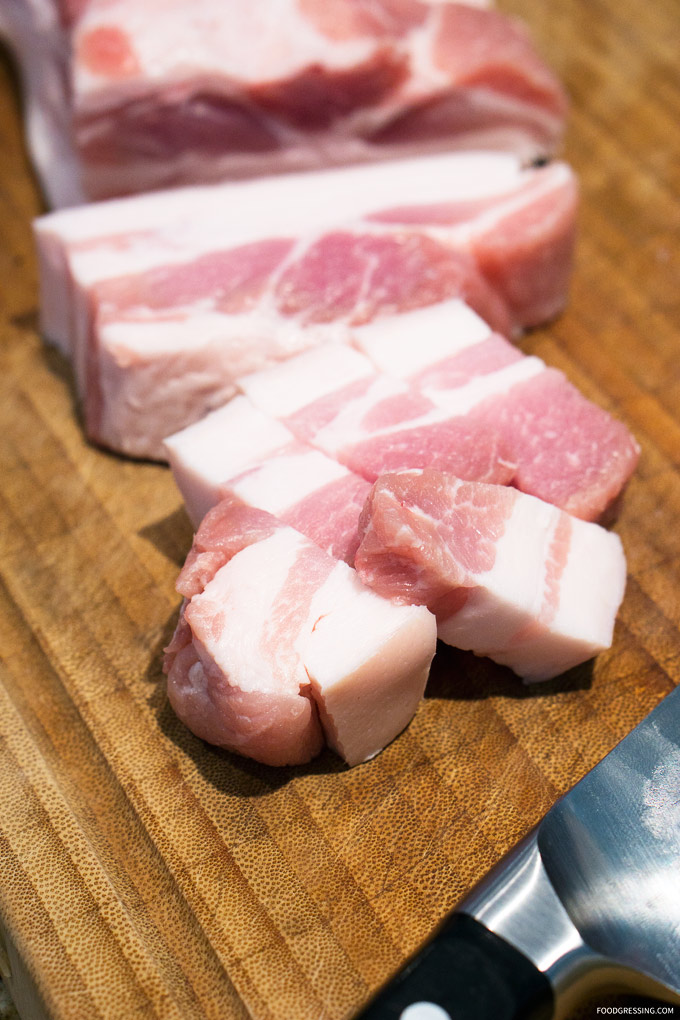 Cooking the pork with star anise, Chinese Mushrooms, and dried chilies…The red colour in the meat develops over time.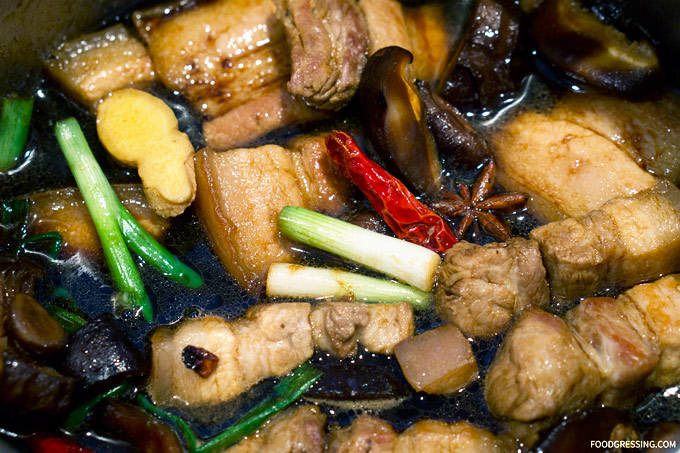 And here it is, the final dish with a beautifully red-braised pork belly!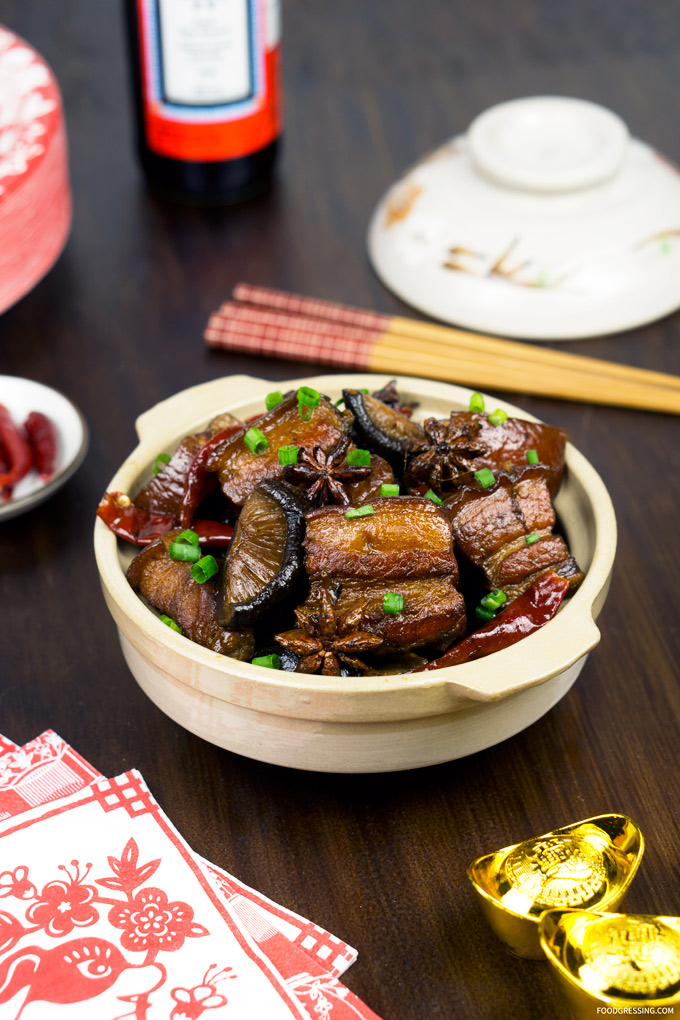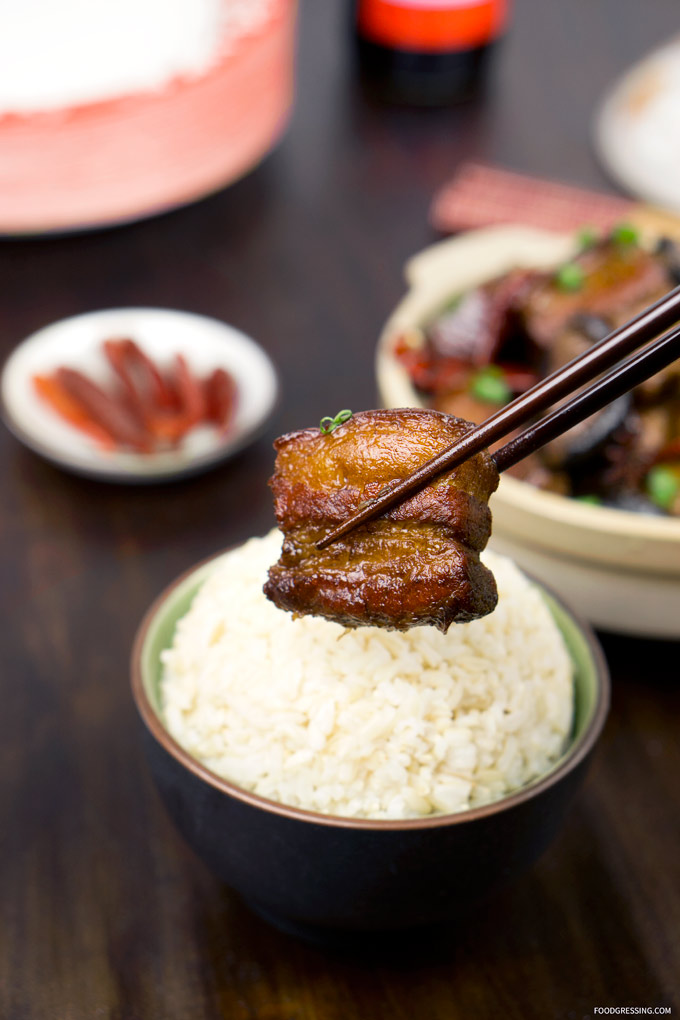 Serves: 6
Prep time: 20 minutes
Cook time: 2 hours
Difficulty Level: Easy
Ingredients
1 to 1.5 lb skin-on pork belly
1 tbsp Rooster Brand™ 100% Pure Canola Oil
2 tbsp crushed Chinese rock sugar or granulated sugar
1/4 cup Chinese rice wine (Shao Hsing) or dry sherry
2 tbsp each Rooster Brand™ Superior Soy Sauce and Rooster Superior Dark Soy Sauce
10 – 20 Rooster Brand™ Dried Flower Mushrooms
2 Rooster Brand™ Star Anise
2-10 Rooster Brand™ Dried Red Chili Peppers
2 cups chicken broth
3 green onions
2-3 slices ginger (organic available at Superstore)
Rooster Brand™ Jasmine Brown Rice (for serving)
Directions
1. Cut skin-on pork belly into 1/2 to 1 inch cubes.
2. Place cubes into a non-stick pan and fry on medium/high heat until all sides are golden brown.
3. Add 1 tablespoon of vegetable oil and 2 tablespoons of sugar in a wok or a large sauce pan on medium heat. Allow sugar to caramelize and turn brown.
4. Remove from heat; carefully add rice wine. (NOTE: Mixture may splatter and steam.)
5. Add pan-fried pork belly, soy sauces, onions, ginger, star anise, and peppers. Add small amounts of water to cover most of the pork pieces. Cook on medium/high heat until boiling.
6. Taste the broth/sauce and adjust accordingly. Then continue to cook on low heat for 1-2 hours till pork skin is soft and gelatinous.
7. Service with rice.
Sesame Boy Choy
An easy to make side dish is sesame boy choy. I was impressed with the quality, fresh bok choy I was able to get from Superstore. Not to be missed are President's Choice Dinner and Napkin set (176 pieces) featuring Year of the Dog designs.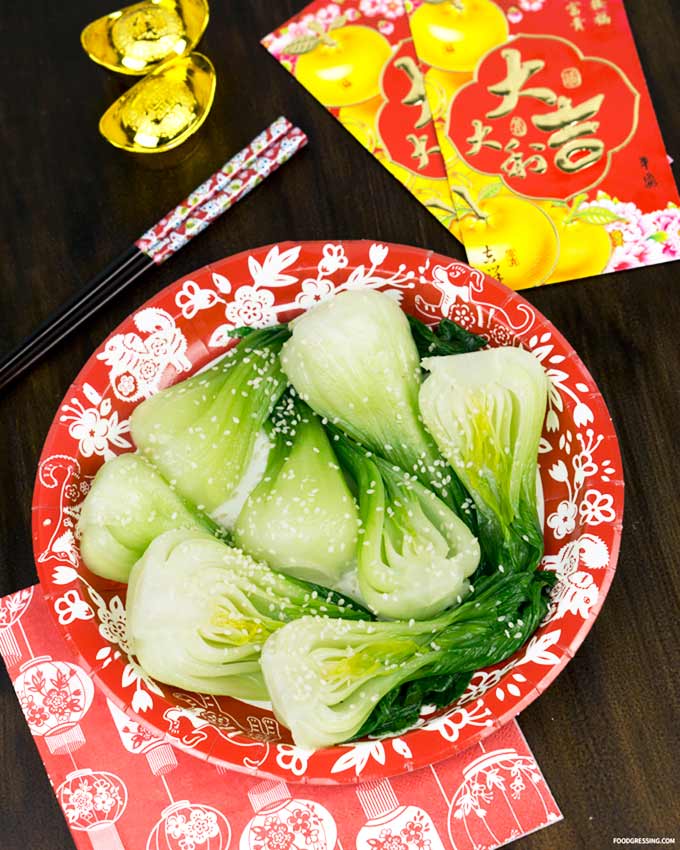 Ingredients
4 baby bok choy
1 tbsp Rooster Brand™ 100% Pure Canola Oil
1 tbsp salt
Directions
1. Boil 2L of water with salt and oil in large pot.
2. Cut bok choy in halves and add to boiling water.
3. Stir occasionally until boiling.
4. Drain water and plate.
5. Sprinkle with sesame oil and seeds.
Have a Happy Chinese New year and Happy Shopping! To find out more: visit realcanadiansuperstore.ca to see a sample of the Asian products available.