If you're a fan of classical Hollywood cinema, you most definitely need to indulge in Notch 8's newest afternoon tea theme. The Silver Screen Hollywood Afternoon Tea celebrates the golden age of Hollywood when Marilyn Monroe, Grace Kelly, Humphrey Bogart and Marlon Brando graced the screens. This afternoon tea set is available now until April 1st with sittings at 11am, 1pm & 3pm from Wednesday to Sundays and priced $65 for adults and $32.50 for children. I recently had the opportunity to try out the Silver Screen Hollywood Afternoon Tea. Here's a look at what you can expect.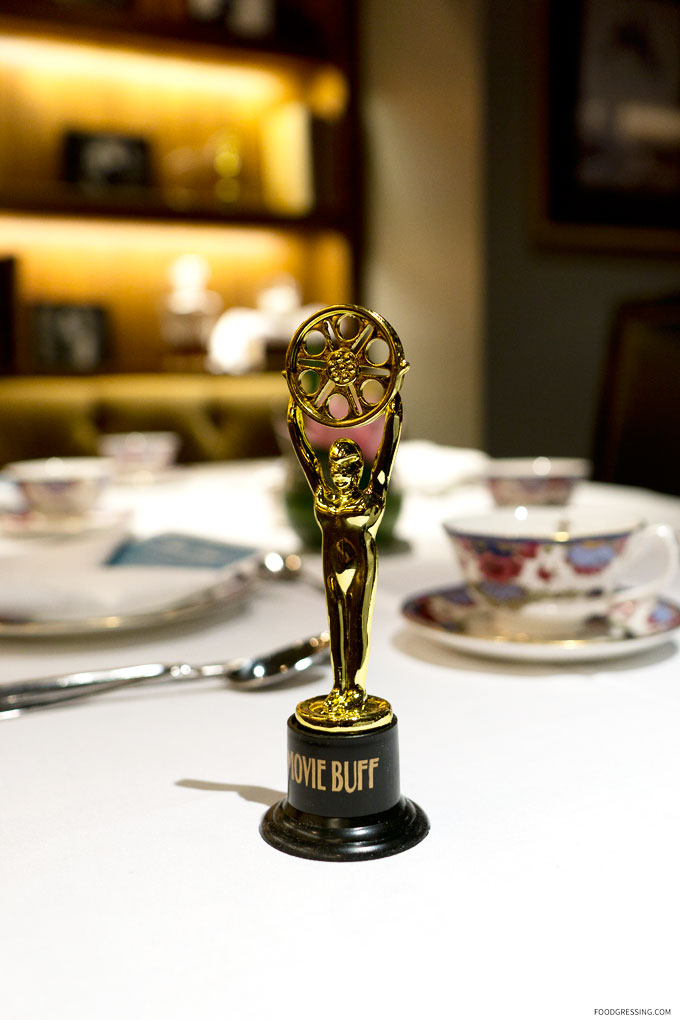 Disclosure: I was invited for a media tasting. All food and drinks in this review were complimentary. Opinions are my own.
Old Hollywood Glamour
The afternoon tea experience at Notch 8 is not just about the food but in the decor and ambiance as well. Placted throughout the room are photos of revered Hollywood stars from the past, movie clapboards and even the occasional Oscar trophy.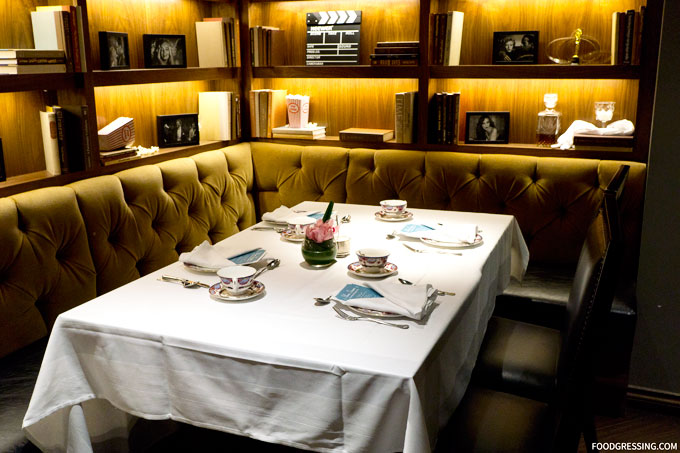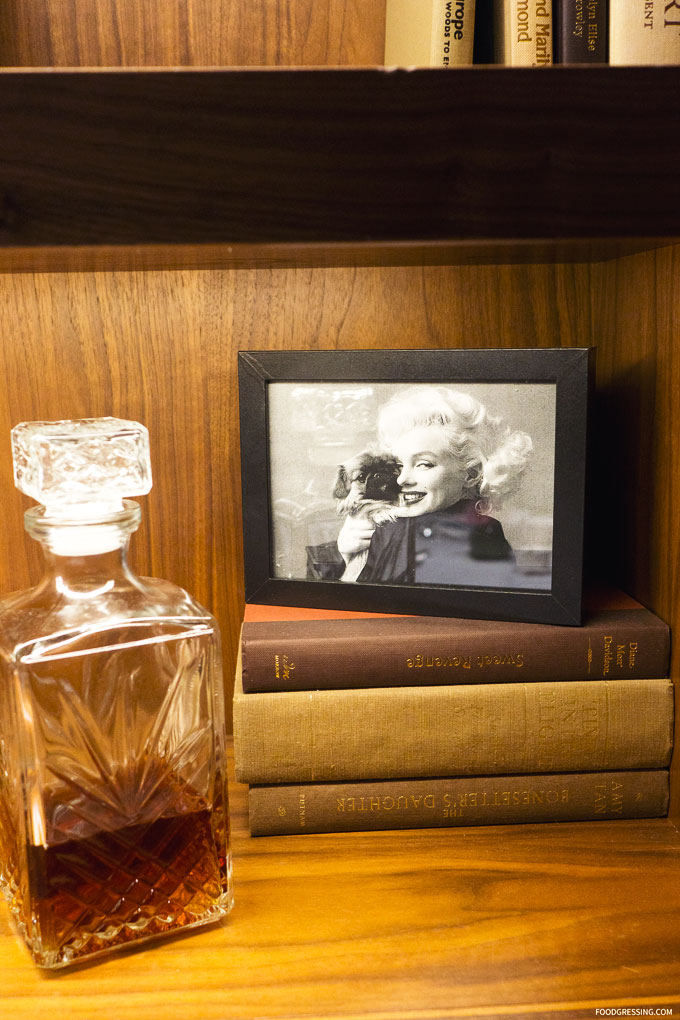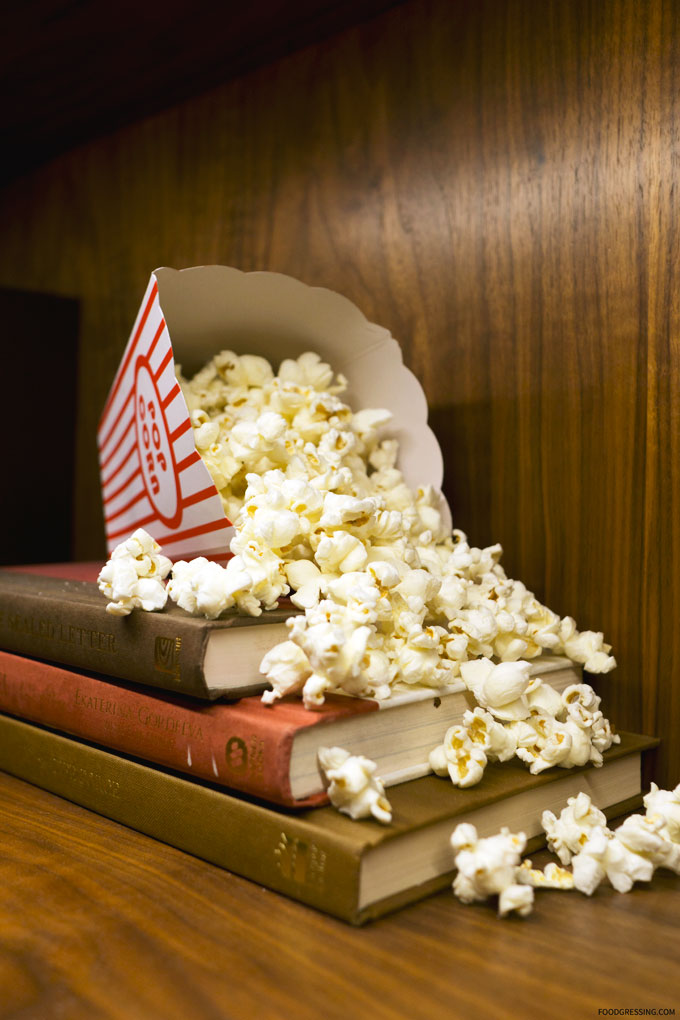 On one side of the room, there was a movie screen playing a black and white movie under red velvet curtains.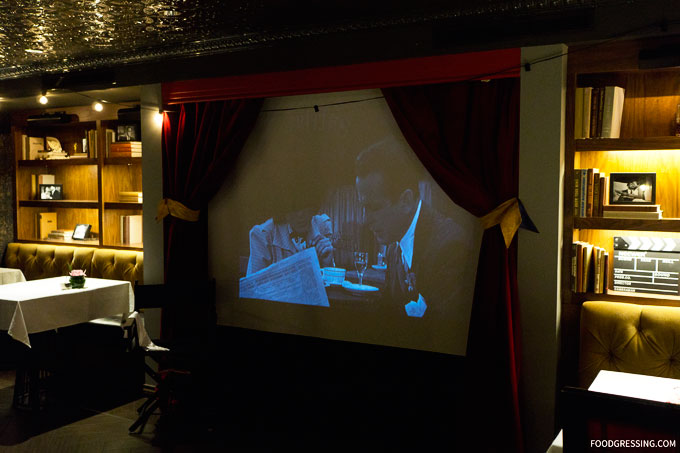 Silver Screen Hollywood Afternoon Tea Menu
This tea set features three "courses": The Red Carpet, The Matinee, and The Silver Screen Premiere. Guests will receive scones with clotted cream, delectable savory bites like the Steak 'Oscar' Truffle Sandwich with Tenderloin and Dungeness Crab, and the Caviar & Smoked Salmon Deviled Eggs, as well as mouthwatering sweets like the Lights, Camera, Action – Green Tea & Cherry Gateaux Clapboard. You also have choice of Fairmont teas and themed cocktails are available at extra.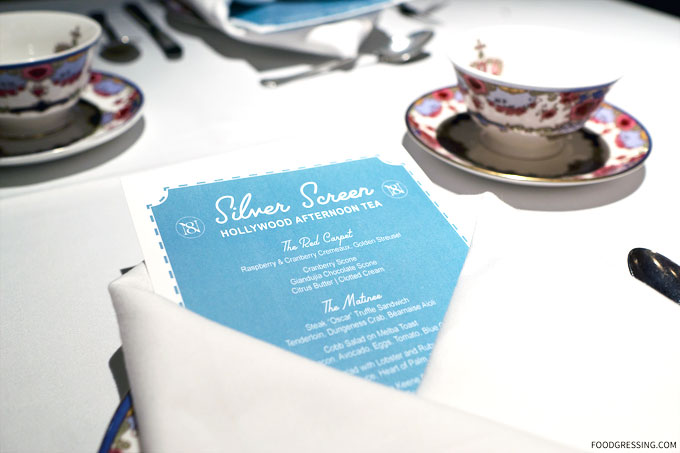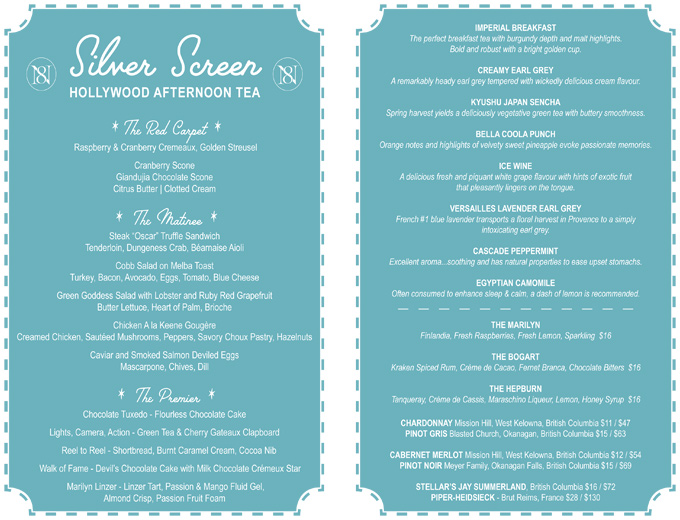 Silver Screen Cocktails
Notch 8 is known for their creative cocktails and they have a few created for the Silver Screen Hollywood Afternooon Tea.
The Marilyn
Paying tribute to the one and only Marilyn Monroe, The Marilyn features Finlandia, fresh raspberries, fresh lemon with sparkling water.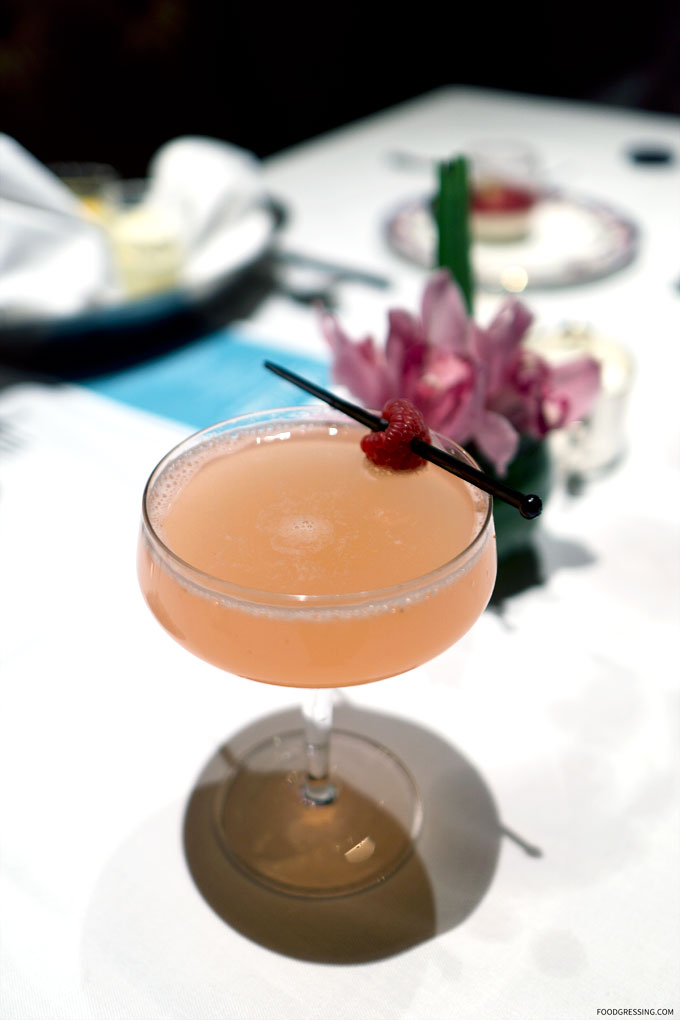 The Bogart
Named after Humphrey Bogart, The Bogart has Kraken spiced Rum, Crème de Cacao, Fernet Branca, and chocolate bitters.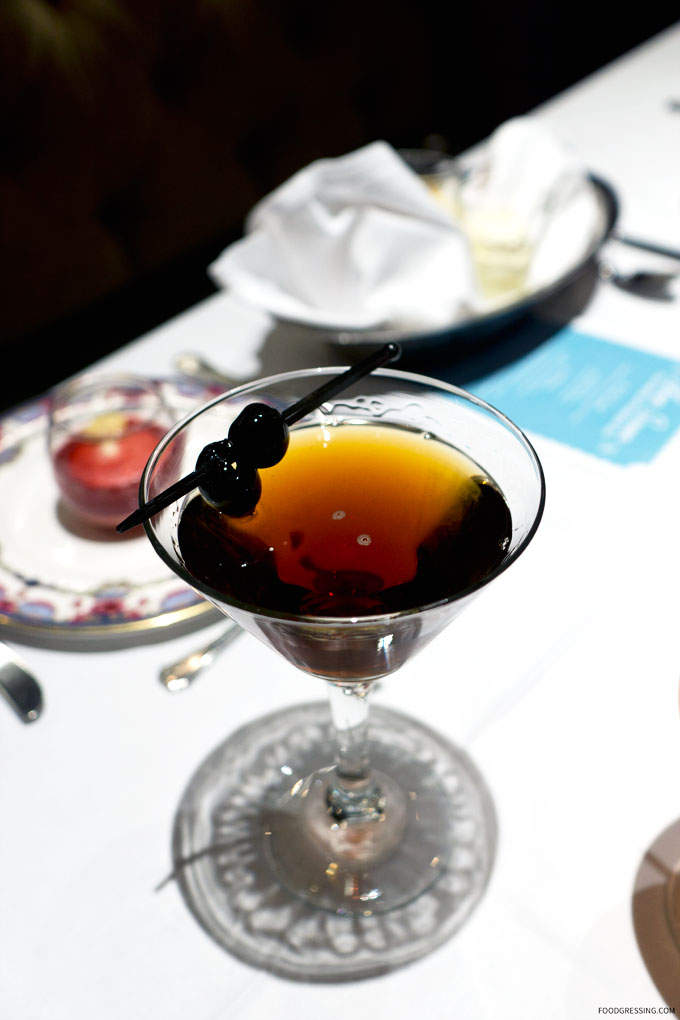 THE RED CARPET
Raspberry & Cranberry Cremeaux, Golden Streusel
To start, a refreshing, creamy and berry-licious palate cleanser.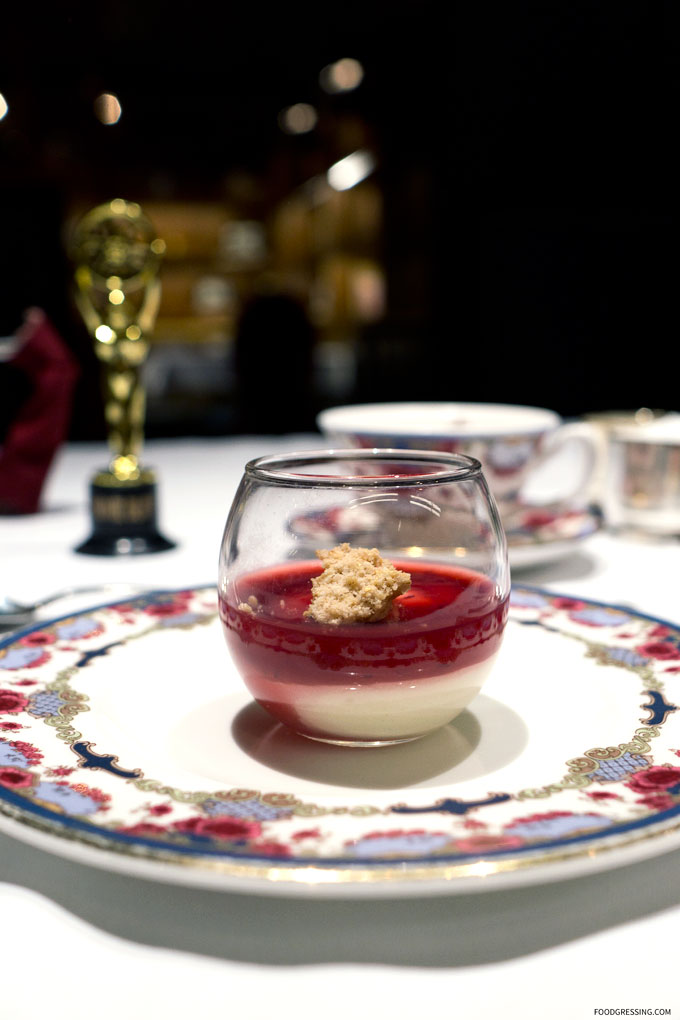 Scones
We received two scone flavours, Cranberry and Giandujia Chocolate, along with clotted cream and citrus butter on the side. The scones were amazing as usual being very light, buttery and flaky.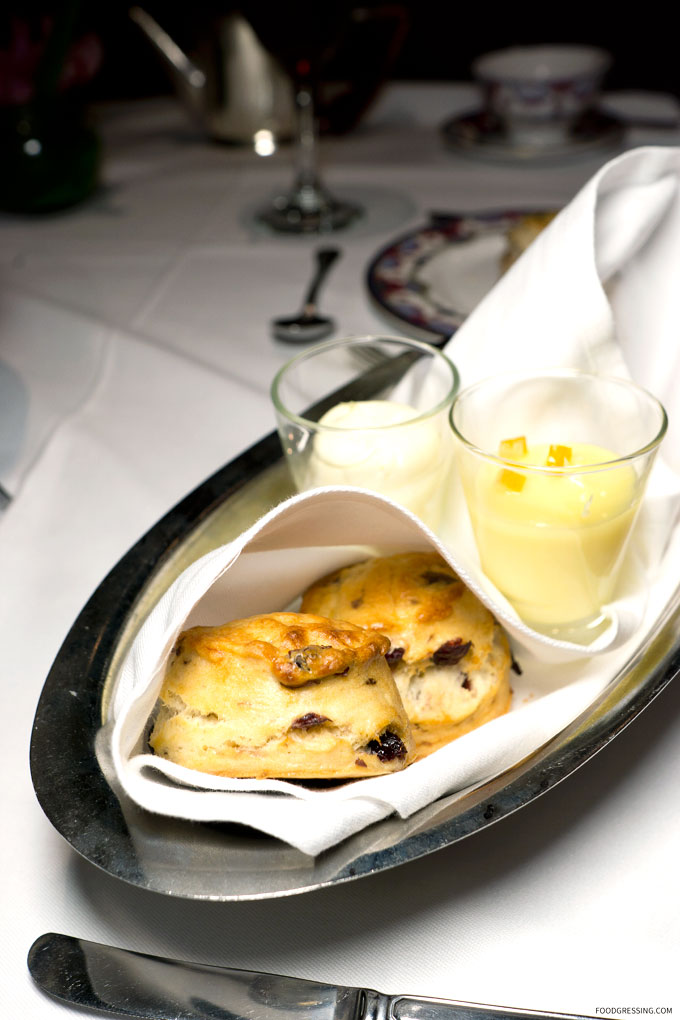 Our three-tier afternoon tea set consisted of The Matinee (savouries) and The Silver Screen Premier (sweets).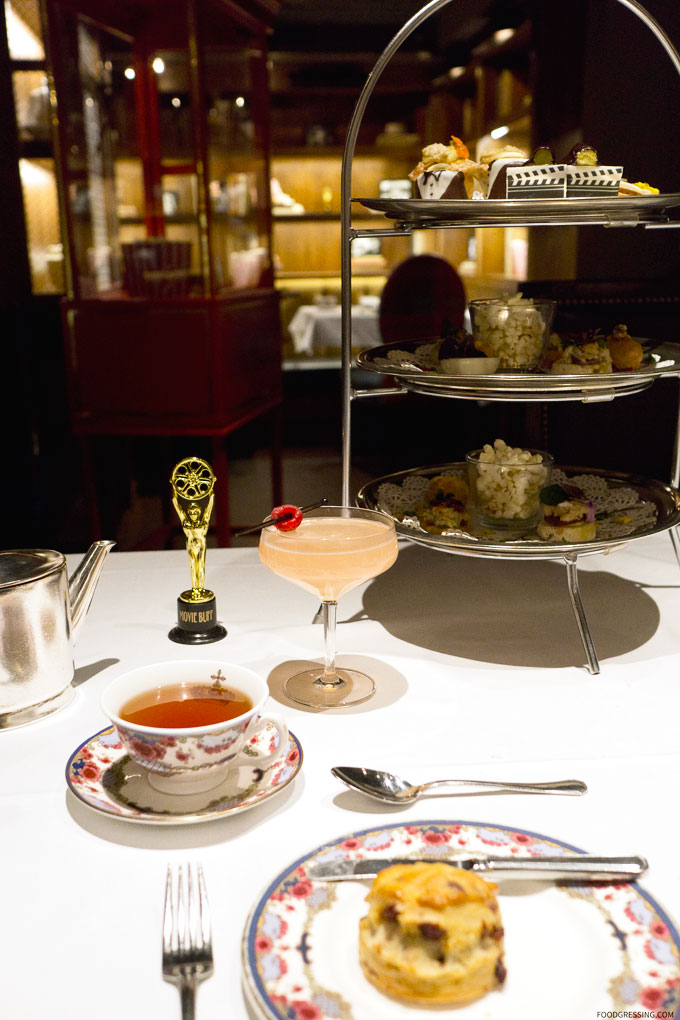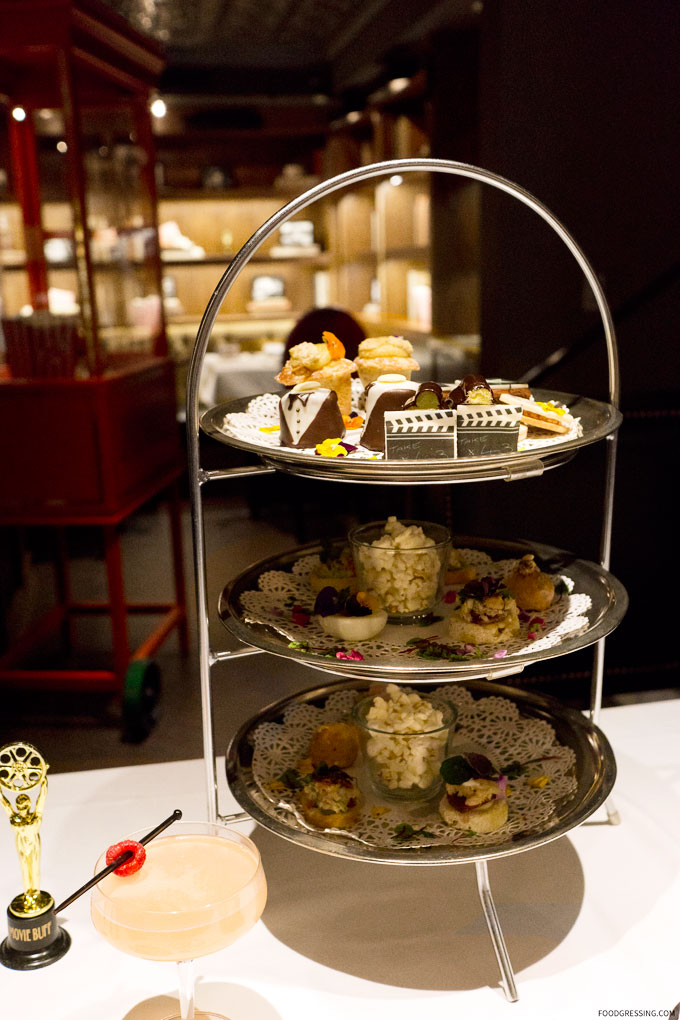 The Matinee
The savories included the Steak "Oscar" Truffle Sandwich; Cobb Salad on Melba Toast; Green Goddess Salad with Lobster and Ruby Red Grapefruit; Chicken A la Keene Gougère; and Caviar and Smoked Salmon Deviled Eggs.
Steak "Oscar" Truffle Sandwich
One of my favourite savoury items was the steak truffle sandwich which had tenderloin steak, dungeness crab, Béarnaise aioli and truffle. The aroma and flavour from the truffle made this sandwich very appealing.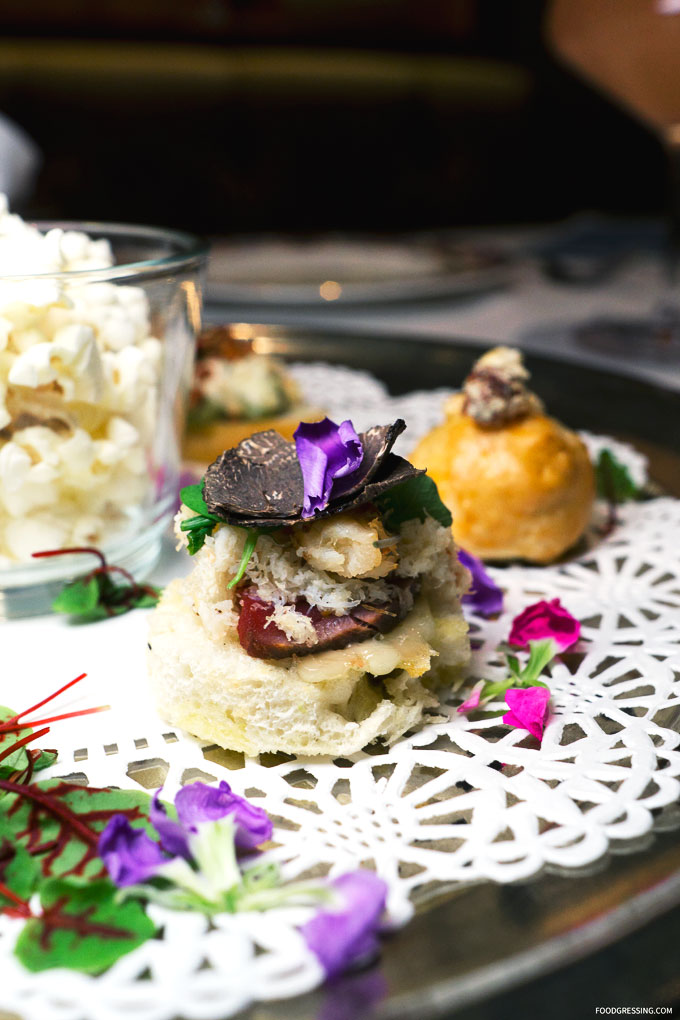 Caviar and Smoked Salmon Deviled Eggs
I also very much enjoyed the deviled eggs with caviar. Definitely one of the more beautifully yet also tasty items from the savoury selection.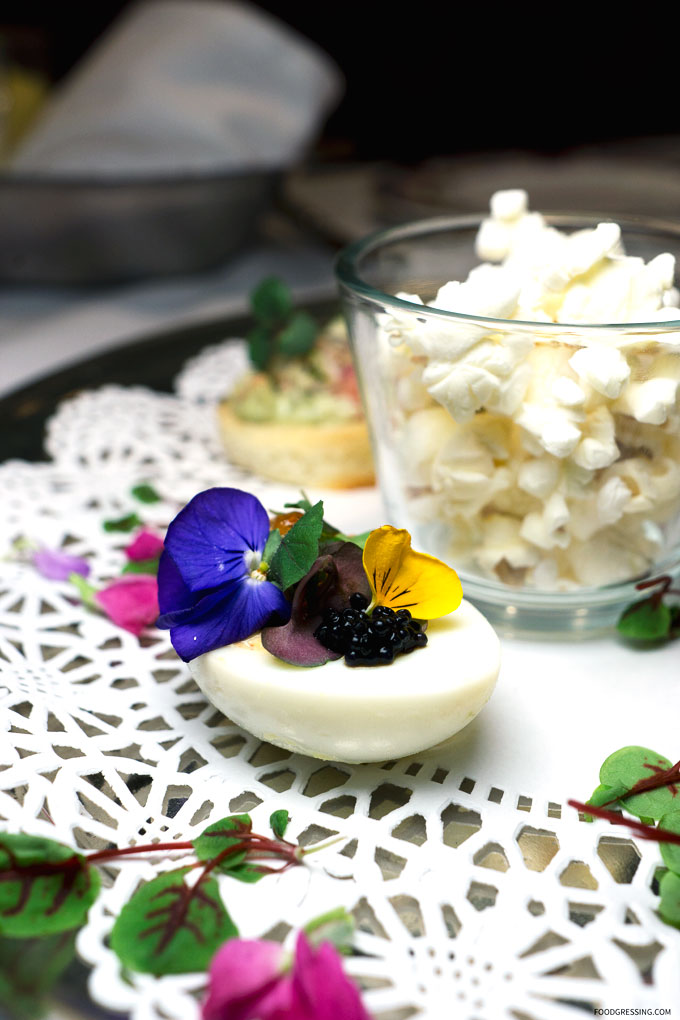 The Silver Screen Premier
For sweets, there were some very creative and beautifully presented treats: Chocolate Tuxedo, Lights, Camera, Action, Reel to Reel, Walk of Fame and Marilyn Linzer.
Chocolate Tuxedo
Underneath this well-dressed treat was a flourless chocolate cake. Very moist and just right in terms of decadence.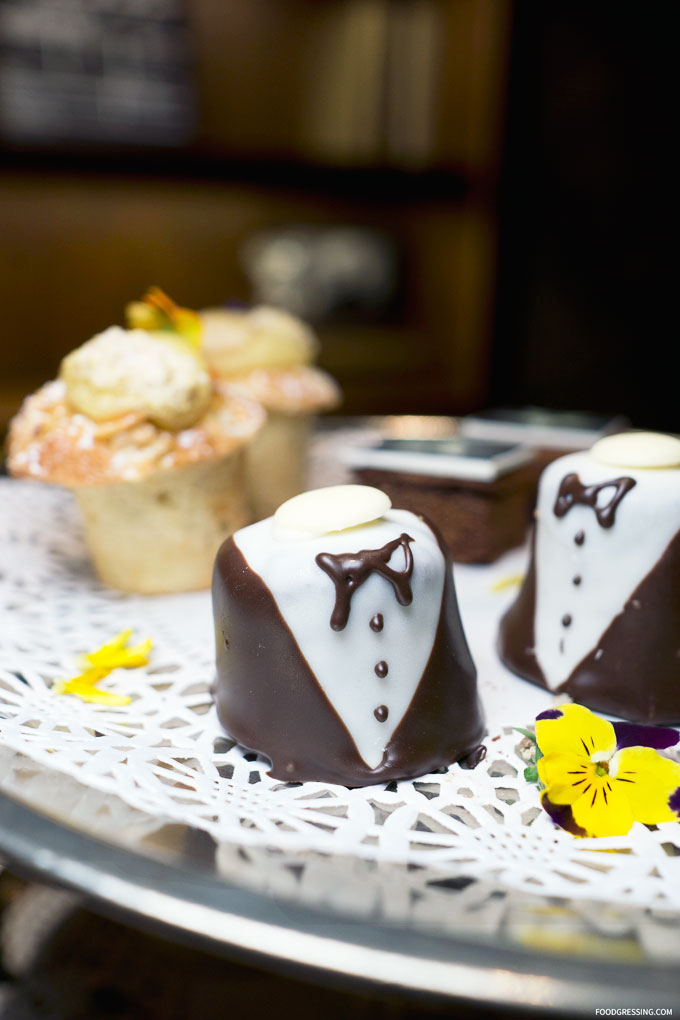 Lights, Camera, Action
Green tea lovers, rejoice! This movie clapboard-inspired treat had a mix of green tea and cherry gateaux.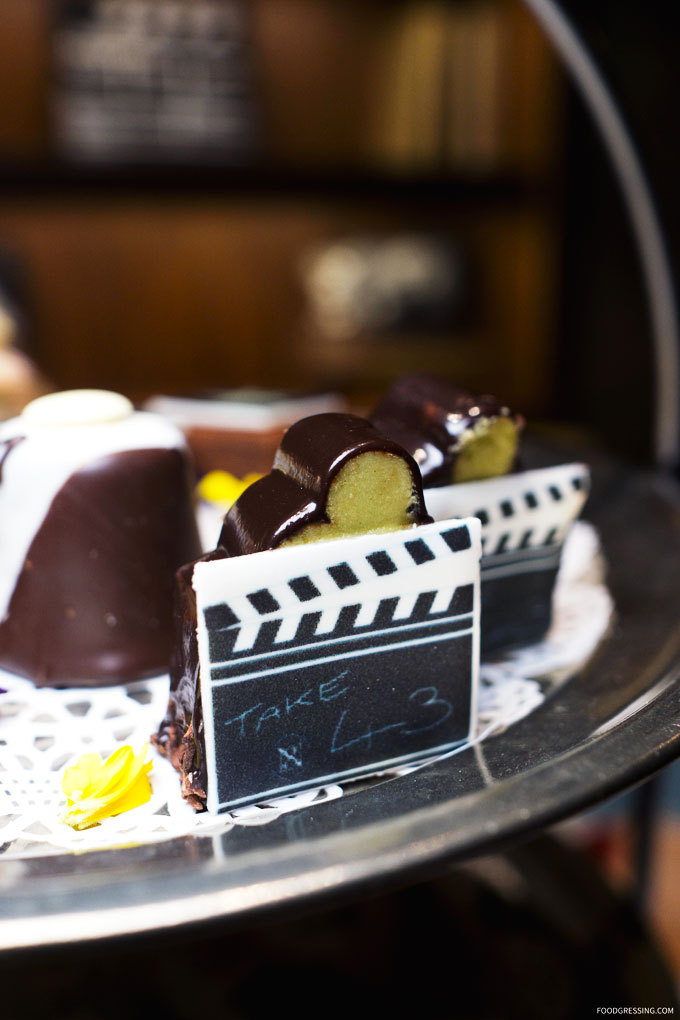 Reel to Reel
Inspired by movie reel, this shortbread cookie featured burnt caramel cream and cocoa nib.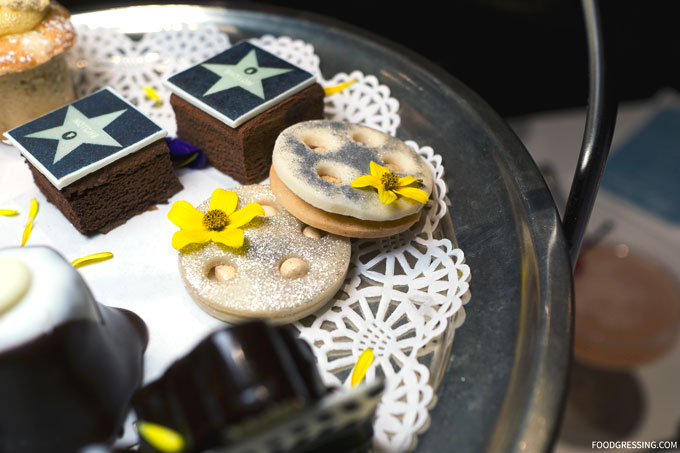 Walk of Fame
This Hollywood Walk of Fame-inspired treat was made of Devil's Chocolate Cake with Milk Chocolate Cremeux Star.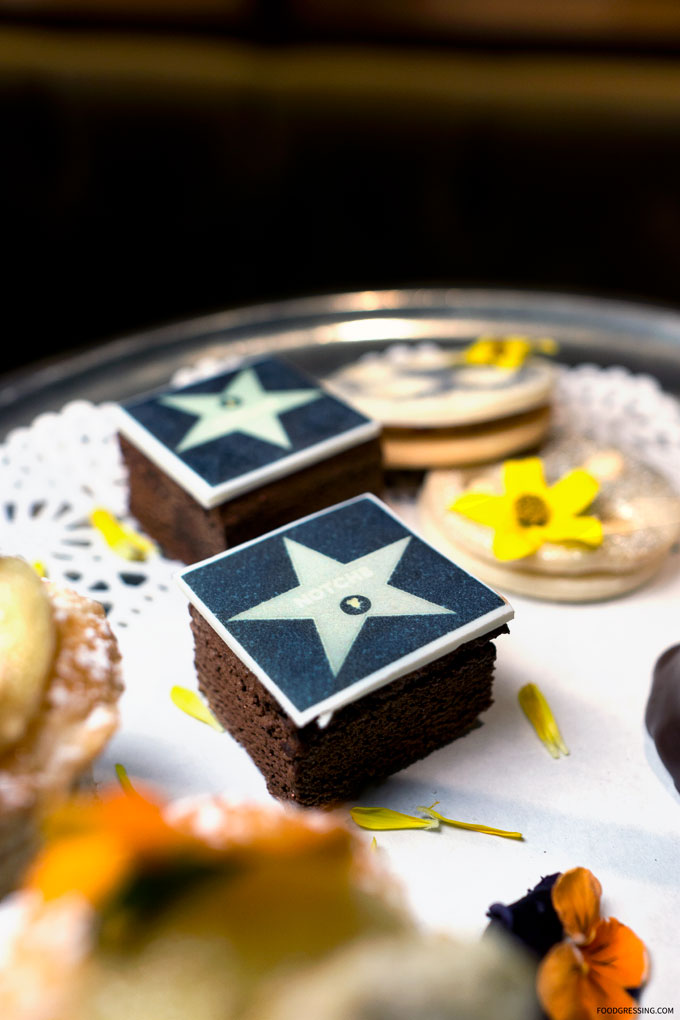 Overall Impression
Notch 8 continues to put out entertaining, creative and most definitely delicious afternoon tea themes. The Silver Screen Hollywood theme is one of my favourites yet. For reservations or more information, please call 604-662-1900, email [email protected] or book on OpenTable.