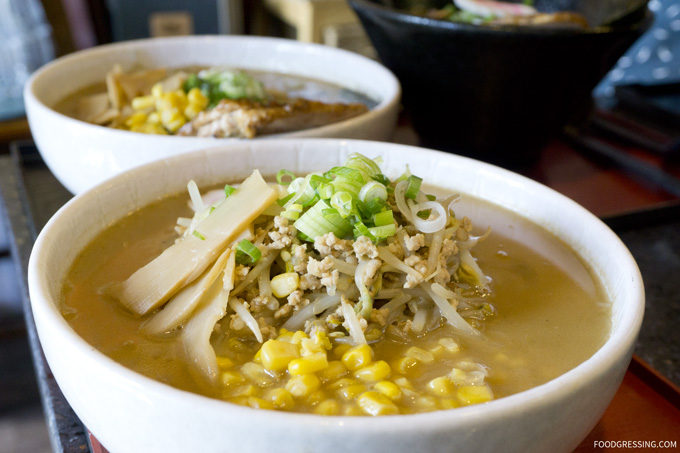 Disclosure: I was invited to attend a media event organized by Pork Ninjas. Opinions are my own.
While the West End is home to many ramen eateries, mostly in Robson and Denman area, there is only one ramen house in Davie Village. Located by the Rainbow crosswalk, Ramen Koika is a place where ramen aficionados can get their noodle fix in this neighbourhood. It has been a year since I last reviewed Ramen Koika; I visited them as a regular customer on a few occasions. This time around, I attended a media event where I sampled newer items that have been introduced to the menu since then.
Corporate to Culinary
The story behind Ramen Koika is fascinating and I had the pleasure of meeting the lovely owners of Ramen Koika, husband-and-wife team, Caleb Lee and Sophie Won. Formerly a bank mortgage specialist who decide to pursue his culinary passions, Caleb went to Japan to study the art of ramen making. He followed Japanese ramen sensei for three months with the help of a full-time translator. To fund his training and pursuit of being a restauranteur, the family sold their car and even their home. While the ramen training in Koren would have been much less compared to Japan, the ethnically Korean couple decided on training in Japan to support the creation of an authentic Japanese ramen house. If that's not dedication, I don't know what is.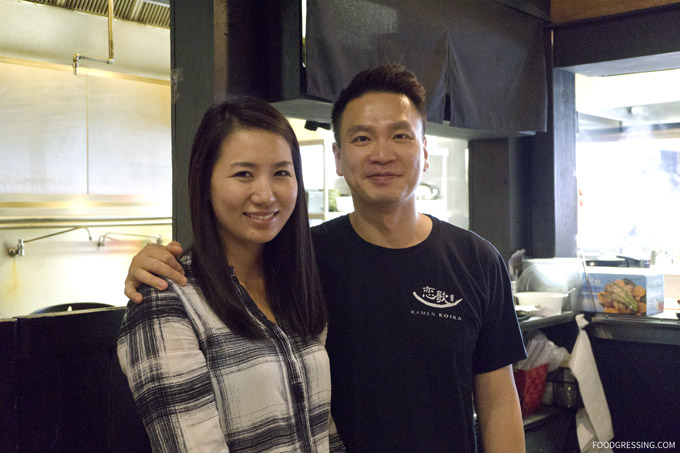 After Caleb's training was complete in Japan, the couple opened Ramen Koika in 2014. Soon after, Sophie quit her job to help with the business full-time in the background. Aside from Ramen Koika, the couple also own Sushi Hatzu (rebranded from Sushi Bella in February) just a few steps down the block.
Ramen Koika Menu
What I noticed previously and still remains true is Ramen Koika's extensive ramen options. These include chicken-broth, pork-broth, wok-fried, vegetarian broth, regular cha-shu, non-cha-shu, salad and more. They also offer a number of side options as well including rice bowls, tonkatsu, takoyaki balls and gyoza. Their menu is fully available online.
What We Tried
Our tasting menu including the following:
Tako Wasabi ($5)
Tornado Potato Stick ($5)
Chashu Panini ($6)
Chashu Wrap ($6)
Chashu Plate ($6)
Housemade Gyoza ($6)
Assorted Ramen

Ramen Sarada ($10)
Chicken Tamago Ramen ($11)
Nagasaki Champon Seafood Ramen ($13)
King's Ramen ($12)
Queen's Ramen ($12)
Mayu Miso Ramen ($12)
Okinawa Umi Ramen ($12)
Koika Red Ramen ($10)
The meal started off with a wasabi kick from the tako wasabi (octopus marinated in wasabi). Cleaning up my sinuses in no time, the strong, hot flavour was balanced with the seaweed.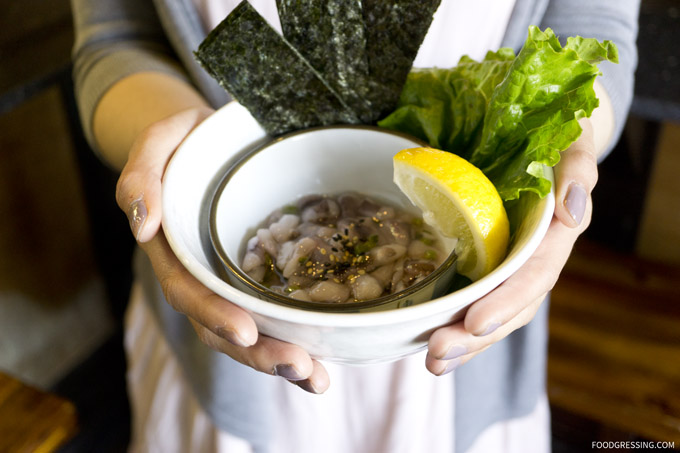 My second time having the tornado potato stick did not disappoint. A definite fun, crispy snack made with a spiral-cut potato which is then skewered and deep fried.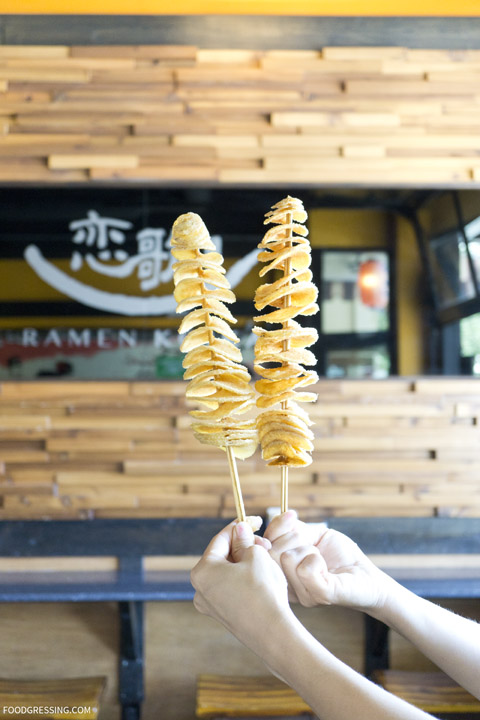 The chashu panini is a newer item on the menu. It was a definite comfort food with cream cheese, cajun honey chashu, lomain and wasabi mayo. Loved the melt-in-your-mouthness of this panini.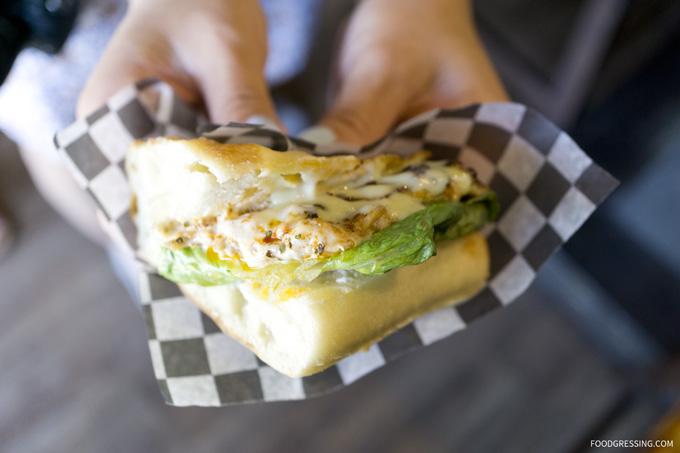 One of the standout side dishes was the chashu side dish, another new menu item. A lot of soft, tender, fatty meat which is not for the faint of heart (or stomach)!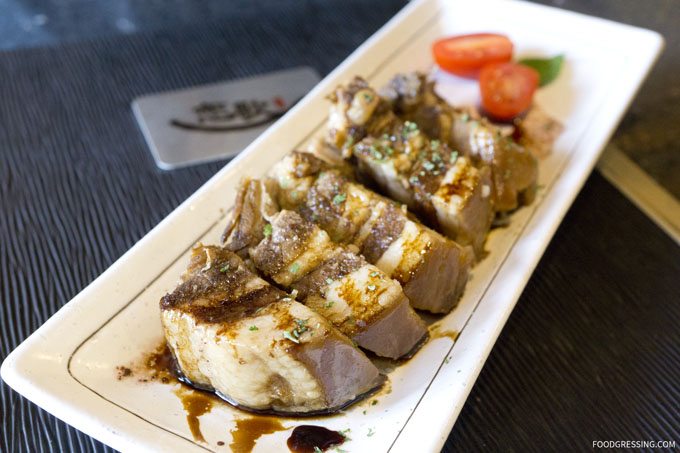 Now for the stars of the meal…the ramen! One thing to note is that Ramen Koika makes their noodles in-house. I must confess that I was unable to try all the ramen as I had gotten very full.
However, my definite favourite and summertime recommendation is the ramen sarada. I very much enjoyed this brightly-coloured spring mix with soft boiled half egg, cherry tomato, garlic chip, corn, red pepper, green pepper and black sesame salad dressing. A flavourful and refreshing dish.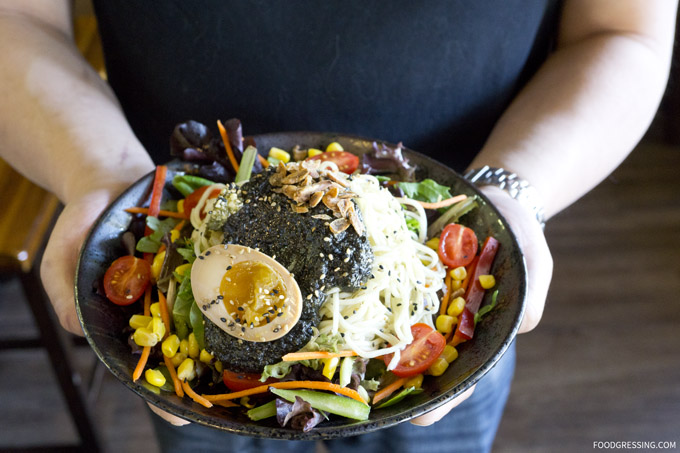 One of their top-sellers is the black garlic ramen. It is a delicious and earthy flavoured concoction of bamboo shoot, roasted seaweed, soft boiled egg, chashu, black tree fungus, green onion, garlic chip and black garlic oil.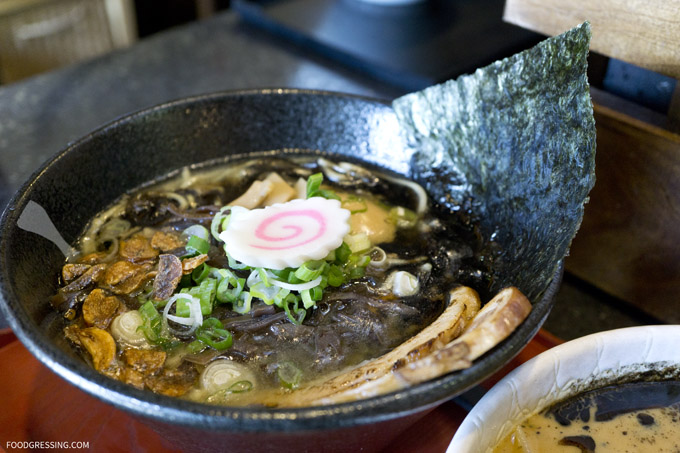 In general, the noodles were al-dente and proportions of toppings and noodles were very reasonable for the price.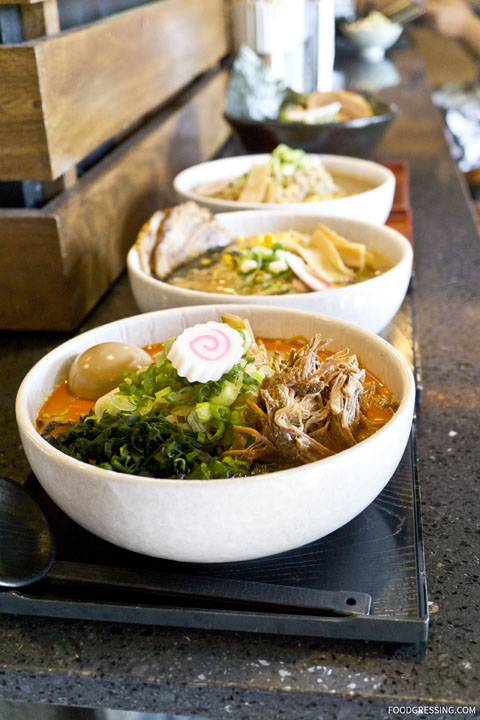 If you have a huge tolerance for spicy foods, then you might be interested in the Koika Red Ramen Challenge. There are three levels of spiciness (Level 1, 2 and 3) and if you can finish your serving of Level 3 spiciness ramen within 15 minutes, you can get the ramen for free, a picture on the "Wall of Flame" and a certificate of completion. We tasted the broth of a Level 1 spicy and I was already on fire!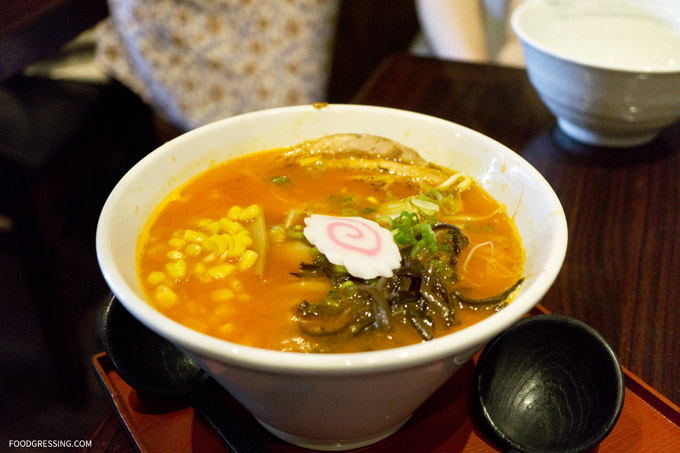 Overall Impression of Ramen Koika
I continue to be impressed with Ramen Koika's diverse ramen options from different broth bases to side options. Prices and friendly and portions are filling. Rating: 4.5/5
Website: http://www.ramenkoika.com/
[robo-gallery id="10251″]