Newly opened is Downtown Vancouver's sexiest (and perhaps naughtiest) ice cream shop, Perverted Ice Cream.  Social media is abuzz about Perverted Ice Cream from their interesting, unconventional branding.  I had heard about their "4 Days of 4 Play" promotion where all cones and cups were just $4 for the first four days of opening.  I decided to give them a try especially since they are in my neighbourho0od.  Here's a look at my experience.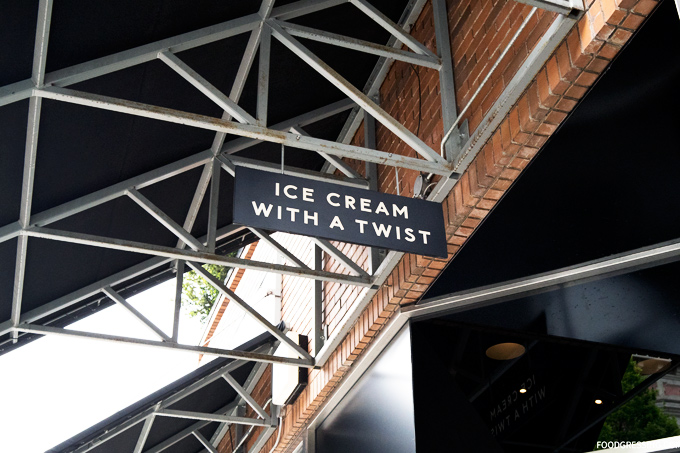 Note:  None of the food in this review was complimentary.  Opinions are my own.
Robson & Thurlow
Located at the corner of Robson and Thurlow (797 Thurlow Street), Perverted Ice Cream takes over the former space of Cupcakes on Thurlow.  The shop will be open daily from 11 am until late.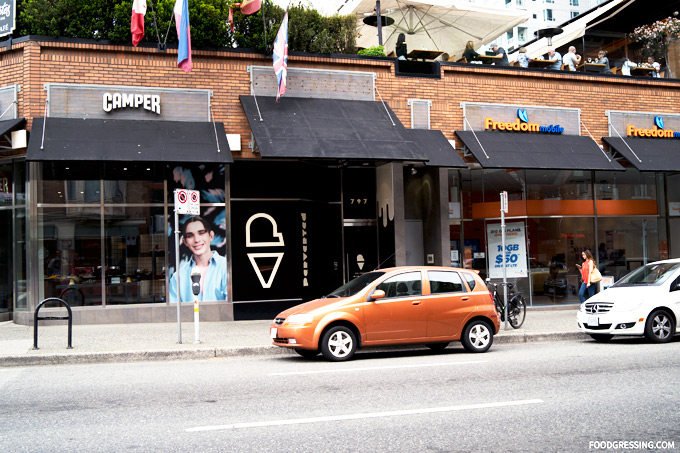 The shop may not be obvious from the outside to be an ice cream shop as the windows are tinted and covered (kind of like an adult store).  As I was taking photos of the shop's exterior, I noticed a few passersby trying to peer in to see what it was about.
Darkly Lit Interior
The interior of Perverted Ice Cream is small, darkly lit and on one side of the wall you'll find "Perverted"-branded merchandise like T-shirts and waterbottles.  I liked their cheeky slogan, "Every Time I Come Ice Cream."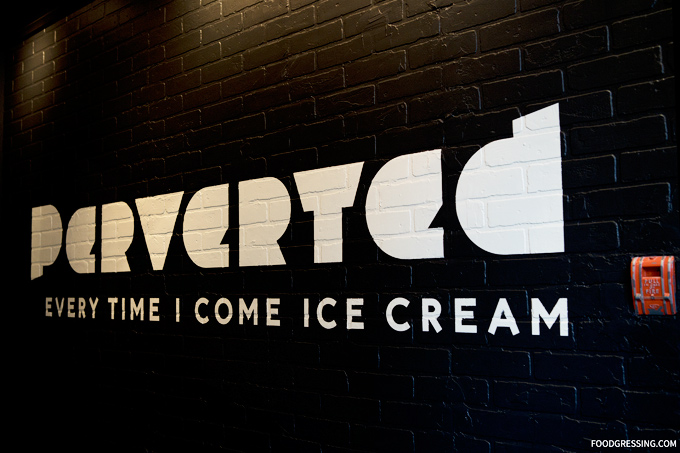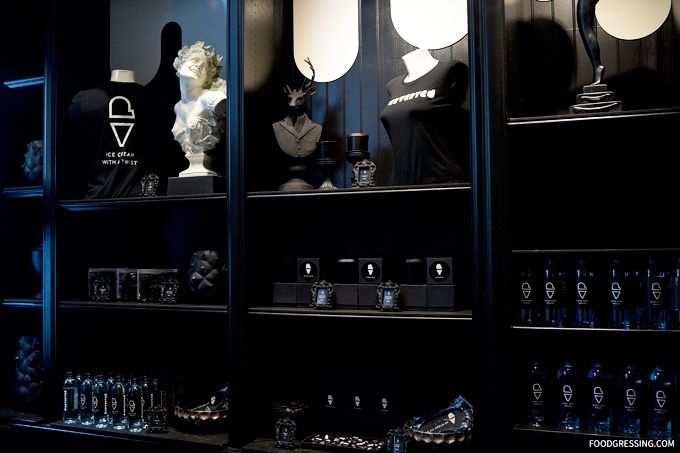 Perverted Ice Cream Menu
They currently offer 4 rotating flavours and they post these daily flavours on their Instagram page.   At the time of my visit, there was the Brand Spanking, Lemon My Fao, Cocoa Dependency and Matcha Macho Man.  Their waffle cones are made from activated charcoal and are coloured black.  Aside from these signature flavours, you can also order a "naked" cone or cup, which is simply ice cream without any toppings.  After the soft opening phase, you can expect a full menu and the prices to be at $6 for a cone or cup.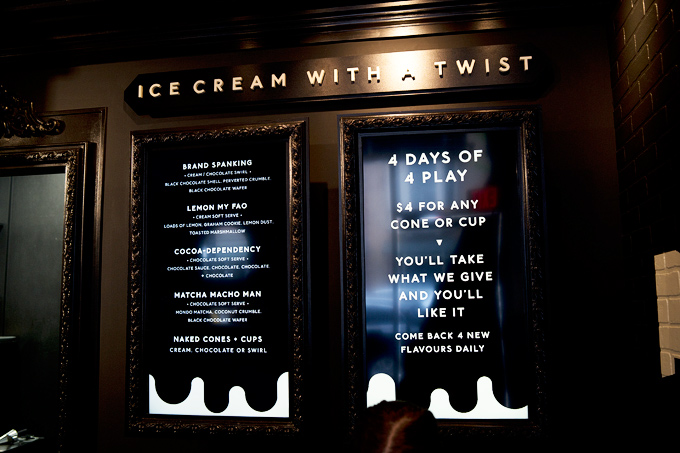 What I Tried
I went with two of their cone options.  On the left is the Cocoa-Dependency featuring chocolate soft serve, chocolate sauce, and chocolate).  On the right is Brand Spanking (cream + chocolate swirl, black chocolate shell, perverted crumble, and black chocolate wafer).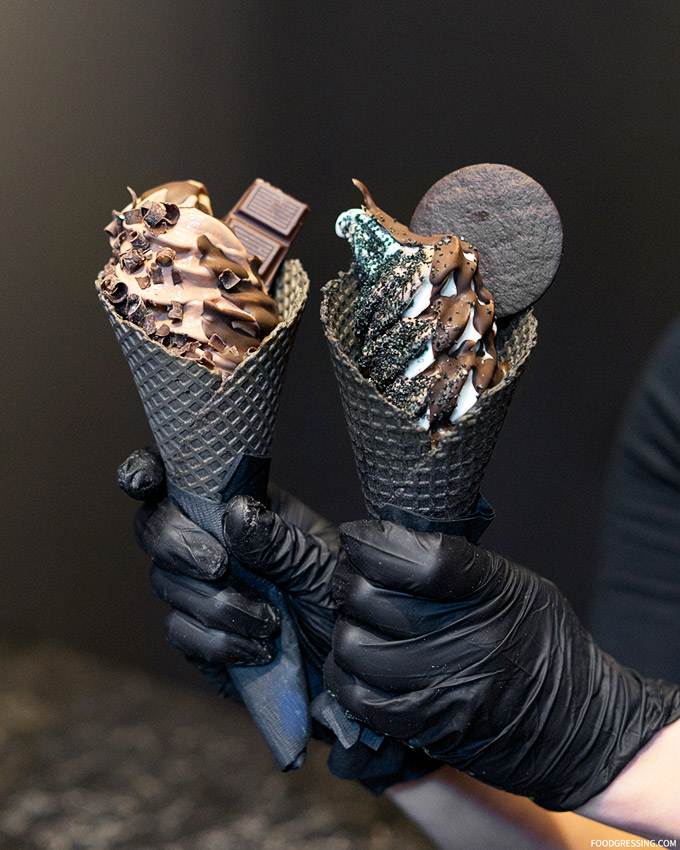 I really liked the toppings that were used such as the wafer which was nice and crisp and the crunchy perverted crumble.  I did find that the ice cream was a bit on the thinner side and thought it would taste better being thicker and creamier.  However, I read that their ice cream is made with organic milk and no artificial stabilizers.  Since it has no stabilizers, that is probably why it melted so quickly in my hands.  Messy as in, pass me the tissue and a lot of it.  A lot, I tell you.
I also found the waffle cone to be thin and that might have contributed to not holding up the rather quickly melting ice cream.  In comparison, the black, activated charcoal cone from Mister is much more robust and thick (see post here).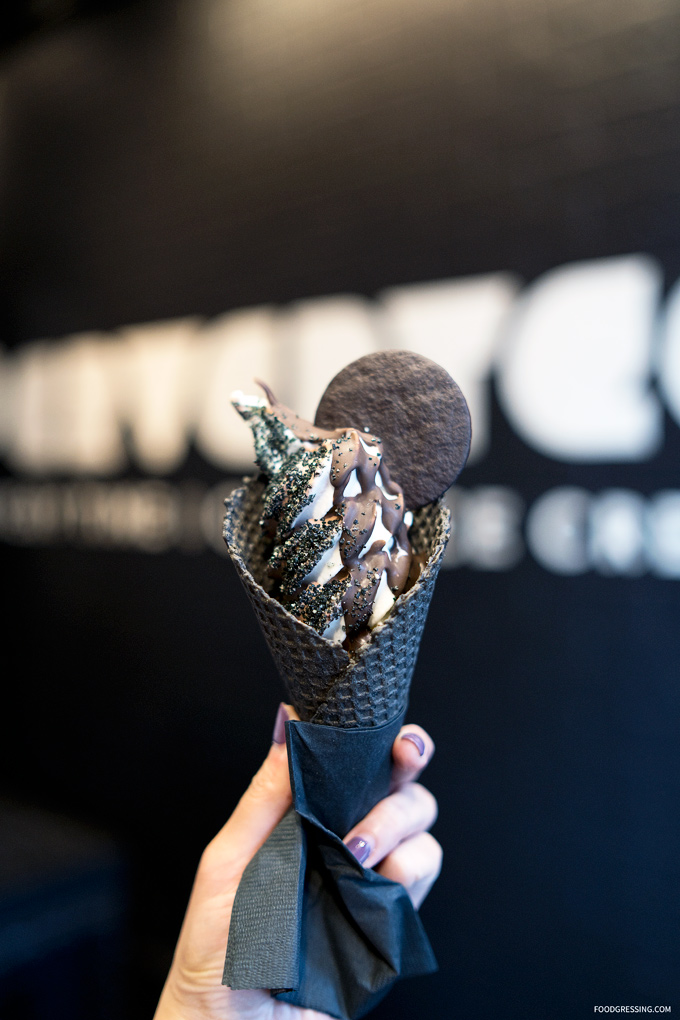 Overall Impression of Perverted Ice Cream
I enjoyed Perverted Ice Cream's fun, unconventional branding for an ice cream shop in Vancouver.  I also like how their soft serve uses organic milk and no artificial stabilizers.  However, I do think that their soft serve and waffle formula needs a bit more tweaking.  They are just in their soft opening phase and I feel there is potential.  I'd be interested in revisiting in the future.  Rating: 3.5/5
Perverted Ice Cream
Address: 797 Thurlow Street
Website: ‎www.pervertedicecream.com/