There's a new all-day breakfast restaurant in town! Calgary-based OEB Breakfast Co. has now opened a location in Vancouver's Yaletown neighbourhood at 1137 Marinaside Crescent. Founded in 2009, OEB has restaurants in Calgary and Edmonton and soon-to-be in Saskatoon and Scottsdale, Arizona.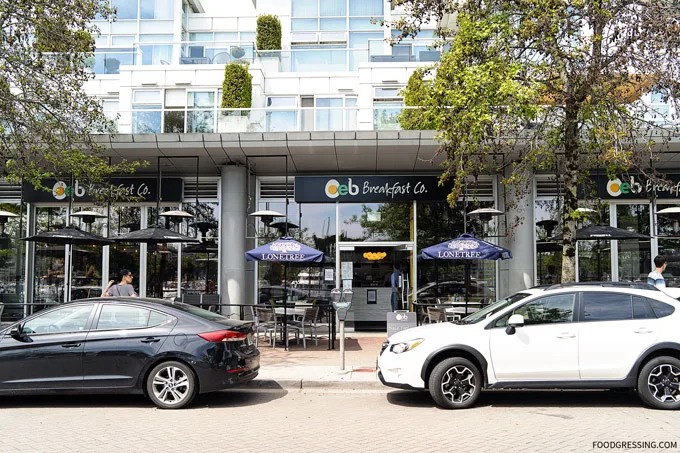 OEB prides itself in being a Chef-driven and locally-owned concept with menu items that simply can't be made at home, balanced by lighter fare and vegan options.
I was invited to a media tasting recently. Here's a look at my experience.
---
Modern & Inviting
The modern, vibrant and inviting interior of OEB's new location features a breakfast appropriate pallette (ie, yellow), high top communal tables, smaller dining tables and bar seating.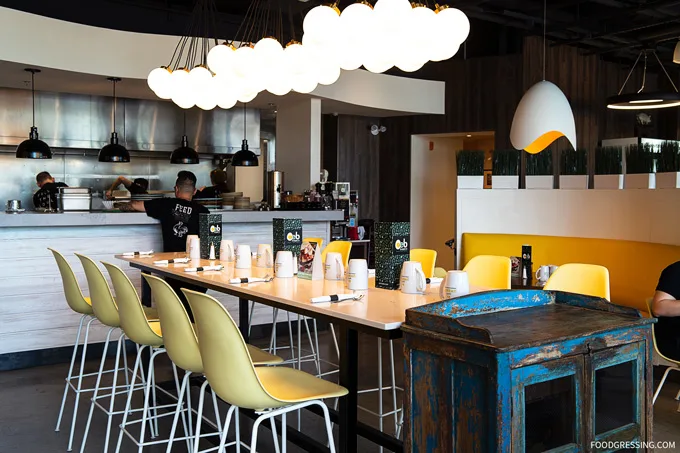 The broken egg-shell overhanging lights are a fun touch.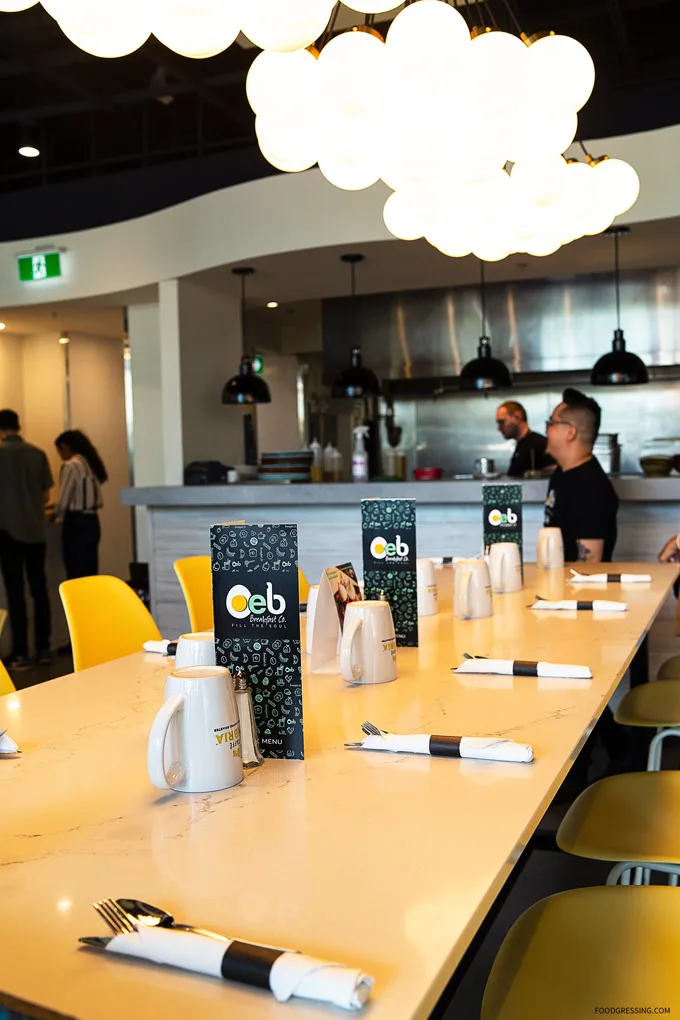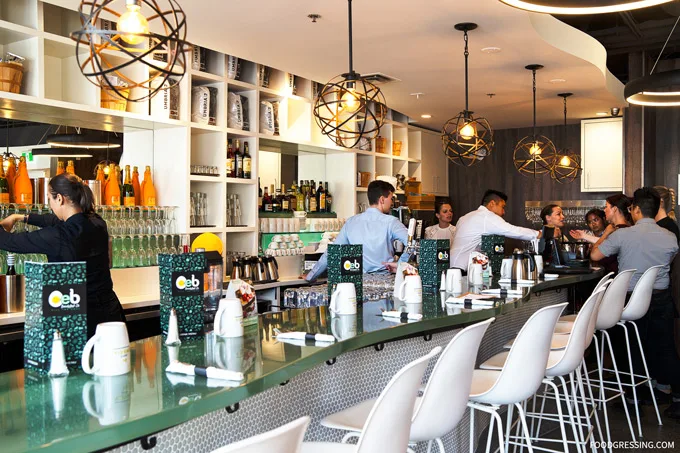 ---
OEB Breakfast Co. Vancouver Menu
OEB's menu is divided into Farm Fresh Classics, Blue Plate Specials, Breakfast Poutines, Benny's, Omelettes, Sandwiches, Sweet and Sides. The entrees generally run around $15 – $20.
Some of their Signature items include Eggs & Caviar (farm fresh scrambled eggs, bourbon, sour cream, green onions, sevruga caviar, pumpernickel rye), Fresh Toast Trifle (Meyer lemon curd, market berries, Sicilian pistachio, torched French meringue), and Canadian Eh! (Canadian back bacon, dark maple syrup or brown butter hollandaise).
Some other interesting offerings that caught my eye are Wild Boar Spalla (free run hen eggs over easy, cured wild boar shoulder, smoked chipotle aioli, arugula, aged Manchego, artisan brioche), Indian Inspired Avocado Bagel (Haas avocado, semi-dried tomatoes, dill, chickpeas, braised onions, turmeric), and Hogs & Scallops Breakfast Poutine (poached eggs, seared digby scallops, bacon lardons, Saint Cyrille cheese curds, brown butter hollandaise).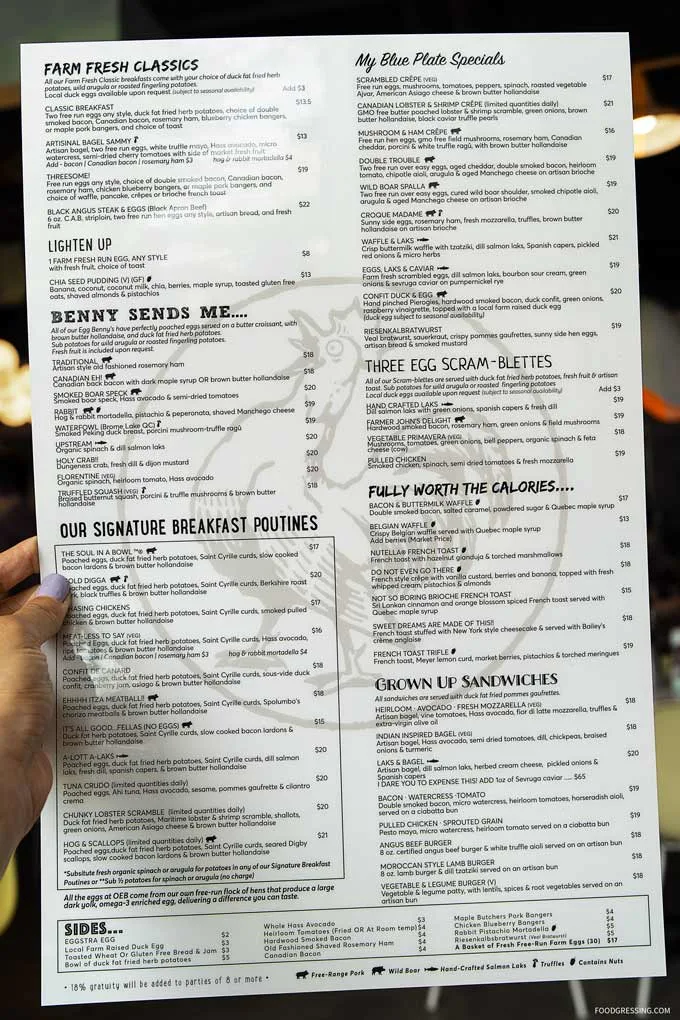 For drinks, OEB offers fresh juices, fruit smoothies, espresso-based drinks. Those who prefer a boozier breakfast can enjoy hot or cold coffee cocktails, prosecco cocktails, beer (on tap or bottled/canned), wines (by the glass or bottle).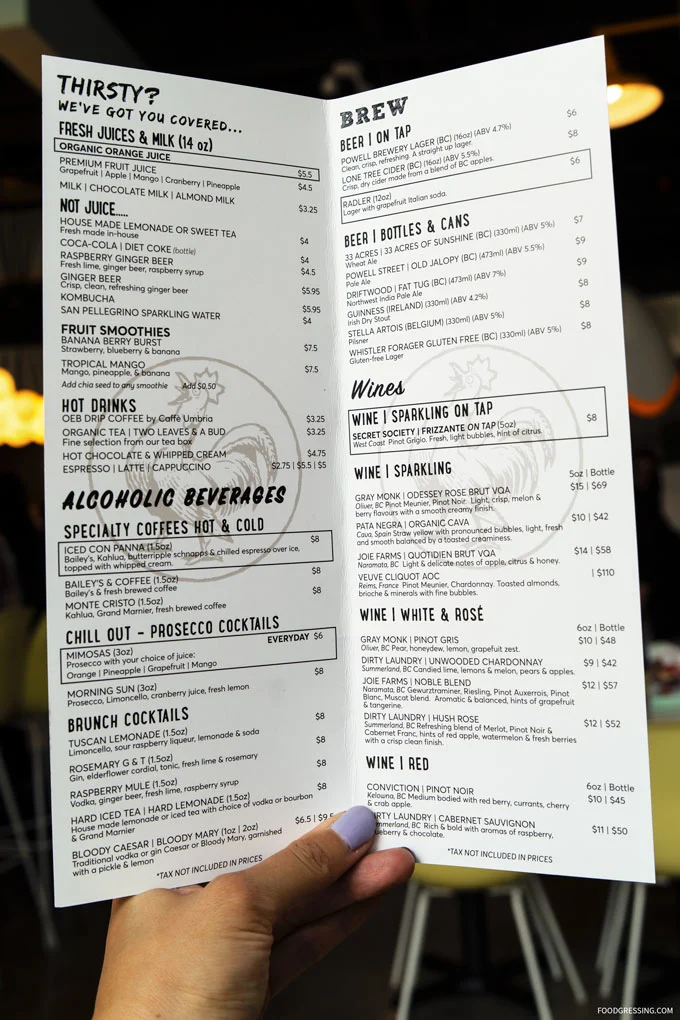 ---
Local Producers
OEB takes pride in sourcing high-quality ingredients and working with local producers wherever possible. Here are are the producers that the Yaletown location is working with:
Fully-organic and Canadian what bread from A Bread Affair (Langley, BC)
Pierogies from A Taste of Ukraine (Port Moody, BC)
Herbs and produce from Barnston Island Herbs (Barnston Island, BC) and Ponderosa Mushrooms (Maple Ridge, BC)
Butery from Arctic Meats and Sausage (Port Coquitlam, BC), Drakes Meats (Lanigan, SK), Brome Lake Duck Farm (Knowlton, QC), and Albion Farms and Fisheries (BC)
Salmon from Wolveshead Smoked Salmon (NB)
Coffee from Caffe Umbria (Seattle, WA)
---
Waitlist System
OEB Breakfast has a waitlist (not reservation) system via Yelp. Be sure to join the waitlist ahead of time and check out the live wait time.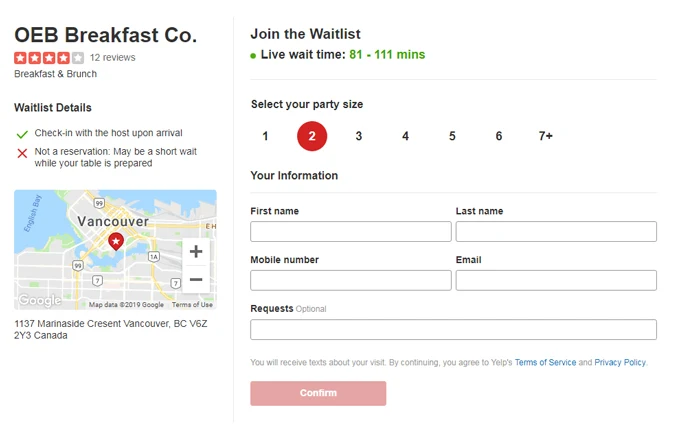 ---
What We Tried
At the media tasting, I was able to try three entrees along with a few sides.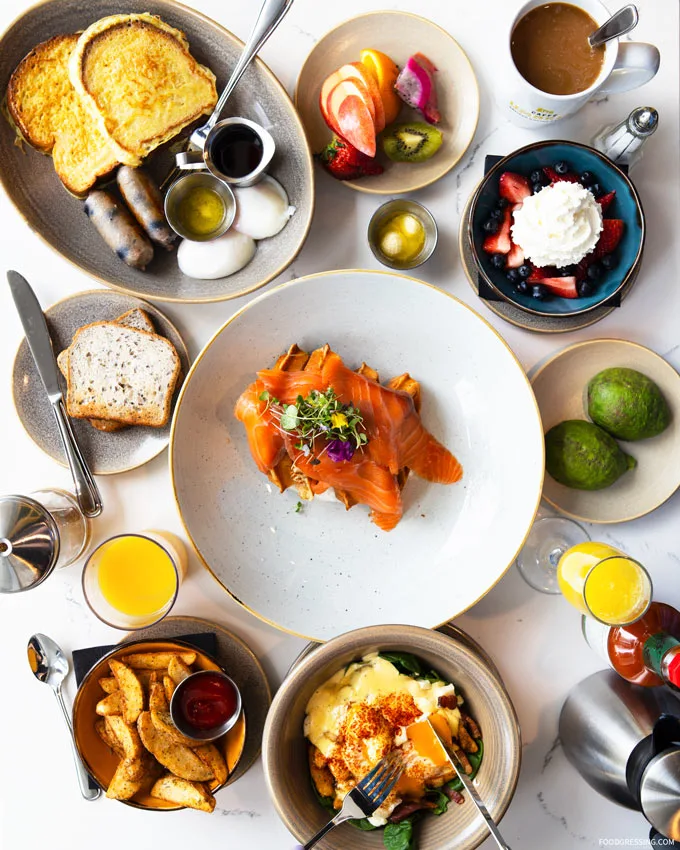 The Waffle & Laks ($21) features dill cured laks, crisp buttermilk waffle, tzatziki, Spanish capers, pickled red onions, and micro herbs.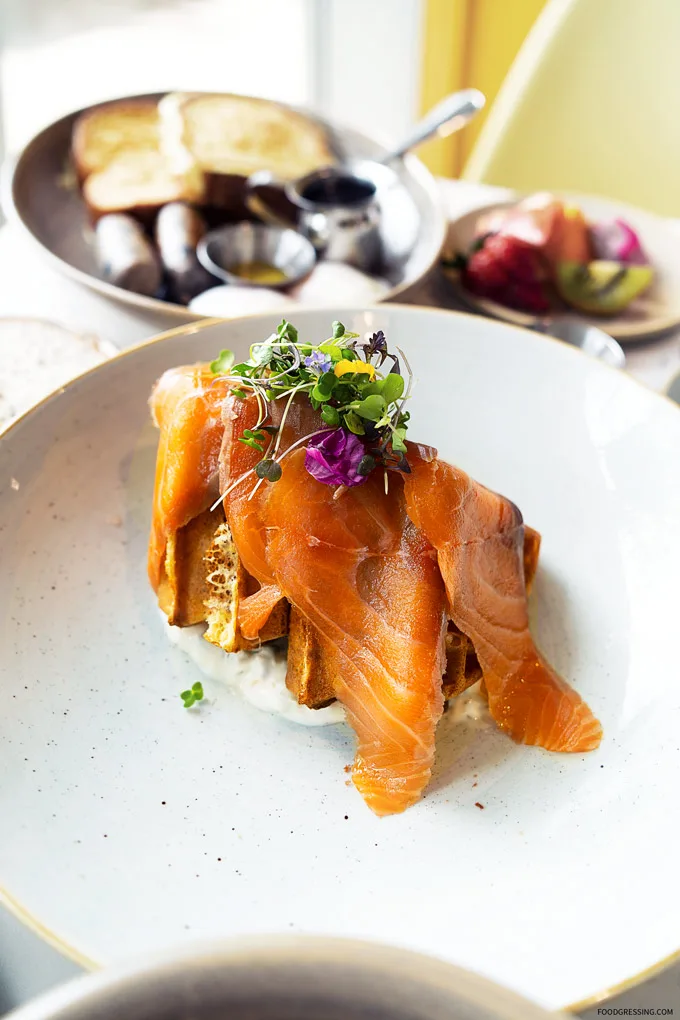 The Soul in Bowl ($17) was a hearty, comforting dish with poached eggs, duck fat fried herb potatoes, Saint Cyrille curds, slow cooked bacon lardons and brown butter hollandaise.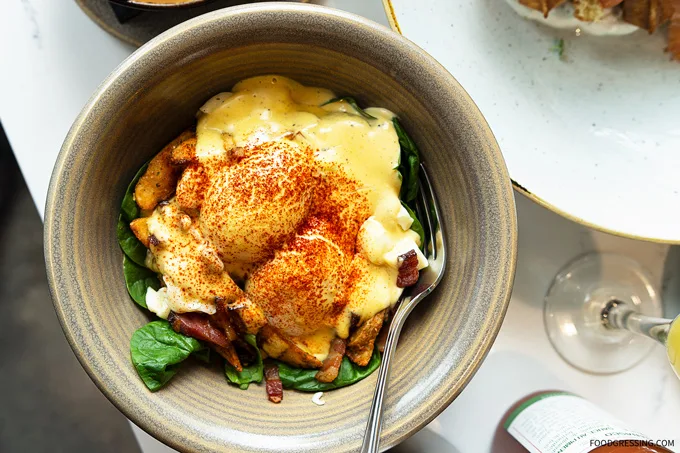 The Threesome ($19) is one of OEB's Farm Fresh Classics. It comes with two free run eggs any style, duck fat fried herb potatoes and your choice of double smoked bacon, Canadian bacon, rosemary ham, blueberry chicken bangers, or maple pork bangers and choice of toast. I went with French Toast and blueberry chicken bangers.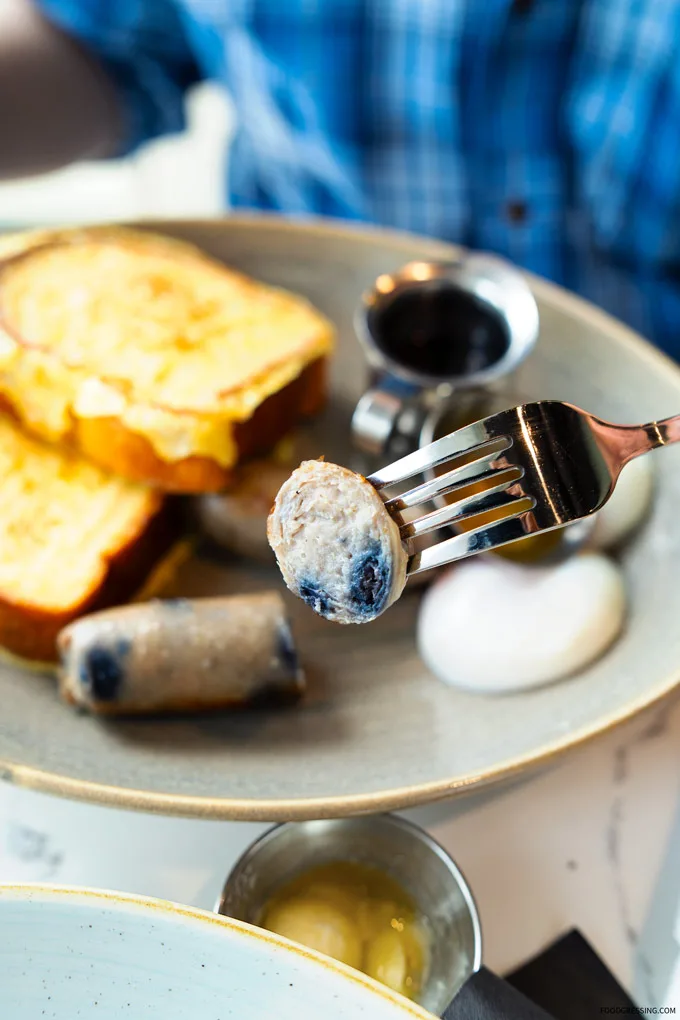 Not to be missed are OEB's duck fat fried herb potatoes. Perfectly golden, crispy and delicious. Some of OEB's dishes incorporate them as part of the entree but you can have them as a side as well.
We also enjoyed a few sides of fruit and coffee by Cafe Umbria.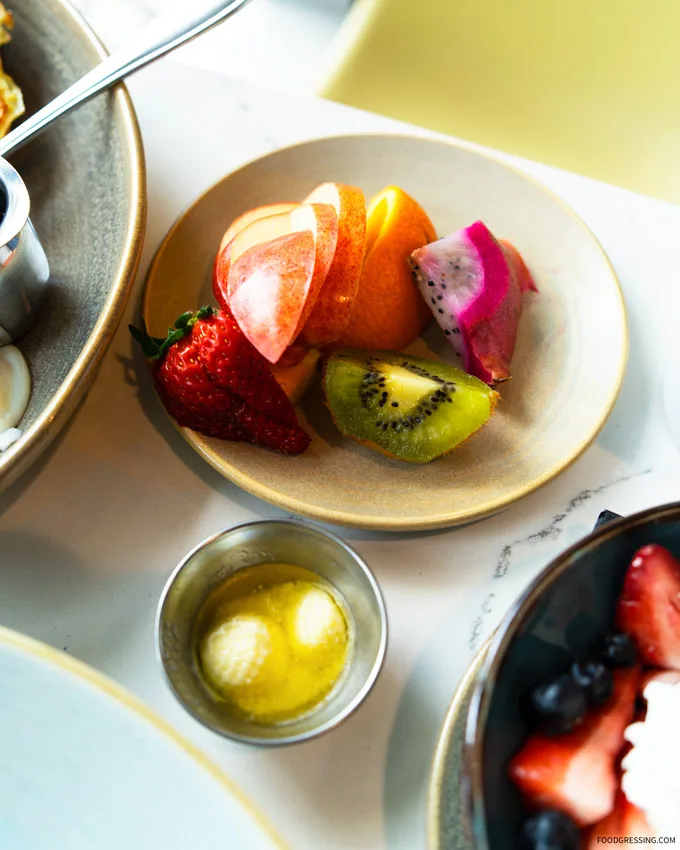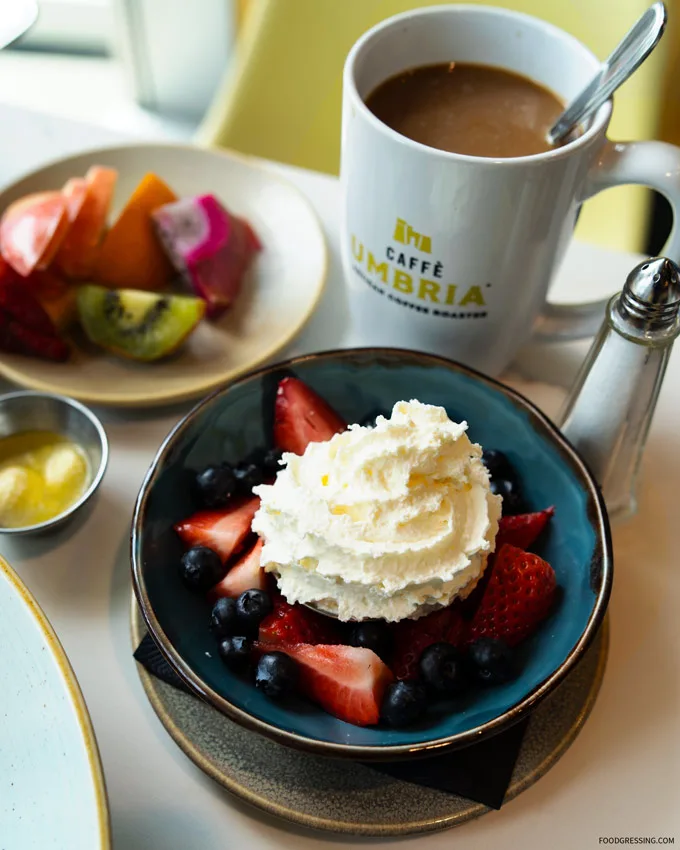 ---
Overall Impression
I enjoyed all the dishes that we tried from OEB and would love to return in the future. With such an extensive menu and so many inventive dishes, breakfast or brunch at OEB doesn't get boring.
---
OEB Breakfast Co. Vancouver
1137 Marinaside Avenue, Vancouver, BC
www.eatoeb.com