Looking for a place to celebrate Father's Day this year? Here is a list of restaurants in Metro Vancouver that are offering special Father's Day menus or features for 2019.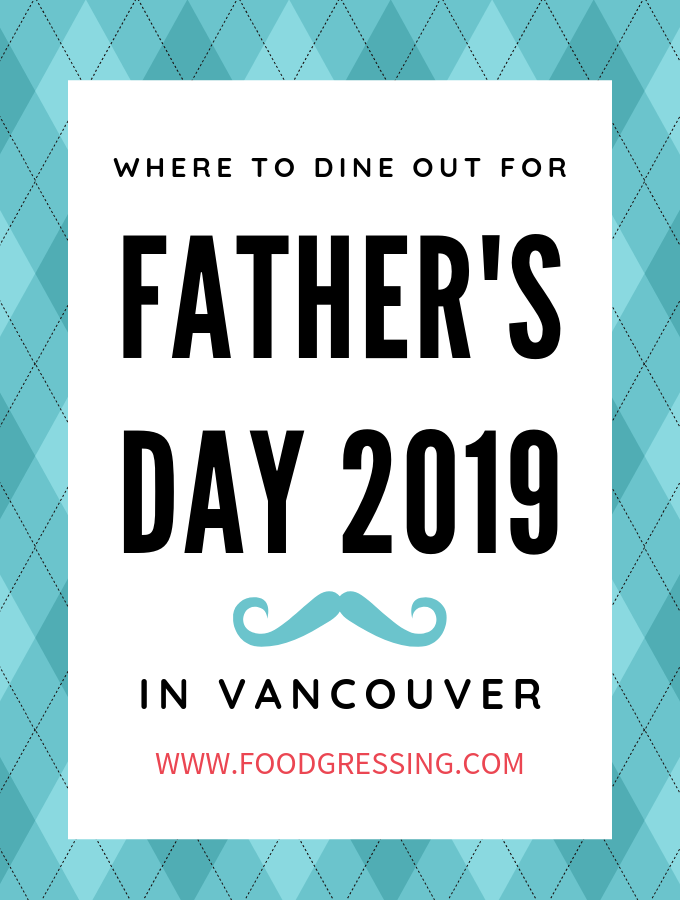 I have not included images as this list is designed for you to obtain quick information on what is being offered and compare the options. Please check with the restaurant for the most up-to-date and accurate information on dates, times, prices and menu offerings.
This list is updated as information becomes available. If you are a restaurant and want to be added, please contact me at foodgressing@gmail.com.
All contents of this post are copyright secured by Digiprove with verifiable time-stamped evidence of the content.
---
Restaurants offering special Father's Day menus or features
If you are viewing this table on mobile, please rotate your device sideways to view the entire table.
Restaurant
Type
Price*
Description
Date/Time
City
MIXT Lobby Lounge @ Sheraton Vancouver Guildford Hotel
Brunch Buffet
$53 (Adult)
$27 (Child 5 - 12)
Details
June 16: 10:30 am - 2:30 pm
Surrey
Oceans 999 @ Pan Pacific Hotel
Brunch Buffet
$89 (Adult)
$85 (Senior)
$44.50 (Child 6 - 12)

Menu
June 16: 10:30 am - 2:30 pm
Vancouver
Hart House
Lunch BBQ
$48 (Adult)
$20 (Child 4 - 11)
Relaxed outdoor garden party with meat fresh off the grill. In addition to the BBQ menu, dad gets the first draft beer by Strange Fellows brewing. Bocce and Croquet courts set up to challenge dad to a friendly game. Details
June 16: 11:30 am - 3 pm
Burnaby
Hilton Metrotown
Brunch BBQ
$58 (Adult)
$27 (Child 6 - 12)
Seasoned grilled beef striploin, marinated lamb kebabs, BBQ baby back pork ribs, fresh corn on the cob. Held in Crystal Ballroom. Details
June 16: 10 am - 2 pm
Burnaby
Charcoal and Woodz
Brunch Buffet, Dinner Buffet
$37 (Adult)
$19 (Child under 10)
Details
June 16
Surrey
Morgan's Creek Golf
Brunch Buffet, Dinner BBQ Buffet
$46 (Adult - Brunch)
$25 (Child 5 - 12 - Brunch)
$49 (Adult - Dinner)
$25 (Child 5 - 12 - Dinner)
Details
June 16: Brunch 10:30 am; Dinner 5:30 pm
Surrey
Acqua Restaurant + Bar @ Executive Suites Hotel Metro Vancouver
Brunch Buffet
$35 (Adult)
$17 (Child 6 - 10)
Details
June 16
Burnaby
The Paddlewheeler
Brunch Cruise, Dinner BBQ Cruise
$60 (Adult)
$30 (Child 6 - 12)
Details
June 16: Brunch 11:30 am - 2 pm; Dinner 5 pm - 7:30 pm
New Westminister
Northview Golf and Country Club
Brunch Buffet
$46 (Adult)
$23 (Child 4 - 11)
Duffey's Sports Grill | The Palmer Room
June 16: 10 am, 10:30 am, 11 am, 11:30 am, 12 pm
Surrey
Pat Quinn's Restaurant & Bar
Brunch Buffet
$43 (Adult)
$21.50 (Child 6 - 12)
Details
June 16: 10:30 am - 3 pm
Delta
Craft Beer Market
Brunch Buffet
$30 (Adult)
$13 (Child under 12)
Charcuterie & cheeses, classic breakfast items, seafood & carvery, desserts and more. Details
June 16: 10 am - 3 pm
Vancouver
University Golf Club
Brunch Buffet
$45 (Adult)
$22.50 (Child 6 - 12)
Details
June 16: 11 am, 11:30 am, 12 pm, 12:30 pm
Vancouver
Sweet Somethings
Free Scoop of Ice Cream for Dads
Details
June 16
Vancouver
Copyright secured by Digiprove © 2019