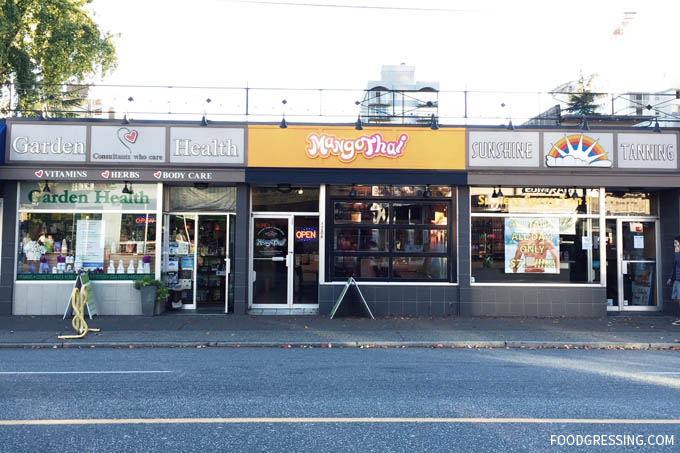 It had been quite a few years since I ordered food from Mango Thai in Davie Village. While Thai Basil on Davie is my go-to Thai restaurant in the neighbourhood, I decided to revist Mango Thai and see how their food compared. In this post, I will share with you my experiences with Mango Thai.
Fast Thai Food
Located at 1206 Davie Street in the heart of Davie Village, Mango Thai is a small casual eatery serving fast Thai food. There are a few dining tables if you want to eat in, but many customers get take-out or delivery via JustEats.ca.
Mango Thai Menu
Many of Mango Thai's menu items under $10 so it's easy on the wallet. The menu features your usual Thai curries, rice and noodle dishes, soups (ie, Tom Yum-Yum), and salads. They have lunch specials for $7.99 until 3 pm which includes an entree with a spring roll, green salad and rice. On the week-end, Mango Thai has special dishes like the Som Yum Papaya and Som Yum Apple salads. Spice levels range from mild, spicy, "starting to sweat" to "rocket fuel." Their menu is available online.
What I Tried
My first experience with Mango Thai was a green curry with chicken takeout. Pretty standard fast Thai food, and their version of the green curry was average. The portion of chickens were okay, eggplants were nice and tender and the curry had an acceptable creamy, savoury-sweet flavour.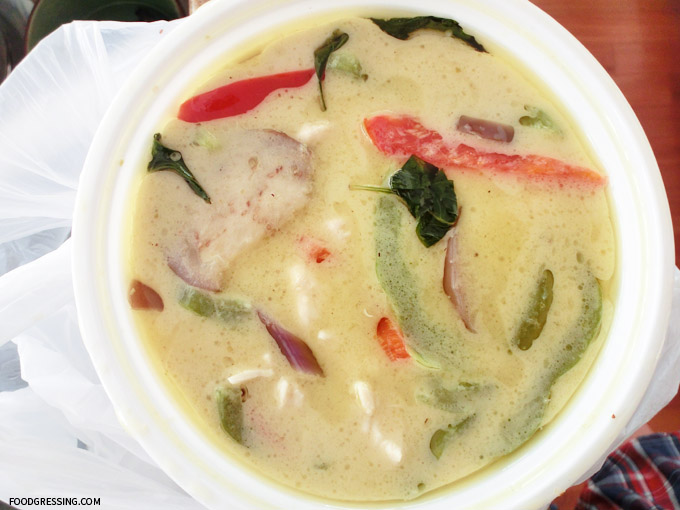 On my recent visit, I dined in and had a spicy green beans (Phad Prig Khing) entree combo ($11). It was recommended to me by their staff member so I was expecting it to be very good. I chose chicken as my protein and the other ingredients were Thai chili and garlic paste, crunchy green beans, bell peppers, and a kaffir lime leaf. It came with a soup, green salad, spring roll, and Thai sauce.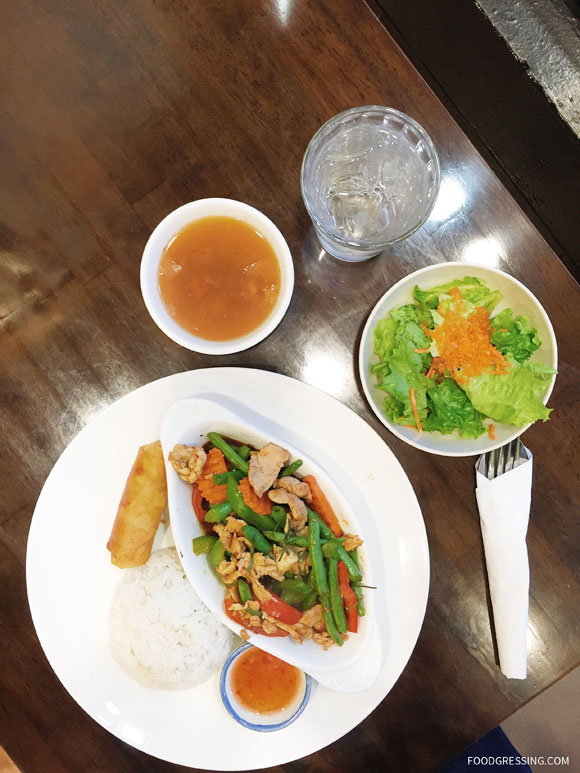 The dish was overall underwhelming starting from the rice. The rice was nicely shaped like an inverted bowl, but was barely warm. The exposed rice was hard while the inner rice was soggy. The green beans were adequately crunchy but the overall dish was highly reliant on the Thai chili and garlic paste for flavour. The spring roll was minimally crispy and very greasy. Finally, I did not have the savoury soup as I found it to be too salty.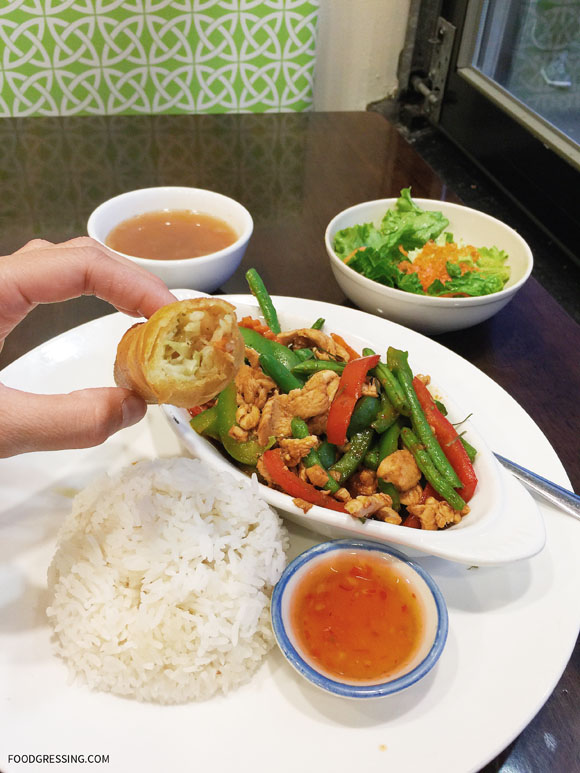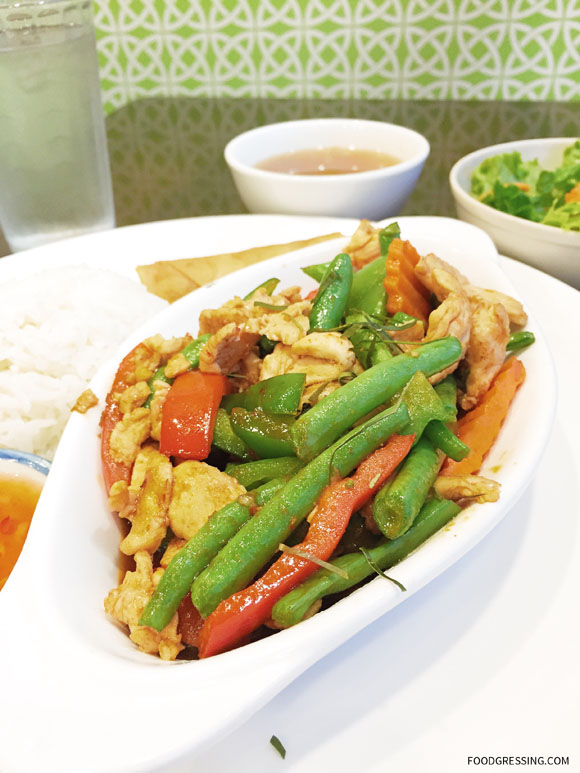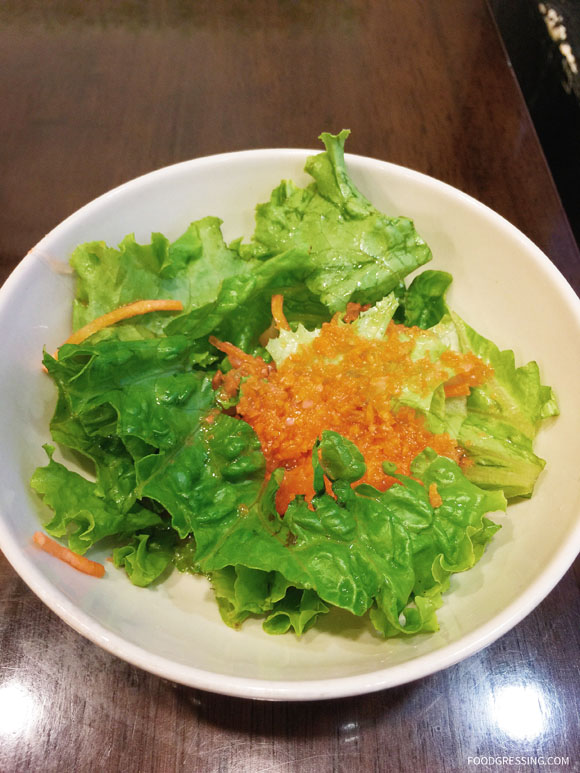 Overall Impression of Mango Thai
The green curry that tried from Mango Thai a few years ago was okay, but the green bean entree I had recently was a bit of disaster. With its budget-friendly menu, you definitely get what you pay for. I prefer Thai Basil just a few blocks down where the food and pricing is on point. Rating: 2.5/5
For more information on Mango Thai, visit them at their website.