Disclaimer: I received complimentary tickets to this event at Feast through a contest.  All opinions are my own.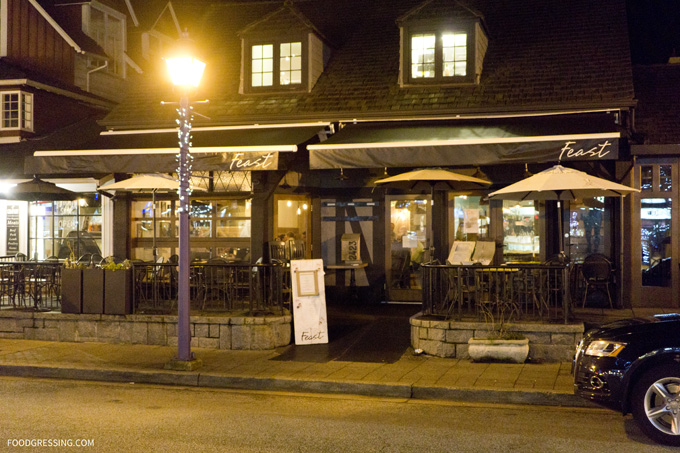 Last night, I headed out to Feast in West Vancouver for the Wagner Family of Wine dinner event.  I had won two tickets to the event through social media and it was definitely a treat as tickets were priced at $160 per person.  It would be a fantastic evening of wining and dining at this neighbourhood bistro.  I must admit that I hardly a wine connoisseur so I look forwarded to learning the art of wine.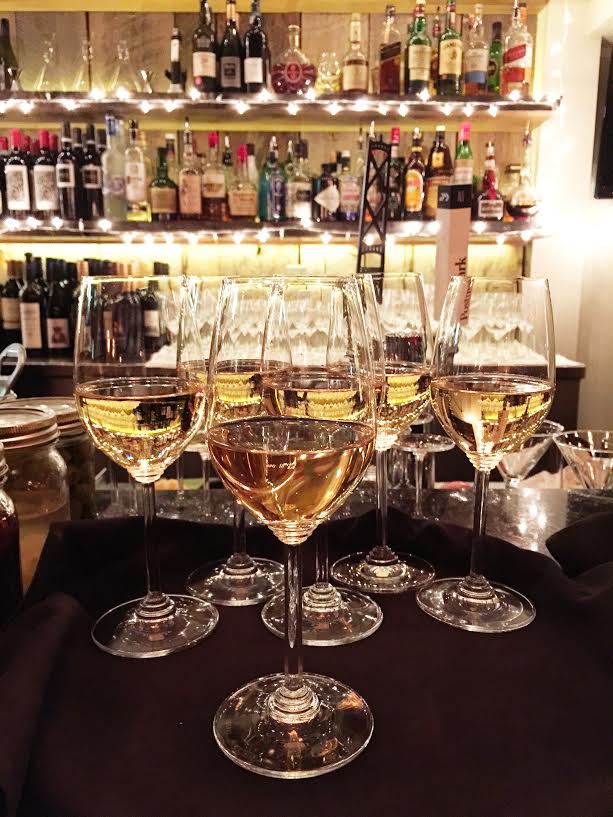 Four Course Meal with Wine Pairing
The dinner at Feast included a four course meal, each paired with a fantastic Wagner Family of Wine brands wine.  Wines that were featured included a Conundrum White 25th Anniversary, never served in BC before, Mer Soleil Silver unoaked Chardonnay, Emmolo Napa Merlot and a special selection Napa Valley Cabernet Sauvignon.  Harvest, a Caymus Vineyards winemaker, provided an overview of each wine as they were being served with the course.
To start, the amuse bouche was the pork rillette tempura fried bean sprout paired with 2014 Conundrum White.  The tempura was very crispy and it offered a fun contrast to the tender pork rillette.  The Conundrum was a lovely light wine that was subtly sweet and had a pop of freshness.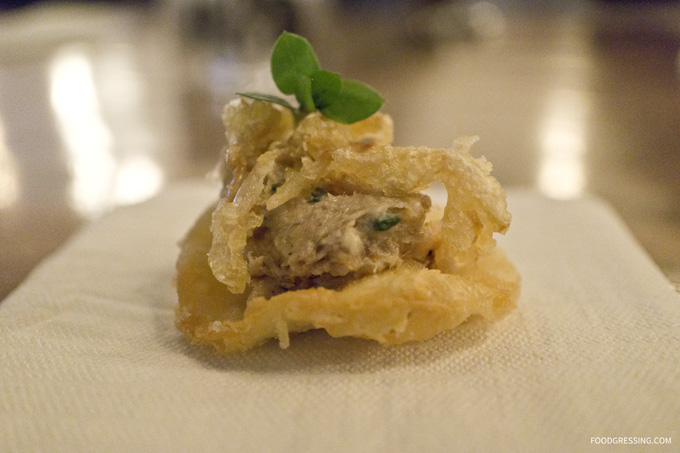 The first course was a king crab salad made with chardonnay/apple foam, tobikko, ginger chips, cucumber, pickled celery.  It was paired with a 2013 Mer Soleil Silver that had a bright citrus taste with crisp acidity.  An overall light and refreshing appetizer, I loved how easy it was to extract the king crab meat out of the shell.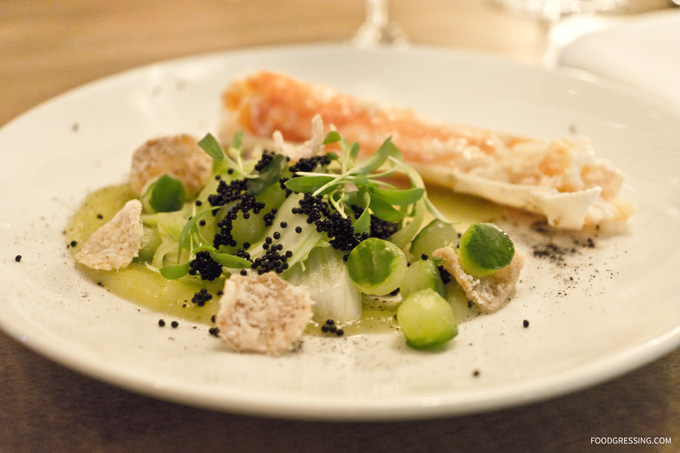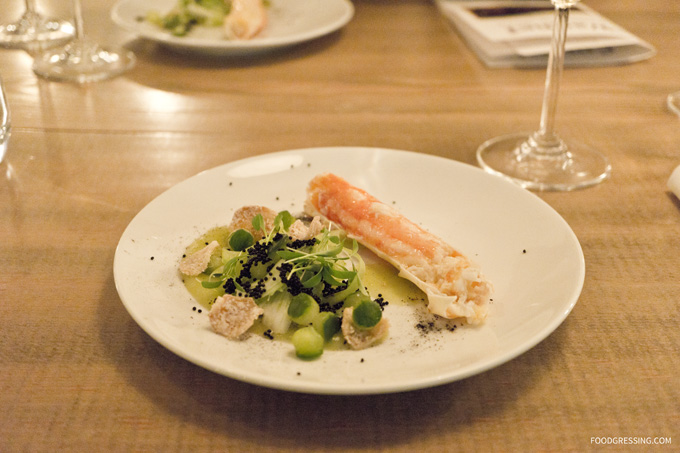 The duck leg confit was made the day of and had crispy duck skin, pomegranate syrup, and molten truffle polenta.  The wine pairing was a 2013 Emmolo Merlo which was very rich and intense.  The duck skin was wonderfully crispy and the meat was very tender and fell off the bone very nicely.  The polenta was just melt-in-your mouth good – very rich and creamy.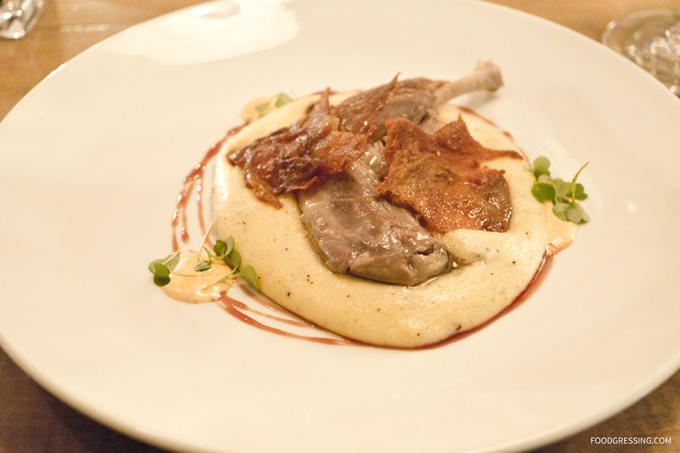 The third course was a mushroom and ash crusted elk striploin with blackberry and tea jus and confit fingerling potatoes.  It was my first time having elk and the pieces were moist, juicy while the fingerling potatoes were deliciously crispy.  The Napa Valley Cabernet Sauvignon 2012 was paired with this dish which was also a rich and dark fruit flavour.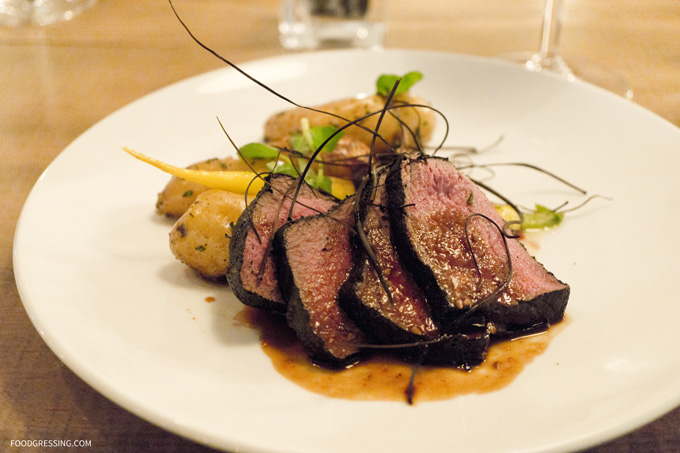 To finish off a fantastic meal, there was the espresso chocolate pot de creme with citrus whip, honey crumble.  The custard was just subtely sweet, thick, and comforting.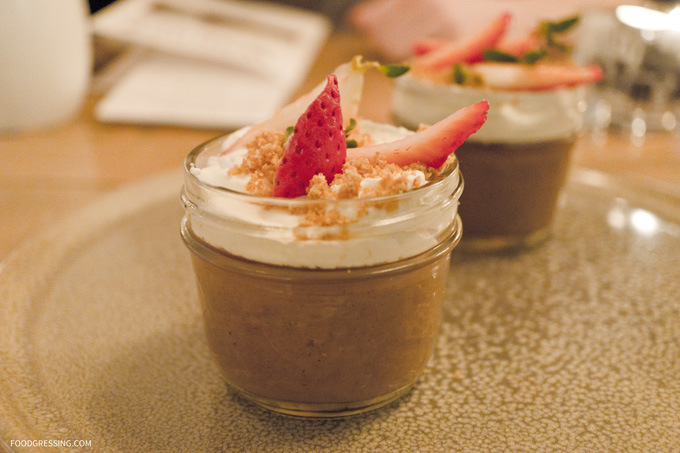 Service by Feast
The service was excellent as staff frequently checked in with us and made us feel very comfortable.  The execution of the event was on point and all the food and wine were served in an organized and timely manner.
Overall Impression
The overall event was a success with lots of laughter and stomachs filled with amazing wine and food.  The service for the event was fantastic with lots of staff ensuring everything going smoothly.  I would be interested in trying out their regular menu and they are also participants of Dine Out Vancouver 2016.  Rating: 5/5
For more information on Feast and their wine events, visit them at their website or social media: Facebook, Twitter and Instagram.