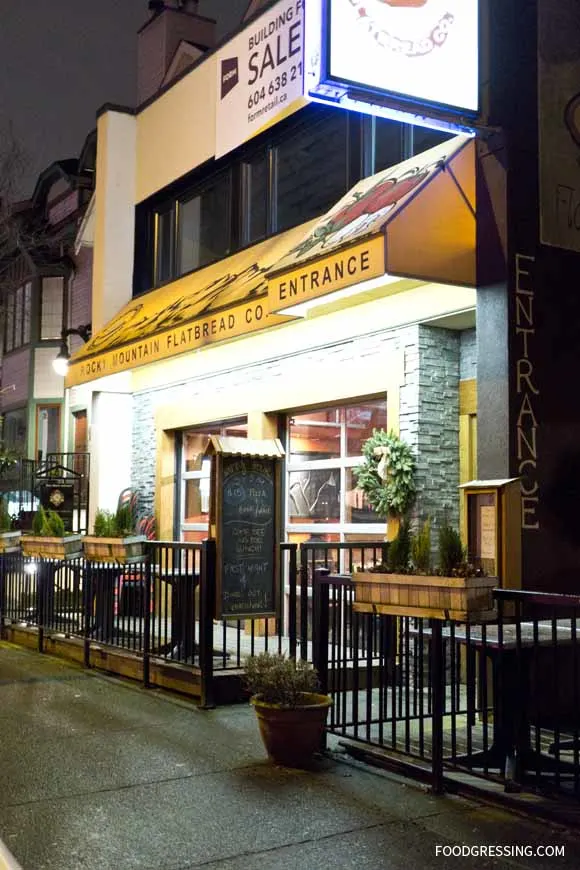 Dine Out Vancouver 2016 kicked off yesterday with 288 participating restaurants offering prix-fixed menu at $20, $30 and $40. For a family-friendly Dine Out Vancouver experience, my husband, son and I visited Rocky Mountain Flatbread Co. in Kitsilano last night. It was our first Dine Out experience with our toddler, so I was very excited about enjoying delicious food in a kid-friendly environment.
Handcrafted Flatbread Pizzas
Rocky Mountain Flatbread Co. is best known for their handcrafted flatbread pizzas made with local and organic, free range organic meats and Ocean Wise seafood. They noted on one of their chalkboards that they use flour from Anita's Organic Mill in Abbotsford, a brand that I also use in my baking. Other menu items include pastas, soups, salads and desserts. For those with food sensitivities, Rocky Mountain Flatbread can create gluten free and nut free pizzas.
Rocky Mountain Flatbread also hosts pizza making classes and parties. I would love to learn more about crafting a delicious pizza!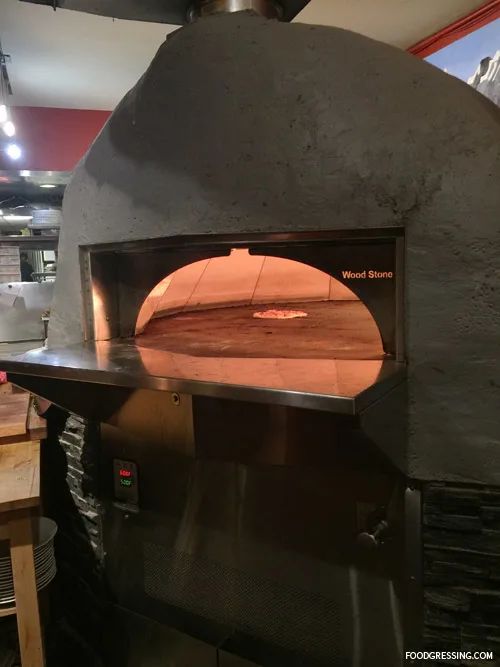 Family-Friendly
From the moment we walked in, I felt very at ease because there were so many other kids with their families at the restaurant. One of the staff brought my son some coloring sheets and crayons to start. I also loved that they had a small play area in the back where the little ones could keep themselves busy. My son had fun playing with the toy kitchens.
The menu items are price-wise on the higher side likely due to the high quality ingredients and for offering entertainment for the kids (play area + coloring). We all know that feeding kids requires patience and often takes a lot longer than we would like. As a result, the higher pricing is to offset the lower table turnover.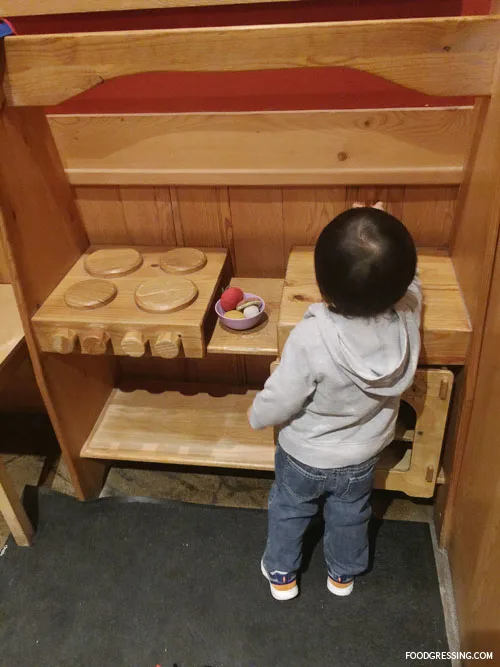 Dine Out Menu 2016
Their Dine Out menu is priced at $20 and included a starter (soup or salad), a main (small pizza or pasta), and a dessert. Here is the photo of their Dine Out menu as the one online is not as detailed. They use fresh ingredients so the choices for the soups and pastas depend on what are featured on that particular day. There are also several add-on options like gluten-free pizza crust (+$3), artisan pizza (+$1-$3), bolognese (+$2), and smoked bacon and three cheese (+$3).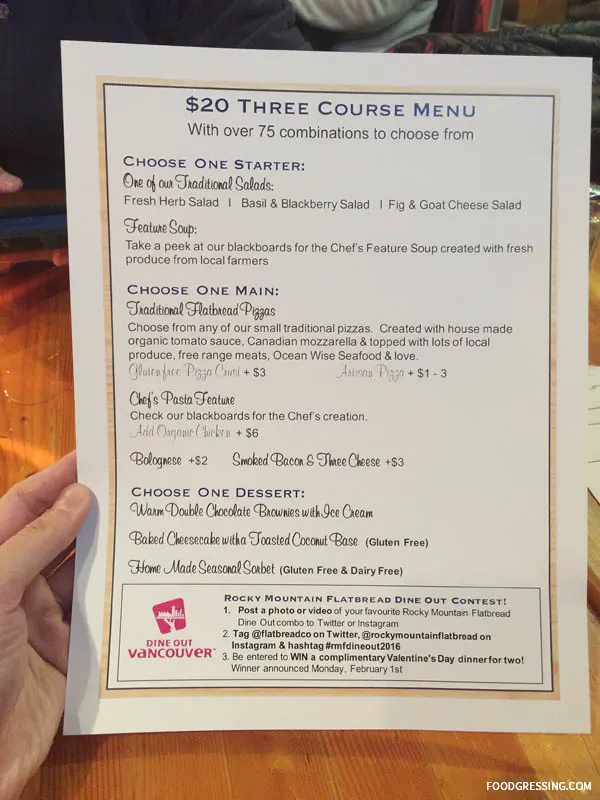 What We Tried
We ordered one Dine Out Menu as well as a large pizza from their regular menu. From the Dine Out menu, we had a fig and goat cheese salad, pesto shrimp pizza, and warm double chocolate brownies with ice cream. From the regular menu, we ordered a large beef pepperoni pizza ($27) .
To start,the fig and goat cheese salad was absolutely refreshing and delicious. The ingredients (assorted greens, cucumbers, tomatoes, red onions, goat cheese) tasted very fresh. I quite enjoyed the Black Mission Fig dressing which had just the right amount of sweetness. The Vancouver grown sunflower sprouts added a fun texture to the salad.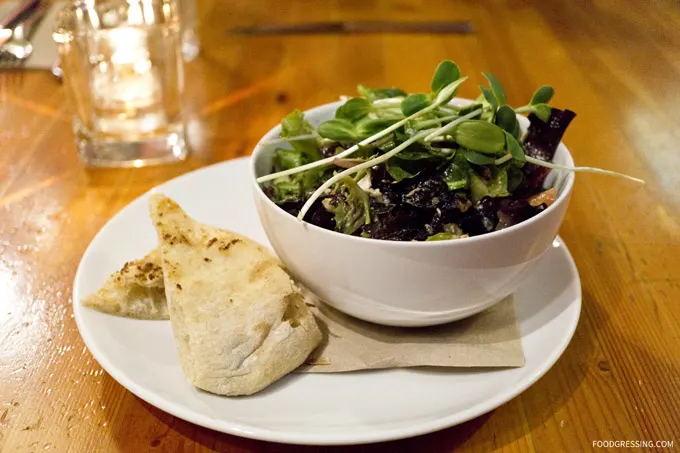 I love pesto sauce so the pesto shrimp pizza was right up my alley. First of all, the crust of the pizza was wonderfully thin and crispy. Like all of their menu items, this pizza had high quality ingredients like organic tomato sauce and Ocean wise shrimp. The three herb pesto was not too overpowering and the pizza had great flavour.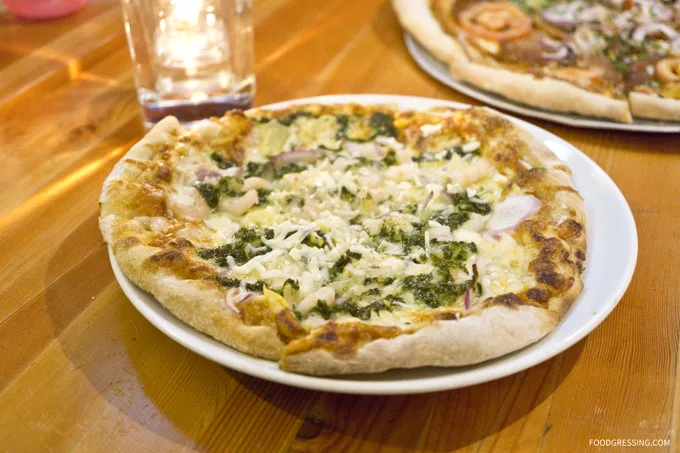 The large beef pepperoni pizza had organic beef pepperoni, crimini mushrooms, herbs and roma tomatoes. I personally love crimini mushrooms as they have such a lovely earthy flavour. I'm a pesto-kind of girl so I preferred the pesto shrimp pizza, but my husband enjoyed the beef pepperoni pizza.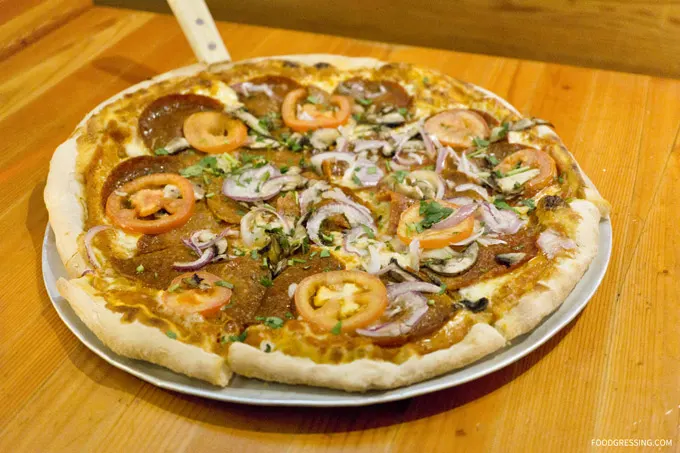 The meal was finished with a bang due to the amazingly good warm double chocolate brownies with ice cream. The brownies were warm indeed and had very nice chocolately gooey goodness to them. Along with the ice cream, this dessert was like heaven.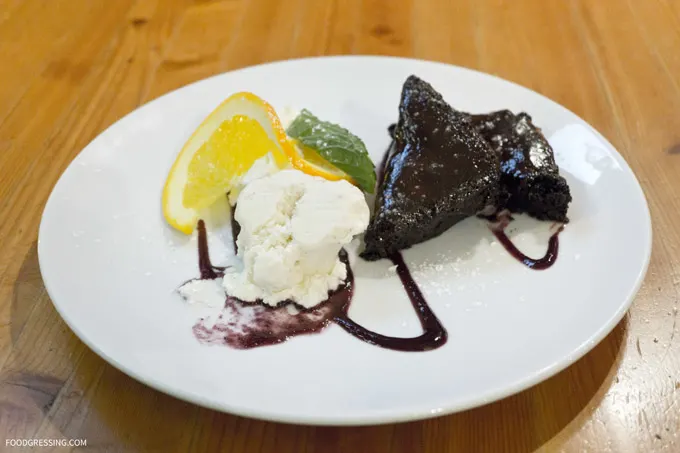 Overall Impression of Rocky Mountain Flatbread Co.
We really enjoyed our Dine Out experience at Rocky Mountain Flatbread Co. in Kitsilano. The restaurant is very family-friendly and the staff seem very accommodating and patient towards families. Pricing is on the higher side due to quality ingredients and perks for the kids like a playing area and coloring supplies. Rating: 4/5