Looking for ways to celebrate Christmas in Honolulu this year? This post covers Christmas Honolulu 2021 including where to go for Christmas dinner in Honolulu, where to get turkey to go as well as features for brunch, lunch and takeout by local restaurants and businesses.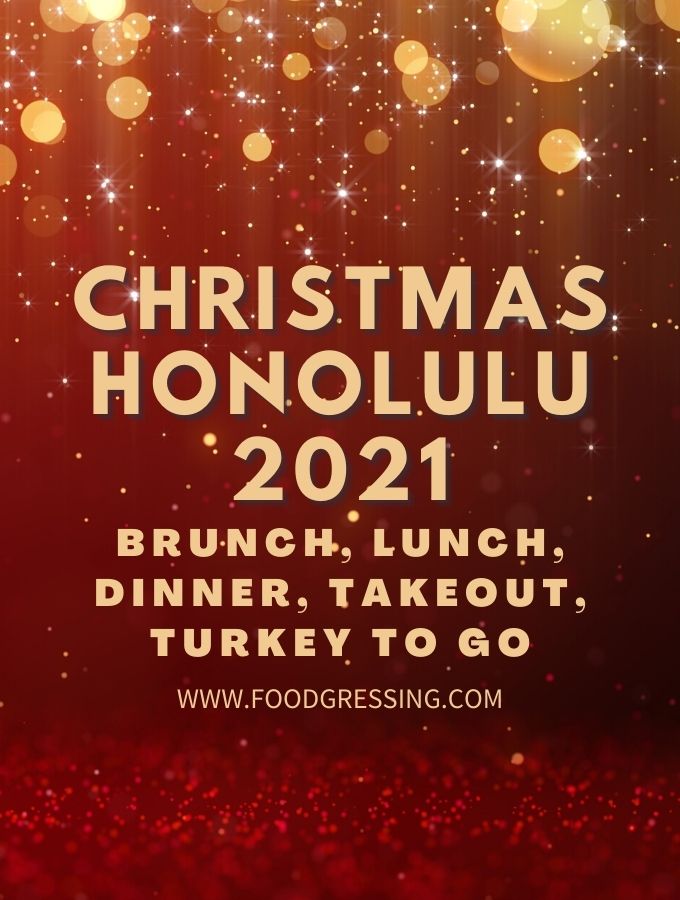 Christmas Eve this year is Friday, December 24, 2021. Christmas Day is Saturday, December 25, 2021.
Christmas celebrations can take on different forms from traditional, fusion to modern.
Please use this list as an inspiration for ideas on how to put together your own Christmas celebration.
This list is updated as information becomes available. Please reach out to me [email protected] or @foodgressing on social media for any suggestions.
Christmas in Honolulu 2021
Bernini Honolulu
Bernini Honolulu is offering a set course Christmas dinner at $120/person. No regular menu on that day.l
They only accept phone reservations, require a credit card number at the time of reservation and will charge 100% of the course cost per person for cancellations made less than 1 week prior.
There will be two dining times: 5:00 pm – 7:00 pm and 7:30 pm – 9:30 pm.
DIY Christmas Dinner Honolulu 2021 Ideas
Holiday entertaining tips
Here are some tips on holiday entertaining including charcuterie board tips, how to cook the perfect turkey like a Chef, and virtual holiday party ideas.
Wine Suggestions
Here are some wine suggestions for Christmas dinner 2021:
Christmas Gift Ideas 2021
Check out my post for some Christmas Gift Ideas 2021 for the important people in your life.
Captions about Family
Looking for captions about family for your social media post? Check out my post on 105+ creative and original captions for family pictures.