Starbucks recently unveiled two new "limited available" summer Frappuccinos: Berry Prickly Pear and Mango Pineapple.  Vibrant in color and Insta-worthy, these two new Frappuccinos draw inspiration from the sweet, tangy and juicy of summer fruits.  The drinks have a watercolored look as they are made with blended cream and fruit purees forming "ribbons of bright color throughout the drink."  The new Frappuccinos looked like arts of work themselves and I was excited to see how they tasted.
Disclosure:  All drinks in this review were complimentary.  Opinions are my own.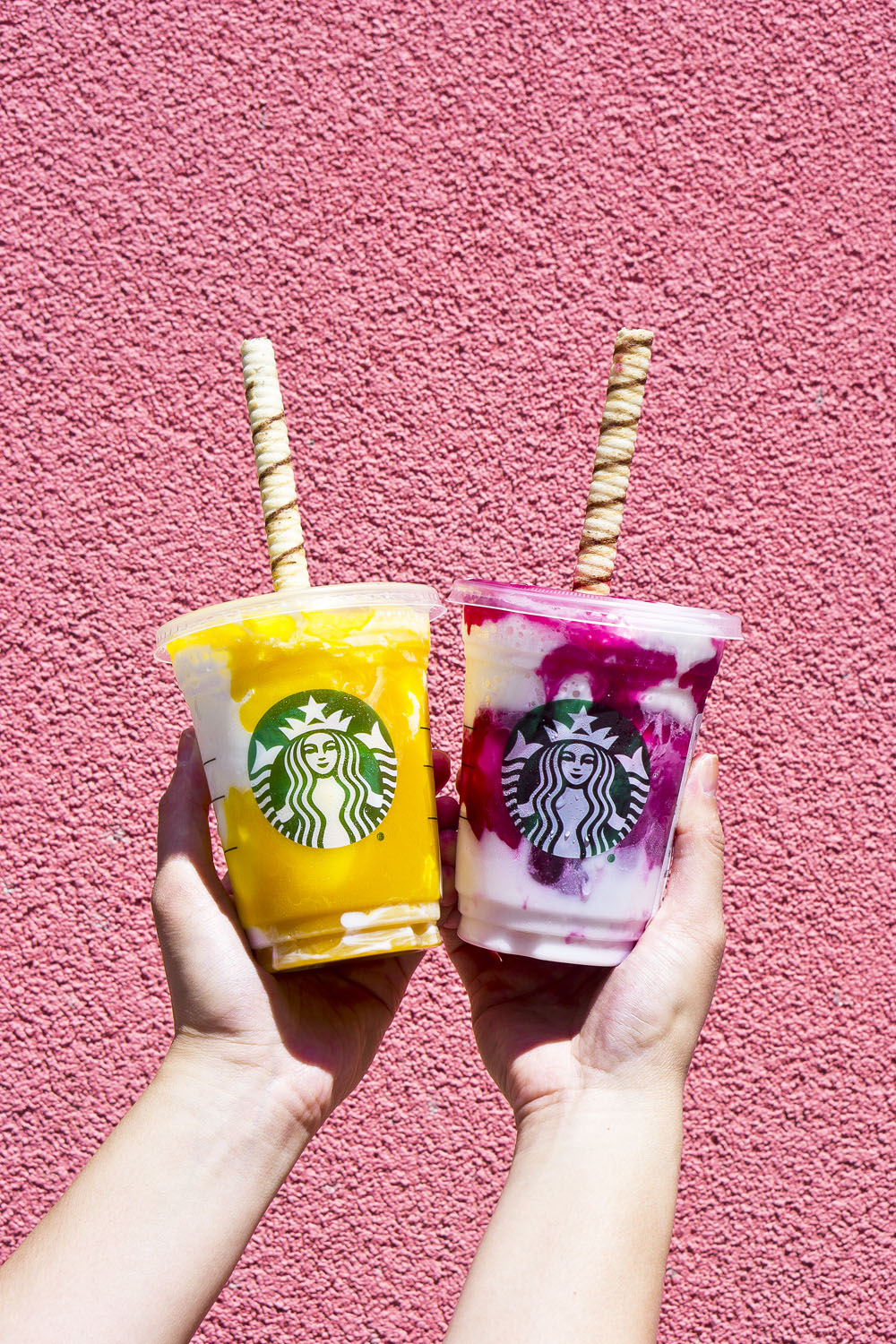 The Berry Prickly Pear is made with a mango Frappuccino blended Crème poured over a strawberry and prickly pear fruit puree.  Starbucks states that it features subtle notes of hibiscus, passionfruit and lime.  The drink is finished with another layer of berry prickly pear fruit puree for a beautifully layered blended beverage.  A Grande has 260 calories and is priced at $4.95.  In terms of taste, the Berry Prickly Pear was my favourite of the two.  It was creamy and rich but this was balanced out by the tangy flavours of the fruit puree.
The Mango Pineapple consists of a mango Frappuccino blended Crème, poured over a mango-pineapple puree.  Starbucks described it to have tropical flavors of juicy mango, pineapple and a hint of lime.  It has the same number of calories as the Berry Prickly Pear (260 calories) and is also $4.95 for a Grande.
It was really interesting to see Starbucks use fruit purees in their drinks.  Kudos to them for making those purees nice and smooth.  Frappuccinos are typically heavier and richer drinks, so if you prefer a lighter one, that would be the Berry Prickly Pear.  The Mango Pineapple tasted more like a dessert drink to me.
Head on to your nearest Starbucks to try these new drinks before summer's over and of course, be patient and respectful to Starbucks barista during the busy times 🙂