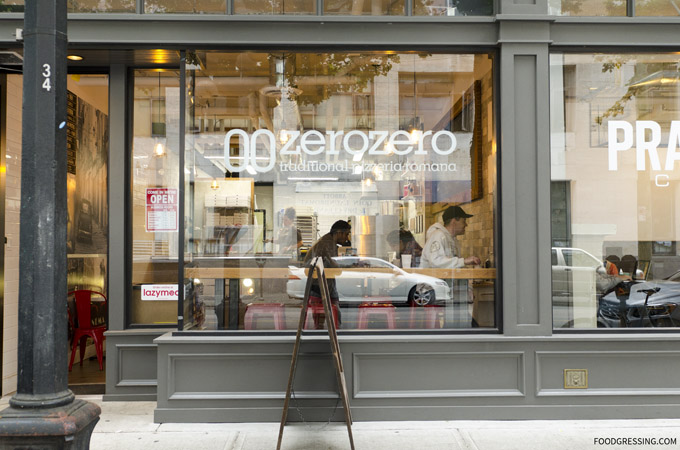 It has been over 10 years since I visited Rome and I still remember buying my first square-shaped pizza. I came to know about ZeroZero Pizzeria in Gastown after seeing their Groupon deal of four slices of pizza and two sodas for $15. They serve Roman-style pizzas which differ from most pizzerias which are Neopolitan-style. I was eager for a little taste of Rome and ventured to ZeroZero Pizzeria after buying the deal.
ZeroZero Pizzeria Menu
ZeroZero sells pizzas by the slice or as a whole. Individual slices cost between ($4 – $4.50) whereas a whole pizza is $25.00. Some of the toppings are smoked chicken, eggplant, pancetta, arugula and chorizo.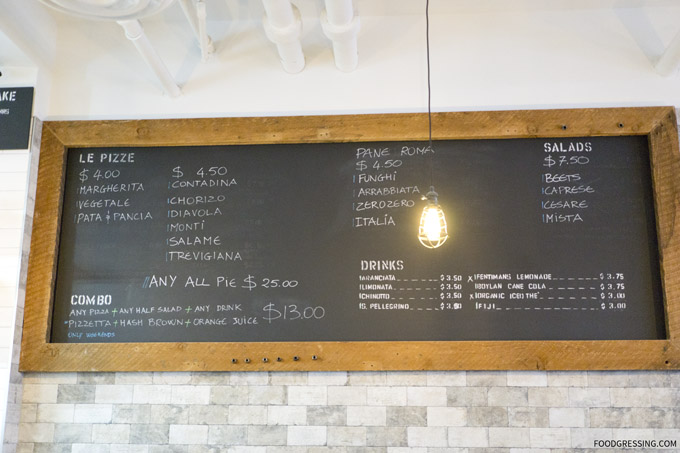 Individual slices are on display and then reheated prior to consumption.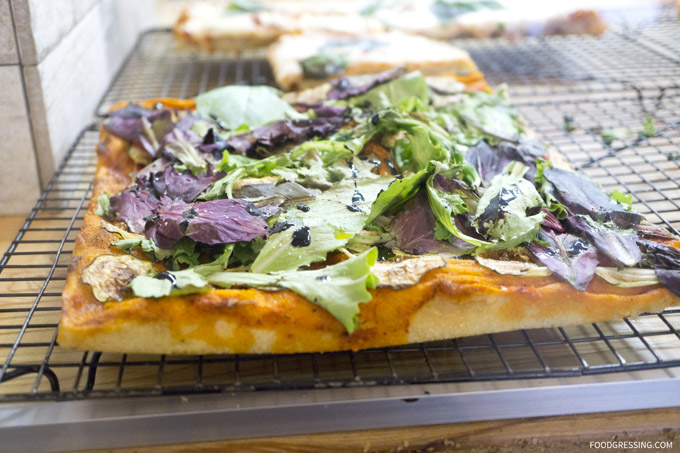 Interior Space
I really like ZeroZero's interior space – very cool and Italian-inspired with a Fiat front bumper as a decor piece. There is communal table, a few dining tables and seats along the window facing the street.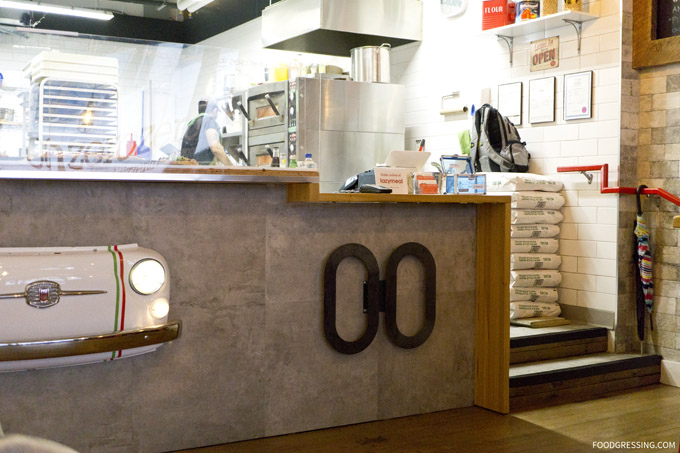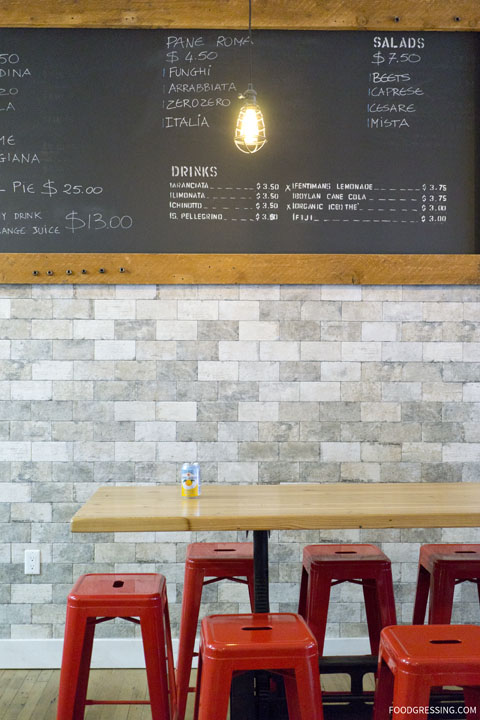 Roman-Style
Roman-style pizzas have a thicker crust compared to Neopolitan pizzas. Roman-style pizza crust is similar in style and texture to focaccia bread; the crust is crunchy on the outside but fluffy and airy on the inside.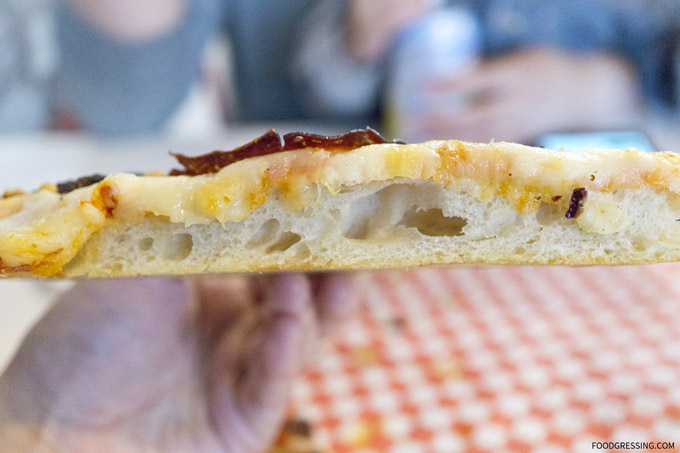 What I Tried
With me on this pizza adventure was my husband and son. We tried the following flavours:
Italia (Eggplant, cherry tomatoes, bocconcini mozzarella and arugula)
Salame (Tomato sauce, soppressata piccante, genoa salami and mozzarella)
Diavola (Cured meats, jalapeno, chile flakes, mozzarella and tomato sauce)
Chorizo (Chorizo, bell peppers, red onions, mozza and tomato sauce)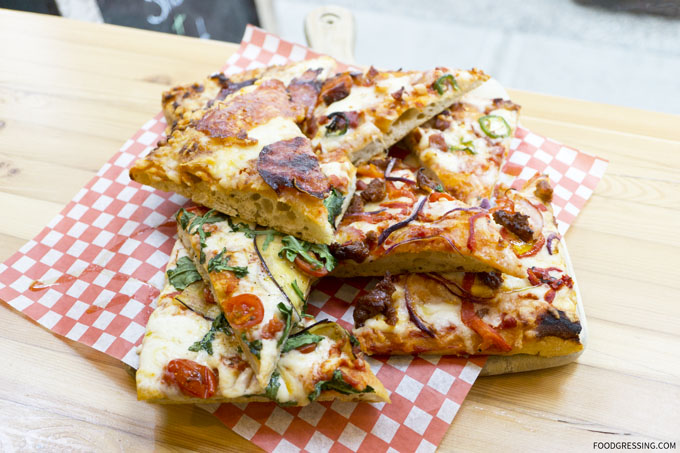 The lovely lady who worked at the front was very friendly and helpful. She explained to us all the choices and was patient as we tried to decide what to get. Our pizzas were delivered on a pizza peel and cut up into the wedges.
When I started to eat the pizza, I admit that I was thrown off a bit by the taste of the crust. I had been so accustomed to the Neopolitan-style; the last pizza I had was from Pizza Garden afterall. Afterwards, I began to get used to the taste.
In general, the pizzas were okay but I thought the topping to crust ratio was too small for me. For the Italia and the Salame, the slices of eggplant and salami, respectively, were just too thin for my liking. As a result, their flavours were very understated compared to the cheese. In the end, these pizzas end up tasting like a cheese pizza more than anything else. For the Diavola, the spiciness came more from the red pepper flakes than the fresh jalapeno. The most flavourful pizza was the Chorizo where the chorizo taste was most noticeable.
The slices are priced at around $4 which is more than what you would expect to pay for. However, the slices are very large which makes the pricing fair although they still need more toppings.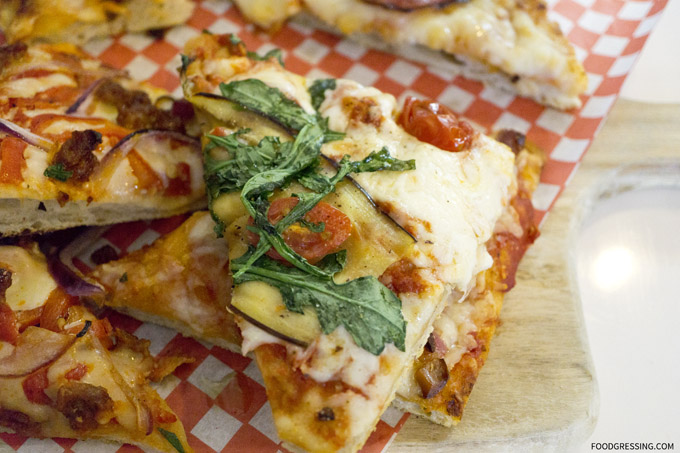 Overall Impression of ZeroZero Pizzeria
I think that ZeroZero Pizzeria has a lot of potential. But right now I'm a bit underwhelmed by the flavours in general. The toppings weren't enough for the flavours to come through. I enjoyed the Chorizo the most while the Italia and Salame tasted closer to a cheese pizza. Rating: 3/5