After Rocky Mountain Flatbread Co. and Chambar, my latest Dine Out Vancouver experience took place at Wildebeest. Known for their farm-to-table dishes and whole animal cookery, Wildebeest was on my friend's must-try list for Dine Out Vancouver. I had not dined at Wildbeest before and I looked forward to an adventurous meat-centric dining experience.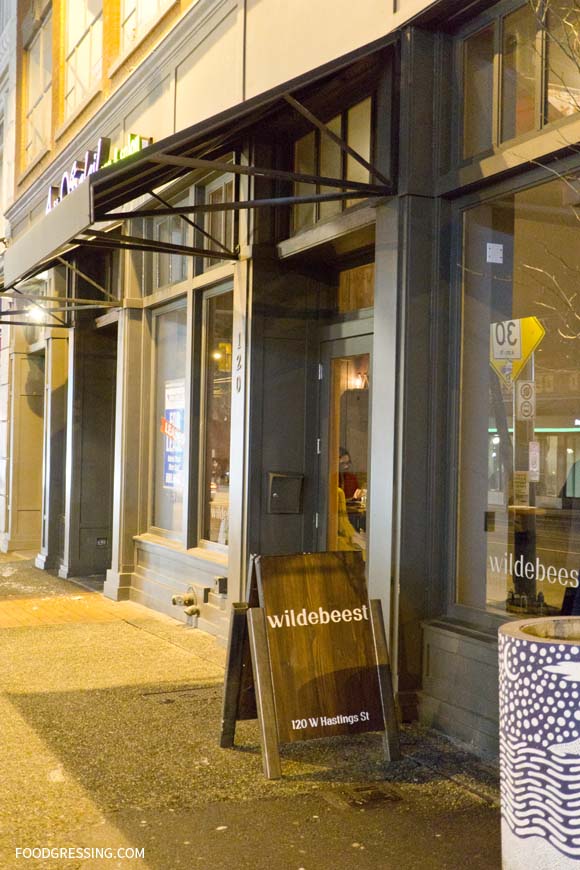 19th Century Building
Located within a refurbished 19th century building in historical Gastown, Wildebeest has a gorgeous and industrial chic interior. The exposed bricks with industrial light fixtures hanging above and dim lighting set a cozy ambiance. Wildebeest has an open-concept kitchen, a dining area with banquette seating and even an intimate underground private dining room. The staff at Wildebeest are dressed in denim-style to match the industrial chicness of the decor.
We were seated across the kitchen so it was really fun to look on from afar as to what they were doing. The staff looked so composed despite the high pressures of dinner service.
Dine Out Vancouver Menu
Priced at $40, Wildebeest's Dine Out Menu featured a three course meal. I'm including a photo of the Dine Out menu because there are some slight differences from what is posted online. For example, bison carpaccio was noted as a starter online but they had enison carpaccio only.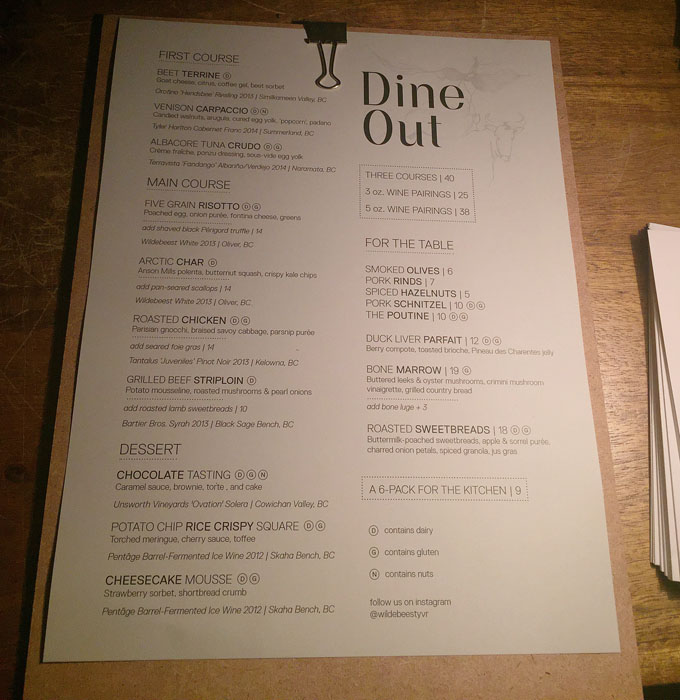 What We Tried
For starters, I had an albacore tuna crudo and my friend had the beet terrine. I thought the albacore tuna was a delicate yet flavourful starter.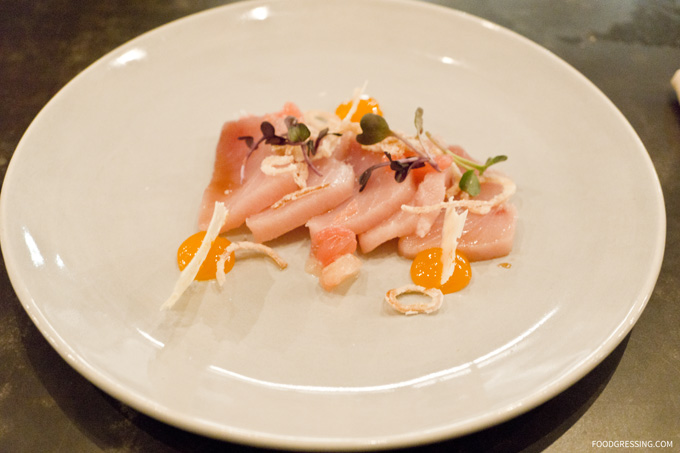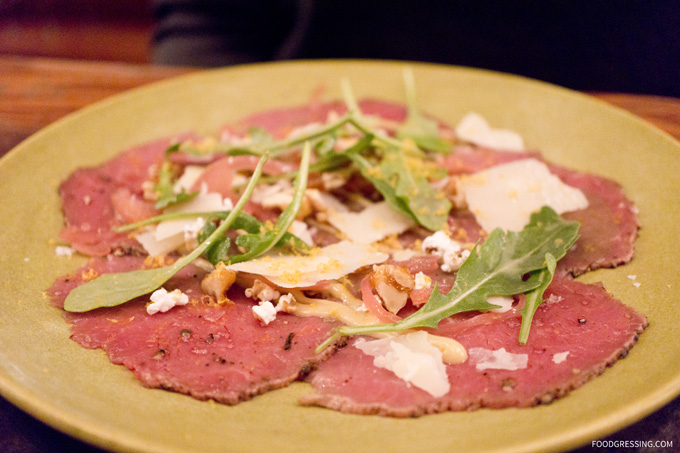 Next up were the entrees and the arctic char with Ansom Mills polenta, butternut squash and crispy kale chips. The polenta was deliciously creamy and smooth, and the butternut squash added hints of sweetness to the dish. The kale chips were wonderfully crispy and seasoned perfectly. The portion of arctic char was reasonable and it was light, moist and delicate in taste.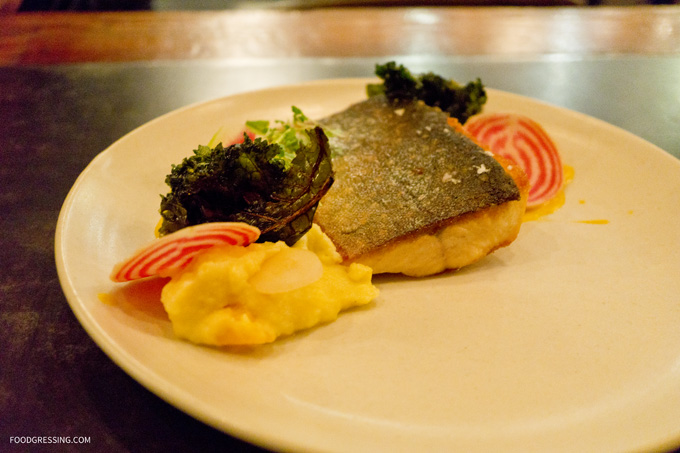 I tried a bit of my friend's grilled beef striploin with potato mousseline, roasted mushrooms, and pearl onions. I found the meat to be tender and flavourful.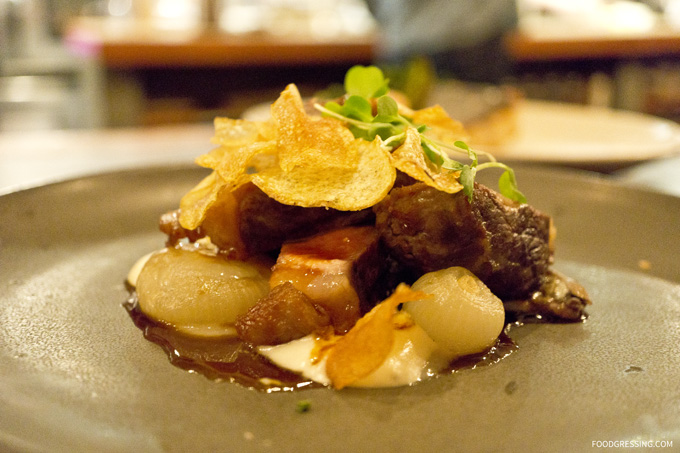 For dessert, I had a cheesecake mousse with strawberry sorbet and shortbread crumb. The strawberry really hits you with its coldness and offered a terrific contrast to the previous meat-centric courses. There were so many fun textures in this dessert – a smooth moouse, an icy and fruity sorbet and crunchy shortbread.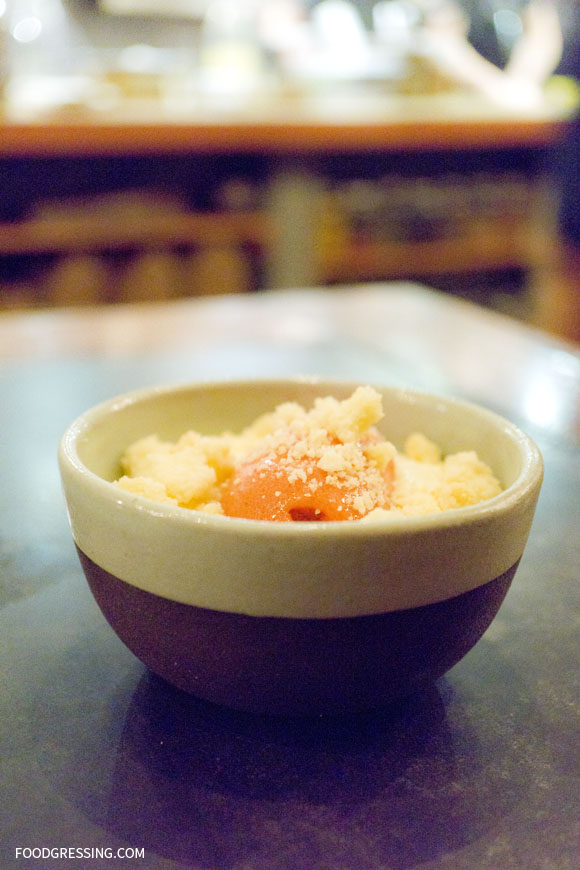 My friend's dessert was an interesting one being a potato chip rice crispy square. It was hard and so hard that it was difficult to cut through with a knife. It came with a torched meringue, cherry sauce, and toffee. I must say that I much preferred the cheesecake mousse as a dessert.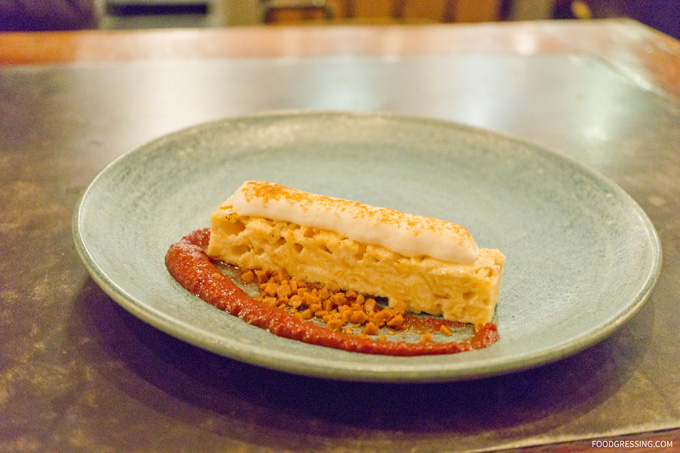 Service
The service was on point but I did find the servers a bit shall we say, robotic. My server seemed almost expressionless and I guess I would have preferred some sort of warmth from her. Throughout the evening I watched as servers walked up and down the aisle as they kept a close watch on everyone's table. The dishes came out in a timely manner and glasses were kept full the entire meal.
Our bill also came in unexpected manner…
Overall Impression of Wildebeest
I found the overall Dine Out experience at Wildebeest very good. I would have liked my server to be a bit friendlier, but the execution of the meal was spot on. Carnivores should give Wildebeest a try for a meat-centric dining experience. Rating: 4/5
For more information on Wildebeest, visit them at their website or social media: Facebook, Twitter and Instagram.