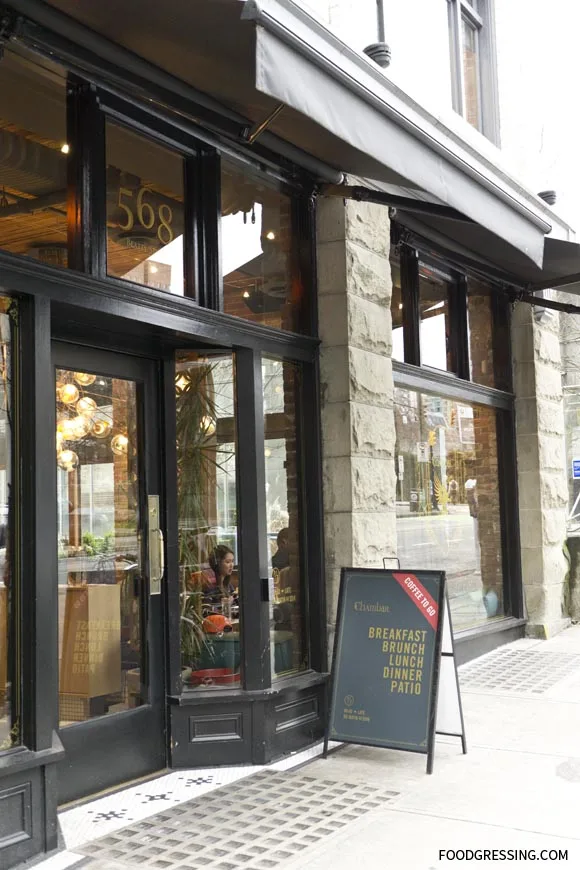 It's Dine Out Vancouver season again and there is a whole lot of foodgressing going on in this city. Last Friday, I did a family-friendly Dine Out at the Rock Mountain Flatbread Co. My next Dine Out Vancouver adventure takes me to one of the most popular upscale restaurants in the city, Chambar. Chambar's speciality is in Belgian cuisine. I had never been to Chambar before so I was very excited to try out their food for the first time.
Dine Out Lunch Menu
Priced at $28, Chambar's Dine Out lunch menu features a three course meal. It is only available Monday to Friday from 11:30 am to 3:00 pm. The menu is available at their website.
What We Tried
My husband joined me on for this Dine Out lunch and we shared all of the dishes.
To start, there was the salade d'hiver with roasted beets, confit sunchokes, burrata, basil and pistachio pesto, lemon vincotto, and fresh pomegranate. It had such a beautiful colors and presentation. The salad was terrific – refreshing, flavourful, and with a sweeter taste.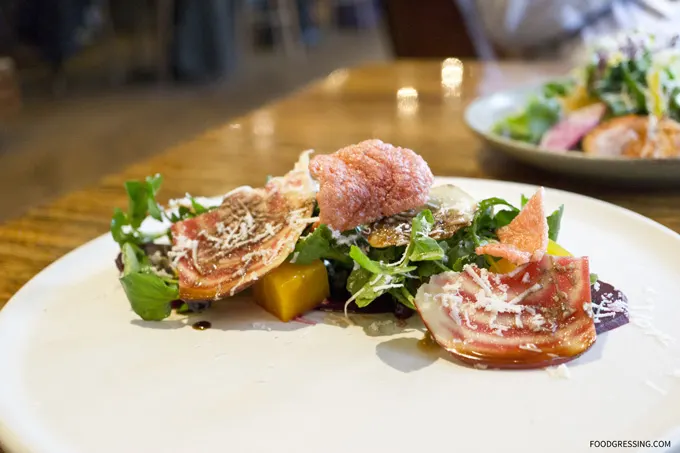 They ran out of veal stuffed calamari, so the substitute was poulet à la citronelle. It consisted of lemongrass marinated chicken, quinoa, romaine, watercress, Belgian endive, red cabbage and grana padano, chipotle lime dressing, and smoked paprika crouton. The chicken was tender and the chipotle lime dressing was not overly acidic. The salads were very good and the meal was off to a good start.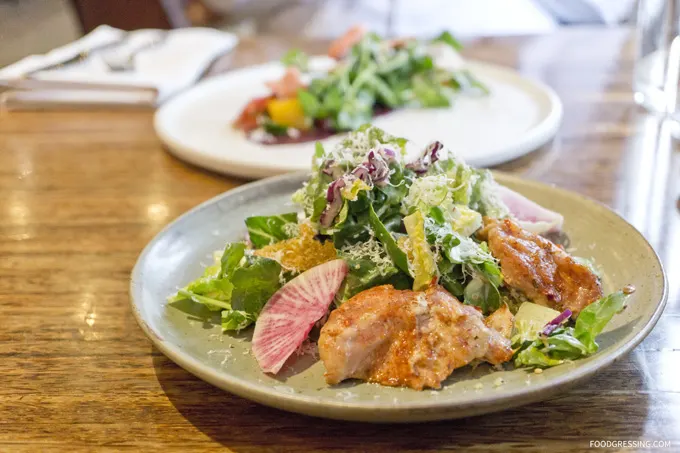 One of the mains we had was the l'agneau libanais: grilled lamb kofta, green bean tomato stew, chickpeas, pine nuts, and mint labneh. This dish felt very comforting and hearty. There were lots of fun textures from the chunky stew to the crunchy chickpeas and pinenuts to the smooth labneh and finally the tender lamb kofta. The taste was more on the sour side but still appetizing.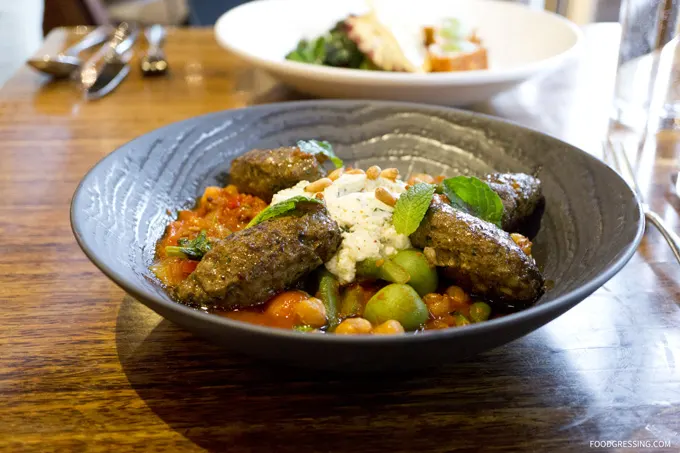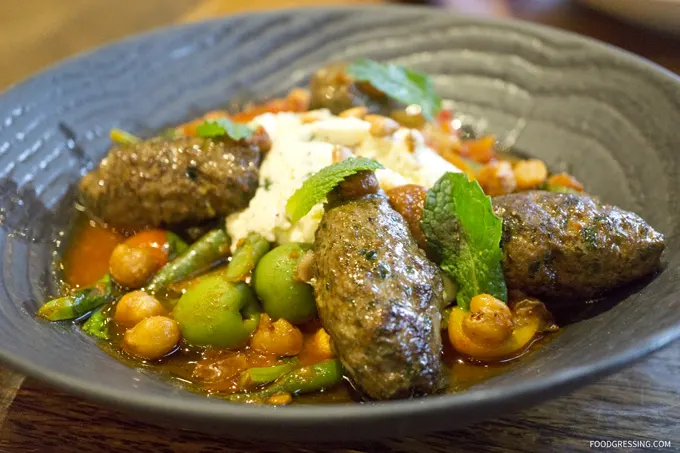 The Thon au Miso was a contrast to the lamb dish. It was not so much comfort food, but an elegant dish to be savoured morsel by morsel. There was the perfectly seared albacore tuna with a wonderful soft texture and a gentle kick from the miso. The papadum was not very greasy and had a fine, crispy texture. The dish was rounded out with sautéed kale, broccolini and greens. The flavour profile was also more on the sour side but still very delicious.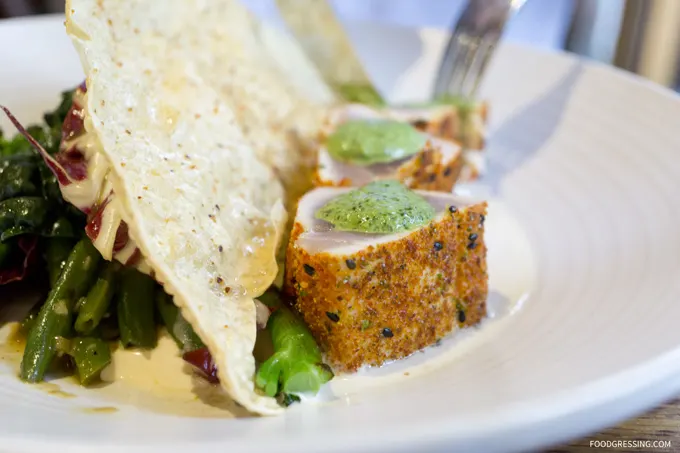 For dessert, we had two Liege waffles with two sauces: white chocolate pistachio rosewater and fig orange marmalade. The waffles were wonderfully warm and chewy. The white chocolate pistachio rosewater had a lovely creamy texture and reminded me of condensed milk. The fig orange marmalade had a fruitier taste that offered a terrific contrast to the more sour entrees.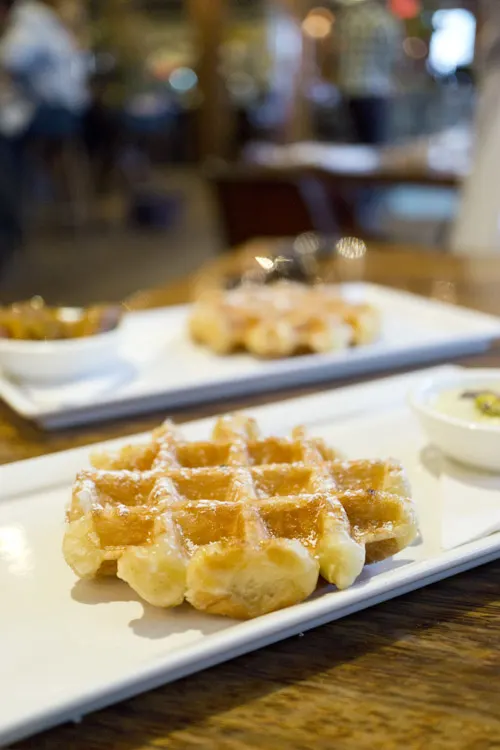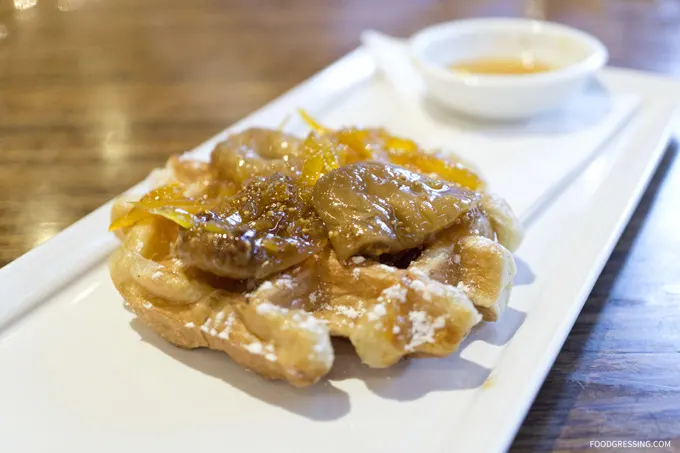 Overall Impression of Chambar
Everything about the Dine Out Vancouver lunch at Chambar was top notch – food and service. I love how the meal had various flavour profiles and was so stimulating. Highly recommend visiting them for Dine Out. Rating: 5/5
For more information on Chambar, visit them at their website and social media: Facebook and Twitter.