Newly opened (or rather, re-opened) in Gastown is Di Beppe – an establishment which duals as an Italian cafe and restaurant. The Kitchen Table Group (St. Lawrence, Pourhouse, Pizzeria Farina, and Ask For Luigi) had originally opened Joe Pizza in the same space but decided to repurpose it. I had tried Joe Pizza once and wasn't a big fan of it so I was interested to see how Di Beppe differed. Earlier today, David (pickydiners.com) and I decided to visit the cafe portion of Di Beppe.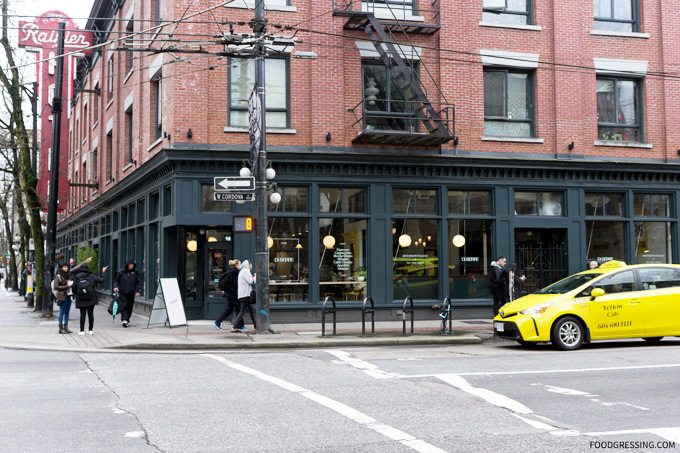 Note: None of the food and drinks in this review were complimentary. This review is done anonymously. Opinions are my own.
Charming, Italian Cafe
The interior of Caffe Di Beppe has a mix of Gastown and Italian charm. I love the large bright windows and the patterned marble floor. There are a mix of small dining tables and counter seating by the windows.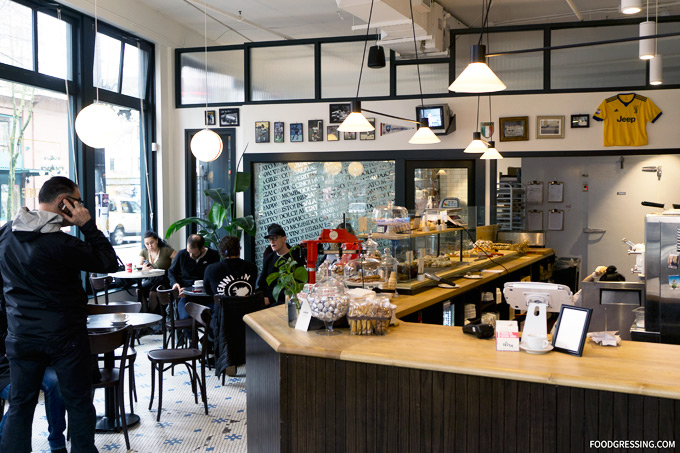 Fun Fact: Before Joe Pizza (and Di Beppe), this space was occupied by a cafe named Rainier Provisions. One of the scenes from Fifty Shades of Grey was shot there as seen in the Youtube video below.
Female-led Kitchen
Caffe Di Beppe is open from 9am – 10pm 7 days per week and serves breakfast items from 9am to 11am while lunch items will run from 11am to 3pm. At the helm of the kitchen is Executive Chef Letitia Wan who was formerly Chef de Cuisine at Ask for Luigi. The food available is on display and includes a selection of sandwiches, salads, pizza, panzerotti, pastries, cookies and gelato morbido. Many of the items are sold by weight. They are also a licensed establishment so you can enjoy wine with your treats if you like.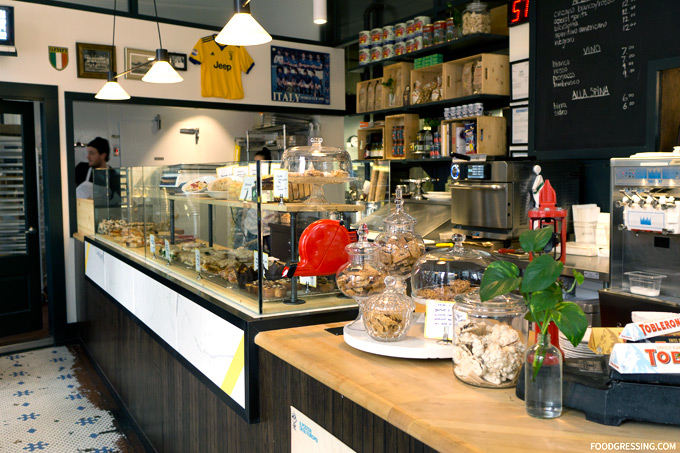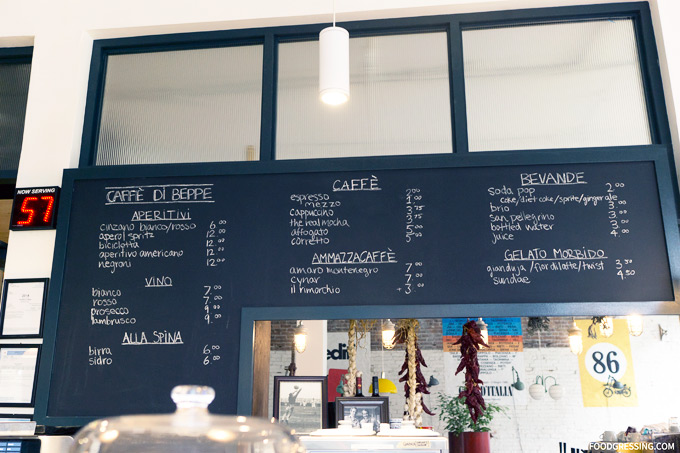 What We Tried
David and I ordered different items from the display including the Sfogliatella; Latte; Stuffed Pizza with Eggplant, Egg and Cheese; Mushroom Pizza; and Affogato.
Latte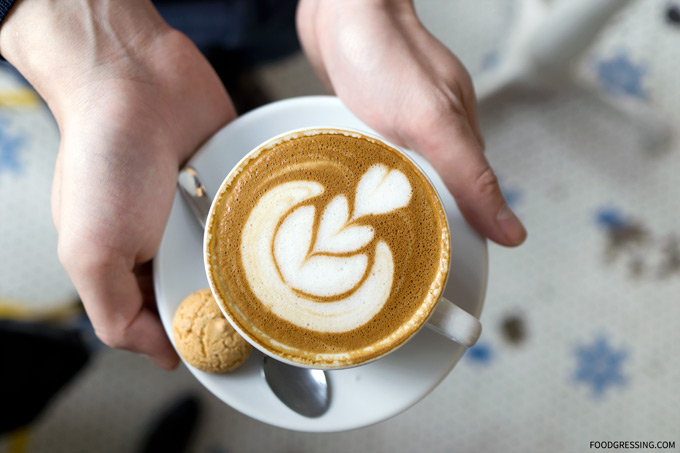 Sfogliatella
The Sfogliatella was my favourite of all the items we tried. It is a classic Neapolitan pastry that has a signature shell-shape that resembles a lobster tail. The layers were thin and wonderfully crisp while the ricotta filling was rich. I would love to have this again.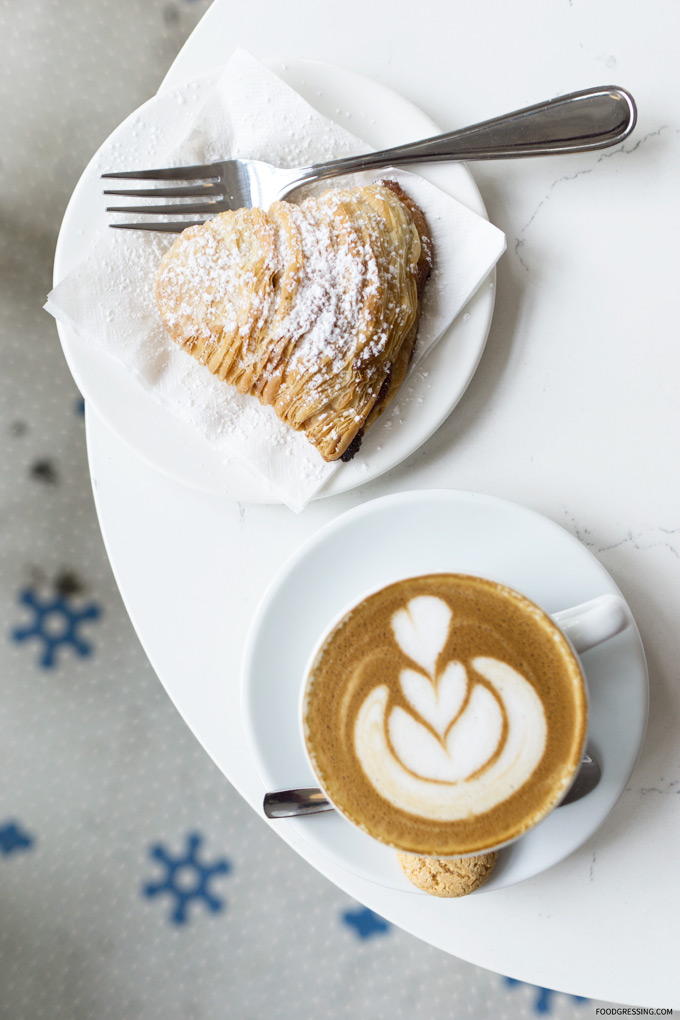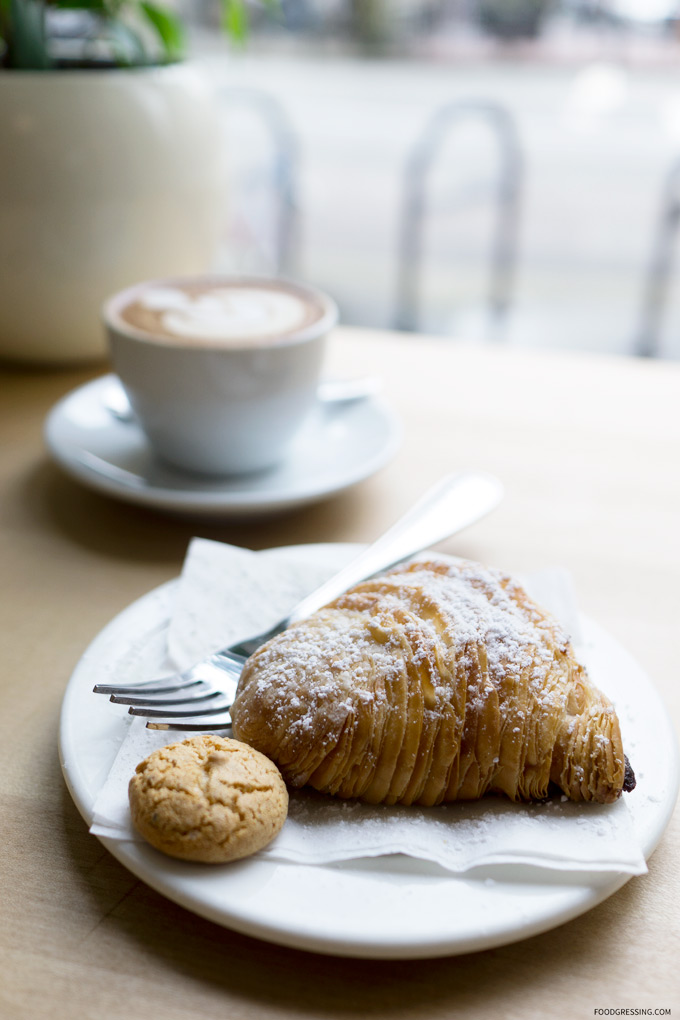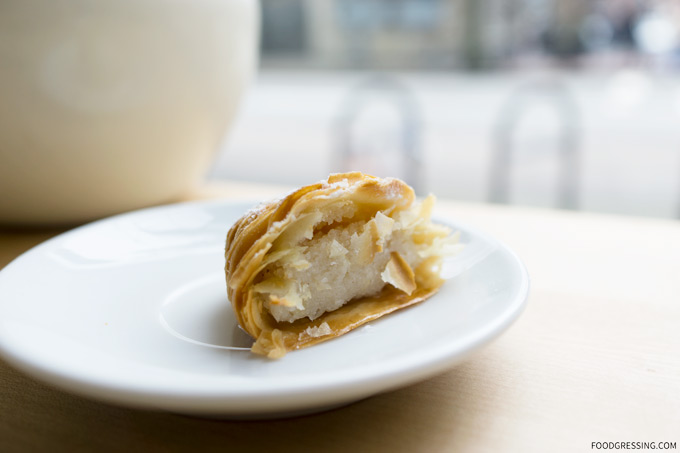 Stuffed Pizza with Eggplant, Egg and Cheese
The stuffed pizza was pretty good with a reasonable filling to crust ratio. This tasted better than the mushroom pizza (more on that below).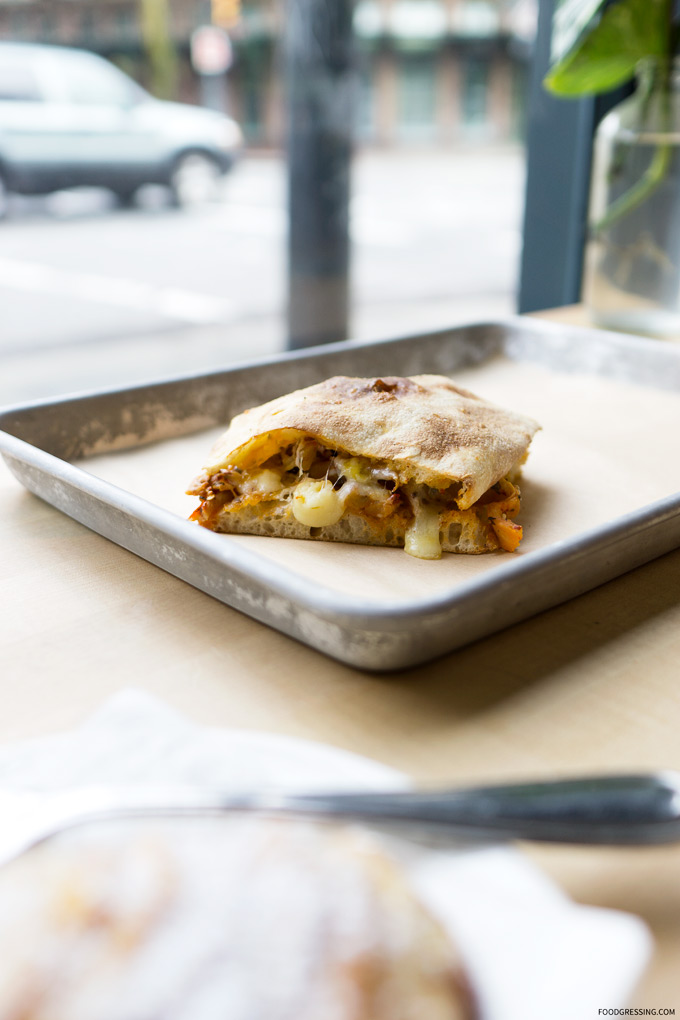 Mushroom Pizza
The pizza was just OK for me as I thought the toppings were not enough compared to the amount of crust. The crust was nicely light, crispy and airy – which seemed better than the dense crust I had from Joe Pizza. An improvement from Joe Pizza for sure but definitely not as good as their sister restaurant, Pizza Farina.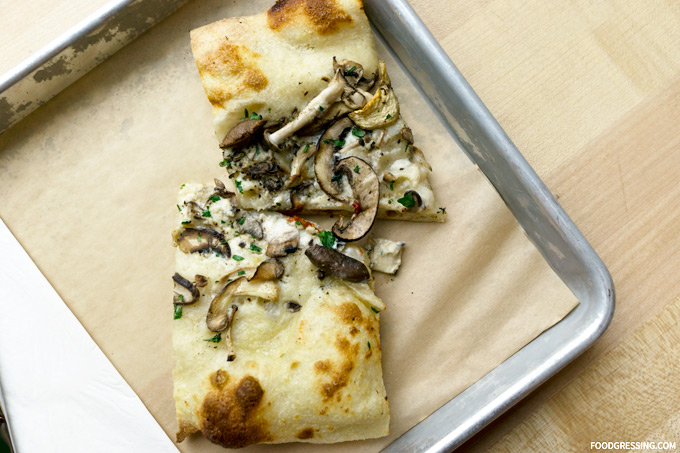 Affogato
For a sweet treat, Caffe Di Bieppe offers affogatos featuring vanilla soft serve and espresso. An almond cookie is served on the side.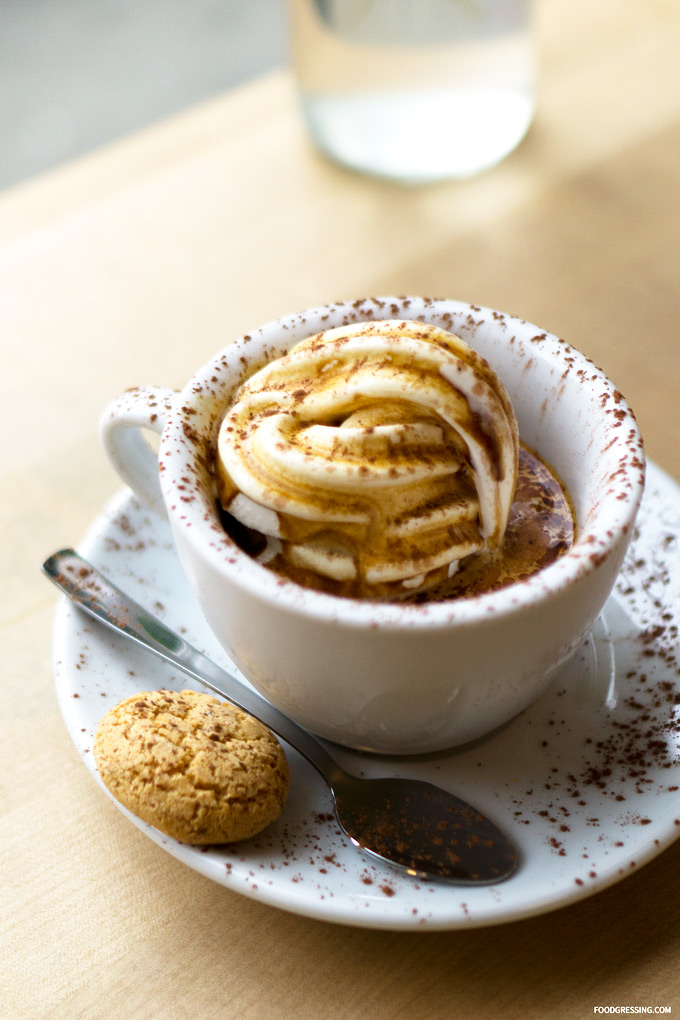 Candid capture: David being very focused on his photo taking.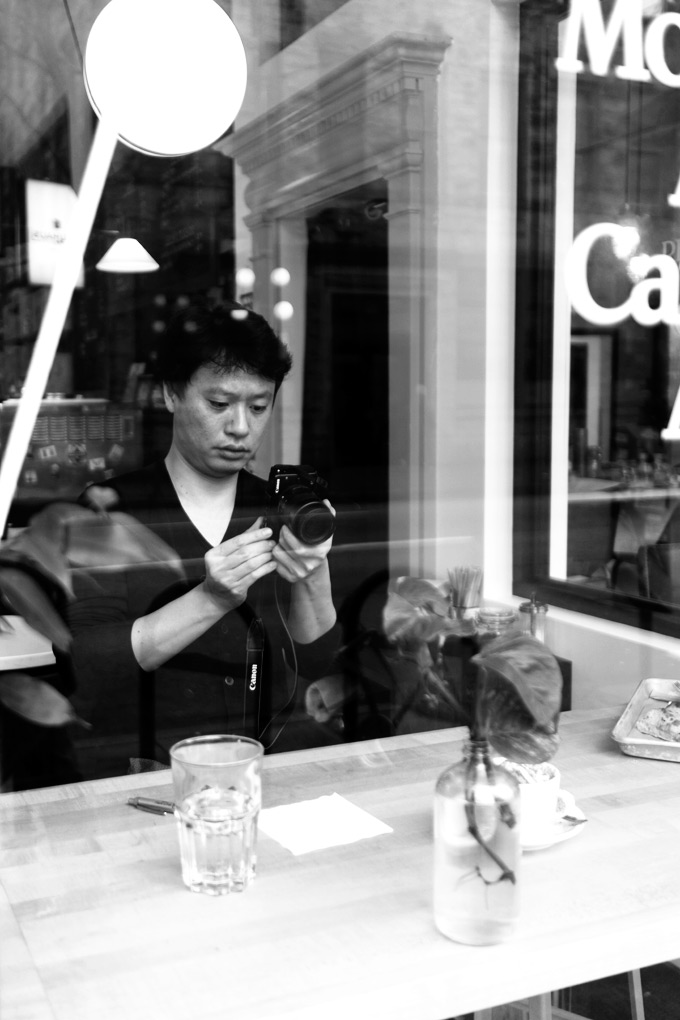 Overall Impression of Caffe Di Beppe
The experience from Caffe Di Bieppe was OK in my opinion. However, I think the ambiance was slightly more memorable than the food on the cafe side. I would return for the Sfogliatella and the Stuffed Pizza. The dinner service on the restaurant side might be more worthwhile to experience. Rating: 3.5/5
Di Bieppe
Address: 8 W Cordova St, Vancouver, BC
Website: ‎www.caffedibeppe.com