The Vancouver Foodster 3rd Eggs Benedict Challenge is currently running August 8 – 31 where participating restaurants have created special eggs benedicts for the challenge. These eggs benedicts are available on the menu during the duration of the challenge.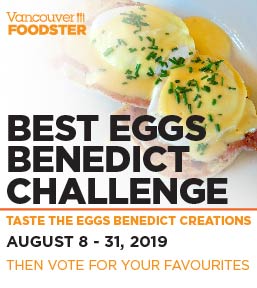 The public is invited to go out and order any or all of the eggs benedict creations in this challenge, then vote as part of the People's Choice award.
Share your experiences on social media by tagging @vanfoodster #EggsBenedictChallengeYVR
Some things to help you judge your favourite eggs benedict's include originality, creativity, uniqueness, traditional, non-traditional, price, value and most importantly taste.
I am currently media judging for the competition. Here are the participating eggs benedicts in this challenge.
---
Ham and Eggman's
Bratwurst Benny
Price: $16
Created by: Chef Kristian Leidig
Description: The inspiration behind the dish is the Chef's German heritage. The base is a house-made potato rösti, topped with beer-braised onions, a house-made bratwurst sausage patty, two poached eggs, grainy mustard hollandaise, and flat-leaf parsley. Served with hash browns.
Offered: all the time
Ham and Eggman's
3883 Rupert Street, Vancouver
www.hamandeggmans.com/
---
Eggspectation
Bombay Benedict
Price: $15.95
Created by: Chef Paramjit Kooner
Description: Two perfectly poached eggs on a bed of spiced potato patties topped with creamy butter chicken curry, topped with our spiced tropical salad and served with a crispy crepe.
Offered: all the time
Eggspectation
10551 St Edwards Drive, Richmond
www.eggspectation.com/locations/canada/vancouver-airport-hotel
---
Hendricks Resto-Lounge
Pulled Pork Benny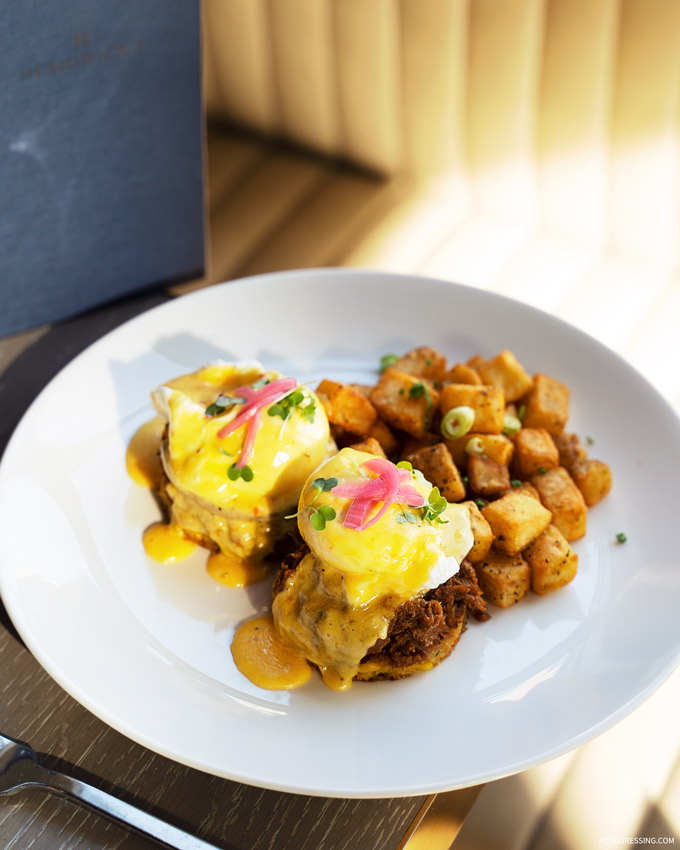 Price: $17
Created by: Chef Chris Savino
Description: Slow roasted pork shoulder with grilled bc peaches, smothered in a bourbon chipotle bbq sauce on cheddar cornbread with a lightly spiced hollandaise
Offered: Served during breakfast or brunch, daily.
Hendricks Resto-Lounge
433 Robson Street in The Westin Grand, Vancouver
www.hendricksrestaurant.com/
---
Just Waffles
Cajun Crocodile Wild Benny
Price: $19.05
Created by: Chef Calvin Klein
Description: Comes with exotic meat sausage on a Liege style waffle. Two eggs and bacon then we smother it all with Hollandaise sauce.
Offered: all the time
Just Waffles
3531 East Hastings Street, Vancouver
www.facebook.com/justwafflesvancouver/
---
C Market Coffee
The Porco Rosso
Price: $14
Created by: Executive Chef, Ru Lee
Description: A Korean-style, Spicy Pork Eggs Benedict, infused with a touch of Italian flavour. Toasted english muffin layered with romaine lettuce, spicy pork, and a poached egg (or however you like your eggs!). It's complemented with housemade, golden hollandaise sauce and crispy onions. The Porco Rosso is served with hash, fresh fruit, and house special pickles.
Offered: All the time
C Market Coffee
111 – 100 Schoolhouse Street, Coquitlam
www.cmarket.ca/word/
---
Douce Diner
Smoked Sockeye Salmon Benny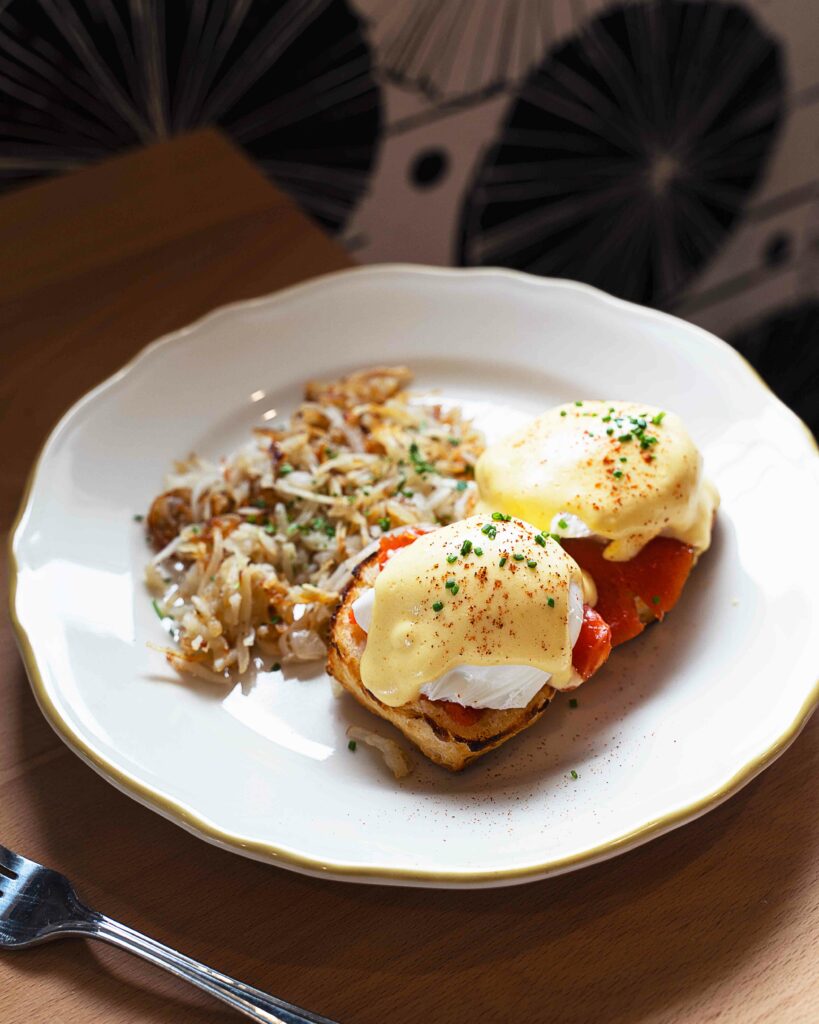 Price: $ 16.75
Created by: Chef Dawn Doucette
Description: In house Buttermilk Biscuits topped with Masa's Smokehouse Sockeye Salmon, 2 poached Farm Eggs, and lathered with rich lemony Hollandaise. Served with in house old school hashbrowns.
Offered: weekdays from 7am-3pm and weekends 8am-4pm.
Douce Diner
1490 Pemberton Ave, North Vancouver
www.doucediner.com
---
Food by Fanta
Hidden Gold Benny
Price: $15
Created by: Chef Parinya Loptson and Chef Sadapphin Phothong
Description: A lightly poached egg wrapped inside a crunchy, deep-fried pork ball served on top of flavorful local bacon, lettuce and ham on a raft of herbal fries strips and asparagus. Topped with a red curry, basil, white wine hollandaise sauce.
Offered: Wednesday to Sunday 11-3 pm
Food by Fanta
20542 Fraser Hwy #107, Langley
www.FoodbyFanta.com