Tim Hortons is introducing more exciting and delicious new cold drinks this year beginning with the Freshly Brewed Tim Hortons Iced Tea Quencher.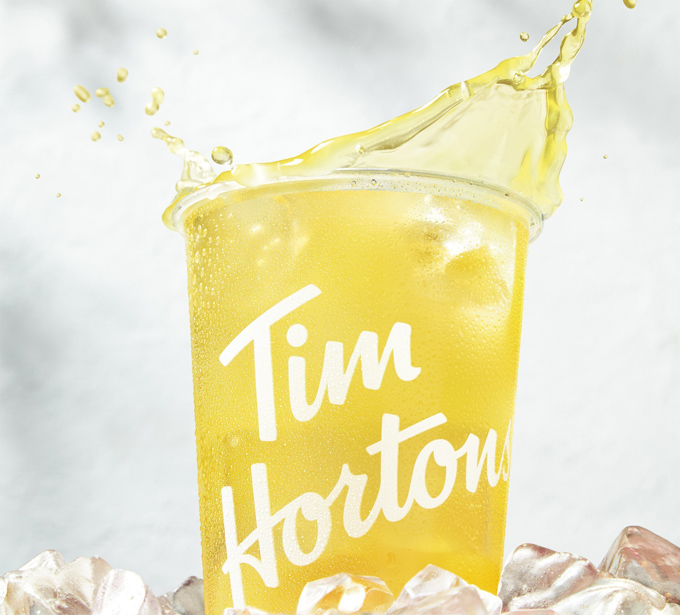 Now available at restaurants across Canada, the Tim Hortons Freshly Brewed Iced Tea Quencher is the latest creation crafted by their beverage innovation experts.
Tim Hortons guests love their cold beverages year round but with the start of spring the company is gearing up to introduce more new innovations in their cold beverage lineup, starting with the Freshly Brewed Iced Tea Quencher.
Tims cold beverage classics like the Iced Capp and last year's launches of guest favorites Cold Brew and Real Fruit Quenchers have been popular with customers.
Tim Horton's range of cold beverages on the Tims menu has something to suit every taste, from the new Freshly Brewed Iced Tea Quencher and Real Fruit Quenchers, to Iced Capps, Cold Brews, Iced Coffees and Iced Lattes, to Creamy Chills and Frozen Lemonades.
Tim Hortons Iced Tea Quencher Ingredients
The Tim Hortons Ice Tea Quencher is made from blending a green tea with delicious accents of tropical fruits such as pineapple and passionfruit, plus a hint of blackcurrant.
It's brewed fresh in restaurants daily and is delicious on its own or the perfect complement to your meal.
Calories
The unsweetened Freshly Brewed Iced Tea Quencher is a refreshing zero-calorie option.
For the sweetened options, a small has 50 calories; medium has 76 calories; and large has 101 calories.
Price
Here is a sample pricing based on a location in Toronto (65 Queen St West). Please check your local Tim Hortons for accurate pricing information.
Small = $1.89
Medium = $2.19
Large = $2.59
Guests can choose a Freshly Brewed Iced Tea Quencher as part of a combo for no extra charge. And a purchase of a Freshly Brewed Iced Tea Quencher earns guests a Roll to play Roll Up To Win through April 3.